Like GearBrain on Facebook
At GearBrain, we believe an integral device for a DIY smart home security system is a smart video doorbell. It's multifunctional and offers the peace of mind at your front door. But not many DIY home security systems offer smart video doorbells. If they do, its usually through a partnership with Ring or another manufacturer of smart video doorbells. Today, LifeShield, a ADT Company and an excellent DIY smart home security system which GearBrain has tested and likes, is adding an easy-to-install Wi-Fi connected HD video doorbell to its lineup. Their new HD video doorbell is an outstanding complement to the brand's flexible "Build Your Own Set" package and can be easily to tailored to help secure your smart home.
HD Video Doorbell Camera System from LifeShield, an ADT Company - 8-Piece Easy, DIY Smart Home Security System - Optional 24/7 Monitoring - No Contract - Wi-Fi Enabled - Alexa Compatible
"A brazen 34 percent of burglars enter through the front door1, and online shopping has made the front porch thieves' new favorite place to shop. The LifeShield HD Video Doorbell was designed specifically for owners seeking increased visibility around their front doors," said John Owens, President of DIY at ADT. "The addition of the LifeShield HD Video Doorbell to our existing lineup makes LifeShield one of the most complete DIY home security systems on the market today."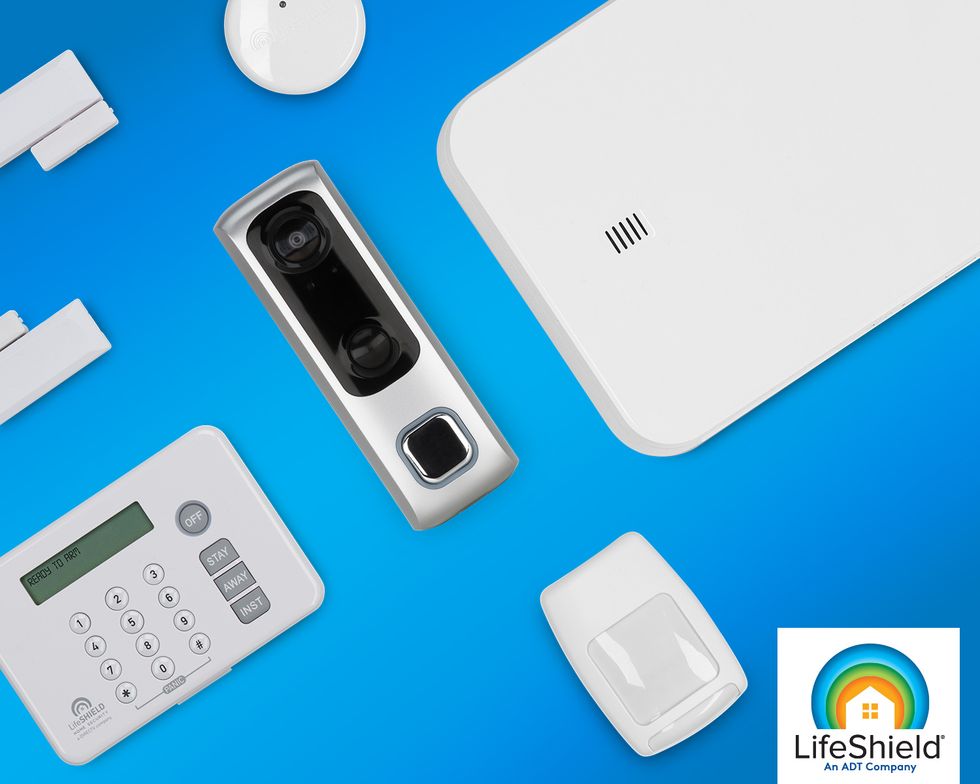 LifeShield new HD Smart Video DoorbellLifeShield
Key Features

The LifeShield HD Video Doorbell pairs directly with the LifeShield home security system, giving owners the freedom to record, store, and watch live and on-demand video.
Features include:
Two-way audio support - the LifeShield mobile app and security touchpad can give visitors the impression someone is home, even if they are not.
People detection technology - distinguishing between people and other objects, preventing unneeded notifications and recordings.
Crystal clear 1080p HD resolution video, 170º wide lens and night vision.
Notifications and video previews of the live event can be viewed on the LifeShield mobile app or security touchpad.
In addition, the new LifeShield HD Video Doorbell provides custom detection in specific zones. To learn about additional features, visit: https://www.lifeshield.com/doorbell-camera-with-hd-video.
Smart Home Integration and Pricing
The LifeShield HD Video Doorbell integrates with a number of other smart home devices using IFTTT (If This Then That). The new Wi-Fi-connected video doorbell complements the brand's flexible "Build Your Own Set" package, making it easy to tailor a security system to your smart home security needs. The new LifeShield HD Video Doorbell can be purchased at LifeShield.com for $199.99.
GearBrain tested LifeShield's new HD video doorbell recently on a real home that already had the LifeShield security system. You can read our review here.
If you are in the market for a reliable DIY smart home security system, we recommend you take a good look at LifeShield. Their system is easy to install and contains all the key smart devices to help keep you house safe 24/7, especially with the addition of their new HD smart video doorbell. For more information, please visit www.LifeShield.com.

1 According to a survey by the International Association of Certified Home Inspectors.
Unboxing less than 60 Seconds - Lifeshield Home Security System www.youtube.com
HD Video Doorbell Camera System from LifeShield, an ADT Company - 8-Piece Easy, DIY Smart Home Security System - Optional 24/7 Monitoring - No Contract - Wi-Fi Enabled - Alexa Compatible
Like GearBrain on Facebook