One device, instrumental in boosting your smart home security system is a smart video doorbell, rarely offered by home security firms. Lifeshield, however, is an exception. Its new high definition (HD) Video Doorbell dovetails neatly into Lifeshield's home security system, and is also a robust product: a smart security camera with a built-in motion sensor that supports two-communication. You can talk to you kids when they get home from school— or even ward off people who shouldn't be near your home.
While Ring was one of the first companies to offer a smart video doorbell for sale, we are starting to see more of these new smart home devices. But before buying one, it's crucial to make sure the device you're considering works with your home security system. Not only do you want to be able to check videos, and of course speak to guests from the same app, you also want — ideally — to be able to unlock your doors while talking to someone through the smart video doorbell. That's a feature that only happens when a doorbell and smart lock are connected through the same app. Lifeshield does support this, but with some limitability, which we found as we tested the doorbell.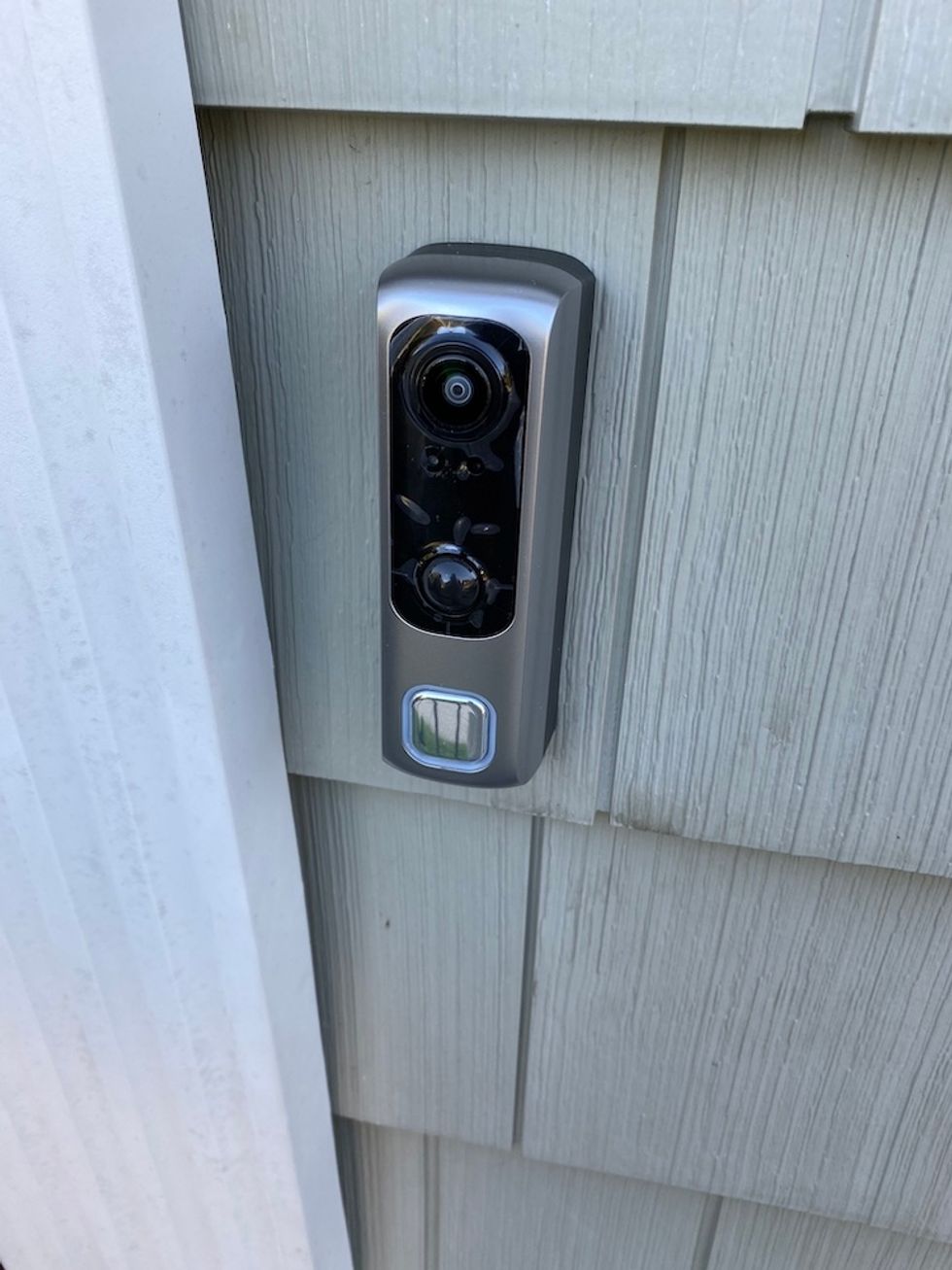 Lifeshield video doorbeall comes with a sleek designGearBrain
What is it?

Lifeshield's new HD Video Doorbell integrates with the company's smart home security system, and works on a home's Wi-Fi network. The camera has 1080p HD video resolution, and a 170-degree field of view (FOV), rather wide for a smart video doorbell. You can tap into night vision (up to 10 to 20 feet depending on the environment), and live stream video from your door to anywhere in the world using a free mobile app from your smartphone. There's also a microphone and speaker with echo cancellation, ideal for have a two-way conversation when someone rings your doorbell. These are all features you want — and frankly need — in a smart video doorbell today.
Lifeshield's smart video doorbell also has advanced motion detection, which means you can customize where you want motion picked by zones and sensitivity. There's a specific detection feature for people as well, ensuring you only get notified if a person — rather than a squirrel running across the lawn, for example — comes into your motion zone.
Lifeshield's new smart video doorbell is wired into your home, and works with the security firm's base station as well as a doorbell chime through a power kit that connects to most mechanical or digital doorbells, typical of newer homes. These digital dootbells don't typically work smart video doorbells, so it's nice to see that Lifeshield supports newer construction. While mechanical doorbells don't usually need a device to connect to a smart video doorbell, we needed the power kit for our test house. While testing it without the kit, we heard a white noise on and off with the doorbell installed. Once we added the power kit, which was simple to install, the noise disappeared. Ring Video doorbell requires a similar device to use during setup.
The app works on both iOS and Android smartphones, and it's where you'll set up push notifications, email or SMS alerts that the doorbell has detected motion. You can also customize instant alerts based on time, and on whether the system is armed, and select different tones. For instance, you can hear one tone when motion is detected, and another when your doorbell rings.
The doorbell must be wired into your home, and needs AC wiring (16V-24V) to operate. It's also weatherproofed, and can work well between -4ºF and 122ºF.
How to install it?
After testing and installing many smart video doorbells, GearBrain has experience on how long it should take to get one of these up and running. Lifeshield estimates it will take 30 minutes to install its new smart video doorbell. That proved correct. We spent about 30 minutes from start to finish to get the HD video doorbell working. Make sure you have a Philips screwdriver, drill, drill bits and a wire stripper. Also check the Wi-Fi connection where you plan to install the Lifeshield doorbell. If you lack a good Wi-Fi signal in that location, you are going to have performance issues and might want to consider getting a Wi-Fi extender for a stronger signal.
After checking the Wi-Fi signal, make sure you have 16 to 24V for power. Test the wire voltage on your existing doorbell, because if that level of voltage is not there, the Lifeshield smart video doorbell won't work.
Before removing your old doorbell, turn off the power to your doorbell and only then remove it. Next, connect the wires to the power bracket. Once the wires are connected, use the supplied screws and anchors — and the included level — to mount the bracket to the side of your house. Not sure what side is up on your power bracket? The power sensors and clip should be at the bottom. (See photo below). The power bracket will become the mounting bracket for the Lifeshield video doorbell. Therefore, you need to make sure the clip is on the bottom. If you have any issues, we recommend following the setup instructions in the Lifeshield app.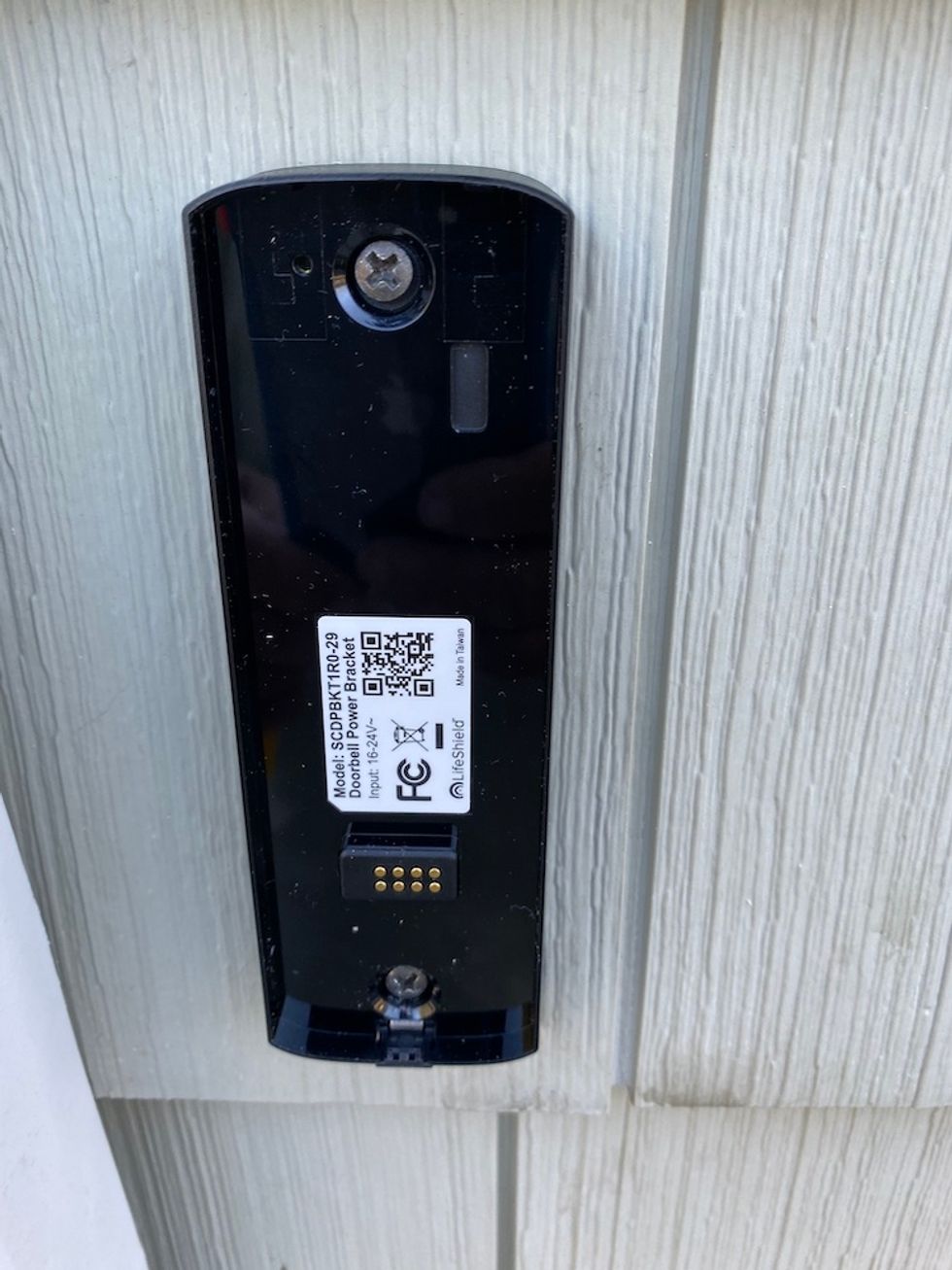 Make sure the clips are at the bottom of the mounted doorbellGearBrain
If you are installing the video doorbell on an entry for the first time — where no prior doorbell has been before — we recommended placement at about 4.5 feet from the ground. The video doorbell dimensions are 4.96" x 1.68" x 1.39" which means it should fit nicely on the molding on the side of your doorway.

After the mounting bracket is installed, you are ready to attach the Lifeshield video doorbell unit. First, turn on the switch on the rear side of the video doorbell — and it's tiny and hard to find. Then go to the back of the video doorbell and open the black weather protective seal. You will see from left to right, a red reset button, an on/off toggle, and a micro USB port. The on/off toggle is small and you might want to use a paper clip to flip the switch the toggle up, to the on position. It will take about 20 seconds before the LED ring will turn solid blue.
HD Video Doorbell Camera System from LifeShield, an ADT Company - 8-Piece Easy, DIY Smart Home Security System - Optional 24/7 Monitoring - No Contract - Wi-Fi Enabled - Alexa Compatible
Once the light is solid blue, clip the video doorbell into the bracket by aligning the top of the video doorbell with the top of the bracket. Next, press the video doorbell into the bottom of the bracket, until you hear it clip in.
Now you are ready to connect the smart video doorbell to your Lifeshield system. Open your Lifeshield app on your Android or iOS device and go to Settings, and select Devices. Then select Add, and then HD Video Doorbell. You can now follow the instructions in the app for the rest of the setup process, including naming your doorbell, selecting the chime type and setting motion zones. Also make sure you have your Wi-Fi network name and password accessible. You will need it, along with your Lifeshield Master Code, to complete the rest of the setup.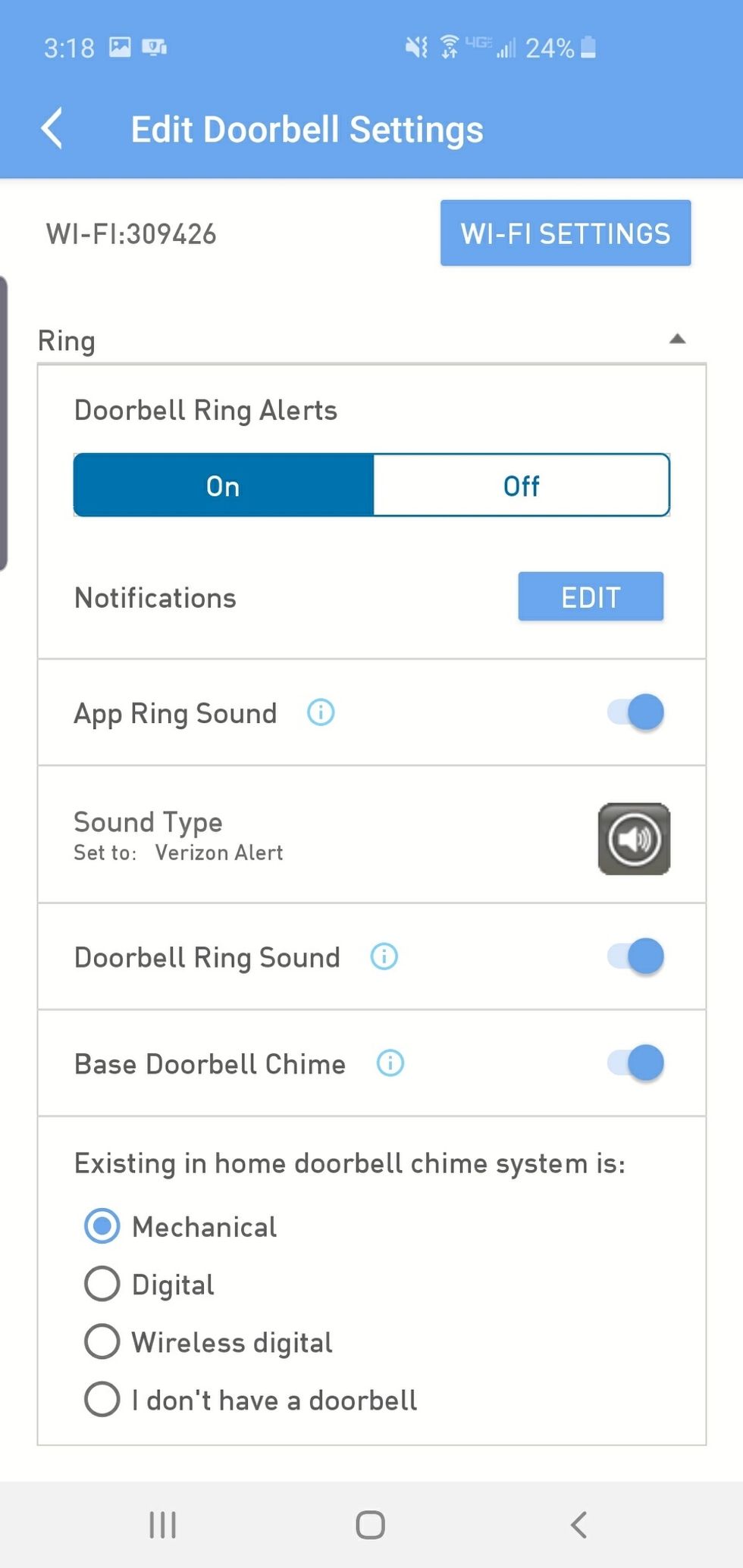 You can use Lifeshield app to setup ring sounds and notifications.GearBrain
Smart Home Integrations

Lifeshield Home Security system is a good ecosystem for building a customized smart home. Its platform is compatible with Lutron, Sonos, Nest, Philips Hue smart lights, and iRobot smart vacuums. The home security system also works across the Z-Wave and Z-Wave Plus wireless protocol, as well with Google Assistant devices and Amazon Alexa. However, in order to use the Lifeshield Video doorbell, you must already be a Lifeshield customer. This is not a standalone product.
In terms of Alexa, the doorbell also has some limited functionality with Amazon Alexa-enabled devices. For instance, if you activate the Lifeshield Smart Home Alexa Skill, Alexa will tell you when someone rings the doorbell. But you cannot get video to broadcast from your video doorbell to an Alexa smart display device like the Echo Show. We'd like to see that feature enabled at some point, and with a Google Assistant display as well, like the Nest Hub Max.
We didn't find any IFTTT applets with this video doorbell, as we did for Ring doorbells, which turns your lights on when the Ring doorbell detects motion. But if you're comfortable working with IFTTT, you can create similar rules using the motion or ring events from your Lifeshield video doorbell.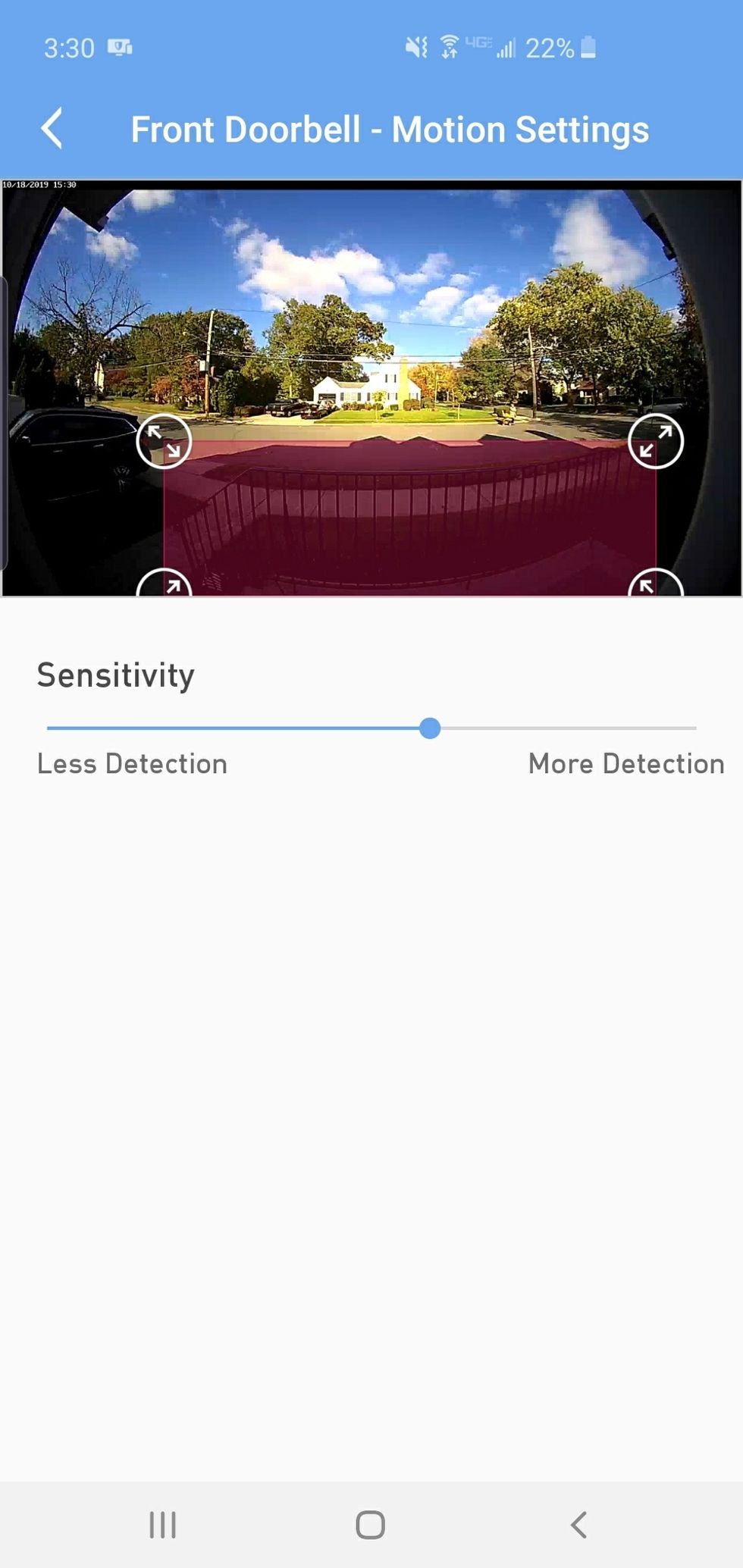 Use Lifeshield app to control the video sensitivity of your doorbell.GearBrain
Performance

GearBrain tested the Lifeshield smart video doorbell in an average home, with the type of internet connection you would expect to find. The home's front door was also very close to the sidewalk and road which was helpful in testing Lifeshield's motion sensitivity. After weeks of testing, we found the video doorbell work extremely well in certain areas, but not in others. It was very easy to setup, taking less than the 30 minutes Lifeshield claims, and connected nicely to our Lifeshield smart home security system. We did find that in order to unlock a door, we needed to exit the app after we talked to someone. Other smart video doorbells support that feature of talking to someone and unlocking the door at the same time, which Lifeshield did not.
We could clearly hear the visitor at the doors through our smartphone and the tablet through the two-way communication feature, but sound was slightly delayed, as was video. That's pretty common with smart video doorbells that connect up to the cloud and then back to your controller or smartphone through an app.
We did, however, find the video resolution to be very clean and the FOV exceptional for a video doorbell. Not many video doorbells we have tested are over 160 degrees. Lifeshield's FOV is 170 degrees, very good.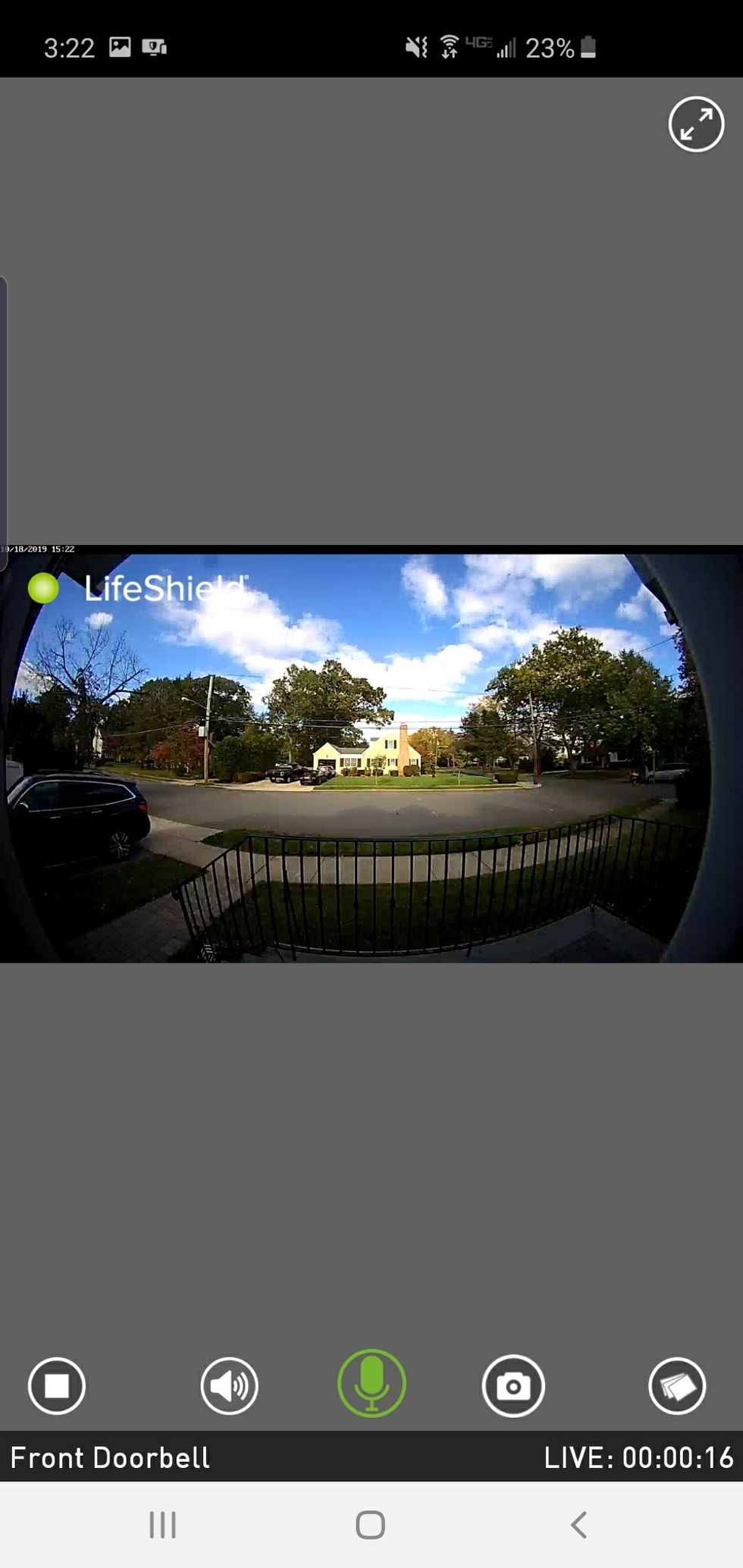 Lifeshield video doorbell comes with 170 degree field of view (FOV) which is rather large for a smart video doorbell.GearBrain
Lifeshield doorbell's ability to set such a wide area to target for motion detection is also a plus, as well as being able to choose sensitivity for animals or people. We've tested a few similar doorbells with this feature, but usually they have smaller fields, or make you choose a block of space rather than a specific area.
We did have a problem with the chime. As we mentioned, when we first installed the video doorbell, we didn't add the power kit to our mechanical doorbell because everything seemed to worked. But as we started our tests, we began to hear white noise come from our chime. We spoke with Lifeshield, which suggested we install the power kit. That made the the white noise disappear.
"In some cases, a mechanical chimer box may need the power kit installed," Lifeshield told GearBrain. "When you are hearing white noise on the mechanical chimer box that is the result of needing to set up the power kit."
Cost

You will need to own, or buy, a Lifeshield home security system to add the HD video doorbell.
Whether you are a first-time system buyer or current customer, you'll pay the same price for the Lifeshield's smart video doorbell. The doorbell retails for $279.99, but LifeShield offers it for sale for $199.99. Its full Doorbell Camera System is priced at $443.94, but is now on sale for only $346.34, and includes a free fire safety sensor. This entire system includes the video doorbell, the base, an entry keypad, two door/window sensors, a motion sensor, a yard sign and window stickers. But there are additional costs for you to consider if you buy this system, or add the video doorbell to your existing Lifeshield system. You will need a monthly plan for video storage from your video doorbell.
HD Video Doorbell Camera System from LifeShield, an ADT Company - 8-Piece Easy, DIY Smart Home Security System - Optional 24/7 Monitoring - No Contract - Wi-Fi Enabled - Alexa Compatible
Lifeshield offers 24/7 professional monitoring service, without contracts, for $24.98 a month plus tax, with the first month free. That also includes 30-day video storage. If you are a Lifeshield customer — and have professional monitoring with or without any cameras in your system — there are no additional charges for video storage when you add the doorbell. If you are a Lifeshield customer — and don't pay or don't want to pay for professional monitoring — you can still add the smart video doorbell to your system, but you can only get 24 hours of video storage. If you are a first-time buyer of a Lifeshield security system and it comes with the smart video doorbell, your first month of 30-day video storage is free. But after the first month, you either need to signup for the plan or your video storage will only be for 24 hours.

Summary
Lifeshield's new HD smart video doorbell is a nice addition to the Lifeshield home security system. It has a good FOV, adjustable motion detection, clear two-way communication and a nice sleek, slim design to fit your front doorway molding. The only area we would like to see improved are smart home integrations in the app. Right now, you can answer the doorbell from your smartphone, but you can't unlock your smart lock without having to leave the app. There are many smart video doorbells with this functionality and we hope Lifeshield will be able to implement this.
We would also like to see Lifeshield let you talk to someone who rings the video doorbell from their smart speaker display, like a Google Nest Hub or Amazon Echo Show. Many other smart video doorbells that integrate with Google Assistant and Amazon Alexa smart display offer this functionality. It would be nice if Lifeshield could add this feature in the near future. Its home security systems is already integrated with these voice platforms, and it makes sense to expand these integrations for their customers.
Overall, Lifeshield's smart video doorbell is a good smart home device, one we recommend adding if you're already a Lifeshield customer with cameras who pay a monthly fee. Or, if you are a Lifeshield customer and want a video doorbell added to your system, but don't care to store videos more than 24 hours, it's a good device for you too.
Pros and Cons
Pros:
Night vision up to 20 feet, and HD video resolution with good 170-degree FOV
Easy installation and slim design
Works with mechanical and digital doorbells
Cons:
Limited smart home integrations (no smart speaker display connections)
Works only with Lifeshield systems and no local video storage
Wi-Fi-only signal
HD Video Doorbell Camera System from LifeShield, an ADT Company - 8-Piece Easy, DIY Smart Home Security System - Optional 24/7 Monitoring - No Contract - Wi-Fi Enabled - Alexa Compatible