Indoor and outdoor smart plugs are extremely versatile, coming in various shapes and sizes and able to connect to other smart devices using multiple wireless connections like Z-Wave, Wi-Fi, Bluetooth and more. Recently we got a chance to test a new outdoor smart plug, big, well-built and able to work on various wireless protocols. Called the Lutron Caseta Outdoor Smart Plug, here is what we found while testing this new smart plug in a smart home.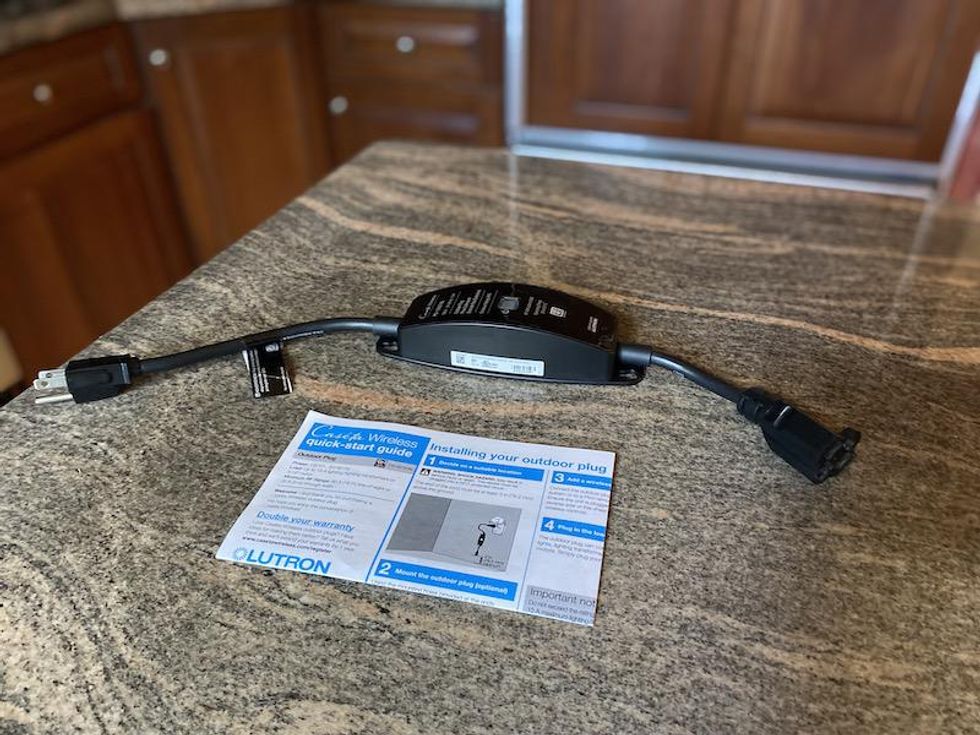 Lutron Caseta Outdoor Smart Plug with Quick Start GuideGearBrain
What is the Lutron Caseta Outdoor Smart Plug?
The Lutron Caseta outdoor smart plug is a sturdy, smart plug that works outdoors but can also work inside a home as well. With an IP-65 waterproof rating, the device plugs into a GFCI outlet and can handle 15-A lighting loads. That means it's more than suited for controlling your outdoor lights or any outdoor device remotely. You do, however, need to make sure you connect it to a Lutron Smart Bridge.
Lutron's new outdoor smart plug can be used to schedule a number of other smart devices, particularly lights. You could use the plug to turn lights on and off at specific times throughout the day, and it can also be used to control landscape lighting, holiday and string lights, outdoor lamp posts or wired weatherproof speakers. Any device that is plugged in to Lutron's outdoor smart plug can be turned on and off via an app.
The new Lutron Caseta outdoor smart plug also supports multiple load types. Once you connect it to a Lutron Smart Bridge or to the Smart Bridge Pro, you can run the plug through a wireless connection, which is actually Lutron's patented Clear Connect Type A RF Technology. And this also means you can use the Pico remote control as well to control anything plugged into the smart plug.
One of the best features, we think, of Lutron's outdoor plug is its solid design. This plug is sturdy and well-made with a sleek, modern looking design that we think elevates how many outdoor smart plugs can look.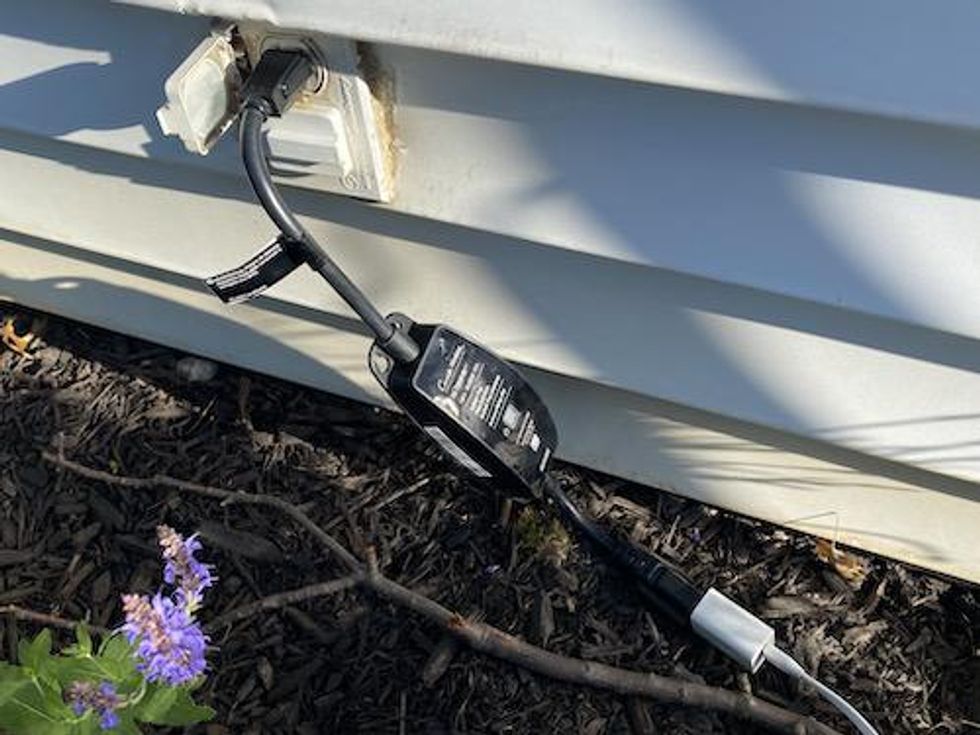 Use Lutron Outdoor Smart Plug to control your outdoor lights.
GearBrain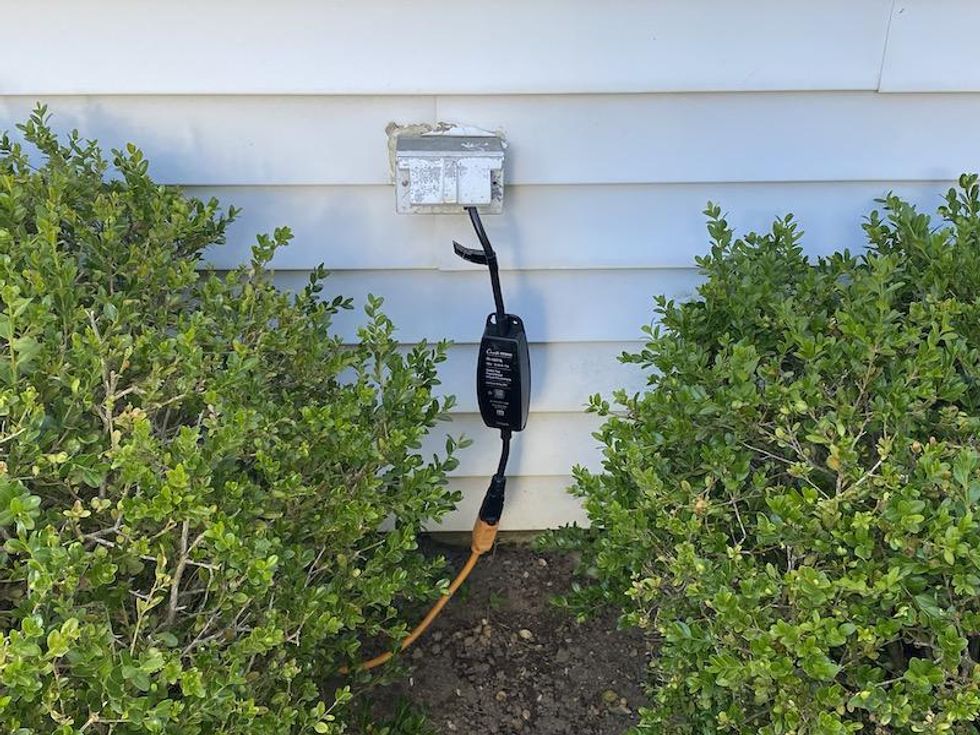 Lutron Outdoor Smart Plug is built tough to handle extreme weather conditions year round.
GearBrain
How to setup the Lutron Outdoor Plug?

Setting the smart plug up is a breeze. You plug it into your exterior outlet, and then download the Lutron app from either the App Store (iOS) or Google Play (Android). Then just follow the directions in the Lutron app. The entire process should take you no longer than five minutes. And once the plug is connected to a Lutron Caseta Hub, you can start creating schedules and scenes for specific times of day.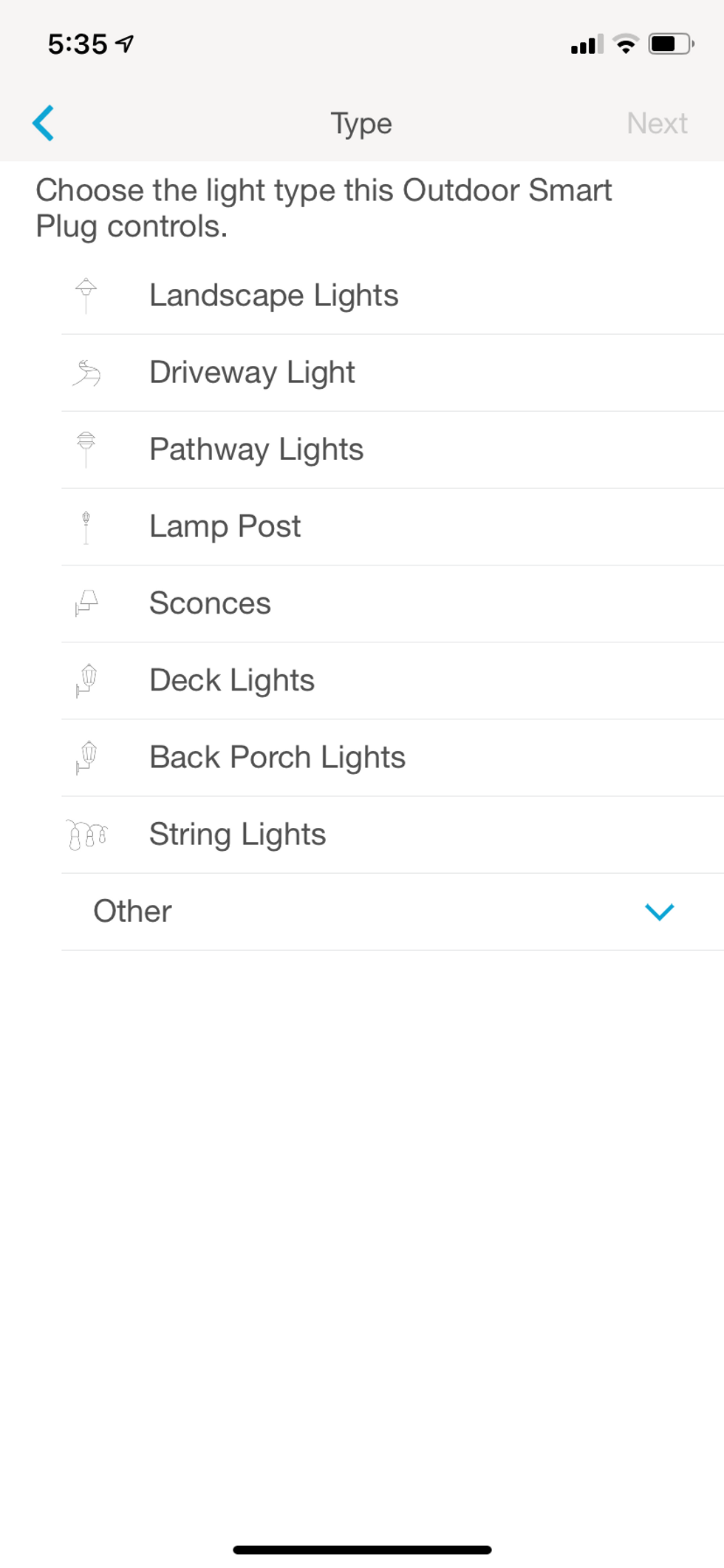 Lutron Outdoor Smart Plug can control a variety of lights.GearBrain
Smart Home Integrations

Lutron Caseta has a rather robust smart home ecosystem. With the Lutron Caseta Hub (Smart Bridge), for example, users can control their Lutron devices using voice commands through Apple's Siri, Amazon Alexa or Google Assistant-enabled device. Lutron works with each of these voice platforms. You can also control other compatible smart devices that work on different wireless protocols, like Z-Wave or Wi-Fi if you have the Smart Bridge or the Smart Bridge Pro.
One interesting integration we liked about the Lutron was its ability to work with the Apple Watch, as Lutron devices are compatible with Apple HomeKit. As a result, if you have an Apple Watch, you can select scenes — through this wearable — for your Lutron Outdoor Smart Plug. (And to learn more about what other smart devices work with Lutron Caseta, you can visit The GearBrain. Our compatibility find engine for smart devices will assist you in finding devices compatible with Lutron Caseta and any of your other smart devices in your smart home.)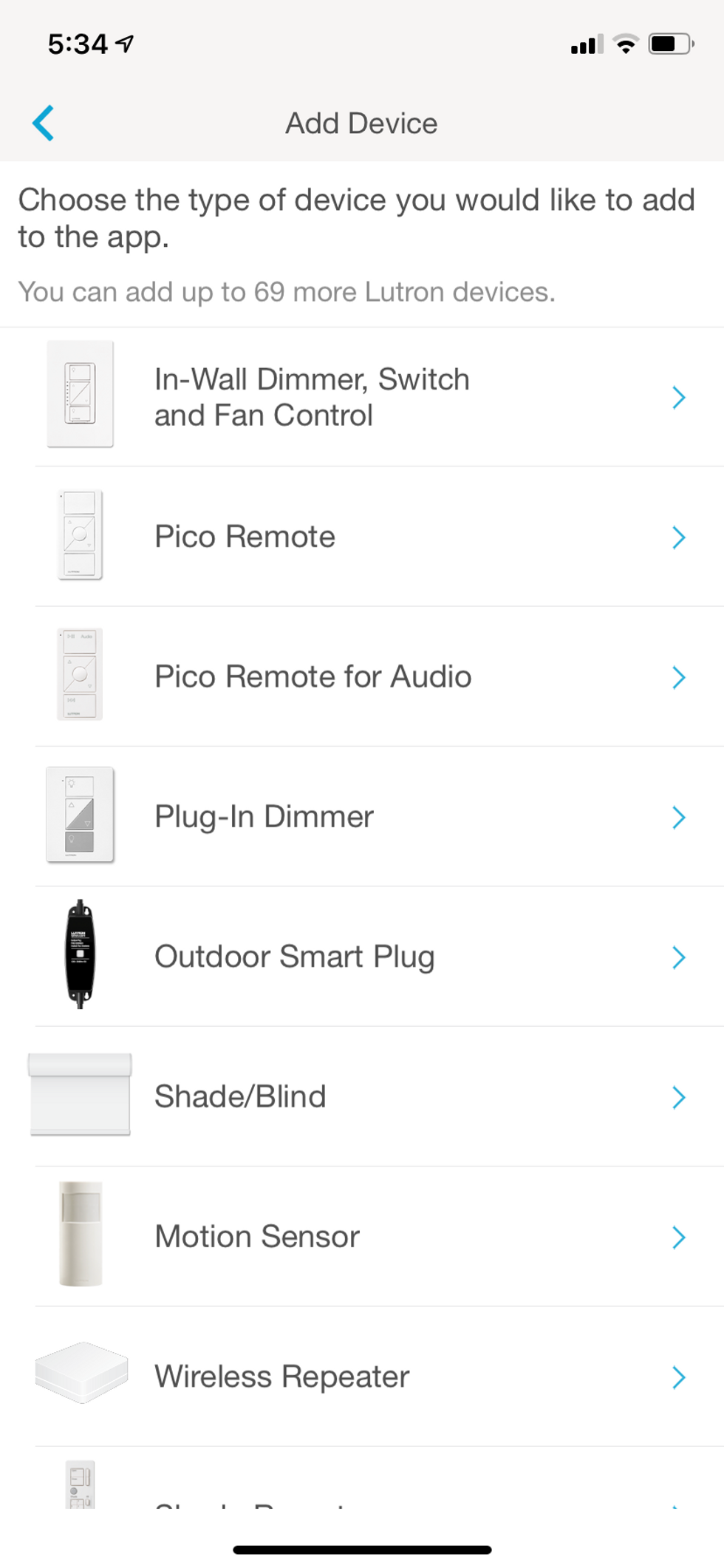 Lutron App controls all your Lutron devices as well as products that are compatible.GearBrain
Price
Lutron Outdoor Smart Plug is not inexpensive. It's one of the higher-priced outdoor smart plugs, retailing for $79.99. You can pick one up in lighting stores, Home Depot, Lowe's and electrical supply outlets. You can also buy the smart plug online at Amazon, Best Buy, Home Depot and Lowe's. On Amazon, the Lutron Outdoor Smart Plug retails for $79.95 ($94.95 if you buy the plug with the Pico remote). Currently, Best Buy is selling the smart plug for $79.99.
Performance

The Lutron Outdoor Smart Plug performed as we expected. Connectivity was great, and we were able to setup and control our string lights in minutes. We would recommend you check the wireless, or Wi-Fi, connection from the outdoor location where you plan to use your Lutron plug. If it's weak, you might need to get a Lutron Caseta Repeater to improve the connection.
The size of the plug may be an issue for some users. At 19.25 inches long, the plug's casing is also 6.875 inches long and 1.5 inches high. This means the smart plug will standout depending on where your exterior plug is located. For our test house, our outdoor outlet was exposed and you could easily see this outdoor smart plug. We do, however, like the overall design of the lock, which we found more appealing than the standard cube-like smart plugs.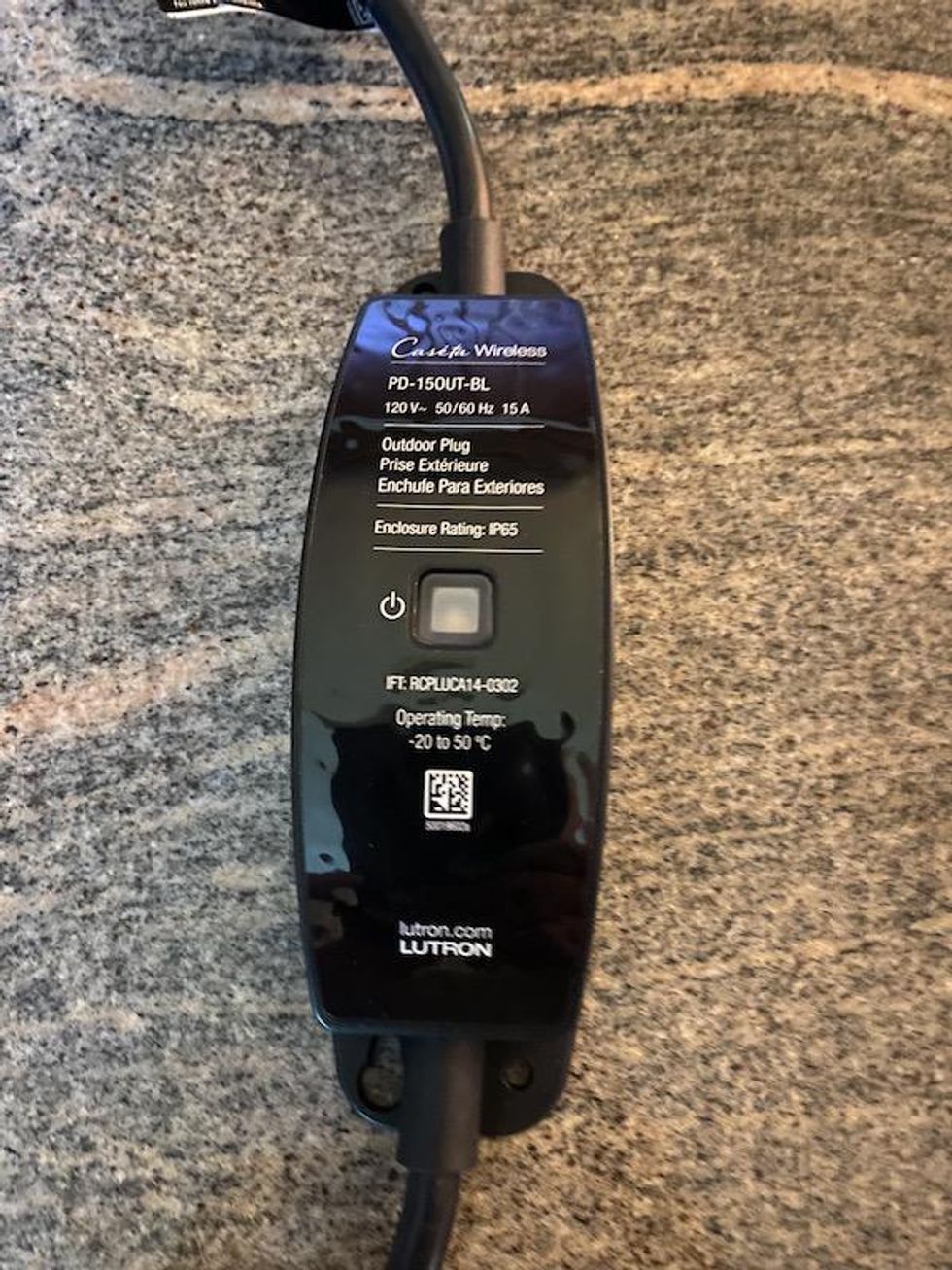 Lutron Outdoor Smart Plug is unlike the typical outdoor smart plug. It's rugged and can power a lot of devices.GearBrain
Worth picking up?
If you are in the market for an outdoor smart plug that is sturdy and capable of withstanding extreme weather conditions year round, Lutron's new outdoor smart plug is a good choice — but it comes with high price tag. It is weatherproofed, and easy to use. You can control it through an app, use voice commands and even run devices plugged into it via an Apple Watch. But are going to have to double check that you have a Lutron Caseta Smart Bridge (hub), as well. If you don't, the plug will have limited remote controls and become just an expensive outdoor plug.
Pros:
Sleek Design
Waterproof IP-65 rating
Lutron Ecosystem
Cons:
Price
Size
Need to connect to Lutron Smart Bridge (hub)
Lutron Caseta Weatherproof+ Outdoor Smart Plug On/Off Switch | Works with Alexa, Google Assistant, Apple HomeKit | for Landscape and String Lighting | PD-15OUT-BL | Black