Earlier this year we reported on the rebranding of GE Lighting's C by GE brand by Savant, the premium home automation company. The new name is Cync, and the company has started to launch a few new products under this new brand name. We got to test one of the new Cync products, Cync Outdoor Smart Plug on a real home with normal connectivity. It was the perfect time to test this type of smart home device. What better way to see how an outdoor smart plug works than with our outside holiday lighting. Here are the results from our testing.

What is the Cync Outdoor Smart Plug?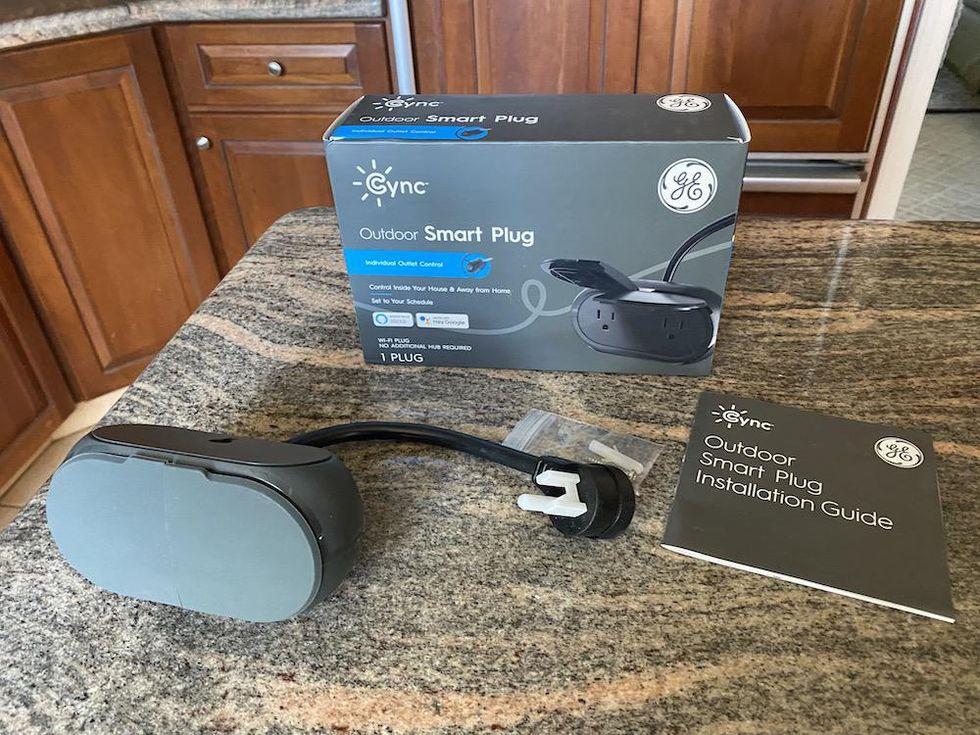 Cync Outdoor Smart Plug unboxed
GearBrain
Cync's new outdoor smart plug is a smart plug that works either inside or outside your smart home on a 2.4 GHz Wi-Fi connection. It has a Max load of 15A 1800W and a Rating 120V 60Hz. Once connected to your home Wi-Fi, you can control any device you plug into the outdoor plug. You will be able to turn devices on and off or set scenes and schedules from anywhere using the Cync app. You can also use your voice if you have either an Amazon Alexa or Google Assistant enabled device. No hub is required.
The Cync app is available for iOS and Android devices. The Cync app will allow you to setup custom schedules and connect with other compatible devices, including the smart speakers and displays which can act as your smart home hub if desired.
What makes Cync's new outdoor smart plug unique is its ability to provide control for each outlet separately. Many outdoor smart plugs we have tested to-date come with only one outlet. However, Cync's new Outdoor Smart Plug comes with two outlets instead of one. For homes that don't have many outdoor outlets to power outdoor lighting or devices, this new Cync outdoor smart plug can help solve this problem by providing two smart plugs for each outdoor outlet.
How to Setup Cync Outdoor Smart Plug
Cync app will walk you through the setup process.
GearBrain
Setup of the Cync outdoor smart plug is extremely simple. Just follow the instructions in the Cync app or supplied Quick Start Guide. We recommend setting up the Cync plug close to your Home Wi-Fi router before taking it outside. This will make sure you plug gets paired with your Wi-Fi router and is fully operational prior to being plugged outside.
A big challenge for many outdoor smart devices is connectivity. Being outside your home and far from your Wi-Fi router, you can experience a weak wireless connection. It's always good to test the Wi-Fi signal prior to installation of the outdoor device. If weak, you might need a Wi-Fi extender to help improve the wireless connection.
Once you have your Cync Outdoor Smart Plug paired with your home Wi-Fi network, you can set up control for each individual outlet on the plug. Tip: make sure the names you use to identify each outlet on your Cync Outdoor Smart Plug are easy to remember and not cumbersome to say when using voice commands with a smart speaker or display.
Smart Home Integrations - Compatible products with Cync devices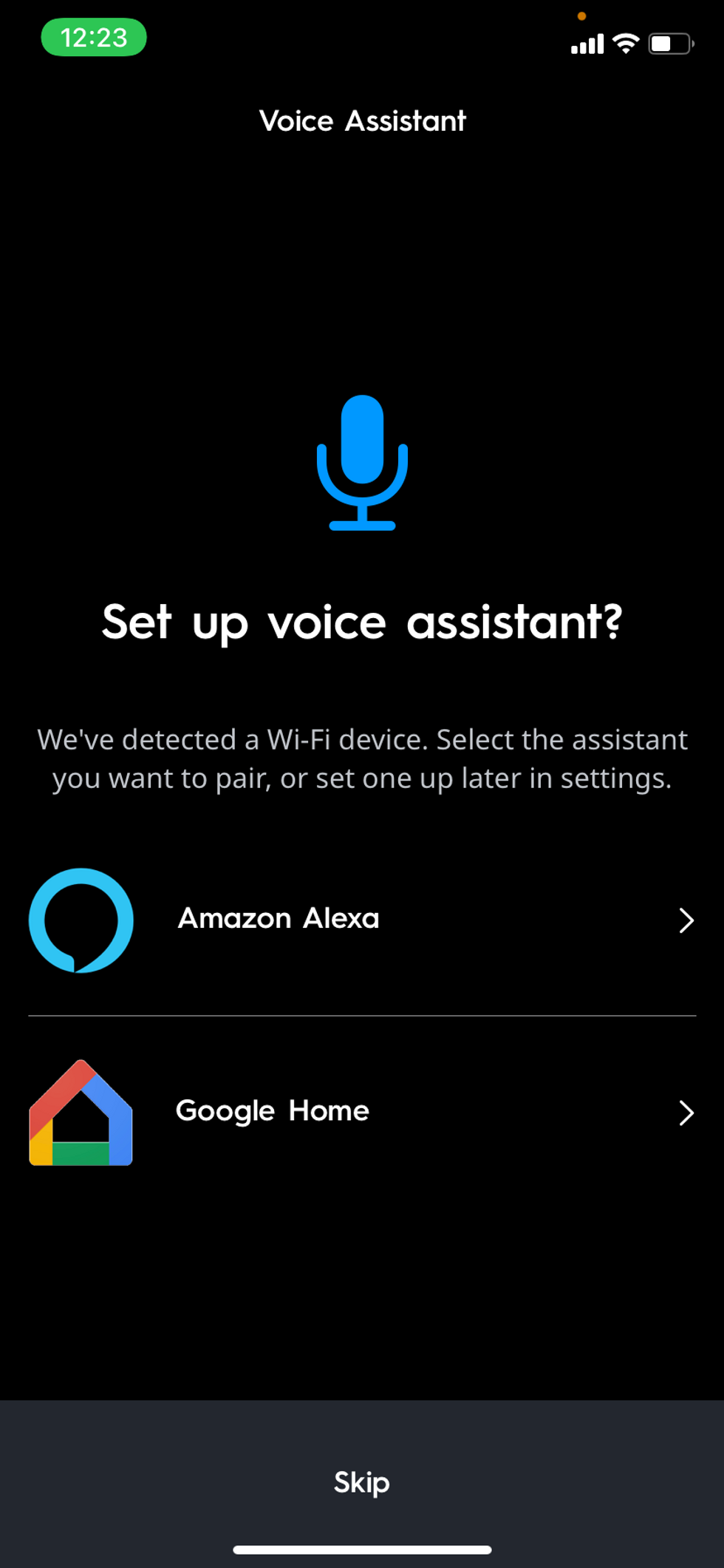 Set up integrations with Amazon Alexa and Google Assistant in Cync app
GearBrain
When looking at Cync's product line of smart devices, it's rather big. It includes not only smart lights and light strips, but switches, cameras, thermostat, sensors and indoor plugs. All these devices are controlled by the Cync app and voice commands.
For voice commands, Cync devices work with Amazon Alexa and Google Assistant enabled devices. You will setup these integrations in the Cync app. As we mentioned, make sure the names you use to label each outlet on your Cync Outdoor Smart Plug are easy to remember and not cumbersome to say when using voice commands. Having long names can cause confusing for your smart speaker or display. Our recommendation is to keep it simple.
Besides Amazon Alexa and Google Assistant enabled devices, Cync Outdoor Smart Plug also works with all C by GE products as well as Savant Home, the customizable smart home platform.
Cost
The Cync Outdoor Smart Plug costs only $29.99 and is available on Amazon, Best Buy and Walmart. It is only available in Black.
How did Cync Outdoor Smart Plug perform during testing
For our tests, we wanted to see how the Cync Outdoor Smart Plug would work with our holiday lighting. We tried setting up the Cync Outdoor Smart Plug outside first, but it did not work. Even though we had a good wireless connection by our outdoor outlet, we ran into pairing issues. The plug would not pair with our home Wi-Fi. We decided to go back inside and connect the plug to our Wi-Fi router by plugging it into an outlet within 4 feet of our router. Turns out we continued to have an issue with connecting to our home Wi-Fi network. Cync does require the outdoor plug be within 40 feet of your router. Our outside location is close to 40 feet, but the signal was strong enough. We contacted customer service and they assisted us in getting the outdoor plug to connect with our router. It seemed we had to do two things: factory reset the plug and update the app's firmware.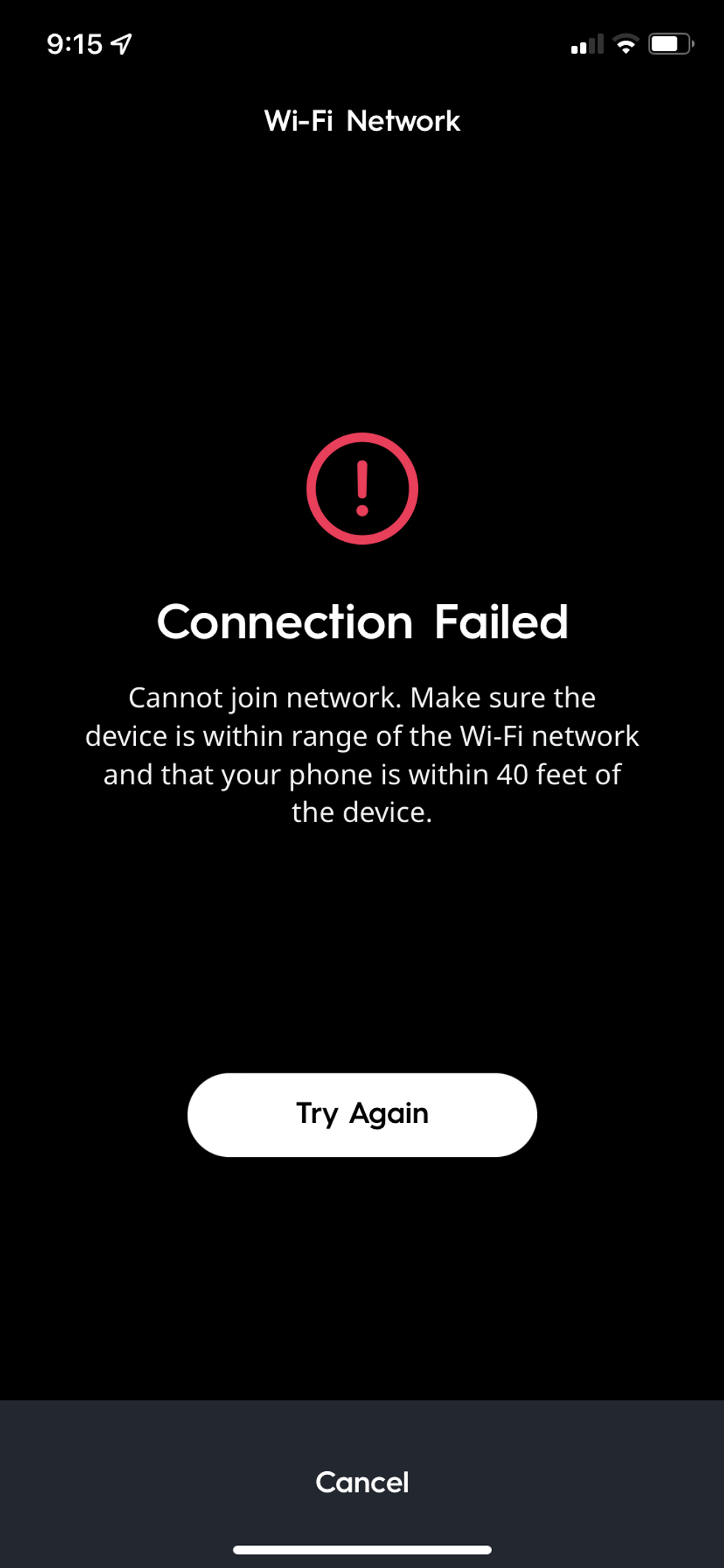 Might have to do a factory reset to pair your Cync outdoor plug with your home Wi-Fi Network.GearBrain
To do a factory reset, you must plug in your Cync Outdoor Smart Plug and hold down the two buttons on top of the plug for 15 seconds. The lights will turn red then back to blue. Next, go to the Cync app and connect your plug to your home Wi-Fi. Your Cync outdoor plug should connect quickly like ours did when we did the factory reset.
After the plug is added to the Cync app, it is recommended to check the firmware. According to our Cync customer service representative, the firmware could pose a problem for some. By updating the firmware, it can help eliminate many issues.
Another nice feature of this outdoor smart plug is the individual outlet control. We liked how we could use one outdoor outlet to plug in our smart plug and then control two different strings of lights, one in the front and the other in the backyard. We could have them work on different schedules which was nice.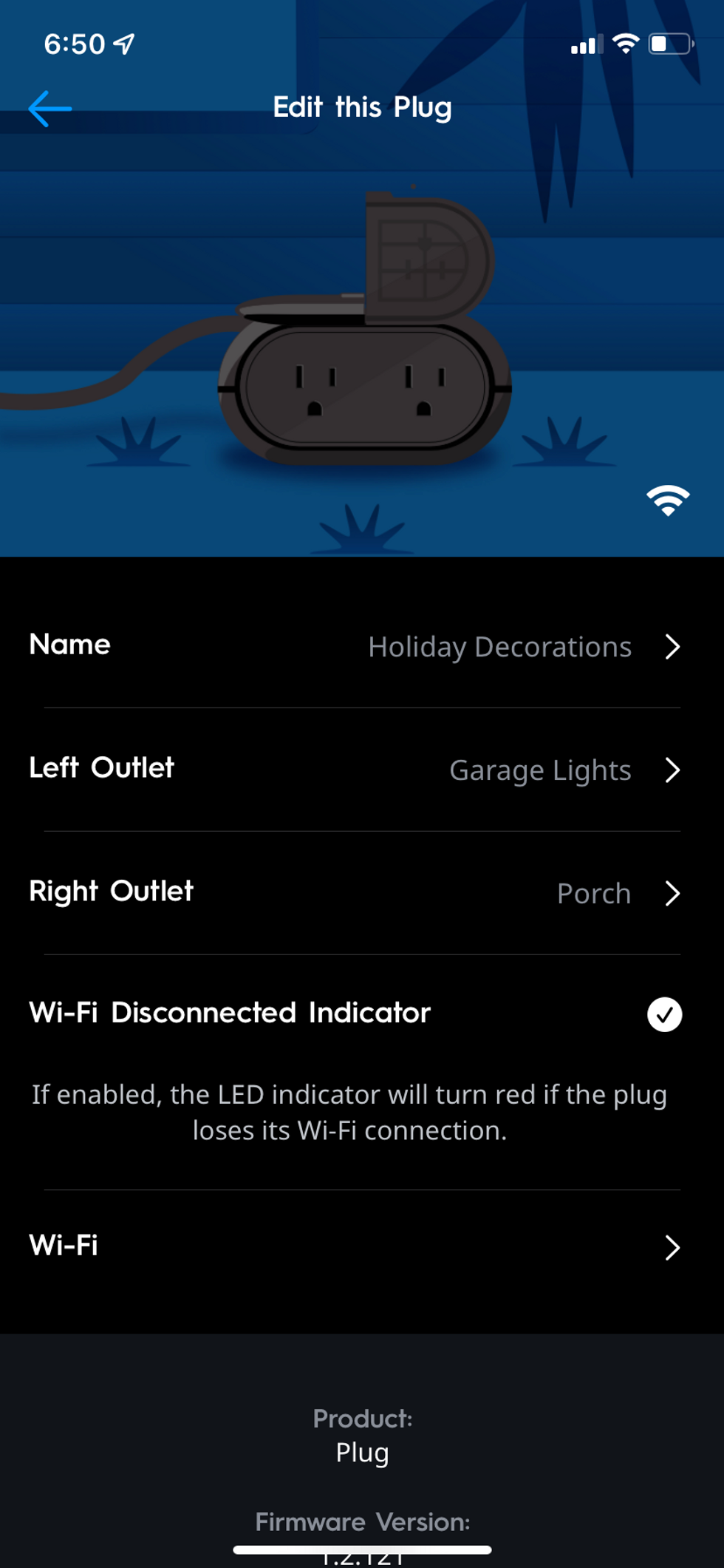 Name. your two outlets on Cync outdoor plug in the app.GearBrain
Summary
Outdoor smart plugs are smart devices which can make operating your outdoor lighting easier, especially around the holidays. They can also help save you money on your energy bill by having them turn on/off at specific times. But these smart devices do present problems to users because of where they are installed. Not many homes have good Wi-Fi signals outside and you need a good wireless connection to your router for the smart plug to work properly.
Another item to be aware of when installing smart plugs outside is how many outlets do you need? Many good smart outdoor plugs come with one outlet or if they have two, work in tandem and not separately. If you have a need for more than one good outdoor smart plug but have one outdoor outlet, GE Lighting's new Cync Outdoor Smart Plug is a good option. It's built to withstand the harsh winters and steamy summers. And it can control more than one strand of lights separately using one outlet.
Overall, the Cync Outdoor Smart Plug is a "plug and play" smart device, no pun intended. It's easy to setup and control your outdoor lights or devices. It's well built and works with both major voice platforms, Google Assistant and Amazon Alexa. But the best feature of this outdoor smart plug is the cost. Hard to beat getting two outdoor smart plugs in one for less than $30.
Pros
Individually control each outlet
Price
Well-designed
Cons
Connectivity problems on initial setup
Need to set scenes using Bluetooth
How to Find Products in The GearBrain, Our Compatibility Find Engine for Smart Devices www.youtube.com