Like GearBrain on Facebook
Mobvoi might not be the most well-known name in the smartwatch arena, especially compared to the likes of Apple, Samsung and LG. But in 2018 the Chinese company earned a lot of praise for its new TicWatch range, which combined Google's Wear OS with strong battery life and low prices.
For 2019 Mobvoi has already launched two new models, called the TicWatch S2 and the TicWatch E2.
Read More:

Because these smartwatches arealmost identical — they only differ in regard to the design of their bezel, and the addition of military grade drop resistance for the S2, which increases its price by $20.
As such, I'll be reviewing the TicWatch S2 here, but you can take everything I say about the watch — apart from the bezel design and that extra level of durability — and apply it to the cheaper E2.
Mobvoi TicWatch S2: Design and hardware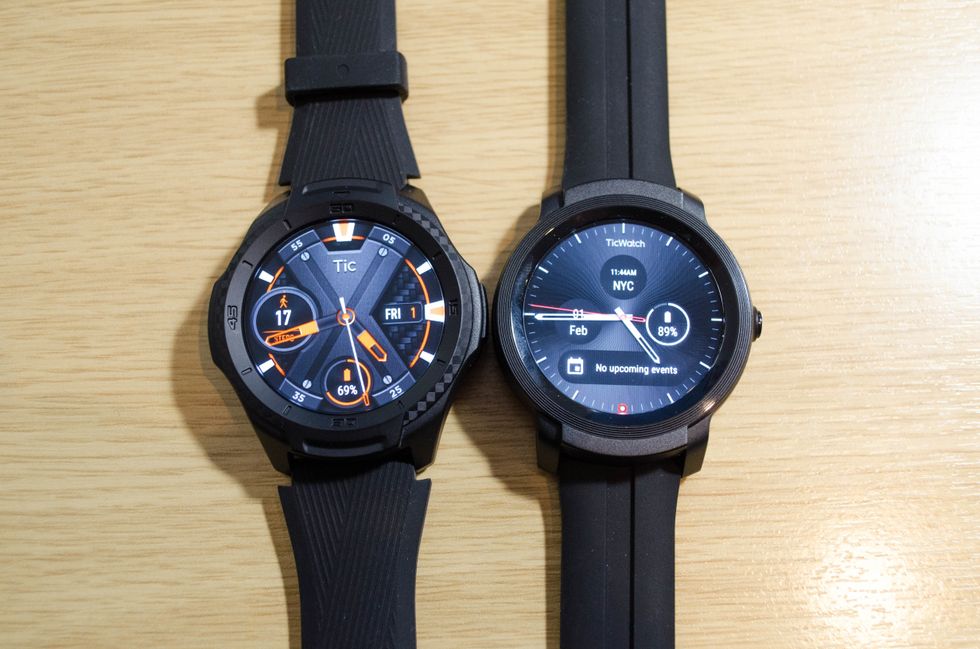 The TicWatch S2 (left) and TicWatch E2 (right) are almost identical
GearBrain
The TicWatch S2 has a subtle, stealthy look to it. The matte plastic body almost makes the watch look like a reference design created by Google, as a demonstration of what manufacturer partners could create.
This shouldn't be seen as a negative — and a white model is coming soon — but it means the S2 will be suited to buyers who want a subtle smartwatch which doesn't draw much attention to itself.
The display is surrounded by a bezel which reminds me of a traditional sports or diving watch, with a chunky and hard-edged profile which has 15, 30, 45 and 60 second markers in the usual places.
However, despite it looking like a traditional watch, the bezel does not rotate, so is not particularly functional. It's merely a piece of skeuomorphic design, reminding one of the analogue device on which it is based, but performing no function.
The only aesthetic difference between the S2 and E2 is that the E2 does not have this type of bezel design. Instead, its bezel is circular and simpler, without the second markers.
Both watches are quite chunky, measuring 47mm across (compared to the Apple Watch options of 40mm and 44mm), and sitting unashamedly proud of your wrist. Personally, I find them both too large, especially when paired with a rubber strap which isn't keen to neatly hug my wrist, and a large matching buckle.
But for those who are used to wearer larger watches, who want their smartwatch to resemble a sports timepiece, then the TicWatches both fit that brief. Their look can be changed by fitting any industry-standard watch strap, thanks to the included quick-release bars.
Both feature a single button at the three o'clock position, which opens the application menu with a short press and launches the Google Assistant with a long press. Below this sits a microphone for speaking to the voice assistant, although there's no speaker so the assistant's responses can only be read and not heard.
On the back of the all-plastic case you will find a heart rate monitor and a magnetic connection for the wireless charger. Inside, there is GPS (so you can go for a run without your phone), and the Snapdragon Wear 2100 processor.
What's missing, unfortunately, is NFC for contactless payments via Google Pay, and there is no LTE option available.
Overall, the TicWatch S2 (and E2) isn't a particularly premium-looking or feeling smartwatch. That said, the price is far lower than most of its rivals, at just $160 for the E2 and $180 for the S2. When you consider the Apple Watch and Samsung Galaxy Watch start at between $300 and $400, you can't help but admire Mobvoi for undercutting the establishment quite so comprehensively.
Mobvoi TicWatch S2: Display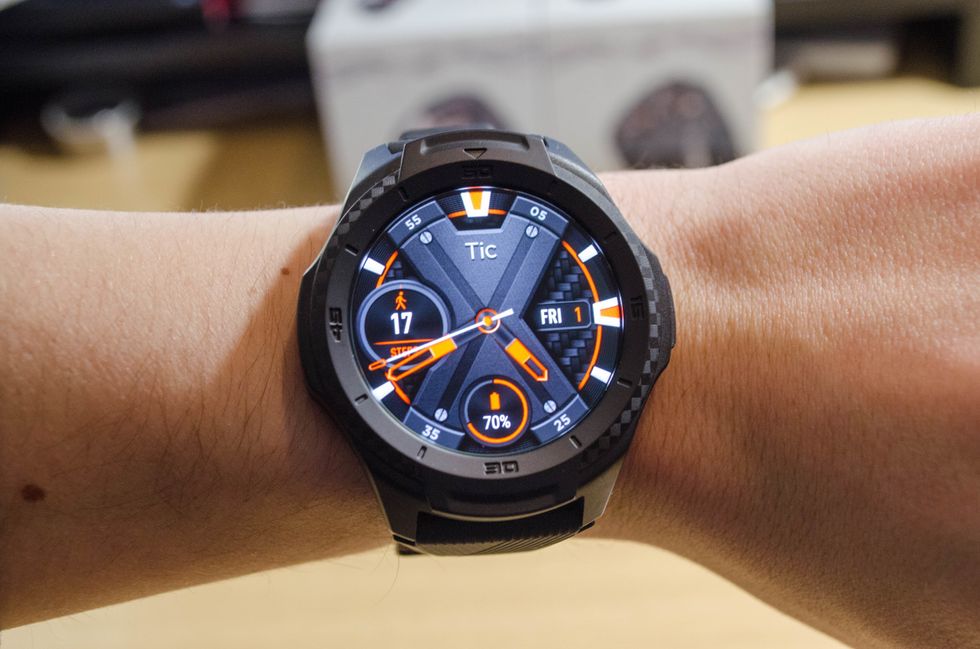 The OLED display measures 1.39 inches and has a resolution of 400x400
GearBrain
The circular OLED display has a diameter of 1.39 inches and a resolution of 400x400 pixels. Despite this sounding good on paper, the results are fairly average. It isn't bad by any means, it just isn't particularly impressive — as an OLED display with a high resolution should be.
There is a degree of graininess to some of the watch faces, but being an OLED means the menu system looks nice and sharp, with white writing standing out clearly against an inky black background which blends into the body.
The TicWatch S2 and E3 have an always-on display, which means the time is constantly shown throughout the day. This is a better situation than the Apple Watch, which is blank unless you tap the screen, press a button, or lift your wrist.
However, to save battery life, the standby screen is rather dark, making the watch face practically invisible when viewed in natural daylight. The screen comes to life and is perfectly legible when you tap it, press the button or raise your hand, but the standby state of the display is often tricky to see.
Mobvoi TicWatch S2: Software and performance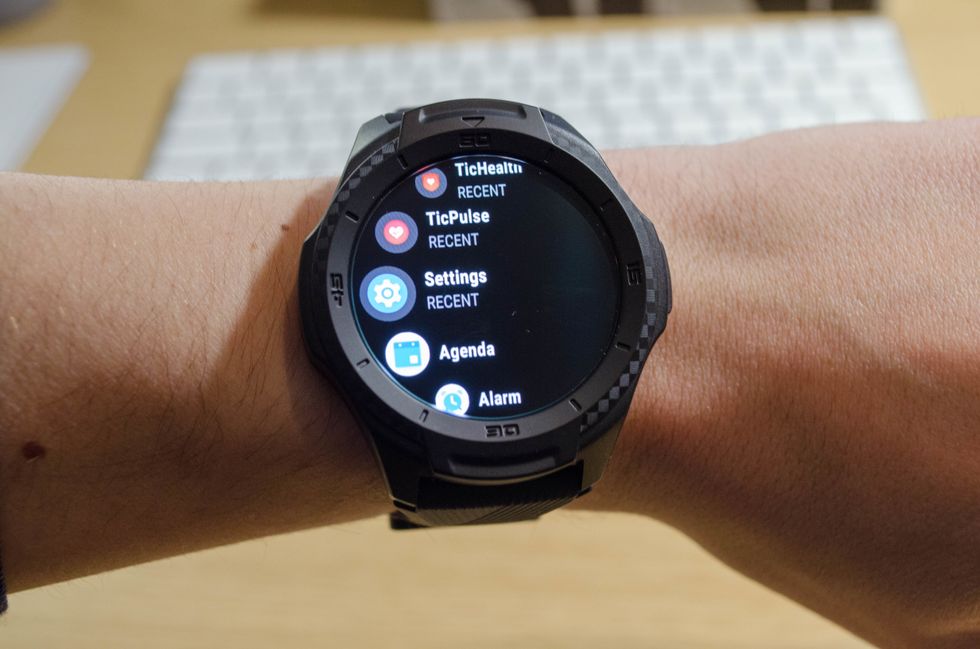 Along with Google's Fit apps, the TicWatch includes some from its manufacturer, Mobvoi
GearBrain
The TicWatch S2 runs Google's Wear OS, an operating system purpose-built for smartwatches. It's never been the best experience, at least compared to Apple's watchOS and Samsung's Tizen, but WearOS does the job well enough.
Along with Google's own comprehensive Fit suite of health and fitness applications, including a new guided breathing app, Mobvoi includes its own set, called TicExercise, TicHealth and TicPulse. These work well enough, and borrow the same ring-based user interface as used by many smartwatches, including the Apple Watch.
There's also a separate app called Pool Swim, where you enter the length of the pool, then jump in and start swimming while the watch tracks your session.
TicPulse, the watch's own heart rate monitor, was as accurate as my Apple Watch Series 4, but took a long time to take each reading and would sometimes fail to do so. On one occasion, the heart rate monitor was then constantly activated (complete with flashing green light on the back of the watch) until I rebooted it.
Personally, I'd rather use Google's Fit system because I'm more familiar with it, but I see nothing wrong with Mobvoi's if you'd rather go down that route instead. If you do, there's a free companion app for your smartphone to download.
The Snapdragon Wear 2100 processor is getting on a bit now, and it occasionally shows. The watch is sometimes a little sluggish to respond, with apps taking a second or two longer than expected to open, and the user interface sometimes reacting unexpectedly.
It's not deal-breaking, but makes you appreciate just how smooth the Apple Watch and Samsung Galaxy Watch are. There were times when I wasn't sure if the TicWatch was blank because it was loading something, like an app I had tapped on, or had somehow switched off.
Hopefully these small stability issues can be resolved with a software update soon.
With regard to battery life, Mobvoi claims up to two days is possible for both the S2 and E2, but in reality I found 36 hours to be more realistic. If you go for a long run with GPS and heart rate monitoring enabled, this is likely to fall to 24 hours or less - about the same as other smartwatches, in other words. It's not great having to charge a watch every night, but that's still par for the course in this industry.
Mobvoi TicWatch S2: Verdict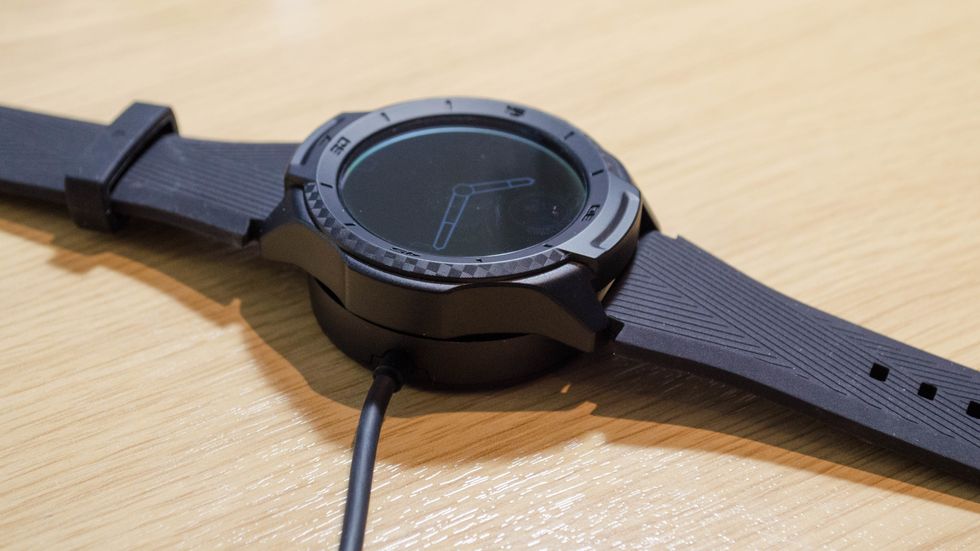 The TicWatch sits on a magnetic charger
GearBrain
It may sound like I have found a lot of negatives with the TicWatch S2 (and E2, which offers the same performance), but this is partly because I am used to the Apple Watch Series 4, which costs more than twice as much yet offers a similar range of features.
But viewed in context of their own price ($160 for the E2 and $180 for the S2) the TicWatches represent good value for money. Their design might not be exciting, but they feel well-made and durable — and the S2 gets to boast about having military-grade drop protection.
For someone who is looking for a tough smartwatch which will record exercise first-and-foremost, but also offer most other smartwatch functions (apart from NFC payments), then the TicWatch range remains something of a bargain.
Pros:
Low price
Embedded heart rate monitor and GPS
Swim tracking
Cons:
Some performance issues
Bland design
Will be too bulky for some
Mobvoi TicWatch S2 and E2 review
GearBrain's Alistair Charlton reviews the TicWatch S2 and E2 smartwatches by MobVoi.Both run Google's WearOS, both have a whole host of feature-friendly feat...




From Your Site Articles

Related Articles Around the Web
Like GearBrain on Facebook