Like GearBrain on Facebook
First came the smart speakers with their integrated but invisible voice assistants. Then came the smart displays, with the same intelligence but with a touchscreen for enhanced functionality.
Amazon and Google's Nest division are key players in this game with their respective Echo Show and Nest Hub product ranges. All of these devices have touchscreen displays for control and audio, plus speakers for music, and can be used to control your smart home. Some also have webcams for video calls and one even rotates to follow you around the room.
Read More:
If you are in the market for a smart display, then read on to work out which is best for you.
What is a smart display?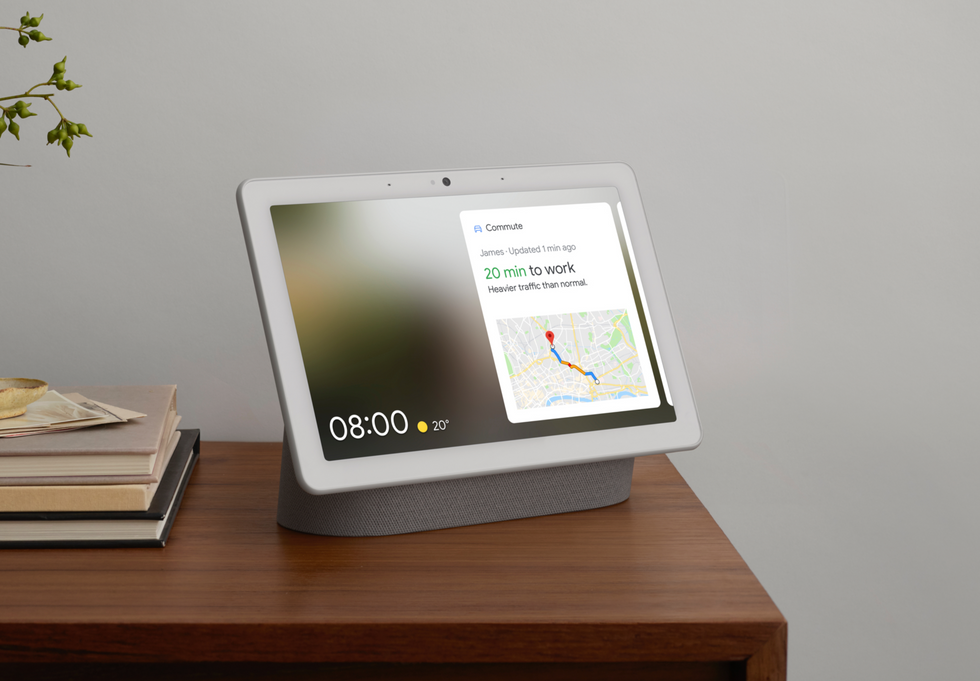 The Nest Hub Max smart display by GoogleNest
First, let us cover the basics. A smart display works much like a smart speaker, like the Amazon Echo, Google Home or Nest Audio you might already own. It has access to exactly the same voice assistant (Amazon Alexa or Google Assistant) and can play music, set timers and alarms, and control smart home devices in the same way.

However, the screen unlocks extra functionality. For a start, answers to your questions are shown on the display as well as spoken aloud, often with extra information. Instead of just hearing the weather forecast, you are shown it too, and the same goes for general knowledge questions, where answers include extra information and an image.
When not in use, smart displays cycle through images by default. These images can be curated entirely by you, or you can pick from collections of artwork and photos of nature offered by Google and Amazon. They also both show the time and current local weather in their resting state.
Smart home control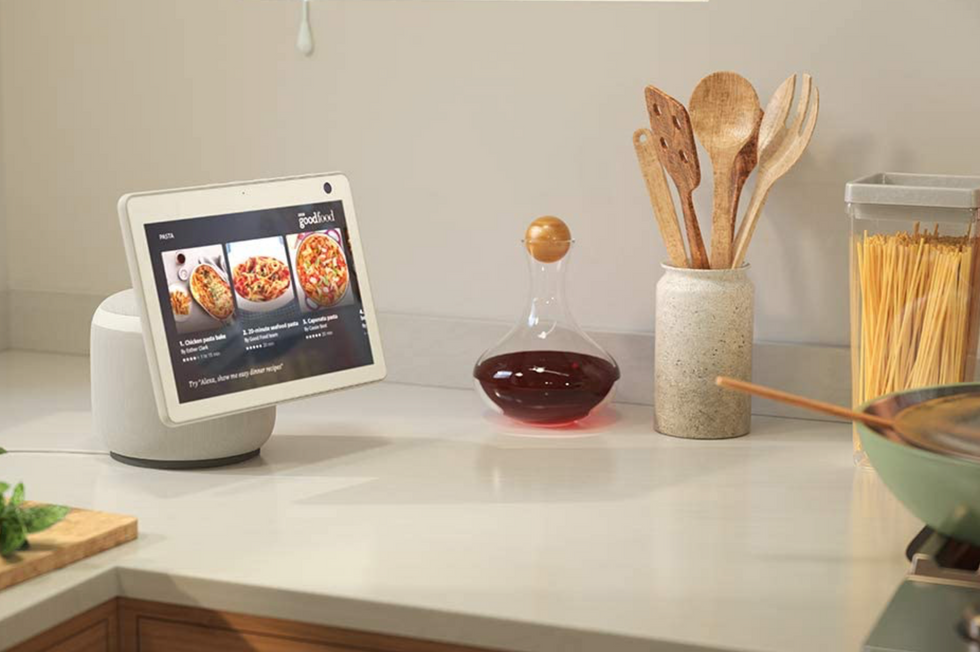 The Echo Show 10 with its rotating HD displayAmazon
Both screens can be spoken to or interacted with via their touchscreen. With a swipe and a couple of taps, both systems give you access to systems for setting alarms and timers, and controlling smart home devices like light bulbs, plugs, switches and thermostats.

We prefer the smart home interface of the Nest Hub and larger Nest Hub Max, as it offers a more granular way of viewing and controlling devices. Where the Echo Show displays a long list of all your devices, with shortcuts only to arrange the list by device type, Nest arranges devices by type or room, and fits more on the display at once without appearing cluttered.
Of course you are more likely to use the voice assistant to adjust smart home devices and enable scenes or routines. But we prefer the Nest user interface and feel it is more intuitive for those less familiar with the taps and swipes needed to control a smart home. We think a visitor or less tech-savvy member of the household could adjust the heating more easily with the Nest than the Echo Show.
Both systems work with compatible security cameras and video doorbells, where their live video feeds can be viewed on the display. Amazon's Echo Show devices can be set to automatically show the video feed from a Ring doorbell when a visitor presses the button.

Speaking of cameras, the Echo Show 10 and Nest Hub Max can use theirs as a form of home security camera. In the case of the Hub Max, the camera can be used just like any other indoor Nest security camera, while the Echo Show 10 can be logged into through the Alexa app, where you can view the camera and turn it through almost 360 degrees – something no Nest camera can do.
A couple of years ago, it was generally the case that Google Assistant was better at spoken language while Alexa with its thousands of skills was able to communicate with more smart home devices. In 2021, there is less of a difference between the two. Google is arguably still the better communicator, but both systems now work well with a great many smart home products.
Screen sizes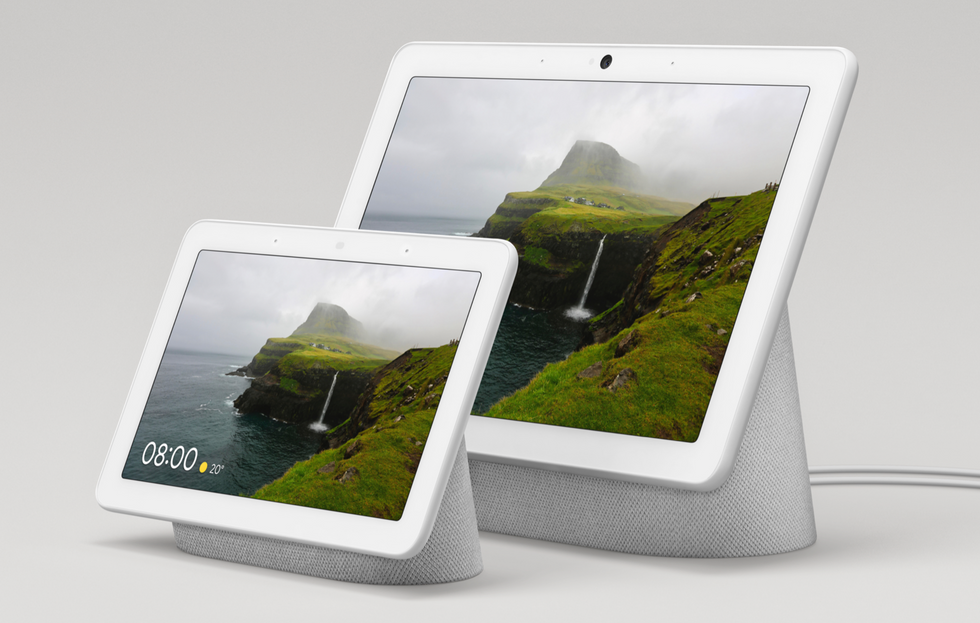 The Nest Hub comes in seven and 10--inch versionsGoogle
There are two sizes of Nest Hub and three sizes of Echo Show. The Nest Hub has a 7-inch display and the Nest Hub Max has a 10-inch display (and a camera, which the smaller model misses out on). The Echo Show range starts at 5.5 inches for the Show 5, then increases to eight inches for the Show 8 and 10.1 inches for the Show 10.

None of these screens are 4K, and the smallest Echo has a resolution of just 960 x 480. But the HD panels of the Echo Show 8 and 10, as well as the Nest Hub Max, are perfectly good enough for watching video. You are unlikely to sit and watch a movie on these, but that really isn't the point. These smart displays are best located in the kitchen or bedroom, where their video output is likely limited to YouTube and the occasional Netflix episode.
Video streaming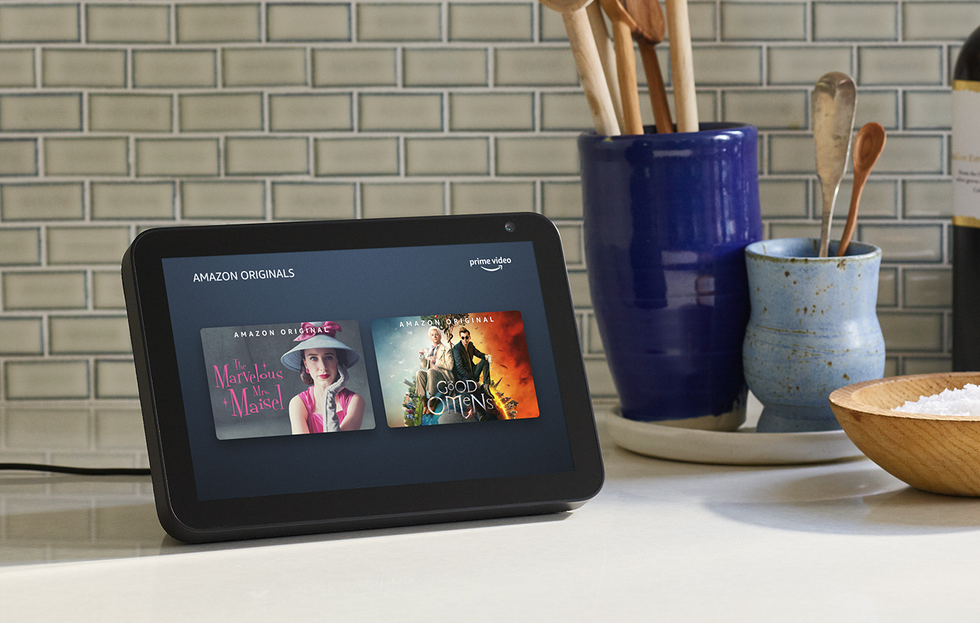 Amazon Prime Video on the Echo Show 8Amazon
Both systems include access to a range of streaming apps, including Netflix. However, with both Amazon and Google having skin in the streaming game, there are restrictions on both sides. For example, the Nest Hub provides easy access to YouTube but Echo Show displays can only access the mobile version of Google's streaming service via a web browser. Disney+ is notably missing from all models of Amazon Echo Show.
With the Nest Hub and Hub Max, content can be streamed using Google's Chromecast system. Open the video you want to watch on your smartphone or other device, then tap on the cast icon in the top corner and select the Nest Hub to transfer the video to it.
Music streaming

It is a similar story when it comes to music, with the Echo Show having access to Prime Music and the Nest Hub enjoying YouTube Music instead. Both systems have access to Spotify and Apple Music, plus a wide range of radio stations. They also have Bluetooth for streaming any audio you like from your smartphone or other device.
The smaller Echo Show 5 and Show 8 both have a 3.5mm audio jack for connecting them to larger speakers and sound systems, but the Echo Show 10 and both models of Nest Hub miss out on this.
Unlike their smart speaker siblings, smart displays cannot be used as part of a TV surround sound system. However, they can be added to a home audio network just like any other smart speaker.
Communication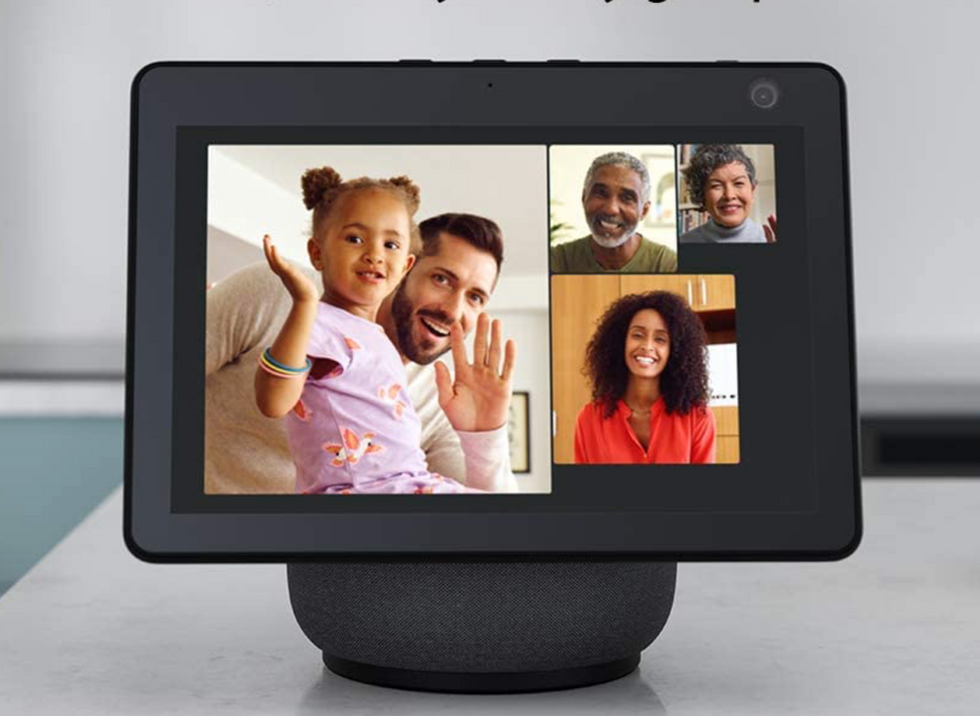 Video calling with the Amazon Echo Show 10Amazon
Both systems can be used to make voice calls with fellow Echo Show or Nest Hub owners, and those with cameras can be used for video calls too (only the smaller Nest Hub misses out here, but it can still receive video on a call).

As well as making video calls between Echo Show devices (and the Alexa app on smartphones), Amazon's smart displays have Skype. Nest Hub displays have Google Duo for one-on-one calls, and the larger Nest Hub Max has Google Meet for video conference calls.
Which one should you buy?
As is increasingly the case in the smart home sector, which system you buy into will depend on what devices you already own. If you have any Nest or Echo products already, then you should stick to that side of the fence, and after that it's a case of picking the Hub or Show that fits your budget and your needs.
If you are starting a smart home from scratch, choosing between an Echo Show or Nest Hub becomes more difficult, as there really isn't much to separate them. Native YouTube and Chromecast on Nest Hub displays is a great bonus, while the Echo Show 10's unique motorized movement and high-quality camera is great for video calls and when using the display while cooking. It's a little creepy at first, but the way the display turns to face you at all times is really useful when following a recipe.
If you are looking for a smart display for the bedroom, both smaller models of Echo Show work well, and we have used a Nest Hub as a bedside clock/alarm/radio for a couple of years now. We particularly like how that is the only model that doesn't have a camera, making it more suited to the bedroom, and it's compact size and auto-dimming display mean it isn't a distraction at night.
Check out The GearBrain, our smart home compatibility find engine to see the other compatible products that work with Google Assistant and Amazon Alexa enabled devices.
7 Tips Everyone Needs to Know About How to Use Amazon Alexa and Google Assistant Enabled Devices www.youtube.com
Like GearBrain on Facebook