Are you in the market for a smart video doorbell but can't decide if you want a battery powered or wired doorbell that hooks up to your existing doorbell wires? We have a new video doorbell for you to consider from Google. It's called Nest Doorbell (battery). Google sent us one to test and we found this new smart video doorbell checked off a lot of the boxes during our testing. See what we found in this review of Nest's new smart video doorbell.
Review and Unboxing Google Nest Doorbell (Battery) in less than 10 Seconds www.youtube.com
What is Nest Doorbell (Battery)?
The Google Nest Doorbell is a battery powered smart video doorbell with all the expected features you need to secure your front or backdoor. Nest Doorbell has a 1.3-megapixel color sensor, PIR (Passive Infrared) motion sensor, 6x digital zoom capabilities, a 145-degree field of view (FOV) and 3:4 aspect ratio. The 3:4 ratio is unique and helps you see a visitor from head to toe.
This new Google Nest video doorbell also records in High Definition, 960 x 1280 pixels and up to 30 frames per second (FPS). You also get night vision up to 10 feet and HDR which is helpful on those bright sunny days and dark nights. Nest Doorbell also comes with two-way communication with noise cancellation, microphone, high quality speakers and a built-in rechargeable Li-ion battery, 6Ah, 3.65V. And it works on either a 2.4 GHz or 5 GHz Wi-Fi connection and uses Bluetooth Low Energy (BLE) connection as well.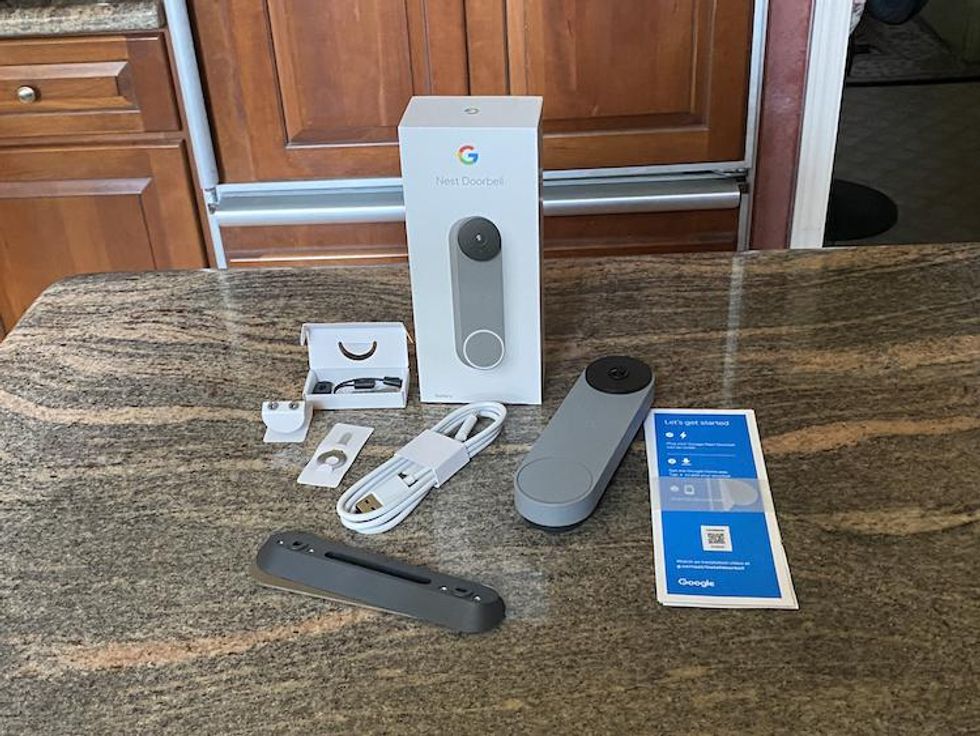 Google Nest Doorbell (Battery) unboxedGearBrain
What is unique about the Nest Doorbell (Battery) is it can work as either a battery powered or wired smart video doorbell. The Ring Video Doorbell 4 operates similarly. If going with the wired installation, you will be able to use your existing doorbell chime if compatible. Google provides a compatibility checker for you to see if your chime will work with the doorbell. If not, you can always go with the battery setup and use a Google Assistant enabled speaker or display as your chime which is not bad. This setup will help you hear the doorbell all over your home if you have several Google Assistant speakers installed.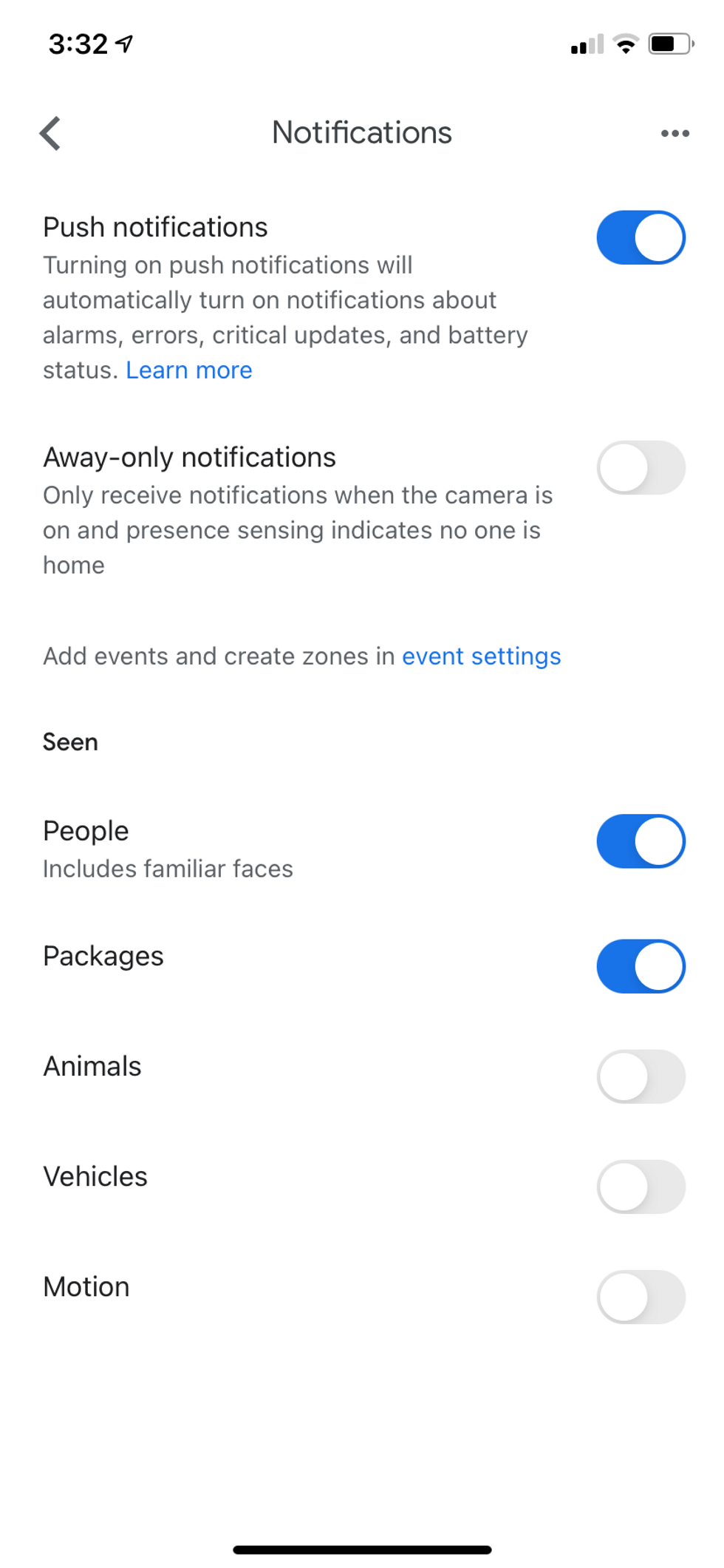 Another nice feature of the new Nest Doorbell is its intelligent alerts. The doorbell comes with on-device machine learning capability. This is more than just facial recognition. You can teach the doorbell to recognize a person, pet, vehicle or even when a package was left at your doorstep. Using the Google Home app, you can set up notifications and alerts by going into the Notification section of Settings, create a Zone, choose the area within view to monitor and select people, packages, animal, vehicle or motion. Once you activate People, the Familiar faces detection will start to track everyone that comes to your door.
To help Google know who the individuals are in the videos, you will need to go into the Events section of Settings, click on Zone and then click on manage button underneath Familiar face detection. Here you will be able to see each video and teach Google who the person is in each video. Then start to get alerts which tell you if someone you know is at your door or has been seen. Keep in mind this feature will require a Nest Aware subscription but it's a nice feature to have, especially if you get a lot of visitors, you know including the mailman and Amazon delivery guy. All are easy to setup in the app and can help prevent false alerts.
And speaking of notifications, another nice feature with Nest Doorbell is the free event video history. Many smart video doorbells offer a free trial for video storage or require you buy a video storage plan to get your event video history. With a Nest Doorbell (battery), you get up to 3 hours of free event video history with purchase. If you have a Nest Doorbell (Wired) connected to your doorbell wires, you will only get 3 hours of photo snapshots of activity. But, if you buy a Nest Aware subscription, you can get either a 30 day or 60 days of event video history.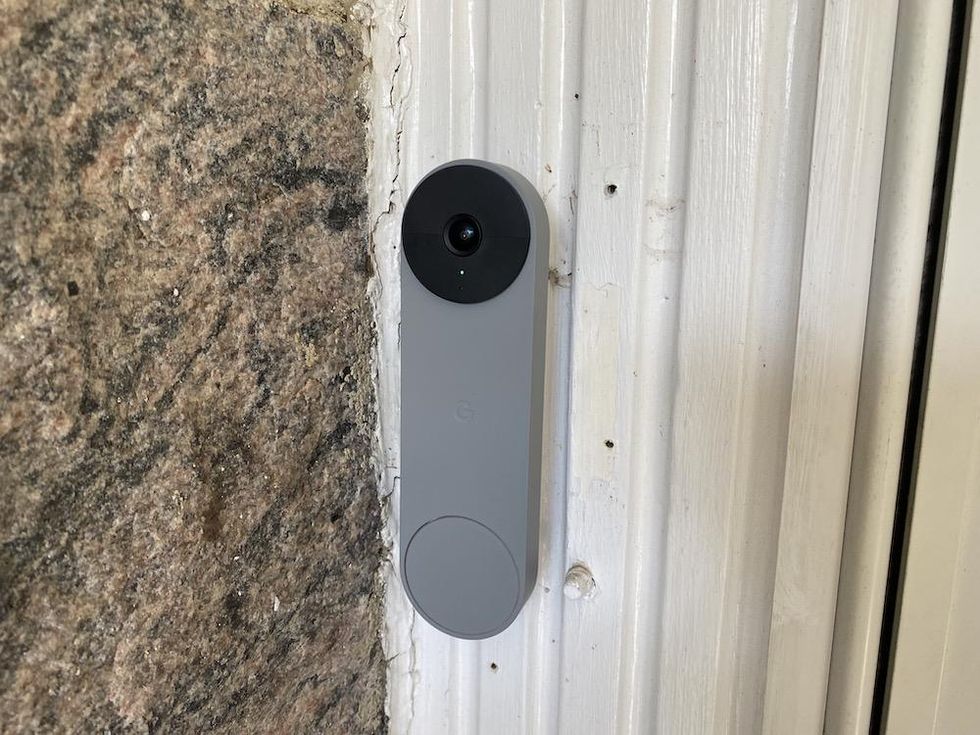 Nest Doorbell (Battery) installedGearBrain
Nest Aware Plans
There are two Nest Aware subscriptions that start at $6 per month: Nest Aware and Nest Aware Plus. Each provides continuous recording and/or event video history for your cameras and video doorbells. What's the difference between continuous recording and event video history? The event history will go back in time (30 or 60 days) and show you the event while the Nest Aware Plus plan offers 10 days of continuous 24/7 video history which can help you see what happened before, during and after the event.
Nest Aware plan costs $60/year if paid upfront or $6 per month. This plan is for Nest cameras, doorbells, speakers and display and includes 30-day event video history, intelligent alerts when familiar faces are seen, smoke and carbon monoxide alarms go off or glass breaking is heard. You also get e911 service.
Nest Aware Plus plan costs $120 if paid annually and includes all the same features from the Nest Aware plan but you also get up to 10 days of 24/7 video history.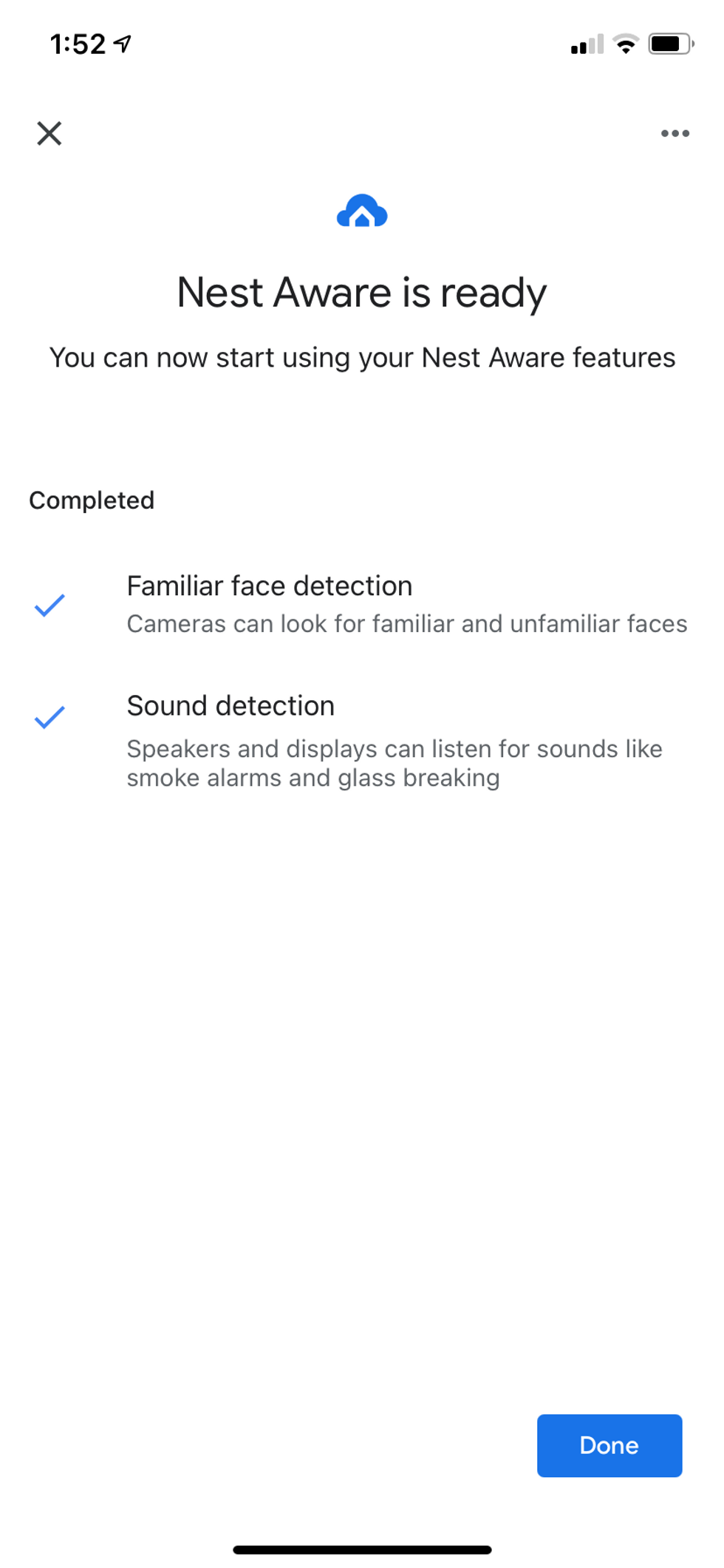 Nest Aware subscription plan comes with sound detection and familiar face detection.GearBrain
How to install Nest Doorbell (Battery)
Installation of the Nest Doorbell is very simple. First, power up the doorbell's battery. While it's charging, if you already have the Google Home app on your smartphone, you can open it up and select Setup Up New Devices, then select Add New Devices. Then follow the prompts to add your doorbell. If you don't have the Google Home app, you can go to the Google Play (Android) or App Store (iOS). Download the app and select setup new device. Then follow the prompts. Total setup should take 30 minutes depending once your doorbell is full charged.
Here are a few tips to help you with the installation. Before you start the pairing process, make sure you are close to your home Wi-Fi router. It will make the setup easier. Also, make sure you have a good Wi-Fi signal at location where you plan to install your Nest Doorbell. During the setup process, you will be able to check the wireless signal, but we recommend doing this prior to even buying any smart video doorbell. It will help you know if you need to boost your Wi-Fi signal using a Wi-Fi repeater or extender to get the video doorbell to optimally work.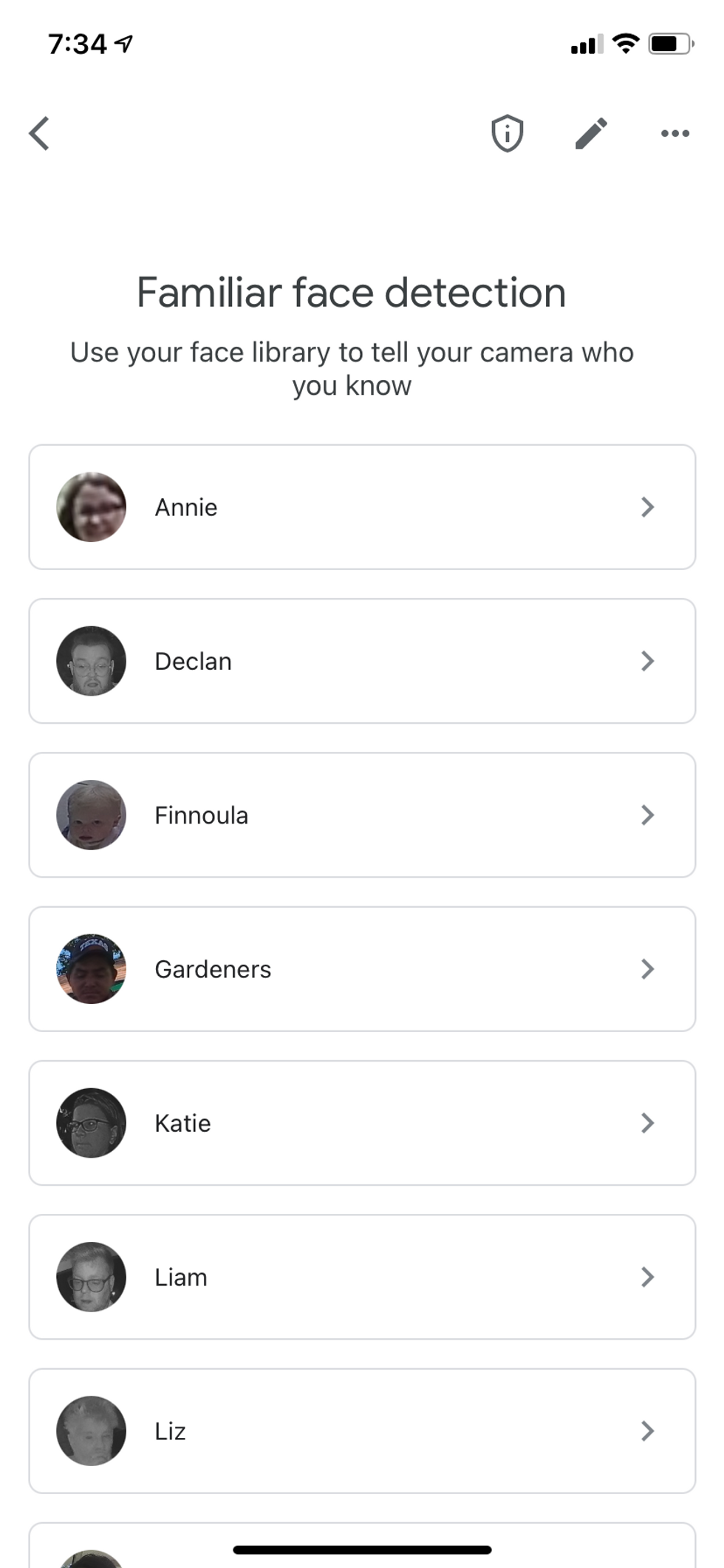 You will have to teach Nest Doorbell who is coming to your door most often by using Familiar face detection.GearBrain
Another tip if you are using the wired installation, make sure your chime is compatible before installation. If you have a 16-24V transformer and your chime is compatible, we recommend you use the wire connectors to connect your Nest Doorbell to your existing doorbell wires. This will assure you have a good connection between the doorbell and transformer.
Cost
Nest Doorbell (Battery) costs $179.99 and comes in four colors: snow, linen, Ivy and ash. It's available on Google's website, Best Buy, Walmart, Home Depot and other online retailers.
Smart Home Integrations - What Works with Nest Doorbell?
Nest Doorbell is part of the Google Nest smart products family and works with Google Assistant enabled speakers and displays. If you have a Google Assistant display (i.e., Nest Hub Max or Nest Hub Gen 2 or even Lenovo Smart Display with Google Assistant), you will be able to use it as a chime and see live video from the doorbell. You can even use voice controls to access the live video feed from your Nest Doorbell. (Note: Don't forget to check out The GearBrain, our smart home compatibility find engine to see the other compatible products that work with Google Assistant enabled devices.)
What surprised us during Nest Doorbell installation was the lack of smart lock integrations. Many video doorbells have smart lock integrations which allow you to lock and unlock your door locks from the live video screen on your smartphone or compatible smart display. We were surprised not to see a lock icon on the live video screen. If you have a Google Assistant enabled smart speaker or display, you can use voice commands to unlock your smart door lock. However, we prefer integrations between smart locks and video doorbells to make it easier to manage and control your smart home devices. This is something you need to consider before buying a video doorbell.
Day Vision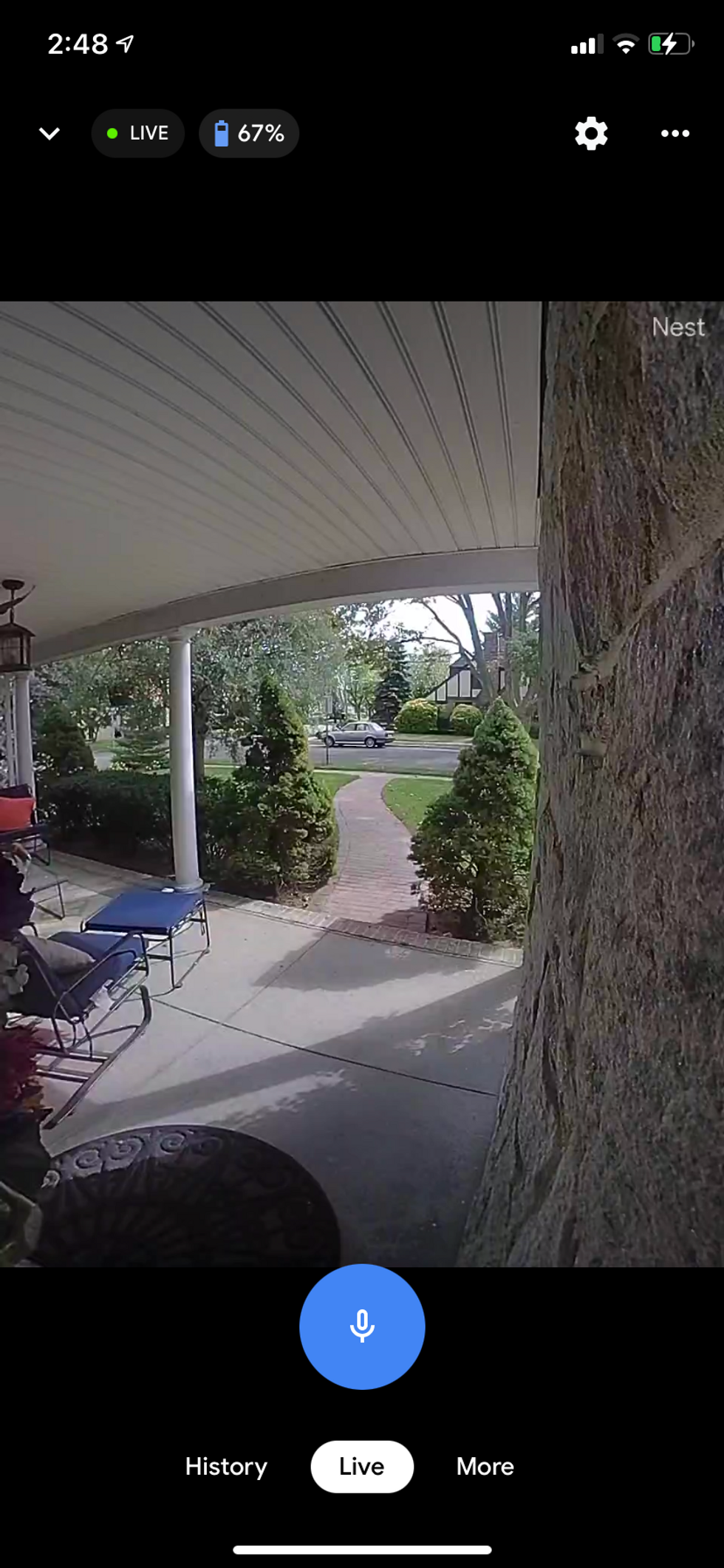 Daytime view from app
GearBrain
A daytime view from Nest Doorbell in Google Home app. a nice crisp and clear view in HD.
Night Vision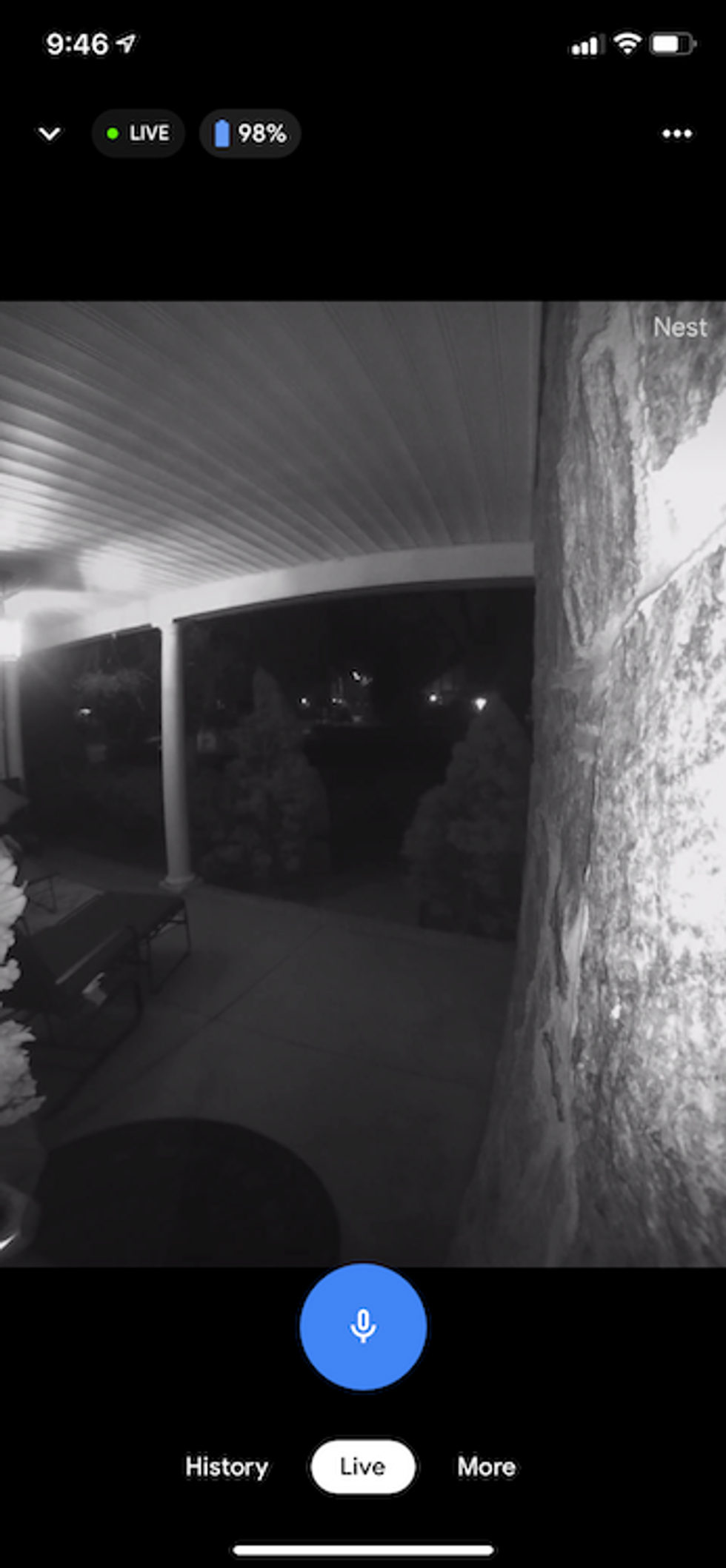 Night time view from app
GearBrain
A nighttime look from Nest Doorbell in Google Home app. Notice how the porch lights brighten up the porch but make it harder to see beyond the porch.
Performance of Nest Doorbell
We tested the Nest Doorbell (Battery) on our GB test house to see how this smart video doorbell would perform under normal connectivity found in homes. Though we had an existing wired doorbell, we decide to install the battery version of Nest Doorbell.
Here is what we liked after testing for two months:
The best live video view from the Google Home app appears in portrait and not landscape mode which is common in most security cameras and video doorbells. You can use landscape mode which provides a wider FOV, but the portrait view offers a head-to-toe look which is good when talking with your visitor. It took us awhile to get use to this but over time we liked it. We didn't have to turn the smartphone sideways to see the full video view of our visitor or the important areas of the live video.
Speaking of FOV, the Nest Doorbell does have a small FOV compared to other smart video doorbells. At 145 degrees, it's small compared to Arlo Video Doorbell or ADT Video Doorbell which both have FOV of 180 degrees. However, the Nest Doorbell does have a bigger vertical view than the others. Something to be aware of when looking for a video doorbell.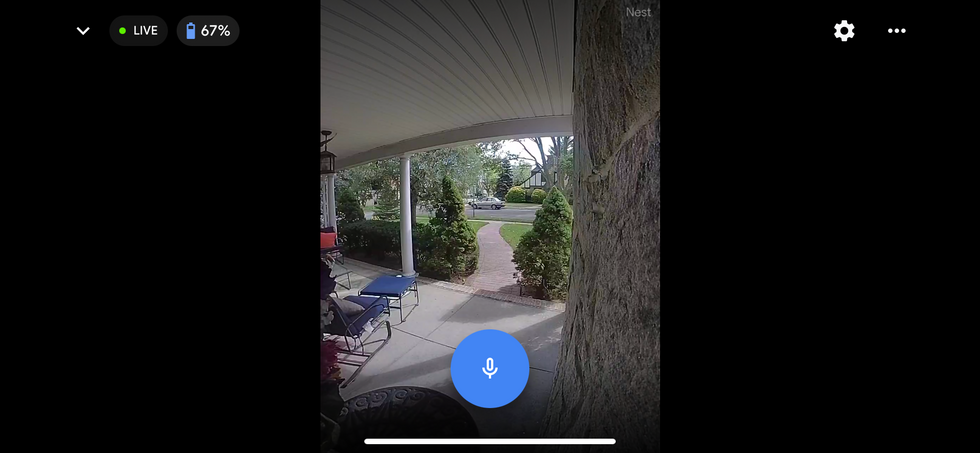 As you can see, Nest Doorbell has a small FOV when in horizontal mode in app.GearBrain
Battery life: Nest Doorbell (Battery) has a powerful battery and can last up to three months. It took us about 5 hours to initially charge. We liked how you can monitor its battery life from the Google Home app. You can keep track of the number of months left and % battery life for your doorbell. This presentation makes it easy for users to keep track on when they need to recharge the doorbell's battery.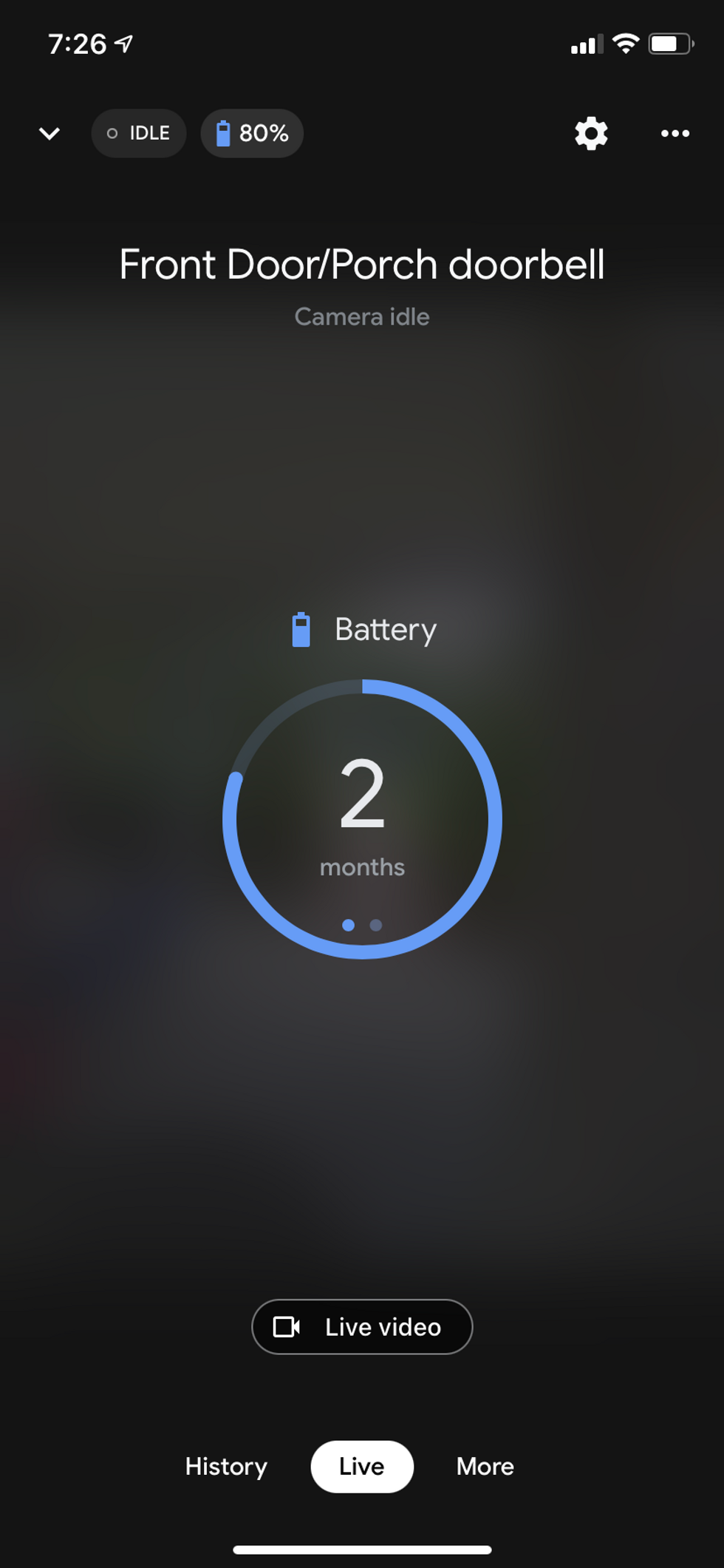 Home Screen in app helps you easily keep track of your doorbell's battery lifeGearBrain
The most obvious distinction between Nest Doorbell and other smart video doorbells we have tested, including Ring Video Doorbell Pro 2 is its size. Google Nest Doorbell is only 1.8" wide but stands 6.3" high. Most smart video doorbells are slim looking so they can fit nicely on 2" wide molding around the door. Many are about 5" long. Nest Doorbell is a big doorbell and standouts. When visitors come to your door, they can't miss it. This is something for buyers to consider prior to purchase.
During testing, we really like the event video history and Familiar face detection. It helped us know who came to our door when we were either home or away. It also let us know if our kids made or missed their curfew. We did teach Nest Doorbell to recognize our mailman and Amazon delivery guy which was nice. And the package detection was nice. We got notification when a box delivered was no longer on the porch. All new and nice features to have in a video doorbell.
One surprising integration missing with the Nest Doorbell was with smart locks. We were disappointed you could not easily operate your smart locks from the video doorbell live view in app.
Regarding night vision, this is a tough one. If the location where you plan to install your Nest Doorbell has a light (i.e., porch light), this is good and bad. It will help you see who is at your door at night, but it could distort your view beyond the porch. Nest Video doorbell does come with HDR which can help clear images in darkness, but during testing, we really couldn't see that far beyond our front porch.
Video quality for Nest Doorbell is good and setting your zones for motion detection is like what other smart video doorbells offer. You can easily select the areas you want to monitor using the Google Home app.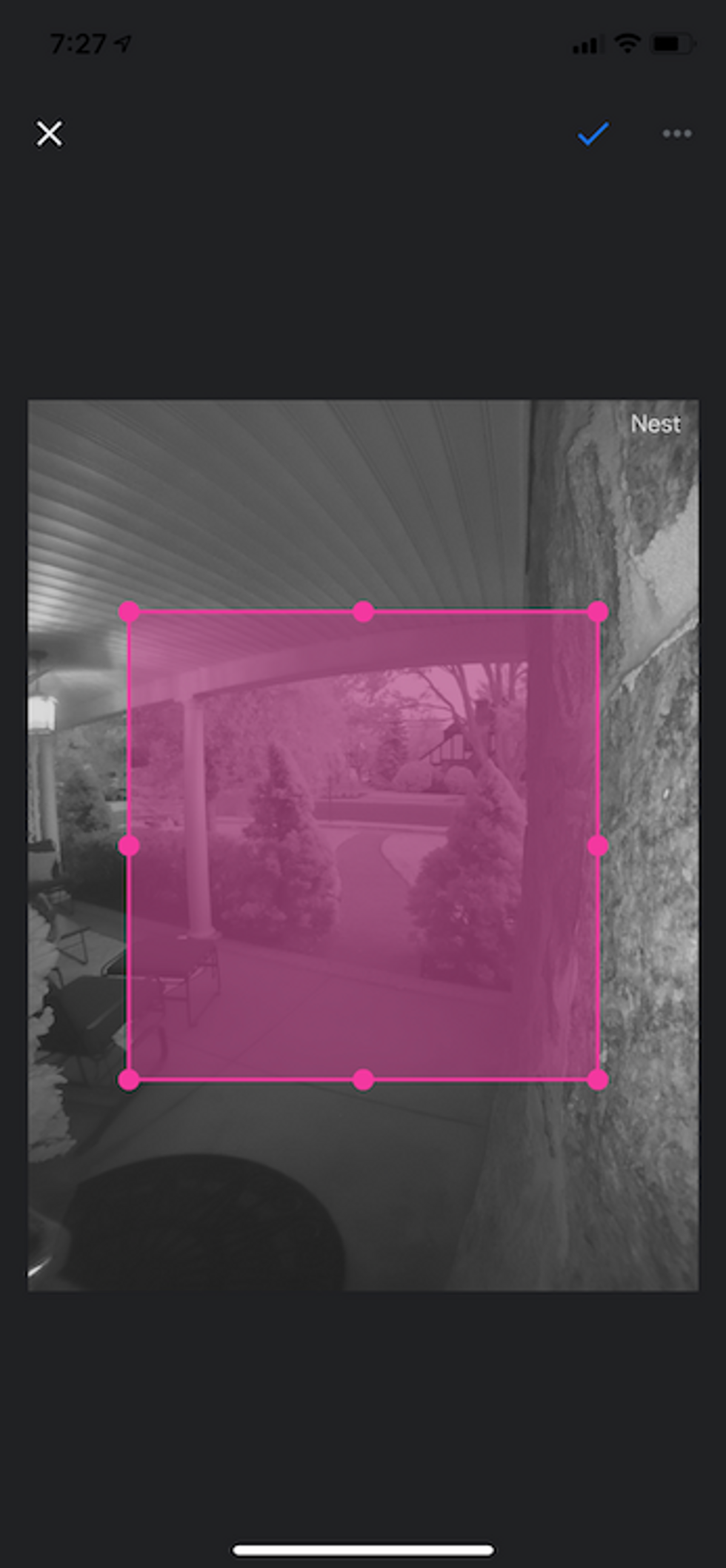 Google makes it easy for you to setup motion detection zones in Google Home app for your Nest Doorbell.GearBrain
Summary
If you are looking for a smart video doorbell that has versatile power capability (either battery or wired), HD video quality, two-way communication, PIR motion sensor, customized motion detection zones, long lasting battery and the ability to tell you who is at your front door, Google Nest Video Doorbell (Battery) is a reliable doorbell for you to consider. If you are looking for wired smart video doorbell with similar features we mentioned for battery video doorbell, we would recommend Nest Doorbell, even over the Nest Doorbell (Wired version). The reason is the Nest Doorbell Wired has limitations when compared to the battery version. Wired version does have a bigger FOV (160 degrees), but it can only detect motion and person as well as has 3-hour event history for still images only. Something to be aware of when looking at these two video doorbells.
Overall, the Nest Doorbell (battery) is a solid smart video doorbell and can stand up to other popular smart video doorbells by Ring, Arlo, Vivint and ADT. If you own a bunch of Google Assistant enabled devices and in the market for a smart video doorbell to add to your Nest Aware plan, Nest Doorbell is the one we would recommend. Just keep in mind you will not be able to unlock your smart locks from the live view in the app, but you will be able to use voice commands.
Pros
Familiar face detection
Head to toe view
Works on battery power or 16-24V wired connection
Long battery life
Cons
Small horizontal FOV
Lack of smart lock integrations in app
Height of Doorbell
Weak night vision
Smart Video Doorbell Buying Guide - GearBrain www.youtube.com