Like GearBrain on Facebook
One of the first video doorbells we tested at GearBrain years ago was the Ring Video Doorbell Pro. This video doorbell differed from others at the time by allowing you to link to your existing indoor doorbell chime, if compatible of course, so you could hear the ring whether your smartphone was nearby or not. Ring has just launched its second generation of this device, the Ring Video Doorbell Pro 2.
Ring sent GearBrain a review sample to test on a real home, and here's what we found after putting it through the "ringer."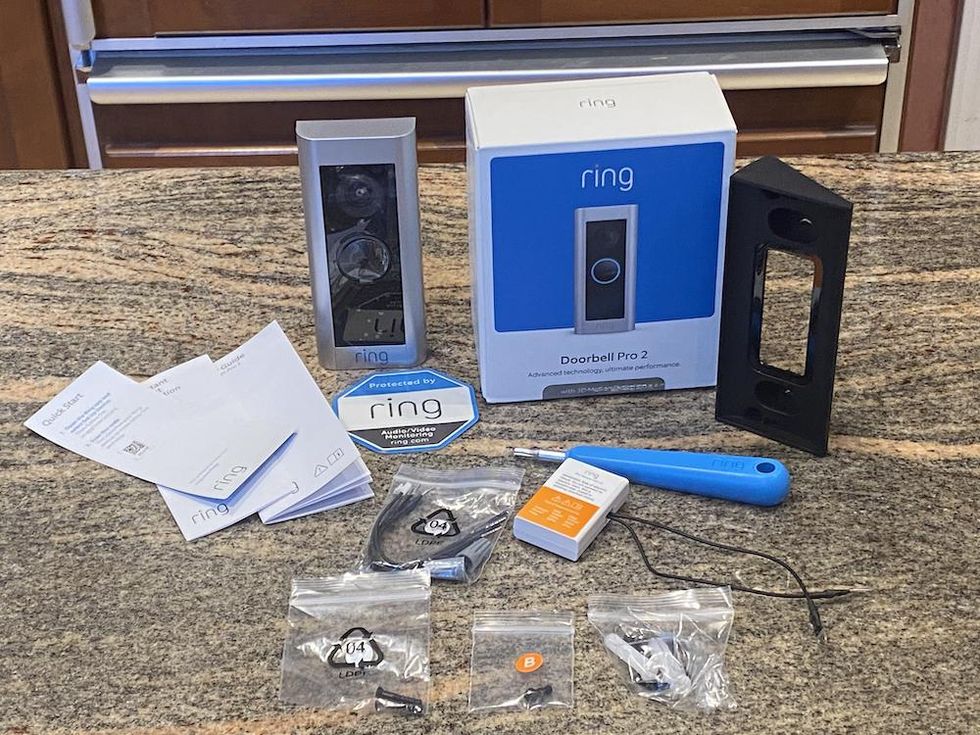 Ring Video Doorbell Pro 2 unboxed.GearBrain
What is Ring Video Doorbell Pro 2?
The Ring Video Doorbell Pro 2 is the company's most advanced smart video doorbell, designed with 1536P HD head-to-toe video, HD audio with 3D motion detection, and built-in Amazon Alexa greetings. The doorbell supports two-way talk, offers advanced motion settings and video previews which you can view in the Ring app.
This new Ring Video Doorbell Pro 2 was the first we could test with the new feature, head to toe HD video, which is unique to other doorbells we've tried that offer fields of view from 100 to 160 degrees. Instead, Ring has a unique viewing angle — along with color night vision and customized motion detection capabilities — that puts Ring's new Video Doorbell Pro 2 in a class of its own.
Besides head to toe HD video, Ring Video Doorbell Pro 2 comes with something called Bird's Eye View, an aerial view of a yard to monitor motion. The feature is an option in the app, and allows people to monitor if someone is on their property — up to 30 feet from your home. It's an interesting security feature we haven't seen in video doorbells except Ring's.
Alexa Greetings in your Ring app but need a plan.GearBrain
Another unique feature is Alexa greetings, which are automated recordings that can be set up in the Ring app. People can record their own message, including instructions on where to leave a delivery as well.
Ring Video Doorbell Pro 2 works on a dual band Wi-Fi connection, both 2.4 GHz and 5 GHz (or dual band). You also get privacy controls, and an option to pre-roll six-second preview videos.

One thing to note, the Ring Video Doorbell Pro 2 does require you have an existing doorbell wire for power. Most existing video doorbells work on a 16 to 24 volt transformer. If for some reason you have difficulties connecting the Ring Video Doorbell Pro 2 to your wired doorbell, it might be your transformer is not strong enough. We found many wired doorbells don't have enough power to get a video doorbell to work properly. Many times the transformers are too old. To play it safe, you should try to test the power outage of your existing doorbell to make sure you have enough power. If not, you will need to upgrade your existing transformer — or buy a Ring battery-powered doorbell instead of a wired one like the Ring Video Doorbell 2.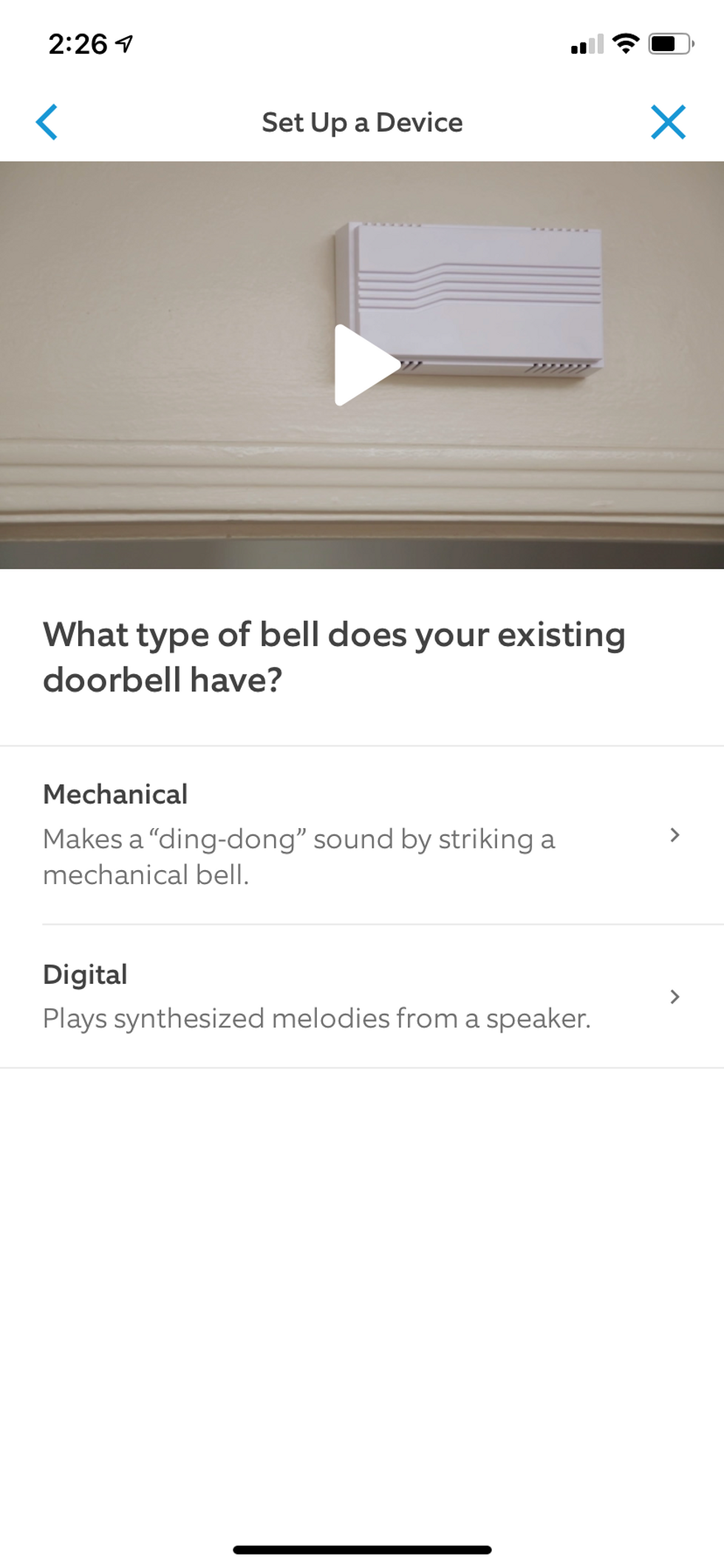 Ring app will help you find out if you have a compatible indoor chime.GearBrain
Features
Ring's new Video Doorbell Pro 2 comes with motion detection, and the company was one of the first to offer customized motion detection. Using the Ring app, you can choose to get an alert when motion is detected in just a specific area, and Ring also lets you pinpoint motion and distance because it employs passive infrared motion detection. This technology can tell the difference between a car and a human, helping to reduce false alerts. For homes close to the street, Ring's motion detection can also exclude areas like the sidewalk, a driveway, or the street, which would provide a lot of unnecessary alerts.
Besides customizing your motion zones, Ring also lets you edit out certain times of day when you know the mail is being delivered, for example, so you don't get repeated motion alerts as well. Keep in mind that if someone besides your delivery person comes to your front door during that period, you will not get an alert, but the Ring device will still record.
Another nice feature on the Ring Video Doorbell Pro 2 is color night vision, which clarify who is standing outside your door day and night.

Many of these new features are easily accessible on the home page of Ring's free app, which has been updated since we last tested a Ring device. Besides being able to arm and disarm your Ring Alarm (if you have one), you get a view of each of your Ring cameras and doorbells and the new Ring features. Ring also does a nice job of explaining each new feature and how to set them up, whether it's setting up geofencing, customizing the app, customizing privacy settings or quickly accessing new features like Alexa Greetings and quick replies. (See our comparison of Ring Video Doorbell Pro 2 vs Pro here.)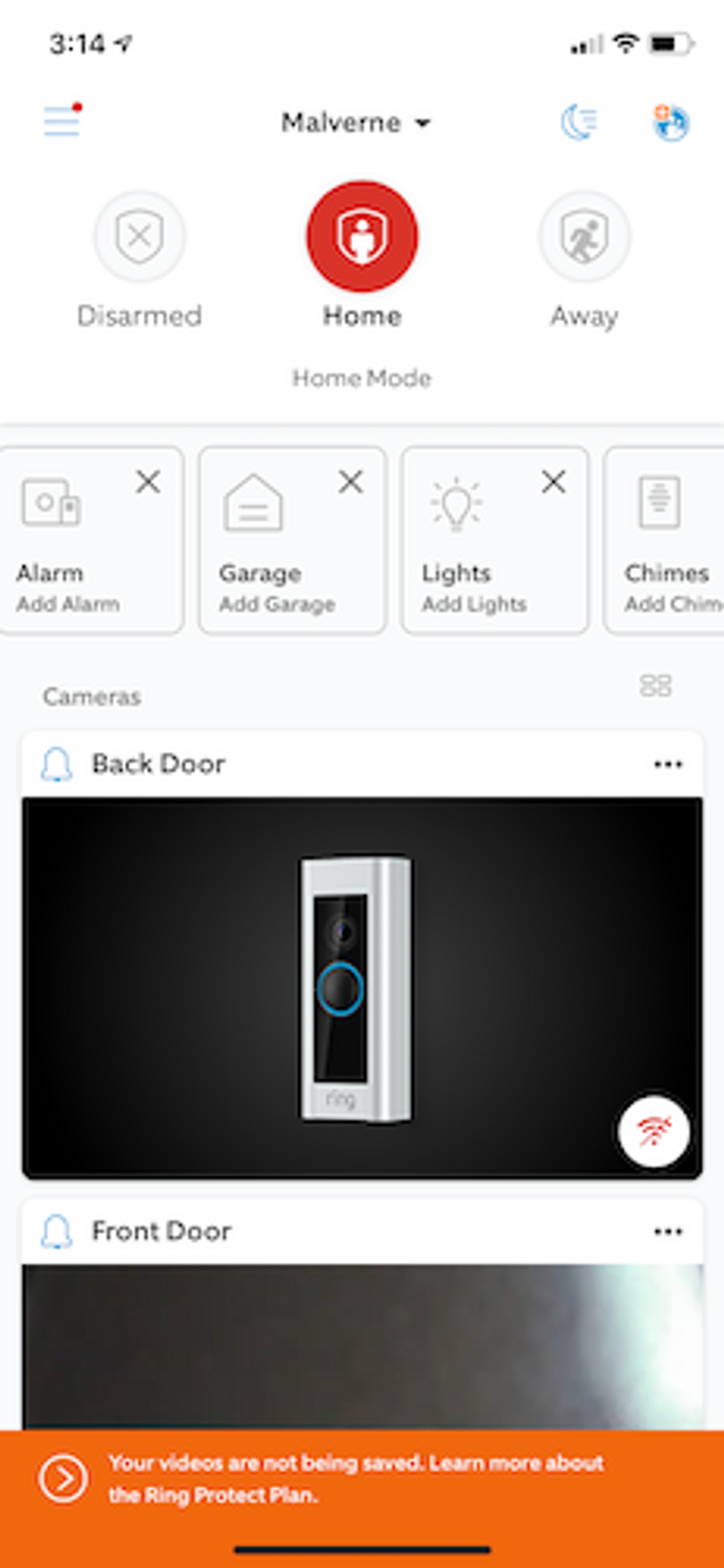 Ring app allows you to control all of your devices including the ones compatible with Ring systemGearBrain
How to Install Ring Video Doorbell Pro 2
Installing Ring's new video doorbell is a little more complicated than the company's other smart video doorbells. There is an extra step required. To start, turn off the power to the existing wired doorbell, then remove it and attached the new Ring Video Doorbell Pro 2. Once connected, you need to take the power adjuster and connect that to your indoor chime. This will allow your indoor chime to sound when a user rings your Ring Video Doorbell Pro 2.
If you live in an older home, like I do, you might run in to problems at this step. The Ring Video Doorbell Pro 2 requires a compatible doorbell, Ring plug-in adapter or transformer (which are not included): a 16-24 VAC, 40VA max, 50/60Hz, No halogen or garden-lighting transformer. If you are not sure what you have — and if it will work — Ring does list on its site mechanical and electronic doorbell chimes that are compatible with their Video Doorbell Pro 2.
If you have an indoor chime that is not compatible, you can still use Video Doorbell Pro 2. There is a setup which bypasses your indoor chime, connects the power adapter to your Ring Video Doorbell Pro 2 and then to the transformer. Depending on where your transformer is located, this might be a good solution for your home.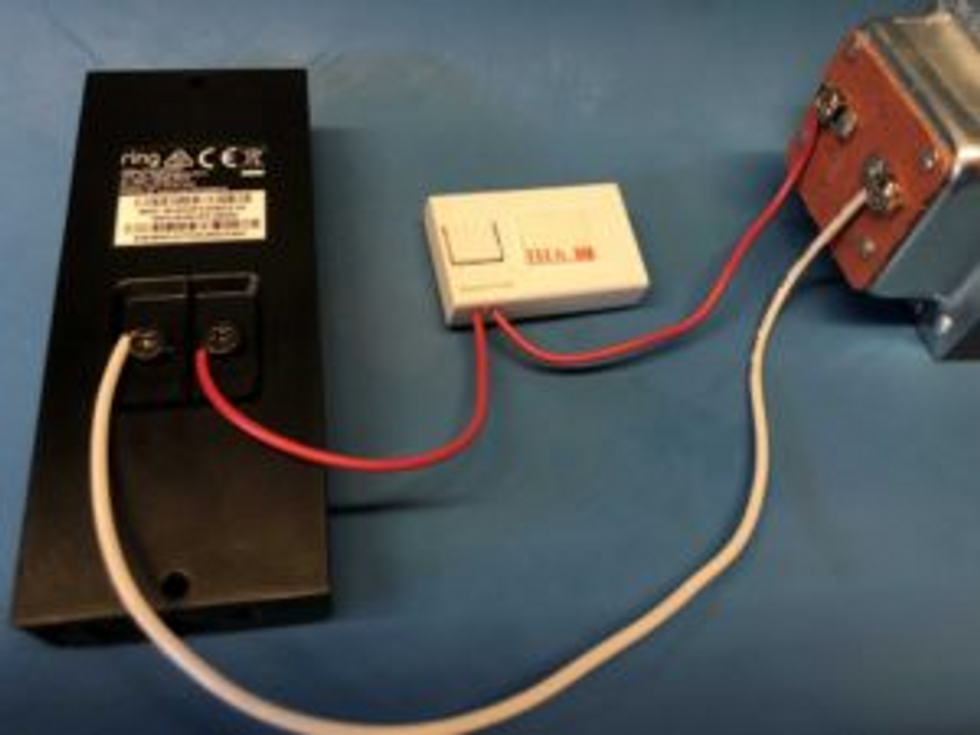 How to connect Ring Pro Power Kit to Ring DoorbellRing
Throughout your setup process, note you can always view videos Ring has in its app. They are very helpful. But you also may want to contact a person in the customer support section of the Ring app, as we did, finding the information very helpful and the wait time very short.

The overall setup time for your Ring Video Doorbell Pro 2 should take about 15-20 minutes, depending on how easily accessible your indoor chime is and how comfortable you are working with electrical wiring. Our setup took longer due to an older indoor chime.

Smart Home Integrations
Ring has a very robust, smart home ecosystem. What Works with Ring allows Ring device owners to integrate their Ring device with compatible devices to help secure your smart home. Ring Video Doorbell Pro 2 can easily be added to any existing Ring Device including the Ring Alarm. It also works with Amazon Alexa-enabled devices, including Echo Show and Echo Dot. But if you own a Google Assistant smart speaker or display, you are going to be disappointed. Ring devices are not compatible with Google Assistant enabled devices.
If you want to add a smart lock to your Ring Video Doorbell Pro 2, Schlage Encode smart lock is the only compatible smart lock for you to choose. However, if you are integrating your Ring Video Doorbell Pro 2 into Ring Alarm, you will have more smart lock options. You can use The GearBrain, our compatibility find engine for smart devices to help you find other smart devices that work with Ring.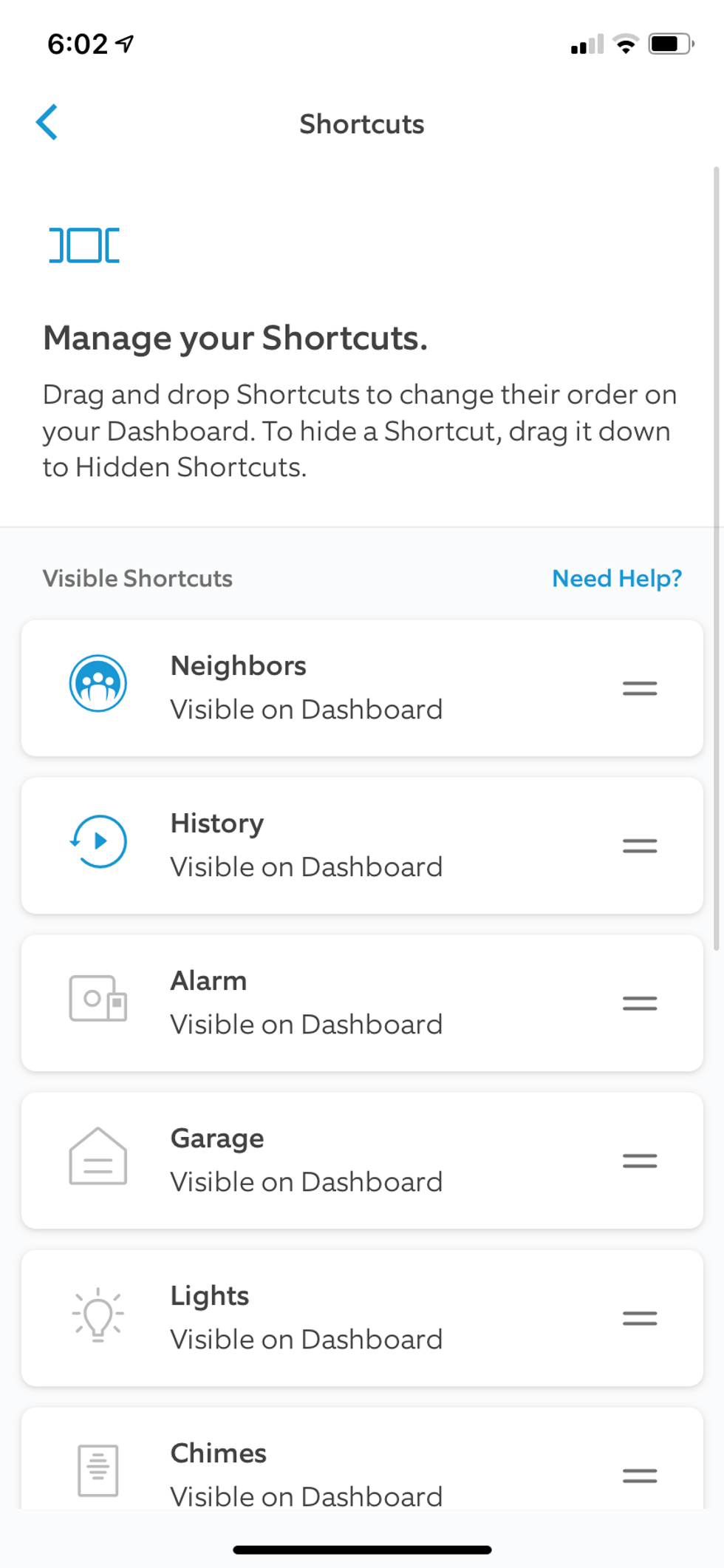 Customized your Ring app to control your compatible devices, like locks, smart garage door openers and home security systems.GearBrain
Price

The Ring Video Doorbell Pro 2 costs $249.99, and is the most expensive video doorbell made by Ring — but it also comes with the most features of any video doorbell we have tested to date. It's available on Ring's site as well as on Amazon, Best Buy, Home Depot and eBay.
Summary
GearBrain has been testing Ring devices since we started back in 2016. We have seen the company go from a manufacturer of video doorbells to an entire suite of DIY home security products and services. Its app has evolved into a good controller for smart home security systems since it can control security cameras, motion sensors, video doorbell and other smart home devices compatible with Ring in one app. Also, we like how Ring has expanded its list of smart devices that can work with their smart home ecosystem. Users can now add and control partner devices in the Ring app, such as smart garage controllers (Chamberlain), thermostats (Honeywell), lights, leak detectors and smart water monitors (Flo by Moen) and smart locks. Each a valuable integration that makes your life easier and secures your home.
Ring Video Doorbell Pro 2 is a powerful video doorbell but it comes with challenges. There is the added step of installing a power adapter to your indoor doorbell chime, as many people don't know where their indoor chime is located — or if it is a mechanical or digital one. This added step is a nuisance, especially for buyers who are not comfortable when working with electrical. And there are added fees which come with Ring doorbells and camera that you need to factor in if you want to save any videos or pictures. Luckily you get a free 30-day trial of Ring Protect Plan with purchase to test out the new features.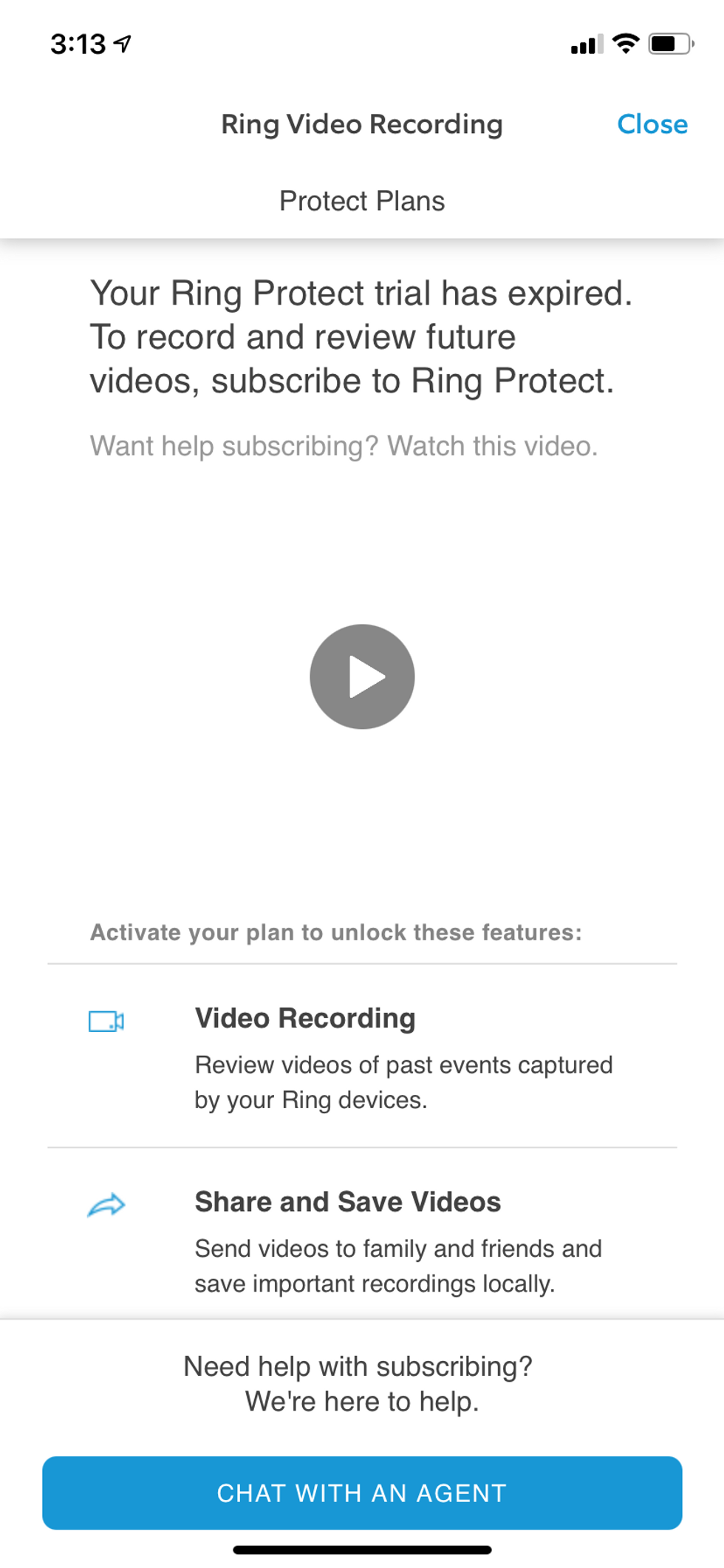 Need Ring Protect for certain features like Amazon Alexa greetings.GearBrain
Who should buy this smart video doorbell? Anyone who owns a home, and wants to secure not only their front door with a powerful video doorbell, but the outside of their home too. If you want to start to build your own DIY smart home security system, this new video doorbell is good starting device. It will allow you to see how the Ring app works and how easy it is to add other smart devices to secure your home.
Overall, despite the added installation steps, we think the Ring Video Doorbell Pro 2's unique features outweigh the cons. It has excellent motion detection which you can customize along with color night vision. The new Bird's Eye view is an innovative feature to help you check out if anyone is lingering around your house and not in view of your Ring doorbell. And Ring's app is well designed to make it easier for you to add compatible smart devices and control them all in one simple app or via voice commands if you have an Amazon Alexa enabled device. But be aware that if you have a Google Assistant-enabled device, you will have to convert to use this video doorbell.
Pros:
Bird's Eye View
Custom motion detection zones
Smart home integrations
Allows you to use existing indoor chime if compatible
Cons:
Price
Added installation of power adapter
Need to check your indoor chime is compatible
Does not work with Google Assistant
Smart Video Doorbell Buying Guide - GearBrain www.youtube.com
Like GearBrain on Facebook