Like GearBrain on Facebook
When the the Nuraphone first arrived back in 2017, it brought something genuinely new and exciting to the stagnating headphones market: Personalized sound.
Using tiny microphones inside the ear cups, the $199 headphones listened to how your ears hear music, then adjusted the audio output accordingly. This created a sound profile for each user, which when enabled vastly improved sound quality.
Read More:
Now, makers Nura is back for its followup act. Called the NuraLoop, this is a pair of wireless earbuds connected to each other by a wire behind the wearer's head. They boast the same personalized sound system as the Nuraphone, plus active noise cancelling and configurable touch controls, but in a much smaller package.
NuraLoop review: Design, hardware and comfort
To be clear from the off, these are not truly wireless earphones like the immensely popular Apple AirPods. However, some users will undoubtedly prefer the increased sense of security the wire brings. These, at least in my experience, feel less likely to fall out while running, and the wire (which is malleable and loops over the top of each ear) means they won't fall to the ground, even if both are simultaneously dislodged.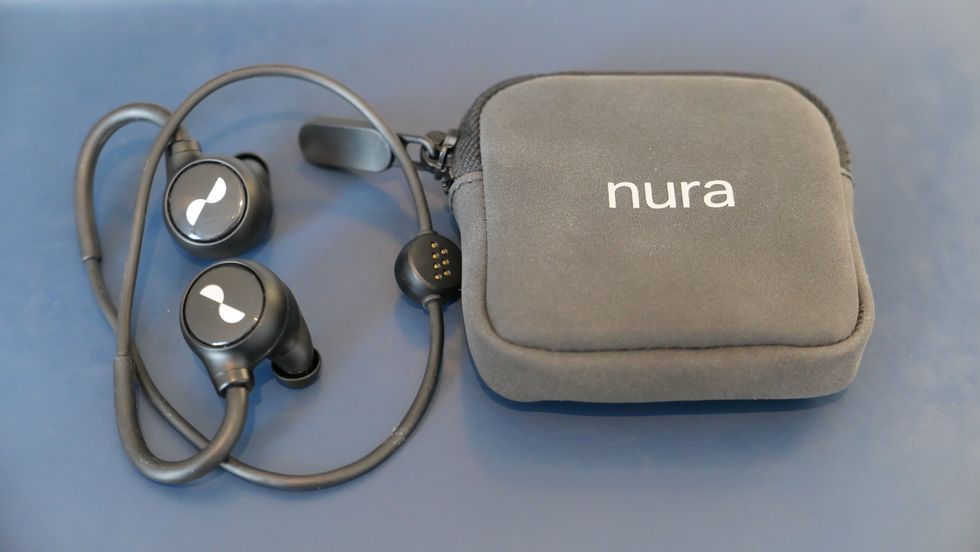 The NuraLoop comes with a carry caseGearBrain
Whether you pick one design or another mostly comes down to personal taste, as despite being larger than AirPods and other truly wireless options, the NuraLoop still fits in a pocket, with or without the included zip-up carry case.

This case does not charge the earphones, but their larger size means battery life is, the company claims, 16 hours, which is three times that of the AirPods, and not far off what wireless earphones are capable of, including their charge case.
There are no physical buttons or switches on the NuraLoop. Instead, they use a pressure sensor on the right earbud to work on when they have been put on, waking them up and establishing a Bluetooth connection. They also say hello and tell you the remaining battery percentage, which is a nice touch.
Touch controls can be personalized, but by default play/pause is a tap of the right earbud and 'social mode' (turning the microphone on to hear the outside world) is a tap of the left earbud. Volume is controlled by rotating your finger around the edge of the right earbud, which takes a bit of practice but works well – and remember, volume control is missing from a wide range of truly wireless earphones, AirPods included, so it's a welcome addition.
The NuraLoop comes with four sizes of earbud tips to help you find a comfortable and secure fit, and thoughtfully there's a set of replacement meshes for the earphones too.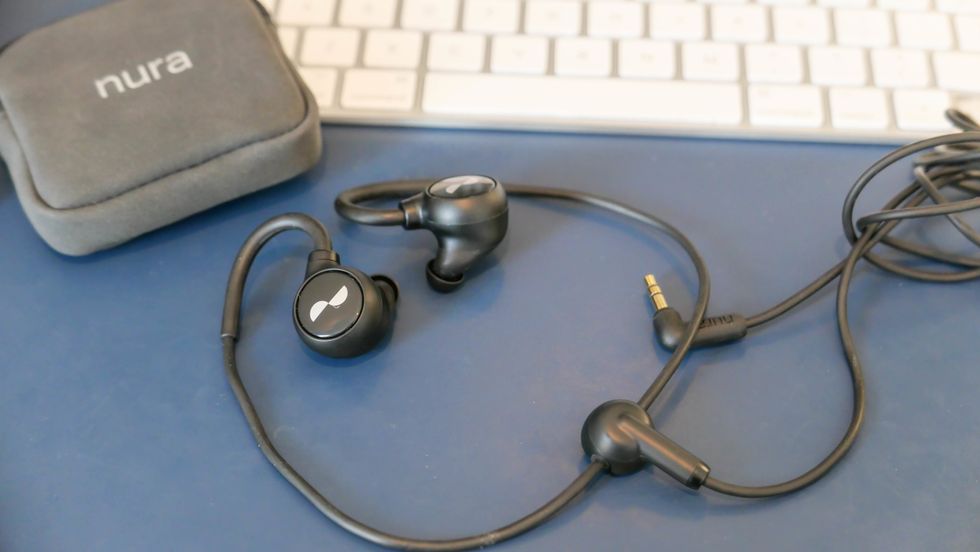 Audio and USB cables attach with a magnetGearBrain
Also included are two cables which attach to the middle of the wire using a magnet. These are a USB cable for charging and a 3.5mm audio cable for wired sound – a welcome inclusion, given how other wireless earphones can't connect to airplane entertainment systems without a Bluetooth adapter. The cable runs down your back, which keeps it neatly out of the way, but also means it will likely wrap around you when plugged into an airplane display on the seat back in front.

I've been using the NuraLoop with the smaller ear tips and have suffered from no real comfort issues, despite wearing them for several hours at a time for the last few days. However, I found that if they are removed after a couple of hours, then reinserted a few minutes later, they can be uncomfortable for a little while. I find this with most other in-ear earphones too, it should be noted.
They also stay in place while running and exercising, and the way the looped cable can be bent into shape behind your ear helps them stay firmly in place.
NuraLoop review: Setup and software
Setting up the NuraLoop is just the same as with the Nuraphone. This means downloading the Nura smartphone app, pairing the earphones using Bluetooth, then following the sound personalization instructions.
All you have to do is remain still and quiet for a minute, while the earphones play a series of tones. They then use their internal microphones to analyze how your ears physically respond to various sounds. Once complete, the process shows you a diagram indicating your unique hearing ability; these differ markedly between users, showing the system really is tailoring the sound just for you.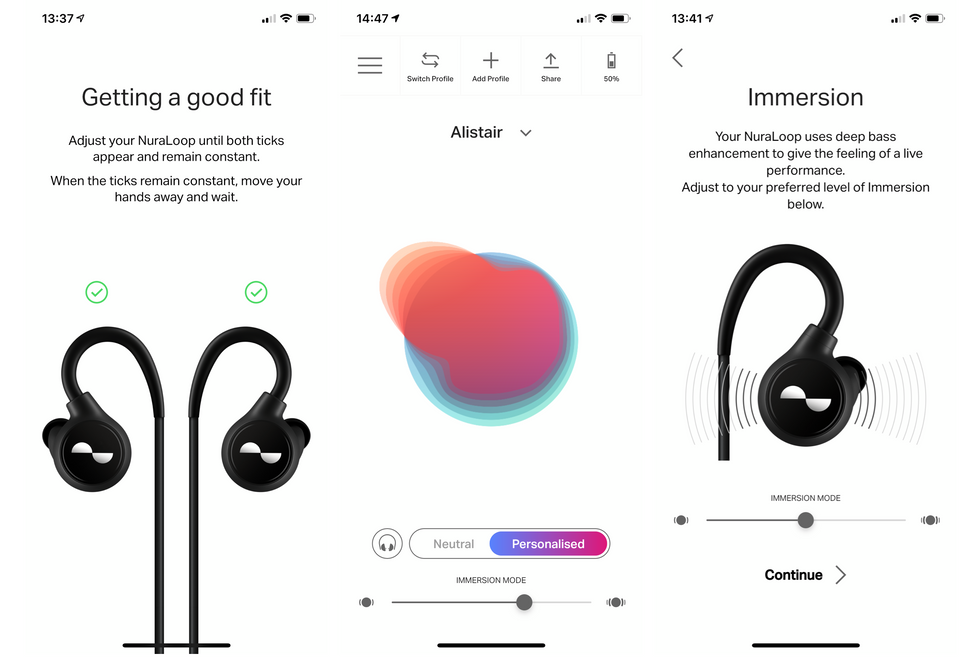 NuraLoop setup process in the Nura appGearBrain
Next, some music is played while you are invited to switch the personalization on and off, just to show how much difference it makes. There's also the option to adjust 'Immersion Mode', which is essentially the bass level. The NuraLoops can't deliver the pounding bass of the over-ear Nuraphones, but still produce a solid punch, if that's what you want.

Your profile become the default once enabled, so there's no real need to open the Nura app once everything has been set up.
If you want to share your NuraLoop with others, then multiple profiles can be added to the app, so everyone gets their own personalized sound.
NuraLoop review: Sound quality and performance
Sound quality is very good, with nice stereo separation that makes the sound stage feel much larger than you'd expect from a pair of small earphones. The sound gets a bit bright at higher volumes, with harsh treble overtaking the bass. Increasing 'immersion mode' (what Nura calls bass) goes some way to fixing this.
As with the Nuraphones, I can't help but wonder if the sound produced with personalization switched off is deliberately worsened in some way to amplify the improvements, but either way, sound with the system switched on is very impressive.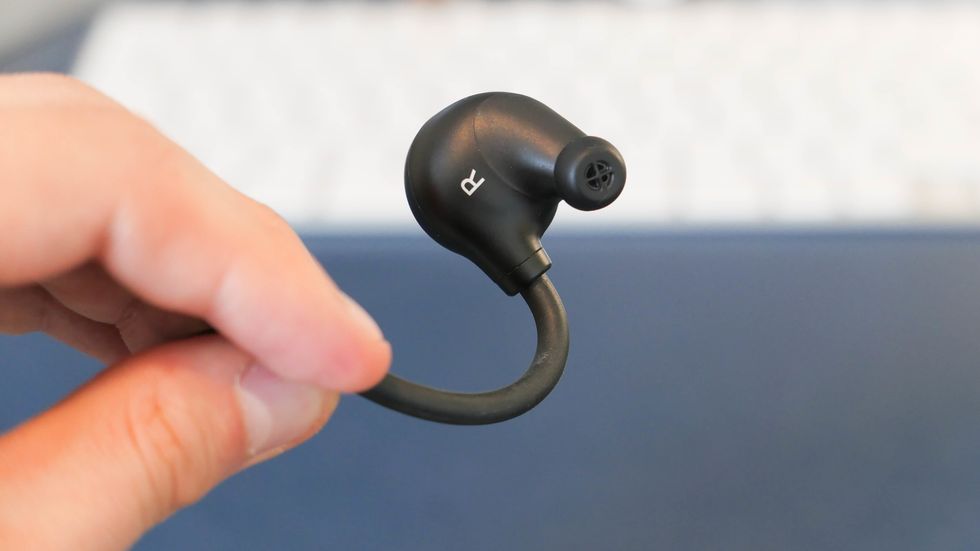 Four different sizes of ear tip are included in the boxGearBrain
For me, the system moved the sound to a more central position in my head and vastly improved the depth and detail of sound, with enhanced bass too. It's an extraordinary trick, and really sets Nura apart from other earphone makers.

Active noise cancelling is also impressive, blocking out ambient noise as effectively as any other headphones with ANC. The so-called social mode is less good, as it lets in a lot of background noise but falls to pick out nearby voices particularly well. You might still struggle to clearly hear someone talking to you, as the hum of air conditioning or nearby traffic comes across far more loudly, drowning them out.
As with most pass-through systems like this, it's easier to simply remove the NuraLoop, let them rest on your shoulders, then put them back in afterwards. They then automatically wake up and reconnect in a couple of seconds.
NuraLoop review: Verdict
The NuraLoop earphones pack a lot of features into their compact design and attractive $199 price tag. They are comfortable (at least for me), their active noise cancelling is excellent, and the personalized sound system is incredibly smart, producing great sound.
They also have a long battery life, are secure for running or exercising with, and offer a wired connection if you want it, which is almost unheard of in this sector of the audio market. They are also priced well, considering their Nuraphone predecessor is twice as much.
Some readers will want the extra portability of a set of truly wireless AirPods-style earphones, and that's fine. But if you prefer an option that hooks over your ears and won't drop to the ground (or down a drain) if they fall out — plus Nura's amazing personalized sound system — the NuraLoop is well worth your consideration.
Pros:
Clever sound personalization system
Excellent active noise cancellation
Well priced
Cons:
Touch controls can be tricky
Larger than some other options
Might not be comfortable for everyone
From Your Site Articles
Related Articles Around the Web
Like GearBrain on Facebook