OhmniLabs has a new robot, the Supercam Telepresence, a rolling device that brings someone presence into a space, even when they're far away. In early stages this summer, when GearBrain spent some time with the original Ohmni robot, testing the rolling torso, controlled by an operator who could beam themselves via a video call into an office, a home or wherever the Ohmni robot was placed.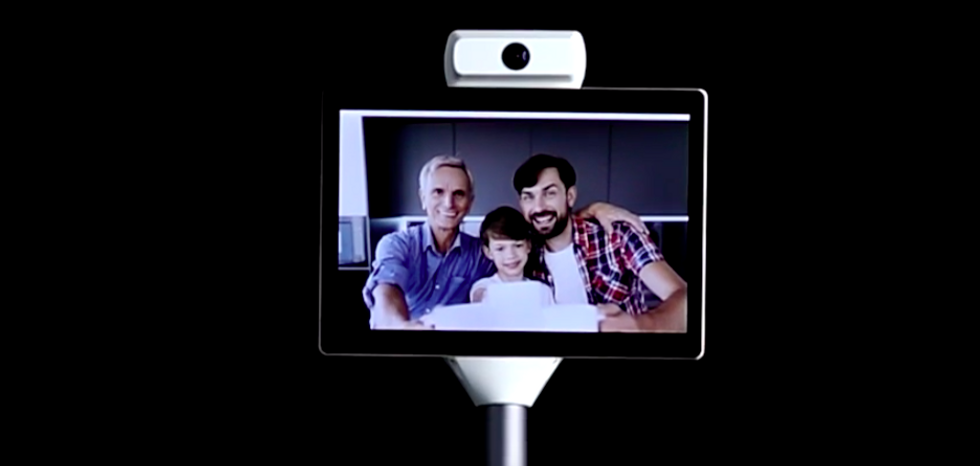 The Ohmni robot can beam you into someone's home through video chat, rolling right to their doorOhmniLabs
The core of Ohmni Supercam is its ability to bring someone else into a room. There's two-way audio, so you can carry on a conversation — whether that's talking to a group of students in a classroom through a virtual visit, or having a doctor able to make virtual house calls to a homebound patient. The camera also has a 4K wide angle, and take 13 MP photos.
The display at top is a 10.1" HD touchscreen, and the robot comes with a 20W charging system, a 64-bit Intel quad core CPU and a 95Wh battery that provides more than six hour of continuous use. It recharges itself similarly to the way a Roomba or Eufy robot vacuum does, by locating its charging station on its own and sending itself there.
Each robot is custom built by Ohmni using 3D printers in its Santa Clara, California location, and takes half a day to print the parts and another half a day to assemble them. It arrives fully assembled — you just unfold it and connect it to Wi-Fi.

There are limitations, of course, to a robot on wheels. To start, it can't go upstairs, meaning it needs to be stationed in a level area, and one where there are few obstacles. The robot also needs to be connected to Wi-FI meaning its range is limited, and is unlikely to be used outdoors.
Ohmni is also testing arms, which can also be controlled remotely, and even trained to do tasks, said the company, which plans to add them to the robot later this year. Videos show the arms have multiple ranges of motion, which while not able to perfectly mimic a human arm, can certainly move up, down and back and forth. A virtual reality control system, designed by Ohmni, lets someone move the robot's arms in tandem with their own.
Ohmni Supercam is priced at $2,699 and can be ordered through the company's site. The robot comea stocked with speech recognition built in, and integrated with Google Assistant.