Like GearBrain on Facebook
Installing a smart switch can sometimes be complicated, requiring people understand the wiring behind their home. But a new product from Philips Hue bypasses those issues with a device that acts like a smart switch without any need to open the walls of your home. The Philips Hue Smart Button works within the brand's eco-system and brings one-click control to operating your Philips Hue lights. We spent some time testing the new switch to see how simple it would be to install and operate.
What is the Philips Hue Smart Button
If you're considering installing a smart switch in your home, there are typically several issues you need to consider. You need to find out if your home's electrical wiring is compatible. Do you have a Neutral Wire? What do you want your switch to do to? Is it going to act like a hub for your other smart devices or just turn your lights on and off? And do you want your switch to be part of a bigger ecosystem, like your home security system or a voice platform like Alexa or Google Assistant? This can get very complicated.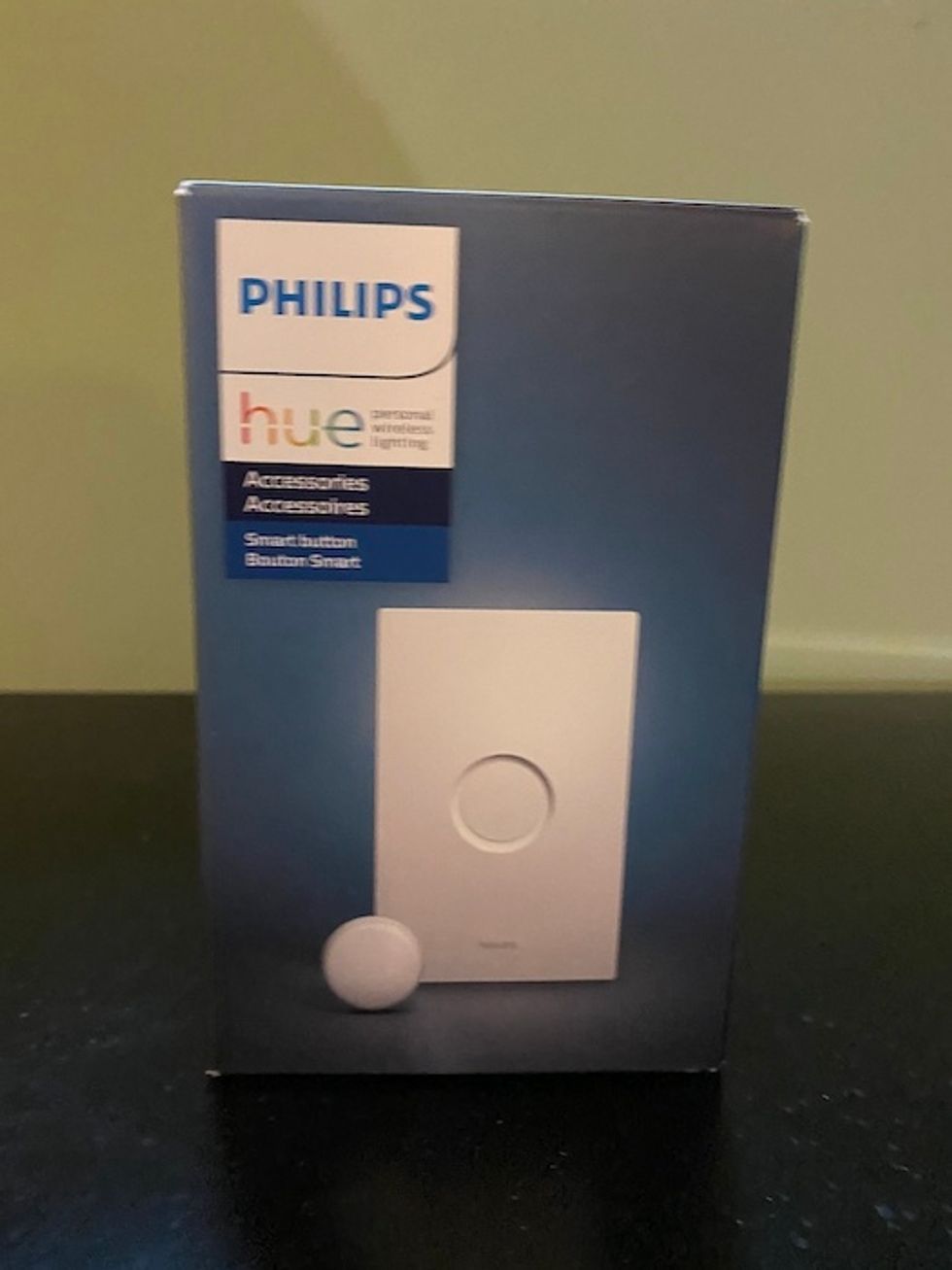 Philips Hue Smart Button GearBrain
The Philips Hue Smart Button aims to simplify these concerns with a simple, wireless smart switch designed specifically for Philips Hue smart lights. This switch, which is battery-powered, does require a Philips Hue Bridge, but you don't have to do any wiring. The plastic white faceplate that comes in the box can be placed anywhere on your wall, and then connect the switch to your Hue app on your iOS or Android smartphone. From there, you can set up one click modes to control your smart lights as long as they are within a 39-foot (12 meter) range.
The one click modes are really very easy to setup using the Hue mobile app, and you can set up clicks to turn lights on or off, as well as dim the lights. If you have multiple rooms in your house with Philip Hue smart lights, the smart button can travel to these room and control those lights as well, as long as they're set up in your Hue app.

The smart button comes in white and supports all voice platforms: Amazon Alexa, Apple HomeKit (via Hue Bridge), Google Assistant and Microsoft's Cortana (via Hue Bridge).
What makes the Hue Smart Button so unique?
The Hue Smart Button sets lighting levels that are optimized for the time of day. When you press the button, the lights come up at the best lighting scene. We tested this feature in our test house, and when we clicked the button in the afternoon a low light level was displayed, but at night, we got the full amount of light we needed in the room with just one click.
How do you install Hue Smart Button?
It's rather easy. First, you need to make sure you have Philips Hue smart lights in your space. Then go to the Hue app and into Settings. In Settings, click on Accessory setup and then click on the phrase, "Add accessory." You will see a menu of Philips Hue accessories, and you'll want to click on the Hue Smart button. Then, follow instructions to add the smart button to your Hue ecosystem. It should take only a few minutes to setup with your Hue smart lights.
Price
The Hue Smart Button costs only $19.99, and is available on company website and Amazon.
Philips Hue Smart Button for Hue Smart Lights, Smart Light Control, (Hue Hub required)
Performance
The Hue Smart Button reminds us of the Lutron Aurora Smart Bulb Dimmer, a device that also works with Philips Hue smart bulbs. Lutron and Philips Hue introduced us to this switch at the CES 2019, which is also button-shaped and wireless. The difference between the two is that the Lutron Aurora is installed on top of a toggle light switch while the Hue Smart Button is a standalone wireless switch. You'll also pay more for the Lutron Aurora, which is priced at about $38.22, while the Hue Smart Button is $19.99.
We had one issue during the setup. As we set-up the one click feature for a bedroom, the Philip Hue smart lights in another room, where we were standing, started reacting to the clicks. So, when you activate this feature, make sure you're in the actual room with the lights, when you set-up the one-click modes for the button and lights.
Another thing to keep in mind with one-click modes? You can create these up for any room setup in your Hue app, but whatever one click mode you create, know it will be for all rooms. For instance, if you have lights in your den and each bedroom, you can set up one click mode for the bedroom but it will apply to all rooms. You can't set up unique modes for each room, which is great in that many users will most likely use the switch in one room, and not take it throughout the house. But for users who want that flexibility, you will have to buy more switches.
Summary
The Hue Smart Button is a nice addition to any home or apartment where you don't want to, or can't, install a smart switch and want that feature. We also think the button is great individuals who have smart lights, but just can't break the habit of always turning off the lights via a switch. This way they can click a switch — but not turn off the power, and render their lights dumb. The switch also works at creating an instant night light. With the button, you can create a night light setting, and click it if it's the middle of the night and you need to get out of bed.
Overall, the Hue Smart Button is a nice extra device for those with Philips Hue smart lights. It's affordable, easy to install, and a way to add another layer of control to your lights without having to handle any wiring, which is a solid perk.
Pros:

Easy to install and a simple set-up
Price
No wires
Cons
Philips Hue Smart Button for Hue Smart Lights, Smart Light Control, (Hue Hub required)
From Your Site Articles
Related Articles Around the Web
Like GearBrain on Facebook