Like GearBrain on Facebook
Philips has updated its Hue app to bring Siri Shortcut control to the company's extensive range of smart lights.
This means iOS 12 users with Apple's new Shortcuts app can ask Siri to control their lights in more ways than before, and create 'shortcuts' where the lights switch on (or off) and other actions are performed by Siri when you issue a single command.
Read More
How to enable Siri Shortcuts for Philips Hue

Philips pushed out a software update via the iOS App Store on October 3, so if this hasn't yet been installed automatically, head to the App Store, tap Updates and update your Hue iPhone app.
You should then check if your Hue lights and hub need an update, so open the Hue app and follow the prompts to install an update (if one is available). You are now ready to go.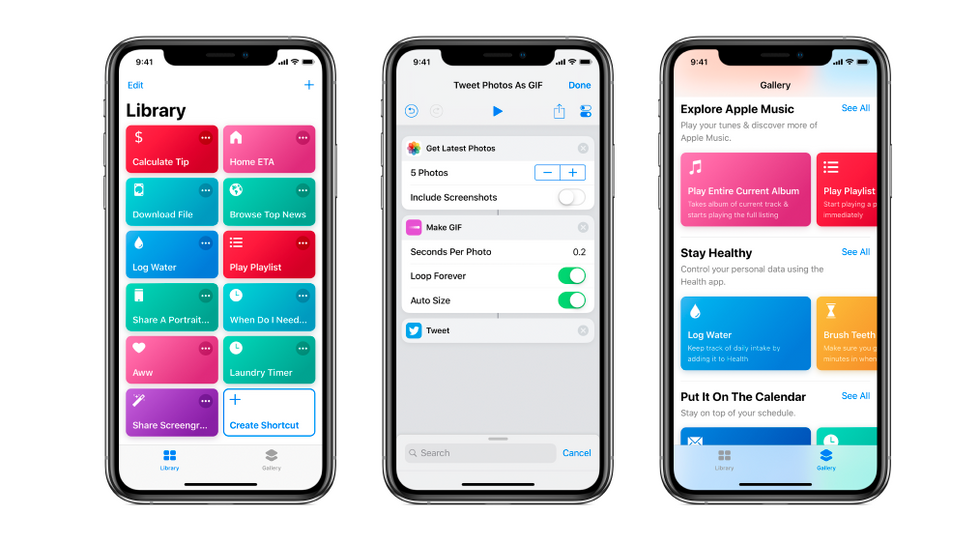 Apple
What new features does Siri Shortcuts bring to Philips Hue?

There are two areas in which Siri in iOS 12 can help you interact more easily and efficiently with apps like Hue, with one being much more complex than the other.
Let's start with the simple side of Siri Shortcuts. If you switch a Philips Hue light on at roughly the same time each day - your desk lamp, for example - then Siri will pick up on this and start to offer a shortcut on the iOS search page. This is the screen which appears when you swipe down from the middle of your iPhone's home screen.
I switch my desk lamp on (using the Hue app) at roughly the same time each morning, then switch it to a softer, dimmer setting at a similar time each evening. Hopefully, after a few days Siri will pick up on this and present these options on the search page at those times of day.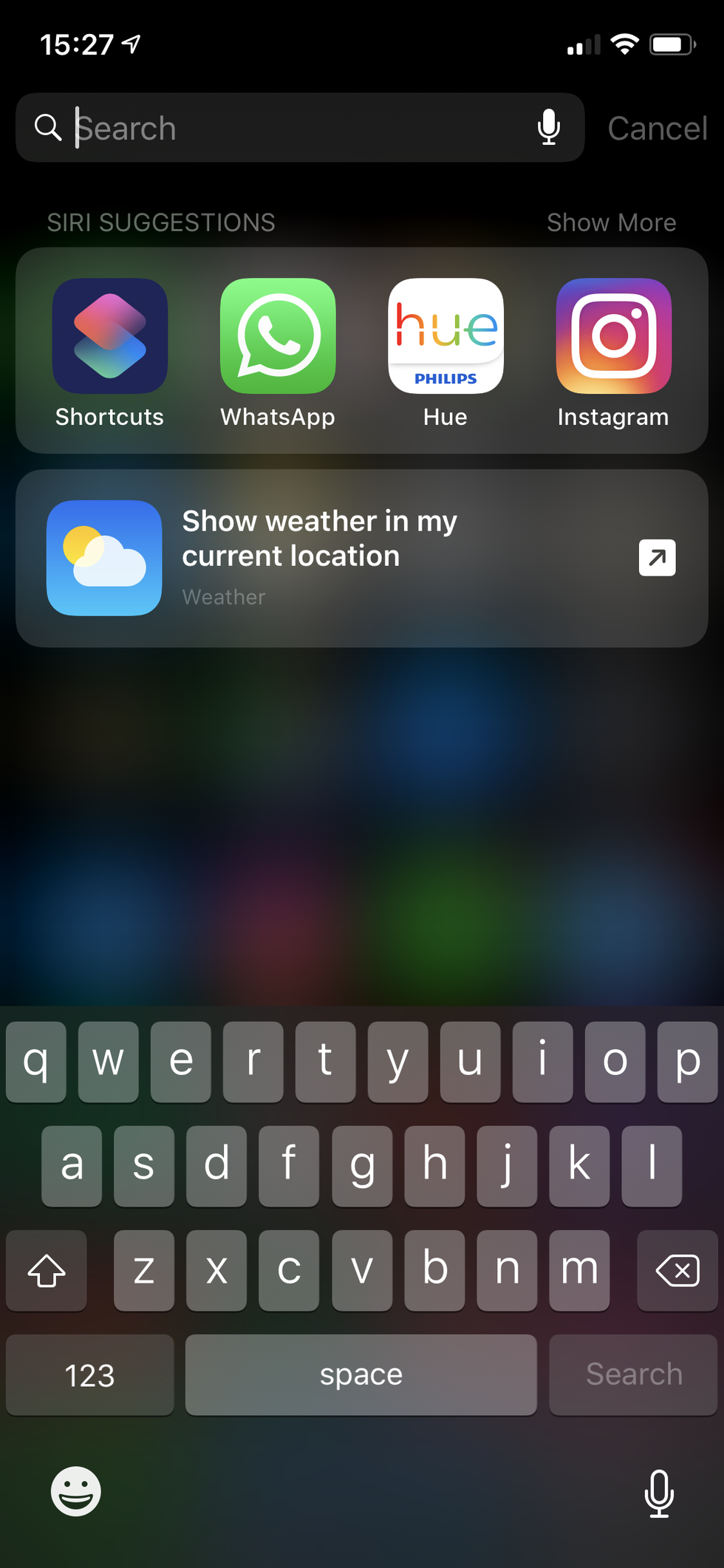 After regular use, Hue controls will appear below this weather suggestion on the Siri Search pageGearBrain
These options should also appear on the new Siri watch face for the Apple Watch.

Now for the more complex side of Siri Shortcuts.
How to control Philips Hue lights with the iOS Shortcuts app
Available for iOS 12 users to download from the App Store, Shortcuts is an application which used to be called Workflow, before it was acquired by Apple and relaunched.
Shortcuts is similar to IFTTT (If This, Then That) and the Routines features of the Amazon Alexa and Google Assistant apps, in that you can create systems where one command said to Siri can make several things happen at once.
For example, the app can be used to make a shortcut called Morning Routine, where saying "Hey Siri, good morning" switches on the bedroom lights, starts a specific playlist at a certain volume, then brings up information about your commute to work.

What you need to understand before we start, is that Siri can only control the scenes of your Hue system. A shortcut cannot be created by telling Siri to switch on one specific bulb or light strip, or even a room of lights. Instead, you need to make the scene you want in the Hue app, then incorporate that scene as part of a shortcut in the Shortcuts app.
Our house has a roof terrace which is illuminated at night by a Hue bulb. For this example, we will explain how a shortcut can be made to switch that on (and perform other actions) when we tell Siri we're having a roof party.
Open the Hue app
Tap on the room you want to control, in this case 'Terrace'
Tap on the New Scene button
Give the scene a name, in this case 'Roof Party'
Pick the color and brightness you'd like
Tap Save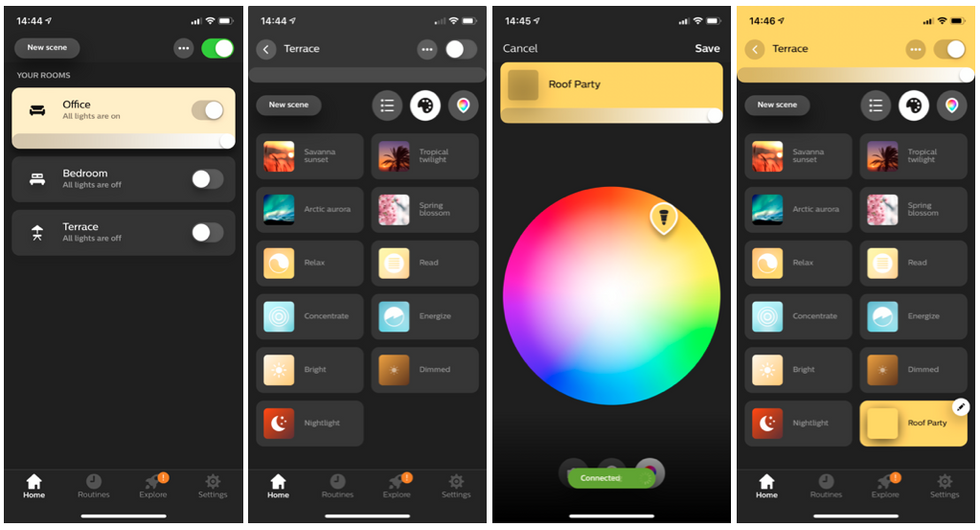 How to create a new scene in the Philips Hue appGearBrain
As you can see from the images above, the Roof Party scene has now been added to our Terrace room in the Hue app.

Tap on the scene and tap on the pencil icon
Tap 'Add to Siri'
On this screen you are asked to record the spoken command which will cause Siri to switch on the Roof Party scene. Tap the red record button and say the command. We chose "Start the roof party."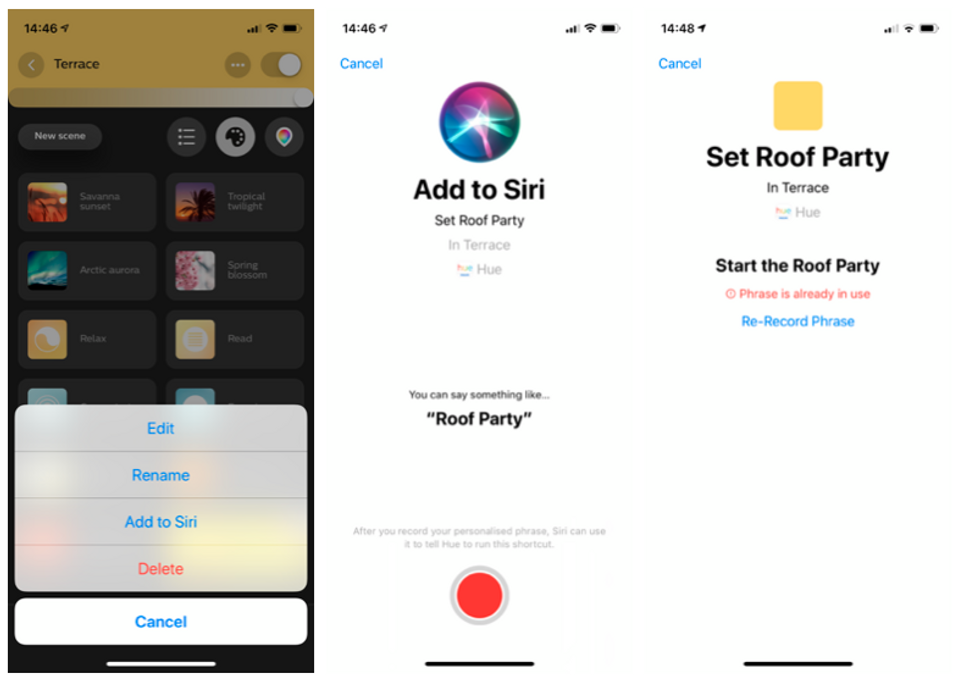 You can have the scene activate with any spoken phrase you likeGearBrain
We discovered that Siri found some phrases much more difficult to understand than others. As a rule of thumb, if the first word of the phrase sounds like one of Siri's existing commands, then the assistant has a hard time understanding you. For example, getting Siri to switch our office light on with the command "Time for work" often makes Siri think we are requesting the time in another country, or trying to set a timer.

We can see this being a real problem as the popularity of Shortcuts grows and users want to do more with Siri. It's as if the assistant's presets take priority, so a newly made command starting with 'time' isn't properly understood.
Of course, if you'd rather control your Hue lights by saying left-field things to Siri, then go for it — "Hey Siri, it's party time!" works just fine.
Time to dive into the Shortcuts app

If you thought you can now say "Hey Siri, start the roof party" to have the terrace light come on, then you'd be wrong. First, you need to open up the Shortcuts app and create a shortcut.
Open the Shortcuts app and tap Create Shortcut
Tap Search then type 'Hue'
Tap 'Set Roof Party' which should appear as a suggestion
Tap the settings icon (below Done in the top right)
Change the name and icon of the shortcut to whatever you like
Check the Siri Phrase is the one we recorded earlier, and tap Done
Now, finally, you can say: "Hey Siri, start the roof party" and that Hue light on the terrace will switch on to the color and brightness you configured earlier. Of course, you can expand on this if you have more Hue lights in a room, setting them all to different colors and brightness levels, if you like. Saying the one command will switch them all on.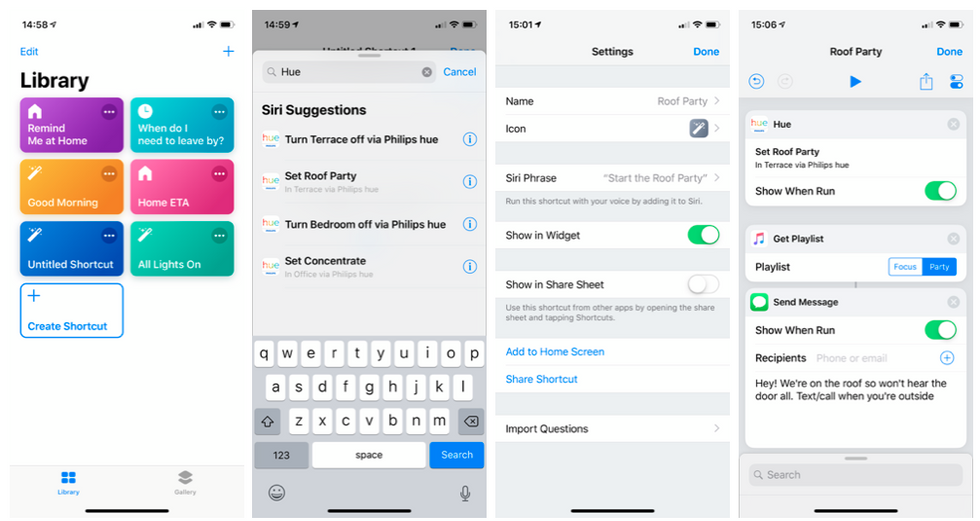 Assembling a shortcut is a complex processGearBrain
Making a shortcut do more

If you think this sounds long-winded, then you would be absolutely right. But, now the foundations of our roof party shortcut are laid, we can build on it. We can, for example, have the same command start up a party playlist, then send a message to our friends (who are visiting later) saying we're up on the roof and won't hear the doorbell, so they should call us when they arrive.
This is where Shortcuts is powerful, but unlocking and understanding that power will take time and experimentation.
Siri Shortcuts sounds complicated
Yes, it is. We're actually surprised Apple made this app available to everyone in its current state, and suspect many iPhone users will think they've opened a developer app by mistake when they see how complex it is.
It is also relying on third parties (like Philips) to update their apps to work with Siri Shortcuts, which is going to take some time. Then users need to come up with interesting and useful examples of what shortcuts can be made - and without confusing Siri.
We think there is real promise here - Apple's answer to Alexa Routines — but it is going to take time before users can get the most out of it. For now, we'll just ask Alexa to switch the light on instead.
(Check out The GearBrain, our smart home compatibility checker to see the other compatible products that work with Amazon Alexa and Philips Hue smart lights.)
Like GearBrain on Facebook