Like GearBrain on Facebook
Building a smart home can be an intimidating prospect. There are hubs and cables and networks to consider, long before you work out what type of light fittings, switches, HVAC and thermostat you have.
Thankfully, there are simpler ways to get started than reaching for the toolkit, or calling an electrician for help. We think the easiest, yet potentially most satisfying, place to start is with voice-controlled lighting.
Read More:
If you own an Alexa smart speaker, like those from the Amazon Echo range, you're already half-way to having voice-controlled lighting in your home. Once set up, you'll be able to ask Alexa to turn lights on and off, as well as adjusting their brightness, color and temperature.
Which smart lights work with Alexa?
In short, lots. Amazon has a list here, but in reality you will struggle to find any smart lighting that don't work with Alexa (and likely Google Assistant, too). Some are even so tightly integrated that Alexa will notice them when they're connected to your Wi-Fi network and set them up for you.
For others, you'll need to first set up the lighting as per the manufacturer's instructions, then open the Alexa app to finish installation.
Popular smart light brands include Philips Hue, Lifx, Sengled, C by GE, Ikea Tradfri, Wiz and Nanoleaf. You can also install smart switches from the likes of TP-Link Kasa; these control your existing light bulbs, whether they are smart or not, and can be operated by touch, app, or by speaking to Alexa.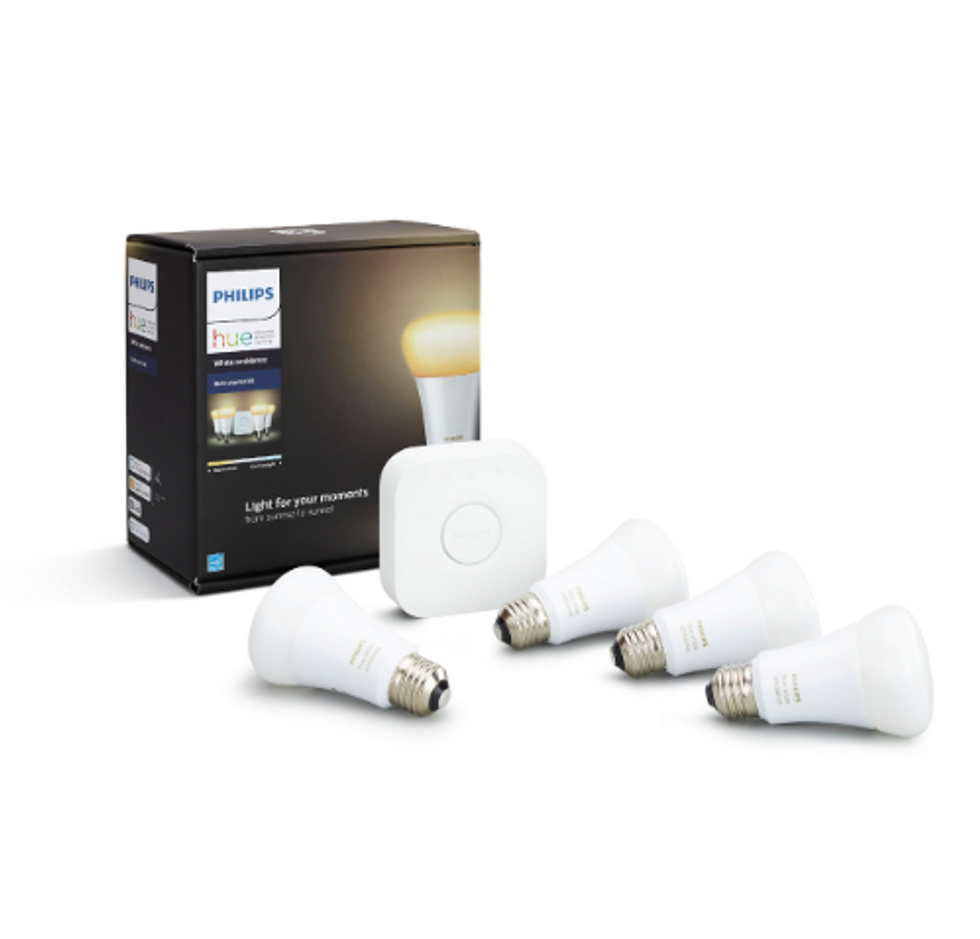 Hue starter kit with a Bridge and four bulbs Philips Hue
One important point to note is whether your lighting of choice uses its own hub to function, or not. Philips Hue does and it's called the Hue Bridge. This comes with Hue starter kits and connects to your Wi-Fi router; it is required to get the full Hue experience, although individual Hue bulbs can connect directly to Alexa if you have an Echo Plus, Studio or Show, which have Zigbee smart home technology built in – more on that here.
That said, newer Hue bulbs also now work with Bluetooth, which can be used as another way to connect them to Alexa without using the Bridge.

Other lighting systems, like Lifx and C by GE, do not use a hub. Instead, then connect directly to your smartphone or Alexa smart speaker using your Wi-Fi network.
Adding smart lights to Alexa

Before you get started, make sure Alexa's software is up to date. To do this, say: "Alexa, is your software up to date?" and it'll update itself if not. Also check the Alexa app on your iPhone or Android is the newest version too.
There are two ways to go from here. The first will have Alexa automatically spot your new smart lights, then add then to the Alexa app. If that doesn't happen, you'll need to add them manually – but don't worry, it only takes a few taps.
At this point we are going to assume you have installed your smart lights using the manufacturer's instructions, and you can now control them using their own app and/or switches.
To see if Alexa has added your lights automatically, open the Alexa smartphone app and tap on the Device button at the bottom of the screen. If there is a square button called Lights at the top of the page, then Alexa has found your bulbs and added them automatically. Tap the button to see a list of bulbs, ready to be interacted with.
You can tap on each bulb to control it, but also change its name and other setting by tapping on the cog icon in the top-right corner.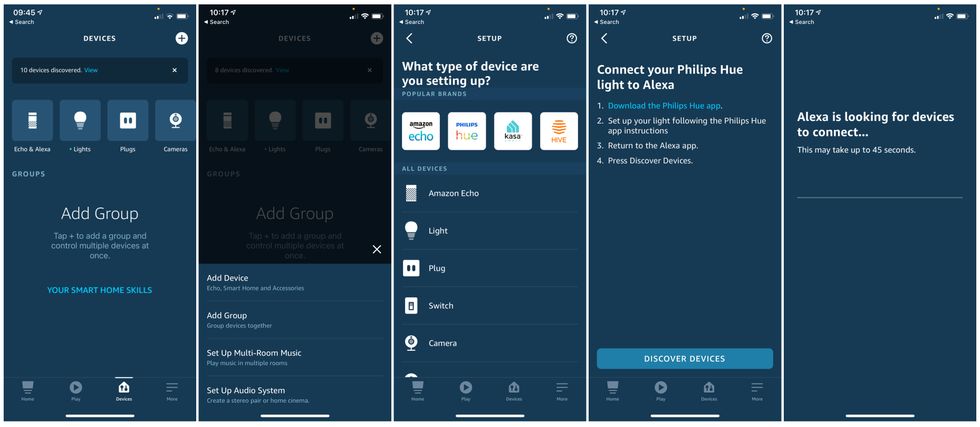 Adding smart lights to AlexaGearBrain
If Alexa has not discovered your lights, then you'll need to add them manually. Do this by tapping the + icon in the top-right corner of the Devices page in the Alexa app. Then tap Add Device. From here, you should tap Light (or the brand if it's shown at the top of the page), and find the exact product you want to add to Alexa. Then tap Discover Devices and follow the instructions. As long as the bulbs are powered and connected to your Wi-Fi network, Alexa should find them.

This setup process can occasionally fail, but trying again (and switching the light off and on) should overcome any such gremlins.
Once discovered, the Alexa app will ask you to set up the device, which gives you an opportunity to name the bulb and assign it to a room in your smart home.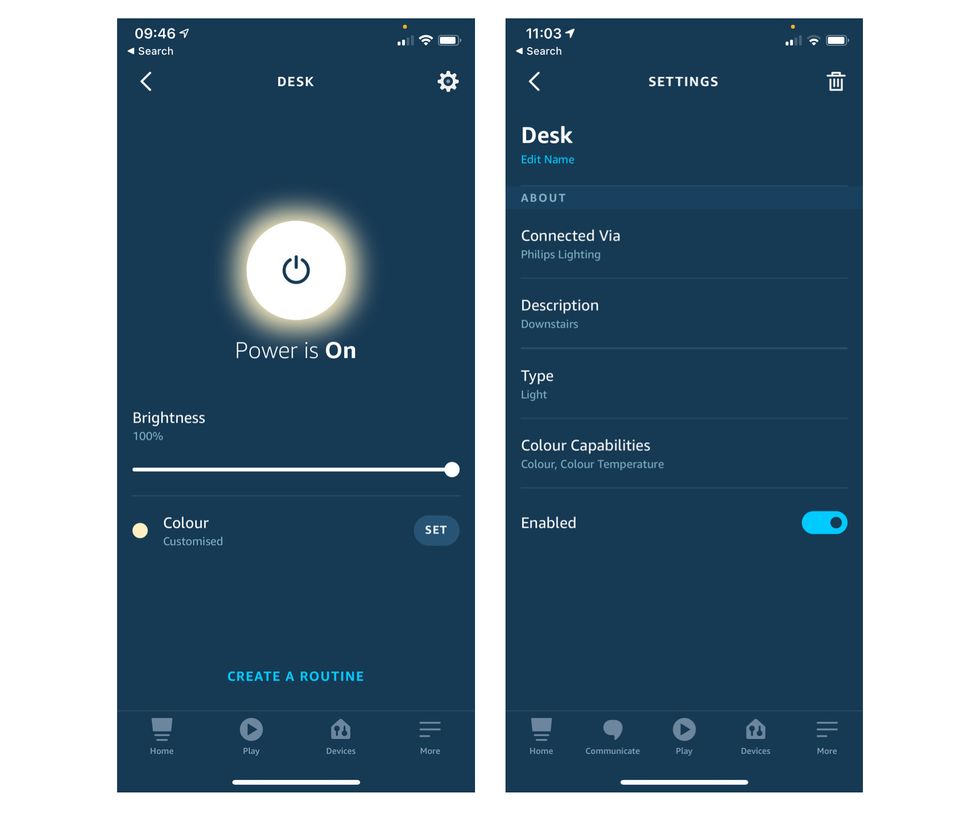 Alexa app smart light controlGearBrain
Controlling your smart lights with Alexa

With setup complete, you can control the lights either by tapping at the Alexa app, or by speaking to Alexa on your Echo speaker.
Just say: "Alexa, turn on the light" if you have a single bulb, or use the bulb's name or room if you have multiple smart lights. You can also say, for example: "Alexa, set the [bulb name or room] to 75 percent brightness."
You can also ask Alexa to adjust the temperature of the bulb, and if they are full color and not just white, you can ask Alexa to adjust the color too.
LIFX Mini 800-Lumen LED Light Bulb (L3A19MC08E26) Multi Colored - 1 Pack, 120 volts, 9W - New
GearBrain: Connecting Amazon Echo Plus with Sengled Zigbee smart light www.youtube.com
From Your Site Articles
Related Articles Around the Web
Like GearBrain on Facebook