There are many unique devices you can find for your smart home. You can install smart switches with built in hubs, hook up smart lights with cameras and motions sensors, buy smart video doorbells, and of course add a smart speaker display or two that can tell you the weather, your commute and run all of these things together. But few connected devices promise to save money on your homeowner's insurance, while also protecting the environment. But that's exactly what Phyn Plus claims — a water monitoring system for today's smart home.

What is Phyn Plus?
Phyn Plus is a water monitoring system, that connects to your smartphone via the internet. The system is owned by Belkin International, which developed the device with machine learning researchers at University of Washington. The technology It uses a patent high definition pressure wave analysis to alert you when there is a water leak detected in your home. The system is designed to help mitigate expensive water damage in your home by automatically shutting off your water main. It can also tell you about your home's water usage, plus suggestions on how to save money and conserve water.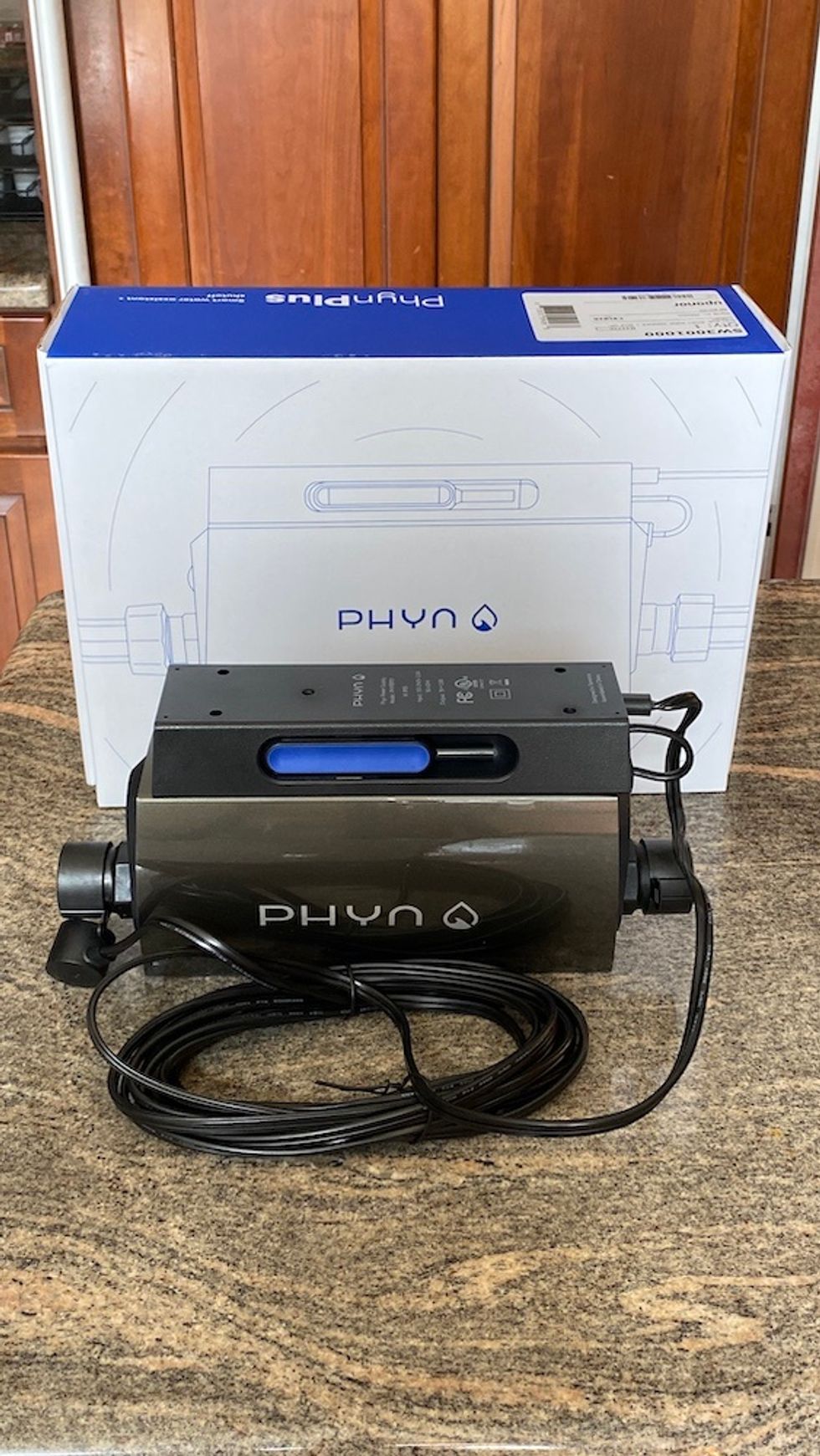 Phyn Plus Smart Water Monitoring SystemGearBrain
How does it work?

Phyn uses what it calls a proprietary leak detection technology — high definition ultrasonic sensors that sample the pressure in your plumbing system 240 times every second. From that, Phyn can read the distinctive signature of each fixture in your house. To us, this sounded too simple, and we were skeptic at first. How could it read leaks anywhere, like drips in a shower or a leaky toilet, from a device installed in the basement? Could it help find those drips from a shower that could cause my water bill to rise?
"When your water's pressure, flow and temperature are zoomed in at high definition, Phyn is able to show you a language previously unknown," said Phyn. "It can derive dozens of speech patterns that can be used to detect leaks, and only leaks – mitigating false positives."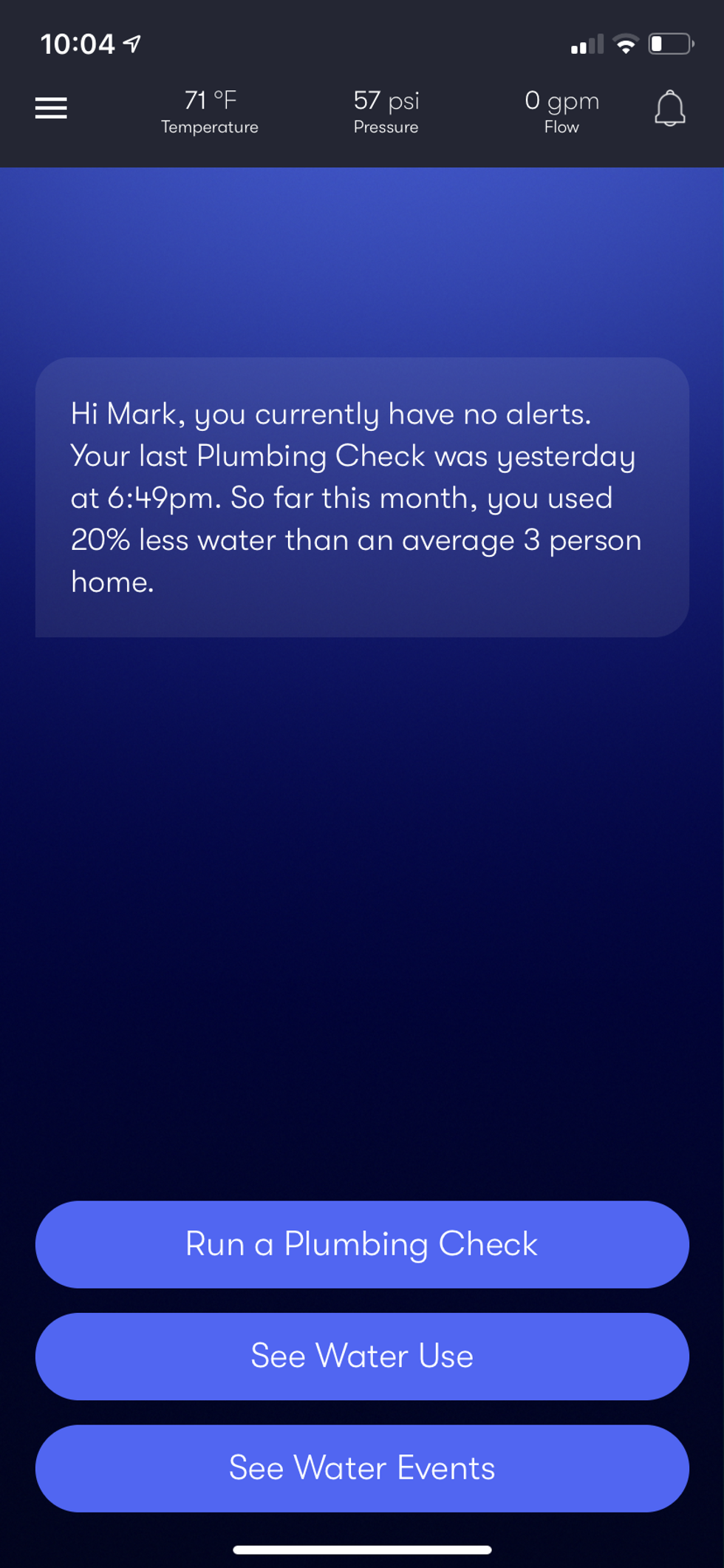 Home screen in Phyn app for your Phyn Plus.GearBrain
The best place to then read those speech patterns would be at the first entry point in the home, before everything splits to different devices — and that's your water main.
What can Phyn monitor? Besides your home's plumbing and water flow, it tracks usage by each appliance. You're then told details about how you're using water, alerted to potential leaks and frozen pipes, and have the ability to shut off water automatically through the Phyn app. You can also run a plumbing test, which monitors your home's PSI. Ours was normal most of the time, but it seems we had an issue with our water pressure.

How do you install it?
Installing a water monitoring device is not easy. You need a licensed plumber because a smart water monitor like Phyn connects to your home's water main, an essential part of your home's water system. Our recommendation? Don't mess with this installation unless you are a plumber, or also very familiar with your home's water system. Really, we suggest you leave this up to the professionals.
Before you do hire a plumber, we recommend you locate your water main and take a picture. You should also check the internet connection where the water main comes into your home. If you have a poor signal at this location, Phyn might not work properly. You also need a 1 and 1 ¼ in diameter piping, plus also a power source within 15 feet of the installation. Give this picture to your plumber, who should be able to give you an estimate on how long installation may take. They may also have to change some pipes —and they should be able to tell you that — in order to fit Phyn Plus to your main, which can increase the costs.
Another item you need to address with your plumber is your integrated fire sprinkler system, if you have one, to see if it has its own branch. Phyn Plus can't be installed unless there is a dedicated line, and installation of Phyn is done physically after the connection to the sprinkler system. This is crucial, so that the sprinkler won't interfere with Phyn's operation.
Luckily, Phyn comes with instructions for your plumber to follow, which are very straightforward. You can also access instructions from the support section in Phyn app. Your plumber can also call Phyn support, which is very helpful too.
Note that according to Phyn, installation should take about one to two hours depending on the pipes you have in your home. Our installation took just one hour. While we did have to move a few elbows around, our working space was good so we had plenty of room to add the additional piping, and also had power nearby, which helped.
After installing Phyn Plus, you need to download the Phyn app, which is available for both iOS and Android. After creating an account, Phyn will help you figure out which devices to monitor, and you'll work your way through a dropdown menu which will make set up easier.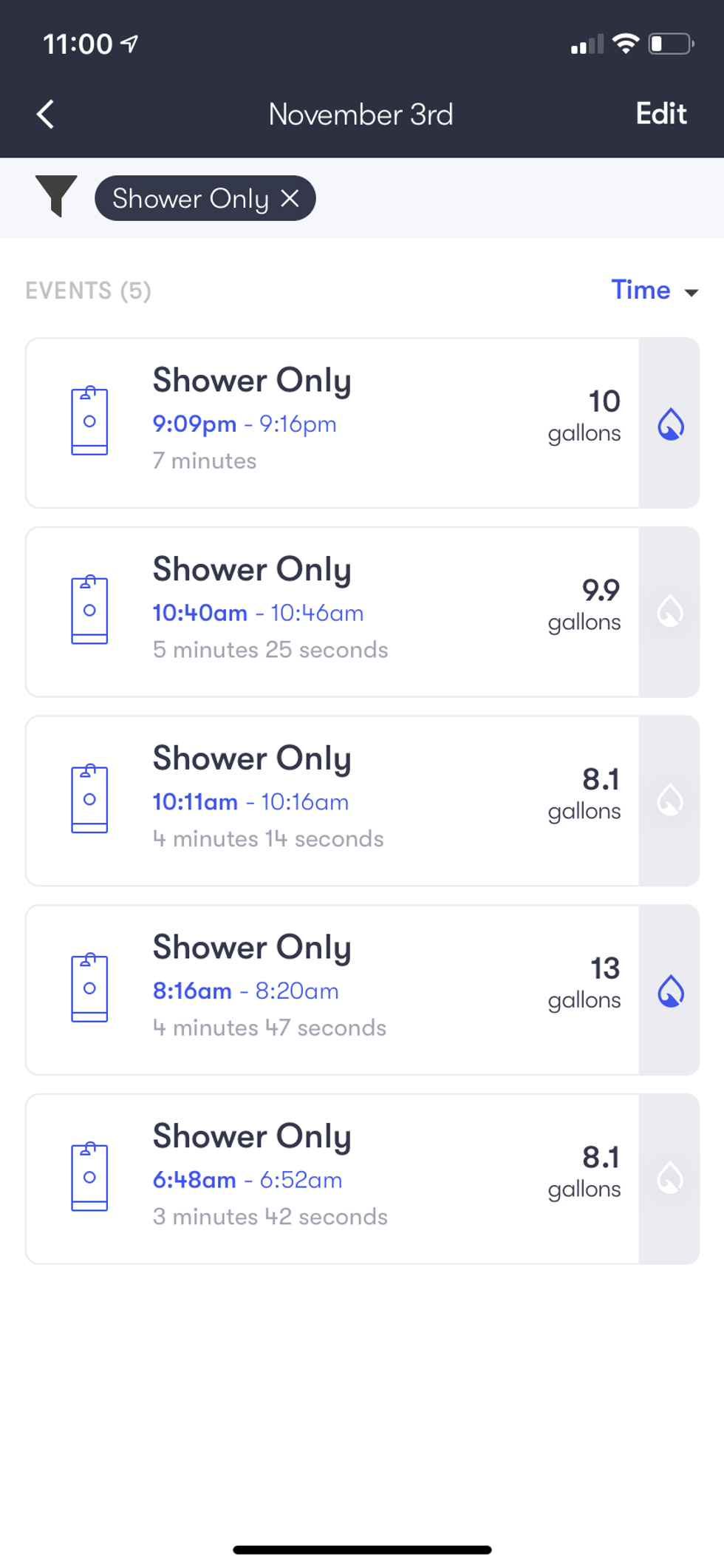 Users can help Phyn determine which fixture used water in Phyn AppGearBrain
How well does it work?

After installing Phyn Plus, we ran into some wrinkles. The water pressure dropped, and the water temperature was hotter than usual, and we weren't sure why. We did get used to the pressure and temperature, but we also experienced internet issues. Our signal strength kept going in and out and the system even went offline, according to the app, but Phyn still performed well. Today, everything is working fine — but keep in mind if you don't have a good Wi-Fi signal where Phyn is installed, you might need to get Wi-Fi extenders to help you get the signal the needs to operate correctly.
The key feature for Phyn is its ability to know which device is using a specific amount of water at a specific time. Phyn does this by learning the flow of water from the main. But home owners can help train Phyn by going into the app, and identifying which appliances were used, and when and updating details.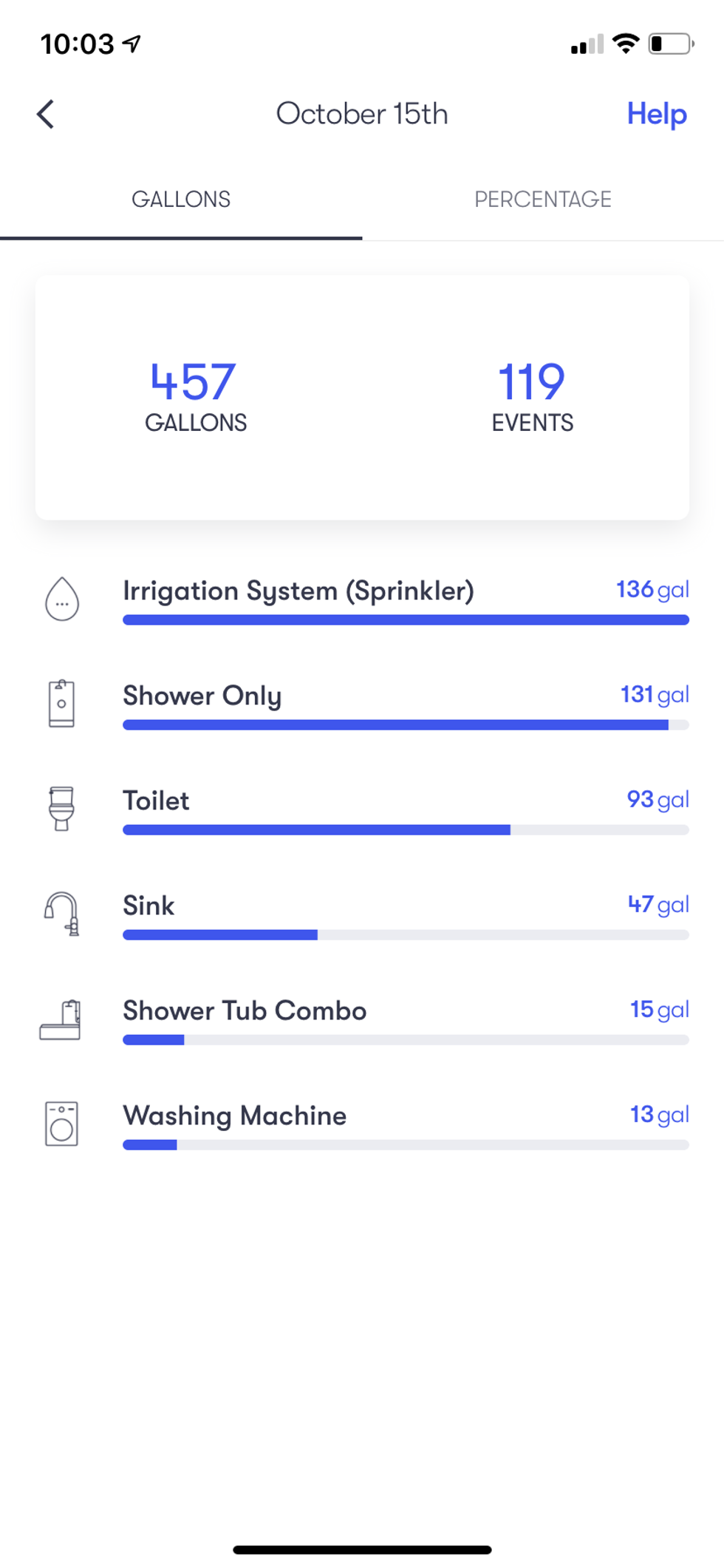 Phyn app monitors usage by water fixtures in your home.GearBrain
The app shows you each device, the day, time and amount of water used or consumed, which you can show in imperial measurements or metrics. In our test, we verified a lot of details so that we could help Phyn Plus learn and associate the right amount of use for each device. For example, we noticed Phyn Plus mixed up toilet readings with sinks, showers and washing machines in the beginning. But over time the app started to get things right, which I found impressive.

How long until the system learns each devices correctly? It took our system about a week, but every home can be different. "Every home and plumbing system is unique, however in most cases it typically takes 4-5 inputs to use your feedback to correctly identify the fixture type," said Phyn. For example, our in-ground sprinklers were not picked up at first, but after we revised details in the app, Phyn started to capture the sprinkler system's water usage. We did find updating the recordings a little tedious at first. If you have a lot of people living in your home, it might be a little overwhelming trying to keep up with every toilet flush, for example. But it's crucial to enter this information to create the most accurate reading for Phyn.
Cost of Installation

Installing smart water monitoring systems can be expensive, and here are some things that can drive the cost up. First, get an estimate — prior to installation — from a licensed plumber. You don't want someone hacking up your pipes which might lead to a water leak down the road. Next, know that the type of piping you have in your home could cause increased costs. Some homes might not require any adjustments to their existing water pipes. Some will.
In our test house, we did have to install a few additional elbows to fit Phyn Plus, but this was minimal. Some homes might have to get new piping or add new pipes, and that may mean your plumber will be at your home for an extended period of time which will drive up the cost for labor and materials. Our installation took about hour, but that was because there was not much new piping installed. We contacted a local plumber, Charles Krull & Son, Inc. Plumbing & Heating, which mentioned if we had to have new pipes installed, it could between four to five hours to install a smart water monitoring device. That would have bumped our bill from $200 up to $1,000 — and not that installation prices likely vary in different regions of the country.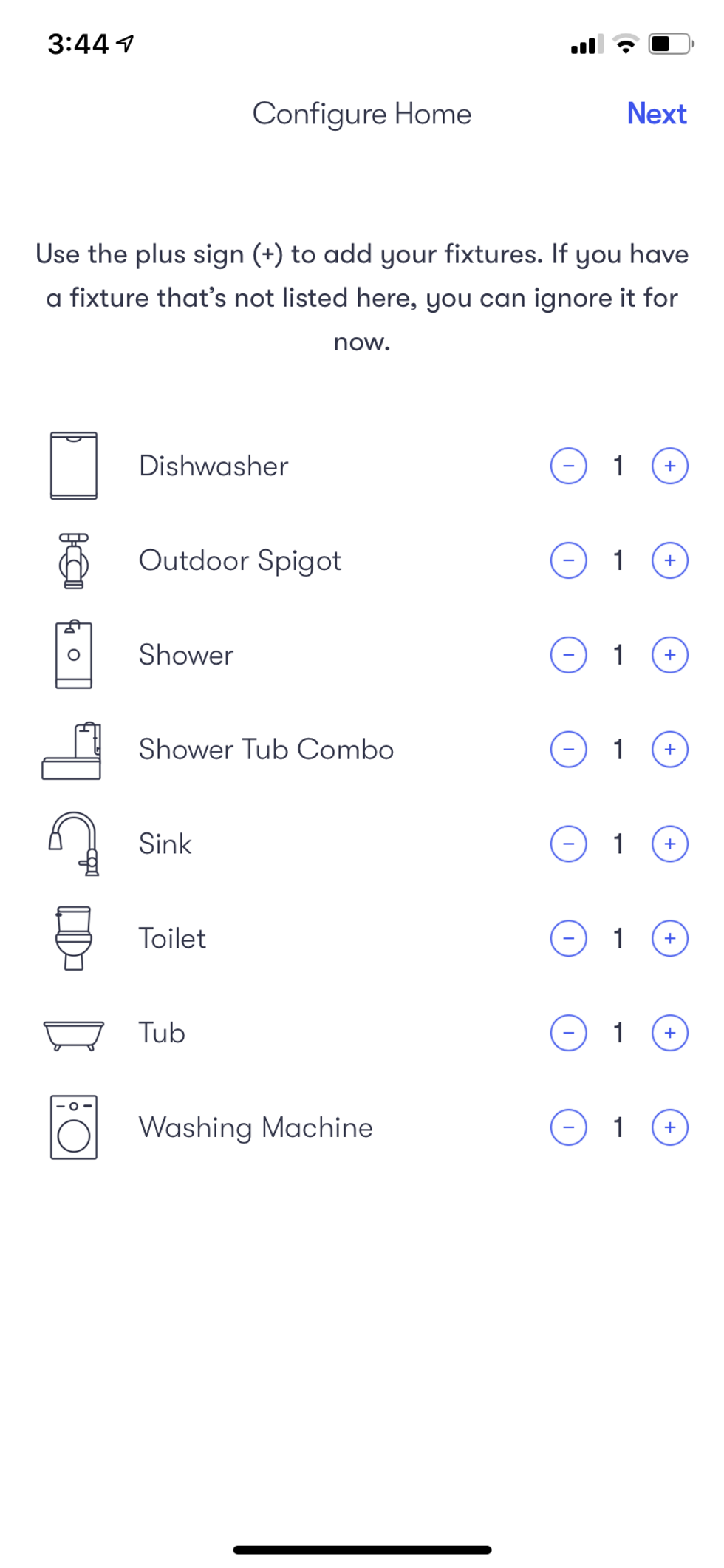 Select water appliances and fixtures in Phyn App to help Phyn determine which devices is using water.GearBrain
Smart Home Integrations
Phyn Plus works with both Amazon Alexa and Google Assistant voice assistants. For Alexa, you can ask questions like, "Alexa, ask Phyn Device to turn off my water." Or, "Alexa, ask Phyn Device how much water I used today." Phyn can also be controlled using IFTTT applets, to do a plumbing check, or turn your water off if needed. However, setting up these integrations was not smooth at all, and some were very limited.
When you go into the Phyn app there are three smart home integrations in the account section of the app: IFTTT, Google Assistant and Amazon Alexa. But know that these controls are some what limited as the company is still working on these integrations.
Phyn Device
For example, when trying to connect Phyn Plus to these accounts, the app sent us back to the Apple App Store to download each of the platform's apps — even though they were already on our smartphone. The Phyn app didn't recognize those apps because the company hasn't fully implemented them into the app. They do have a fix, and will add this in an upcoming release. (At that the time we published this review, it still had not be released.)

The next unusual wrinkle came when we went to test Google Assistant and Amazon Alexa integrations. When we went to the Google Home app, we couldn't find Phyn. Instead, we had to use the Google Assistant app, do a voice search or type in 'Phyn,' and find 'Phyn LLC.' Then, you'll be prompted to link your Phyn account with Google Assistant. Next, enter the email address and password of the Phyn Account you want to link to Google Assistant. Only then, will your Phyn Plus work with Google Assistant through your voice. Here's a link to detailed instructions including screenshots.
For Alexa, you need to enable the Phyn Plus skill. That's it.
Phyn Plus also works with IFTTT, but there are limited applets for Nest and Honeywell Thermostats. If you know how to create IFTTT applets, then you will be able to get Phyn Plus to work with thermostats, some smart home products and also services. Plus the company informed us Phyn is always looking to do more integrations as long as there is value and utility for our users. (Check out The GearBrain, our smart home compatibility checker to see the other compatible products that work with Google Assistant and Amazon Alexa enabled devices.)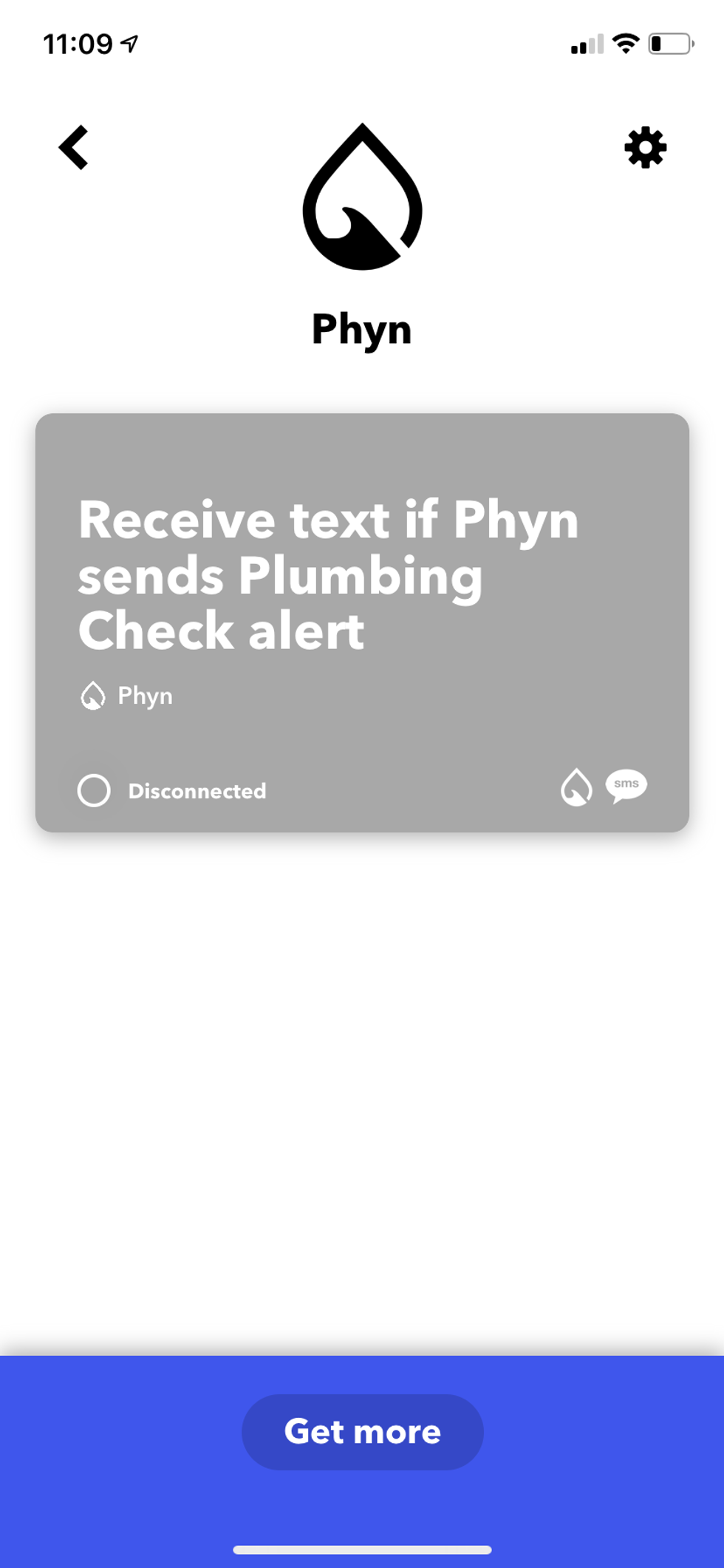 Create IFTTT applets to use Phyn PlusGearBrain
Additional Findings during Testing
During testing we found some interesting details that can also help you get the best out of Phyn Plus. First, make sure you capture all the devices connected to your plumbing, and not just sinks, tubs, toilets and appliances like a washing machine and dishwasher. For example, we needed to capture our in-ground sprinkler system, am ice maker, a tub and shower combo, a hot water heater and an outdoor spigot. Phyn makes that very easy.
For in-ground sprinkler systems, select an irrigation system (sprinkler), and for soaker hoses, choose the Irrigation System (drip). Initially the company only had Irrigation systems listed, but when they updated the inventory categories, they decided to keep it to help people distinguish between sprinkler and drip types for more accurate readings. Not sure about your Irrigation system? Just select Irrigation. If you have a large sprinkler-based system, make sure you choose irrigation system (sprinkler). This will make sure Phyn Plus monitor the flow of water from the correct device.

Notifications are another great feature. One day, Phyn notified us about our water pressure, telling us it was running high, and recommending we get a pressure regulating valve (PRV) installed. If a home's water pressure is too high, it can cause harm to your appliances, like a dishwasher or washing machine. PRVs moderate the pressure of the city's water as it enters a home, greatly reducing risks of leaks, and helping get more life from your plumbing and appliances which use water. Prior to installation, our plumber suggested we get a PRV too but it was not urgent. Crucial is knowing you need to put the Phyn in first, and then the PVR.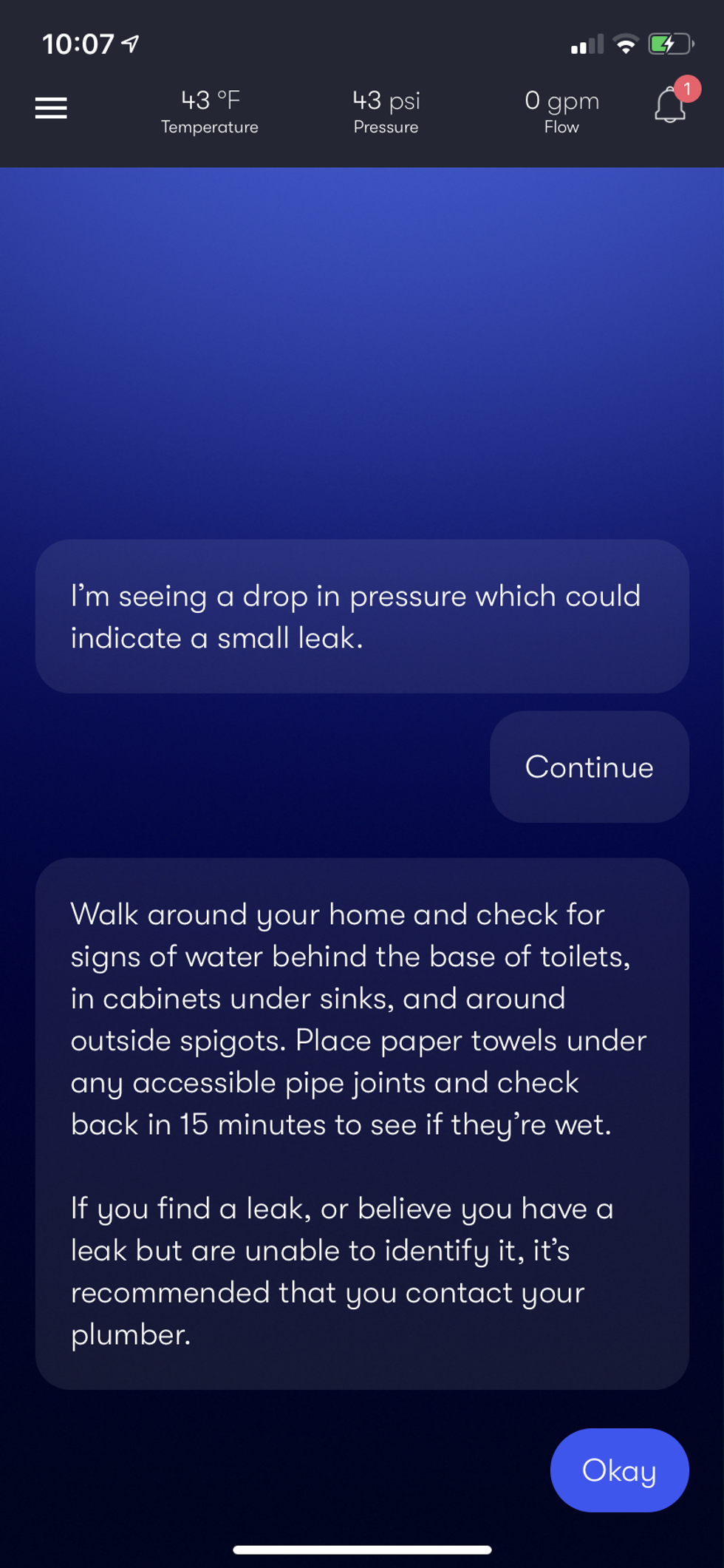 Phyn will notify you when there is a drop in water pressure. We experienced this during testing. Recommended we install a PRV which our plumber suggested too prior to installation.GearBrain
Finally, if there's a power loss, and you need to turn off the water, Phyn Plus has manual control to open and close the valve. You would need to use the tool provided — which is clipped into a slot on the base of the Phyn Plus — or a flat screwdriver to turn the manual control screw. Instructions for manual shut-off can be found here, in the third section:

Discounts off Homeowner's Insurance Policy
Water damage is one of the top homeowner's insurance expenditures and most common claims, according to the Insurance Information Institute. Not surprisingly, more insurance companies offer standard discounts and credits off their homeowner's policies if you have a smart water monitoring system — and that includes Phyn.
"Homeowners with PURE Insurance and Proper Insurance are entitled to a pre-negotiated discount on Phyn Plus," said Phyn. "Phyn is working with additional carriers to provide discounts on the device as well as on homeowner policies."
What kind of discounts can a homeowner get through Phyn? That will depend on several factors including your policy, the value of your home, the risk level of where you live, your region, the number people in your home, your insurance company, and more. GearBrain asked PURE about the discounts with Phyn, and while they told us they do offer homeowners some credit, they wouldn't tell us a range, stating it depended on the factors we mentioned earlier. We recommend you ask your insurance company to see if they offer any credits or discounts before you buy and install Phyn. Perhaps they'll pay for some, or all, of the cost of Phyn, or offer a percentage or flat rate off your policy for installing Phyn, or some combination. The rates and discounts may be enough, over time, to pay for Phyn Plus ,since this device is due to last for a long period.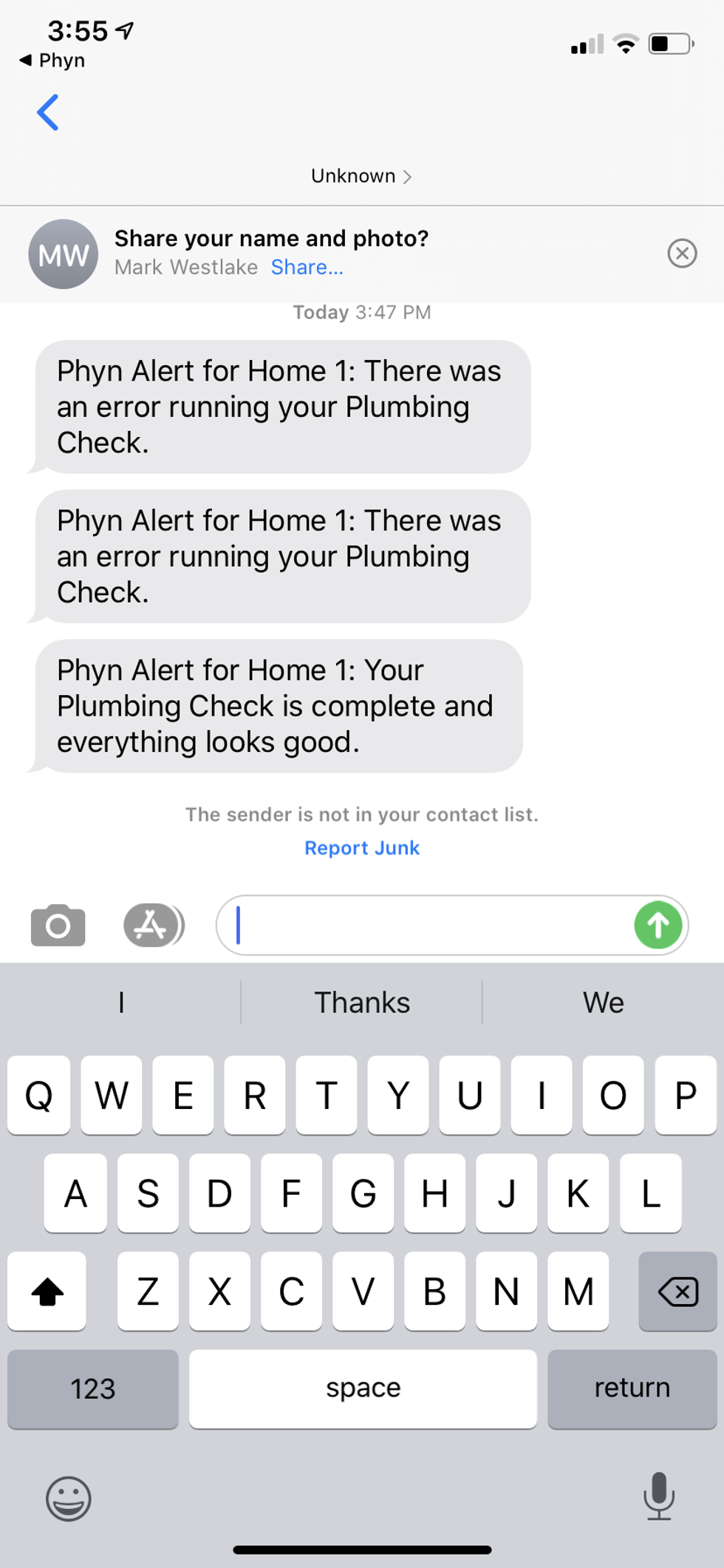 Setup notifications in Phyn appGearBrain
Cost

Phyn Plus costs $699 and can be purchased directly from the company's website. Installation is a separate fee, and varies depending on where you live. If you need help with installation, Phyn will help you find an installer through its site. The company has partnered with Uponor Pro Squad, a team of water specialists, who can help install Phyn or Phyn Plus. The device does come a warranty.
Summary
Leak detectors were originally designed to monitor leaky pipes or if the toilet overflowed. Today, these little devices, like Phyn Plus, are full-fledged water monitoring systems which can help you conserve water while potentially giving you discounts and credits on your homeowner's insurance. Phyn Plus very accurately can see the water flow in a home just from the water main. We did find out water turned off sometimes, when Phyn Plus found activity it deemed suspicious, and couldn't determine. We liked how the system chooses to be on the safe side when it comes to potential water leaks.
Overall, we recommend Phyn Plus to homeowners who want a smart device which conserves water by keeping a very close eye on their home's water usage. But do keep in mind that this is a large device, and depending on where you will be installing it, you might have issues. Also, the cost, at $699, is rather high. But if you can get discounts off your homeowner insurance policy, it might be worth the investment.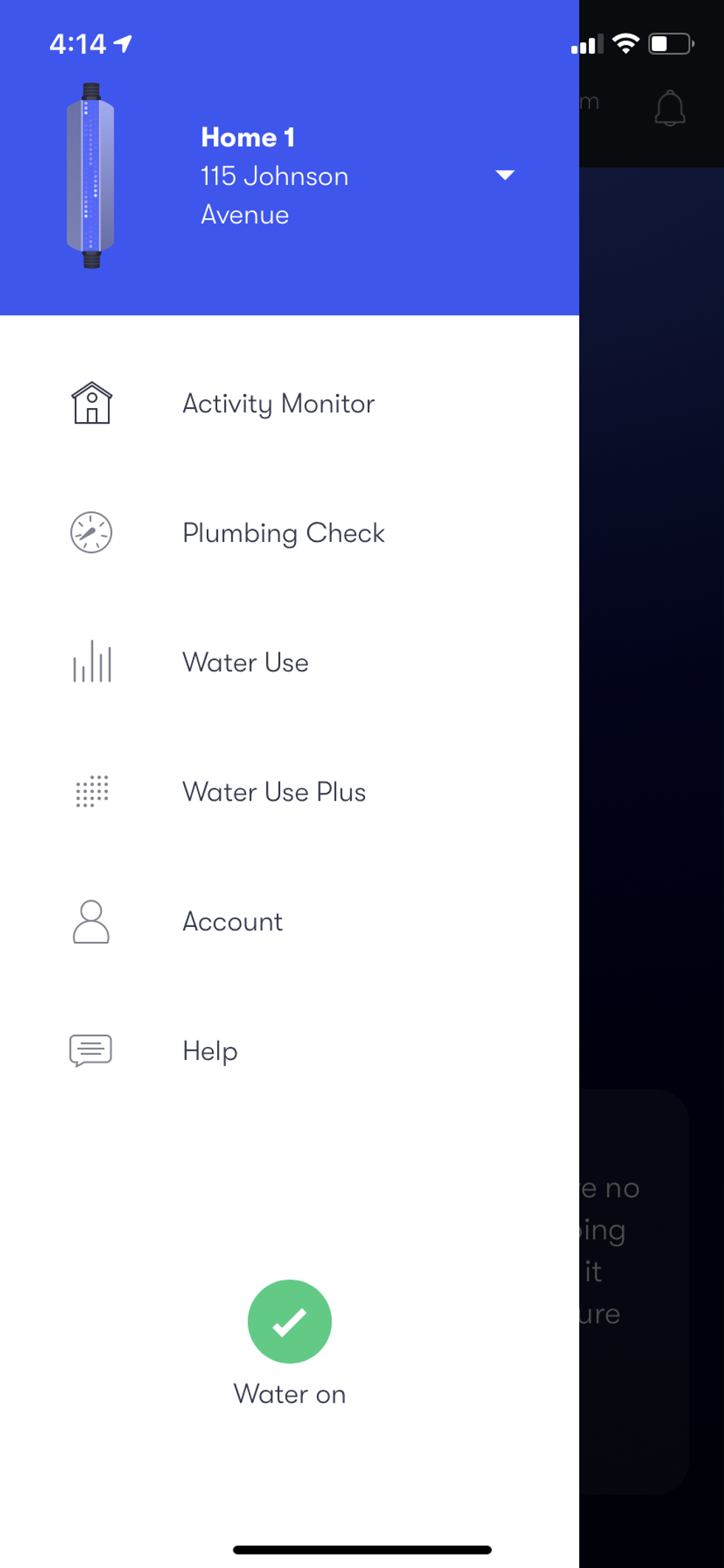 Use Phyn App to monitor water use, conduct plumbing check and setup notifications. Also, turn off your home's water main.GearBrain
Finally, Phyn does not integrate easily with smart home platforms. However, while Google Assistant and Amazon Alexa voice platforms had limited command features, those that worked were good. We would, though, like to see Phyn Plus integrated into other types of smart home security systems, like Vivint or SimpliSafe. Many of these smart home security systems offer freeze detection and monitoring services, and combining these services could be helpful, especially as consumers look to consolidate the number of apps they use. For now, however, we think Phyn Plus is a good investment — and potentially even help you do your part to save the environment.

Pros and Cons
Pros:
Insurance discounts
Monitor water usage, and use to help conserve water
Automatic shutoff valve, and pipe freeze detection
Cons:
Limited smart home integrations
Size of Phyn Plus
Need to provide input to teach Phyn on device usage
The Buying Guide To Leak Detectors For Smart Home Systems - GearBraiin www.youtube.com