Like GearBrain on Facebook
The Polestar 1 is a curious case of a car. Just 1,500 will be made worldwide over the next three years before it is consigned to the history books as the one and only hybrid to come from Volvo sibling Polestar.
Being a hybrid, it has a petrol engine and electric motors. But unlike many hybrids, where a small battery means electric-only range is limited to a dozen miles or so, the Polestar 1's battery is huge, giving it an electric range of a claimed 78 miles. It's closer to a Chevrolet Volt-equally 50 miles in the real world, but that still means you could complete several days of commuting to the office across town without consuming any gas.
Read More:
At 34kWh, the battery is even larger than that of a wholly electric car, like the Mini Electric.
The battery pack sends power to a pair of electric motors driving the rear wheels, plus a motor on the crankshaft to help deliver additional torque when the engine requires it, such as between gear changes. That third motor also acts as a starter motor for the engine.
Then we get to the engine itself, which is a 2-litre, four-cylinder motor that is both turbocharged and supercharged. It contributes around half of the Polestar 1's 600 horsepower and huge 1,000 Newton meters of torque – the latter being just 50 short of the McLaren P1 hybrid hypercar.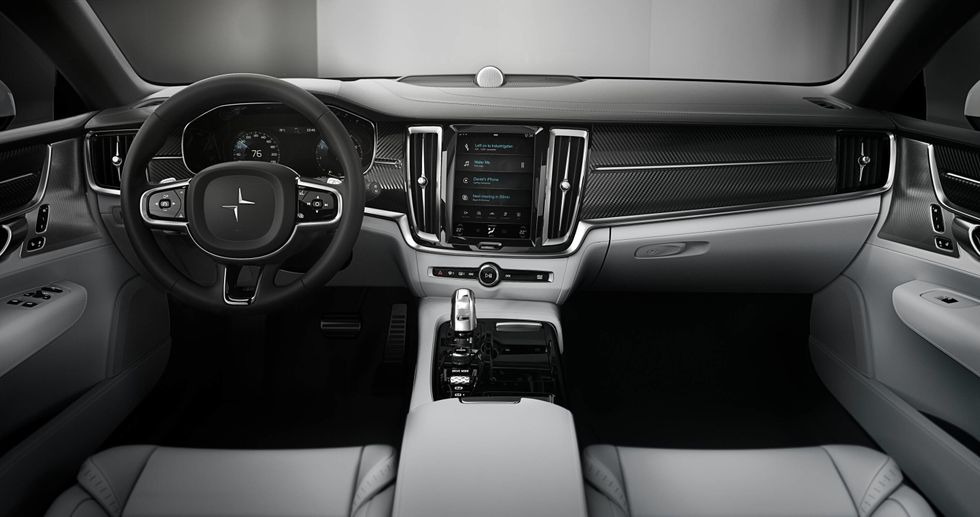 Interior and dashboard of the Polestar 1Polestar
So yes, it's a complicated car. And behind the stunningly handsome carbon fiber-reinforced-plastic bodywork it is actually rather proud of its hybrid underpinnings – so much so that the trunk features a glass panel offering a view of the car's thick electric cables. Each is neatly labeled and the feature was adored (and promptly photographed) by everyone I showed it to.

The shape of the battery pack, running along the center of the car then extending widthways to form a T shape, means the trunk is smaller than you might expect. Golf clubs should fit, but not much else. Thankfully the Polestar 1 is a 2+2, so there's a pair of small rear seats for children or shopping, but because of the cable display case they don't fold down.
Inside, the Polestar 1's cabin will be familiar to anyone who has driven a recent Volvo. And that's no bad thing, as thanks to the stylish new seats covered in soft Nappa leather, and details like the crystal Polestar-branded gear selector, the interior ups its game enough to justify the $155,000 price tag.
Although classically good looking, the interior is modern enough to feel right at home in such a high-end hybrid. The dashboard features the same portrait-orientated touch screen used by current Volvos. This handles the navigation, media, phone and vehicle settings, as well as the cabin heating and cooling. The interface is full of large icons that are easy to both read and touch, while key controls like play/pause, volume and front/rear windshield de-misting are thankfully given their own physical buttons.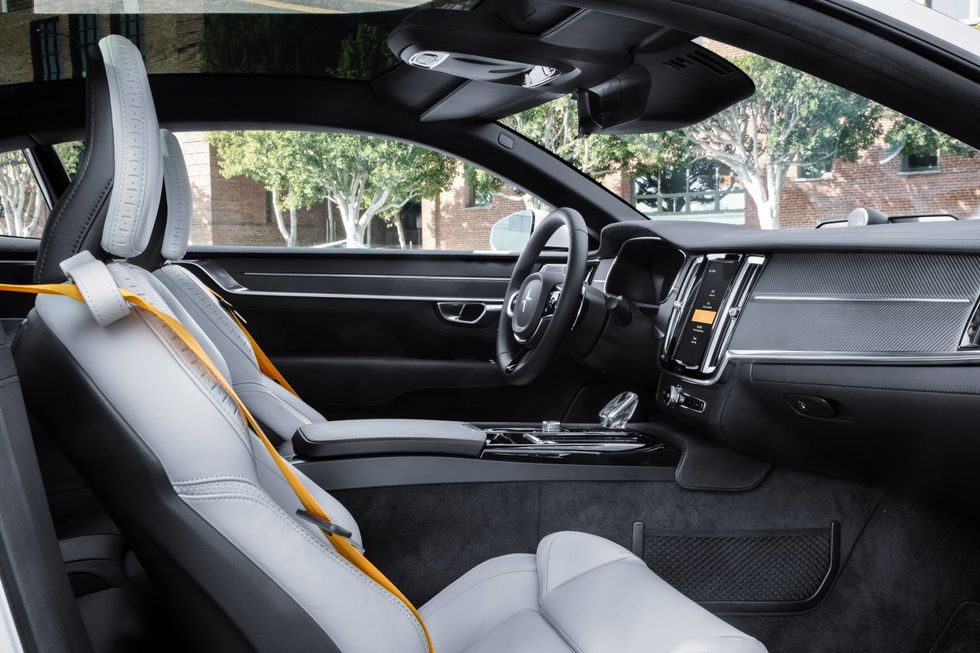 Interior of the Polestar 1Polestar
Like other car touchscreens, climate controls are permanently shown along the lower edge of the display. This means it's quick and easy to make an adjustment, and muscle memory soon develops to change the temperature without taking your eyes off the road. Of course a rotary dial would be even easier, but that's not the way 2020 car design wants to go.

A useful physical control carried over from Volvo is a home button below the display, helpfully taking you back to the start if you get lost in sub-menus, as I did a couple of times during my weekend with the car.
My only criticism is that I wish Polestar was able to fit the excellent Android Automotive system of the Polestar 2 into the 1. But the 1's development began first, likely causing it to miss the Google boat. The system here is fine, but anyone who has sampled the Polestar 2 will lament the 1's lack of native Google Assistant. At least it still has support for Apple CarPlay and Android Auto.
The high transmission tunnel between driver and passenger houses the aforementioned crystal gear selector, along with a switch for the electric handbrake and a chrome scroll wheel for switching between drive modes. Being a high-performance hybrid, there are several modes to choose from.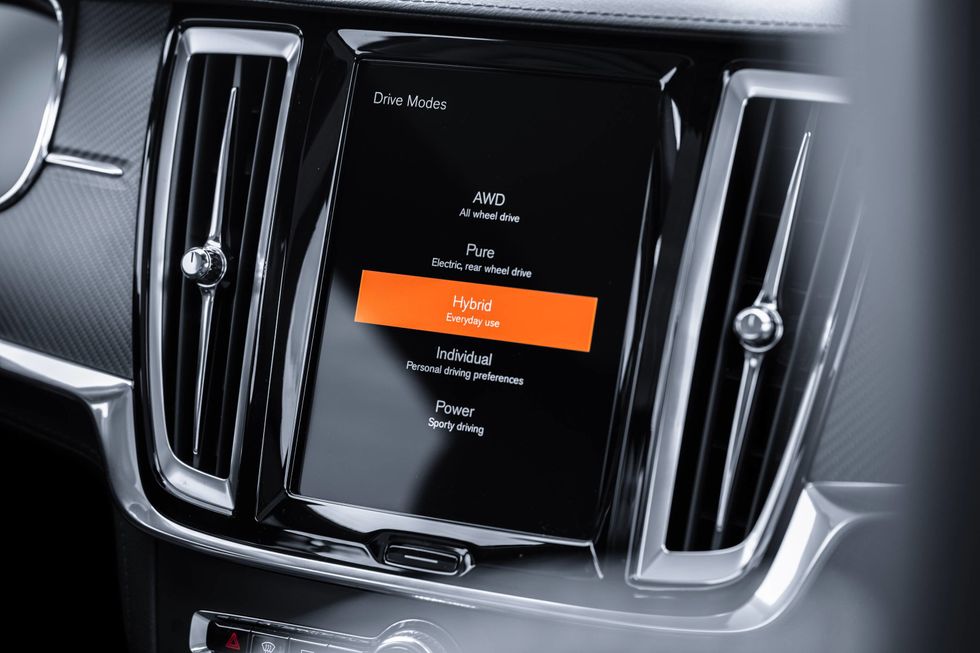 Driving modes of the Polestar 1Polestar
First there is Hybrid, which is designed for everyday use and shuffles power between the engine and battery pack to strike a neat balance between performance and efficiency. Then there is Pure, which shuts down the engine (providing the battery has enough charge) and turns the Polestar 1 into an electric vehicle. This mode stays engaged even up to highway speeds, so it works as a true EV, with the engine not cutting in unless low battery charge demands it.

There is also an all-wheel-drive mode. Instead of constantly adjusting how power is distributed to the front and rear axles, this mode ensures power is consistently sent to both, which is useful for when you need maximum traction, such as when driving in snow (Polestar is a Swedish company, afterall).
Individual mode lets you fine-tune the car's setting, including the weight of the steering, to suit you, and finally Power mode optimizes the drivetrain to produce maximum performance. You can also dig into the touchscreen and pick a mode where the car charges its battery using the engine, but this will see your fuel economy plummet. You should really refill the battery by stopping at a charger, not by burning more gas.
Like I said, there are lots of modes here. But all you really need is Hybrid for 90 percent of driving, Power for when you want to use that mountain of torque (and hear a sportier exhaust note), and Pure can be used to cut the engine in city traffic.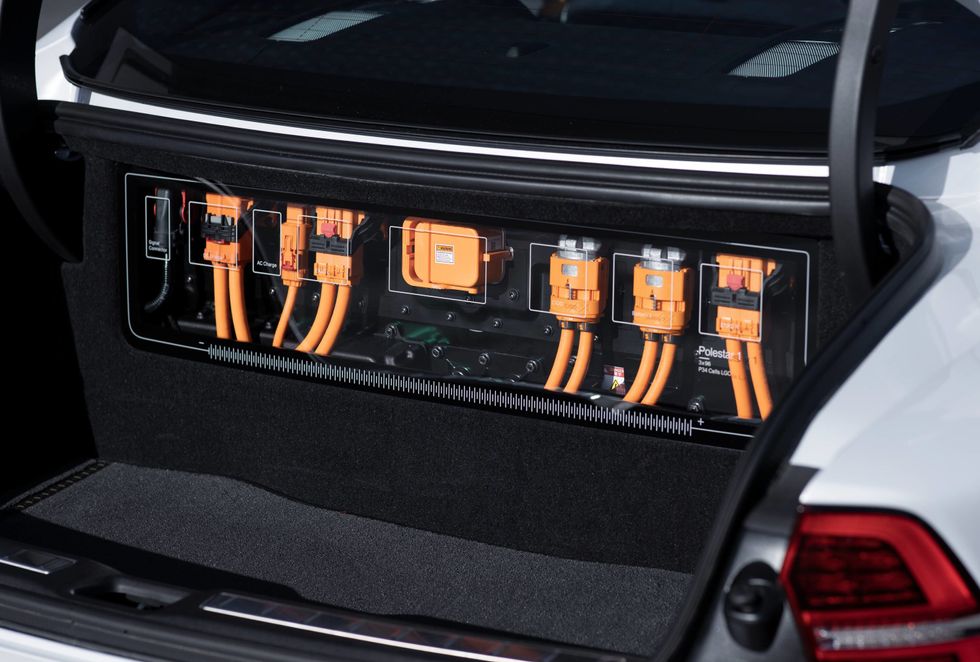 Hybrid system power cables in the trunk of the Polestar 1Polestar
The touchscreen is joined by an all-digital display behind the steering wheel, showing speed, engine revolutions, gear, navigation instructions, economy and other at-a-glance information.

Refreshingly, there are no optional extras for the Polestar 1. You can pick from a handful of exterior paint colors and wheel styles, plus a pair of interior trim colors, but that's it. The car comes fully-loaded, complete with carbon door trims and a Bowers & WIlkins sound system that looks as good as it sounds.
The Polestar 1 is certainly a complex car, but once you select Hybrid mode and hit the open road it becomes incredibly simple. The engine and battery are smartly called upon exactly when you need them, with the former shutting down when coasting or crawling through traffic, then the battery is summoned to deliver an extra shove of power while the gearbox picks a lower cog when you accelerate.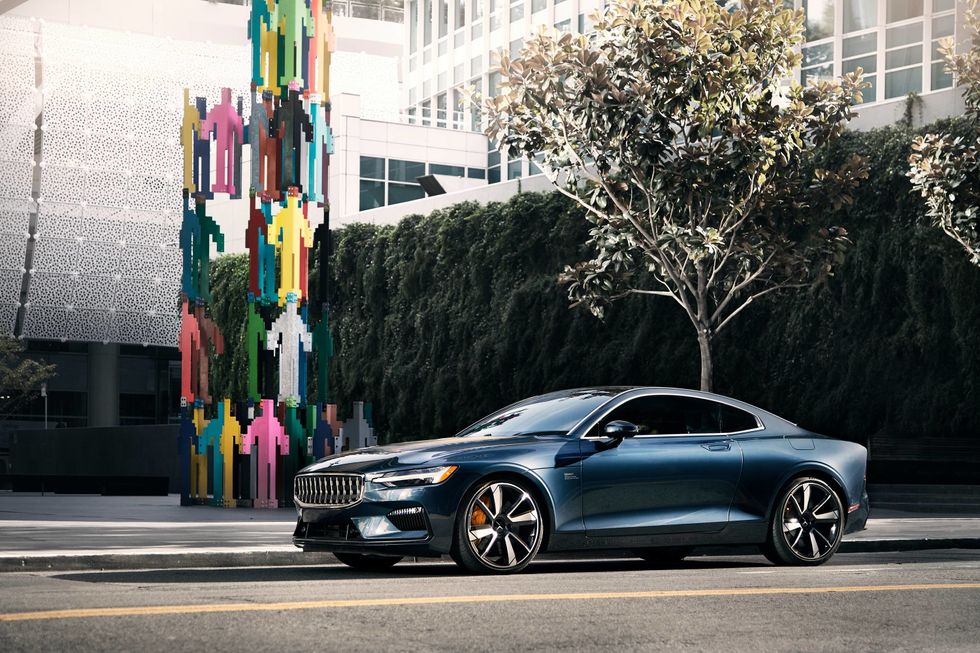 Just 1,500 examples of the Polestar 1 will be madePolestar
It's a hugely powerful car, of course, but one that glides along in the most refined and unintimidating manner. The power is there to ease you onto the highway or to quickly, safely past slower traffic, not to make you feel like Lewis Hamilton. It is Scandinavian sensibility wrapped up in a beautiful package.

What the Polestar 1 gets right is how it's a hybrid with a large enough battery to function as an EV for a meaningful amount of time. This means it is very heavy, a little under 5,200 lbs, but it has both a useful EV range and huge performance when the driver wants it. Limited to 1,500 examples, it's a curious car for sure, but one that is undeniably beautiful and an impressive example of what a luxury hybrid can be.
Pros:
Easy to use infotainment
Long EV range
Driving modes for every situation
Cons:
Lacks the Polestar 2's Android Automotive
Hybrid system robs trunk space
Only 1,500 to be built
From Your Site Articles
Related Articles Around the Web
Like GearBrain on Facebook