The quest for the right robot vacuum has become increasingly more complex, thanks to the new makes and models which keep getting smarter and sleeker. And the smart integrations and different wireless connectivity doesn't make buying a smart robot vacuum easier, especially if you live in an apartment or small house. To help simplify this process, GearBrain recently compared two good robot vacuums, Yeedi Vac and iRobot Roomba 694 to help make your search easier.

For smaller homes, apartments, small offices, and the like, the "deluxe" robot vacs aren't necessary for a thorough cleanup. Some of the less-expensive robot vacs are perfect for these spaces, delivering a job well-done without every bell and whistle one could work into the design.
When looking at Yeedi vac vs. iRobot Roomba 694, we found each robot vacuum had similar capabilities and conveniences. Pricewise they are neck-and-neck, and they have many attributes which are almost identical. That said, we found a few extra advantages on Yeedi vac's scoreboard which will be helpful to know prior to buying one of these devices.
Yeedi vac – Now $269.00 (orig. $299.99)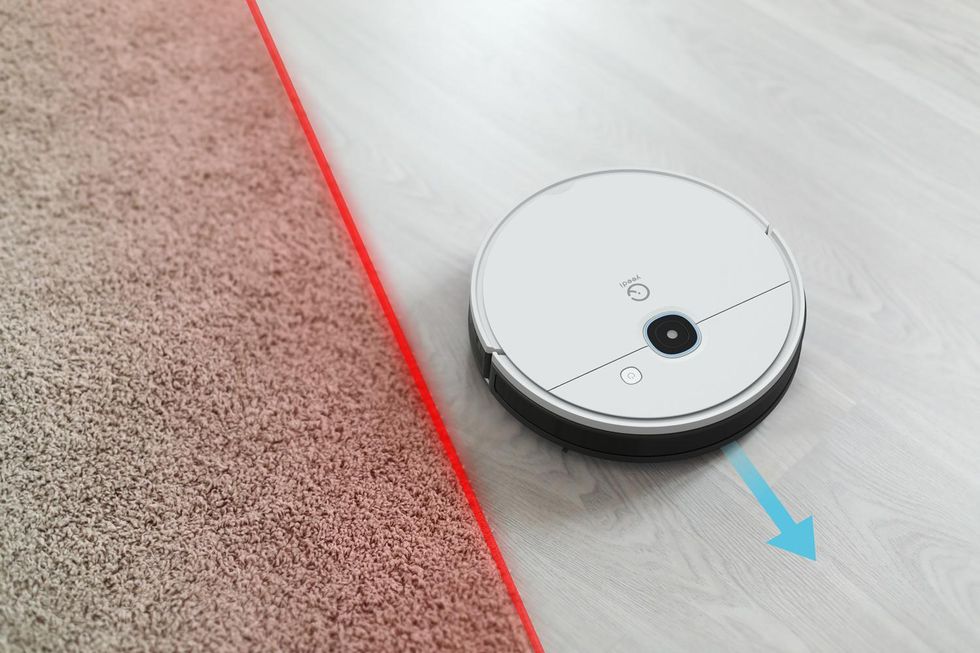 Yeedi vac can determine if its on a hardwood floor, tile or carpet.Yeedi
The Yeedi vac is a lower-priced model compared to the company's more elaborate vacs, like the Yeedi vac station. It is great for apartments and small homes with hardwood floors and carpeting to cover. The Yeedi vac comes with smart mapping to assist in going from end to end, getting in the corners. It comes with 2500Pa suction power, which is strong enough to pick up pet hair, debris, dirt, crumbs, and whatever else needs to go. Its white minimalistic design is a standout among the other robot vacuums out there, giving it modern aesthetics not normally found in smart robot vacuums today.
Looks aside, this machine is smart and resilient, with voice control via Amazon Alexa or Google Assistant enabled devices, as well as Wi-Fi and app compatibility/connectivity. You can program your Yeedi vac with a pre-set schedule for cleaning and direct it to where to vacuum and areas to avoid. The Yeedi vac can run non-stop for 110 minutes without need for a recharge. And when time runs out, the device will automatically recharge and resume where it left off thanks to its built-in mapping technology. This tech allows the vacuum to detect carpets vs. floors, avoid bumps and collisions, and make its way through your area without accidents.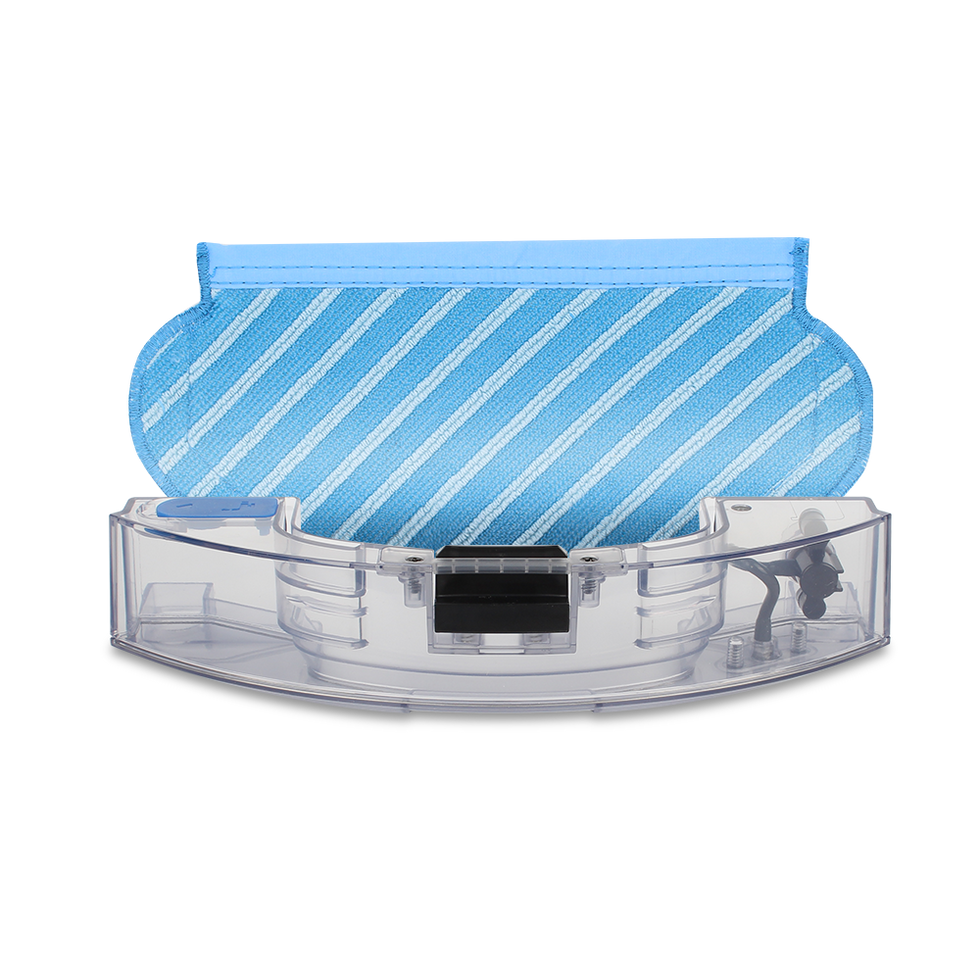 yeedi vac dustbin can hold 450 ml of dirt and debris.Yeedi
Since the Yeedi vac can run for a long period, it comes with a dustbin which holds 450 ml of dirt and debris. This is important to have or your vacuum will be constantly stopping so you can empty it. But if you want, Yeedi offers an add on self-empty station as well as a mop to make sure you don't get interruptions during cleaning.
iRobot Roomba 694 - $274.99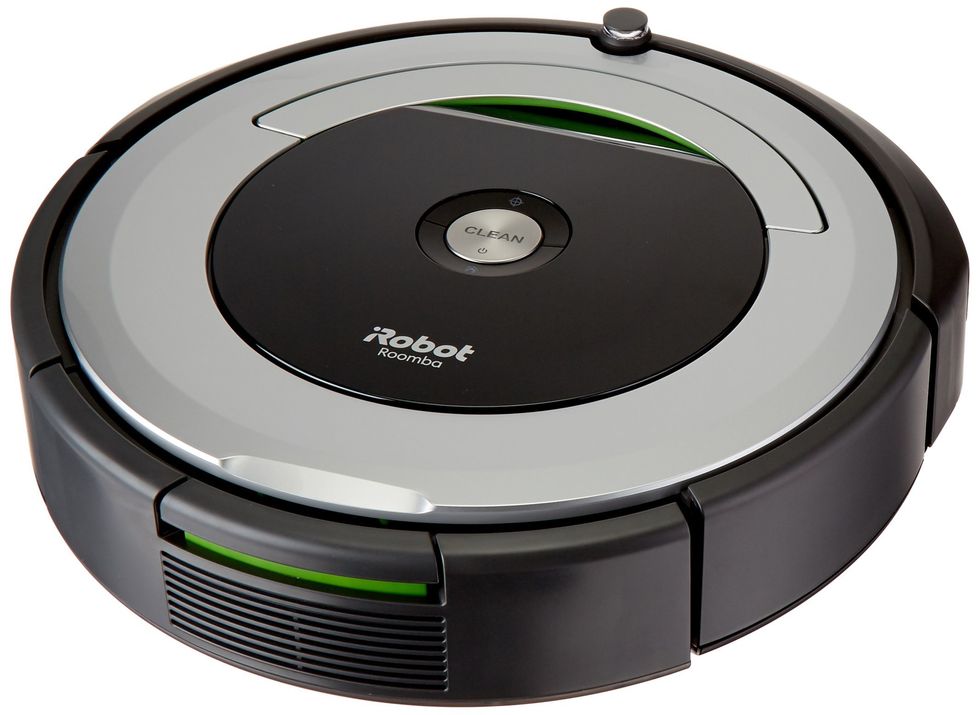 Roomba 690 Roomba
For just a few dollars more, the iRobot Roomba 694 is a well-made machine that delivers on its promises. Like the Yeedi vac, it's Wi-Fi connected, has an associated app for scheduling and other instructions, such as where and where not to clean, and can be conveniently controlled hands-free via Amazon Alexa or Google Assistant voice assistants.
The app's technology uses algorithms to learn your schedule and preferences to personalize your cleaning routine and alerts you to high pollen count days and when pets tend to shed more significantly so you can adjust your cleaning plans accordingly. iRobot Roomba 694 will also detect the dirtiest areas of the home and hit them the hardest.
The sleek design is made for cleaning both floors and carpets, getting into all the nooks and crannies without worry about damage, using its smart navigation capabilities. This vac will run for 90 minutes before it auto docks and recharges.
No add-ons, but they have plenty of higher-end Roomba models when it's time to make the switch.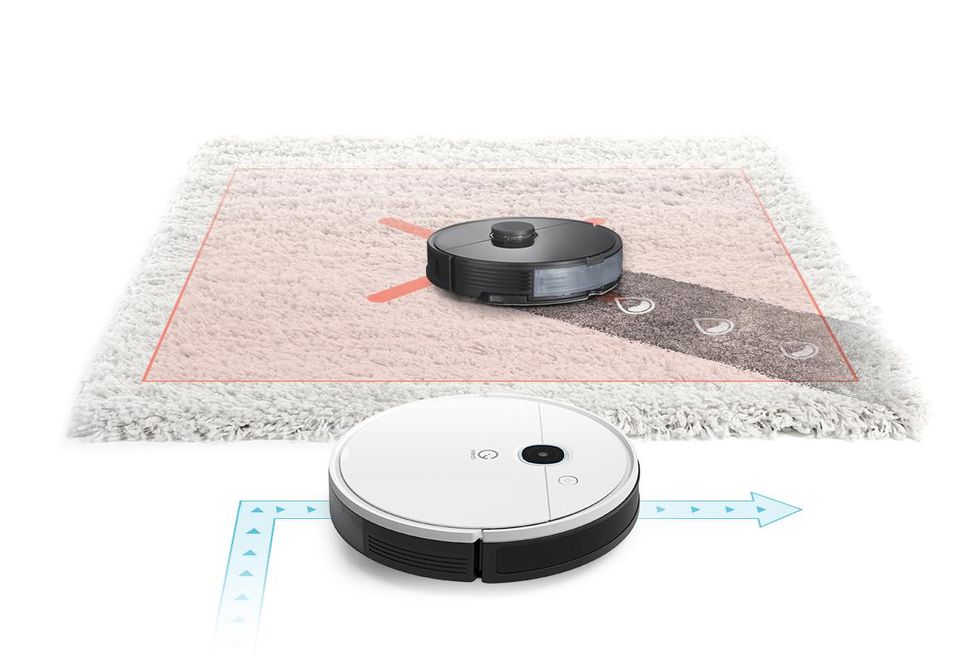 Here is a visual on the difference between Yeedi's smart mapping technology and Roomba's navigation technology.Yeedi
Which is better: Yeedi vac or iRobot Roomba 694?
All in all, both robot vacuums are solid choices for small spaces. They each come with ways to detect the difference between a hardwood floor or carpet and have unique cleaning systems. You can even use voice commands with Amazon Alexa and Google Assistant enabled devices to clean your floors. But Yeedi vac does have an advantage when it comes to price, runtime and versatility.
Yeedi vac costs only $269.99 versus Roomba 694's $274.99 price tag. Yeedi vac has a runtime of 110 minutes versus 90 minutes for Roomba 694. And you can buy a mop accessory for the Yeedi vac so it can mop your floors. Roomba 694 does not have this option. You would have to buy an iRobot Braava jet m6 to mop your floors and it costs $449.99.
Overall, Yeedi vac is the winner in this comparison because it can help you save a few bucks, has the optional add-ons if you're eventually interested, and provides a few more minutes of runtime per cleaning. All important features to have in a smart robot vacuum for your small house or apartment.
Check out The GearBrain, our smart home compatibility find engine to see other compatible products Yeedi vac works with as well as Google Assistant and Amazon Alexa enabled devices.
The GearBrain, First Compatibility Find Engine for Smart Devices www.youtube.com