Like GearBrain on Facebook
Samsung Developer Conference (SDC) 2018, set for November 7, is when the world's largest smartphone maker reveals its new products and roadmap for the next 12 months. To Samsung, the get together is what WWDC is to Apple, and what I/O is to Google. As the name suggests, this is an event intended for developers rather than consumers, but that doesn't mean Samsung fans shouldn't be excited.

Here are three highlights expected from the Samsung Developer Conference 2018:
1. Samsung's first folding smartphone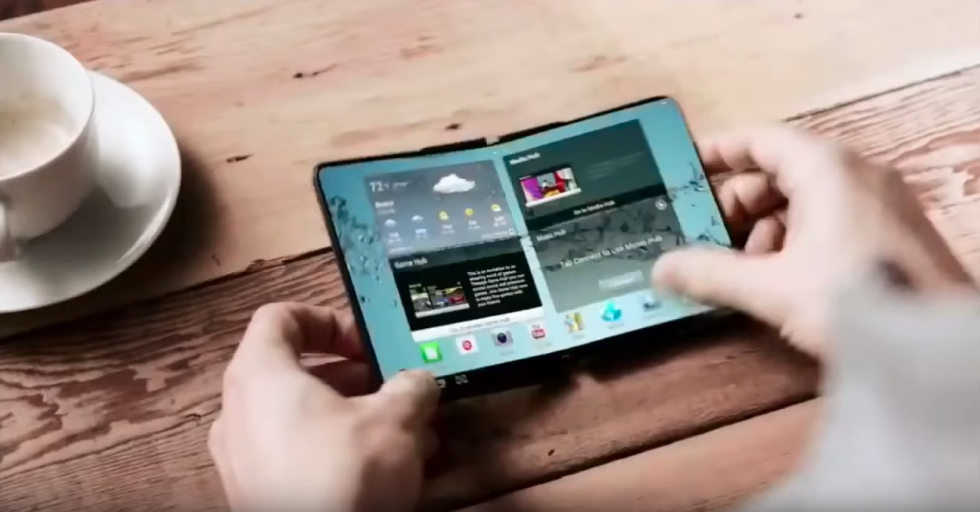 A 2014 folding phone concept from SamsungSamsung
Rumored for well over a year, Samsung's first folding smartphone will finally break cover at SDC this week. This is an unusual move for Samsung, which has historically revealed new products at its Unpacked media events; the new Galaxy S typically arrives in February, with the new Note unveiled at a similar event in late-summer.

But the folding phone, dubbed the Galaxy X, is seen as such an important product for Samsung, the company wants to show it off to developers (and the public, as the event is streamed live on YouTube) this week. This gives developers time to modify their existing apps to work on the new form factor — and of course develop new apps — before the phone goes on sale sometime in 2019.
Samsung has said the phone will not be a gimmick and will not be produced in small numbers. This, the company hopes, will be a smartphone to be sold alongside - and in the same quantity as - the rest of its lineup.
Speaking to Reuters on the eve of the conference opening keynote, an unnamed Samsung official said: "Unlike our flagship products, the foldable phone is a completely new concept in terms of design and user experience, which requires a different approach...Before we take it to the market, we want to share with developers what we've done so far and see what they think of it."
Despite being a global leader in smartphones, and consumer technology more generally, Samsung needs the folding phone to be a success. According to IDC and Strategy Analytics, Samsung's smartphone sales fell 13 percent in the third quarter of 2018 compared to the previous year, following a 10 percent decline in the second quarter. Sales also fell in the first quarter of 2018, and the fourth quarter of 2017.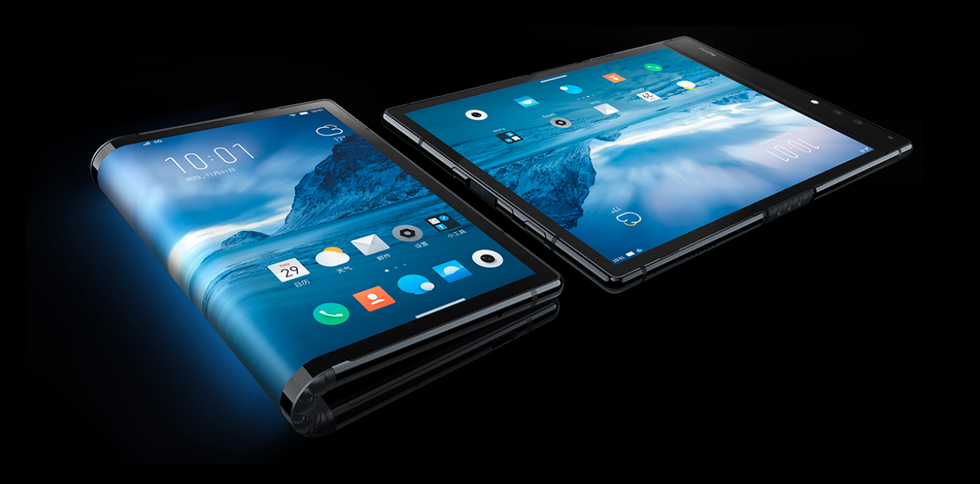 Royole
This can partly be blamed on stagnation felt across the smartphone industry. Consumers are holding onto their devices for longer, as annual updates are less appealing than they once were, while prices creep ever upwards.

A folding phone, combining the portability and pocket-friendly shape of a mid-size smartphone with the large screen of a tablet once unfolded, could help reinvigorate the market. However, with a price likely well above $1,000 — a level the Samsung Note 9 is already at — it may only appeal to well-heeled early adopters.
Huawei, the world's second-largest smartphone maker, is also working on a folding smartphone, which it is expected to reveal in mid-2019, and with 5G capabilities. Both companies, however, were beaten to the punch by Royole, a startup based in the US and China whose FlexPai was announced earlier this month and will be available from late-December.
As for the Samsung, it will likely be seen again ahead of Mobile World Congress in late-February, where the Galaxy S10 is also expected to be announced.
2. Galaxy Home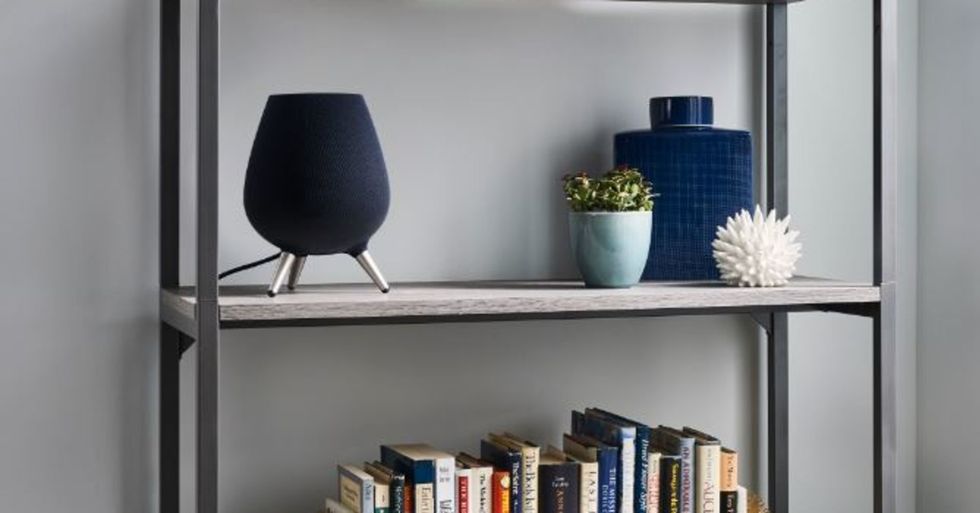 The Galaxy Home smart speaker will rival the Apple HomePodSamsung
Samsung first announced the Galaxy Home - its first smart speaker — after the Note 9 reveal event in August. But many details, including the price and release date, were not disclosed, and nothing has been seen of the Galaxy Home since.

This week's developer conference should shed more light on the speaker, which includes Samsung's Bixby voice assistant — an answer to Alexa and Siri — and will compete against the Amazon Echo, Google Home, Sonos One, and Apple HomePod.
The smart speaker market is already a busy one, fought between some of the biggest names in the industry. Samsung is not only late to the party (despite offering its SmartThings home automation platform for several years now), but Bixby is far from the smartest assistant in the class.
Samsung will need to impress at its conference this week; it will need to convince developers to work with Bixby and the Galaxy Home, while also drumming up excitement for the speaker among consumers who may already own one or more of its rivals.
3. Augmented reality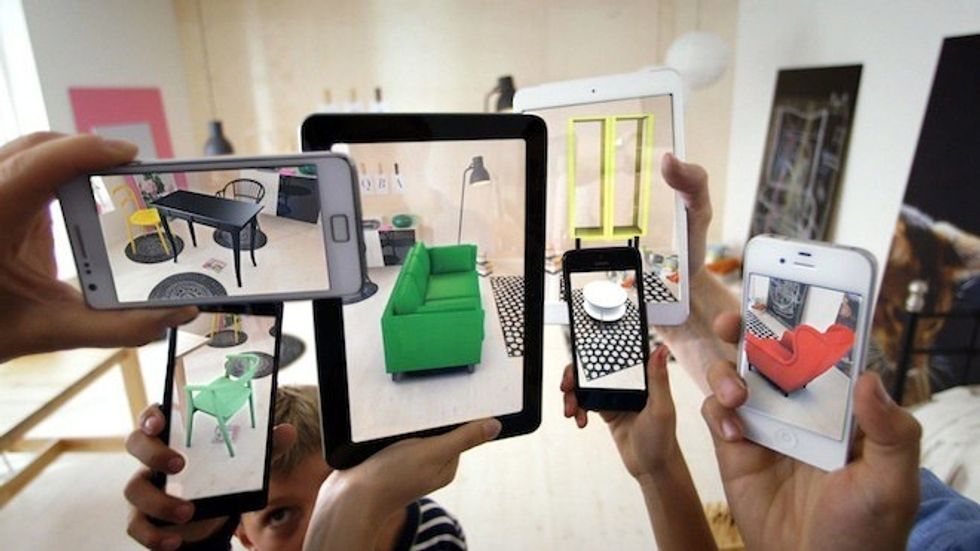 Ikea
Samsung is yet to get too involved with augmented reality (AR), beyond its questionable attempts with Emoji AR on some smartphones. Instead Apple, Google and Microsoft, plus startups like Magic Leap, have stolen a march on Samsung.

There will be several sessions dedicated to AR over the two-day developer conference, and the event will see a "soft roll-out" of Samsung's Project Whare, a spokesperson told Variety. The project has been described in Samsung job listings as a collection of "cross platform developer services that will power multi-user, shared AR experiences and applications at scale".
What's understood here, is that Samsung wants to create persistent AR experiences by using the cloud. That way, multiple users can all see the same AR objects and experiences, no matter where they are. Apple is working on a similar project with its own AR efforts on iOS.
The same Variety report claims Samsung could reveal a dedicated AR headset at the conference this week, potentially similar to the Microsoft HoloLens and Magic Leap One. However, it isn't clear at this stage if the headset would be aimed at consumers or not.
How to watch the Samsung Developer Conference 2018 online
The conference takes place in San Francisco and will kickoff with a keynote address at 10am local time (1pm EST). That keynote will be streamed live on
Samsung's YouTube channel
.
From Your Site Articles
Related Articles Around the Web
Like GearBrain on Facebook