Like GearBrain on Facebook
If Apple was late to the smart speaker party, then Samsung looks like it got the wrong date entirely, its new Galaxy Home knocking on the door as everyone else heads home.
Barely more than teased at the company's grand Unpacked event in New York this week, the Galaxy Home is, as far as we can tell, exactly what Samsung should have launched at least a year ago. It's a speaker with an internet connection, microphones, and a virtual assistant which plays music and interacts with your smart home devices on command.
Read More:

On paper, this is the same basic recipe as the Amazon Echo and Google Home ranges, and is also the same as the Sonos One and the Apple HomePod. But, as many boxes as the Galaxy Home ticks, it's still late to the smart speaker party.
Amazon is seven months into its second generation of Echo speakers, with Alexa maturing gracefully into a fully-fledged assistant with ambitions of featuring in a huge range of products, from light switches to cars. Google, with its arguably more intelligent Google Assistant, has sold the Home speaker since November 2016 and a new model is tipped to launch this fall.
Where does the Galaxy Home fit?
To its credit, Samsung finds itself in a difficult situation. Amazon and Google have the sub-$200 smart speaker market almost completely to themselves, and their $50 Echo Dot and Home Mini offerings make it difficult for anyone to undercut them on cheap smart home kicks. Up the budget, and the Sonos One offers Alexa (and soon Google Assistant, too) with great sound quality. At the top end, Google has the $400 Home Max and Apple offers the $350 HomePod, which itself has endured a difficult birth due to Siri's limitations.
So where, the company no doubt lost sleep over asking itself, does a Samsung smart speaker fit? For now, we don't know but we can make an informed guess. Those who saw the Galaxy Home in person say it is large, around 1.5 times bigger than the Apple HomePod, and what little Samsung said about it focused on sound performance.

There are no fewer than six speakers inside the device, plus a subwoofer and eight microphones. These numbers alone suggest Samsung means business, and this apparent acoustic horsepower is backed up by SoundSteer, a feature which directs the Galaxy Home's output towards whoever spoke to it - a clever trick if it works as Samsung says.
The design, especially its three metal legs, suggests the Galaxy Home can be a centerpiece in any room; not merely a speaker to hide in the corner, but a design-conscious product to be shown off on the coffee table.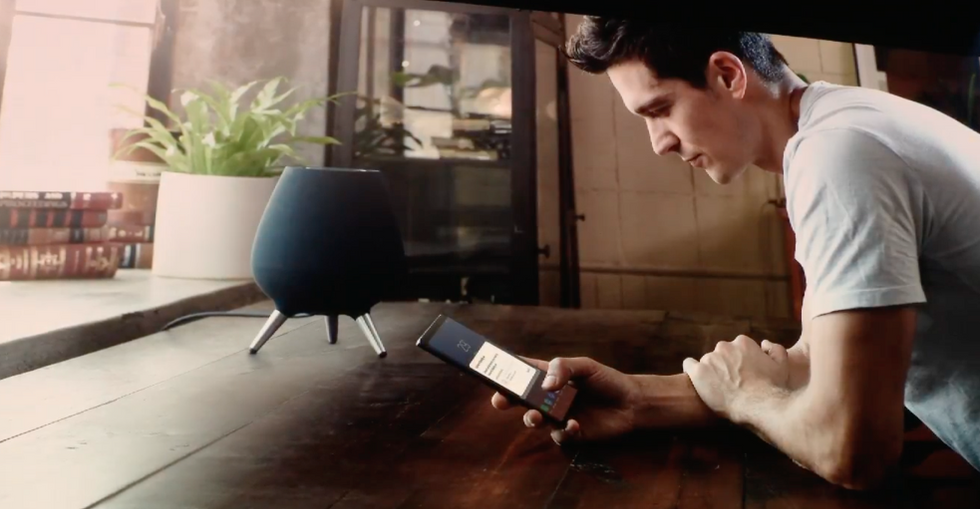 Samsung
The Galaxy Home is a SmartThings hub
Like its rivals, the Galaxy Home can act as a central command unit for your smart home device. Essentially, the speaker is a SmartThings Hub, which have a retail price of $100. This means the Galaxy Home can connect to Samsung's growing ecosystem of smart home devices, like washing machines and robotic vacuum cleaners, but also to devices from other companies like lights, cameras, locks, sensors and doorbells.
Where the Amazon Echo Plus has Z-Wave support for gadgets like Philips Hue smart lights, which can be controlled directly without the need for the Philips Bridge hub, the Galaxy Home will have Z-Wave and ZigBee, boosting its smart home potential.
This is all well and good, but Bixby needs to up its game to provide an experience as slick as that offered by Alexa, Google Assistant, and even Siri. Bixby 2.0, also revealed this week, might be the answer here, but on-stage demonstrations showed awkward silences while Bixby thought about its answers, and at one point failed to understand what was being asked of it.

Hopefully these creases can be ironed out before Bixby 2.0 arrives on the Note 9 smartphone later this month, and on the Galaxy Home when that launches on...well, we don't actually know.
Samsung is playing a dangerous game
Samsung, in a move increasingly common at the end of Apple press events, showed off a new product with the Galaxy Home, but failed to say when it will go on sale, or how much it will cost. Sure, this can help to build anticipation and gives Samsung's PR team two bites of the cherry, but it's a dangerous strategy to play with new Google Home speakers expected soon and the holiday shopping season just around the corner (sorry…).
Apple took this approach with the original Watch, then again with Airpods, the iMac Pro, iPhone X, the HomePod, and the AirPower wireless changer - which was announced almost 11 months ago, yet still doesn't have a release date. It's a move which treads a fine line between ramping up consumer demand, and leaving them wondering if the product will ever actually arrive.
If Samsung faces any delay at all with the Galaxy Home, then it won't just be late to the party, it will have very publicly tripped up as it finally crosses the threshold.

Spotify is onboard
What we do know, is Samsung has struck a deal with Spotify, whose chief executive Daniel Ek was at the Galaxy Home launch to show how music from the streaming service can be switched from one Samsung device to another with ease. This is nice - a way to have music play from the speaker you (or more accurately, your Samsung phone) is nearest to. But streaming Spotify to a speaker is nothing new; it's something many, many people already know how to do with their existing phone, tablet, PC, television or smart speaker.
Samsung's solution might be a bit neater, but shortening the three-second task of telling Spotify which speaker to stream to isn't a headline feature.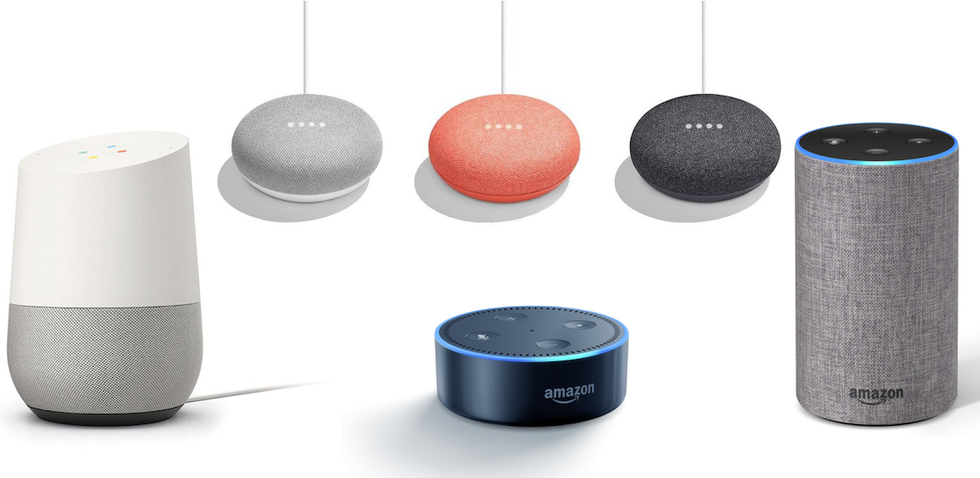 Amazon/Google
When will we see the Galaxy Home again?
The obvious answer to this should be Samsung's next press event, which takes place on August 30 at the IFA technology show in Berlin. Samsung always has a huge presence here, having previously used the event to launch Galaxy Note smartphones and Gear S smartwatches.
But those arrived this week, so will the Galaxy Home get more time in the spotlight in Germany? Well, the press invitation features a Samsung television, fridge, washing machine and smartphone (the Note 9, in fact), but no speaker of any kind.
More worryingly, Samsung said this week that more Galaxy Home news will be shared at its annual Developer Conference, which takes place in San Francisco on November 7. The speaker had better go on sale immediately after this, or precious Christmas sales will be lost to Amazon, Google, Apple and Sonos.
I welcome Samsung to the smart speaker market with open arms. It is such a massive player in the technology industry, that it missing out on the hottest new sector would be downright weird - and, of course, more competition is a good thing for consumers.

But it has an uphill battle ahead. The company dominates smartphone sales, but has struggled to make a success of other categories like tablets and even smartwatches. Samsung has now given itself a chance to succeed in the still-young but quickly maturing smart speaker market - but it is late, likely expensive, and with a voice assistant still to prove its worth.
Will the Samsung Galaxy Home be a Galaxy phone-scale smash hit, or a smart fridge outlier? My money is on the latter for now, but I'd be thrilled if Samsung could prove me wrong.
Check out The GearBrain, our smart home compatibility checker to see the other compatible products that work with Samsung SmartThings.
Like GearBrain on Facebook