Like GearBrain on Facebook
Apple's long awaited exercise app is now official, with Fitness+ rolling out December 14, a workout service that
The new exercise app launches into a competitive space, one that's already dominated by big names including Peloton, Aaptiv, Gaia and Daily Burn and even newer services including The Mirror. But Fitness+ will be specifically focused on Apple customers — with workouts that build off metrics from the Apple Watch. That also means that unlike its competitors, Fitness+ will not, for now, work on Android devices.
Heart rate and even calories burned will display on the screen during the workout, along with Apple's famous Activity rings, showing users just how far they've pushed their personal goals for the day. The app will work across more than just the Apple Watch, though, and be able to play across some of Apple's other products including the Apple TV, iPhone and the iPad, bringing flexibility to how — and where — people want to work out, crucial today during the current pandemic. But key to know is you must have an Apple Watch for Fitness+ to work.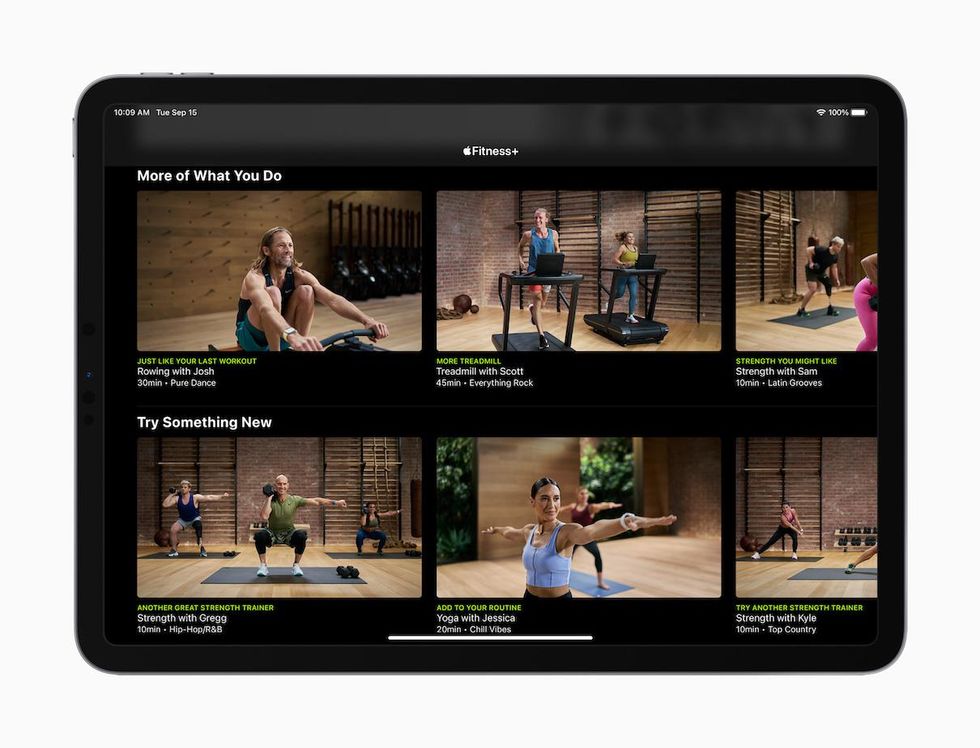 There are 10 categories of workouts at launch from yoga to cycling, and even HIITApple
Workout options

There will be 10 categories at launch which will include yoga, dance, core, cycling, rowing, high intensity interval training, known as HIIT, strength, treadmill for running and walking, and also what Apple is calling Mindful Cooldown. People will be able to choose the length of the workouts for most of the options as well, choosing 10, 20, 30 or 45 minute sessions.
Notably absent? Swimming — which would require the Apple Watch be immersed in water. And Apple was recently fined by Italian regulators for making claims about the water resistance ability of its iPhone. Apple also makes clear that while the Apple is water resistant — able to handle being in a shower — it's not waterproof. Although the company does say the Apple Watch Series 2 and higher can be taken into a pool. Still, swimming workouts are not available in Fitness+ for now.

Workouts will appear as classes led by trainers, many in studio settings, and trainers will also appear in each other's videos, a play to start getting people to connect to instructors. Apple is making much of their trainers, even giving them an Instagram account to help people start following them.
Health metrics will appear on screen cued by what instructors may say, such as telling people to check their heart rate, which will start to display that detail. If Activity rings are closed during a workout, an on-screen celebration will happen at that moment.
Certain workouts, including treadmill, cycling, rowing and HIIT will include a Burn Bar, if people choose, to show them how their workout competes to others who did it as well.
Fitness+ will also suggest a workout based on others people have finished in the app, as well as data from the Apple Watch Workout app and third-party fitness apps that have been linked to the Health app. This could be something they've previously done, or something new — even a new trainer.
Apple promises to drop new workouts every week, with new trainers, times and music. There will also be videos to help people actually learn how to get started with rowing, cycling and treadmill workouts from knowing how to set up the equipment to making sure they're following the right form — which is crucial to prevent injuries.
Other workouts will be focused on those just beginning an exercise routine through an Absolute Beginner section, that will teach basics on yoga, core, strength and HIIT. All workouts will also feature modifications to help anyone no matter their fitness levels.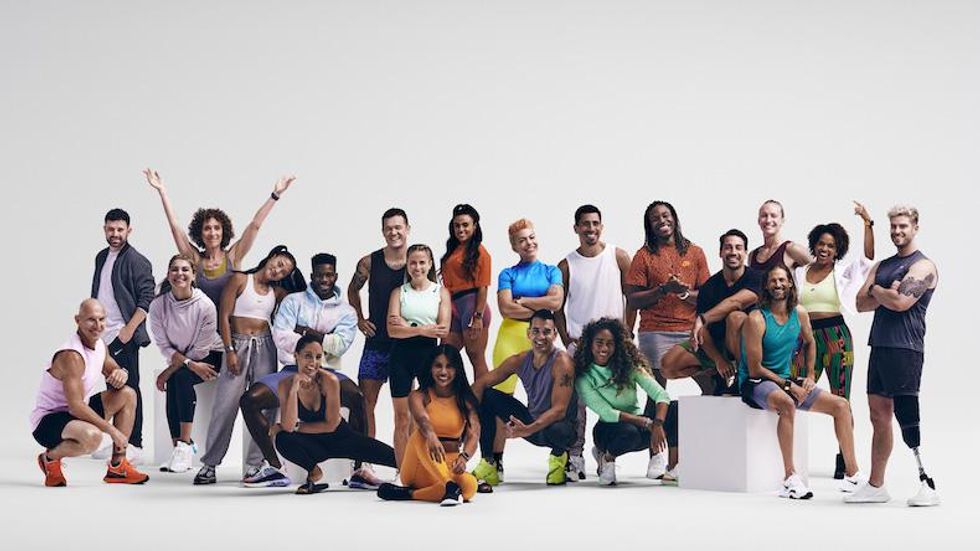 Apple has launched an Instagram account around its new trainersApple
Music

Given that this is Apple, music is going to play a big role in Fitness+. Workouts will use music "from today's top artists," Apple said in a release, and there will be nine different styles people can choose from, with playlists available to see before they begin. Categories include Top Country, Hip Hop/R&B, Latin Grooves, Everything Rock, Throwback Hits, Pure Dance, Upbeat Anthems, Chill Vibes and Latest Hits.
Music from the Fitness+ app can be downloaded as well to their Apple Music library, if they have an Apple Music subscription, so they can listen to a favorite song or an entire playlist they discovered while working out, but at any time. An option will appear in the Fitness+ app, "Listen in Music," if Apple knows you have an Apple Music subscription.
Pricing and special offers
As with other Apple apps, people will be able to share Fitness+ with six family members for one subscription. And through Activity Sharing, a feature already live on the Workout app, workouts can be shared with family and friends, and even on to social media channels to create some competitive juice if they choose.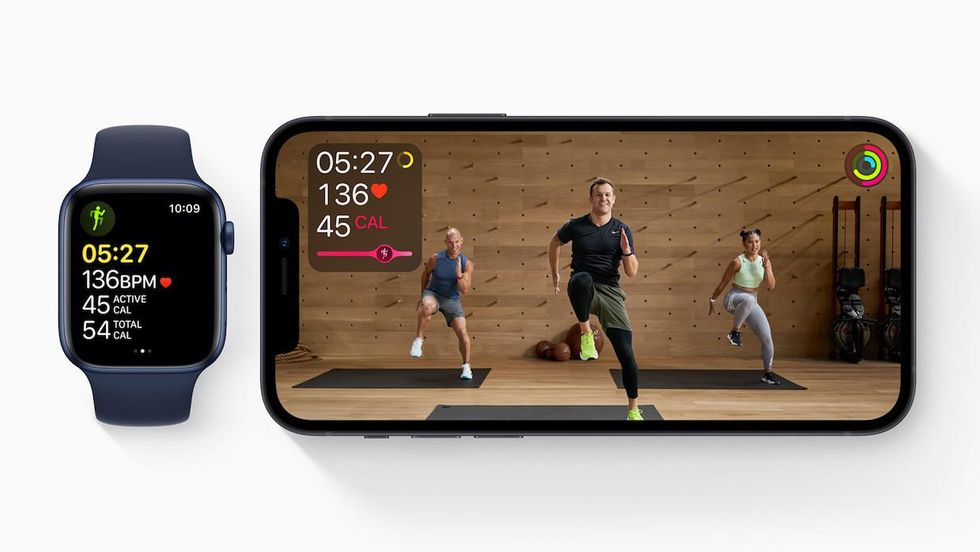 A Burn Bar can tell people how competitive they are during their workoutApple
The service will start at $9.99 a month or $79.99 a year. But anyone buying a new Apple Watch Series 3 or later will get three months of Apple Fitness+ for free. And existing Apple Watch owners will get a free month to start.

People will also be able to bundle the cost into a new Apple One Premier plan, where they can get a subscription to Fitness+, Apple TV+, Apple News+, Apple Music, Apple Arcade and 2TB of iCloud storage for $29.95 — which can all be shared across six family members. Individually, these would add up to $54.94 for family plans, so for those using these services Apple's plan may be a better offer, particularly as they can be shared with so many people.
The app will just show up on the Apple Watch as a new tab in the Fitness app on the iPhone starting December 14. But iPad users will need to download the app from the App Store. The Fitness app will also automatically show up on Apple TV, after people upgrade to tvOS 14.3.
From Your Site Articles
Related Articles Around the Web
Like GearBrain on Facebook