Over the past few years, we have seen and experienced the evolution of the smart home security system. Many of these systems started off as professionally installed security systems with professional monitoring services. Today these systems have morphed into three types: professionally installed and monitored systems, do it yourself (DIY) installed and monitored systems and now the hybrid, a DIY home security system installed with professional monitoring as an option. One of the leading companies of DIY home security system is SimpliSafe. The company offers a variety of DIY home security solutions to secure your smart home and we have tested a few over the past few years. We got the chance to test one of their latest DIY systems called The Hearth in a real home with normal connectivity. Here is what we found when putting this DIY system through the ringer.

Review and Unboxing SimpliSafe The Hearth DIY Smart Home Security System www.youtube.com
What is SimpliSafe's Hearth Home Security System?
The Hearth security system is a DIY smart home security system with nine pieces. The system includes a base station with cloud storage, wireless keypad, three entry sensors, one motion sensor, a smoke detector, a key fob, auxiliary siren, yard and window decals. This smart home security system is a do-it-yourself home (DIY) home security system you can install in a home, apartment or an office. It can be easily configured no matter the size of your home or the area you plan to secure. And if you need professional monitoring, you can easily add it without the need of a contract.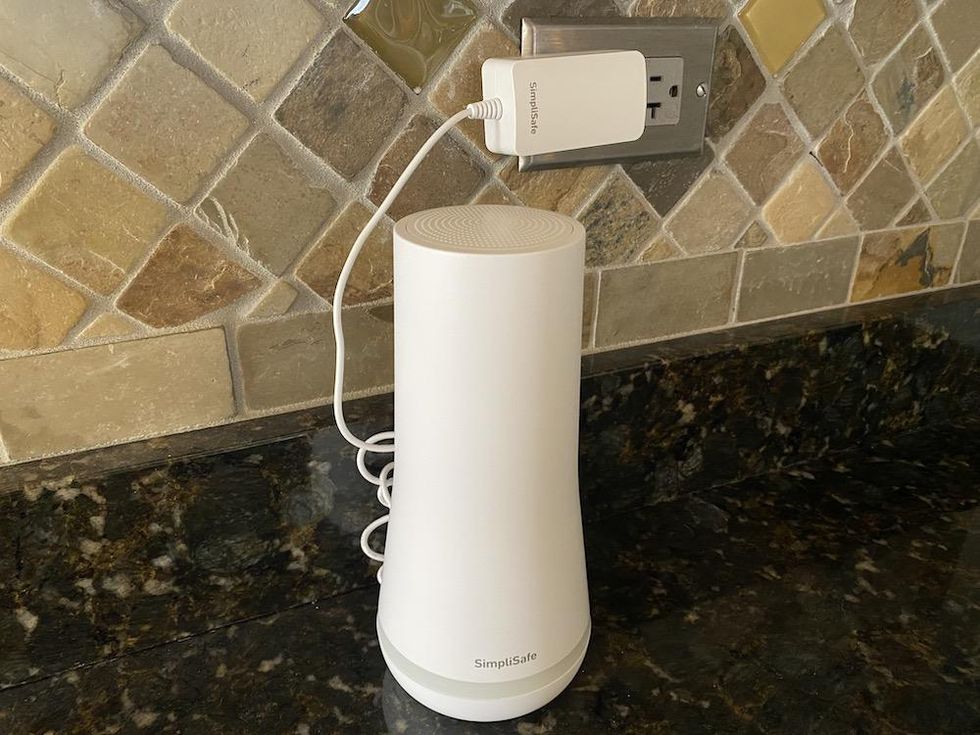 SimpliSafe Base Station should be plugged in and positioned in the central part of your home on the first floor.GearBrain
The brains of your SimpliSafe Hearth home security system is the base station. It can communicate with all your devices and works in tandem with a siren and monitoring service if you decide to activate one. All you need to do is plug the base station into a power outlet using the included power cord. It's recommended that this location be central in your house and not on a floor. The base station has an LED light to indicate the status of your system. Blue means it's armed and no light means it's disarmed. And it works on both Wi-Fi and cellular connections. The cellular service is useful when power outages show up.
The Hearth systems also comes with a wireless keypad. The wireless keypad is the device you pair all sensors, cameras, and other devices to the SimpliSafe system. The wireless keypad looks like an oversized calculator. It has big keys and a display which shows onscreen instructions for each device and action. But, before you setup any device using the keypad, make sure you set up your master pin. This will help protect your system. Just follow the instructions on the wireless keypad. Also, keep in mind you need to press down on the edges of the screen to navigate the keypad menus. Here is where you see three modes: off, home, and away. To activate your system, press home or away. It will arm your system while pressing off will disarm it.
When not using your wireless keypad, you can store it on the wall using the adhesive tape on its backside. Make sure you press firmly to secure the keypad to your wall for 30 seconds. Also, the location must be high enough off the floor and easy for you to access when coming and going from your home. To remove the wireless keypad from the bracket, just slide the keypad up and off its bracket. Once loose, you can bring it wherever you go inside or outside the home as long as you are within 800 feet of the base station.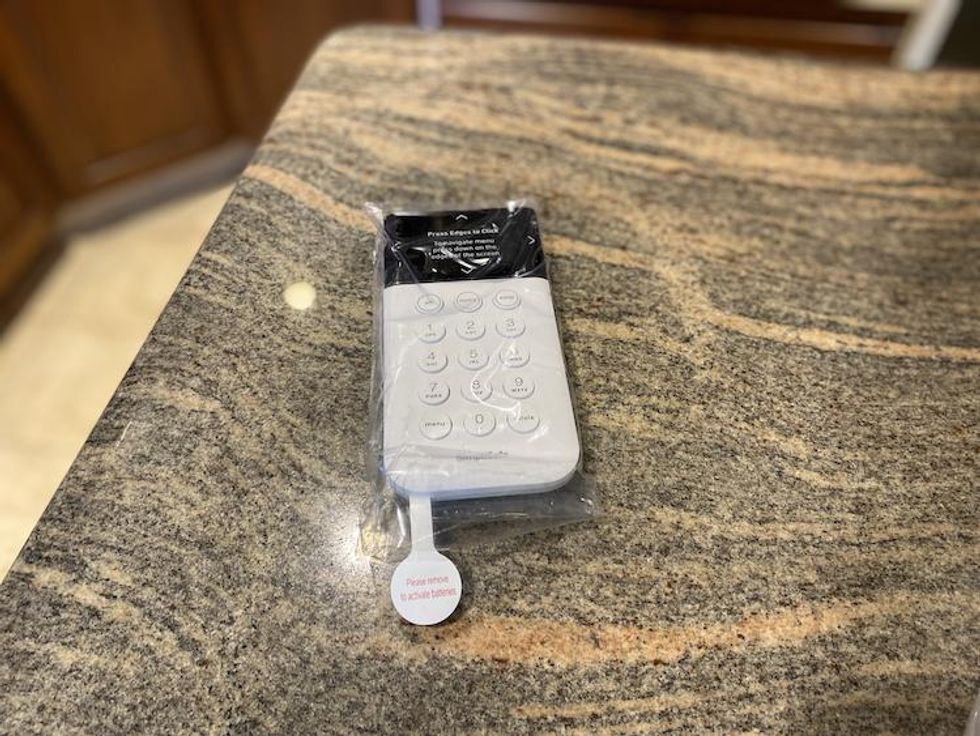 SimpliSafe Wireless KeypadGearBrain
How to Setup Your Hearth System
Once your wireless keypad is set up, you need to install each device for The Hearth system. This includes motion sensors, door and window sensors, and any devices that are compatible with the SimpliSafe Hearth system. All SimpliSafe devices including cameras work on batteries which are easy to change when needed.
The wireless keypad will guide you through each device's set up process, including cameras. In the instructions manual you'll see guidance on where to install each of the sensors. For instance, your motion detection sensors need to be mounted in a corner for maximum coverage of the room. Motion sensors track motion within 30 feet. They also have a 90-degree field of view (FOV) and a 45-degree downward angle to cover and detect motion in your room. It is recommended to install the motion sensors approximately four to five feet off the ground. Do not place them near a heater, air conditioner, lamp, or any type of electronic device such as a Wi-Fi router. It could impact the motion sensors performance. If you have a pet over 30 pounds, make sure you install the button side down of your motion sensor 4 feet off the ground. If you have a cat, it is recommended to place the motion sensor with the button side up and six to 10 feet off the ground. Keep in mind motion sensors are active in away mode only by default. When you put the system in home mode you can move freely about your house without setting off an alarm.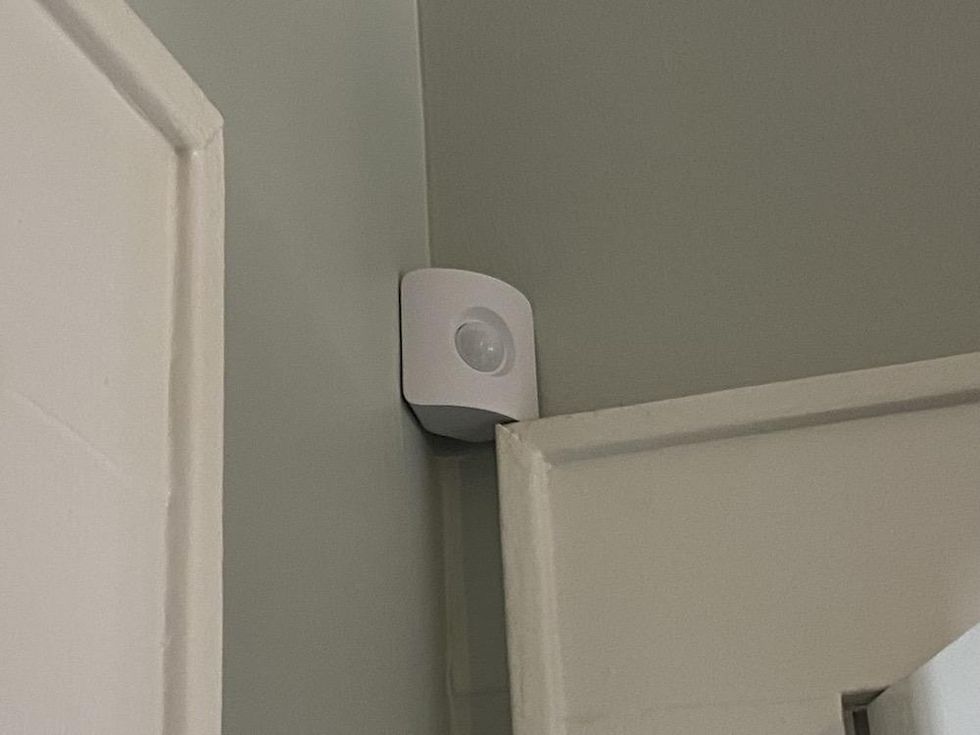 SimpliSafe Motion Sensor installed at least 4 feet above the floor.GearBrain
Once motion sensors are installed, you can move on to the entry or door/window sensors. When installing these sensors, you need to make sure you line them up correctly. The sensor with the magnet should go on the door and/or window. The other sensor should be placed on the door or window frame. Make sure the grooves align with the pieces and are no more than two inches apart when the door or window was closed. You can test this alignment before you secure each of the sensors on the door and door window using the adhesive tape on the backside. To make sure you installed correctly, look for a blue light on the sensors. It will be flashing once the door or window opens and twice when it closes. Also, know there is no right side up or down with these sensors. Just make sure the sensor with the magnet is on the door or the window.
Next up is your alarm's siren. The Hearth security system comes with a 105 dB siren. This is rather loud, especially compared to the volume of other DIY home security sirens. You should install this siren by the front door or somewhere on the first floor. The siren is designed to scare away intruders or unwanted guests when it's triggered. You can configurate the alarm's volume in settings by using the wireless keypad. On the backside of the alarm siren is adhesive tape. Just peel off the cover and press against the wall for 30 seconds to ensure your siren stays in place. If you want a more secure and permanent installation, you can use the screws and anchors that come with your Hearth system. Just secure the bracket and attached the siren.
Once you have all your sensors installed and the siren set up, you could move onto your smoke detector. These devices come with a bracket which can be attached to the wall using adhesive tape or screws. Just remove the detector from the backet by rotating it counterclockwise. Find the best place to store your smoke detector and install it. Once the bracket is installed, push the smoke detector against the mounting bracket and rotate it clockwise until it snaps in. Make sure you hear the snapping noise. This means your device is secure. If you see a yellow light on the smoke detector, this means the device is not secure and you need to snap it into place. The best location for smoke detectors is near sleeping areas and on each floor of your home. Do not install smoke detectors near your furnace, stove, fireplace, kitchen, or bathroom with a shower. All the instructions on where to place these devices are in the SimpliSafe app or the supplied instructions.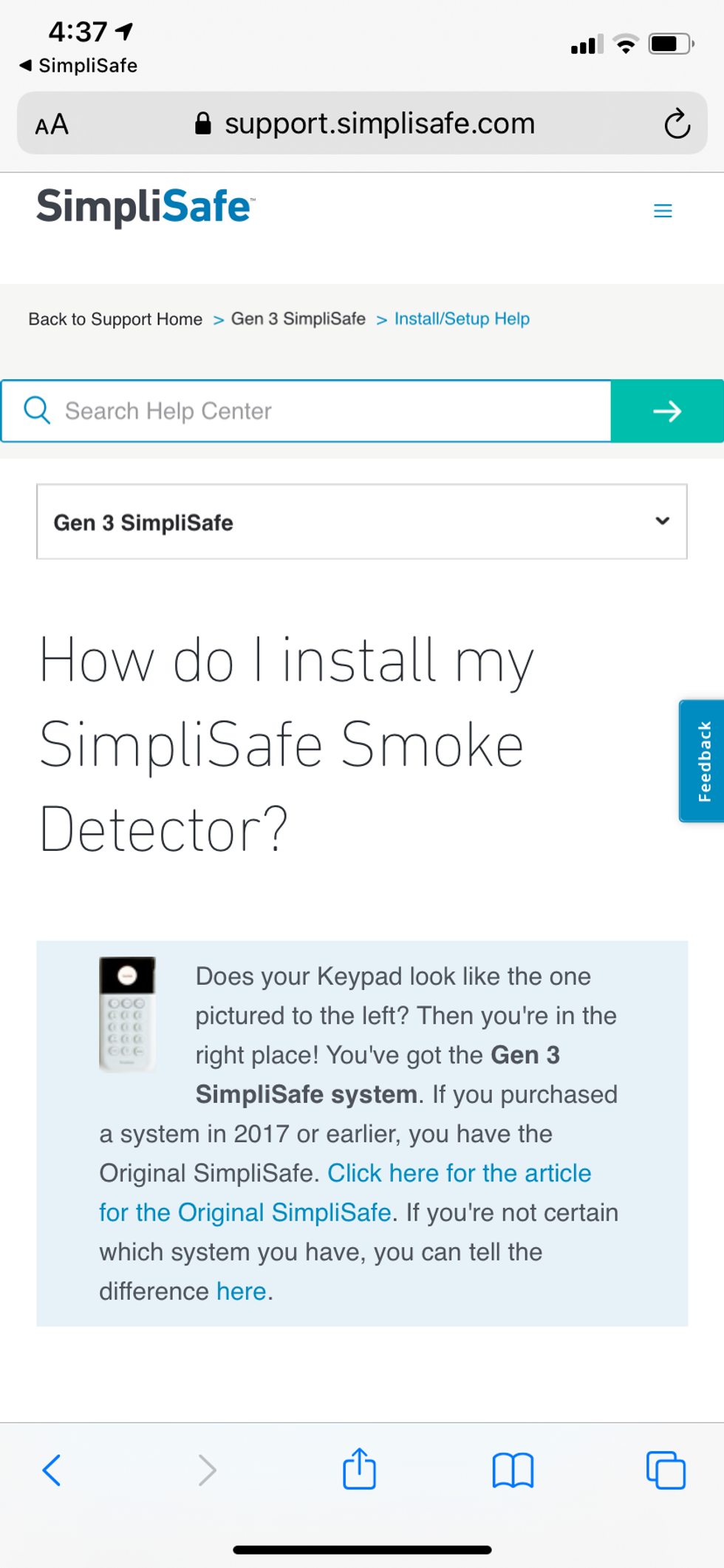 Use SimpliSafe app for help installing all their smart devices, especially smoke detectors.GearBrain
Once all sensors, detectors and devices are setup, you are ready to activate your system. If you have any other devices like cameras and smart locks compatible with SimpliSafe, now will be the time to setup these before you activate the system. SimpliSafe has both an indoor and outdoor security camera as well as video doorbell you can add to your system. In our previous review of SimpliSafe DIY home security system, we tested just the indoor security camera. For The Hearth system, it does not come with a camera, however SimpliSafe did provide us with their new outdoor security camera which we tested. Setting up this camera was quick and easy. The hardest part was finding the best location with a strong Wi-Fi signal outside to place the camera. We were able to find a couple of locations and setup was easy. We will be publishing a full in-depth review on this SimpliSafe product soon.
Now it's time to activate the alarm monitoring service. SimpliSafe offers 24/7 professional monitoring with its systems. It's a paid service with a free month and 30% off with purchase. The plan provides 24/7 professional monitoring with priority dispatch, faster police response time and unlimited recording. You also get built-in cellular connection, unlimited camera recording (for up to 10 cameras), 24/7 medical response, 24/7 fire monitoring service, on-demand video recording, visual alarm verification, advance phone alerts, private notifications, smart home integrations, water damage monitoring, and temperature monitoring grid. This plan costs $24.99 or roughly $0.83 a day when purchased with any SimpliSafe Home Security System.
SimpliSafe does offer a more limiting plan called Limited Pro Monitoring. This plan includes only 24/7 police, fire and medical dispatching along with built-in cellular service. The cost is $.50 per day.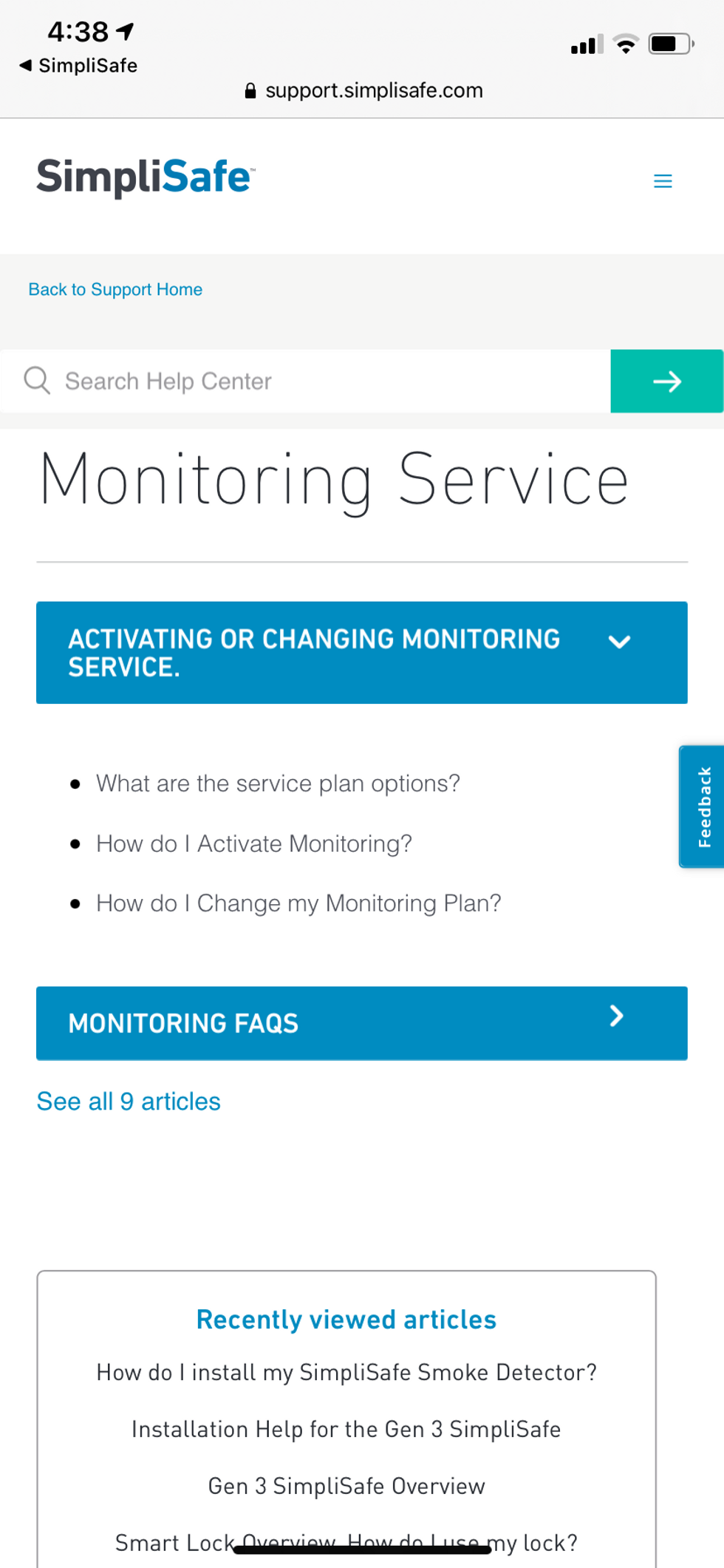 SimpliSafe monitoring plans do not come with a contract. You pay on a monthly basis.GearBrain
If you have a camera or want to add one to your SimpliSafe system with Limited Pro Monitoring, you will need to add Camera Recordings only plan. This plan provides unlimited camera recordings for up to 5 cameras. If this is the case, we would recommend you upgrade to 24/7 Pro plan. Reason is with Camera Recordings plan; you do not get video verification feature. This feature provides you an extra layer of security. When you alarm goes off, SimpliSafe can confirm if the alarm was set off for real or not. If real, they will record the events and share it with authorities. And you get more features and there is no price difference between the two plans. They cost the same.
Cost
And speaking of costs. How much does the SimpliSafe Hearth home security system cost? The system cost $374.91, but the company is running a special which provides $112.47 discount with free 5–7-day shipping. With this discount, the total cost of your Hearth system is only $262.44. Is this a good price? In reviewing other DIY smart home security systems like Frontpoint Security and Blue by ADT, this is a very reasonable price. You might find other DIY smart home security systems offer similar services and device configurations (i.e., one or two cameras for free) as part of your system but they cost more in the end. Some might offer discounts on the upfront costs, but they all make their money on the monthly monitoring services. When you combined the cost of these other DIY systems and a full year of monitoring, even though SimpliSafe's monitoring is more expensive, it's less expensive than the competitors. Something for you to think about when considering buying a SimpliSafe system.
Smart Home Integrations
Many smart home security systems have integrations with other smart devices, like smart locks, video doorbells and smart speakers or displays. Some can even connect and secure your cars with the home security system. SimpliSafe does have many of these same devices for customers to buy and integrate, but most of them are made by the company.
SimpliSafe smart home security systems are compatible with both Amazon Alexa and Google Assistant enabled devices. But you will need to have a monitoring plan to integrate these smart devices into your security system. We were surprised to see this since many competitors don't require you to purchase a monitoring plan to connect with voice assistant devices.
Besides these smart speakers and displays, you can also add smart video doorbell, indoor and outdoor security cameras and a smart lock. The smart video doorbell and the cameras are all SimpliSafe branded products. And the company also have their own smart lock. Each is made specifically for SimpliSafe. You can't add your own Wi-Fi enabled security camera or video doorbell to the system. They are not compatible. However, if you have an existing August Smart Lock it is compatible with your SimpliSafe system and can be added. For more information on what devices are compatible with your SimpliSafe system, visit The GearBrain. Our compatibility find engine will help you find compatible products as well as any other smart device you need for your smart home. Also, it's free and easy to use.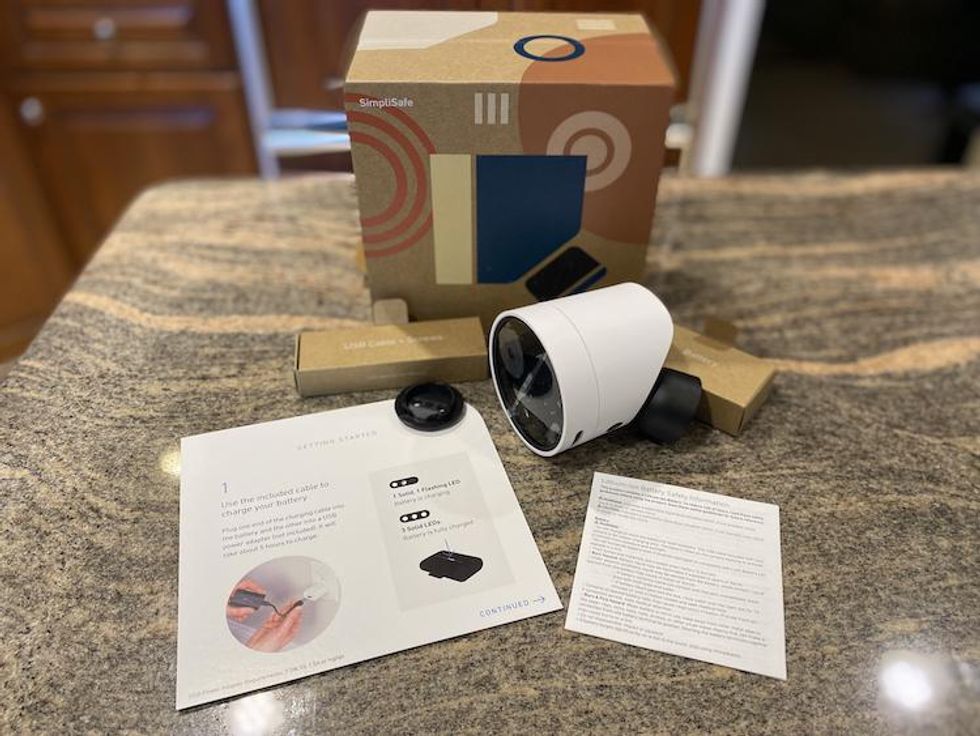 SimpliSafe Wireless Outdoor Camera unboxed. Look for our upcoming in-depth review on this new security camera.GearBrain
Tips for installation
After testing the SimpliSafe Hearth system on a real home over a few weeks, we've come up with some helpful tips which will make your installation easier:
When installing the base station, one of the nice features SimpliSafe provides is voice confirmation. The base station will talk to you and let you know when the devices have been added or set up.
The wireless keypad is a little hard to operate. It reminded us of how you use to text on a first gen smartphone. Each key on the wireless keypad is for 3 letters, lowercase and upper case and the number. You must find the correct letter and then capitalization and then enter it. It took us a little longer than normal to input, but it worked, you'll have to get used to.
When using the wireless keypad, make sure you press the edges to follow the instructions when adding your SimpliSafe system to your home Wi-Fi.
When installing the SimpliSafe system, their app will walk you through the setup of each device. Even though the system comes with printed installation guide, we would recommend using the app.
When installing each device, you will need to push a button on the device to pair it with the station. Make sure you the button on each device for quicker pairing.
What's also nice about the SimpliSafe system is you can install it without having to screw anything into the wall. Each device comes with adhesive tape as well as screws and mounting anchors for wall installation. However, it was nice to not have to worry about getting a drill to mount a device. All the devices attached to the wall securely and you don't need to use the screws. Something you need to think about prior to installation.
We recommend you pair all SimpliSafe devices close to your home Wi-Fi router prior to installing them in your home, especially if you're adding cameras or doorbells. It will make it easier for the Base Station to establish a connection to the device and your life easier.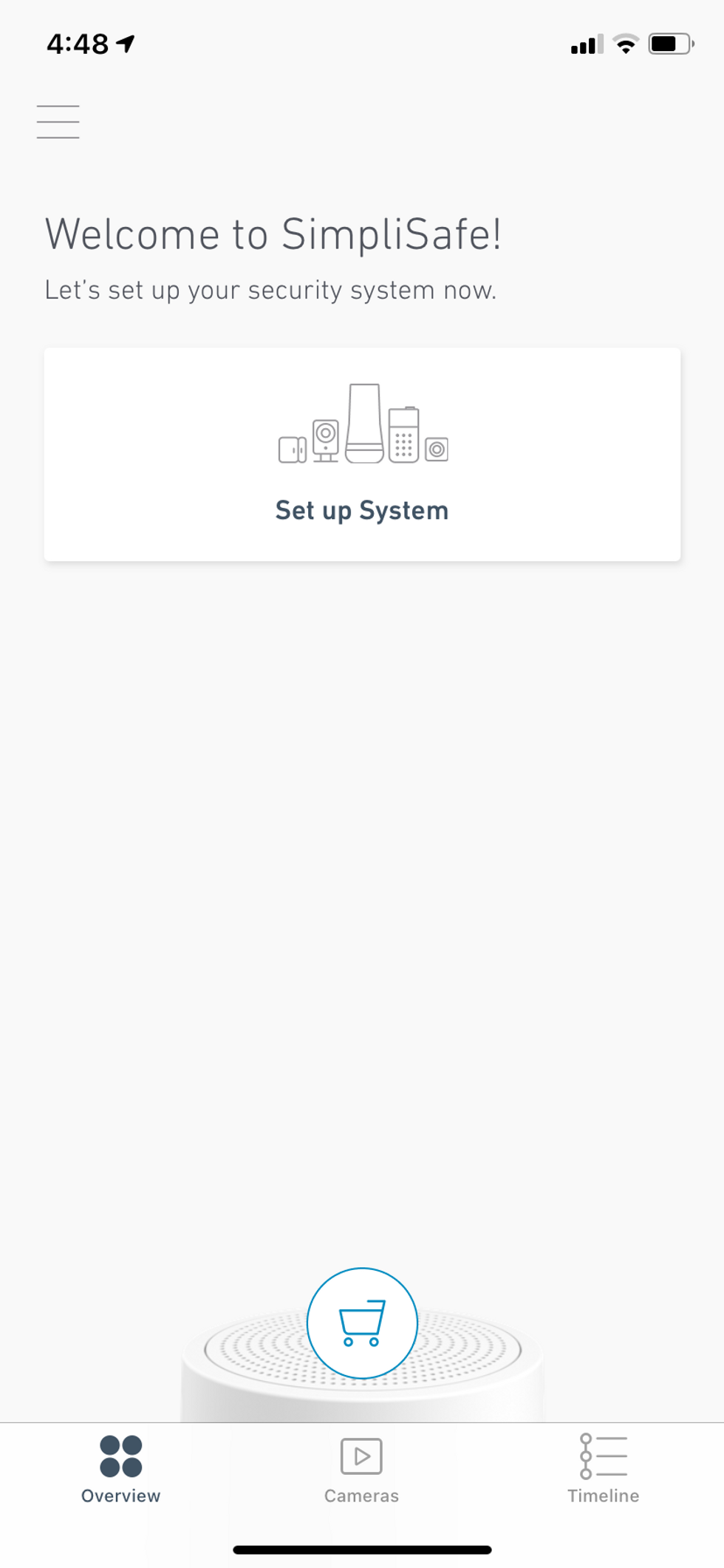 Use SimpliSafe Free app for iOS and Android Devices to setup your system.GearBrain
Performance
We were familiar with SimpliSafe systems since we tested their 16-piece system in 2019. We found installing the SimpliSafe Hearth system to be just as simple as the previous ones. It's minimally intrusive and like all SimpliSafe systems, there's no need for wiring or drilling holes into your wall to set up this system. Also, we like how the company continues to keep their systems simple and not complicated. Even novices or individuals who are not handy around the house can set up this system in minutes.
When testing the SimpliSafe app, we noticed it was very similar to Ring Alarm's app especially when it came to managing cameras and arming and disarming your system. The one feature we did like in SimpliSafe's app was how it told you when your power station was unplugged.
One surprised finding while testing the Hearth smart home security system was the need for a monitoring plan to integrate, your smart speakers by Amazon Alexa or Google Assistant with SimpliSafe system. Many smart home security systems that do integrate with these smart voice systems do not require a plan for integration.
And speaking of monitoring plans, SimpliSafe's plans are priced in the middle of the road. The 24/7 professional monitoring gives you all the bells and whistles of a professional monitoring plan that we've seen with other smart home security systems. There is no contract which is nice. We like how you can add, police, fire and medical support and the company offers 24/7 flood and extreme temperature monitoring. This is good if you have an elderly person living with you and you need a little added monitoring. And we do like the video verification feature. However, SimpliSafe's plans are priced higher than the competitions. And we would like to have seen a plan priced in between the 24/7 Professional Monitoring plan and the Limited Pro plan. If you have a single security camera or video doorbell, it would be nice to get a plan with all the features of a limited pro monitoring plan and video verification. Today, you can get that from SimpliSafe, but it costs the same as the Professional Monitoring plan.
Overall, SimpliSafe Hearth system performed as we would expect a DIY smart home security system with professional monitoring without any contracts to perform. It delivered on its promises.
Summary
Who should buy a SimpliSafe Hearth Home Security System? The Hearth is a perfect first-time home security system for your home whether it be in an apartment, a house, rental property or even an Airbnb. It's easy to setup and operate. You'll find the app gives you all the controls and setup information you demand from a good smart home security system. And the alarm siren can get rather loud which is nice when you need to scare off unwanted visitors. And you don't have to sign any long term contract to get professional monitoring services. However, you do need a plan if you want to integrate your smart speakers from Amazon or Google or other smart home devices like a video doorbell (i.e., Ring or Google Doorbell) or security camera. If this is the case, SimpliSafe might not be the solution for you.
From a cost perspective, this system is reasonably priced, and the company is always running specials on their packaged systems and smart devices on their site. We are confident if The Hearth is not right for your home, you can "simply" build a system which can secure your home, both inside and out at the right price.
Pros:
Choice of customizing or buying system a la carte
Simple and easy installation and operation
Cellular backup for Wi-Fi or power outages
No monthly contract for monitoring service plans
Cons:
Need monitoring plan for smart home ecosystem integration
No geofencing
Must buy SimpliSafe cameras or video doorbells to work with the system. No outside devices.