A key component to any DIY home security system is a security camera. These devices can help you see in real time what's going on inside and outside your home. They are a great add-on to your smart home security system and can provide an extra level of security. However, you need to make sure they are compatible with your existing system. Most home security systems require you use their security camera with their system for several reasons. One is so it can be in sync with the home security system and monitoring. Another is to cover their costs for video storage. Today, we are going to review SimpliSafe's new Outdoor Wireless Security Camera. This new camera works with any SimpliSafe system and is quite powerful. See what we found when we put it to the test on a real home with SimpliSafe's Hearth system installed.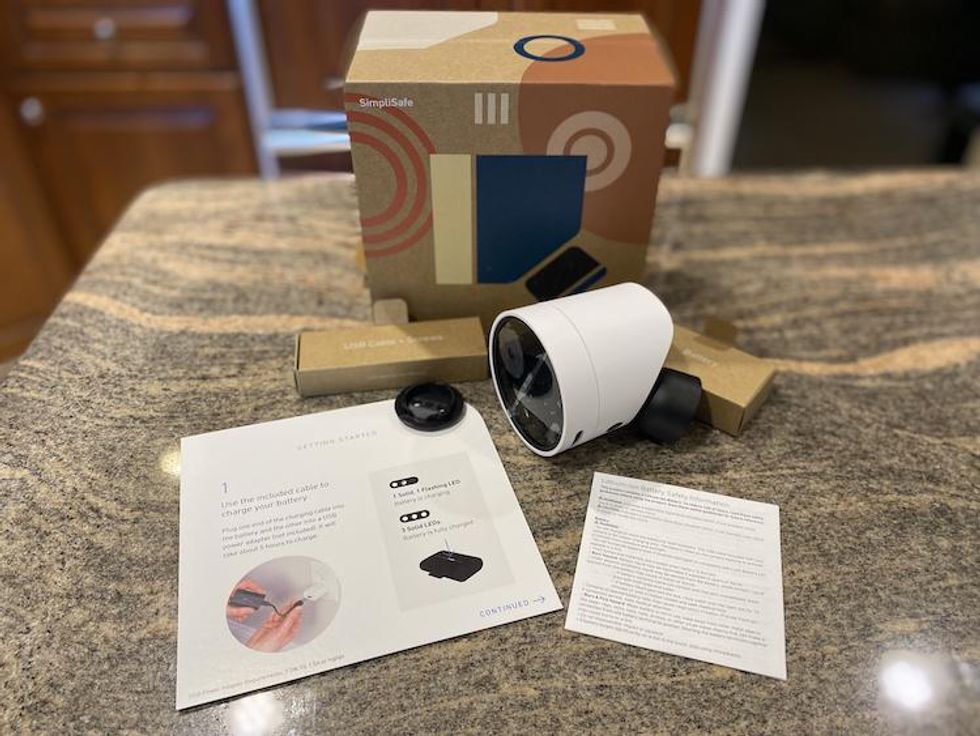 SimpliSafe Wireless Outdoor Security Camera unboxed.GearBrain
What is SimpliSafe wireless outdoor security camera?
SimpliSafe's new outdoor security camera is a wireless security camera with 1080P HD video resolution, 140-degree ultra-wide field of view (FOV), with digital zoom and full color night vision. It has a built-in spotlight with HDR to help you see clearly 24/7 and has a rechargeable battery which can last up to three to six months before it needs to charge. And when you need to charge it, you can easily remove it and recharge it in less than five hours.
A key requirement for any outdoor security camera is a good wireless connection. If you don't have a strong enough signal, your camera will not function correctly. The SimpliSafe outdoor security camera has two Wi-Fi antennas to help it provide a strong connection to your router. During installation in the SimpliSafe app you can check to see if the location has a good Wi-Fi signal. Besides good Wi-Fi, your SimpliSafe outdoor security camera is also weather resistant. It can handle snow and rain and temperatures ranging from minus 20 degrees Fahrenheit to 113 degrees Fahrenheit. It is IP65 rated for dust and water resistance.
Other key features of the SimpliSafe wireless outdoor security camera are its 80 dB siren, customized motion detection, H .264 encoding, three-year limited warranty, and a 60-day money back guarantee.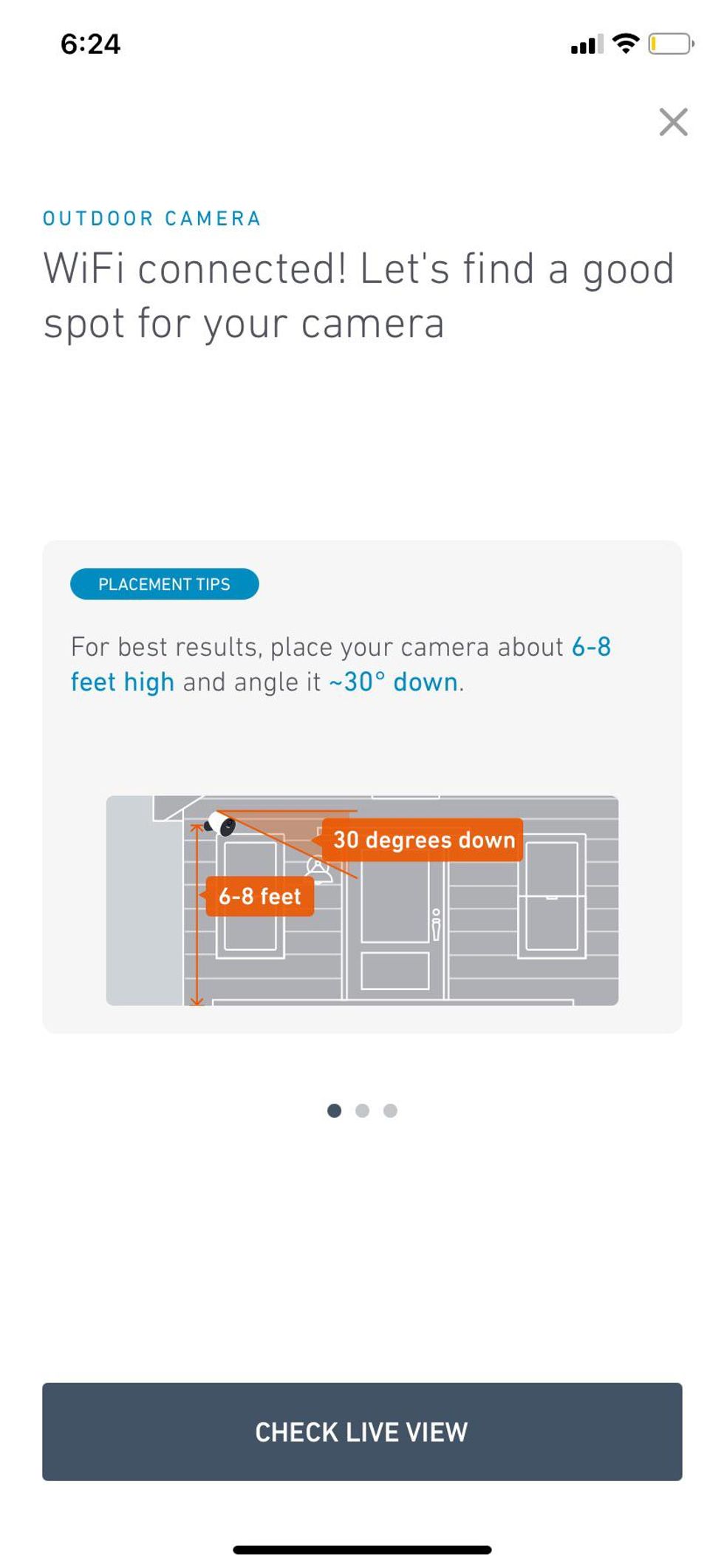 SimpliSafe app will guide you through installation process, including where you should install your camera.GearBrain
Smart Home integrations
SimpliSafe offers several good smart device integrations. Their home security systems and cameras work with both Amazon Alexa and Google Assistant enabled devices. If you have an Amazon Alexa or Google Assistant smart speaker display, you will be able to call up a live view of the SimpliSafe camera as well as access recordings. But keep in mind you will need to have a monitoring plan for these integrations to work.
How to install your SimpliSafe Outdoor Camera
Before you start to install your SimpliSafe Outdoor camera, you need to charge the battery. It will take about 5 hours to charge. Once charged, you can begin the installation process.
Installing your SimpliSafe wireless outdoor security camera is rather quick. No wiring is needed. You just screw in the mount and place your camera on top. The magnet in the mount is extremely strong and will hold your camera securely in place. Once you have the camera in place, simply push the button to connect the camera to your SimpliSafe security system. This should be a familiar process for you since the pairing process is just like all the SimpliSafe devices like motion detectors and window sensors. Just push the button until you hear the beep on your base station. This means your camera has been paired.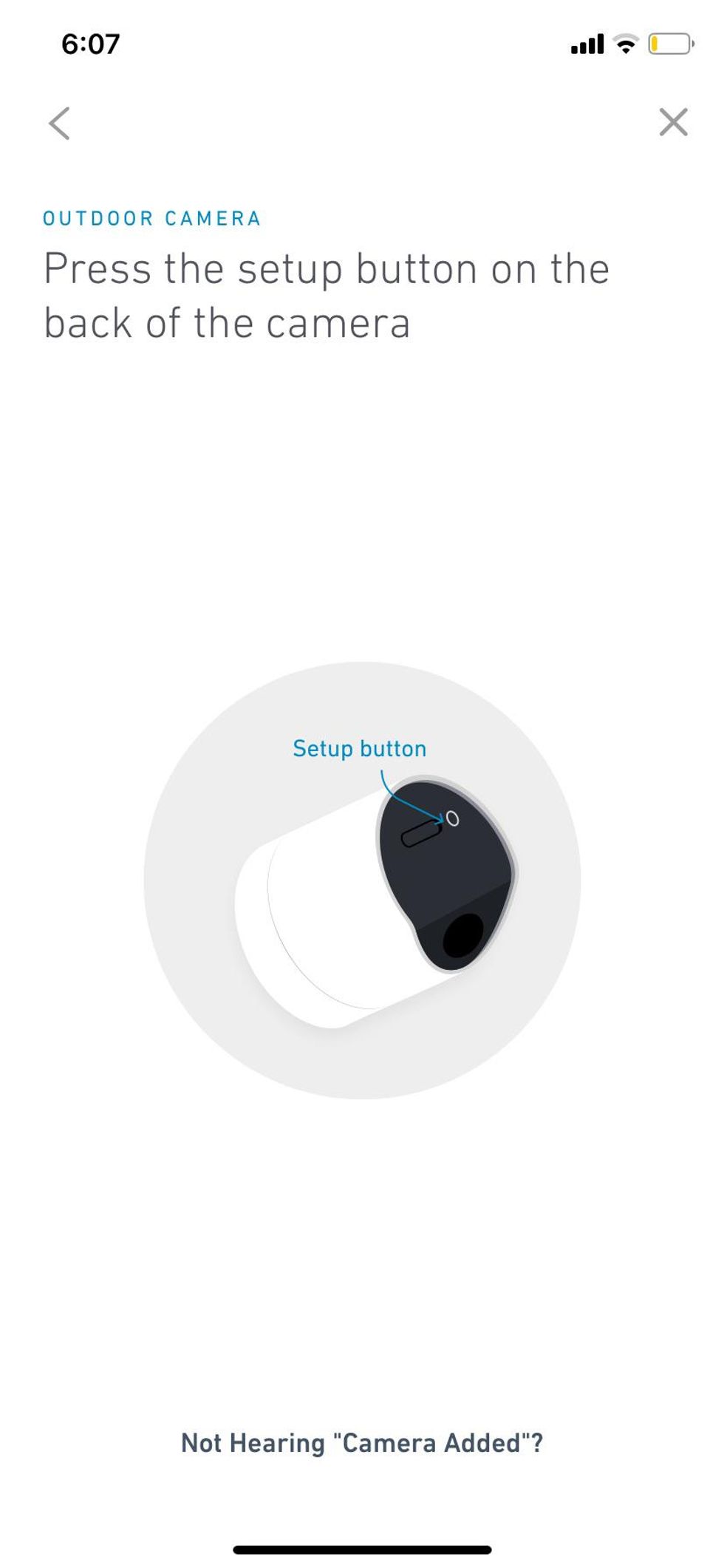 Use the button on the SimpliSafe camera to pair it with the base station.GearBrain
However, the most important thing you need to do prior to installing your SimpliSafe outdoor wireless camera is to make sure you have a good Wi-Fi signal at the location you plan to install the camera. As you might know, once you go outside your home, your wireless signal weakens. And you need a strong wireless signal for you to have it run at the optimal level.
If this happens to you, consider getting a Wi-Fi extender or to place the camera close to where you have a strong enough signal for the camera to operate.
For setup purposes, we advised using the SimpliSafe app. Here you'll be able to get step-by-step instructions on how to set up as well as mount your camera.
Once your SimpliSafe wireless outdoor security camera is setup and connected with your SimpliSafe DIY home security systems, we recommend you set up notifications and alerts in the SimpliSafe app. The app is where you can watch live footage anytime as well as download and share unlimited security recordings. You can get visual alarm verification and priority police dispatch, but you will need a 24/7 professional monitoring plan for these alerts and notifications to work optimally.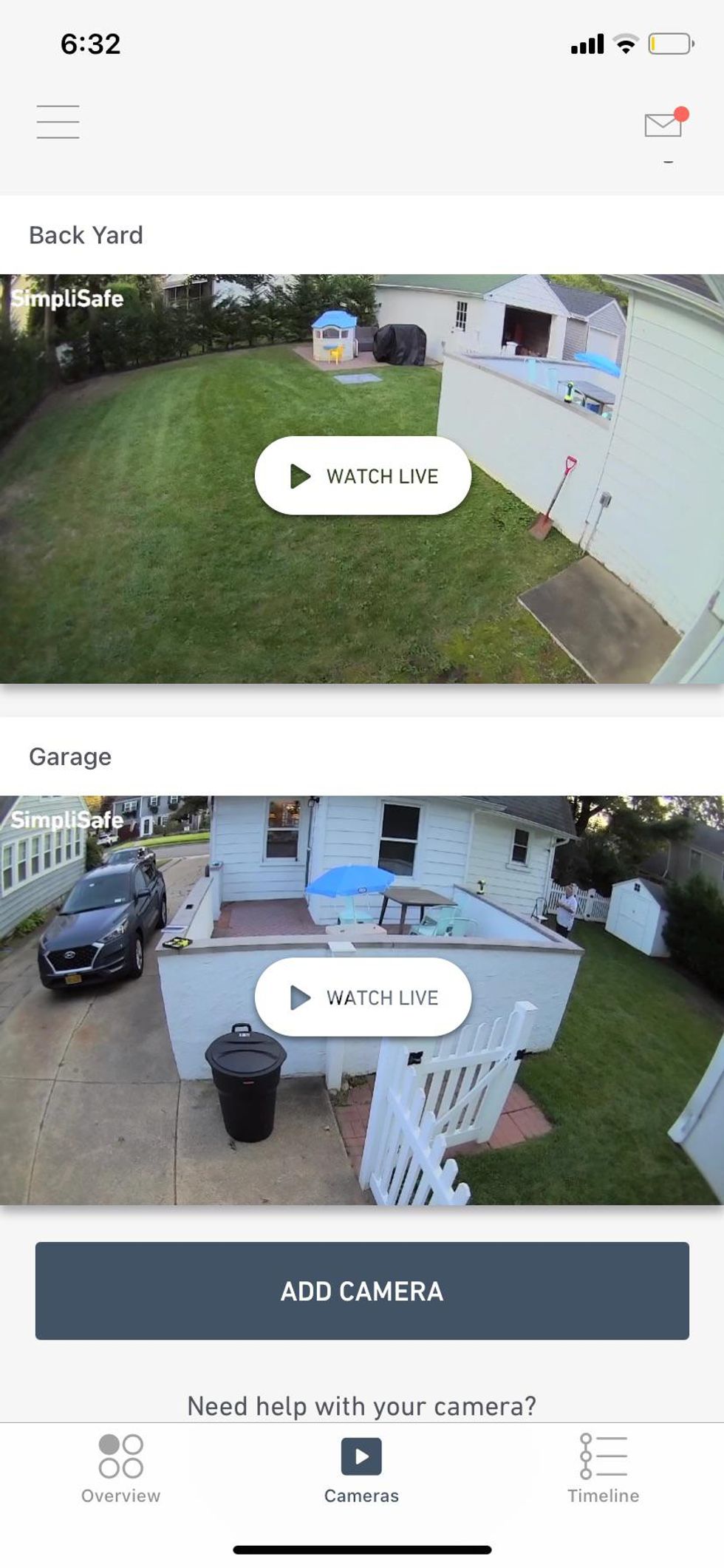 Access live view for each of your SimpliSafe cameras from the app.GearBrain
Video Storage Plans
When buying an outdoor or indoor security camera, you need to decide on what you want to do with your videos and are you willing to pay to store these videos in the cloud. SimpliSafe offers three types of alarm monitoring services which come with 24/7 professional monitoring, priority dispatch for the police, fire department and medical services. You can also get unlimited video recording for up to 10 cameras, 24/7 fire monitoring service, visual alarm verification, advanced private notifications, smart home integrations, water damage monitoring and temperature monitoring grid. But these plans are not cheap. SimpliSafe's 24/7 professional monitoring plan costs $24.99 which is roughly $0.83 a day. There is a camera only plan which SimpliSafe offers. This plan provides unlimited camera recordings for up to five cameras and costs $9.99 per month or roughly $.33 per day. All plans do not require a contract and can be cancelled anytime.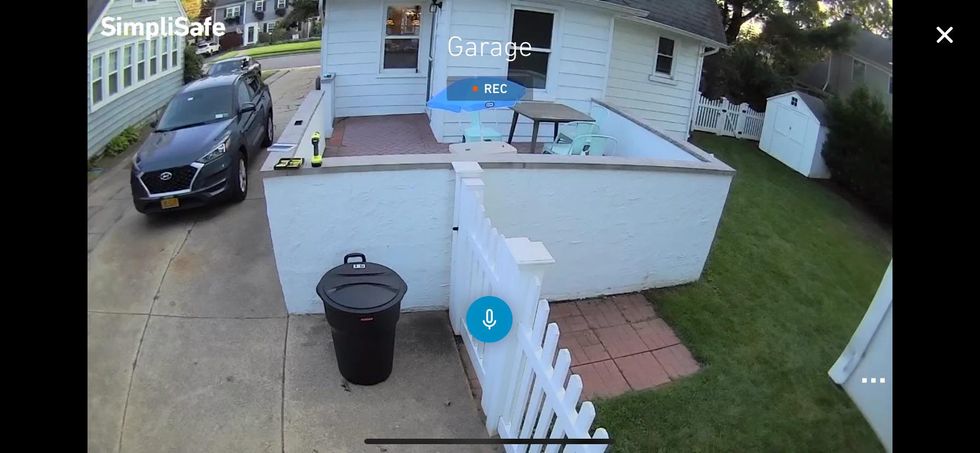 Check out the clear view from SimpliSafe Wireless Outdoor Camera on our test house's garage.GearBrain
Performance
We found the SimpliSafe outdoor security camera to be a reliable, easy to install, outdoor security camera. The video resolution was crisp and clear no matter the time of day. The FOV was good, and siren was loud enough for you or your neighbor to hear if the windows are closed. The color night vision was clear to see and liked the digital zoom capabilities. The images didn't get distorted on us when we pinched in for a closeup.
One of the best features of this outdoor security camera is its magnetic mount. It allows you to easily find the perfect angle for the camera to watch over the outside of your house. Many outdoor security cameras come with a mounting bracket built into the camera. This type of setup makes it hard to maneuver the camera resulting in limiting the area it can see. The magnetic mount is strong enough to hold the camera in place in any type of weather, including windy conditions. It's easy to remove the battery from the camera so you can recharge it. or to just move it into an angle that allows it to see the area you wanted to see.
A nice feature in the SimpliSafe app or motion zones. You can set the sensitivity of motion detection for each SimpliSafe camera. Note the higher the sensitivity setting, the faster your battery will drain. We put the motion sensitivity on high and the battery lasted about 30 days versus 3 months the company said it would work on normal settings. So be careful with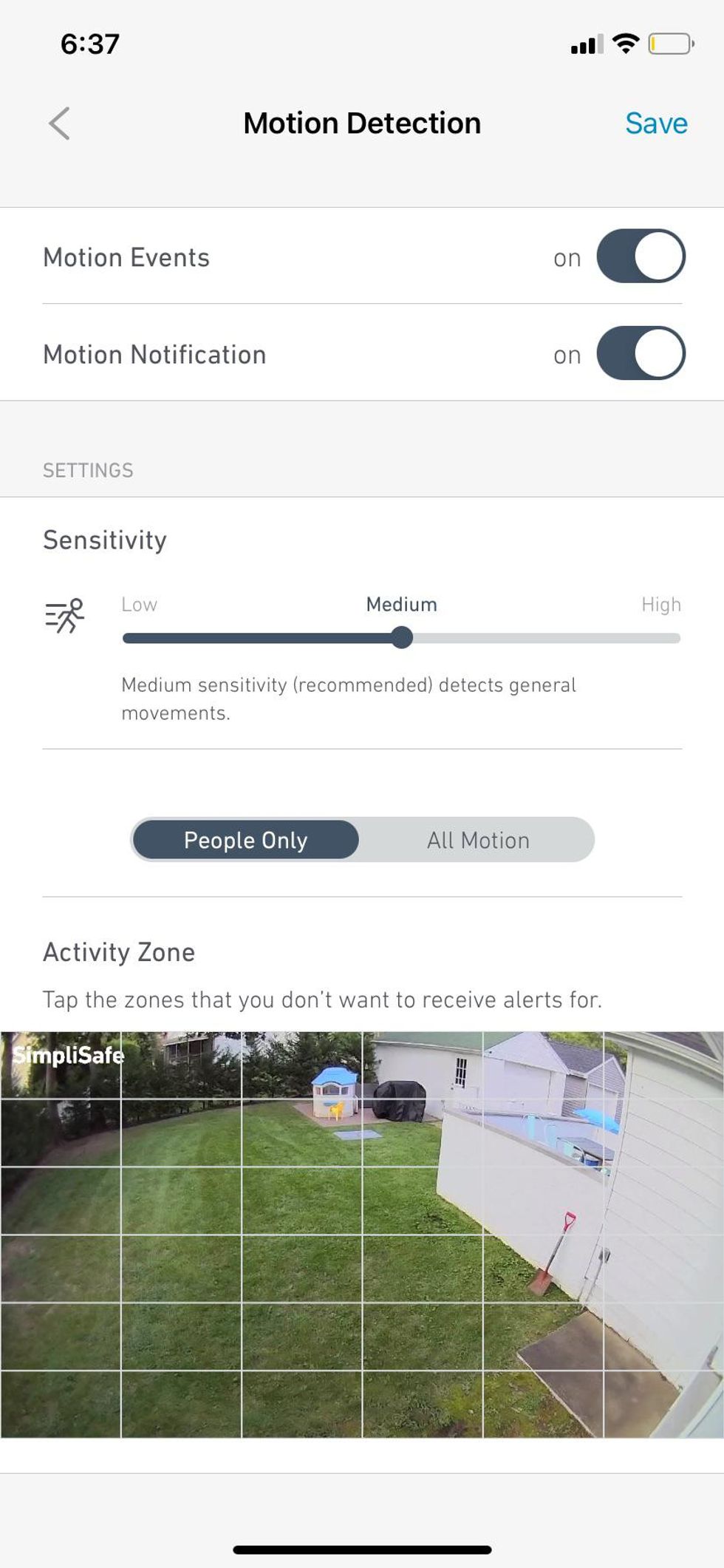 Set motion sensitivity for each camera in SimpliSafe app. Keep in mind the higher the setting, the faster your camera battery will drain.GearBrain
How much does SimpliSafe's New Outdoor Camera Cost?
The new SimpliSafe wireless outdoor security camera costs $169.99 each. It's available on SimpliSafe's website as well as on Amazon.com and Best Buy.
Summary
If you are a SimpliSafe customer and you want to add a security camera to your system, you only have one option. Luckily for you this option is pretty good. SimpliSafe's new outdoor wireless security camera is priced well and has a good 140-degree ultra-wide field of view. When you combined the magnetic mount with adjustable viewing capabilities, you end up getting an easy to install outdoor security camera with exceptional coverage of the outside of your home. And when you add in the motion customization, users end up with a very powerful security device. Please keep in mind for this camera to work optimally and with Amazon Alexa and Google Assistant enabled devices, you will need a monitoring plan. But the plans are not too expensive, and they come with no contracts which is nice.
Pro
Good FOV
Custom motion detection
Powerful magnetic mount
Color night vision
Con
Only works with SimpliSafe system,
Need a monitoring plan for smart home device integrations and visual alarm verification
For more information on what devices are compatible with your SimpliSafe system, visit
The GearBrain
. It's our
compatibility find engine
which will help you find compatible products as well as any other smart device you need for your
smart home
. Also, it's free and easy to use.
SimpliSafe Wireless Outdoor Security Camera
How to Find Products in The GearBrain, Our Compatibility Find Engine for Smart Devices www.youtube.com