Like GearBrain on Facebook
If you're frequently chatting with Alexa or familiar with the phrase, "Hey Google," you're hardly alone, especially in the U.S. Sales of smart speakers like those from Amazon and Google are still increasing markedly, as the latest research finds 87.7 million U.S. adults now own at least one.
That figure of almost 90 million, as of January 2020, is up 32 percent on a year earlier, claims Voicebot, which published the findings of its third annual Smart Speaker Consumer Adoption Report this week.
Read More:
This means an estimated 34.4 percent of U.S. adults own at least one smart speaker, like the Amazon Echo and Google or Nest Home. The total user base is up 32 percent compared to January 2019 and 85 percent from January 2018, showing just how quickly smart speaker sales have accelerated.

According to Voicebot, half of U.S. smart speaker owners (around 45 million people) say they are using the devices daily, and 70 million use the products at least once a month. This does however suggest that 17.7 million smart speakers are being used less than once a month.
"Smart speakers have been the biggest consumer electronics success story over the past five years," said Voicebot. "Interestingly, the closest rival for that title is another variety of smart speaker, albeit of the persona, in-ear variety Apple's AirPods. However, smart speakers to date have had a far broader and deeper impact. It's fair to say the ear of touch, swipe and video is making room for an audio comeback of sorts and voice interactivity was the catalyst."
Amazon and its Echo speakers with Alexa voice assistant is still the market leader, Voicebot says, with 53 percent of the U.S. market as of January. However, as interest in Google and Nest products grows — plus smart speakers from other brands like Apple and particularly Sonos — Amazon's share is down from 61 percent a year ago, and 72 percent two years ago.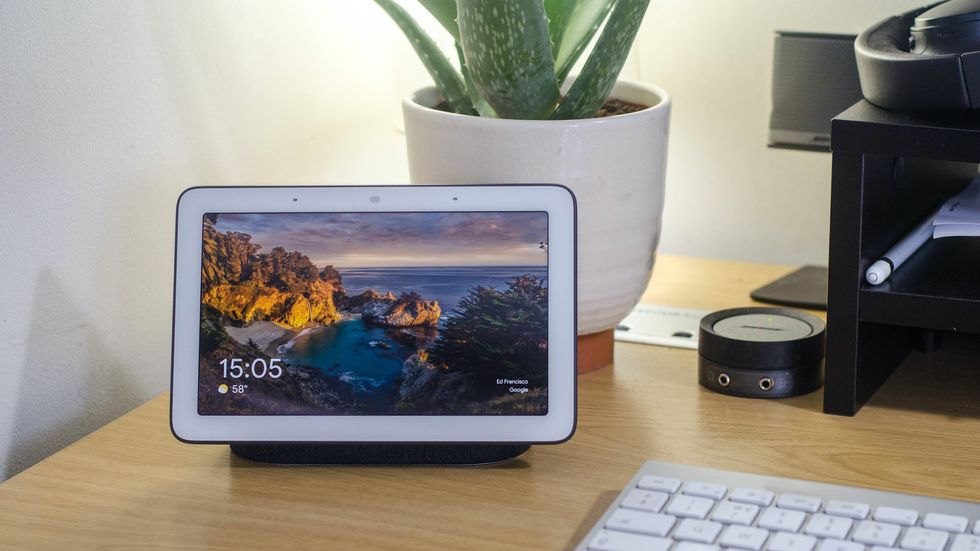 Google Home Hub GearBrain
By contrast, Google's share in that time has grown from 18 percent in 2018 to 31 percent today. Apple has seen its slim share of the market, with its single offering in the HomePod speaker, grow by just 0.1 percentage points, to 2.8 percent in 2020. Sonos' share has increased more substantially, from 2.2 percent in 2019 to 4.7 percent today, overtaking Apple in the process.

Interaction with voice skills and apps made by third-party developers (in other words, not Amazon and Google) is becoming less common. According to the data, over half (53 percent) of smart speaker owners have never tried an Alexa skill or Google Action. What's more, fewer owners say they are discovering new voice apps than a year ago.
The most common use for a smart speaker is still listening to music, with 39.8 percent of users doing so every day and 73.6 percent doing so at least once a month. Second place is for asking questions, followed by checking the weather, setting timers and alarms, and listening to the radio.
The least common use for a smart speaker among US adults is making purchases, with 4.9 percent doing so daily, 14.3 percent at least once a month, a 25.2 percent saying they have done so at least once since buying the speaker.
As for controlling smart home devices, Voicebot's data claims a quarter of owners do so daily, 31.9 percent do so at least once a month, and 43.4 percent have at least once ever.
Check out The GearBrain, our smart home compatibility checker to see the other compatible products that work with Google Assistant and Amazon Alexa enabled devices.
See How Amazon Alexa Can Save You Money on Your Grocery Bill www.youtube.com
Echo Show 5 – stay connected and in touch with Alexa - Charcoal
From Your Site Articles
Related Articles Around the Web
Like GearBrain on Facebook