Like GearBrain on Facebook
Amazon Alexa, Google Assistant and Apple's Siri are the three biggest personal assistants right now. Powered by artificial intelligence and always listening, they can answer questions, play music, help organize our lives, and control our smart homes.
These assistants live in devices sold by their manufacturers, but are increasingly appearing in products sold by other companies, where they do not always offer the same intelligence or set of features.
Along with this, it is important to remember that a huge range of smart home devices work with each of the three main assistants - but this doesn't necessarily mean that every assistant has absolute control over a smart home device. For example, Alexa works with Philips Hue smart lights, but it can't control them in every way that the Hue smartphone app can.
Key to this article is the difference between a device 'working with' an assistant like Siri and Alexa, and a product which has an assistant 'built in'. There are already lots of the former, and in 2018 we're going to see growing numbers of the latter.

Alexa on the Echo does more than on the Sonos One smart speakerAmazon
Devices with the full Alexa experience baked in

First, let's list every device which offers every Alexa feature. In other words, those made by Amazon. They are:
Amazon Echo
Amazon Echo Plus
Amazon Echo Dot
Amazon Echo Spot
Amazon Echo Show
The Echo, Plus and Dot provide communication with Alexa via sound only; you talk and she replies via a speaker. The Spot and Show do this too, but also have screens for showing video content and text to accompany what Alexa says.
Amazon also sells a Bluetooth speaker called the Tap, which has Alexa but does not constantly listen for the 'Alexa' hotword like the Echo range. Instead, the Tap requires a press (or a tap) to make Alexa listen. This is because the Tap is battery powered and having it always listening for the hotword would be a waste of battery.
Amazon's Fire TV streaming stick also uses Alexa, but here the assistant is tailored to search for Amazon Prime Video content, navigate the Fire TV interface, and provide information on the movie you are watching.
You can learn more about the smart devices that work with Amazon Alexa enabled devices by visiting The GearBrain, our compatibility checker for connected devices. The GearBrain has a page called What Works with Amazon Alexa which will show you all the gadgets that you can control by voice using an Echo, Echo Dot or any Amazon Alexa-enabled device or appliance.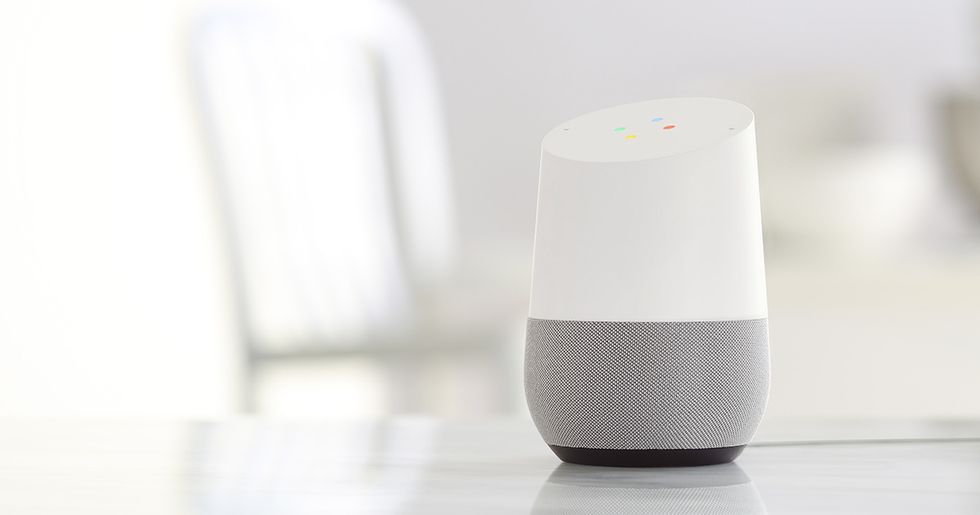 Google Assistant works best on the company's own Home speakerGoogle
Devices with the full Google Assistant experience baked in
It is a similar story at Google, where its own devices offer the full Assistant experience, but the product catalogue is more diverse and also features Android smartphones. These include:
Google Home
Google Home Mini
Google Home Max
Google Pixel 2 and 2 XL
Most Android smartphones
Devices with Alexa, but with some features missing
Here is a list of devices which have Alexa, but aren't made by Amazon.
Ecobee 4 smart home thermostat
Huawei Mate 9 smartphone
Vobot alarm clock
Sonos One
Logitech ZeroTouch smartphone car mount
Guess Connect smartwatches
Cowin DiDa Bluetooth speaker
Garmin Speak car navigation system
iDevices light switches
C by GE Sol smart lamp
LG Smart Instaview Refrigerator
Now things start to get complicated. These can be bought, plugged in and used just like an Echo speaker - but some features are missing. Alexa's skill set varies case by case, making it difficult to know exactly what you are getting into.
For example, where Echo devices can drop-in on each other and make phone calls to other Echo products - acting like a home intercom system — the Sonos One cannot. It also, somewhat bizarrely, given its focus on music - cannot wake you up with a radio station. It can play radio on command and it can be used as an alarm, but unfortunately these two cannot be combined.
All it would take is a software update from Amazon and/or Sonos, but we have a feeling Amazon would like to keep some features exclusive to its own Echo family. The One also can't join in with Alexa Routines, so you can't configure it to read out your morning news briefing without first asking out loud.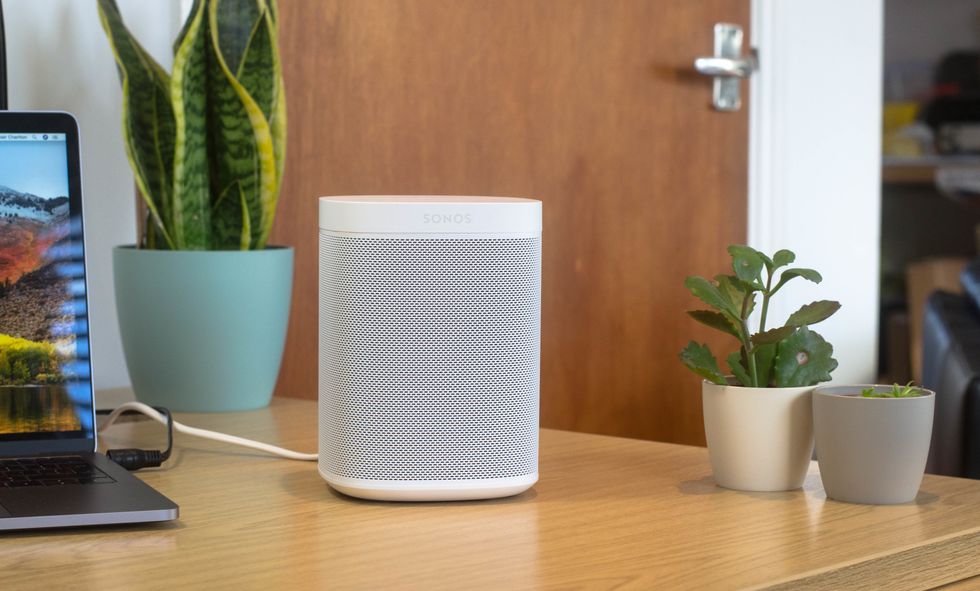 Alexa on the Sonos One has fewer features than on the Amazon EchoGearBrain
Devices with Google Assistant, but with some features missing
It is a similar story with Google Assistant, which appears in stripped-down form on smartwatches running Android Wear 2.0 or later, some Sony Bravia smart TVs, and soon as a part of Android Auto.
Google Assistant is also coming to the Sonos One with a software update but for now it isn't known if this will turn the speaker into a better-sounding Google Home, or if some features will be lost.
You can learn more about the smart devices that work with Google Assistant-enabled devices by visiting The GearBrain, our compatibility checker for connected devices. The GearBrain has a page called Here's What Works with Google Home and The Google Home Mini which will show you all the gadgets that you can control by voice using a Google Home, Google Home Mini or Google Assistant-enabled device or appliance.
Apple Siri
You'd think things would be simpler with Apple and Siri, but that isn't necessarily the case. Siri on the iPhone, iPad and iPod Touch is the real deal and includes every Siri feature.
However, Siri on the Mac cannot operate HomeKit devices like smart lights, Siri on the Apple TV cannot search the web, and Siri on the new HomePod smart speaker cannot access your calendar or email, provide help with navigation, or a whole host of other things that have worked for years on your iPhone.
Finally, because of Apple's walled-garden approach to inclusivity, only Apple devices run Siri.
What about products that 'work with' Alexa, Google and Siri?
Now we have explained the different degrees of 'baked in' on offer, we can turn to explaining what it means when a device 'works with' your personal assistant of choice.
Many, many smart home gadgets and appliances now 'work with' Amazon Alexa, Google Assistant and Apple's HomeKit system, which in turn is controlled by either the Home app on your iPhone, or by speaking to Siri.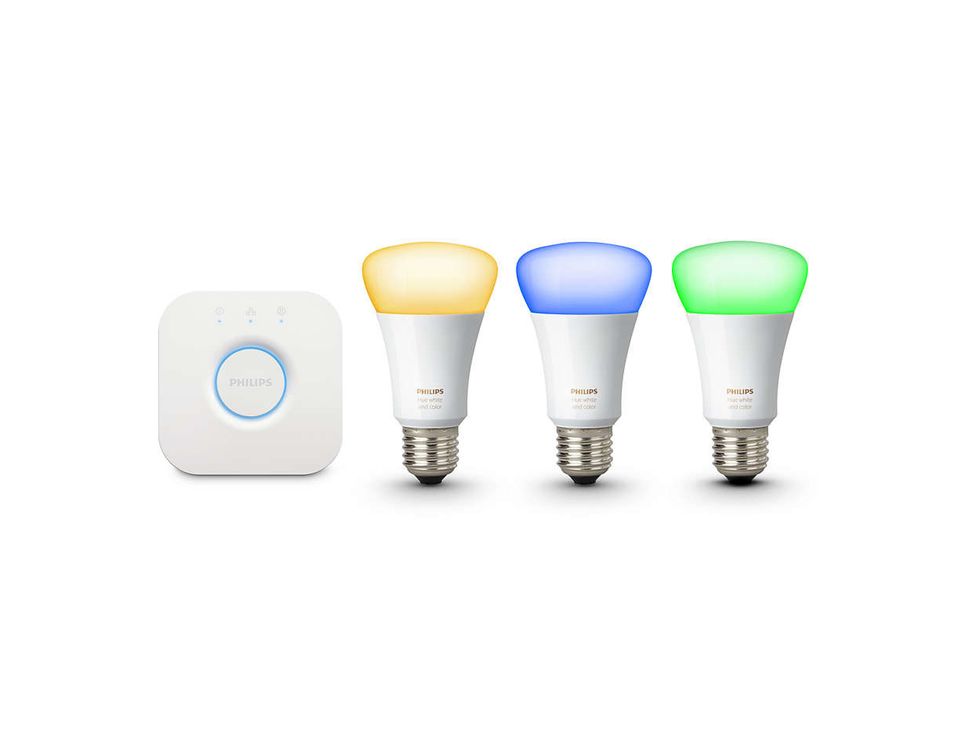 Smart light bulbs by Philips and others work with Alexa, Google Assistant and Siri, but offer fewer features than the Philips Hue appPhilips
Such devices include, but are by no means limited to:
Smart plugs from TP-Link, iHome, Samsung SmartThings, Belkin and more
Smart lights by Philips, Ikea, TP-Link, GE, Lifx and more
Door locks by August
Robotic vacuum cleaners by iRobot
Thermostats, cameras and smoke alarms by Nest
The best example we could find to explain this is the Philips Hue smart light starter kit, which includes three bulbs, a controller, and a hub for connecting to your Wi-Fi router. On the box there are icons which state: "Works with Amazon Alexa", "Works with Apple HomeKit" and "Works with the Google Assistant".
Once set up via the Philips Hue app, these lights can be controlled via voice commands delivered to Alexa, Siri and Google Assistant. Alternatively, you can use their respective smartphone applications, or the Philips app itself (plus a range of third-party Hue alternatives).
After adding the Hue lights to your Alexa, Google Assistant or Apple HomeKit apps, you can speak to make the bulbs switch on and off, adjust their brightness and change the color of each.
However, more advanced controls are not possible. For example, you can ask Alexa to "make the lounge yellow" but you cannot change the 'scene' of a Hue light by asking the assistants to "switch the bedroom scene to Savannah Sunset", and you cannot ask for the light to be switched on or off at a certain time. For these features you need to use the Hue app.
Summary
We appreciate that this is a lot to take in at once. While it is good news that the smart home landscape is growing quickly - thanks to the popularity of Alexa and Google Assistant, in particular - it means consumers are often pulled in several directions at once.
There is not a global, universal standard for smart home devices to comply with, so it is likely that any product you buy will work slightly differently with each of the three main assistants. So while Alexa and Google Assistant have the basics covered - turning lights on and changing their color - they often cannot match the features offered by an app produced by the device's own manufacturer.
Looking out for the 'works with' icons is key, and buying products with several - like Hue lights - is likely your best approach to building a smart home which is both future-proof and easy to operate. The good news is that, with all of these devices being connected to the internet, software updates will likely bring new features, improved control and take us a step closer to the assistant-agnostic smart home we all want.
From Your Site Articles
Related Articles Around the Web
Like GearBrain on Facebook