Adding a Google Home or Nest smart speaker (or smart display) to your property is a great way to add lots of new functionality. Adding a second can expand that functionality even more.
With the Google Assistant onboard, these products can be used to play music, read the news headlines, sports results and weather forecasts, play games, read stories, tell jokes, and even help with your shopping and cooking.
Read More:
They also let you interact with a huge range of smart home products, from lights and locks, to robotic vacuum cleaners, speakers, and garden irrigation systems.
But there is a certain set of features which only come to life when you add a second Google Home or Nest smart speaker or display to your Wi-Fi network. This includes using the products as a home broadcast system, playing music through multiple speakers at once, and of course being able to interact with the Google Assistant throughout the home.
Before we get started, we should briefly explain that when we refer to a Google Home or Nest product in this article, we are referring to any Google Home speaker or display, as well as the recently rebranded Nest Mini speaker, and Nest Hub and Hub Max smart displays. They all work together in the same way.
They can be mixed and matched however you like, so you could have a big Google Home Max in the lounge, a Nest Hub in the kitchen and a Google Home Mini in the bedroom, or whatever combination of devices you like. You could even install one in every room, so the Assistant is ready and waiting wherever you are.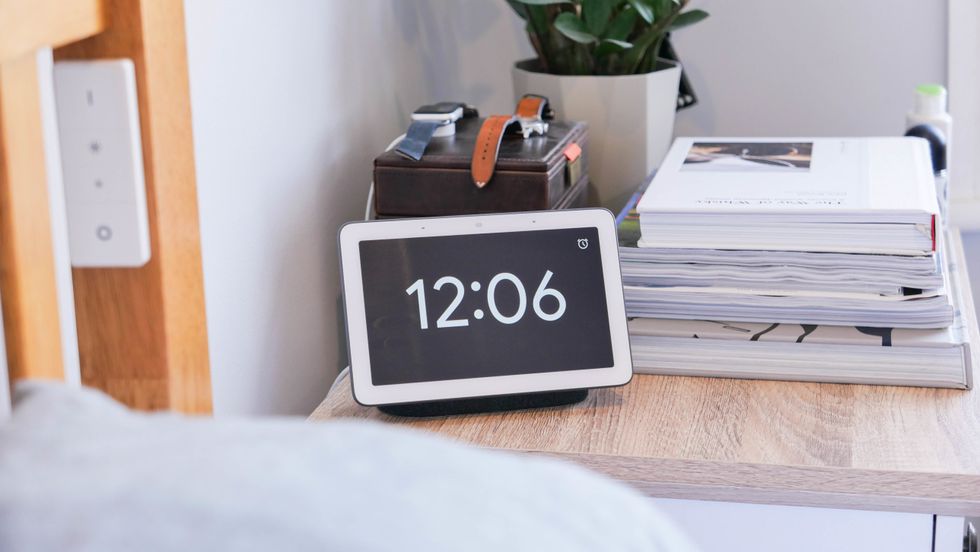 Google Home Hub as a bedside alarm clockGearBrain
How to add a second Google Home or Nest smart speaker to your network

Plug in the Google or Nest product and wait for it to power up
Make sure your smartphone is connected to your home Wi-Fi
Open the Google Home app
At this point, the app should detect the new Google/Nest device and ask if you want ti set it up. If that doesn't happen, tap the '+' icon in the top-left corner, then tap 'Set up device', followed by 'Set up new device.' Confirm which home you want to add the device to, then follow the instructions, which are the same as when you installed your first Google/Nest device.
During the setup process you will want to give your new speaker or display a logical name. In other words, you should name it after the room it is located in, so you can easily ask the Assistant to play music in that particular space.
If you need to rename a Google or Nest speaker (or display), perhaps because you have moved it to a different room, follow these instructions:
How to rename a Google or Nest smart speaker or display
Open the Google Home smartphone app
Tap on the device you want to rename
Tap on the cog icon in the top-right
Tap on the name section
Type in the new name and tap Save
You can now refer to that device when talking to another. For example, if you are in the lounge but are about to go into the kitchen to prepare dinner, you can say to the lounge speaker: "Hey Google, play my cooking playlist on the kitchen speaker," and the Assistant will do exactly that.
Taking music playback a step further — and mirroring what's possible with multiple Amazon Echo smart speakers — you can have music play on several Google/Nest devices at once.
For example, you can ask the Google Assistant to play an album or artist in a specific room, or throughout the house on all of your Google/Nest speakers.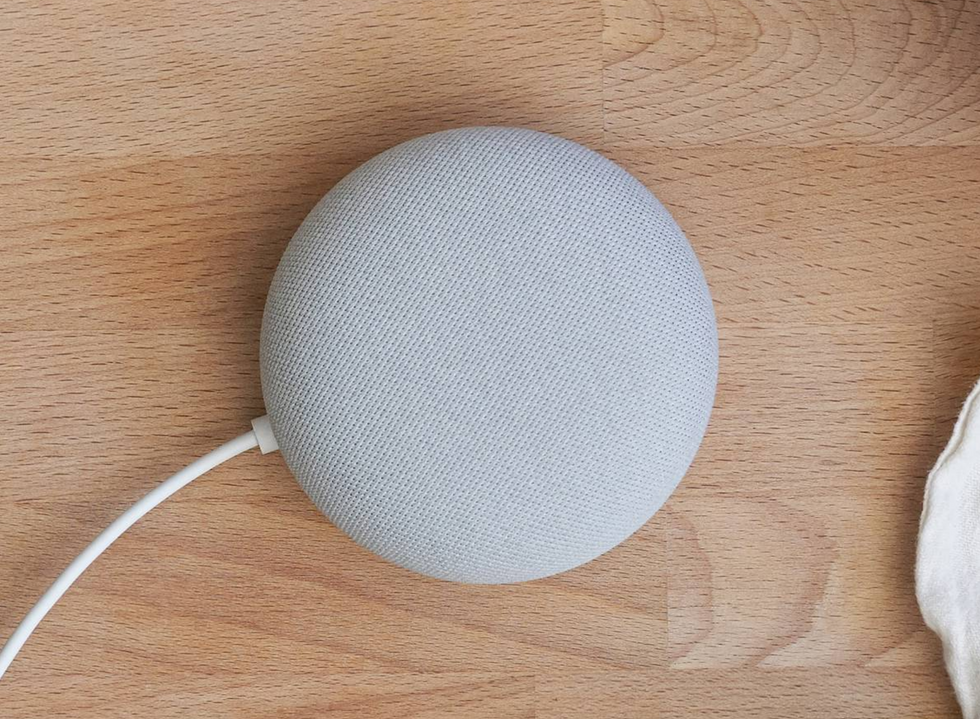 The Nest Mini costs just $50Google
Creating multi-room audio with the Google Home app

To get started here you need to create one or more groups in your home. It is best to think of each group as a room or floor of your property, and you can assign multiple Google/Nest speakers and displays to each group.
Say you have a combined kitchen and living room, with a Google speaker in each area. You can create a group which includes both of those speakers, so when you ask the Assistant to play music there, it will be played in perfect sync through both speakers (or however many are assigned to that group.)
To get started, follow these instructions:
How to set up speaker groups with Google Home
Open the Google Home smartphone app
Tap on the + icon in the top-left corner
Tap on the speakers or displays you want included in the group
Type a name for the group, like 'kitchen' or 'downstairs'
Now that's all set up, you can ask Google to play music in a certain group (ie, room.) For now this only works with music (from supported services like Google Play Music, Spotify and TuneIn), so you can't play podcasts or audiobooks from multiple speakers at once. Alarms and countdown timers can also only be used on the Google or Nest device you spoke to when setting them, so no house-wide 6am alarms for now.
Broadcast messages throughout the home
Similar to Amazon Echo, you can use multiple Google and Nest speakers to broadcast spoken messages throughout the home. Just say to one speaker: "Hey Google, broadcast [your message,]" and whatever you say will be repeated by the Assistant through all other Google/Nest speakers and displays in the home.
Unlike Echo products, you can't currently have two-way conversations through Google or Nest devices.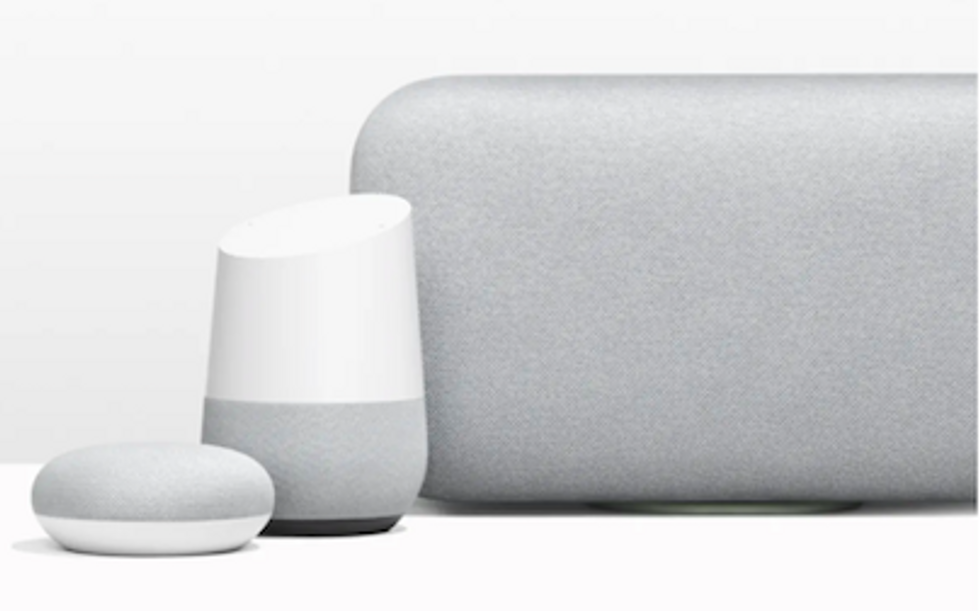 All Google and Nest speakers work with Assistant in the same way Google
Sharing account information across devices

Because you will have logged into each Google or Nest device with the same account, they all have access to your calendar, reminders, to-do lists and so on. That means you can ask any Google or Nest speaker to read out your next calendar entry, or add something to your shopping list.
In this sense, installing multiple speakers or displays across your home broadens where the Google Assistant is available. So long as you are within earshot of any one speaker or display, the Assistant will listen and do whatever you ask.
Say you want to start the Roomba vacuum cleaner in the kitchen, but you're upstairs. Just issue the usual command to the nearest speaker, such as the Nest Hub on your bedside table, and the Roomba will get to work just as if you'd asked the Nest Mini in the kitchen.
With the compact Nest Mini priced at $50, creating a house-wide, Google Assistant-controlled sound system is easier and cheaper than you might think.
Check out The GearBrain, our smart home compatibility checker to see the other compatible products that work with Google Assistant enabled devices.
Nest x Yale Lock with Nest Connect - Smart Lock - Satin Nickel (RB-YRD540-WV-619)