New York-based Strauss & Wagner is a relatively recent entry into the budget headphone market. Named for the composers Richard Strauss and Richard Wagner, they feature tasteful branding and solidly-built products that are generally half the price of high-end brand-name headphones. The company has a simple line of products that embraces just about every segment of the headphone market from over-the-ears noise-cancelling headphones to wireless earbuds.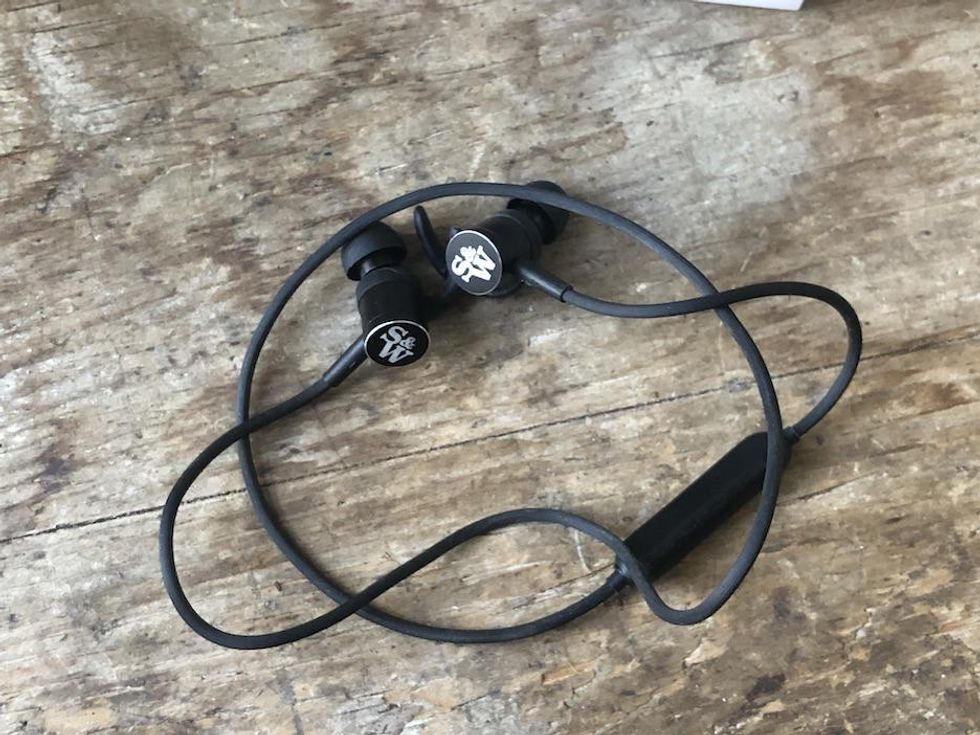 Subtle branding is visible on the backs of the earbudsGearBrain
What it is

The SPW301 Wireless Sport Earbuds ($49) are the workout-friendly entry into the Strauss & Wagner line. They're two metal canister-style earbuds connected by a lanyard-style neck band. They use standard fins to lock solidly in the ear, and the controls are positioned on a three-button switch on the cord which also houses the charging plug.
The fit
For workout headphones, fit is everything. But fit is also extremely individual. I generally prefer headphones that are completely wireless, or even those that hook over the ear for working out, but these fit me surprisingly well. I probably wouldn't run in them, but for less intense exercise, say in the gym or on a bike, these work great. They're also comfortable for hours sitting at a computer for calls, music, and video conferences.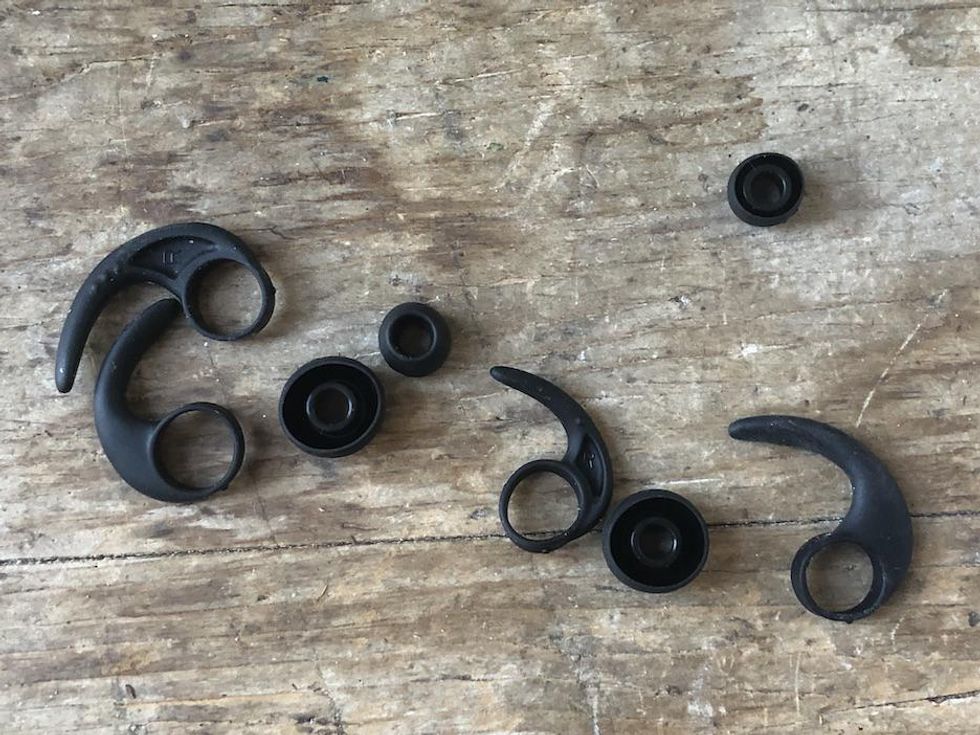 The earbuds come with multiple pieces to help you find the best fitGearBrain
Setup

Using these are super intuitive; charge them up, hold the center of three buttons down, and the SPW301s go right into pairing mode. Once paired I rarely had trouble shifting them from iPhone to laptop, and they connect simultaneously to multiple devices. But pairing them up immediately introduced me to the most annoying aspect of these headphones: the audio prompts are unreasonably loud, extremely shrill and difficult to understand. Seriously, it would be hard to create a more grating computerized voice if you were trying and I found myself literally trying to avoid it by pulling the earphones away until all was clear.
Build
Even though these are budget headphones, they really don't feel like it. The metal construction feels sold, even though they're light. The canister-shaped buds are magnetic and helpfully stick together when draped around your neck. The cord is stiff enough not to stick to sweaty skin or catch on clothing. I prefer controls on the cord over the earbuds so you can adjust volume or skip song while working out without touching or disrupting the fit of the buds themselves. As good as these are, you get the sense Strauss & Wagner is still working out some design kinks. For example, the rubber cover for the charge port is tiny and extremely tough to pull out. This is a crucial feature for water-resistant headphones, but I had to resort to using a Swiss Army knife to pull it out—not good.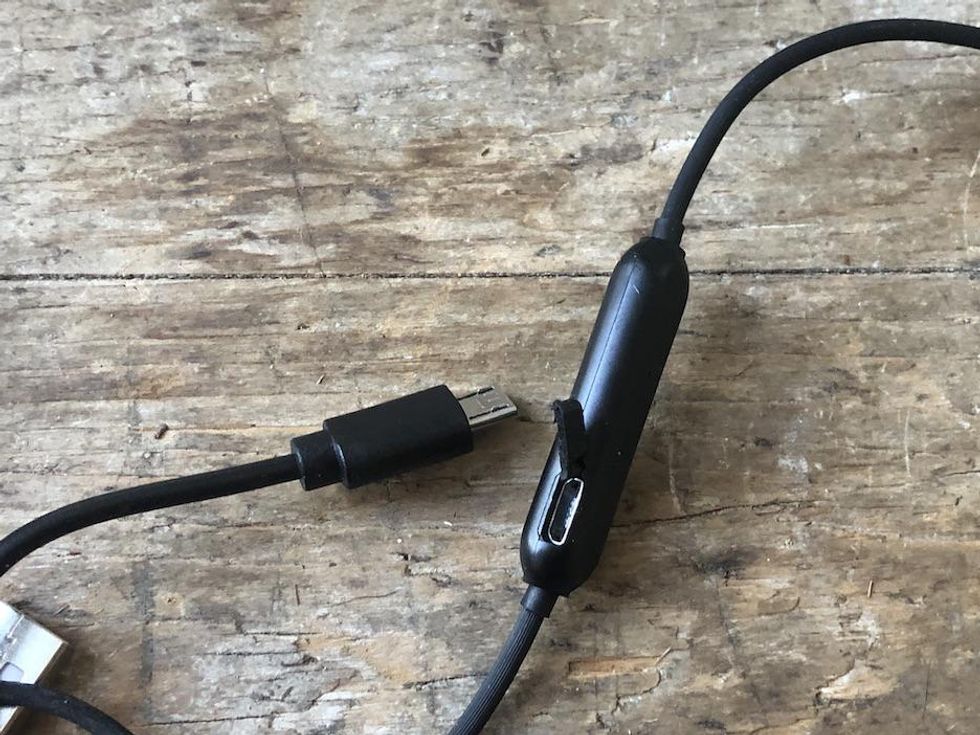 The charging port is covered with a flimsy piece of rubberGearBrain
Battery life

Strauss & Wagner claims these headphones have about 8 hours of music playback or talk time and that seems about right. Charge them at night, use them during the day and I never had any battery life issues. It's a good thing: the one time I wore them down I had to endure those terrible audio prompts telling me my battery was toast. Battery life is somewhat of a weakness for these; if they're half the price (or less) of Powerbeats, they've also got half the battery life. Again, not an issue for anyone who would be charging these at night.
Sound
The sound on these is as good as any comparable earbud I've tried, surely as good as the late-model Powerbeats or Jabra Elite's. Music has great base and clear highs, and podcasts come through crystal clear. Since these earbuds really do lock into your ear and don't have a hear-through function to filter in ambient noise, they can leave you feeling isolated working out outside, which could be an issue if you want to stay aware of your surroundings.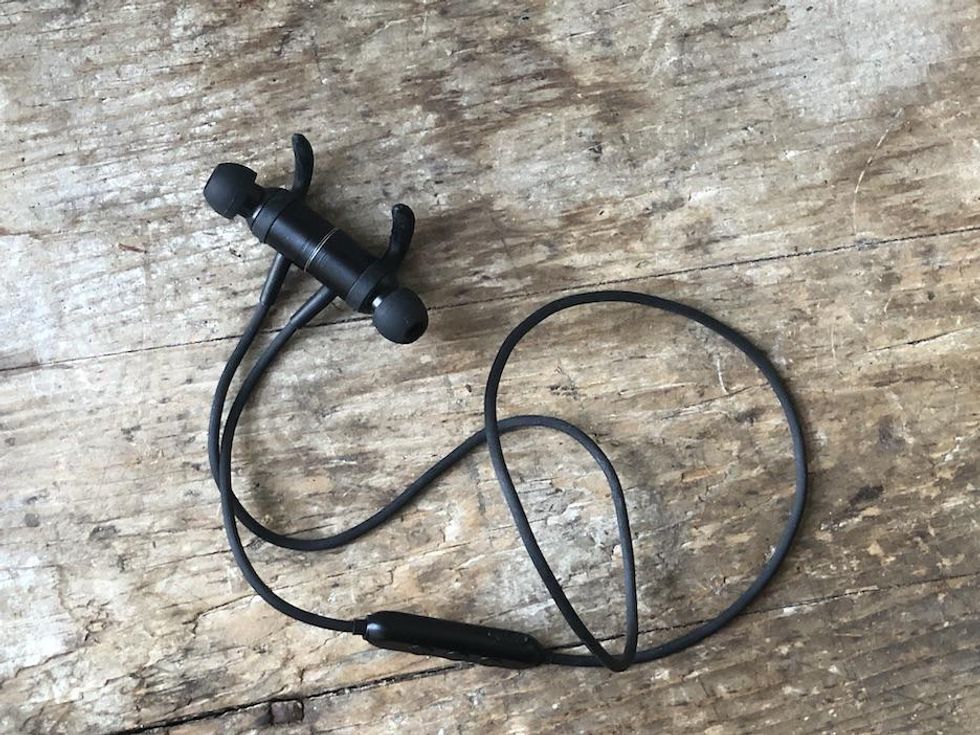 At $49, these are a great budget option for anyone looking for wireless headphonesGearBrain
Worth it?

Beyond specs and features, Stauss & Wagners just feel … nice. The packaging, the black-and-white branding, and the simplicity of the products themselves are sort of a blast of fresh air from the feature overload of some brands, and definitely a surprise at $49. If you can deal with 8-hour battery life and a few annoying quirks, these very nice, very inexpensive wireless headphones might be right for you.
Pros:
Solid metal design
Decent audio
Easy pairing
Cons:
Just ok battery life
Flawed rubber charge door
No hear-through function