The Jabra Elite 85t wireless earbuds are a high-end launch packed with just about every feature you'd want in a top of the line audio device, from active noise cancelling to a simple interface and excellent sound as well. At $230 they should be excellent, and testing them was a pleasure save for a few concerns — including a warning for those with smaller ears.
Here's our take on how they performed as we tested them listening to music, watching movies, making calls, working out, and using them for noise cancelling.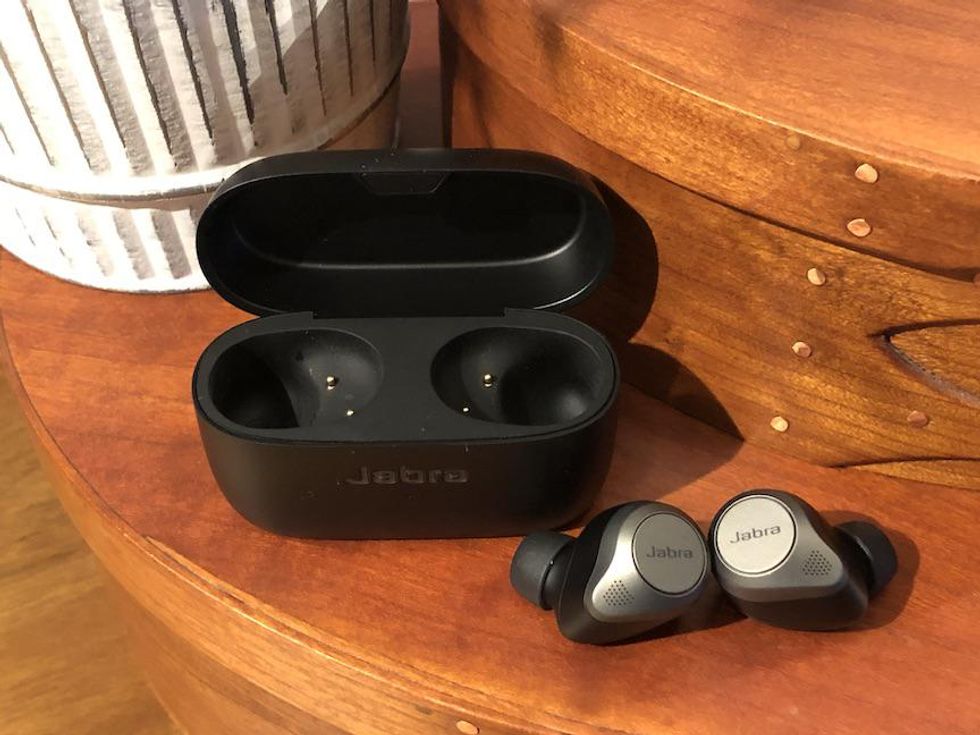 The Jabra Elite 85t can connect to up to two different devices.GearBrain
Jabra Elite 85t: Basics

The Jabra Elite 85t share a similar design and look to the Jabra Elite Active 75t, which we reviewed earlier this year. They're small and squat with a wide exterior, and short piece that fits into the ear. These however are black, while the Jabra 75t had come in a navy blue.
At the base of each are two small metallic pins, which is where they'll charge in the case. You also get a charging cord, along with the case which doubles as a charger. The earbuds can hold 5.5 hours of a charge, 25 hours with the case, and that includes using active noise cancelling, which the Elite Elite 85t support.
The earbuds also come with two extra pairs of ear adapters, one small and one large, along with the medium sized ones that are on the earbuds. These are designed to help fit the earbuds more securely in the ear.
Pairing them is fairly simple, and what's excellent is you can pair them to two different devices. That means you don't have to unpair them if you use them once for your phone, and then also your laptop. They also remember the last device they were paired to, and they will automatically connect again. I tried this with two Apple devices, an iPhone X and a MacBook Air. It worked easily every time.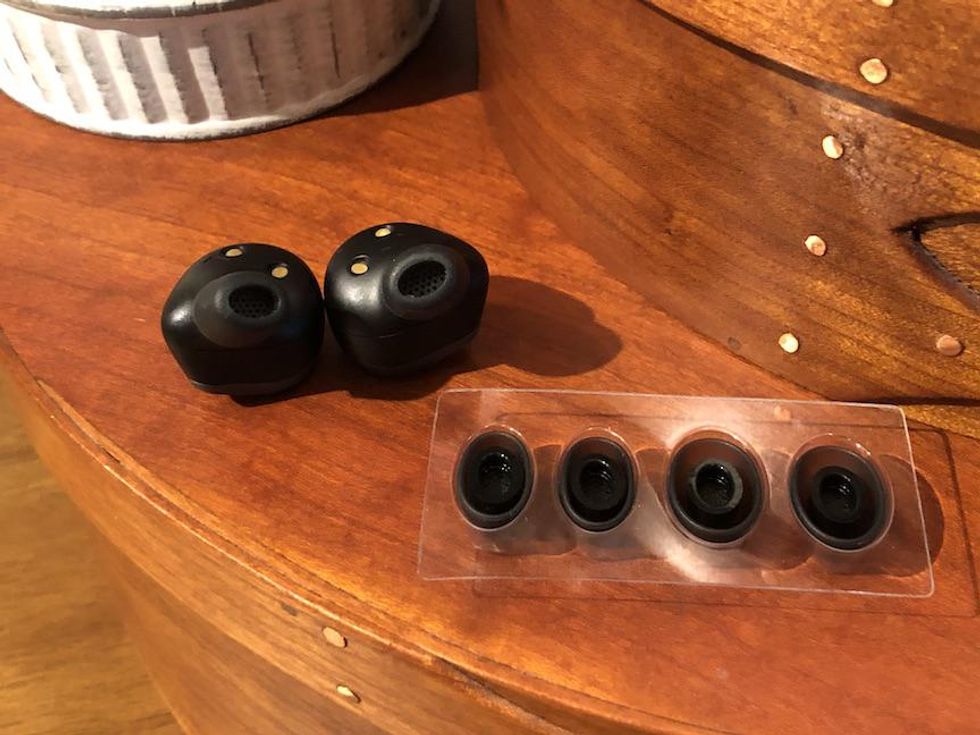 You get two extra sets of ear adapters for a better fitGearBrain
Jabra Elite 85t: Active noise cancelling

The Jabra Elite 85t feature active noise cancelling (ANC), which at first I thought wouldn't be as thorough as the feature on over the ear headphones. I was completely wrong. The ANC was excellent — truly noise blocking. And I liked how simple it was to toggle, through one push, between ANC and the HearThrough feature. The difference between the two was notable as well, emphasizing even further how good the ANC was when employed.
Jabra Elite 85t: Sound

Now for what everyone really wants to know: the sound quality. As you may recall, the earbuds needed an update to fix a number of issues including popping sounds and crackling noises on calls. This was not a small update, and it did take quite a few minutes to install through Jabra's Sound+ app, about 25 minutes from downloading it, to updating the earbuds themselves. Once installed, we found the sound on the Jabra Elite 85t to be just excellent.
Music is nuanced, tones crisp and full, with amazing detail. I also didn't feel they were pulling towards more bass, which I sometimes find while testing earbuds and headphones. I enjoyed listening to music through these as much as my over the ear headphones, which admittedly are more immersive. But with ANC in play, music was honestly a joy to listen to on the Elite 85t, and I was tremendously impressed.
Movies were also easy to watch, sound clear, and I also didn't see any Bluetooth lag. That meant when someone's mouth moved, I heard the words they were saying in sync. That's a plus, and not always a guarantee with wireless audio devices.

Phone calls were fine, with sound quality on both ends good. I could clearly hear what someone else was saying to me, and they could hear me. That included a recent windy day we had in New York City, where the wind whipped up around my ears — but the person on the other end did not hear a thing. Jabra notes that it has wind protection through the six microphones on the earbuds, and I was glad I had an opportunity to test this feature, and find that it did in fact work.
The company in April 2021 also updated the earbuds, so that Amazon's voice assistant Alexa can be accessed directly through the headset — and not need to go through a second device, like a smartphone. From there, people can set Alexa routines, check the weather, and make calls, just by asking Alexa.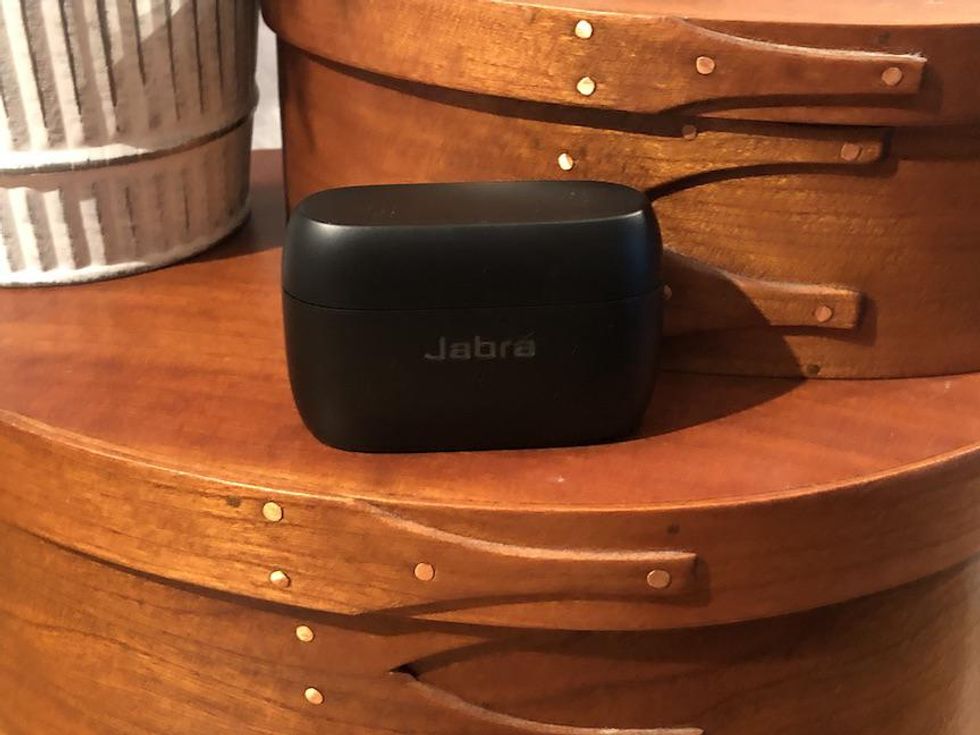 The Jabra Elite 85t hold 5.5 hours of charge, but 25 hours with the caseGearBrain
Jabra Elite 85t: Design

The one issue I had with the Elite 85t earbuds is here — the design and fit. Because of their short, squat design, they never felt completely snug in my ear. I did switch out the ear adapters to the smallest setting, and even then, I found myself constantly trying to re-seat the earbuds throughout my day. A workout was even more difficult, and the earbuds did pop out twice. That's a problem as having one of these fall and disappear when they cost $230 is a sizable loss.
The design of the earbuds themselves though, where buttons and controls are laid out, is solid. I prefer a one-button controller, and I found with the Elite 85t it was extremely simple to navigate the features from active noise cancelling to HearThrough, as well as playing, pausing, and even adjusting the volume.
But the fact that the Elite 85t never sat firmly in or against my ear is a big issue. It makes them a pair of earbuds I could never use comfortably while working out, and would mean I would need two different pairs at home. That's not the case with my AirPods Pro, which work for me in both situations, and so this was disappointing to me about the Elite 85t.
Jabra Elite 85t: Price
You can pick up the Elite 85t for $229.99.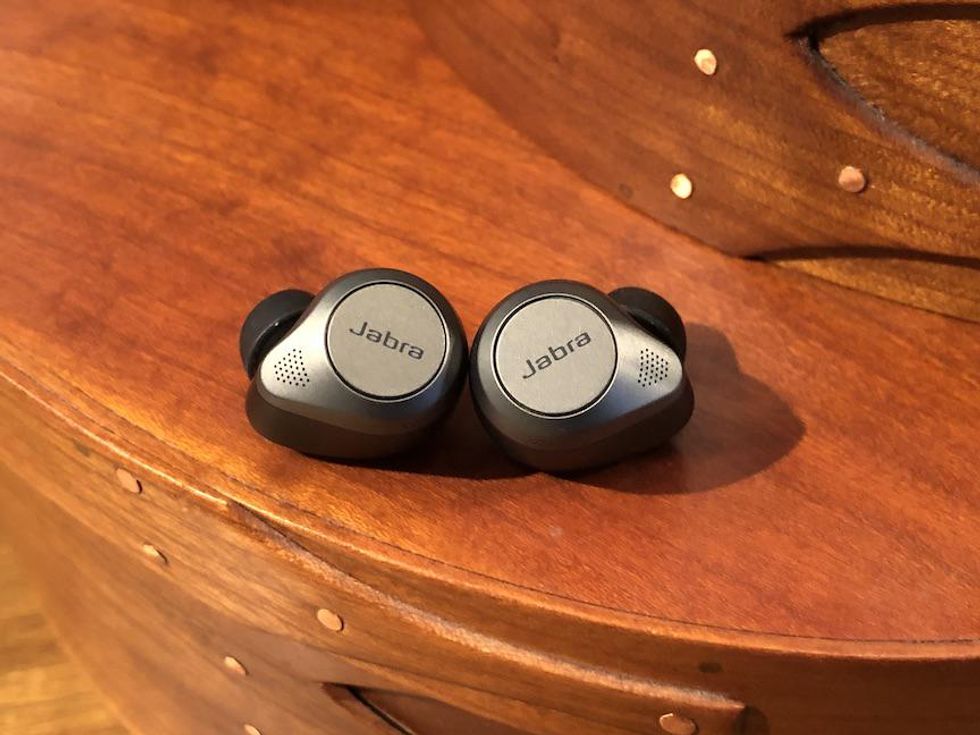 With six microphones, the Jabra Elite 85t has wind protection on callsGearBrain
Jabra Elite 85t: Worth buying

For sound quality and the ANC feature alone, the Elite 85t wireless earbuds are absolutely worth considering. They're well-made, deliver great playback for music or whatever you want to listen to, and are designed well in terms of how to operate them.
I didn't need to charge them often, they re-paired with a device very quickly and seamlessly (not always the case, as I've found through testing) and they had a clean look and design.
The fit, though, is something to keep in mind. I am someone who always requires the smallest ear adapters on any kind of wireless earbuds — and that's just for comfort so I don't have the feeling the devices will fall out on me. Add in my use of earbuds for running, and the smallest size is an absolutely necessity. If you're someone who finds they need a smaller size on earbuds, you might want to pause before picking these up. It's this issue alone that prevents me from giving the Jabra Elite 85t a near perfect rating. That said, if you're not someone who has a problem with earbuds slipping about, you're likely to find these an excellent choice.
Pros:
Great sound
ANC
Clean look and design
Cons:
Not great fit for smaller ears
Muffled sound a bit on calls
Price
Jabra Elite 85t True Wireless Bluetooth Earbuds, Titanium Black – Advanced Noise-Cancelling Earbuds with Charging Case for Calls & Music – Wireless Earbuds with Superior Sound & Premium Comfort