Like GearBrain on Facebook
The smart lighting system is a cornerstone of the smart home experience. These lights can be turned to any color, brightness and temperature with the tap of an app, press of a button, or with a voice command.
The majority of these lights are designed for use indoors, where they can smartly illuminate your kitchen counters, or sit behind televisions and under beds to create luxury hotel-style lighting.
Read More:
But what if you want to take them outside? Just a couple of years ago, this wasn't really an option, but now there are several systems to pick from.
Here are some options to get your started:
Philips Hue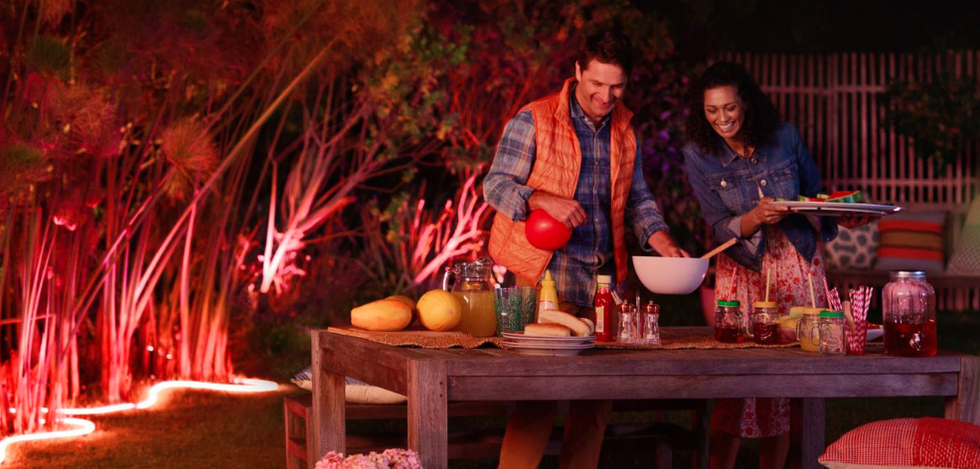 Hue outdoor smart light stripPhilips
The smart light market leader, Philips Hue now offers a broad range of weather-proof options designed for the garden, yard and driveway.

You can buy upwards or downwards facing spotlights (individually or in packs of three), lights designed to be fixed to the exterior walls of your home, and fixtures intended to illuminate your flower beds.
Then there are outdoor pedestal lights which are integrated on columns that sit a foot or so off the ground, lighting to illuminate the edges of a path, staircase or driveway, and LED light strips for adding pools of color anywhere you like.
As with other Hue products, the outdoor range connects to the Hue Bridge, which work through a Wi-Fi router, and are controlled with the Hue smartphone app. They can also be run by speaking to Alexa, Google Assistant or Siri, via Philips Hue switches and sensors, and activated as part of automated smart home routines.

Outdoor Hue lights are also fairly expensive. A set of three Lily outdoor spot lights is $280, individual outdoor PAR-38 spotlight bulbs are $30, and a 7ft long LED light strip is $70. (Read the GearBrain review here on Philips Hue Starter Kit.)
Lifx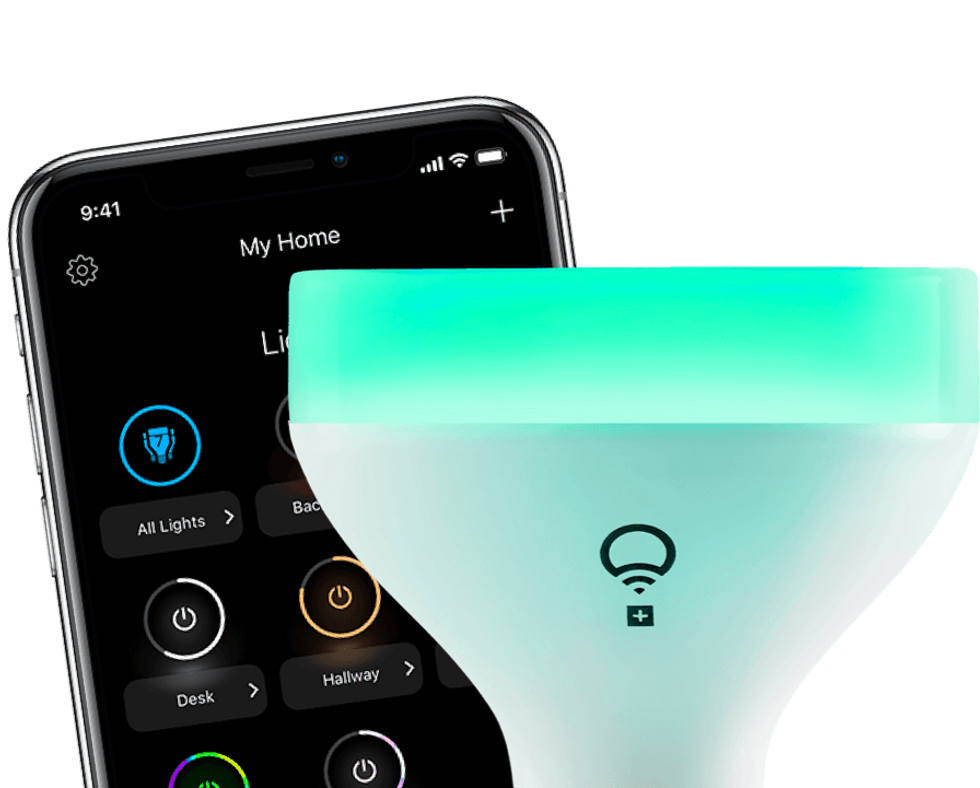 Lifx+ bulbs emit infrared light at night to help night vision security camerasLifx
Lifx sells just two bulbs which are suitable for use outdoors and in high-moisture areas like bathrooms. These use the RB30 fitting and cost from $45 per color bulb (reduced from $60, as of July 2019), while the Lifx + version, which uses infrared in its night vision security cameras, costs $80.

These bulbs cannot be used in locations where they will be in direct contact with water. But the lights can be used in high-moisture environments including bathrooms, or inside a sheltered outdoor light fixture.
Lifx's lights connect directly to your WiFi network, instead of using a bridge like the Hue system, but otherwise work in a very similar way. They can produce millions of different colors, at almost any temperature and brightness, and work with a range of smart home systems like Apple Home, Alexa and Google Assistant.
Sylvania Lightify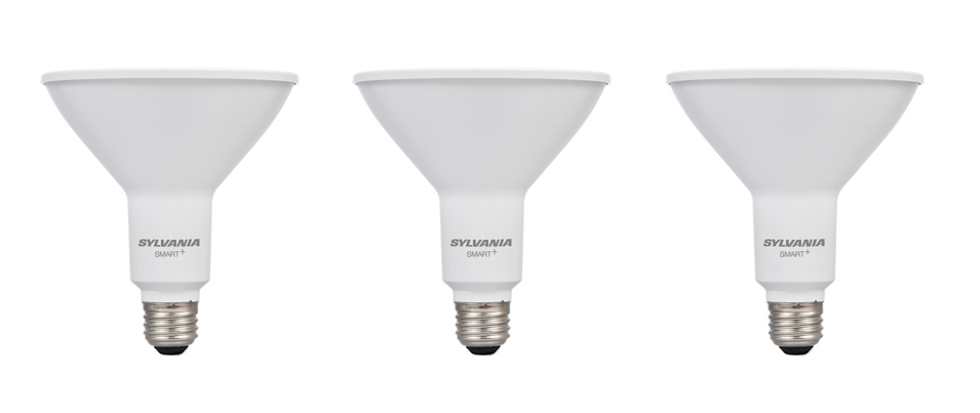 The PAR38 bulb by Sylvania is designed for outdoor useSylvania
Like Philipe Hue, Sylvania also sells a weather-resistant smart bulb with a PAR38 fitting. The LED smart bulb uses Zigbee, so works with Amazon Alexa and a SmartThings-compatible hub. You can also use the Google Assistant to control this bulb, but not directly — instead you'll need to connect it to a compatible smart home hub first.

Sylvania says the bulb can be used outdoors above patios, decks and entryways, or in garages.
The only real downside here is that the bulb is only white and not color, which means you are limited to only being able to change the brightness and temperature, ranging from warm orange to a cool blue-ish white.
Control4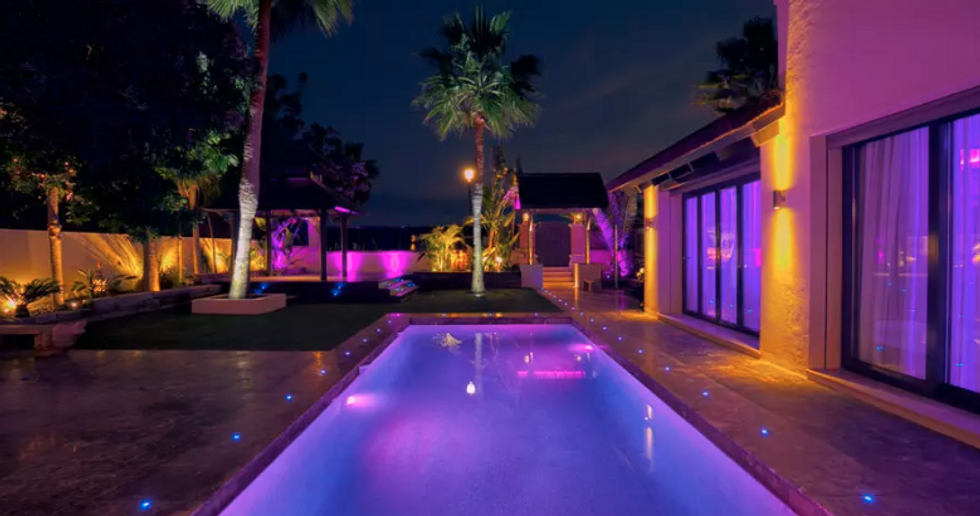 Outdoor smart lighting by Control4Control4
A ground-up smart home company, Control4 primarily works with a range of builders to install its products as the house is being constructed. The company also offers professional-fitted devices to existing homes, and is generally deemed a step beyond DIY, off-the-shelf options from the likes of Philips Hue and Lifx.

Control4's outdoor lighting system includes all colors and can be controlled by motion and light sensors, or via the company's smartphone and Apple Watch app. The company's bespoke system means lights are installed exactly how you want them, whether that is along a wall or garden fence, up-lighting a patch of garden, or as a way to make your swimming pool glow after sunset.
Ring Floodlight Cam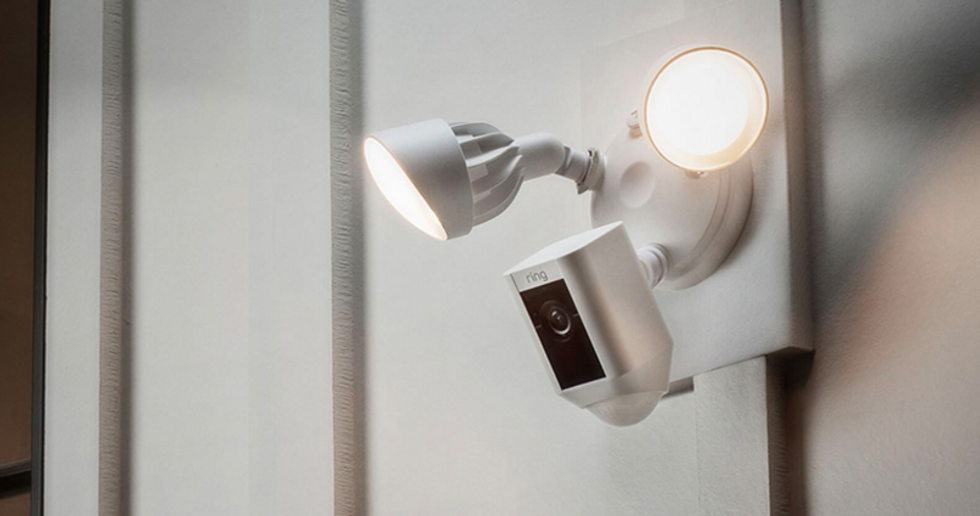 Smart flood lighting with a video security systemRing
Although not intended for decorative purposes like the others in this article, Ring's Floodlight Cam is technically a smart outdoor light. The device is weatherproof and includes two floodlights and a security camera with two-way audio, all controlled via the Ring smartphone app.

Much like the company's video doorbells, when motion is detected you are alerted through the app. You can then view a live stream from the camera and even speak to an intruder telling them they are on camera. Footage is saved to Ring's server for viewing later. If you have Lifx+ bulbs installed outside, the infrared light they emit when switched off will help the Ring's night vision camera see more clearly.
While this set-up is not as much fun as a Hue kit, perhaps, it is far more useful if the worst should happen.
Check out The GearBrain, our smart home compatibility checker to see the other compatible products that work with Google Home and Home Mini as well as Amazon Alexa enabled devices.
10 second Unboxing - LIFX Smart LED Bulb www.youtube.com
Like GearBrain on Facebook