Like GearBrain on Facebook
The ScanWatch is the latest health- and fitness-focused hybrid smartwatch from French technology firm Withings. Ever since its first watch, the Activité, arrived back in 2014, Withings has earned a reputation for selling high-quality hybrid watches that are as smart as they are stylish.
The latest model builds on that reputation, combining an attractive 316L stainless steel case and optional leather straps, with advanced fitness and sleep tracking, plus constant heart rate monitoring, an ECG function, and the ability to measure SpO2, better known as blood oxygenation.
Read More:
But all those features don't come cheap, and the ScanWatch sits at the top of the hybrid watch market with a starting price of $280.
Withings ScanWatch: Design and hardware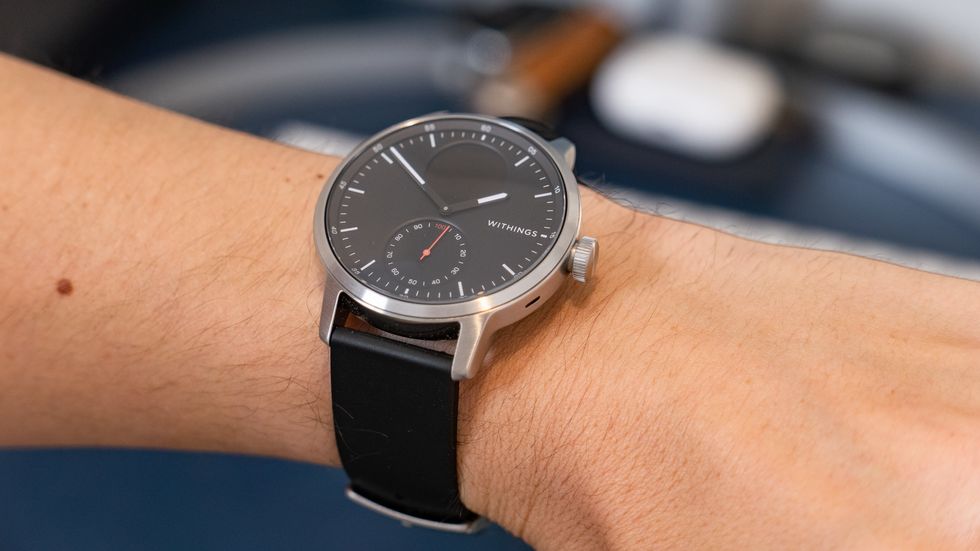 The ScanWatch is available in two sizes, 38mm and 42mm (shown here)GearBrain
As always from Withings, the ScanWatch is a good-looking wearable. There are four models available in total, with case sizes of 38mm and 42mm, and each offered with a black or white dial. Both versions of the 38mm model have a slim, polished bezel, while the 42mm watch has a polished bezel with the white dial and a brushed bezel with the black dial.

The 38mm version is available with 18 different straps to pick from, with various colors of leather and rubber, plus woven fabric options and a steel bracelet. The 42mm model has a smaller range of straps, with eight options in total, including leather, rubber and woven fabric.
Both sizes of watch have industry-standard interchangeable lug bars, so the strap can quickly and easily be swapped for any other.
Here I have the $300, 42mm ScanWatch for review, with the black dial and black rubber strap. It's an attractive and surprisingly weighty timepiece at 83g without the strap, compared to 58g for the 38mm model. I personally like the extra heft, as it gives the ScanWatch a sense of quality that can be lacking from lightweight wearables.
As well as the weight, another premium feature is the sapphire crystal. Instead of glass or plastic, sapphire is almost completely scratch-resistant (unless you introduce it to a diamond), so the ScanWatch should hold up to daily use incredibly well. The sapphire is slightly domed, which looks smart, but appears to be lacking any form of anti-reflective coating; added to the black dial, this causes more reflections than I've seen on other watches. It's a small complaint, but seeing my own face in great detail whenever I look at the watch reminds me of this omission. Legibility is still good though, thanks to white markings on the hands, hours and minutes.
As with all Withings watches, the ScanWatch has a second dial at six o'clock that reads from zero to 100. This refers to the percentage of your daily step goal you have completed.
A crown sits at the three o'clock position. Instead of adjusting the time, this is pressed to wake the circular digital display at the 12 o'clock position, then rotated to scroll through the watch's features (like the ECG app, alarm clock, stopwatch, timer and workout tracking). When the button is pressed both hands momentarily move to 10:10, so the screen isn't obscured.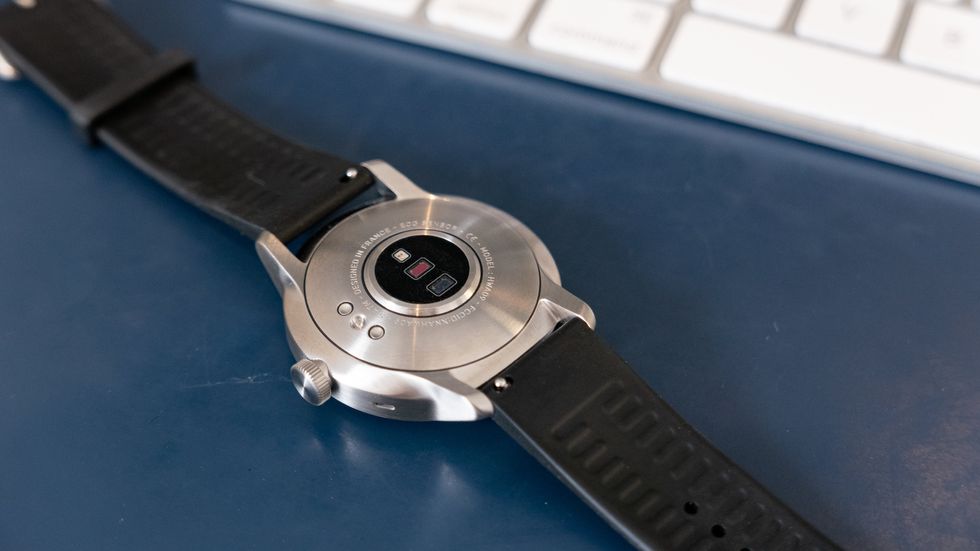 The ScanWatch has a heart rate monitor on the back of its steel caseGearBrain
The ScanWatch is comfortable and feels just like a regular 42mm watch, but it's not one I'd want to wear at night. While it does offer sleep-tracking, I already have a Withings Sleep Analyzer under my mattress, so I don't need to double up on measurements.

If you find it comfortable, the ScanWatch can be used for sleep tracking, and for keeping an eye on your heart rate and breathing disturbances too, but I'd rather go without it. The slimmer and much lighter 38mm ScanWatch might well be more comfortable to sleep with, however.
Finally for design, both models of ScanWatch offer 5ATM of water resistance, which means they are safe to use in the shower or pool but shouldn't be taken diving.
Withings ScanWatch: Health and fitness
As you'd expect for a hybrid smartwatch in 2020, the ScanWatch covers all the basics without breaking a sweat. It counts your steps, distance and number of floors climbed each day, and automatically detects running, cycling and swimming.
You can also start exercise tracking manually by pressing the crown, scrolling to the workout option and pressing it again to get started. Here you have to select 'other' if you are doing something other than running, cycling or swimming, then head into the Health Mate phone app afterwards to correctly tag the exercise.
ECG and blood oxygenation tests take just 30 seconds each and start with a press of the crown. For the ECG you have to rest a finger of your opposite hand on the bezel of the watch.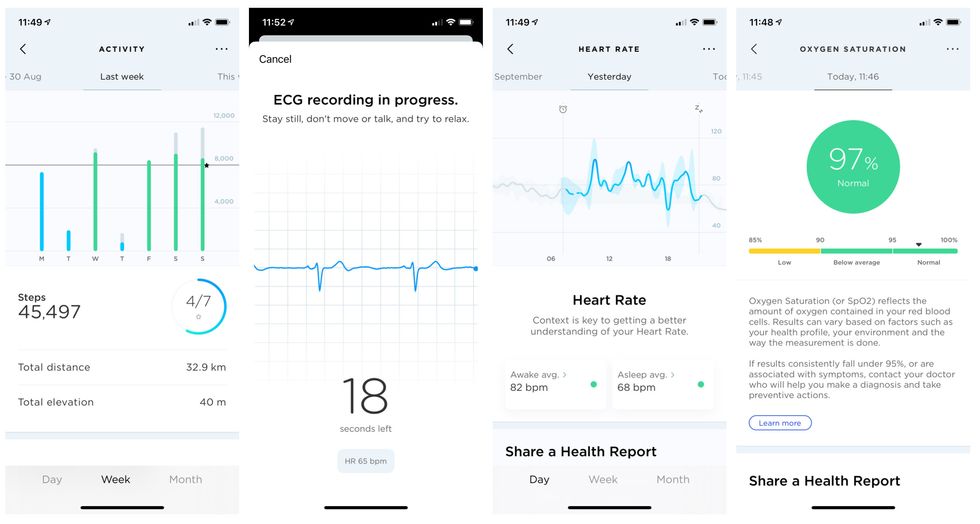 Health Mate remains one of the best wearable companion appsGearBrain
While these two tests are to be performed manually, the ScanWatch keeps a watchful eye on some metrics in the background. It measures your heart rate regularly throughout the day (and night, if worn), and issues alerts if it spots a low or high rate, or an irregular rhythm, which could be a sign of atrial fibrillation. If the latter occurs, you will be asked to take an ECG to build a clearer picture of what is going on.

Breathing disturbances are also logged if you wear the ScanWatch while sleeping. A feature called Respiratory Scan monitors oxygen saturation, heart rate, breathing frequency and movement throughout the night, in a bid to spot breathing disturbances that could be a sign of sleep apnea.
Aside from that, your sleep is also awarded a score out of 100 based on duration, recovery, interruptions, movement, depth, and the time you took to fall asleep and wake up. The watch can also be set to wake you up, using its vibration motor, when you are least asleep within a few minutes of your alarm time.
The routes of your outdoor running and cycling can be logged, but because the watch doesn't have GPS of its own, it uses locational data from your smartphone instead. The ScanWatch also lacks NFC, so there's no option for contactless payments, but that's to be expected given this is a hybrid with a 30-day battery life and not a fully-fledged smartwatch.
Withings ScanWatch: Medical validation
Before we go any further, I need to explain why the ScanWatch isn't yet available in the U.S. (but is on sale in the UK and Europe), and why even in the EU sleep apnea detection is disabled for now.
This all stems from the need for advanced health features like ECG and blood oxygenation to be medically validated before the device can go on sale. This validation has to be earned in each region the product is sold in, so while validation has been gained for the ScanWatch's features in the EU (and it can thus be sold in all member states), validation with the FDA in the U.S. is still pending.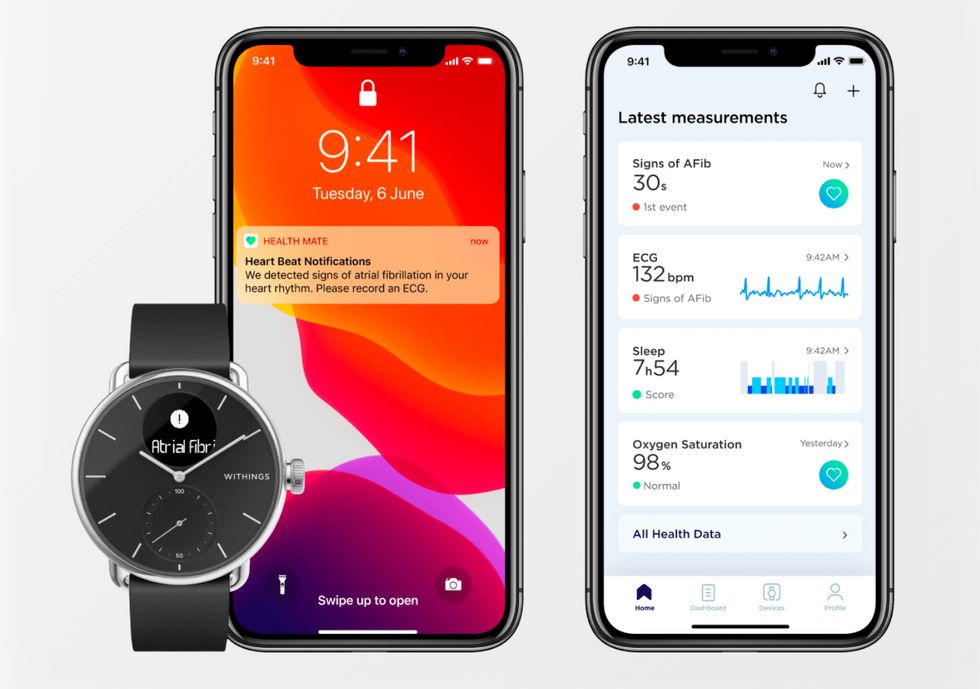 Heart beat notifications are coming via software update in Q4 of 2020Withings
If this sounds familiar, then you may remember how buyers of the Apple Watch Series 4 couldn't use its ECG app until that feature was validated in each region it was sold in. This happened quickly in the US, but took several months in Europe, during which time the feature was disabled.

Withings has also been here before. Its Move ECG hybrid watch is still awaiting US validation, despite being announced way back in January 2019 and sold in Europe (where it has been validated) since September 2019.
Withings says the ScanWatch should gain European validation for sleep apnea detection in the fourth quarter of 2020, and the feature will be enabled via a software update. It also says it expects the watch to go on sale in the US in time for the 2020 holidays.
Withings ScanWatch: Software and performance
As with all Withings products, the ScanWatch works alongside the company's Health Mate smartphone app, which is free for iOS and Android. It's an excellent application that offers clear and concise information about your daily activity and general health, using data collected from whatever Withings devices you have (in my case, a watch, scale and sleep tracker).
The visuals are clear and easy to understand at a glance, and everything is plotted over time to help you understand how your statistics have changed over the previous days, weeks and months. There's also a good amount of information on each metric, explaining in simple terms what the more advanced readings, like ECG and blood oxygenation, really mean.
Data, which is automatically synchronized between your Withings devices and the app, can be downloaded as a PDF, ready to be shared with your doctor if needed.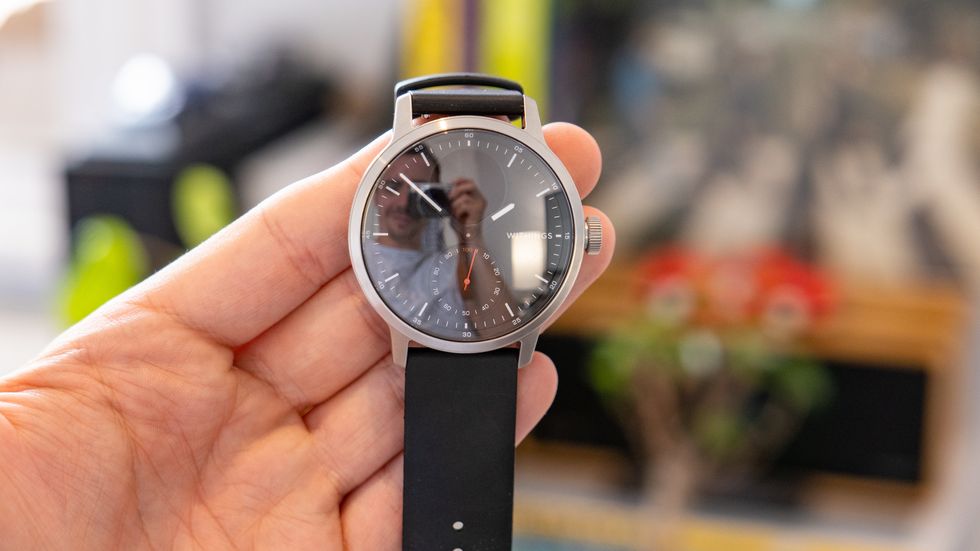 The watch has a tough sapphire crystal, but suffers from reflectionsGearBrain
I like how your daily steps are given context over time, but in a fun way. The app says I have, using Withings devices over the years, walked over 1,300km, or 1.8 million steps. My most recent achievement was walking a total equal to the length of Great Britain (1,200km). Nice to know.

Notifications can be pushed through from your smartphone to the ScanWatch, which vibrates and shows the type of alert on its display. As with all wearables, you will want to filter out most notifications (using the Health Mate app) so that only the essentials, like calls and text messages, come through to your wrist, lest they become annoying.
Withings says battery life is 30 days, and while this will vary depending on how you use the ScanWatch, my usage over the past week or so suggests this is accurate.
Verdict
Withings has got a lot right with the ScanWatch. It is an attractive hybrid watch that blends traditional aesthetics with some of the smartest technology available on any wearable today (smartwatches included).
The two size options mean the watch is physically well-suited to all, and the built quality feels top-notch. Health Mate has been among the best fitness tracking apps for years now, and that remains the case in 2020, thanks to the way it presents a lot of data in a user-friendly manner.
Exercise tracking is a limiting factor compared to fully-fledged smartwatches, as beyond running, cycling and swimming you're forced to use the generic 'other' category. Thankfully there are more exercise-orientated wearables for gym fanatics; Withings has always sought to appeal to a broader audience, with health metrics overriding granular exercise tracking.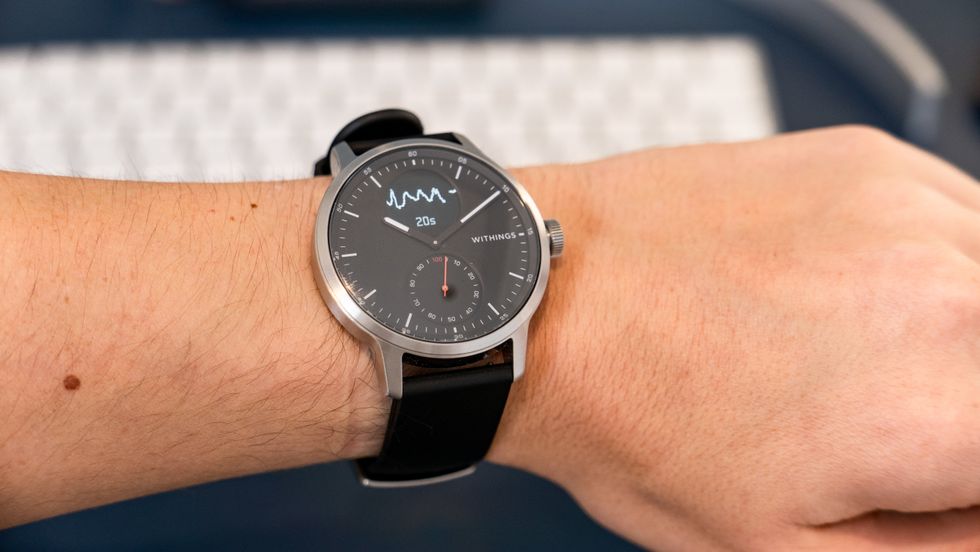 Measuring blood oxygenation takes 30 secondsGearBrain
There is also the Apple Watch to consider, which starts at $399 for the Series 5, and that model could soon get a price cut when the Series 6 lands on September 15. It offers many more features, being a smartwatch instead of a hybrid, but has the usual drawbacks of a tech-heavy design, no Android support or native sleep tracking, and a one-day battery life.

In my mind, smartwatches and hybrids can occupy similar price points, as they appeal to different customers and have different priorities.
The ScanWatch's ECG, blood oxygenation and sleep apnea features show Withings is pushing hard to offer the most capable of all hybrid smartwatches (and fitness trackers, generally). But this is causing headaches when it comes to medical validation, particularly in the United States. The Move ECG's year-long delay stateside is undoubtedly a problem, and we hope both it and the ScanWatch are cleared by the holidays, as Withings says will happen.
Providing that happens (and for our European readers today), the ScanWatch has become our favorite hybrid watch.
Pros:
Wide range of health sensors
Attractive, quality design
Health Mate app is as good as ever
Cons:
High price for a hybrid
No U.S. availability until medically validated by FDA
42mm model uncomfortable for sleep tracking
Introduction of The GearBrain, The First Compatibility Find Engine for Smart Devices www.youtube.com
From Your Site Articles
Related Articles Around the Web
Like GearBrain on Facebook