Like GearBrain on Facebook
For some time now, the going rate for a fitness tracker has been in the region of $100 to $200. Such an investment gets you just about anything from the likes of Fitbit and Garmin, along with some of the more affordable options from Withings, and even the original Samsung Galaxy Watch Active.
But, just as it disrupted the smart home market last year with its $20 security camera and equally cheap alarm sensor kit, Wyze now sells a fitness tracker for just $25.
Read More:
As with its other products, the Band looks to embarrass the establishment with an almost comically low price, while retaining the core functionality of its better-known rivals. There is step-counting to log your walking and running, automatic sleep tracking and a heart rate monitor, plus a notifications system, Alexa integration and the ability to control Wyze smart home products from your wrist.
But can Wyze really deliver the complete fitness tracker experience for a quarter the price of a Fitbit Inspire? We've been using one for the past week to find out.
Wyze Band review: Hardware and design
First impressions are good. The Wyze Band is packaged well and looks just like most other fitness trackers with slim and tall touchscreens. It has an integrated black silicon band that is easy to use and fits comfortably on either wrist.
The Band feels a little larger than some of its rivals, but it can still be tucked under a shirt sleeve in most cases, and is light enough to be quickly forgotten about, and even slept with in comfort.
Wyze doesn't state a resolution for the AMOLED touchscreen, but says it has a pixel density of 286 per inch, and to our eyes it is sharp, clear and easy to read. A heart rate monitor sits on the back of the case, but there are no physical controls to speak of, just the display and a touch-sensitive back button below it.
The Apple Watch-style strap offers a lot of adjustability, so those with particularly small or large wrists should still find a fitting that works just right for them.
The Band comes with a USB cable and simple charging dock that clips onto the back of the device. It is somewhat inelegant compared to the sleek, magnetic charging docks of some other wearables, but it does the job just fine.
Our only real criticism is how short the USB cable is, meaning you'll likely leave the Band dangling from a USB port or sitting on the floor while charging. Thankfully you'll only need to do this for a few hours every week or so.
Water resistance for the Band is to a claimed 5ATM, which is equal to around 50 meters. This means it should be fine to wear in the shower and while swimming, but shouldn't be taken any deeper than the floor of a swimming pool.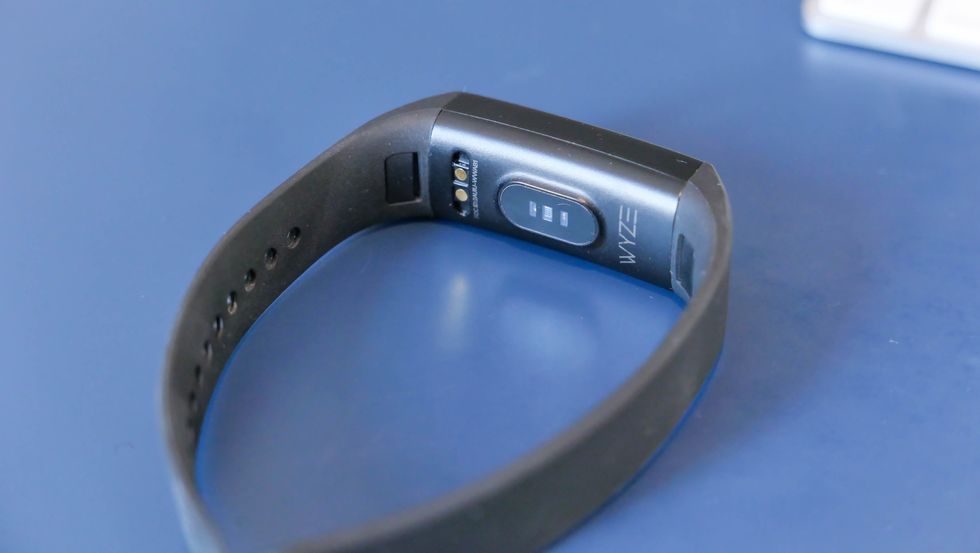 The Wyze Band has a heart rate tracker on the back of its caseGearBrain
Wyze Band review: Software and performance

Setting up a fitness tracker by opening a smart home app is certainly a strange experience, but this is the direction Wyze chose to take.
Instead of branching off entirely and offering a separate fitness app for the Band and equally new Scale, these products are set up and interacted with using the same Wyze app attached to the company's security camera, door sensors, plugs, smart lock, and light bulbs.
That said, all works smoothly. The Band is easy to set up using a Bluetooth connection to your iPhone or Android handset. It took just a few seconds with our iPhone X, and the app is easy to use.
Mimicking the screen of the Band itself, the app shows graphs for your daily step count, sleep and heart rate, lets you set alarms, and create shortcuts for controlling your other Wyze products. For example, you can create a shortcut for switching on your Wyze light bulbs. That way, you can tap at the Band to adjust the lights.
The app is also used to adjust the Band's notification system, which you should absolutely do. Like most other wearables, by default the Band will notify you about every alert from every phone app capable of sending a notification.
This quickly becomes annoying (as it does on all other wearables), so you'll want to switch most off, leaving you with notifications for just calls, texts and the essentials. It's best letting everything else buzz your phone instead of your wrist. Speaking of which, the vibration motor of the Band is strong but also quite loud; instead of the quality tap of the Apple Watch, your wrist gets a cheap-feeling buzz as a motor spins up somewhere inside the Band. But honestly, for $25 it's fine.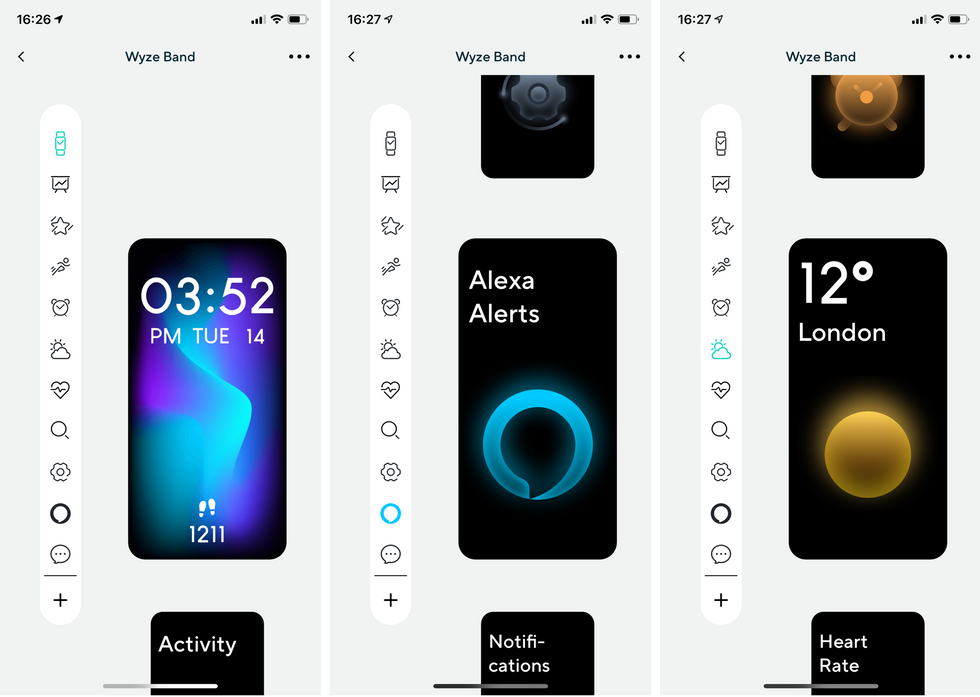 The Wyze smartphone appGearBrain
Performance of the Band is mostly adequate, but there is a bit of a visual stutter when scrolling through its menu system, suggesting it isn't capable of much more than the very basics. We also found an exaggerated movement of the arm or wrist is required to get the screen to light up, so subtly checking the time or your daily step count isn't really possible. It's often easier to tap the display instead.

Wyze could probably turn up the sensitivity here. But to do so would limit battery life, which at a claimed (and accurate) 10 days is one of the Band's strong points, doubling the stamina of a Fitbit Inspire. We instead took to wearing the Band on our right wrist and keeping a normal watch on the left.
One small frustration with the Wyze app is how it takes a few seconds to sync data from the Band every time you open it.
A more serious problem is how Alexa stops working and notifications are no longer sent to the Band if the Wyze app is fully closed and not running in the background. This often goes unnoticed, as today's smartphones usually keep many apps slowly ticking over in the background unless you force-close them or reboot the handset.
But if the app is fully closed, no data is sent to or from the Band until it is reopened. Steps and other health data are kept on the Band and transferred when you open the app, so that isn't affected, but it's still far from ideal and isn't a problem suffered by other wearables.
Anyone who habitually force-closes apps in a bid to save battery life (which doesn't work, by the way) will find the Band no longer delivers notifications. Alexa stops working too, and so does the Band's smart home control system. We really hope Wyze can work out an alternative here, and keep the Band's data connection alive even when the app is fully closed.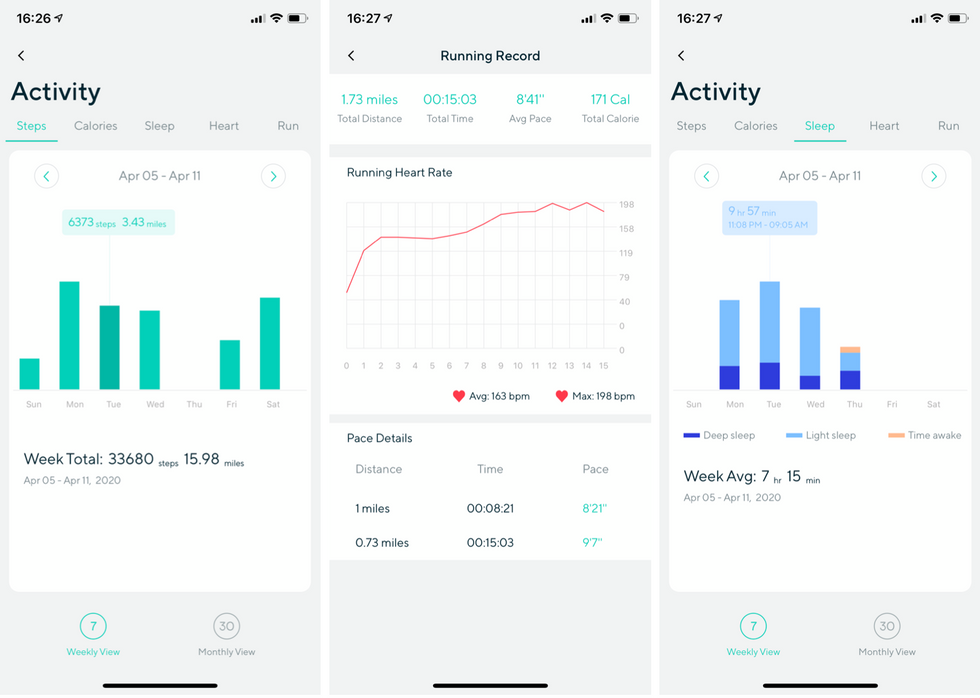 Health data in the Wyze appGearBrain
Wyze Band review: Health and fitness tracking

The Wyze Band automatically records steps, sleep and heart rate. It also has a dedicated run mode, which when activated logs the time and distance. This is all par for the course when it comes to fitness trackers, but we must remind readers that the Band is just $25, so to even attempt to mirror the capabilities of a Fitbit is impressive.
We found the Band's walking and running tracking to be quite accurate. During a run with the Band on one wrist and an Apple Watch Series 4 on the other, they recorded very similar distances and heart rates (the latter to within just 2bpm, which we thought was impressive).
Sleep tracking also seemed fairly accurate. We wore the Band while also using a Withings Sleep, and on some nights they reported a sleep duration within 20 minutes of each other, with a similar split between light and deep sleep. However, on one night their estimates differed by more than two hours.
All of that said, it is difficult to compare two fitness trackers directly - and especially so when one is a dedicated and far more sensitive sleep monitor. It is always best to measure with one device, then look at how your data changes over time.
An issue we found with the Wyze Band is how it records steps while not walking anywhere. During the average working day, and without even going outside, the Wyze would rack up around 1,000 steps. Most of these came from typing and using a computer mouse, suggesting Wyze needs to work on the calibration of the Band's accelerometer. However, once up and walking properly, the Band is accurate.
As for exercise tracking, the Band only understands walking and running. There is no option for anything else, like swimming or general exercise, which is a shame given how other devices can recognize a huge range of activities using similar accelerometer-based technology.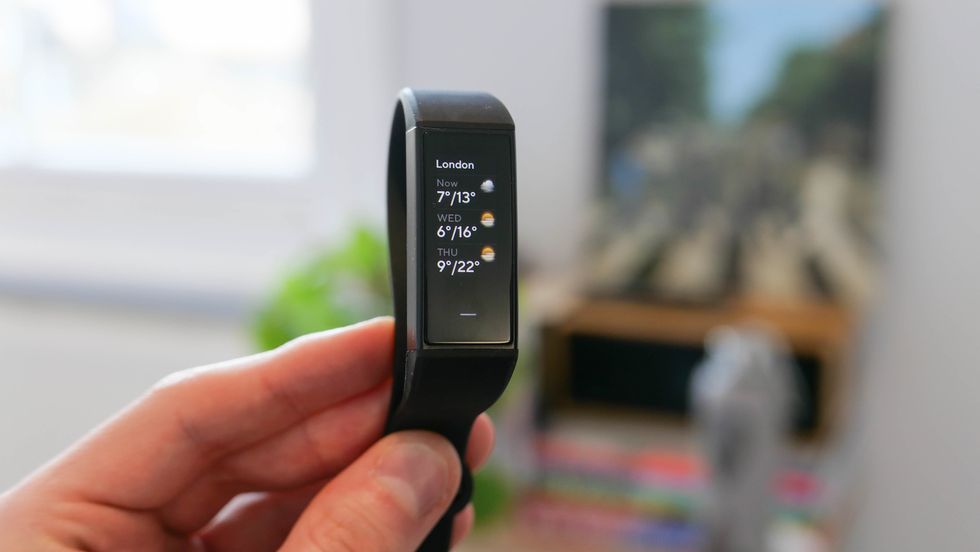 Wether app of the Wyze BandGearBrain
Also missing is integrated GPS, which shouldn't come as a surprise, but assisted GPS isn't here either. This means the Band doesn't use your phone's GPS to work out the route of your runs. All you get is an estimate of the distance based on your step count. You can at least tell the Wyze app your weight and height, so that goes some way towards giving an accurate distance based on step count. As we said earlier, even without GPS assistance, the Band's estimated distance for a run closely matched that of a GPS-equipped Apple Watch.

Wyze Band: Alexa and smart home control
It's obvious that Wyze isn't trying to be the next Fitbit here, but the company knows how to play to its strengths. This includes integration with Alexa and, separately, Wyze's smart home devices. The former means a two-second press of the Band's home button summons Alexa, which you can speak to as normal, then receive a written reply on the screen (due to there being no speaker),
Having the assistant there on your wrist means you can check your calendar, ask a general knowledge question, check the weather forecast, or control any of your Alexa-compatible smart home devices with a voice command. It's also useful for quickly adding something to a shopping or to-do list.
Also useful is direct control of Wyze's smart home products, including its light bulbs and smart plugs. This makes it easy to switch them on or off with a couple of taps of the Band. It's handy for when your phone is out of reach, and shows how Wyze's smart home platform has the potential to grow into something bigger and more comprehensive over time.
Price
You'll pay $24.99 for the Wyze Band, which can be pre-ordered from Wyze directly. It's set to go on sale later this month, in April 2020.
Conclusion
As ever with Wyze, the Band doesn't do anything above and beyond the competition, but in several key places it matches rivals at a far lower price point. At $25 the Band could certainly be an impulse purchase for many, and one which functions as a decent health and fitness tracker.
It probably isn't going to feature on the wrist of a seasoned marathon runner, and nor is it going to change your life with crucial sleep pattern data. But if you have a casual interest in your daily step count, would rather collect that data with a wearable instead of the phone in your pocket, and are on a modest budget, the Band makes a good argument for itself.
The step counting algorithm needs calibration to avoid too many phantom steps being recorded - I'm often at 1,200 by 5pm without going outside — and the app connection issues mentioned earlier need a fix, too. But as a first attempt, and one from a smart home company at that, the Band certainly shows promise.
Pros:
Excellent 10-day battery life
Light and comfortable
Simple to set up and easy to use
Cons:
Optimistic step-counting
Connection lost when app is fully closed
Limited to walking and running for now
From Your Site Articles
Related Articles Around the Web
Like GearBrain on Facebook