The motorized garage door is a common feature of suburban American households, and many owners already enjoy being able to open and close them remotely, often with a button clipped to the sun visor of their car.
But for between around $80 and $140, this system can be made smarter. Garage doors left open by accident can be closed via smartphone apps from the next block, or from your office across town.
They can also be activated with voice commands via Amazon Alexa and Google Assistant. With IFTTT (If This, Then That), clever applets can be made to integrate the door's opening and closing with other smart home kit you already own. For example, the door can be set to automatically close when the nearby garden sprinklers start, or when you are more than a set distance away from the house.
Read More:
Smart garage door controllers can also alert you if the door is open for a long time, or when you have forgotten to close it at night. The status of the door can be viewed at any time, from anywhere, and in many cases - in fact, most motorized doors installed between 1993 and 2010 - no additional hardware beyond a wireless control hub is required.
Before installing a smart garage door controller, you should check for a conveniently located power outlet for the hub (and included camera, if applicable), and that your home Wi-Fi signal comfortably reaches the garage. If it does not, you might want to consider buying a Wi-Fi extender to ensure your door controller is salways online and responsive.
The systems featured here are very likely to be compatible with your current door controller, so long as it was installed between 1993 and 2010. But if you are still unsure then we recommend contacting the company who supplied your door, or the manufacturer of the smart controller you would like to buy, to confirm everything will work correctly.
Here are five options to consider when looking for a smart garage door controller:
Chamberlain MyQ Garage Hub - $80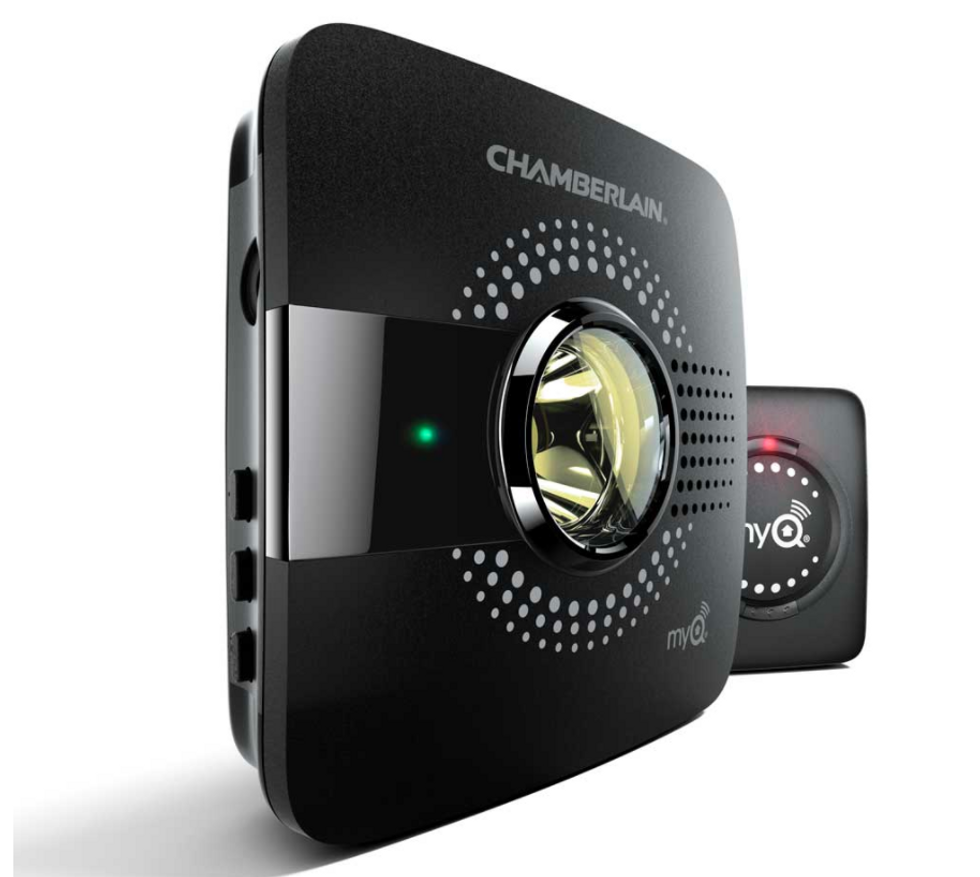 Chamberlain
Founded in 1954, the Chamberlain group is the garage door market leader. The company also owns the LiftMaster, Raynor, Craftsman and Clicker door brands, and is said to be used by 60 percent of the US residential market.
The company's MyQ Smart Garage Door Hub adds smartphone control to most garage door openers which use the common photo eye technology. Designed to be installed in just a few minutes, and with no wiring required, the MyQ hub connects to the Nest, Xfinity and Wink smart home platforms.
MyQ also works with Google Assistant, so you can tell the door to close with a voice command. However, as is the case with some other smart garage door systems, Google Assistant cannot be used to open the door, due to safety implications.
The MyQ also talks with IFTTT, letting you integrate the movement of your door with other aspects of your smart home, and geofencing can be set up to have the door automatically close when you leave home. Although you could be a couple of blocks away before this activates, it's still a good backup for when you forget to close the door yourself. Unfortunately, as with Google Assistant, IFTTT geofencing cannot be used to open the door automatically when you return.

Somewhat controversially, Chamberlain charges $1 a month or $10 a year to activate Google Assistant and IFTTT with the MyQ. Siri can also be used to control the door via the Apple HomeKit platform, but sadly there is no Amazon Alexa support at this time.
GearBrain reviewed the Chamberlain MyQ garage door controller in 2017 and praised its easy setup process, IFTTT applets and voice control via Siri and Google Assistant.
Asante Garage Door Opener With Camera - $150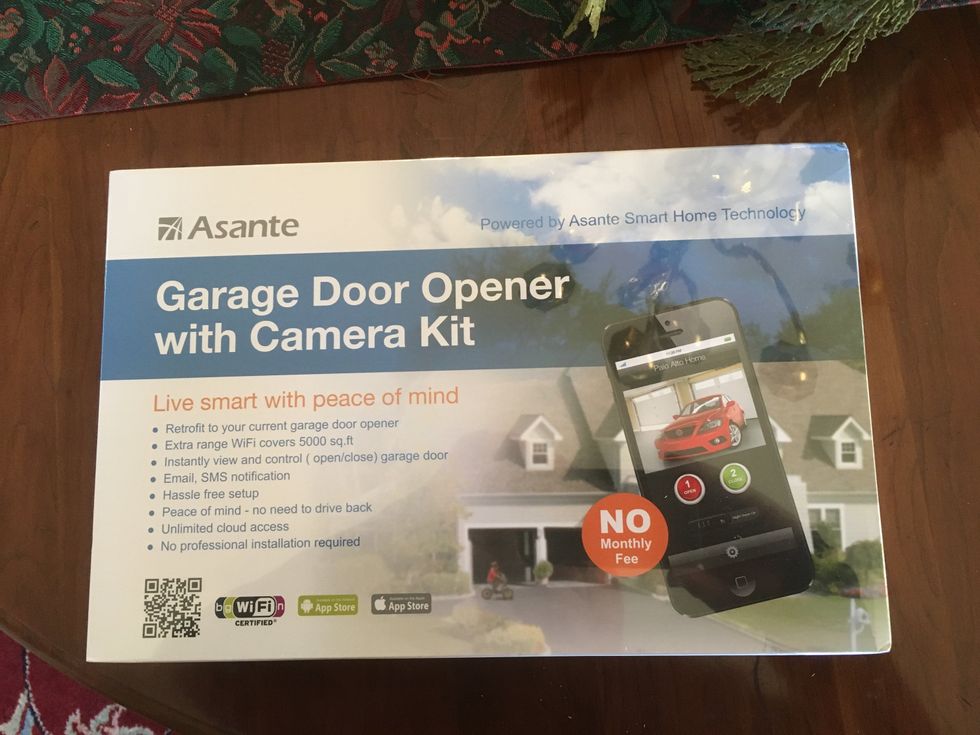 GearBrain
While apps like MyQ only tell you whether the door is open or closed, this Assante system includes a camera to show you a live video stream from your garage. Designed to be fitted to the inside wall of your garage, the camera includes infrared night vision which can see up to 22 feet, but shoots daytime footage at the fairly low resolution of 480p.
The camera connects wirelessly to an included extender which plugs into your router with an included Ethernet cable. The controller then needs wiring to your existing garage door control panel. The system alerts you to movement in the garage, but only if the door itself is moved; when this happens, you can watch live video from the camera on your smartphone. Movement detected by the camera itself does not result in a smartphone alert.
Asante also sells smoke detectors and irrigation systems which can all be controlled from the same smartphone app. However, the garage door does not work with Alexa, Google Assistant, Siri, IFTTT or any other smart home platform. There is no monthly fee for using the camera, which is nice, but footage can only be viewed live - it cannot be stored online and watched later, or shared.

GearBrain reviewed the Asante system and liked its included Wi-Fi extender, nigh vision and push notifications, but we were disappointed by its lack of smart home integration and inability to store video
Nexx NXG-100 Remote Door Opener - $100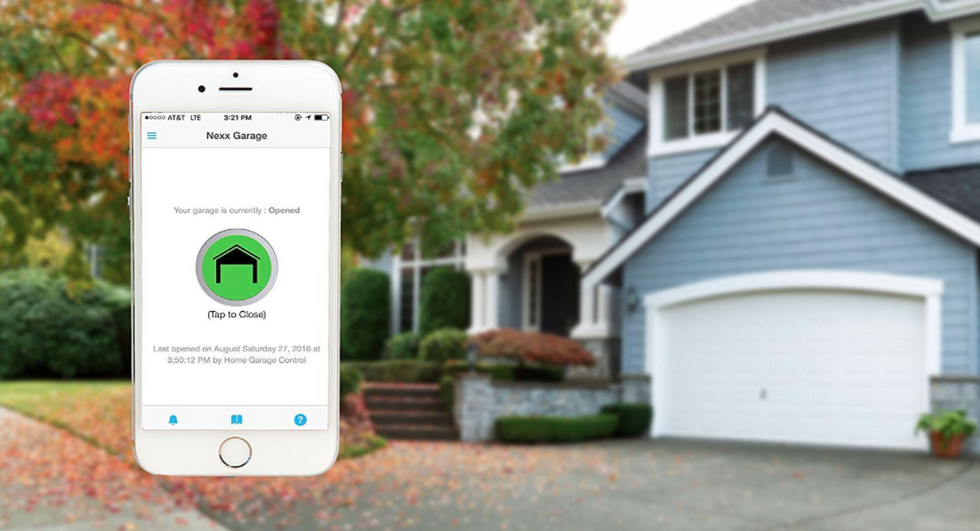 Nexx
The Nexx garage door opener can be operated via its own smartphone app, or by speaking to Alexa or Google Assistant. But, where alternatives like the Chamberlain cannot be opened using smart speaker commands, the Nexx can. Support for IFTTT and Samsung SmartThings is unfortunately missing, although the company claims these are on the roadmap.
The system's companion smartphone app logs a history of when the door is opened and closed, and the app is also where you can grant permission for other people to use the door remotely. As with other systems, the Nexx will notify you via the app if you mistakenly leave the door open for an extended length of time. You can then close it from anywhere in the world.
A system for automatically opening the door when you approach it, using geofencing, is available but remains in the beta development stage for now.
Gogogate 2 - $139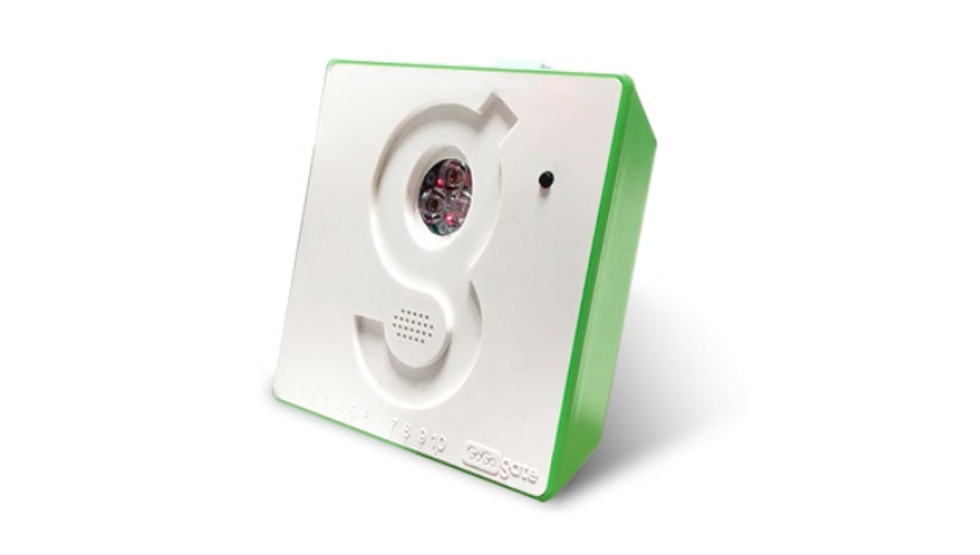 Gogogate
As the name implies, this controller can be used to open and close electric gates as well as garage doors. It can also be hooked up to a security camera for added peace of mind, and there's support for Alexa and Google Assistant via IFTTT applets.
Geofencing via IFTTT means the door will open as you approach (based on the known location of your smartphone), and close again when you drive away. IFTTT integration means the door can be included in a wide range of applets, as we discussed earlier with the MyQ system.
By setting an IFTTT applet to open the door when you approach, then speaking to Alexa to close the door when you get into your house (assuming there's an Echo speaker nearby), the door can be operated without touching a single button or unlocking your phone.
The product comes with a sensor for knowing the status of the door - we others also do - but unique to the Gogogate 2 is how it also includes a thermometer for delivering the temperature of your garage to the smartphone app.
Garadget - $89


Garadget
More affordable than most of its rivals - although still a little more than the MyQ - the Garadget is a smart garage door controller which connects to your existing system with two wires and connects directly to your Wi-Fi network. With no signal booster or network extender included, you should make sure there is a strong Wi-Fi signal in your garage before purchasing.
The manufacturer says installation should take between 20 and 30 minutes, and there is a web interface for controlling the door, as well as apps for iOS and Android. There is also an Alexa skill for controlling with your voice, and the system is IFTTT, Apple HomeKit and Samsung SmartThings compatible for getting more out of it.
Native Google Home support is not included, but as with the Gogogate 2 this can be achieved with the creation of an IFTTT applet.