Many home security systems are quickly getting smarter, adding home automation devices to their networks, and providing services that link over the internet. At the same time, too, new smart home automation companies have appeared, that actually provide some home security as well. Then there are companies like Alarm.com, which built a powerful platform to help both consumers and small to medium-sized businesses create a smart home security system that could also dovetail with professional monitoring. All of them, though, face a big challenge — how to get people to know about these integrations.
Sometimes, it's hard for people to learn about all three options. But Alarm.com came up with a novel way by staging their devices and services in a real house: The Alarm.com Demo House. We got a chance to recently to visit this showcase home, and here is what we found on our tour.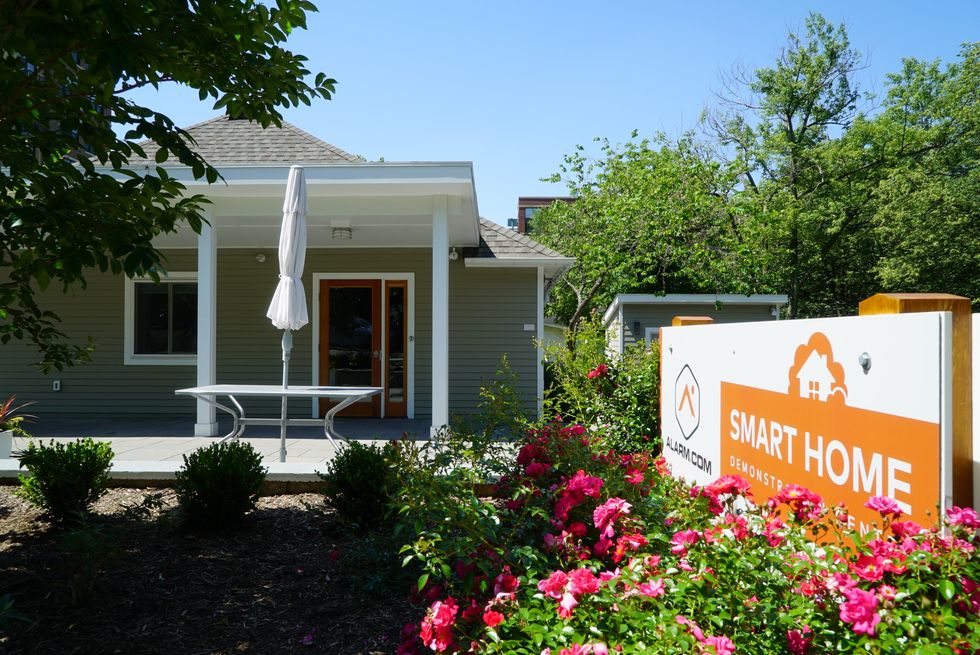 Front door of Alarm.com demo house.Alarm.com
Alarm.com Smart Demo House

Alarm.com's house is located in Falls Church, Virginia and with several unique smart home integrations and security options built inside. The bungalow is in a real neighborhood, and open to realtors, home builders, service providers and the public. It's worth taking a tour of your own, particularly if you're looking for ideas on how to build a secure and customized smart home. You get demos on how to automate things in your own home. But keep in mind, if you're planning on going, you will need to book a tour here. (Note: public tours have been suspended until further notice during the pandemic.)
To show you some of what we gleaned from Alarm.com's smart integrations and security options, we've listed several distinctive features of Alarm.com's products and platform.
Alarm.com Demo House Foyer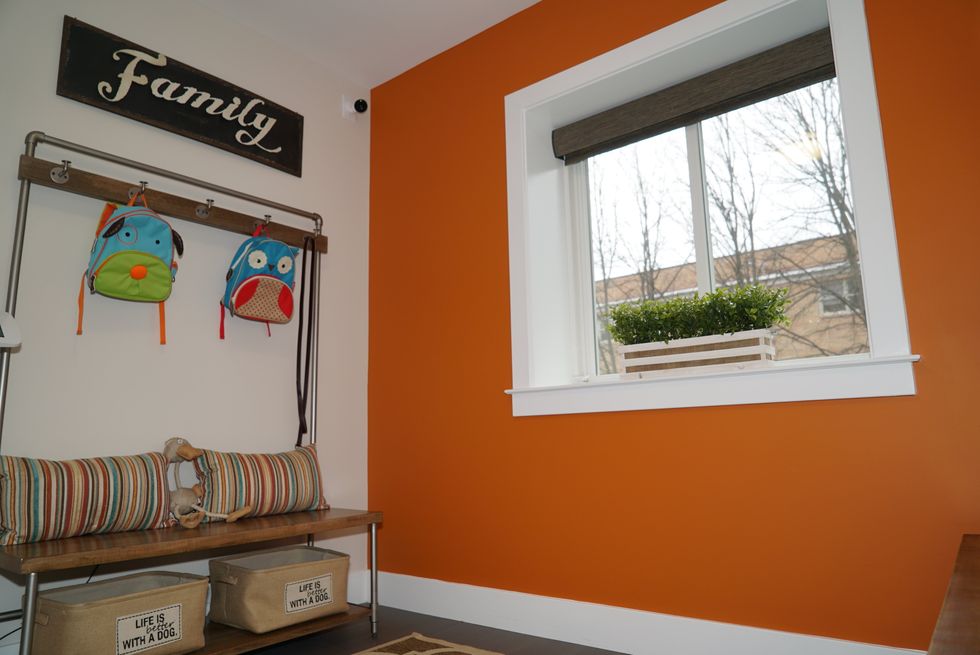 Inside the Alarm.com foyer, there are smart devices ranging from cameras to window and motion sensors.
Alarm.com
When I first walked in to the Alarm.com home, I immediately noticed a camera, touchpad, sensors on the door and window, smart switch and smart lock. The touchpad is made by DSC and is used to arm and disarm the alarm. Alarm.com also has several third-party access control panels. Besides DSC, they work with Interlogix, 2GIG Go Control and Qolsys. If you're installing a touchpad in your home, you definitely want it close to one of your entrances.
Another feature of Alarm.com's touchpads and system is its Crash & Smash Protection service. Alarm.com uses a dedicated cellular connection (4G) to the home monitoring station to detect when your security panel has been tampered with, and goes offline before an emergency signal has been sent or the system is disarmed. The name "Crash and Smash" refers to when an intruder quickly enters the home and tries to smash the control panel before it can send out an emergency signal. Alarm.com's patented Crash and Smash technology is designed to constantly monitor your system's signal. When the signal goes offline before its disarmed or an emergency signal is sent, Alarm.com reports a suspected Crash and Smash event to your home's central monitoring station. Alarm.com also uses their cellular radio connection to control all devices in case you lose power and internet. This helps make sure your system will operate at all times. It also helps with connecting Z-Wave and Wi-Fi devices on their platform.
Inside the foyer was a smart switch by Lutron Caseta. This switch is used to control the lights and blinds on the window. The front door also had a smart door lock from Yale Assure SL, which locks when the system is armed, and unlocks when it's disarmed.
Inside Alarm.com Demo House Kitchen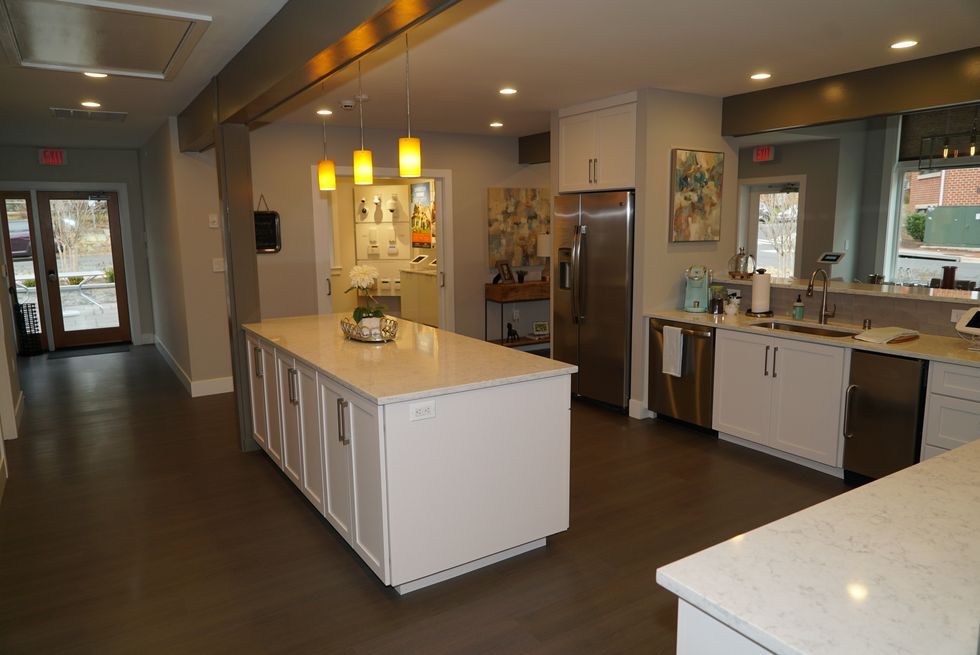 Inside Alarm.com Demo House you will find smart thermostats, smart lights, sensors and more.
Alarm.com
Smart thermostats help control the HVAC system in the Alarm.com home. The company works with several third party smart thermostats, but also offers their own branded smart thermostat. All thermostats have geo-fencing capabilities and you can get either battery-powered thermostats or ones that require C-Wire. Tied to the thermostats are temperature sensors which can be placed in each room of the house, help control the actual room temperature, and also save money on your heating and cooling bills.
Scenes - Bedroom in Alarm.com Demo House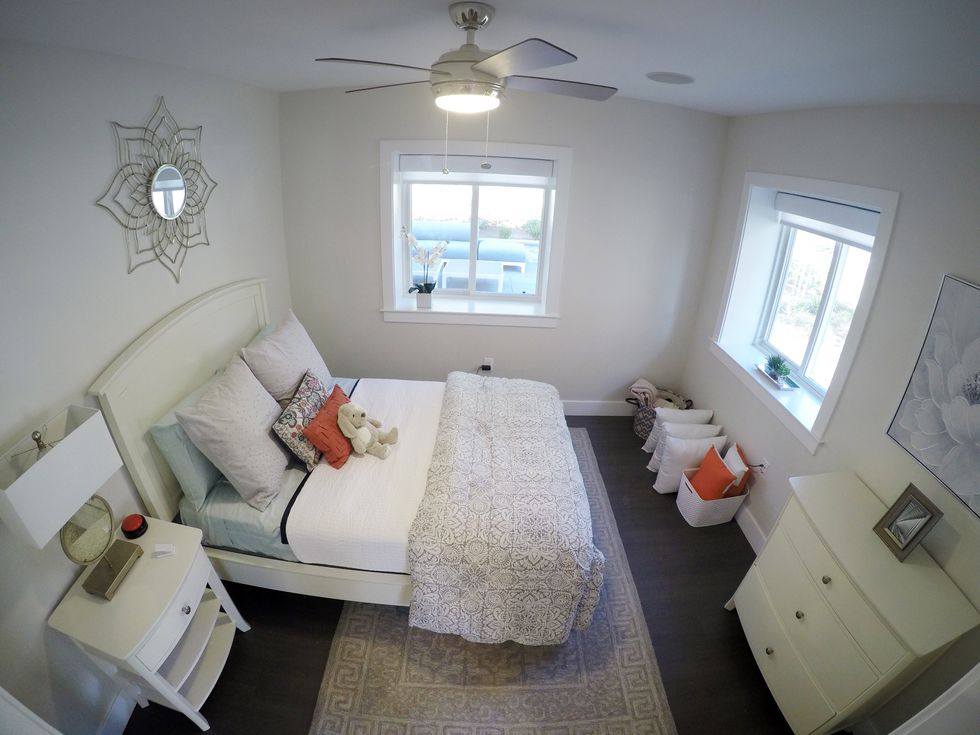 Use the Alarm.com app to set scenes throughout the Demo House.
Alarm.com
Motion sensors, smart switches, outlets as well as lights pepper the home. Through the Alarm.com app, users have the ability to create scenes using these devices including four that are pre-configured: Home, Away, Sleep and Wake. You can set them up on your own, or an Alarm.com network professional will set up everything for you.
Sound Control Throughout Alarm.com Demo House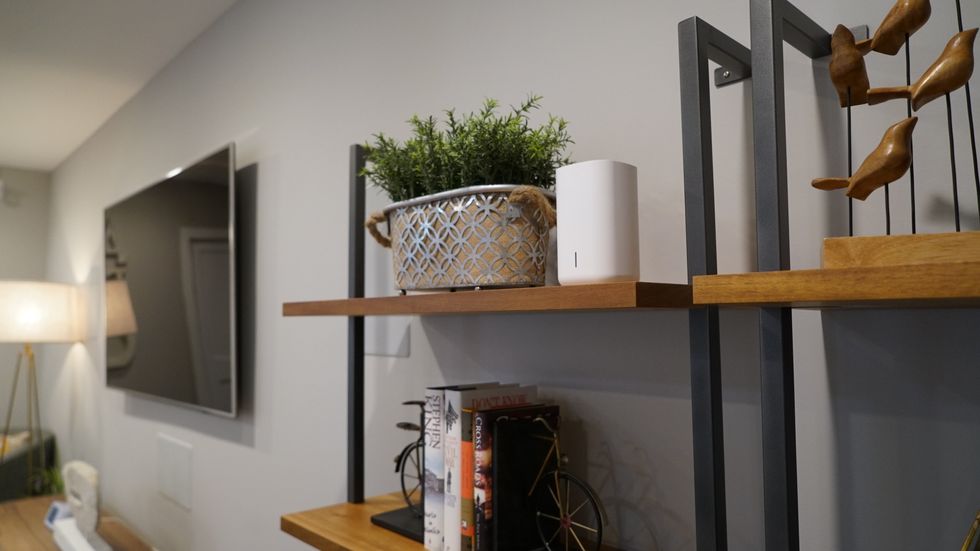 Integrate smart speakers like Sonos into Alarm.com system. Users can control these devices in the Alarm.com app.
Alarm.com
For those who like high quality audio systems, the Alarm.com platform integrates with Sonos, and its wireless sound systems, as well as Legrand On-Q digital audio systems. People can also control music and their entertainment system in the Alarm.com app. You can even use voice commands, since Sonos speakers are compatible with both Amazon Alexa and Google Assistant voice platforms.
Voice Control inside Alarm.com Demo House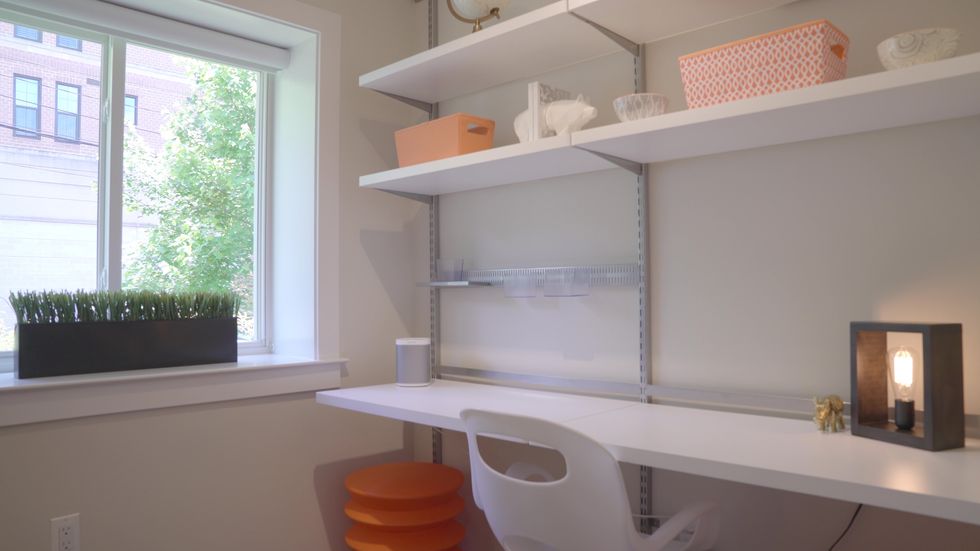 Alarm.com system works with Amazon Alexa and Google Assistant enabled devices.
Alarm.com
Besides Sonos, Alarm.com systems are also compatible with Google Assistant and Amazon Alexa voice control platforms. Users who own or plan to buy these voice assistants can arm and disarm their home security system. If you are an iPhone user, you will be able to use Siri Shortcuts. However, keep in mind the Apple Homekit platform is not compatible with Alarm.com system. That means you'll need to use Alarm.com app instead of Apple HomeKit app to control your home security. (Check out The GearBrain, our smart home compatibility checker to see the other compatible products that work with Google Assistant and Amazon Alexa enabled devices.)

Open Concept - Entertainment Room and Kitchen - Alarm.com Demo House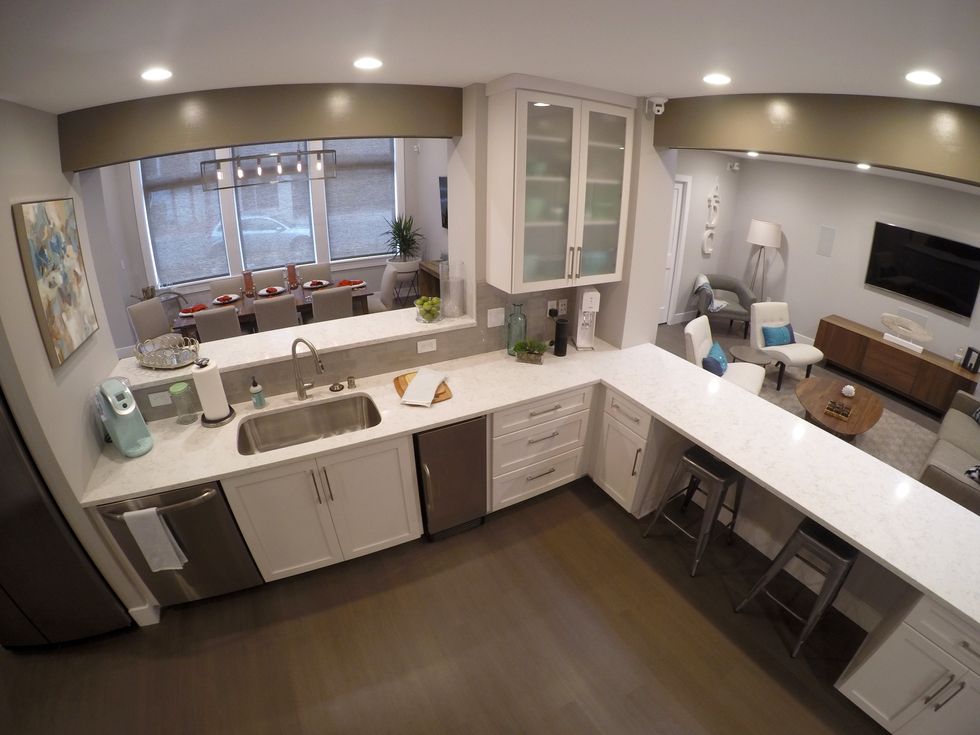 Users can control their entertainment room devices using Alarm.com app.
Alarm.com
Besides audio systems, people can use Alarm.com app to control your TV and videos which we found in the Entertainment Room. The company has a streamed video recorder, which you can setup using your TV, and an HDMI input. It's a nice option to have in your app.
Mechanical/Laundry Room - Alarm.com Demo House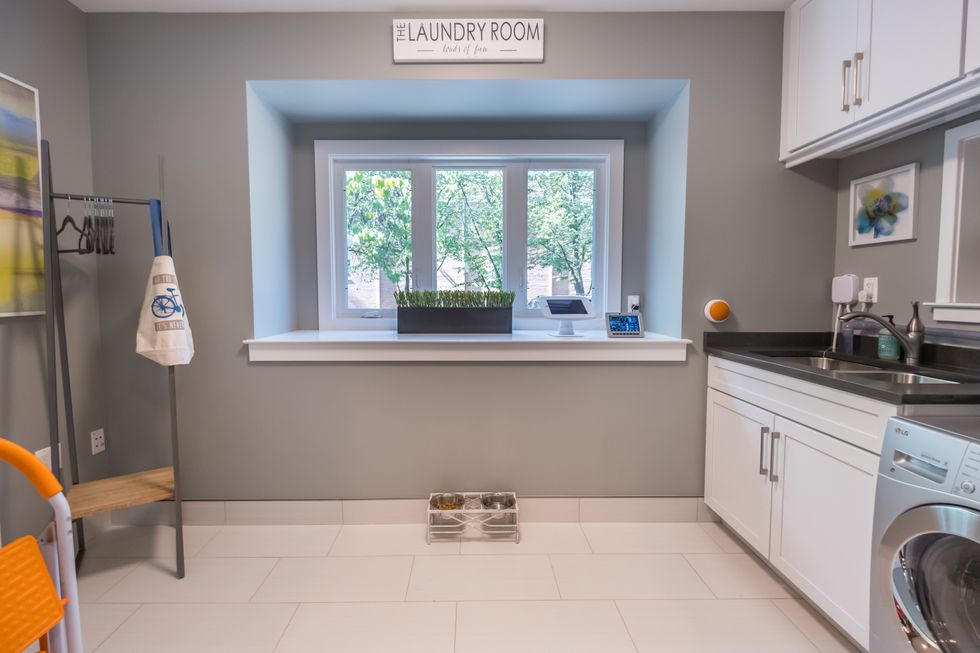 Even the laundry room or mechanical rooms in the Alarm.com Demo House have smart devices, like a smart water valve or energy monitoring devices.
Alarm.com
Inside a mechanical or utility room, typically the basement or a closet in your house where your electricity box and water main valve are stored, Alarm.com showed off devices including a recently released Alarm.com smart water shut-off valve which helps prevent floods from water leaks or pipes bursting. It's very similar to the Phyn Plus and Flo smart water valves. They also included energy monitoring devices from Jasco and Aeotec which help people monitor their home's energy usage. These smart devices will help you see which devices are consuming the most energy in your home.
Outside Alarm.com Demo. House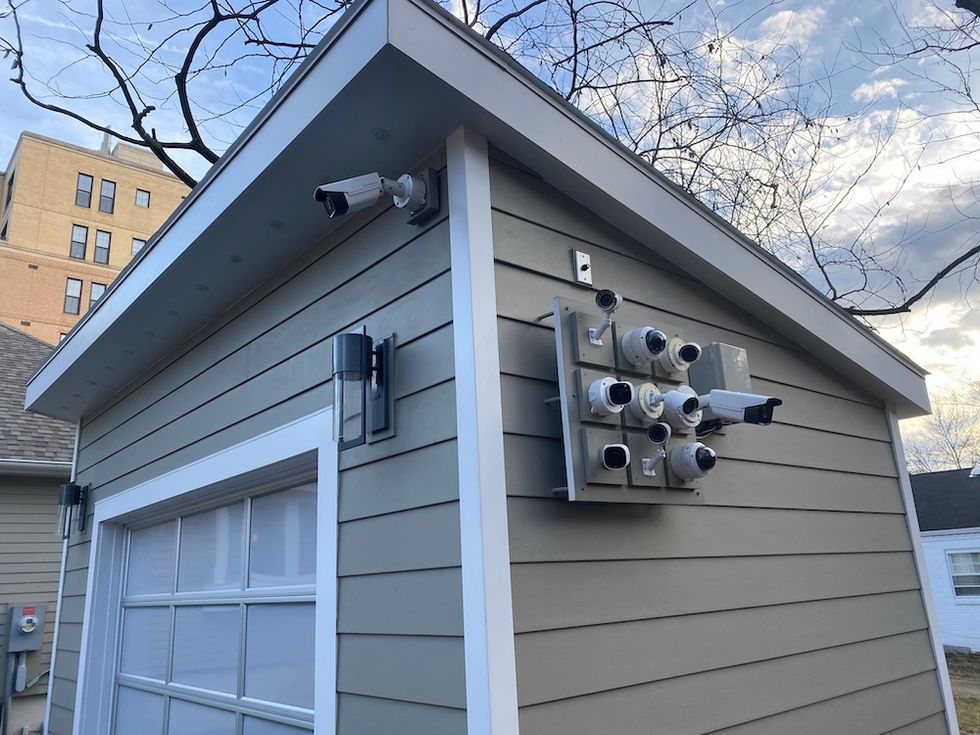 Even the garage in Alarm.com Demo House has smart devices inside, like security cameras, MyQ garage door opener and more. All are monitored through Alarm.com app.
GearBrain
Outside the home, Alarm.com showed how to integrate smart garage door openers from Chamberlain/Liftmaster (MyQ) and Linear. The Demo house has a separate garage showcasing some of these cameras and garage door openers.
At the end of our tour, Alarm.com highlighted how people can control all of these devices in one app, which reduces the problem of having too many apps on your smartphone.
LiftMaster MYQ 819LMB MyQ Home Bridge
Recommended users for Alarm.com?
Who can benefit from an Alarm.com system? If you are a renter, homeowner or a small to medium-sized business looking for a customizable smart home security system, Alarm.com offers a very good solution. Remember, though, that Alarm.com does not sell directly to consumers or businesses. Its products and platform services are sold through a network of Authorized Service Providers who understand home security. Their network is quite large, though, and you will most likely find someone in your neighborhood. (Here is a link to help you find an Authorized Service Provider.)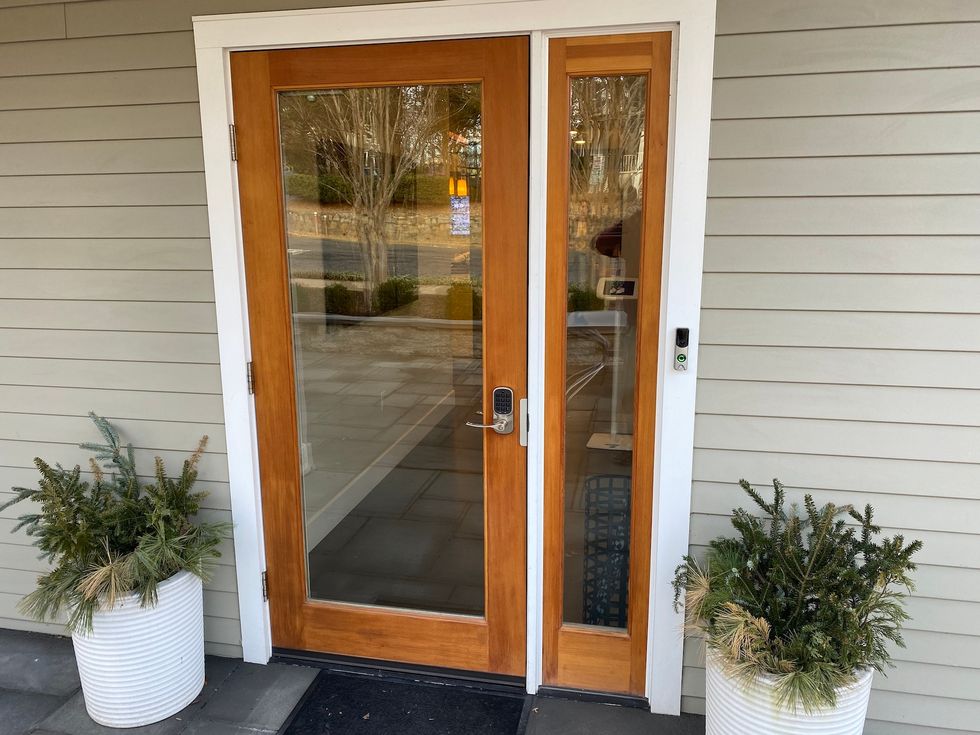 Front door of Alarm.com Demo House with smart locks, video doorbell and more.GearBrain
If you are currently working with a local home security company and like their service, but they lack home automation capabilities, Alarm.com does offer companies to become authorized service providers. They just need to fill out an application and Alarm.com will work with them on becoming one of their providers.
One benefit you get if your home security company uses Alarm.com, is the ability to start off small, and add to your system as you choose. Do keep in mind that if you are a renter, it's hard to relocate with a lot of devices. Overall, the best feature of Alarm.com's platform is its ecosystem and ability to connect with third party devices like smart lights, switches, outlets, thermostats, locks, voice assistants, security cameras and more — and control all of these devices in only one app. As you build a smart home security system of your own, I like to recommend that people look for an option that lets your control everything from one app. Multiple apps can be confusing and time consuming. It's nice to have all your smart devices connected in one app. Alarm.com's platform is one of these smart home security companies that offers you this kind of a solution, one we think you should consider for your
smart home security system.
Welcome to Alarm.com's Smart Home Demo House! www.youtube.com
Alarm.com T3000 Smart Thermostat