Skullcandy released a slew of new earbuds, and of them the Sesh Evo are the smallest — and the most budget friendly. They're wireless, but without the long stem, and they sit like small plugs in the ear, no loop over the upper part. We tested them while running, over calls, on a laptop, Apple Watch and iPhone and here's how one the most affordable pairs of earbuds fared.
Meet Skullcandy Sesh Evo
Skullcandy's lowest-priced earbuds aren't going to give you the best sound quality on the market, but as a pair of wireless headphones that can let you make calls, watch movies, and listen to music and podcasts — even while running — they're a solid value.
The earbuds are small and neat, and fit snug in the ear. They come in a lightweight, hard-shelled case that also charges them at the same time. I like the case, it snaps solidly shut, and the earbuds fit very securely inside — no angling to figure out how to get them back into their charging spots. You also get a charging cable and a few ear gels to help them fit into your ear. These worked for me.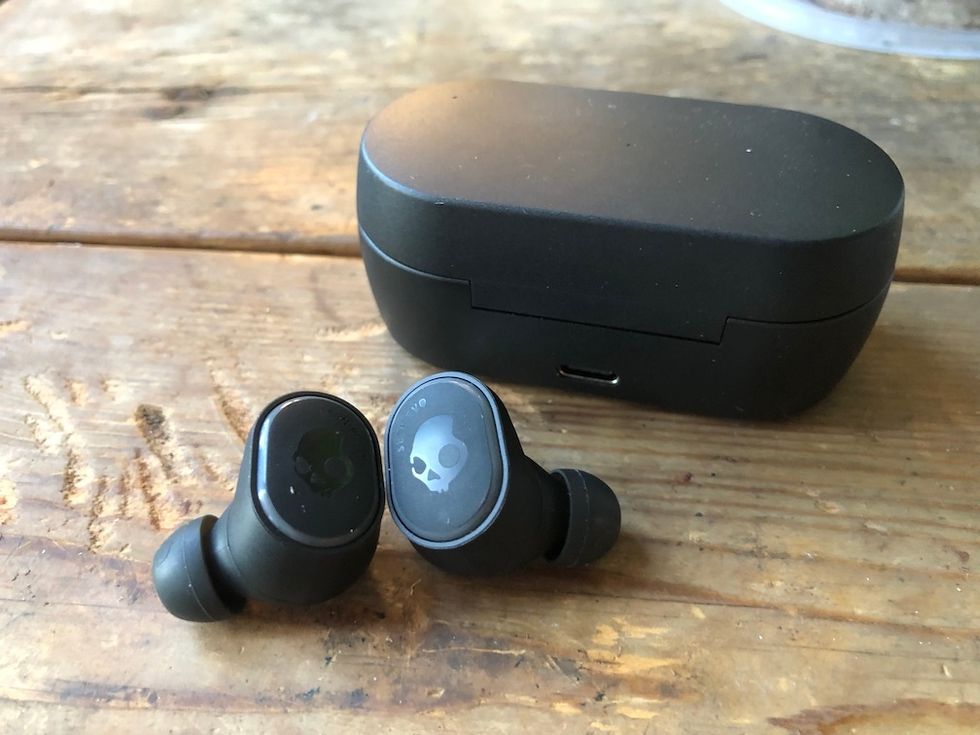 Skullcandy Sesh Evo can hold a 24-hour charge with their caseGearBrain
The Sesh Evo connect over Bluetooth to devices, from iOS to Android. The earbuds can also work in solo mode, meaning you can pull one out and have music or a movie still continue to play. But each bud does have its own controls — with the left able to control the track, stopping and starting it. The right can move you to the next song or increase the volume

But this solo mode also creates its own wrinkles: how to pair the earbuds again to a device.
Connection steps
The newest line of Skulllcandy devices work as both paired earbuds and each, on their own too. This is not the way many earbuds work, like the AirPods Pro, for example. With Apple's wireless earbuds, if one comes (or falls) out, the music or podcast that's playing stops. It's actually the primarily way I know when one of them is loose — I suddenly have my podcast or playlist stop.
With the Sesh Evo earbuds, like the Indy Fuel and Push Ultra's, if one comes out everything continues — the earbuds just go into solo mode from stereo mode. That's a great perk. The only issue is you need to pair them to each other again. And you often need to reset them to do this.
We ran into this need while testing both the Indy Fuel and the Push Ultra's — and the Sesh Evo required the same steps. Skullcandy does helpfully provide the pairing instructions on how to do this. But this is not the favorite thing to handle when you're just trying to play something while writing, or want to grab a quick run before work — and have to reset the earphones and pair again first.
It's the main issue I had with these earbuds, and while it's because of an extra feature that these steps are required, I have to say I wouldn't mind giving up the solo mode to make pairing the earbuds more simple.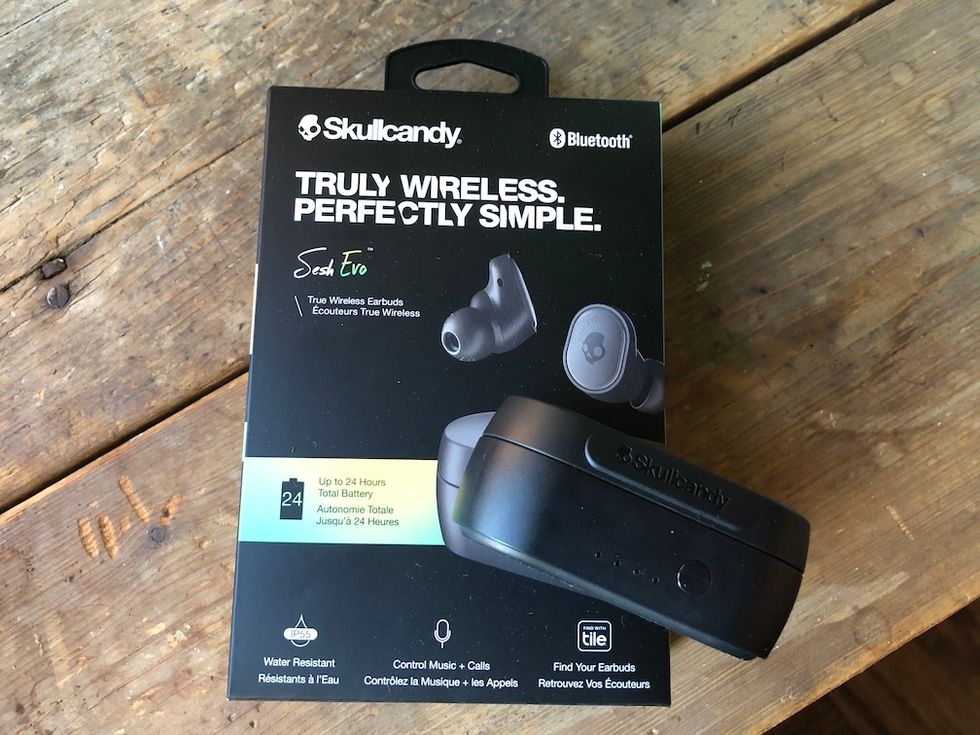 Skullcandy Sesh Evo have Tile trackers insideGearBrain
Running earbuds

The Sesh Evo are a solid pair of running earbuds, able to stay in and handle a nice jog around town. I found them small enough to fit securely, and also liked that they didn't have a loop around the top of the ear. (I find these don't fit me as well.)
While I did notice they slipped a couple of times, they actually didn't fall out, and I could easily secure them. I also like their size, as I've found some earbuds draw attention to themselves. I prefer — when running — to certainly have something wireless, but also something that's just simple in design. The Sesh Evo worked.
Tile
The new Sesh Evo have Tile trackers built into each earbud. It's a very nice perk, as you can use the Tile app, once you've paired the earbuds to it, to help find one if it goes missing. You do need to be within range to hear it ringing. But for a budget-priced pair of wireless earbuds, this is a solid add.
Sound quality and other features
The sound quality of the Sesh Evo was a bit more muted than its siblings. The tones were a little flatter, less round. I also found the sound while making calls to be tinny. This was across all three of the modes that you can choose: Podcast, Music or Movie mode. Switching between these modes was extremely easy — you just press quickly four times on either earbud and you'll hear the new mode announced.
The earbuds and the case can, together, hold a 24-hour charge, and they're also sweat, water and dust resistant. And you can call up a voice assistant from the earbuds, AmazonAlexa, Google Assistant and Apple's Siri.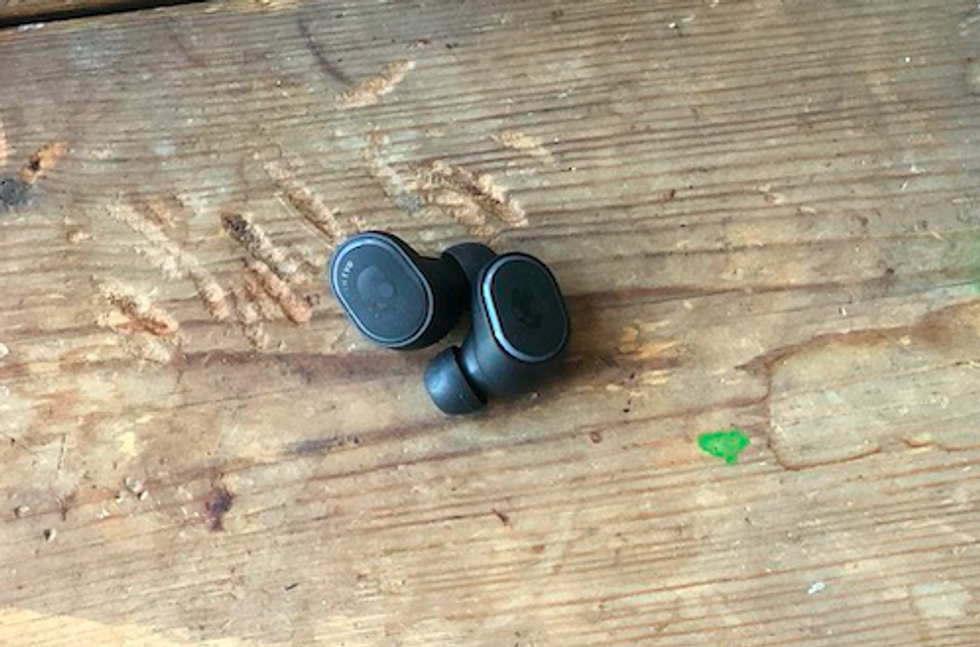 The Skullcandy Sesh Evo connect over BluetoothGearBrain
Price

The Sesh Evo True Wireless Earbuds are $59.99, and come in black, Pure Mint, Deep Red and Bleached Blue.
Worth buying?
The Sesh Evo from Skullcandy were a nice surprise. A very solid pair of wireless earbuds that worked across multiple devices. They do have some extra steps you have to take when pairing to a device — especially since they can go from solo back to stereo. That flip back and forth is not seamless, and does mean taking a few extra beats. I don't love that. But for a $60 a pair of wireless earbuds? That's extremely forgivable.
The Sesh Evo also have Tile trackers inside, so if you lose one nearby you actually can try and retrieve it. They're small, they come in some nice colors, they can bring up voice assistants and handle calls. In short, they're a solid buy for anyone looking for wireless earbuds, one we can recommend.
Pros:
Can be used either in solo or stereo mode
Tile tracker built inside
Nice design
Cons:
Can be hard to pair back into stereo mode
You lose some features in solo mode
Sound can be tinny on phone calls
Skullcandy Sesh Evo True Wireless In-Ear Earbud - True Black