Like GearBrain on Facebook
Apple's approach to the smart home is different to that of Amazon and Google in one significant way — its smart speaker, the HomePod, isn't really required to run all of your smart devices. It certainly can do that, but so can other Apple products as well.
Where an Echo or Nest smart speaker, with Alexa and the Google Assistant, work as the gateway between you and your smart home, controlling everything from lights and locks, to garage doors, sensors, switches and window blinds, HomeKit and the HomePod work differently.
Read More:
No hub required
For a start, HomeKit does not require a hub at all. All devices connected to the HomeKit platform can be controlled directly from Apple's Home app on the iPhone, iPad, Mac or Apple Watch.
Only when you leave your home Wi-Fi network do you need a hub to keep connected to your HomeKit system — and for this Apple smartly uses any Apple TV, iPad or HomePod connected to your Wi-Fi. Operating entirely in the background, these work with iCloud to connect the Home app on your iPhone to your HomeKit system, with no setup or configuration required.
So, while the HomePod can act as a HomeKit hub, an Apple TV or iPad can do the job instead, so long as they are switched on and connected to your home Wi-Fi network.
Why would I want a HomePod?
We can now hear you asking, what exactly is the point of the HomePod if it doesn't act as a hub? Music quality is high on Apple's list of priorities for the HomePod, more so than with the Amazon Echo and Google Nest portfolios. It houses eight individual speakers and uses an array of six microphones to adjust the audio output based on its surroundings, helping to overcome reflections from nearby surfaces.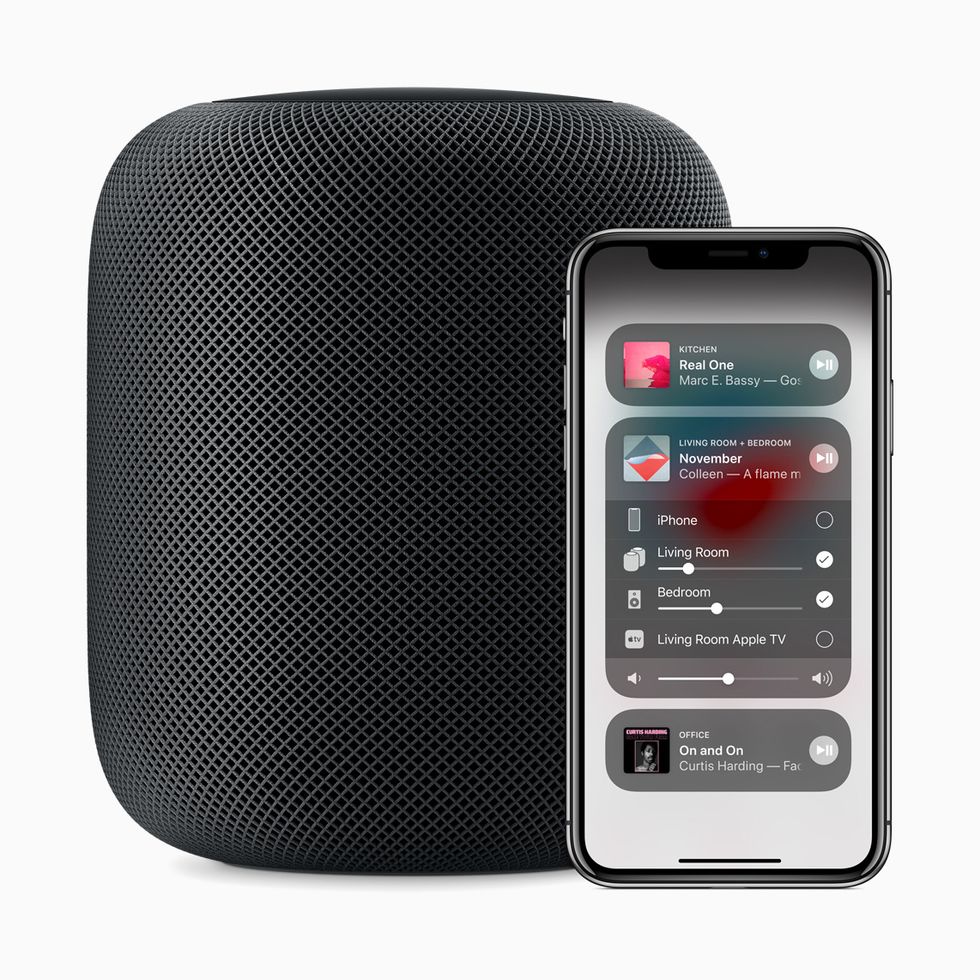 The HomePod will get smarter with software updates in the fallApple
Then there is Siri, Apple's voice assistant which features in the HomePod and works in a similar way to Siri on the iPhone, Apple Watch and Mac. Siri can be asked to play music, of course, as well as control smart home devices like lights and thermostats, make calls and send messages, read out your calendar, and answer general knowledge questions. But Apple hasn't pushed Siri as a virtual smart home butler, at least not to the extent Amazon does with Alexa.

Criticized for not being a particularly smart speaker when it launched in 2018, the HomePod had its price cut from $349 to $299 — a rare move by Apple — and Siri's abilities have gradually improved over the past two years. But the HomePod still occupies a strange space in the smart home, since HomeKit works perfectly well without it. Indeed, Apple's own webpage about Home barely mentions the HomePod; instead, Home is an iPhone app first-and-foremost.
And, while the HomePod's audio abilities are widely admired, some obvious features are missing; for example, two HomePods can work as a stereo pair, but that pair cannot be used as the audio output for a Mac. Music can be sent to them through AirPlay in the Apple Music app, but sound from anything in your browser (like, say, Netflix) can't.
Some shortcomings have slowly been addressed, and the HomePod will take another step forward in the fall with iOS 14, Apple's newest iPhone operating system.
With this, as well as tvOS 14 for the Apple TV, the HomePod will use Siri to announce someone is at the door when a HomeKit-connected doorbell is rung, and even say who is there, using facial recognition data from your Apple Photos album.
Small but smart updates like this remind us that Apple still wants to be in the smart home race, but is clearly taking its time and treading a different path to that of Amazon and Google. We doubt a HomeKit home will ever truly need a HomePod, or a dedicated hub at all, and while that goes against the grain, it increasingly feels as if that's the way Apple likes it.
Apple AirPods Pro
Introduction of The GearBrain, The First Compatibility Find Engine for Smart Devices www.youtube.com
Like GearBrain on Facebook