With the summer weather well and truly here, it's time to tidy up the garden, dust off the grill, and get cooking, and these high tech gadgets and tools are designed to create the ultimate backyard barbecue. Of course, barbecues at home are going to look a bit different in 2020, with social distancing measures still widely in place. But that shouldn't stop you and your household from lighting the grill and having a cookout.
Here are some of our favorite BBQ gadgets to help make grilling that bit easier. There's everything you could need, from a powerful cordless fire starter, to a smart grill with Wi-Fi for Alexa and Google Assistant control.
Cordless butane fire lighter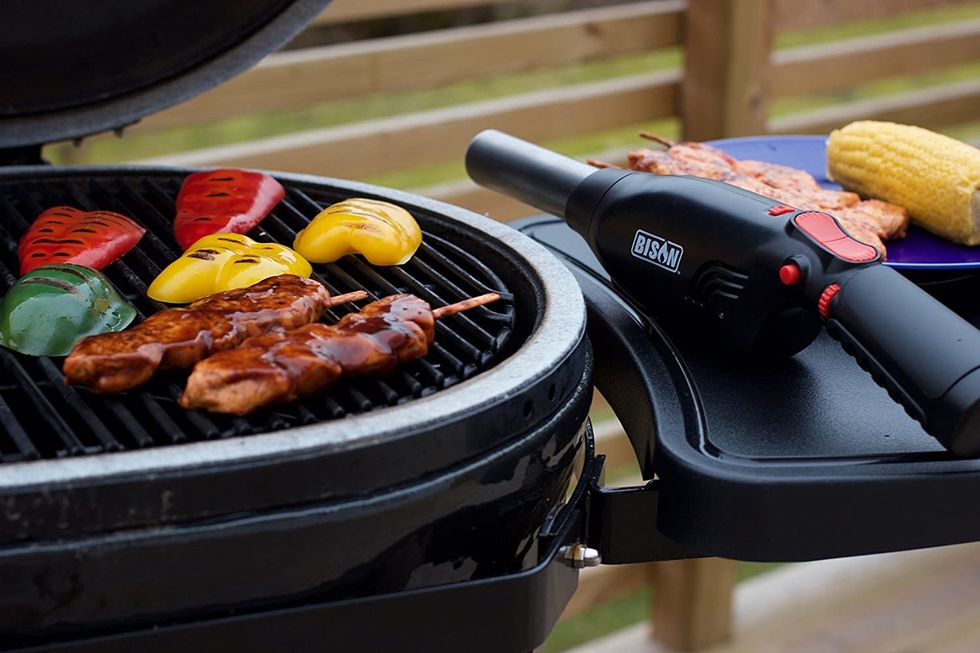 The AirLighter is cordless and uses butane gasBison
Lighting the barbecue can be a real pain. To help out, the AirLighter 420 by Bison is a cordless, butane-powered fire starter that works equally well with charcoal and wood.

The 420 boasts a flame temperature of 2,600 degrees, making it quick and easy to light wood and charcoal, and the tank lasts for ten minutes of constant use, so should help you light several grills before needing a refill.
Smart grill with Wi-Fi, Alexa and Google Assistant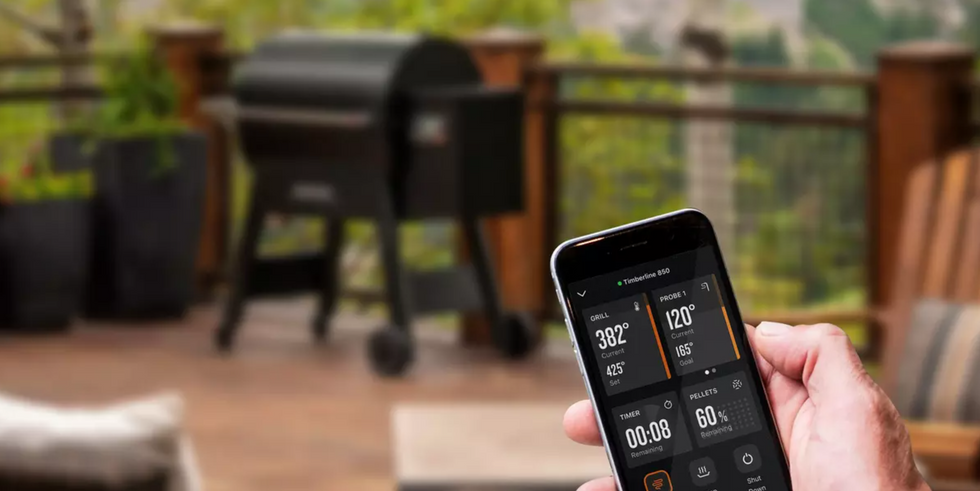 Smartphone app-controlled Traeger outdoor grillTraeger
If you have a larger budget for your backyard cooking, then all of Traeger's outdoor grills come with digital displays and Wi-Fi. With that internet connection, they hook up to a smartphone app for controlling them remotely.

That way, you can fire up the grill outside while preparing food in the kitchen, then keep an eye on the temperature and make adjustments without being stood over the fire the entire time. Internet connectivity also enables Alexa and Google Assistant control, so you can speak to either assistant to start and adjust the grill, ask for the current temperature and when the food will be ready.
The app also includes recipes and timers, and provides live temperature information from integrated meat probes, plus an estimate of how many wood pellets are left to burn.
Finally, Traeger promises regular software updates to improve the performance of its grills. As an example, a recent update increased the maximum temperature to 500 degrees across the entire product range. You'll just need to make sure your Wi-Fi network reaches the garden, so that the grill stays connected. For that, you might need a Wi-Fi booster or network extender.
(Check out The GearBrain, our smart home compatibility checker to see the other compatible products that work with Google Assistant and Amazon Alexa enabled devices.)
Smartphone food temperature probe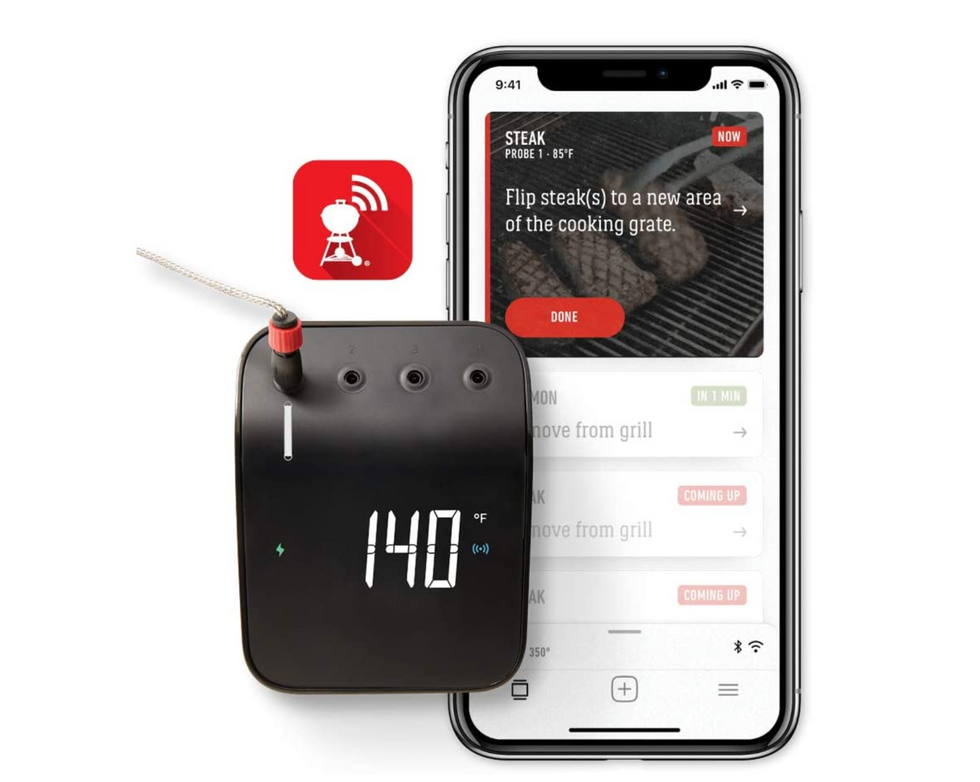 The Weber Connect Smart Grilling HubWeber
The Meater and Meater+ are smart probes for monitoring the internal temperature of meat as you cook. They connect via Bluetooth (or Wi-Fi with the Meater+) to a companion smartphone app, which shows current temperature, target temperature (based on what you've told the app you are cooking), and the ambient temperature of the grill. A timer then indicates how long is left to cook.

If the Meater is out of your budget, there are plenty of other cooking probes available at lower price points. These include the Inkbird IBT-4XS, which has four probes and Bluetooth for sending the temperature readings to a smartphone app for iOS and Android. The control unit itself also shows the current temperature of each probe.
Yet another option is the Weber Connect Smart Grilling Hub, which is compatible with any grill, has an integrated readout as well as a smartphone app, and alerts you to when food wants flipping, and when it's ready to serve.
Rotating drinks cooler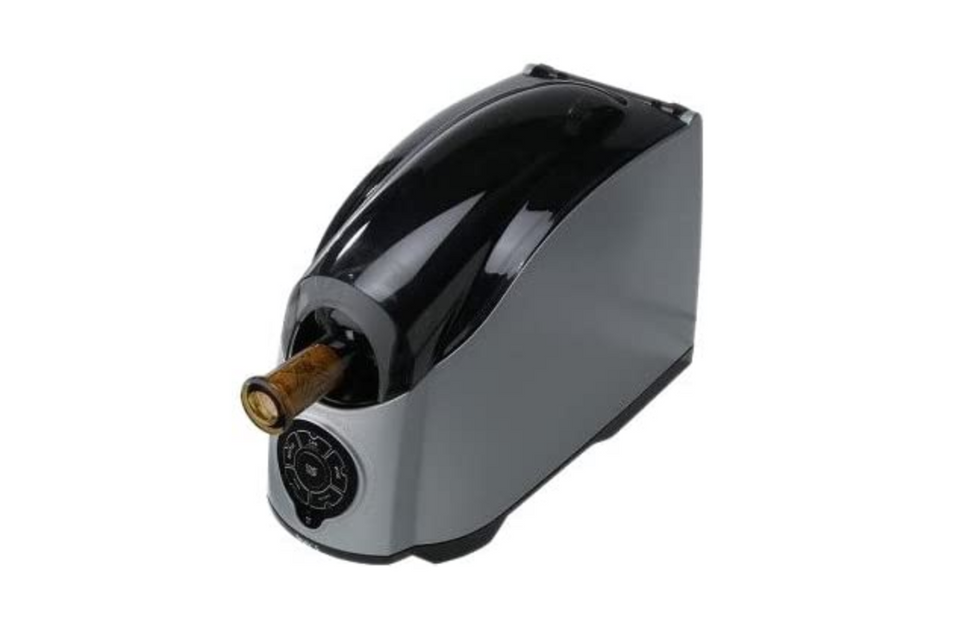 The Cooper Cooler claims to chill wine bottles in six minutesCooper Cooler
If your backyard BBQ is a spur-of-the-moment thing, you'll need a way to quickly cool down some drinks. This is where a rapid drinks cooler like the Cooper Cooler comes in, which quickly chills bottles and cans by rotating them while spraying ice water.

Its makers claim the cooler can chill a bottle of wine from 77 to 43 degrees in six minutes, a beer bottle in 3.5 minutes, and a can in 60 seconds. There's also a no-spin option for chilling delicate wines more slowly. The device is powered by a regular wall outlet, but can also be bought with a 12-foot-long 12v plug for powering from your car lighter socket.
Robotic grill cleaner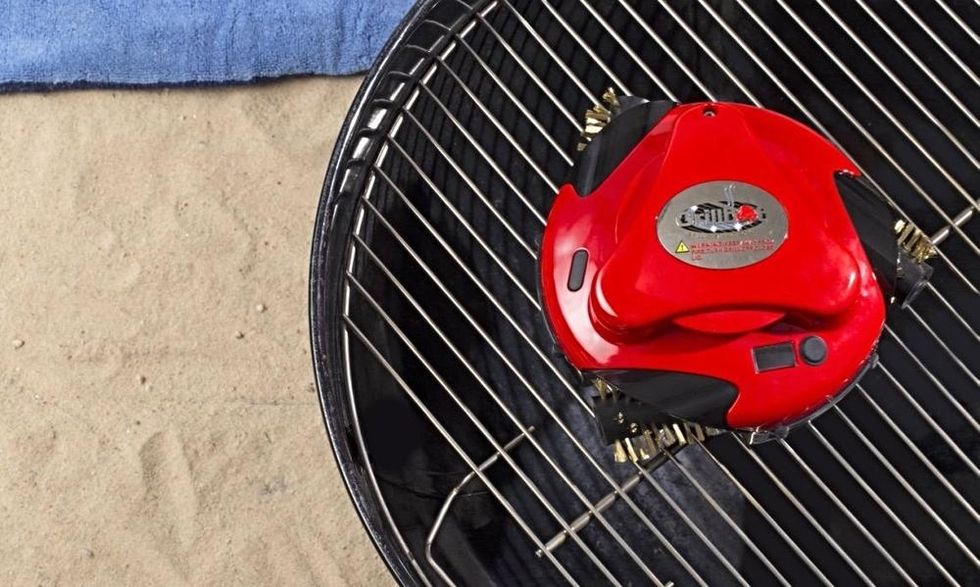 The Grillbot is like a Roomba for your barbecue grill Grillbot
Finally, once you're done cooking you can employ the Grillbot to make a start on the cleaning for you. Essentially a Roomba for your grill, the Grillbot drives itself around, removing burnt food and grease from the grill with its spinning stainless steel brushes.

The Grillbot is available in red, blue, black and orange, and is powered by a rechargeable battery.