Are you thinking of getting a robot vacuum but don't want to pay over a $1,000 for an iRobot Roomba? Or want a good reliable robot vacuum for less than $300 that is easy to setup and can help you keep your smart home floors clean all the time? We recently tested a robot vacuum by Yeedi, a manufacturer of robot vacuums and it's perfect for the first-time robot vacuum buyer. Check out what we found when testing the Yeedi vac robot vacuum recently in a smart home.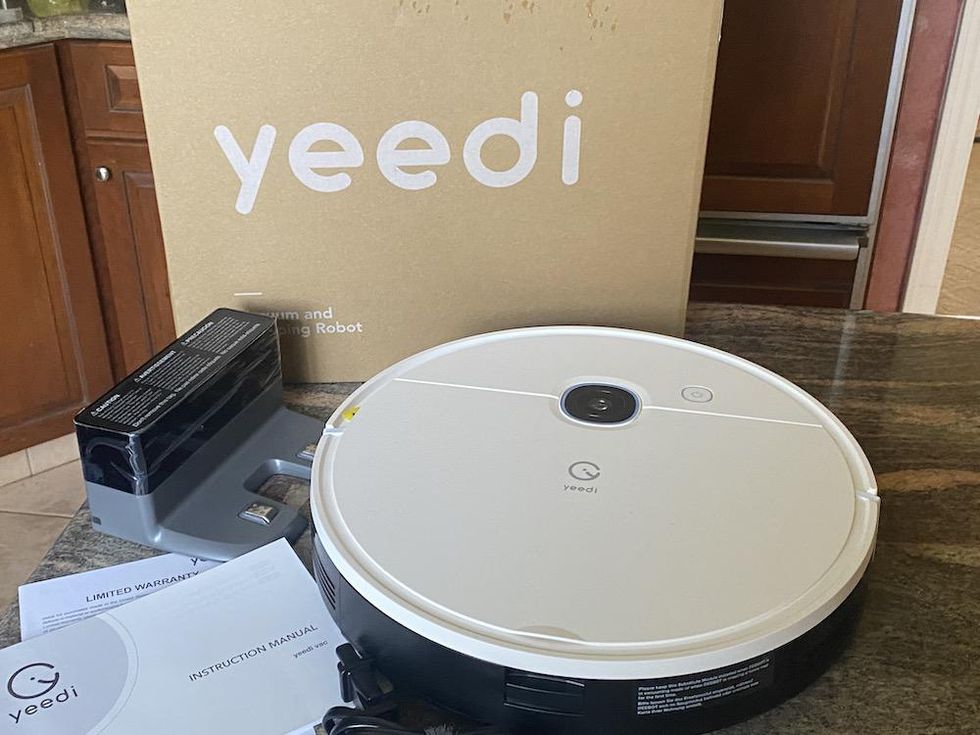 yeedi vac robot vacuum unboxed.GearBrain
What is Yeedi Vac?
Yeedi vac is the entry level smart robot vacuum from Yeedi. This robot vacuum comes with two side brushes, a main brush, HEPA and sponge filters, and a long-lasting battery. The rechargeable battery on the Yeedi vac can last up to 110 minutes on a single charge. And if your Yeedi vac runs out of power during a cleaning, no worries. Yeedi vac remembers where it left off before it started recharging itself. Nice innovation.
Yeedi vac comes with 3000Pa suction power and can easily avoid obstacles on our floors with its 3D obstacle avoidance technology. And for navigation, Yeedi vac comes with advanced visual mapping technology which helps the vacuum avoid bumping into chairs and furniture. Users can edit the map too when needed. This navigation along with the robot vacuum's floor tracking sensor, allows Yeedi vac to detect what type of flooring it's cleaning and clean it faster and easily compared to other robot vacuums.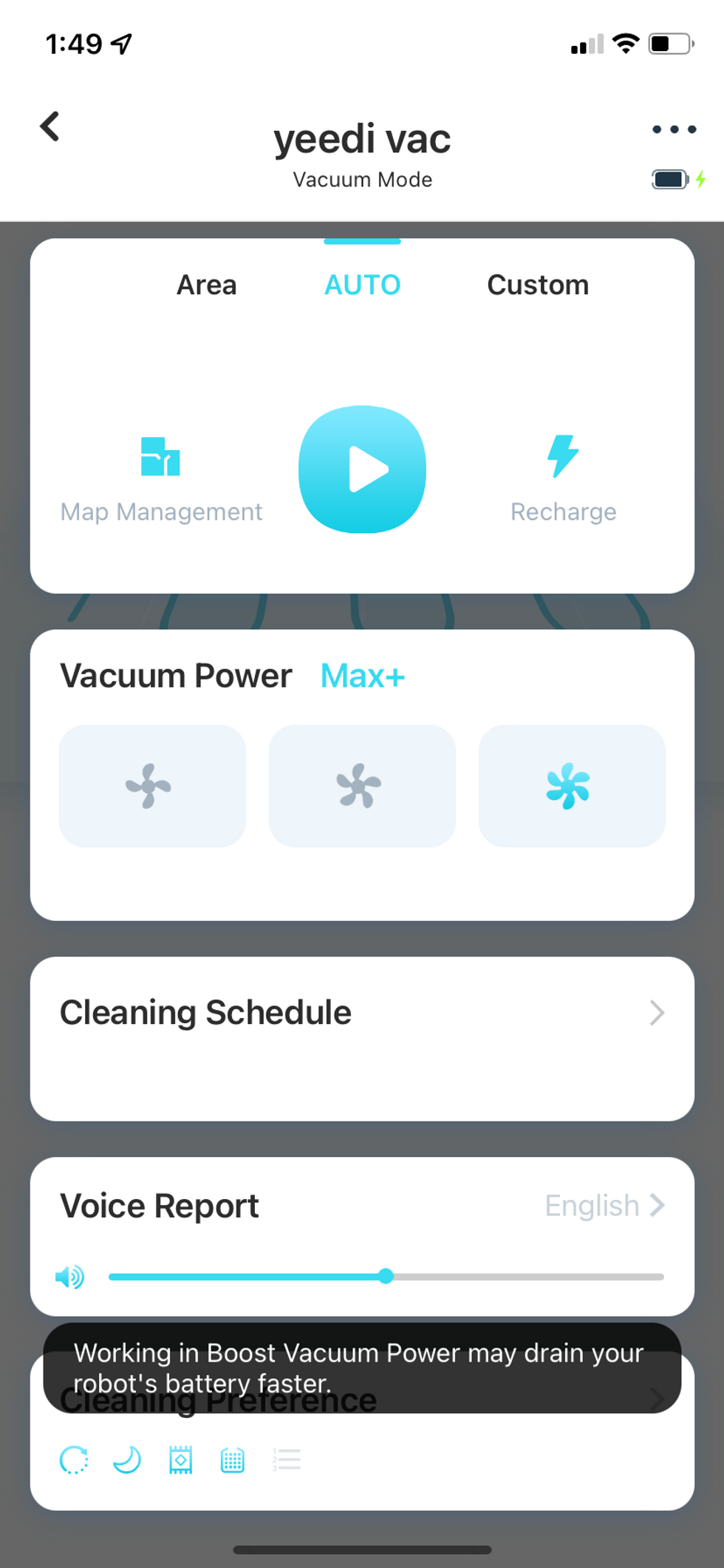 Use Yeedi app to set cleaning schedules, adjust vacuum power and suction and more.GearBrain
Other Features of Yeedi Vac robot vacuum
Besides having good suction power, long lasting battery and good navigation and mapping technology, the Yeedi vac is also very versatile. Users can add cleaning modules to the robot vacuum. You could turn your Yeedi vac into a mopping robot to clean your floors. You could turn your Yeedi vac into a 3-in-1 robot vacuum cleaning system in seconds by adding the Yeedi self-emptying station. But note, these modules like the mop or self-cleaning station are additional costs and sold separately.
Another good feature of the Yeedi vac is the zone cleaning and no-go zones or selective cleaning zones. This is key to have in a good robot vacuum. It makes cleaning easier and assures your floors and carpets will not be neglected.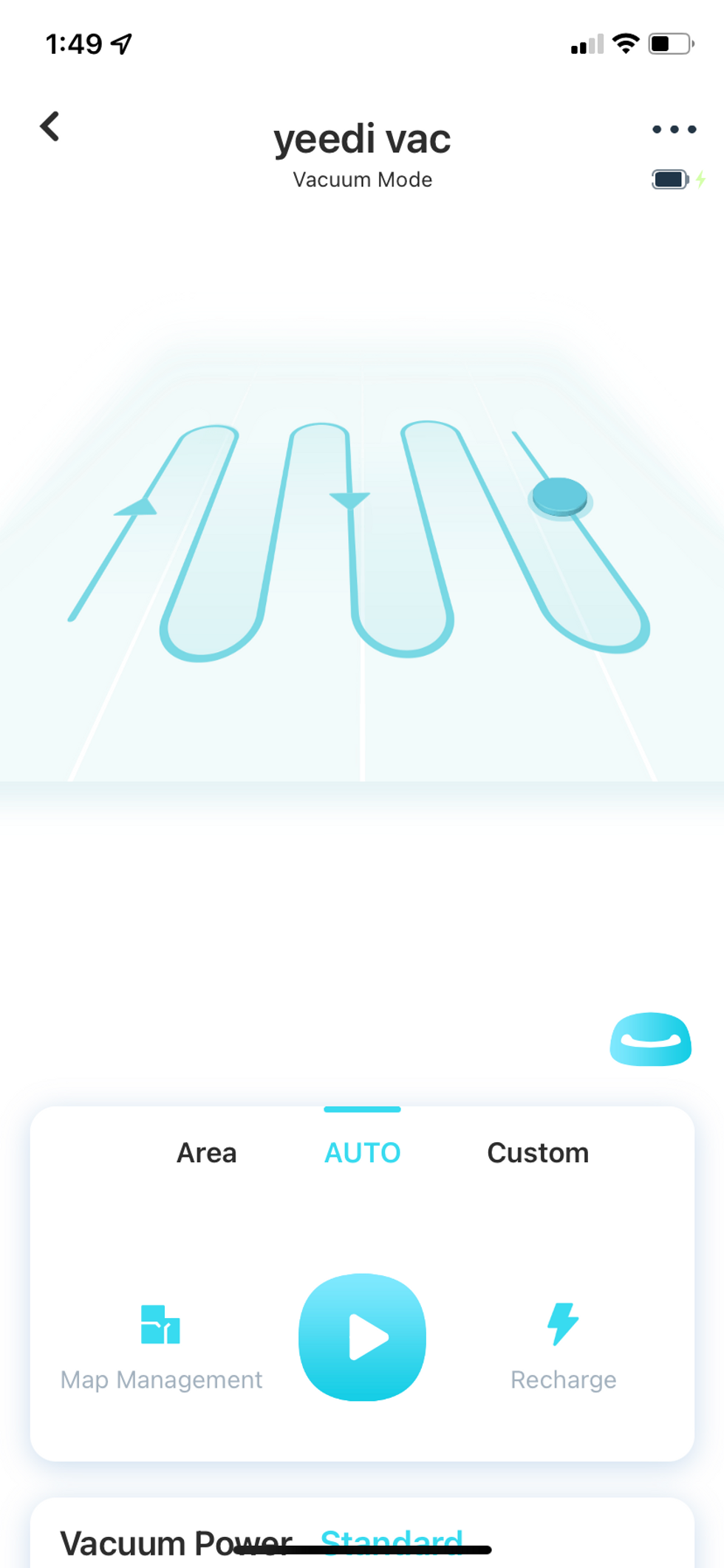 Yeedi vac can mop and vacuum your floors. Make adjustments in the Yeedi appGearBrain
Cost of Yeedi vac robot vacuum
The Yeedi vac has a list price of $299.99 but is currently on sale on the company website for only $209.99 and Amazon for $199.99, 33% off. If you want to turn your Yeedi vac into a mop, you can purchase the Yeedi mopping kit for $39.99. Or you can add the Yeedi self-emptying station for only $199.99. All these items are available on Yeedi site as well as Amazon.com.
How do you install or set up your Yeedi vac?
In setting up your Yeedi vac, we recommend you follow the instructions in the Yeedi app. The instructions are easy for you to follow, and it will guide you in setting up the mapping of your room. The app will also show how to edit the map. There's a good help section in the Yeedi app in case you need a little during setup. I think the only challenge you're going to have when setting up your Yeedi vac robot vacuum will be when connecting it to a smart speaker like a Google Nest Hub Max or an Amazon Echo smart speaker. Setting up voice commands is challenging because the voice assistants can't recognize the "Yeedi" name. They have difficulties recognizing the name of the Yeedi vac. For instance, if you say hey Google, start "Yeedi Vac" the assistant might not understand because it thinks you are saying "Yeti" like the cooler and not your robot. This happened to us a bunch of times during testing. You just have to say the robot name clearly.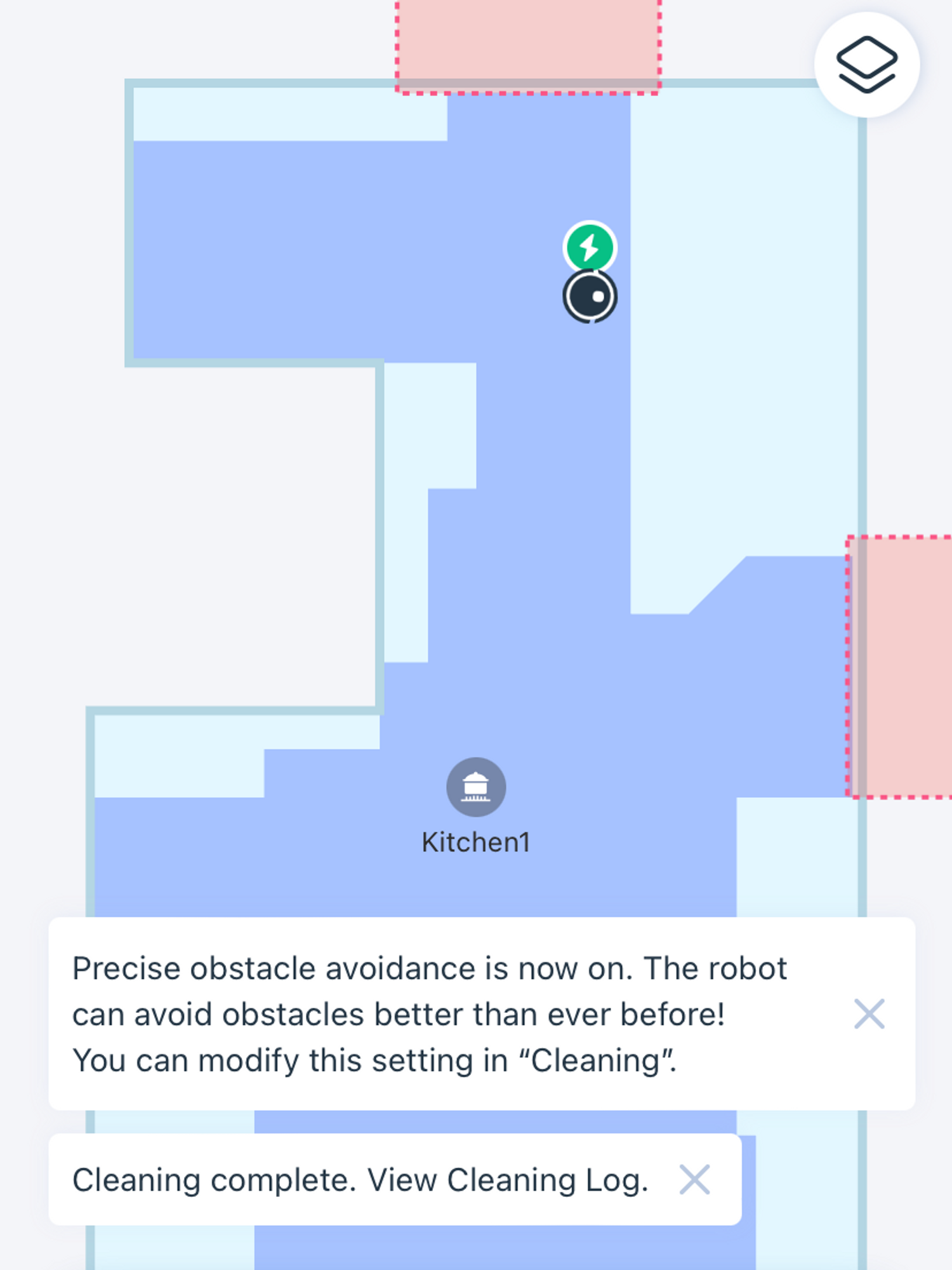 Use the Yeedi app to set obstacle avoidance for your robot vacuum while cleaning.GearBrain
How did it perform
Yeedi vac is a very good entry level robot vacuum. The mobile app is easy to use and helpful in setting up your robot vacuum. When cleaning, the sound is not loud. We like how you can edit the mapping of your floors. But what makes this robot vacuum unique is its advanced visual mapping and floor tracking technology. This technology assists Yeedi vac in cleaning your floors by following the rows on the map. We also like how once the mapping has been finalized and the robot is cleaning your floors, you can make additional adjustments to avoid furniture like chairs and ottoman's during cleaning.
Yeedi vac works with both Amazon Alexa and Google Assistant enabled devices. You can connect your Yeedi vac to these smart speaker assistants through the Yeedi app. The Yeedi vac can also connect with its self-emptying station which can help your Yeedi vac become a robot self-emptying vacuum. Or a two-in-one combo robot vacuum system. You can also add the mopping accessory to your Yeedi vac which will add a third feature to this simple robot vacuum.
Differences between Yeedi vac and Yeedi vac Station
These two Yeedi vac robot vacuums are very similar. They have the same suction power, 5200mAh battery, navigation and tracking sensor technology. Each of these Yeedi vacs can vacuum and mop your floors as well as connect with a Yeedi self-emptying station. However, the accessories are additional costs or add-ons when you buy just the Yeedi vac robot vacuum.
When looking at the cost of the Yeedi vac and the Yeedi vac station, buying either robot vacuum with all these accessories can be a wash unless one of the devices is on sale. Here is why: Yeedi vac robot vacuum might be cheaper (list price is $299.99 versus $549.99 for the Yeedi vac Station), but when you add the Yeedi mopping kit ($39.99) and self-emptying station ($199.99), your total cost for all three items is over $539.99. But if you look on Amazon, you might be able to get a better deal when buying all three separately because the Yeedi vac robot vacuum will be at a lower sales price from what we have seen.
Next to price, the Yeedi Vac Station does come with a longer lasting run time versus Yeedi vac. The Yeedi vac can run for 110 minutes on a single charge while the Yeedi vac Station has 200 minutes of run time.
Based on our testing and the deals we are seeing on Amazon for Yeedi robot vacuums, we would recommend looking for and buying the Yeedi vac Station. Everything comes in one package, and it will be easier to setup and operate.
Summary
If you are in the market for a good reliable robot vacuum which you can easily turn into a mopping robot vacuum for very little money, Yeedi vac is a smart robot vacuum we would recommend. It doesn't use GPS navigation like many other robot vacuums. It uses visual mapping technology and a floor sensor to map and identify your floors. It can prevent the robot from banging up your furniture and allows you to easily edit the map when needed. You just can't create multiple maps, but you do have the ability to adjust the maps and add no-go zones too.
Overall, Yeedi vac has the features and is priced right for anyone looking for a good entry-level robot vacuum which can easily transform into a full 3-in-1 robot vacuum cleaning system for your smart home.
Pros:
Price
3d obstacle avoidance
Easily add self-emptying and mopping accessories
Good battery life
Cons
Hard for smart assistants to understand voice commands
Can't merge or divide rooms
Can't merge rooms
How to Find Products in The GearBrain, Our Compatibility Find Engine for Smart Devices www.youtube.com
yeedi Mopping Kits, Compatible with yeedi vac/yeedi vac max/yeedi vac Station Robot Vacuum