Children bring out the best of us during the holidays, pushing us to find gifts that both delight and tap their curiosity. GearBrain played with dozen of toys from robots, blocks, coding experiences and VR headsets to come up with our favorites this year. These are toys that will entice children not just to create and invent — but to get lost in their play. That's a toy worth giving.

PowerUp Dart — Holiday Tech Gifts for Kids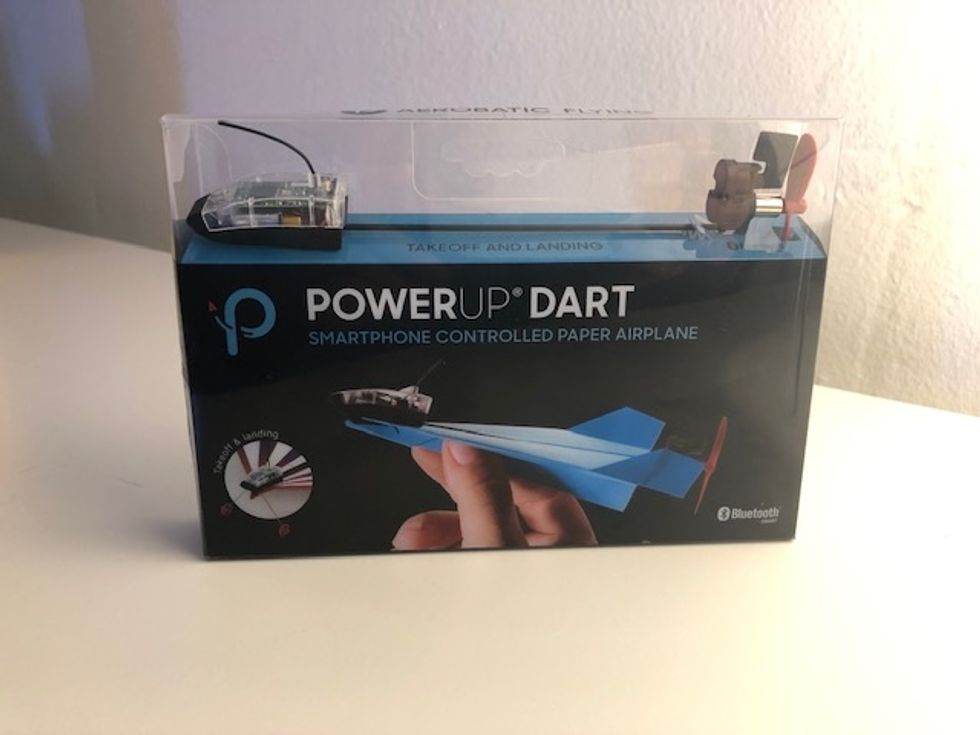 The $39.99 PowerUp Dart pairs with a smartphone to fly GearBrain
The $39.99 PowerUp Dart is one of the perfect holiday gifts: you have to put in some effort to build the airplane, and you make as many as you want using the paper templates that come with the kit. This is the kind of tech toy that also gets you physically outdoors to play — and still makes use of the technology baked inside. A single charge gets you about eight minutes of flight time — but this plane moves, and you will likely want to be somewhere free of trees. Keep in mind you do need an iOS or Android phone to pair the plane to an app. Oh, and some paper plane making skills don't hurt either. (Read GearBrain's review of PowerUp Dart.)



Jimu Builderbots Overdrive Kit – Holiday Tech Gifts for Kids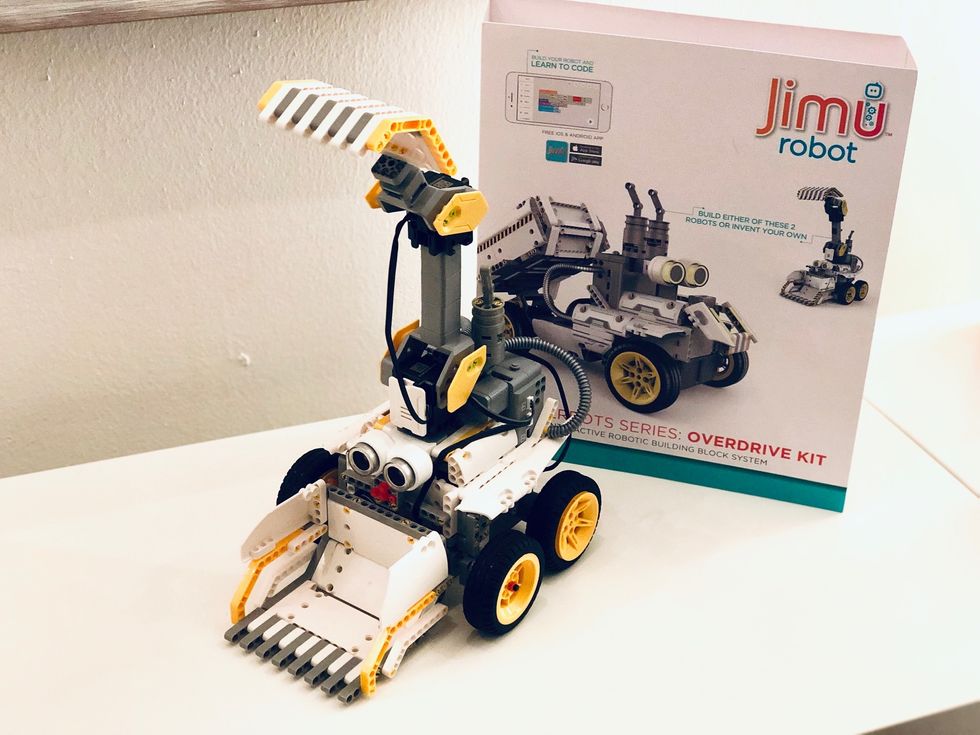 The Jimu Builderbots robot is $119, and teaches kids how to program by letting them build the robot on their ownGearBrain
Sure, $119 is a steep price, but Jimu Builderbots is a creative kit that lets children build projects from a dump truck to a front loader through step-by-step directions — or go off the path and invent their own robots that they control through an iOS and Android smartphone app. Kids learn the basics of engineering and coding as well by using Blockly code to program robotic servo motors. These building block kits from JIMU are solid STEM toys that really tap into kids imagination, while seeding them with some science skills while they're playing. (Read GearBrain's review of JIMU Builderbots Overdrive Kit.)



LittleBits Electronic Music Inventor Kit —Holiday Tech Gifts for Kids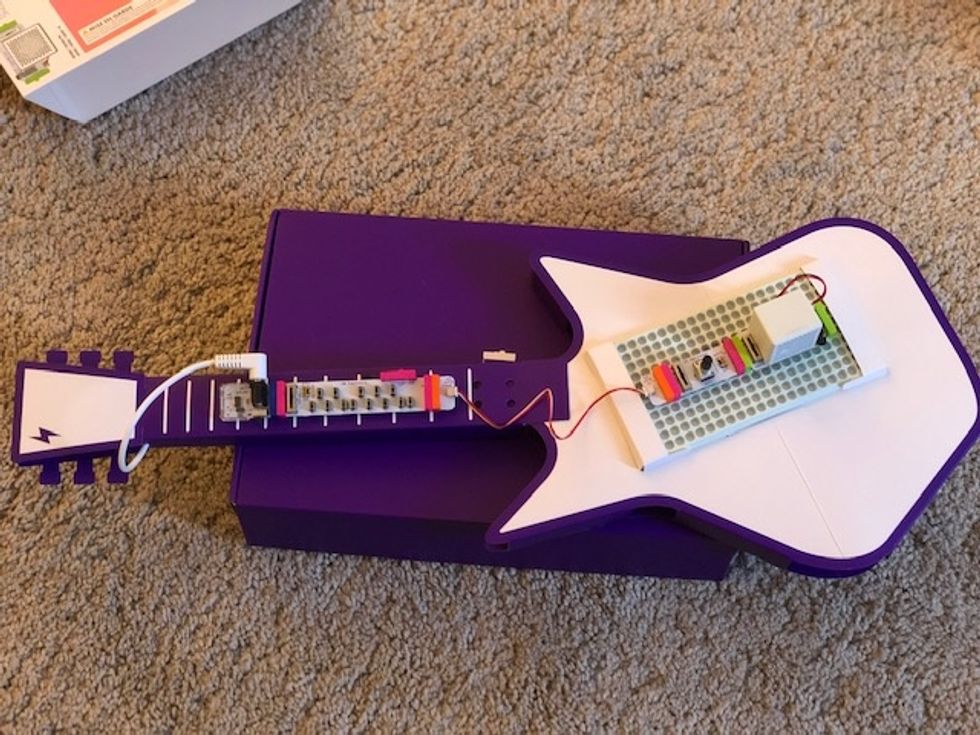 The LittleBits Electronic Music Inventor Kit lets children build their own electric guitar GearBrain
What kid doesn't imagine, at least once, of being in a rock band? LittleBits Electronic Music Inventor Kit is made just for that dream. A build your own paper guitar template gives rise to a host of musical instruments from a guitar, sure, but how about a theremin? Parts, called littleBits, can be snapped together, each one tapping into a science concept like frequency. And the way littleBits integrates technology into supplies children have at home — bits of paper, sticky tape and crayons — is a safe way for them to invent. The $99.99 Electronic Music Inventor Kit is a solid choice for children ages 8-years-old and up, one that lets them build something fun to start — and grows with them. Parents can do this with children to get them started, and let kids loose. That's the best kind of play. (Read GearBrain's review of the littleBits Electronic Music Inventor Kit.)



Sphero Bolt – Holiday Tech Gifts for Kids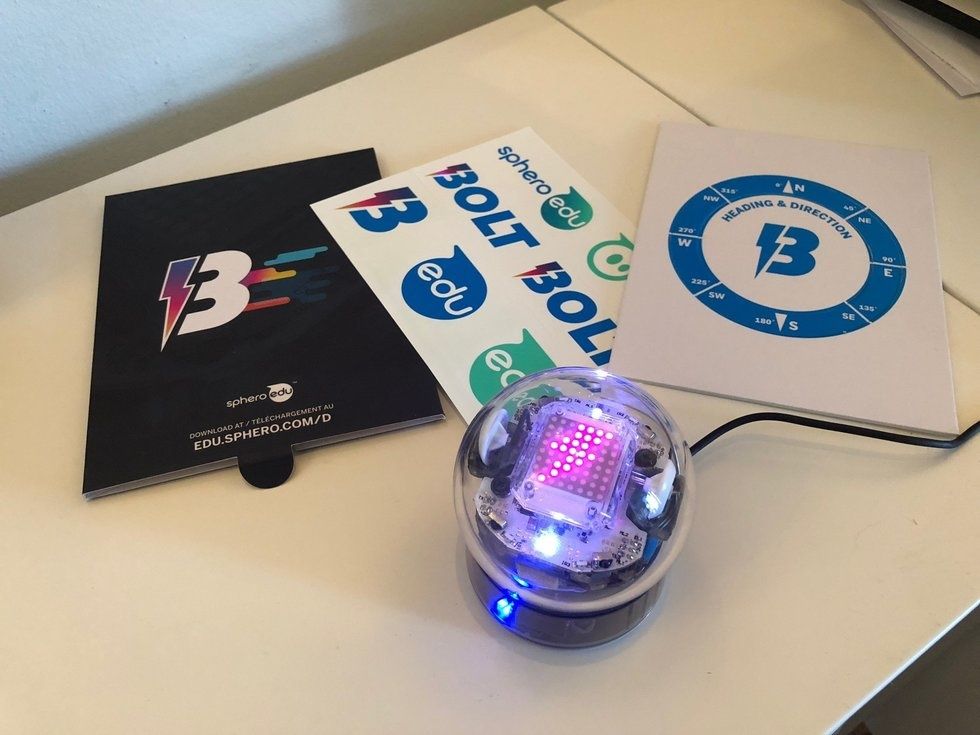 The Sphero Bolt has a light sensor inside, flashing different colors depending on the games you play GearBrain
The $149.99 Sphero is known for its rolling robots, and Bolt fills that niche. But the flashing ball also doubles as a coding toy — one that kids can toss into a backpack and easily bring to school. Bolt uses block coding, you just drag and drop to get the toy to move, or even make rounds from a carnival barker to a dog barking. The fun is driving Bolt — and this robot moves very quickly, tearing about on the floor faster than you can move. (Trust us, we test drove this toy for weeks.) There's also a Light Sensor inside that supports visual game play: Tic Tac Toe anyone? (Read GearBrain's review of Sphero Bolt.)

Lunii – Holiday Tech Gift for Kids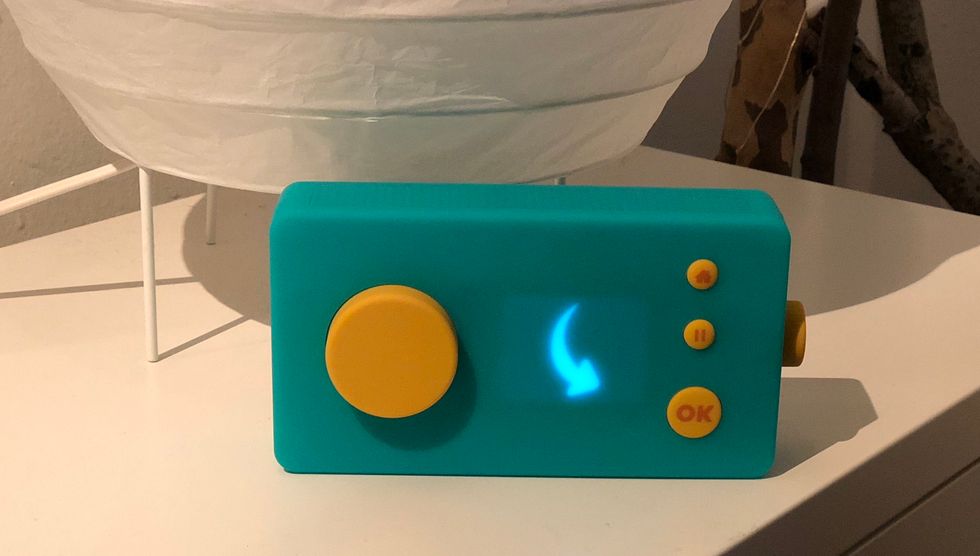 Lunii is a storytelling toy, that lets children select the characters and scene and then listen to a tale aloud GearBrain
Covered in an aqua colored skin that rubberized so it's easy to hold, the $74 Lunii has just five bright yellow dials and knobs — big and chubby enough even for tiny fingers. The design is impressive enough, that the Museum of Modern Art tapped it for its Design Store. This is a toy without a screen, that's truly interactive. Stories are read out loud by two different narrators, children get to select whether Ben or Suzanne tell them the story aloud, and also choose characters, place and objects like an ogre. You get 48 different story combinations to start, and additional stories can be bought to download to Lunii if you choose. (Read GearBrain's review of Lunii.)

Anki Cozmo – Holiday Tech Gift Ideas for Kids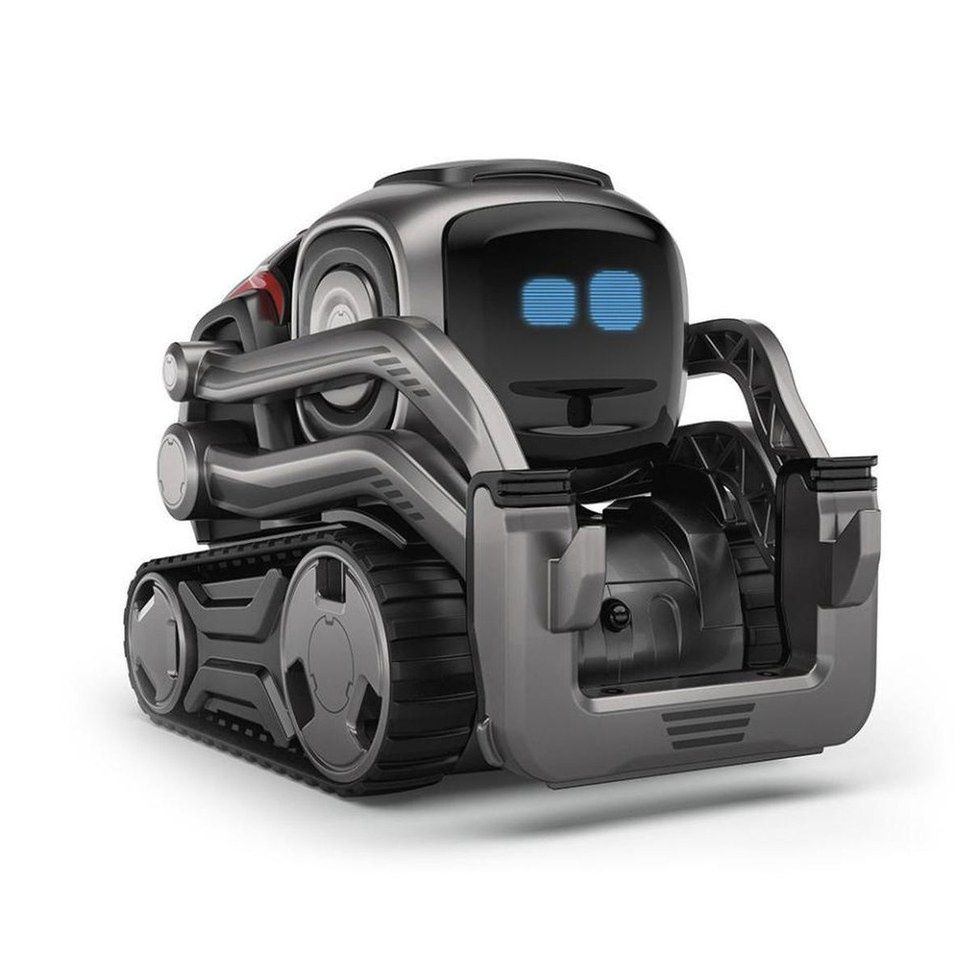 Anki Cozmo is a robot with a personality that hiccups, plays with toys and even purrs. Anki
Anki's Cozmo is honestly the first robotic toy where we found ourselves talking to it as we would a puppy, and engaging, on the floor in hopes the device would respond. A new $179.99 Limited Edition of Cozmo rolled out this fall, a good reason to pick one up now for the holidays in its new blue kit. Cozmo is a robot with a mind of his own: he hiccups, plays with toys, and yes you can code him to create new interactions. It's the first toy robot we've played with at GearBrain that feels like we're hanging out with a pet, albeit one that you feed with electrical power, and rolls on wheels. (read GearBrain's review of Anki Cozmo.)



Lenovo Mirage Solo – Holiday Tech Gifts for Kids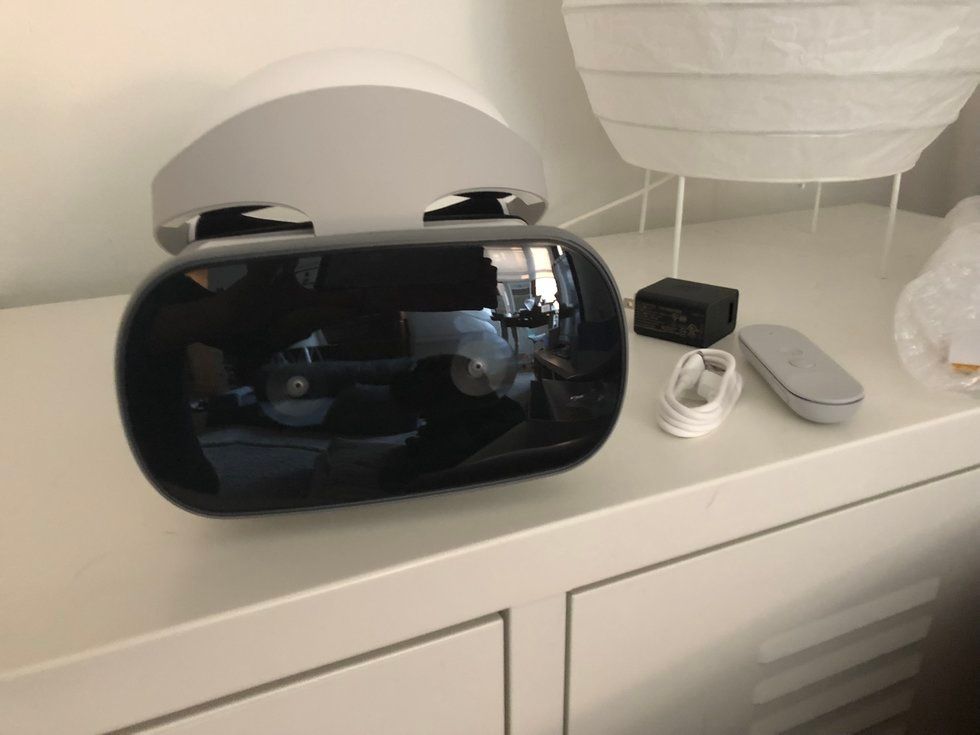 This $399 virtual reality headset works with Daydream apps GearBrain
The $399 Lenovo Mirage Solo is a clean, well-designed, virtual reality headset, that plays Daydream apps including "Planetarium VR," "YouTube VR," "Google Street View, with many imbued with WorldSense capability, which brings six degrees of freedom: ducking, dodging, as well as walking, for example. A favorite is "Merry Snowballs, " perfect for this time of year. This is a great VR device that doesn't rely on a smartphone, nor tethering to an expensive computer, yet still gives a fully immersive VR experience. (Read GearBrain's review of the Lenovo Mirage Solo)

Cubelets — Holiday Tech Gifts for Kids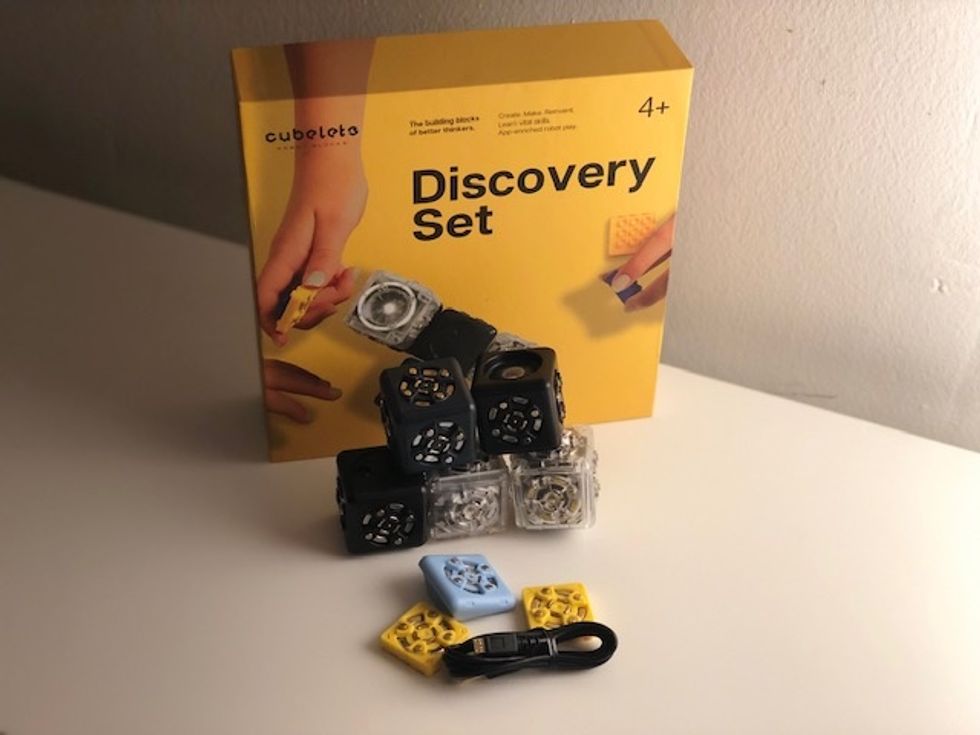 Cubelets can be paired with Lego to create robotsGearBrain
Five blocks for $139.95 sounds like a lot, but Cubelets are much more than wooden slabs that stack on top of each other. Each cube is a coded piece of hardware, where one interacts with another, and can also be paired with LEGO blocks letting kids truly invent robotic creatures of their own. The Cubelets Discovery Kit stretches with a child's age — even kids as young 4-years-old can play as pieces snap together with simple magnets. Those 10 and up can take advantage of programming tools to make the cube signal, move and explore.

Wonder Workshop Sketch Kit – Holiday Tech Gifts for Kids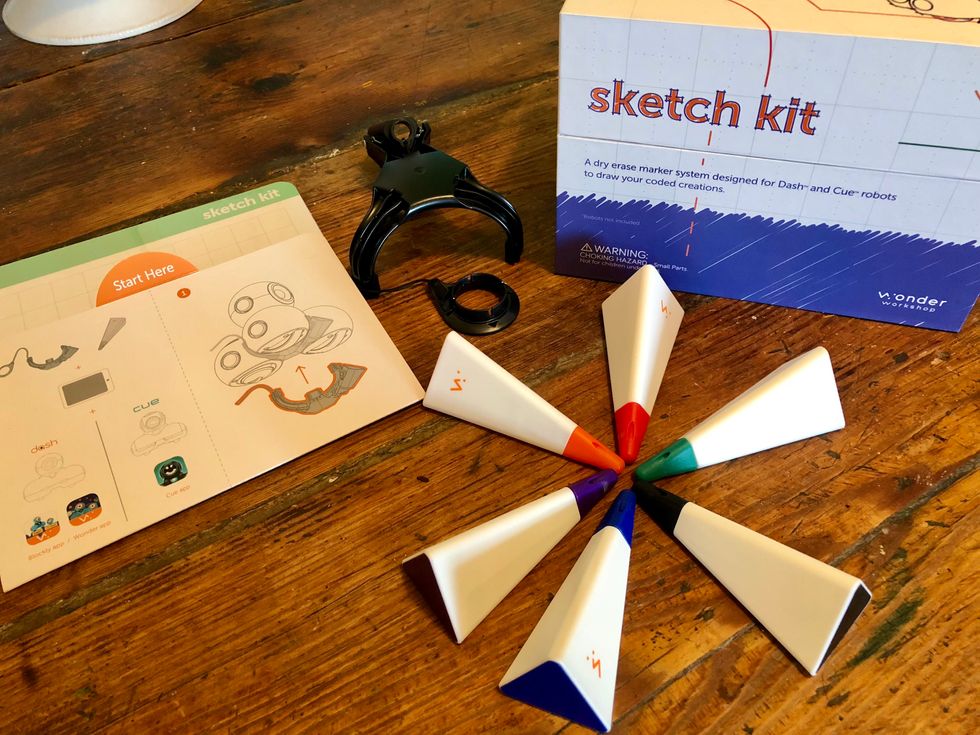 Wonder Workshop's Sketch Kit turns drawings into instructions for robots to follow GearBrain
Sketch Kit is a $39.99 accessory that adds on to Wonder Workshop's Cue and Dash robots, giving the toys the ability to draw just about anything kids can ask the robots to create. Wonder Workshop spent two years working on designing a way to make Cue and Dash able to draw on surfaces based on coding projects children write. They realized that kids sometimes want proof of what they've designed, not just a robot dancing, but a design the robot actually drew. Now that's something to bring to Show and Tell. (Read GearBrain's review of Wonder Workshop's Sketch Kit.)