Like GearBrain on Facebook
Once you have got to grips with the Alexa basics, like asking questions and playing music, it's time to step things up a gear and start building a smart home.
Alexa can control a huge range of smart home devices, from light bulbs and door locks, to garage doors, thermostats, speakers, window blinds and garden irrigation systems. All of this can be automated and set to a daily or weekly schedule, or you can speak to Alexa, controlling each smart home item on its own, or an entire room at once.
Read More:
But before all of that, you will need to set up the new smart home product using the manufacturer's own instructions. This usually means installing a smartphone app to connect the device, such as a light bulb or a smart plug, to your home Wi-Fi network, then giving it a name.
You can then control it from that app – for example, Hue lights using the Hue app, or TP-Link smart plugs using the company's Kasa app.
There are a couple of exceptions, however. The Amazon Echo Plus smart speaker and second-generation Echo Show smart display (specifically the model with a 10-inch screen) both have Zigbee, the wireless smart home standard.
This means you can connect Zigbee-compatible devices directly to the Echo Plus and Echo Show, without first connecting them to your Wi-Fi using the manufacturer's own app. You will need to check your smart home devices to see if they use Zigbee, and here is a database created by the Zigbee Alliance to help you.
Connecting these devices directly to Alexa can make things simpler, but in some cases it also takes away some functionality. For example, Philips Hue smart bulbs lose some customization features when used with the Alexa app, instead of the Hue app.
Adding smart home devices to Alexa
Once you have set up a new device using the manufacturer's own app, it's time to also connect it to Alexa. To do this, you will need to find and enable the correct Alexa skill, then log into that skill using the credentials you set up the smart home device with (your Hue account details, for example).
To get started you can either say: "Alexa, discover my devices" to your Echo speaker, or open the Alexa phone app and follow these instructions:
Open the Alexa app
Tap on the Devices button at the foot of the screen
Tap on the + icon in the top-right corner
Tap on Add Device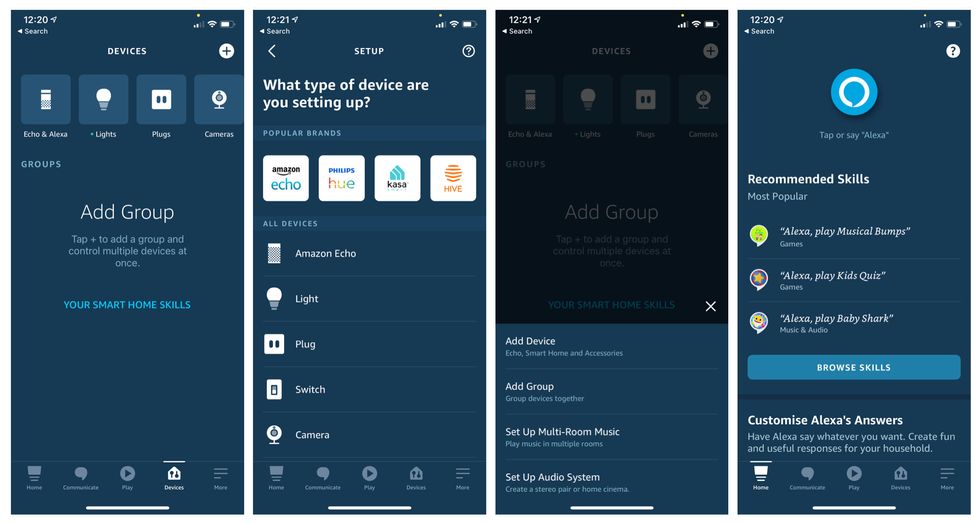 Adding a device to AlexaGearBrain
You'll then be offered a selection of popular brands, like Philips Hue and Kasa, and a list of device types to pick from. The easiest thing to do here is scroll to the end of the list and tap Other. Alexa will then scan your Wi-Fi network for devices, and walk you through the process of adding them to your Alexa app.

Alternatively, tap on the device type, then the brand and model. Here the Alexa app will ask you to install the device's own app and set it up, if you haven't done that already.
With that done, tap Continue to be taken to the Alexa Skill Store. Now tap on the Enable To Use button, and enter your account credentials when asked on the next page. Remember, that's the email address (or user name) and password you used to set up the device with its own application, such as Hue or Kasa.
Once added to Alexa, you will notice that the devices have the same name you gave them in the manufacturer's own app. So all your Hue bulbs and Kasa smart plugs, for example, will have the correct names. This means you can refer to these names when asking Alexa to control something; for example: "Alexa, turn on the desk lamp".

However, if you have devices from different manufacturers but with the same name, you'll need to change their name in the Alexa app. This might occur if you have a Hue bulb called Bedside Lamp in one room, and a LIFX bulb called Bedside Lamp in another room. Alexa can't tell the difference between these, and will control them both at the same time.
To fix this, you'll need to change the names of each bulb in the Alexa app so something more descriptive, like Master Bedroom Lamp and Spare Bedroom Lamp.
To change the name of a device in the Alexa app, follow these instructions:
Open the Alexa app
Tap the Devices button at the foot of the screen
Find the device you want to change (in this case we'll tap Lights)
Tap on the cog icon in the top-right corner
Tap Edit Name and change it to whatever you like
Check out The GearBrain, our smart home compatibility checker to see the other compatible products that work with Amazon Alexa enabled devices.
GearBrain shows Alexa and Google Assistant controlling the Philips Hue Go www.youtube.com
Like GearBrain on Facebook