When building a smart home today, one of the first products you'll likely buy are smart lights. But before you even bring one home, you'll want to decide how you want to control them: at the load level or directly from a switch. For the former, you'll want to make sure smart lights will speak, or connect, with your current smart devices. If you're fine controlling them from the switch level, you need to make sure these smart lights work with existing wiring in the home — and are also compatible with your connected devices. We recently tested a smart switch and plug from Leviton, a company with over 111 years of manufacturing standard light and dimmer switches. Its Decora smart switches and plugs were easy to install and pair with several best of breed smart home devices.
How Decora smart switches and plugs work

Leviton Decora smart switches and plugs let you control light switches, lamps and small appliances from anywhere in the world over a Wi-Fi connection. They're run through the My Leviton app (iOS or Android) and over voice if you pair them with an Amazon Echo, Google Home or an Apple Siri device. Leviton's smart devices also connect to Apple HomeKit and Z-Wave Plus devices, like Samsung SmartThings or Wink, and its Decora Digital switches and plugs work as well over a Bluetooth connection.
How do you know which version of Leviton Decora smart switches or plugs to buy for your home? It depends on how you plan to interact with them: in the room, or from anywhere you want. If you want room control, consider Leviton Decora smart devices with Bluetooth. However, if you want to control them remotely, or through a smart speaker assistant with Amazon Alexa or Google Assistant, pick Decora smart switches or plugs that work on a Wi-Fi signal.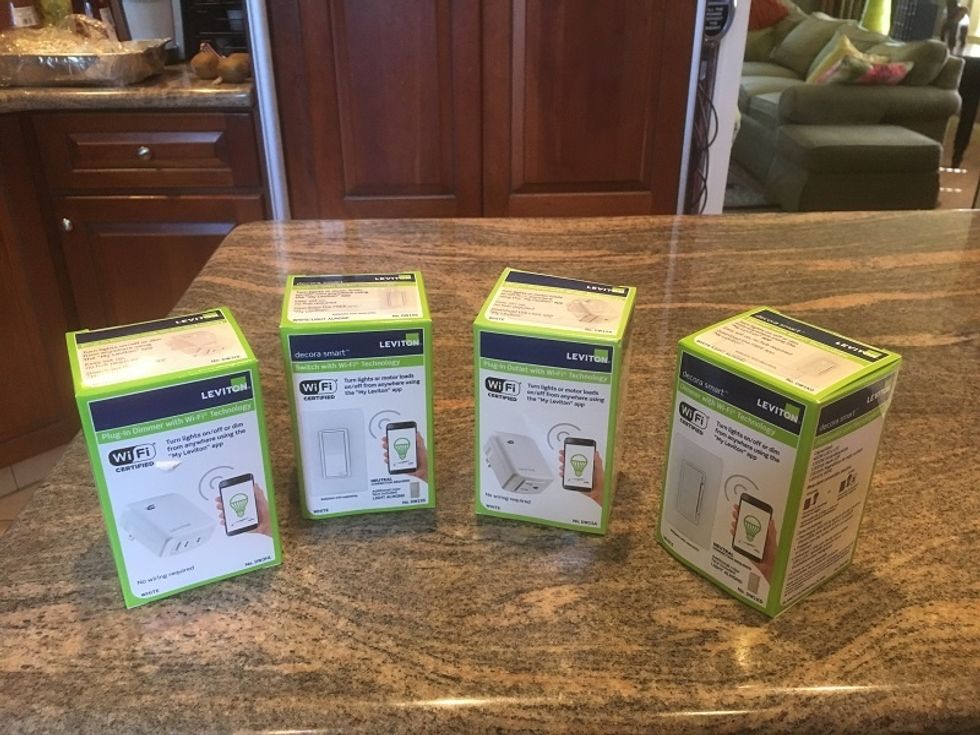 Leviton Decora Smart Switches and Plugs with Wi-Fi TechnologyGearBrain
Your smartphone will also direct you on which device to select. For Android smartphone users who want to build on a Wi-Fi connection, choose Decora smart devices that work on Wi-Fi. For Apple smartphone owners, select Decora Smart devices that work with Apple HomeKit, which will allow you to control your Decora devices with Siri.

Currently use a smart home hub with Z-Wave Plus? Leviton's Decora Smart devices with Z-Wave Plus are the ones for you.
GearBrain's recommendations are based on ensuring you know how you want to connect a smart switch or plug — but before buying one. This help you select the right device so when you get home, everything works.
How to install Decora Smart Switches

Before installing a smart switch, do two things: turn off power to the switch you're uninstalling, and then check the wiring behind the switch. You need a third wire — also called a neutral wire — to connect to your Decora smart switch. Many older homes, especially in the Northeast, don't have three wires connected to their light switches. If you don't have this third wire, contact a professional electrician to help you determine the best way, if at all, to install a smart switch.
If you do have the correct number of wires in your outlet, the next thing is measure the depth of your junction box. Like all smart switches, Leviton Decora's are thicker than a normal light switch. They measure 2.1 Inches by 1.4 inches by 4.1 inches. When you combined the switch along with three wire connectors and the wires, it gets very crowded in the junction box. You don't want one of those wires coming loose because it could short out the switch and possibly start a fire.
If you have enough room in the junction box — and the power is off — you can start your installation. The directions in the My Leviton app and the box are easy to follow. But if you're not comfortable working with the electrical connections in your home, call an electrician.
Types of Leviton Decora Smart Switches and Plugs

Leviton makes two different types of smart switches, with four different connections: Bluetooth, Wi-Fi, Apple HomeKit and Z-Wave Plus. There is a smart switch and smart dimmer switch. Both work with extremely sensitive low-wattage light sources, and can handle a single LED bulb, or can be set up as 3-way switches.
Leviton makes two types of Decora smart plugs: the Leviton Decora Smart Wi-Fi Plug-in Outlet (DW15A-1BW and DW3HL-1BW) and the 15 Amp Decora Smart with Z-Wave Plus Technology Plug-in Outlet (Z-Wave Plus smart plug – DZPA1-2BW and DZPD3-2BW). One has a dimmer, one does not, and both work off either a Wi-Fi or Z-Wave Plus wireless connection.
Each can be used in a home, and remotely turn your appliances or lamps on and off. They also provide 15A, 120 VAC NEMA 5-15R grounding receptacles. The smart plug-in dimmer control loads up to ½ HP, or dim freestanding lights up to 1800W including LED, incandescent, inductive voltage, fluorescent and compact fluorescent loads.
How to Set Up Your Leviton Decora Smart Switches and Plugs 
The first thing you need to do is download the My Leviton app from iTunes (iOS) or Google Play (Android.)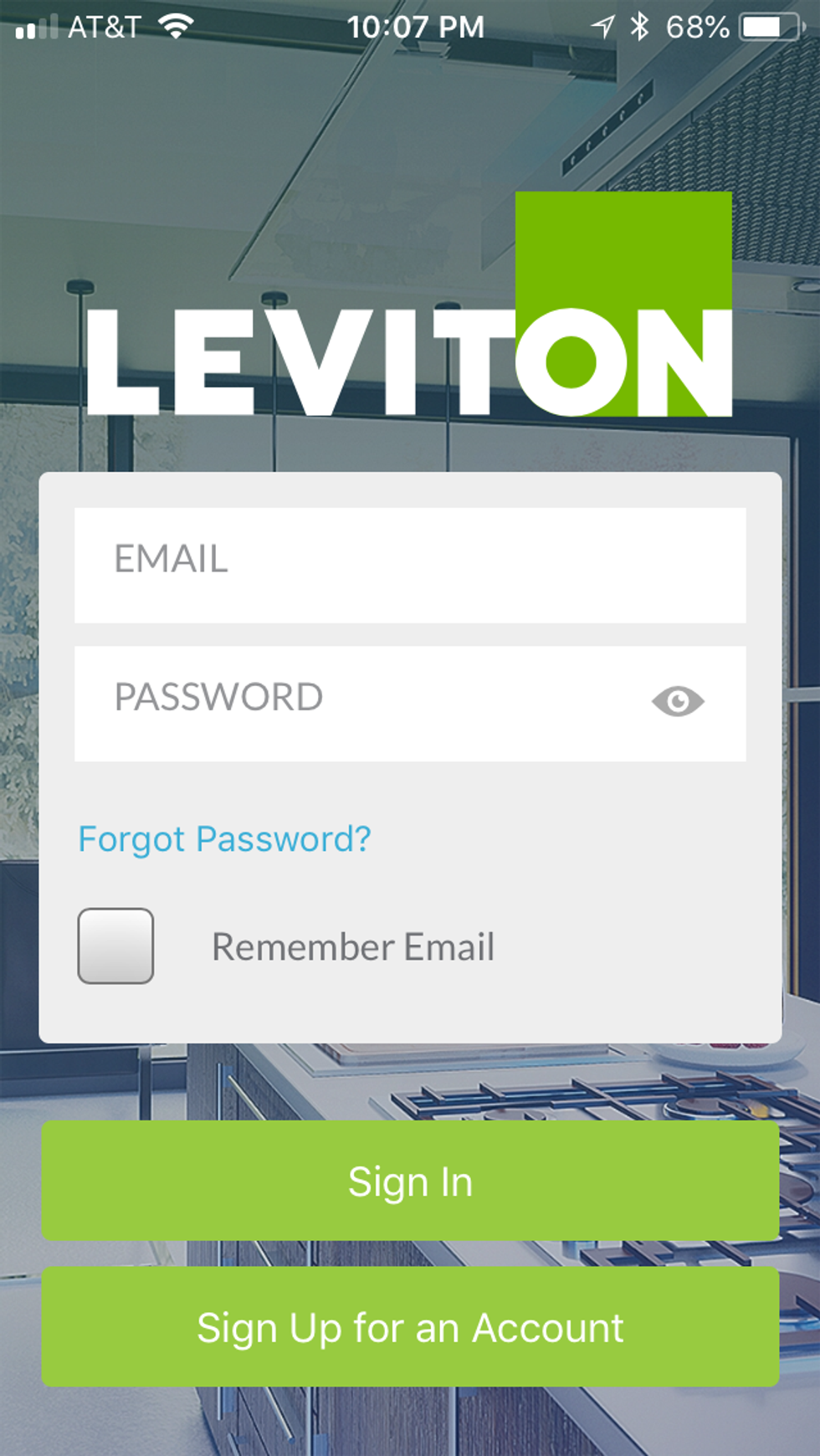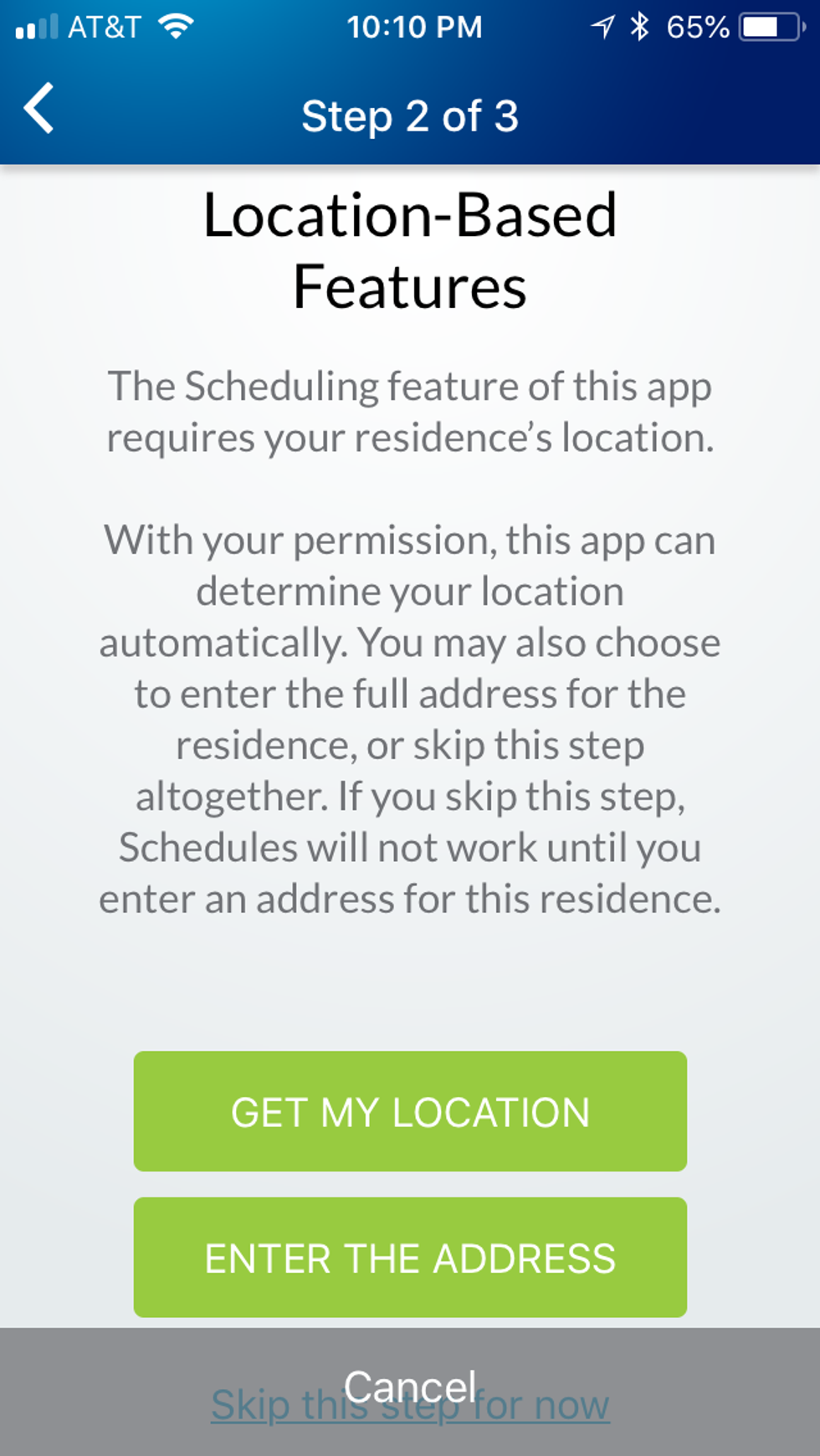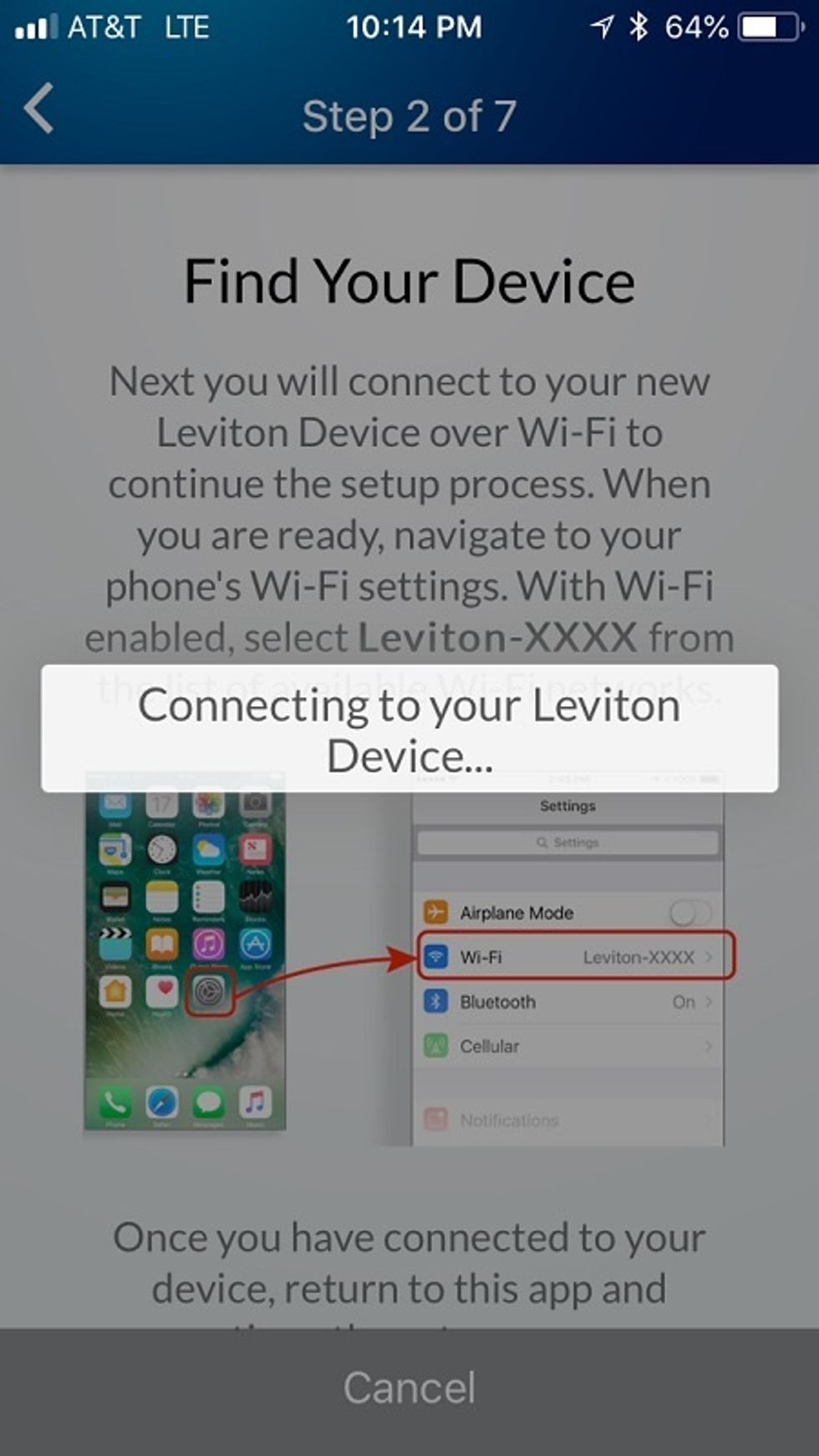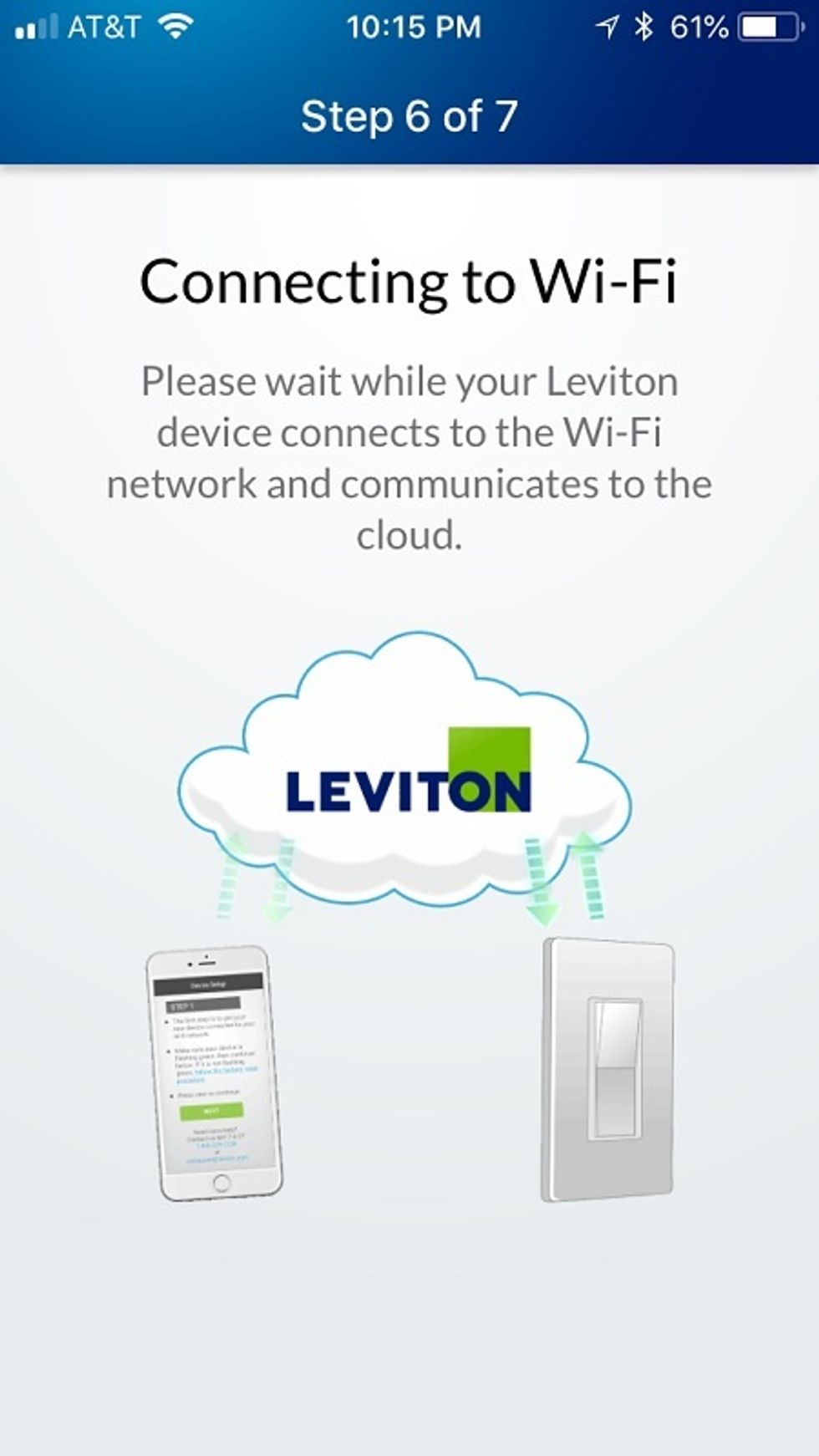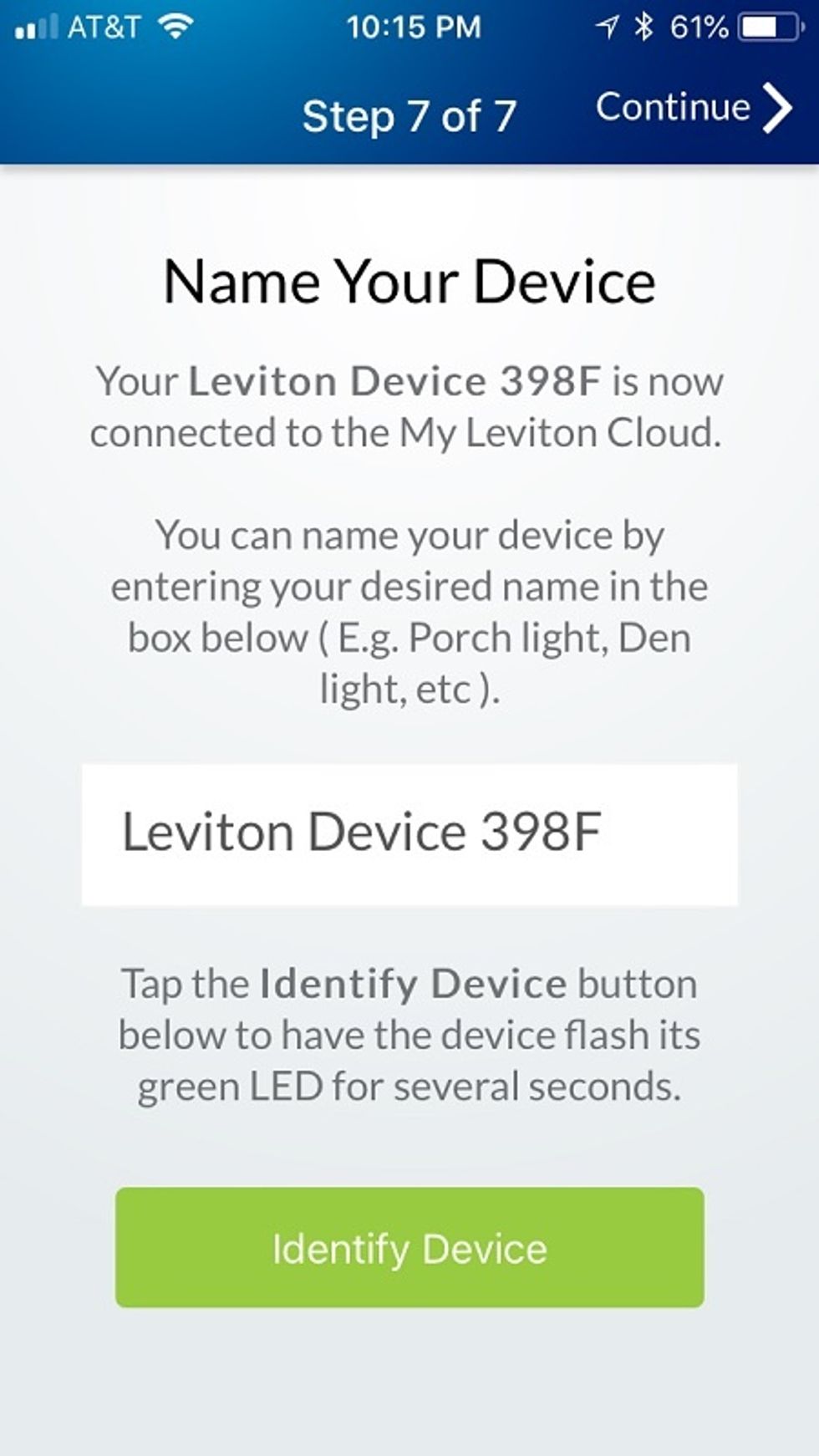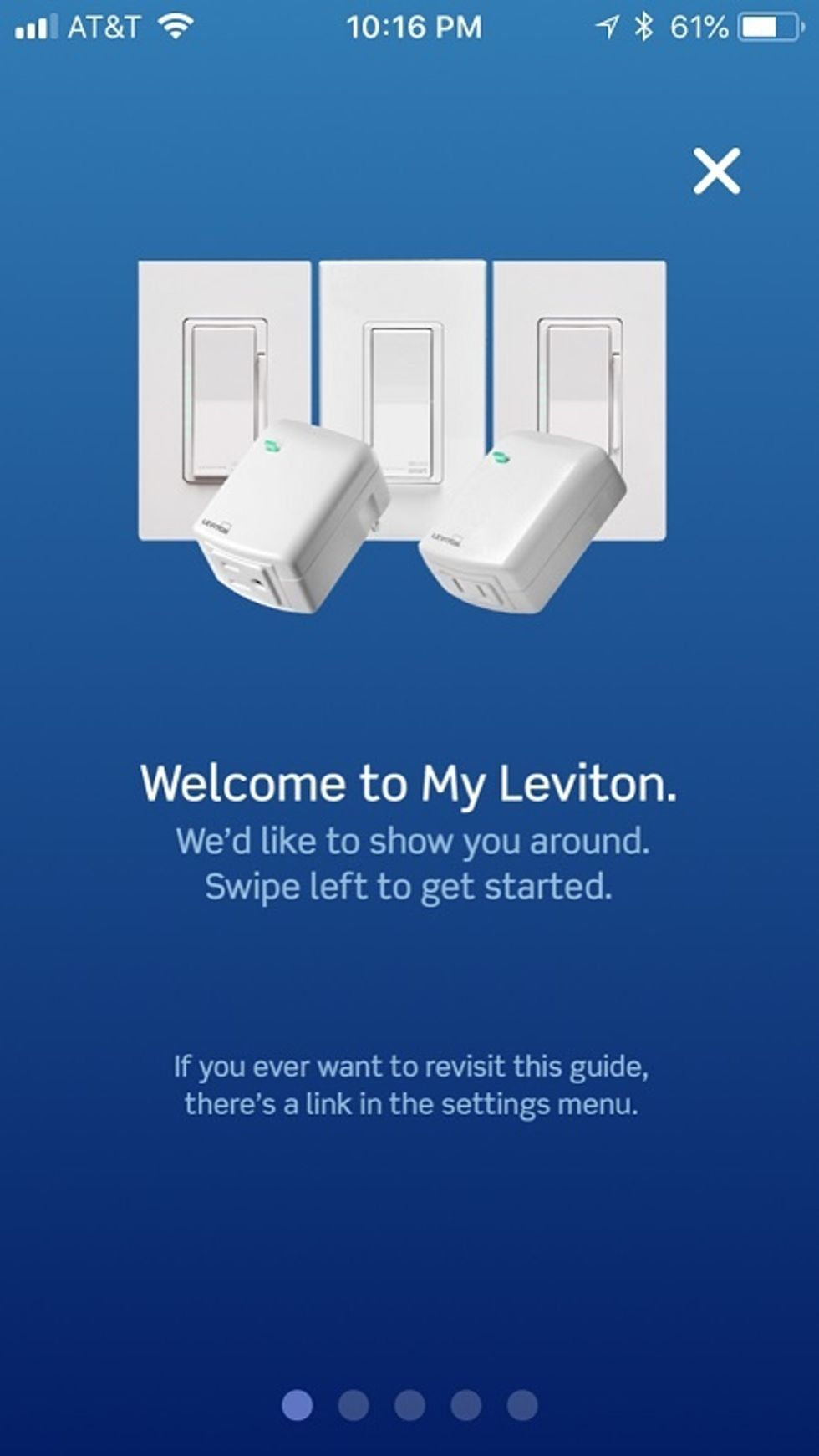 Leviton Decora Smart Home Integrations
Besides being able to control your Leviton Decora devices by voice with Google Assistant, Amazon Alexa and Siri-enabled devices, you can also use Nest and Apple HomeKit.
Leviton is part of the Works with Nest program, which means Decora devices work with Nest Learning Thermostats, Nest Cam and Nest Protect. You can set up automations in the Nest app so that lights connected to Leviton switches and smart plugs can go on and off, if a Nest Cam senses motion.
Decora Z-Wave Plus smart switches and plugs also work with most home automation and security systems that use Z-Wave energy management technology. Check first, but we know they'll will work with Z-Wave Plus hubs like Samsung SmartThings and Wink.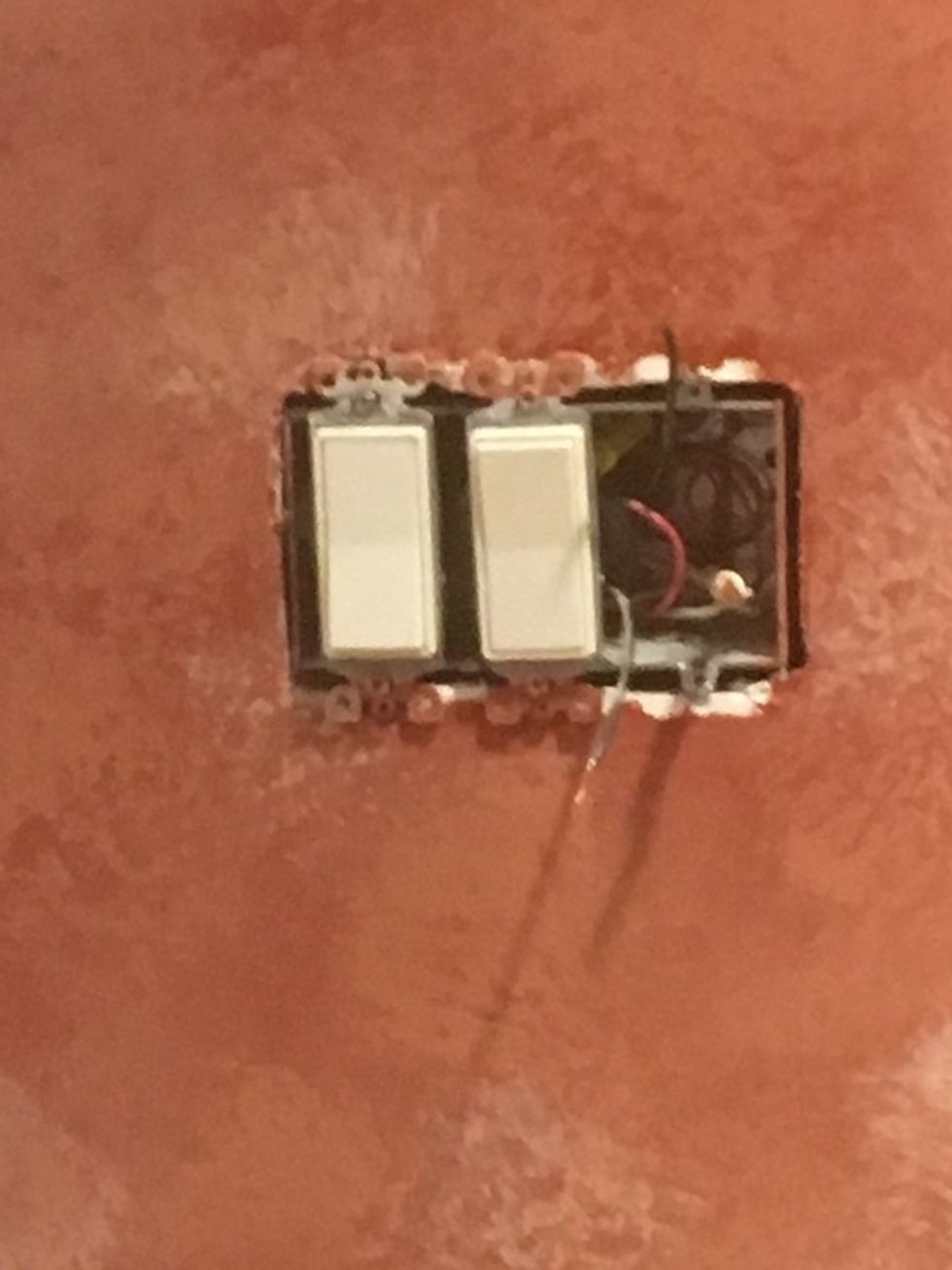 Before installing any smart switch, make sure you have the right wiring in your walls. You will need three wires to connect your Leviton Decora Smart Switch.GearBrain
Finally, you can use If This Than That (IFTTT) applets to automatically turn off appliances and create random home automation functions, like turning your lights on and off when you are not home using your Leviton Decora devices. We found 47 IFTTT applets that work with Leviton Decora smart switches and plugs and outside brands including: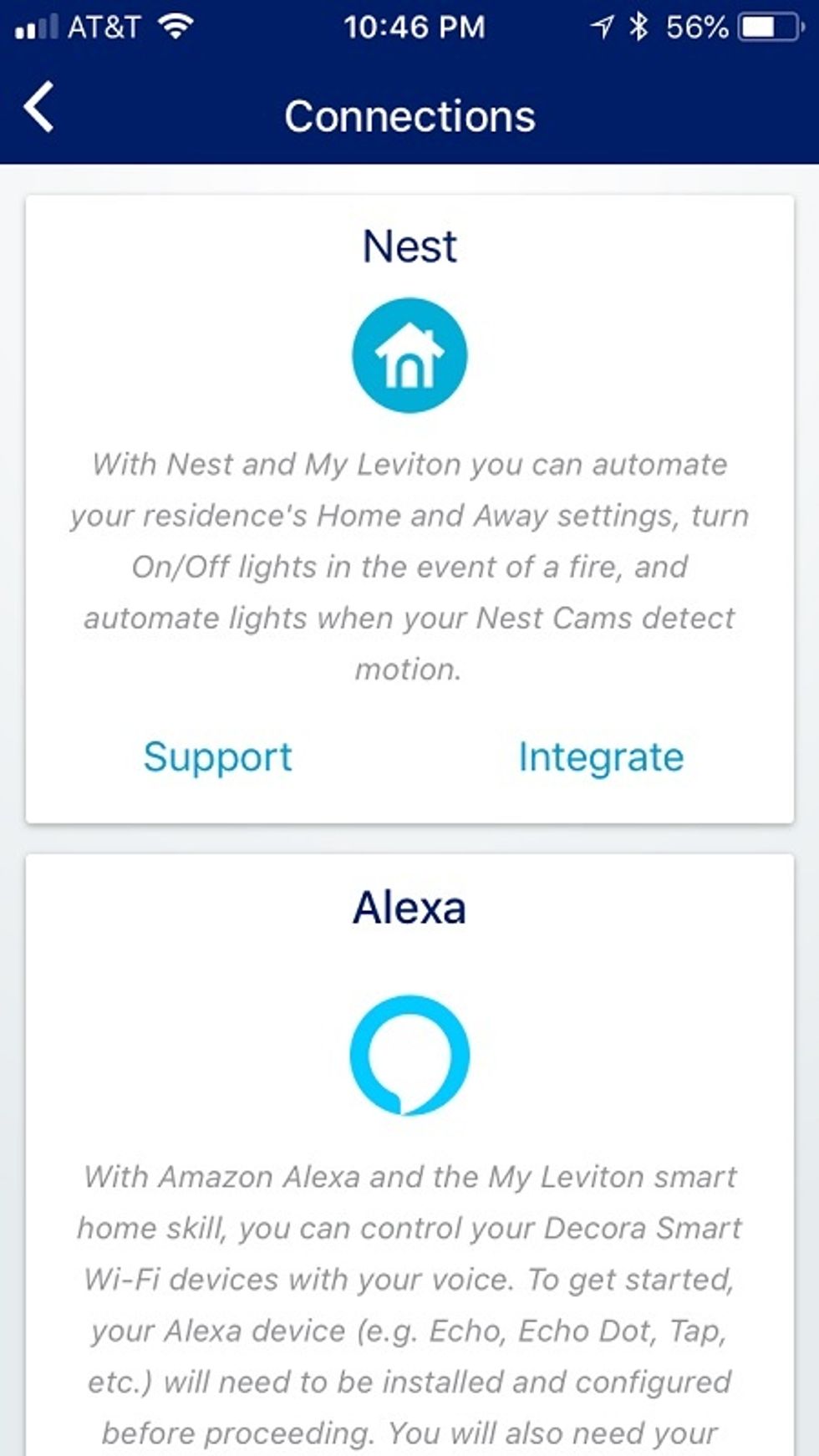 Leviton Decora Smart Switches and Plugs work with Nest, Amazon Alexa and other. Just use My Leviton app to set up these integrations.GearBrain
Testing

We installed Leviton Decora Dimmer with Wi-Fi Smart Switch in our test home's kitchen to control a chandelier. (Note: GearBrain always tests smart devices in real homes to see how products perform under normal internet and wireless connections. We do not use a lab or our offices to test products because these locations always seem to have excellent and high-speed internet connections.) Our electrician installed the smart dimmer switch to assure it was done correctly.
The Decora dimmer switch took just minutes to install as we had the correct wiring in the wall. Connecting the switch to our home Wi-Fi network was a breeze, as was connecting the switch and plug to both a Google Home Mini and an Amazon Echo. We didn't test the Z-Wave Plus smart plug or switches but assume these integrations would be the same as what we experienced.
We also connected the Leviton Decora smart plug to a lamp in the test home. There were no issues connecting to our home Wi-Fi, even with the lamp on the other end of the house from our router.

Once we had both devices connected and working, we used the My Leviton app to test commands. The app lets you set up activities by device, room, activity, schedule and residence.
Overall, the My Leviton app was easy to follow, and took just seconds to set up a few activities in the rooms. We did find the smart switch construction itself a bit fragile. When we pushed the switch, we felt it could break if pushed too hard. The smart plug was also a little big to our liking. It was nice to see Leviton came out with a new Decora Mini Smart Plug. This design is more applicable for consumers to use in making their home a smart home.
Many smart plugs today tend to be slim in structure so not to take up the entire wall outlet. Though the Decora smart plugs were smaller than those made by GE and Jasco, it was bigger than the WeMo Mini smart plug. We will say if size doesn't matter and you are installing a smart plug in a wall outlet where it will not be seen, then this might be a moot point.
Where Can You Buy Leviton Decora Smart Switches and Plugs

Just like other Leviton products, their Decora Smart Switches and plugs are available at major home retailers (i.e. ACE Hardware, The Home Depot, And Fleet Farm), online retailers (i.e. Amazon, ACE, The Home Depot, Anixter, Kendal Electric) and electrical distribution networks. On Amazon, we found the Decora Smart Wi-Fi Switch lists for $44.99, Decora Wi-Fi Dimmer Switch lists for $45.99, Decora Wi-Fi Smart Plug-in Dimmer and Decora Smart Plug list for $39.99 each.
Summary

If you're looking for smart switches for your home, consider Leviton Decora Switches for a couple of reasons. Leviton has been a manufacturer of light switches for over 110 years, and has experience when it comes to electrical switches. Its Decora smart switches and plugs are also versatile in that they work across most wireless platforms: Bluetooth, Wi-Fi and Z-Wave Plus. They also can be controlled by the two major smart speaker assistants, Google Assistant and Amazon Alexa.
Another nice feature about Leviton Decora smart switches and plugs is you don't need a hub. Other smart home switches like Lutron Caseta and Insteon require a hub. If you do want to use a hub, get Z-wave Plus Decora devices, then connect them to Samsung SmartThings or Wink hubs — both of which are Z-Wave Plus hubs. (Check out The GearBrain, our smart home compatibility checker to see the other compatible products that work with Samsung SmartThings as well as Google Assistant, Amazon Alexa and Nest devices.)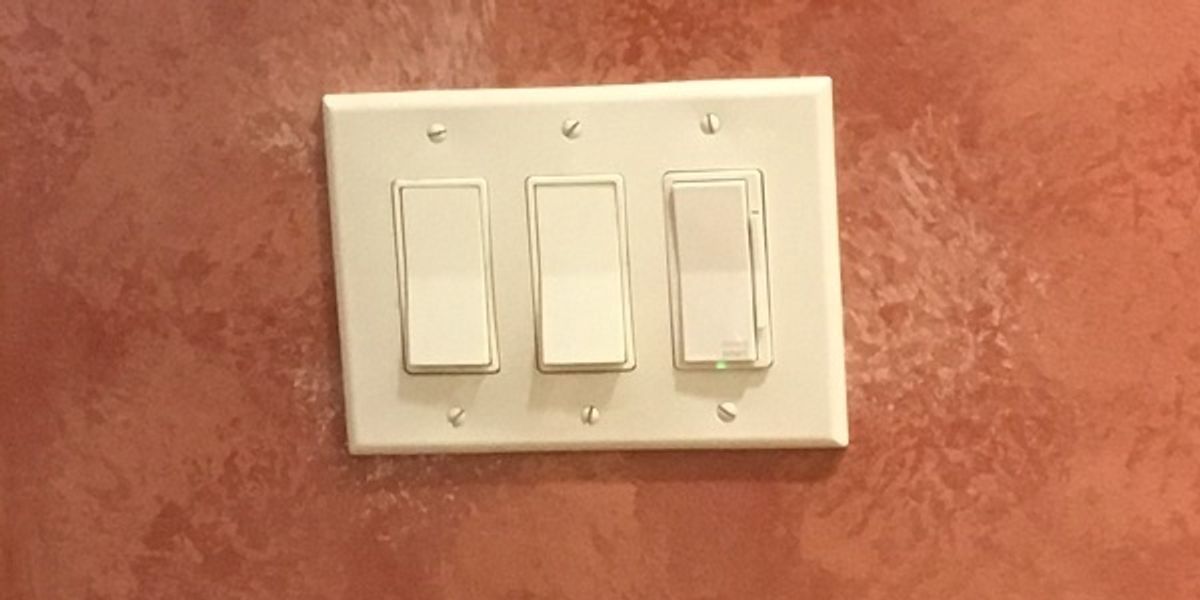 Leviton Decora Smart Dimmer Switch with Wi-Fi installed.GearBrain
Overall, Leviton Decora smart switches and plugs are well-priced, offering a lot of options for consumers looking to install smart switches or smart plugs at home. They're easy to install for those comfortable working with electrical wires — plus they work across several best of breed smart home devices and systems. We would like to see a Zigbee smart switch and plug to round out the wireless platforms. But for now, the brand offers a lot of options for consumers looking to build out their smart home space.

Pros:
Easy to install and works with Nest, Google Assistant, Amazon Alexa and Siri enabled devices, IFTTT applets
Well priced
No hub required
New smart mini plug
Cons:
Would like to see more smart home integrations (no Zigbee versions)
Switch construction felt flimsy
Old Smart plugs are a little big and boxy