Like GearBrain on Facebook
We often talk at GearBrain about how the smart home can help make your life easier, simpler and more satisfying, while also saving money on your energy bills.
But smart, connected technology can also help make your home more environmentally friendly.
Read More:
From solar panels powering outdoor security cameras, to intelligent irrigation systems, devices to make your AC more efficient, and even a sustainable smartphone to control everything, these are the products that can help make your smart home more environmentally friendly.
Solar-powered security cameras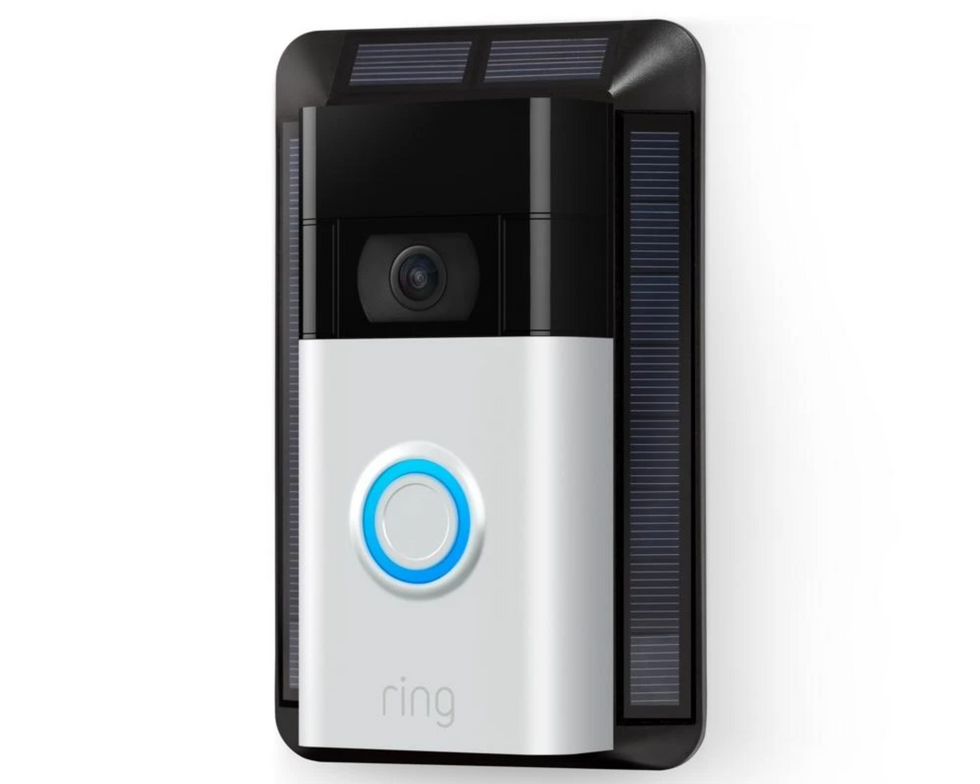 The $50 solar charger goes on sale this July Ring
We'll start with the newest device, a solar charger for the Ring Video Doorbell that goes on sale this July. Replacing a similar model compatible with the original Ring Video Doorbell, the new version works with the second-generation doorbell.

Priced at $50, the charger has two functions. It firstly acts as a way to mount the doorbell to your wall or door, replacing the original mounting kit. It then uses solar power to help keep the doorbell's battery topped up, meaning you don't need to worry about taking it inside to recharge, and no energy is drawn from the grid to fill the battery.
Ring also sells the Spotlight Cam Solar, an outdoor security camera that plugs into a weatherproof solar panel. Mount both to an outside wall, connect the camera to your Wi-Fi network, and you have a solar-powered security system that never needs a new battery.
Another option for solar-powered surveillance comes from Arlo, which sells a panel for powering its own outdoor cameras. As with Ring products , the Arlo solar panel mounts to wall or fence, and plug into one of the company's Pro or Go security cameras, removing the need to recharge the battery.
Further options for solar-powered outdoor security cameras include the Argus 2 by Reolink, which GearBrain has reviewed , and Maxsa , which sells solar-powered outdoor lighting too.
Introducing Ring Solar Floodlight – Outdoor Motion-Sensor Security Light, White (Ring Bridge required)
Solar-powered window blinds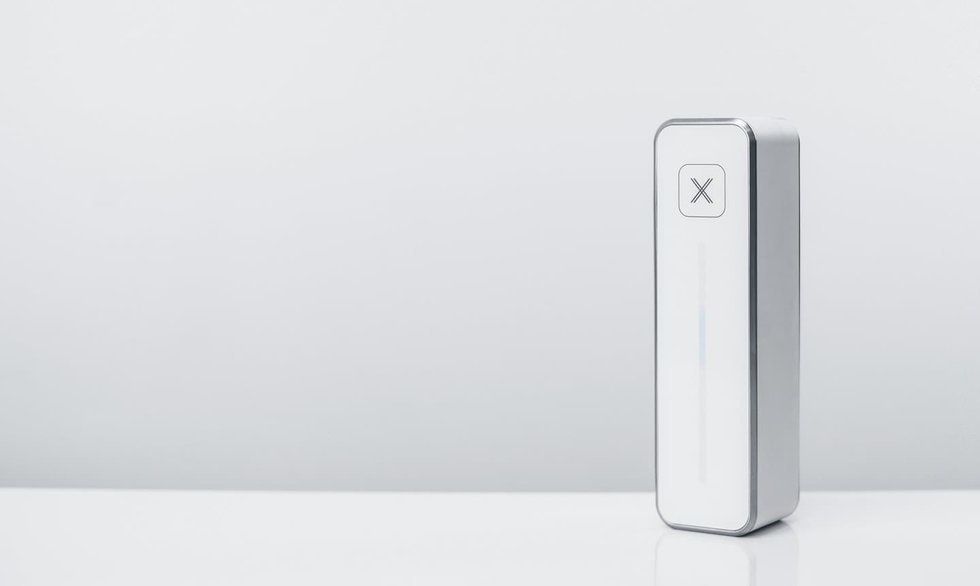 Axis Gear Smart Blind Controller Axis
Sticking with solar power but heading inside the home, smart window blind motors by Axis and Soma can both be powered by the sun. These attach to the wall next to your window, then use a motor to pull on the cord to open and close the blind; a solar panel then fits to the window itself to keep the battery charged.

Additionally, with smart window blinds you can gain extra control of the temperature of a room by opening and closing them with a smartphone app, reducing your HVAC's energy consumption.
Efficient air-conditioning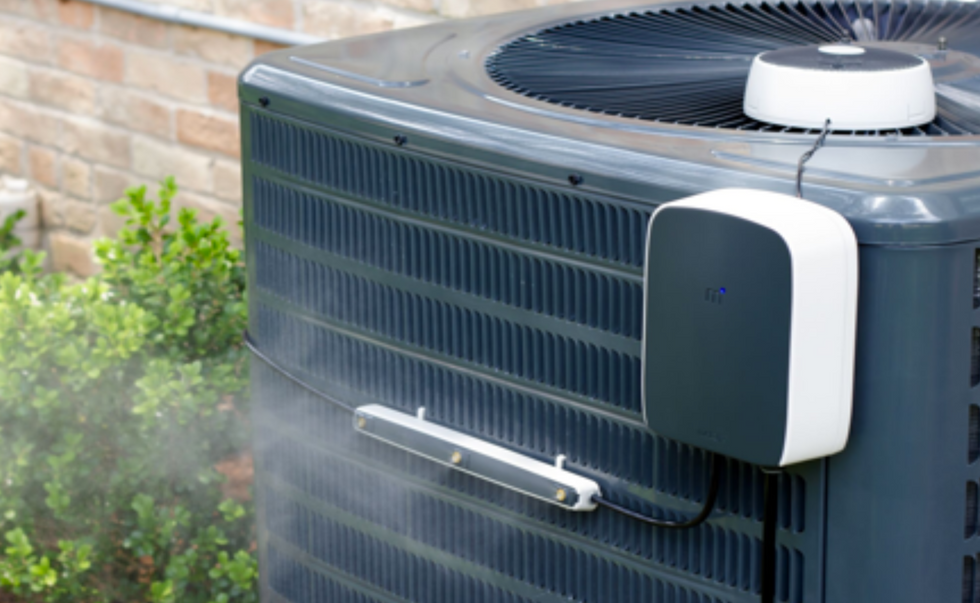 The Mistbox helps to lower your AC energy usage Mistbox
We know AC units aren't the most environmentally friendly devices, but there are at least options for lowering their energy usage, as well as your power bills and the carbon footprint of your home.

One such option is the Mistbox, which sprays a fine mist to cool the air intake of your AC unit. This helps to reduce the amount of energy required to cool the air entering your AC system, therefore making it more efficient.
Its makers say the Mistbox can cut your AC bills by up to 30 percent, potentially saving you hundreds of dollars a year and lowering your home's energy demands.
Smart thermostat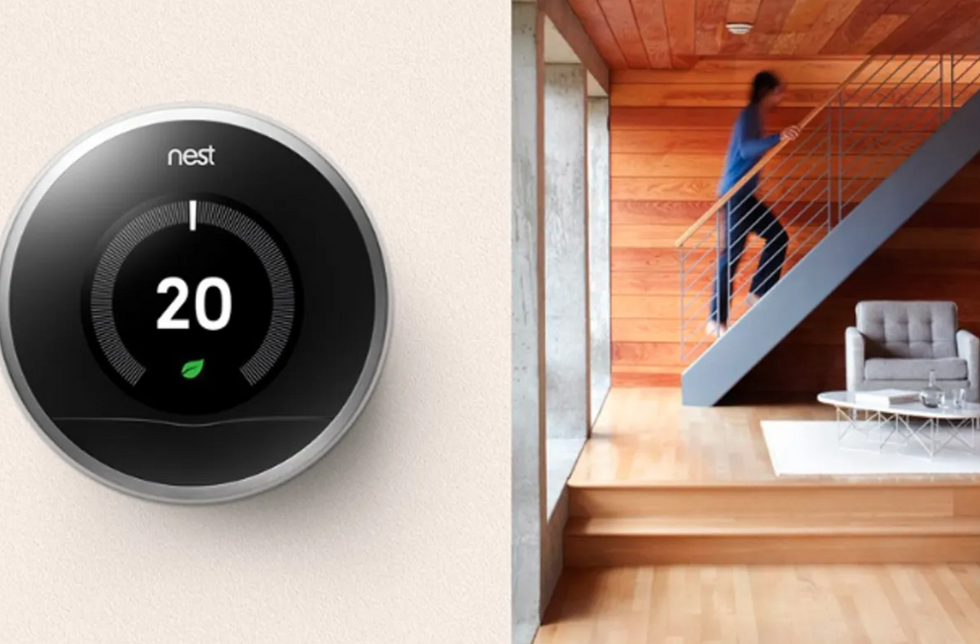 Smart thermostats can lower your household energy requirements Nest
Another option, of course, is the smart thermostat. Produced by companies including Nest, Honeywell and Ecobee , these devices usually focus on saving money on your energy bills while keeping you comfortably warm or cool. But, naturally, a saving on your energy bill also means a reduction in the carbon footprint of your home.

Ecobee claims its SmartThermostat , also acts as an Alexa smart speaker, can save buyers an average of 23 percent on their annual cooling and heating costs.
Meanwhile, Google-owned Nest says its smart thermostat can save between 10 and 12 percent on heating bills and 15 percent on cooling. Based on typical energy usage in the US, this equates to a saving of up to $145 a year, Nest says . The thermostat became the first to get an Energy Star certificate from the EPA, in 2017.
Honeywell Home T9 WIFI Smart Thermostat with 1 Smart Room Sensor, Touchscreen Display, Alexa and Google Assist
Smart shower head

Water wastage is a problem right across the home, with taps running while we brush our teeth, toilets flushing more than necessary, and slow leaks we're not even aware of happening. There are numerous products on the market to fix these problems, and one of the simplest is the Hydrao smart shower head.
The Hydrao contains a set of LED lights that are powered by a turbine that spins as water passes through. The lights start off green, then turn blue, purple and eventually to red the longer you stay in the shower. Instead of a countdown and alarm to say you've had enough for one day, the lights slowly shift in color to remind you of the hot water — and therefore energy — your shower is using.
The French makers of Hydrao claim it can save €152 a year based on average energy prices, which is around $165.
Water monitor systems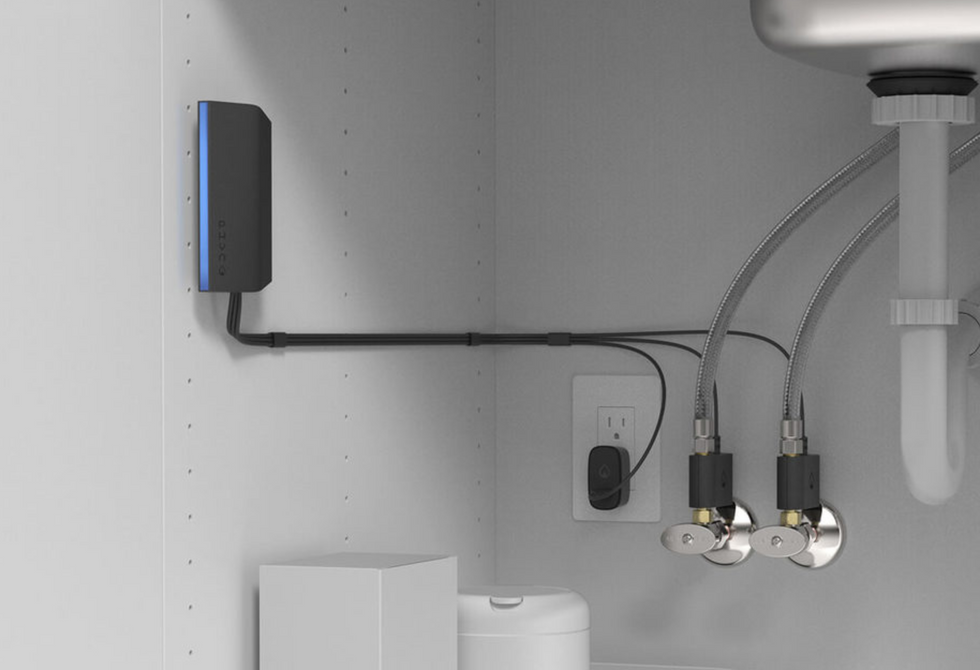 Belkin's DIY Phyn option costs $300 Belkin
Although primarily used to alert you before a leak causes serious damage, smart water monitors like those from Phyn can also reduce your property's water consumption.

They do this by monitoring the flow of water into your property hundreds of times per second, learn the normal behaviors of your home, then alert you to a potential leak, or to a tap that may have been left on by mistake.
According to Belkin-owned Phyn, the average US home leaks 10,000 gallons of water each year, the equivalent to over 300 loads of laundry. Combined, US households water one trillion gallons of water every year, which could instead provide water to over 11 million homes. The company says Phyn owners typically lower their water bills by 10 percent, thanks to the system identifying and stopping leaks.
Phyn Smart Water Assistant: DIY-Installed Smart Home Water Usage Monitor & Leak Detector (Compatible with Alexa)
Smart irrigation
On a similar note, smart garden irrigation systems like those from Rachio and Orbit can be tuned to deliver exactly the right amount of water to your plants and lawn, lowering your bills and energy demands.
LED lighting
Producing more heat than light, old incandescent light bulbs are hopelessly inefficient compared to LED alternatives. Although the latter are more expensive to buy up front (especially so if you look at even the cheapest smart lights ), they last considerably longer and use up to 90 percent less energy, lowering your bills and your home's carbon footprint.
Replacing incandescent bulbs with LEDs is something of a no-brainer, but you'll want to think more carefully before investing in a smart lighting system , like those from Philips Hue, Lifx and C by GE. They are fun to use, but as we have explained before, buying enough for a whole house can be very expensive, and you won't see a financial return on your investment for some time.
You will also have to consider the energy consumption of the smart bulbs (and potentially an internet-connected hub , too). But if you install regular LED bulbs , you'll be lowering your energy usage immediately.
C by GE A19 LED Smart Light Bulb - Full Color Changing Light Bulb, 2-Pack, LED Party Lights, LED Lights for Bedroom, Works with Amazon Alexa and Google Home, Bluetooth Light Bulb
Smartphone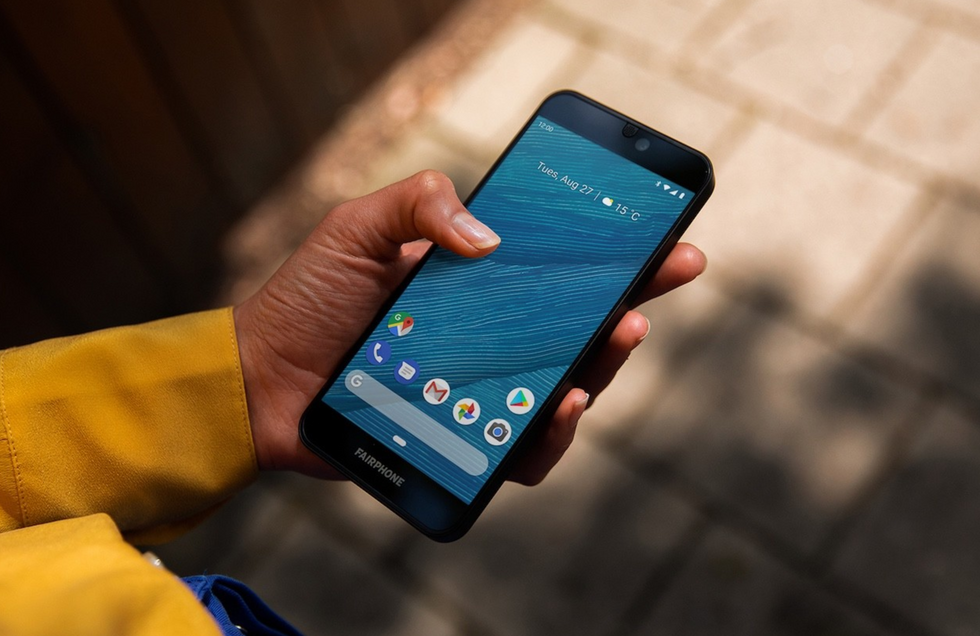 The Fairphone 3 has a modular design that is easy to fix Fairphone
If you install any of the smart home products mentioned so far, you'll want to control them with a smartphone. For the environmentally conscious, the Fairphone 3 Android handset is the ideal choice.

Using recycled and fair-trade materials, the Fairphone 3 is modular and significantly more repairable than almost all other smartphones. It even comes with a screwdriver to help you remove and replace components should they break from a fall.
If you're an iPhone user, you may already know about the recent efforts Apple has made to improve the sustainability of its products. The iPhone's logic board solder is made from 100 percent recycled tin, and over 40 components used by the current lineup contain recycled plastic. The wood fibre in Apple's packaging comes from recycled sources or responsibly managed forests.
To help even further, you could protect your iPhone with a biodegradable case from PackageFreeShop . These cases are made from 'flaxstic,' a plant-based biopolymer, and should you ever want to throw yours away, it is completely compostable.
Tesla Solar Tiles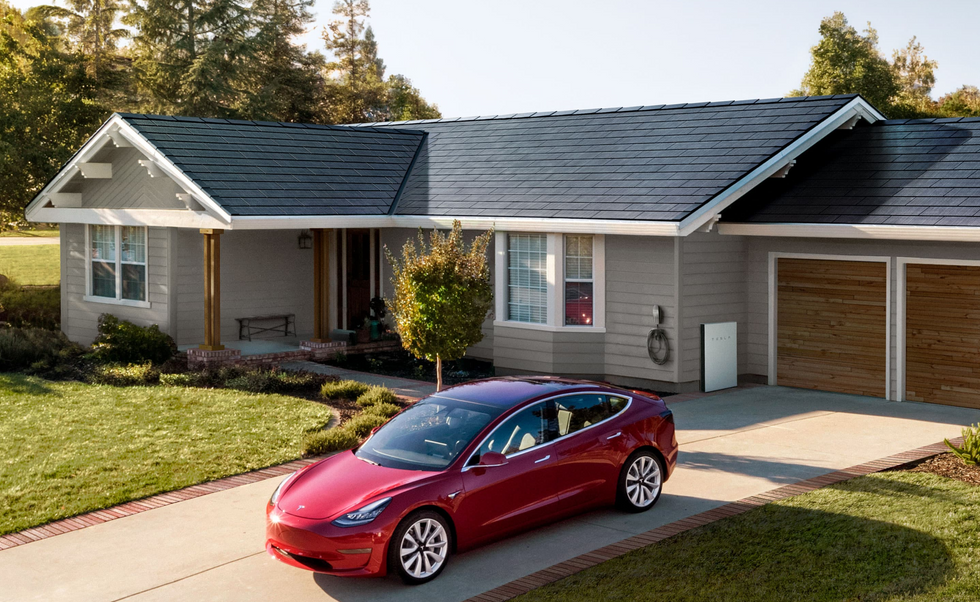 Tesla solar roof panels look like regular tiles Tesla
Finally, you could take your home off the grid with solar panels. There are many options available, but the most interesting is the Tesla Solar Tile.

While admittedly expensive, these look like regular tiles and completely do away with the ugly aesthetics of most traditional solar panels, while using the sun's energy to power your home — and charge your car. Although pricier then installing panels, Tesla claims its solar tiles are cheaper than fitting an entire new roof (plus solar panels) to your property.
GearBrain Road Trip Gadget Guide www.youtube.com
Echo Dot (3rd Gen) Charcoal with Echo Auto
Like GearBrain on Facebook