Like GearBrain on Facebook
Smart entertainment devices from TVs to surround sound systems, speakers to AV receivers typically share something in common — they need to be wired together. While some do connect through Bluetooth, others do depend on some cables, which can take time to link together, and is not always that clean of a design.
Enclave Audio offers a different solution, wireless surround sound systems including its new CineHome II wireless home theater system. This 5.1 surround sound system works exclusively on a wireless connection, to support surround sound at a high level without any wiring. We installed this in a home, and here's what we found in terms of setting up the system and its performance.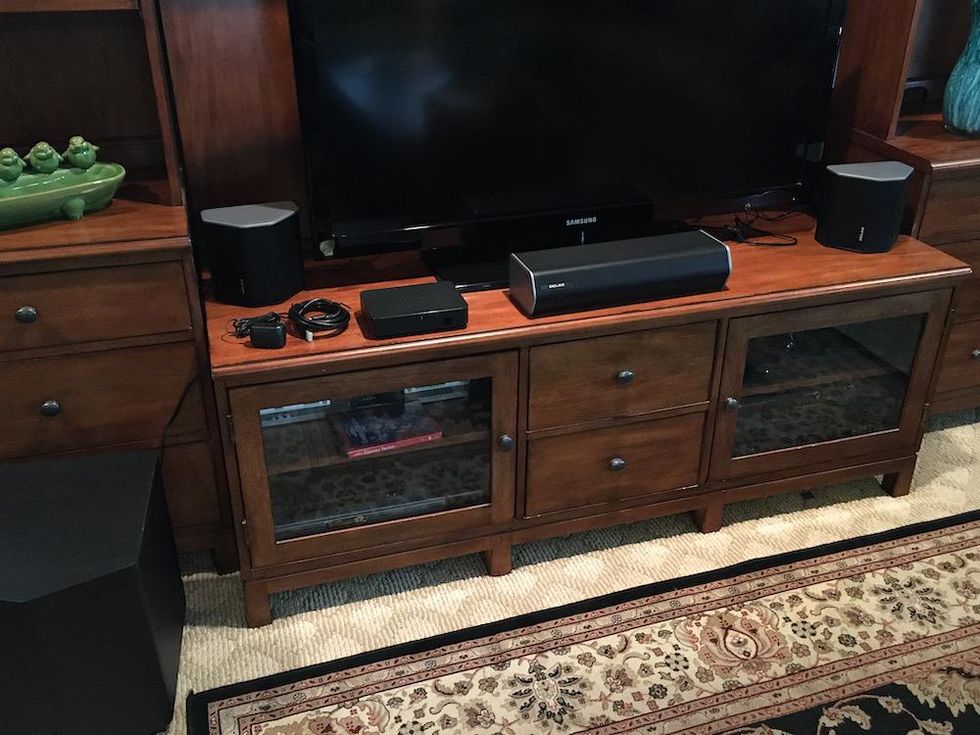 Enclave's CineHome II Wireless Home Theatre System comes with a hub, 6 speakers and subwoofer.GearBrain
What is the CineHome II Wireless Home Theatre System?

Enclave Audio's new CineHome II Wireless Home Theatre System is a wireless, all-in-one 5.1 surround sound home theatre system that's wireless. You get an 8-inch down firing subwoofer, six speakers and a CineHub, which controls the system through the Enclave app. The entire system also supports Dolby Digital Plus, Dolby Digital, DTS Digital Surround and PCM.
The system is easy to setup as the only cords you need are the power cords for each speaker and either an HDMI or Optical cord to connect CineHub to your smart TV. You're not going to need to run wires from your speakers to the hub or the AV receiver.
The most important device in Enclave's CineHome II system is not the subwoofer or six custom design speakers — it's the CineHub. This is a wireless transmitter that talks to each speaker across its own WiSA certified multichannel wireless technology. Think of it as a powerful Class-D digital amplifier with wireless 24 Bit High Definition Audio. HD audio is delivered without delay.
Each of Enclave's front speakers have four full-range drivers with three tweeters. The Bi-pole rear speakers have 2 full range drivers, and the 8-inch subwoofer is downward firing and can be upgraded to four subs.
How to setup the Enclave CineHome II System

You can set up the Enclave system with either the Enclave app (iOS and Android versions available), through the setup instructions or use the CineHub QuickStart Guide found inside the box. We tried both versions, and the guide worked fine. Enclave claims its system can be setup in 10 minutes — we did it in less. Opening everything up actually took longer.
Once we took each speaker from the box, and put them into position in our test house, we then plugged each speaker into a wall outlet (120V) and switched on the power. When you see the LED behind the speaker blinking, this means the speaker is ready to pair. If you need help in finding the right place in your room for each speaker, Enclave's app has a good diagram on where you should position each speaker for optimum performance.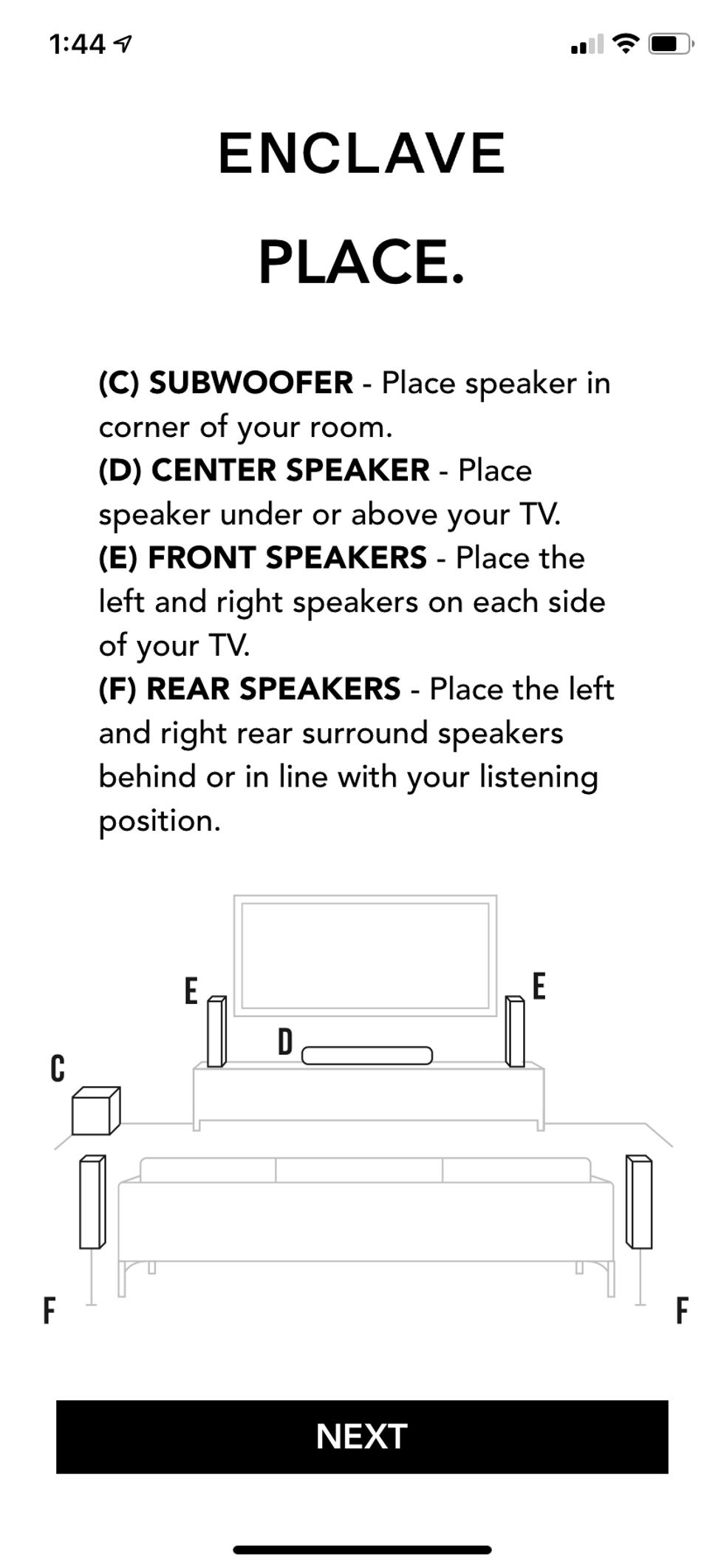 Enclave app provides guidance on where to position your CineHome speakers.GearBrain
When speakers were finally in place, we connected the CineHub to our smart TV using the optical audio cord. Our TV did not have an eARC or ARC port but it did have an optical audio input. While an HDMI cord gets plugged into a TV's eARC or ARC port, you'll use an optical cord, as we did, if you don't have these ports.

At this stage, Enclave app will then scan for your system. Once it locates your system, just click the connect button. Next, you'll want to adjust each speaker's sound, and also test the audio. Do make sure in the app to select the connection you're using on the CineHub: Optical, HDMI, AUX or Bluetooth.

CineHub will work on a 5.0 Bluetooth connection, which surprised us as the system works on Enclave's own wireless network. But we found the Bluetooth connection worked great when playing music from our smartphone, for example, instead of through the TV.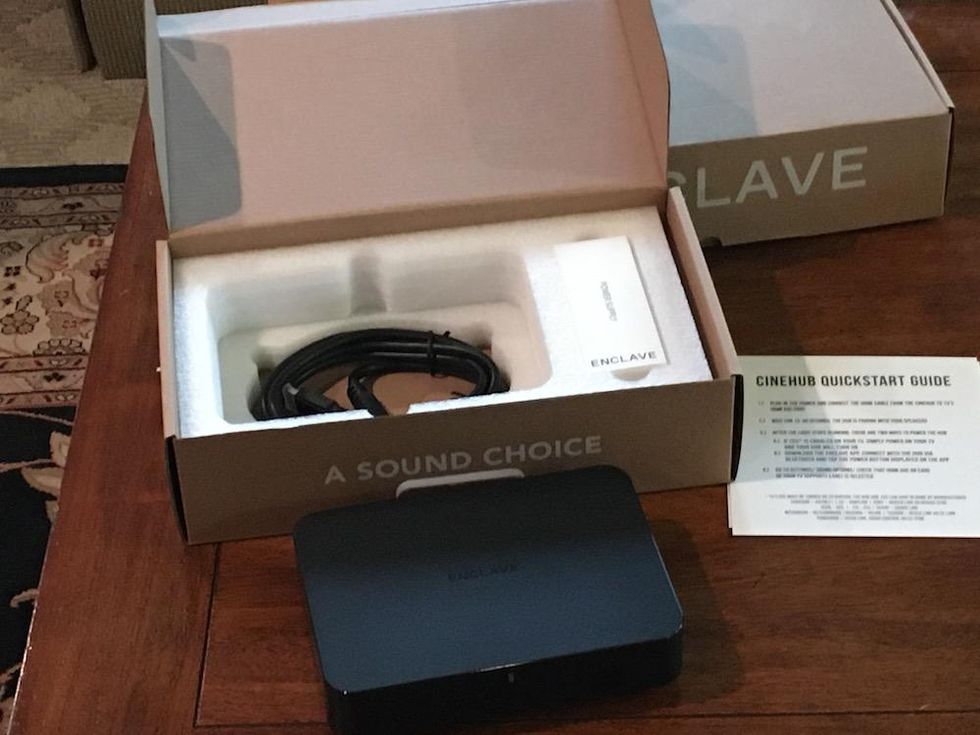 Enclave Audio CineHub unboxed.GearBrain
Performance and test results

After setting up the system, we tried several types of programming to get a feel for the system and its sound. One of the nice things with the Enclave app is you can use it as an equalizer, letting you select the optimum sound for your programming or listening choices. You'll do this in the app through Settings.
In the Settings you can choose Dolby Pro Logic Mode (Auto or off), Dolby Dynamic Range Mode (Standard, Minimum and Maximum) and Whole Room Stereo (on and off). You can also reset your wireless connection, set speaker levels, access room setup, go to support FAQ or submit a support ticket if any problems arise.
When we played with the settings, we found some interesting choices and options. For instance, when you turn on Dolby Dynamic Range and Whole Room, Dolby Pro Logic Mode automatically turns off. And when you turn off whole room, Dolby Pro Logic automatically goes to Auto.
Our favorite setting for when watching news or live events on TV was having Dolby Pro Logic on Auto with whole room off. For movies, we liked when Dolby Dynamic Range mode was set to Maximum, with Dolby Pro Logic on Movie setting. For music, the best setting was turning on Whole Room stereo and putting the Dolby Dynamic Range Mode to Maximum.
Enclave Remote App Home Page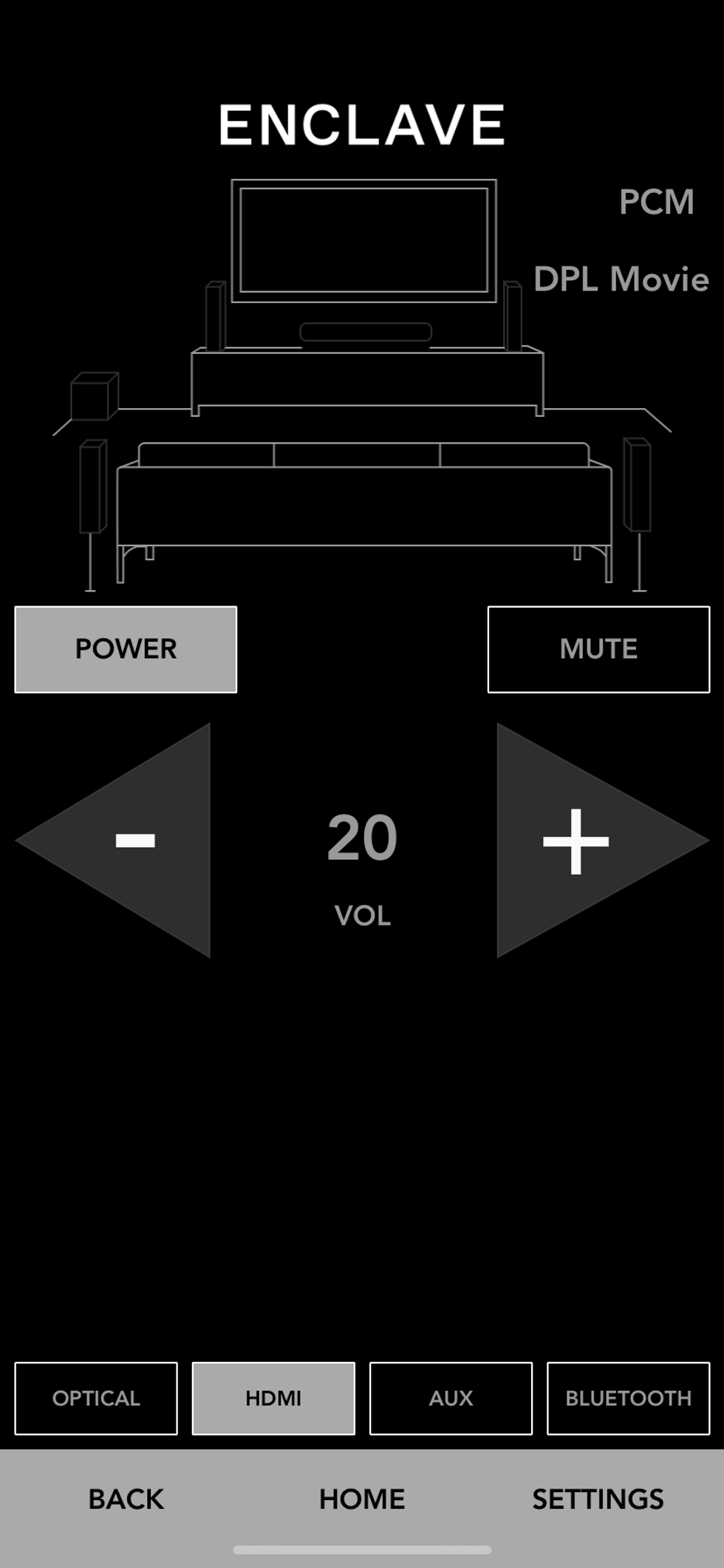 Home page of Enclave Remote app
GearBrain
Once logged into the Enclave Remote app, you can control the volume as well as input for your system.
Enclave Remote App Sound Settings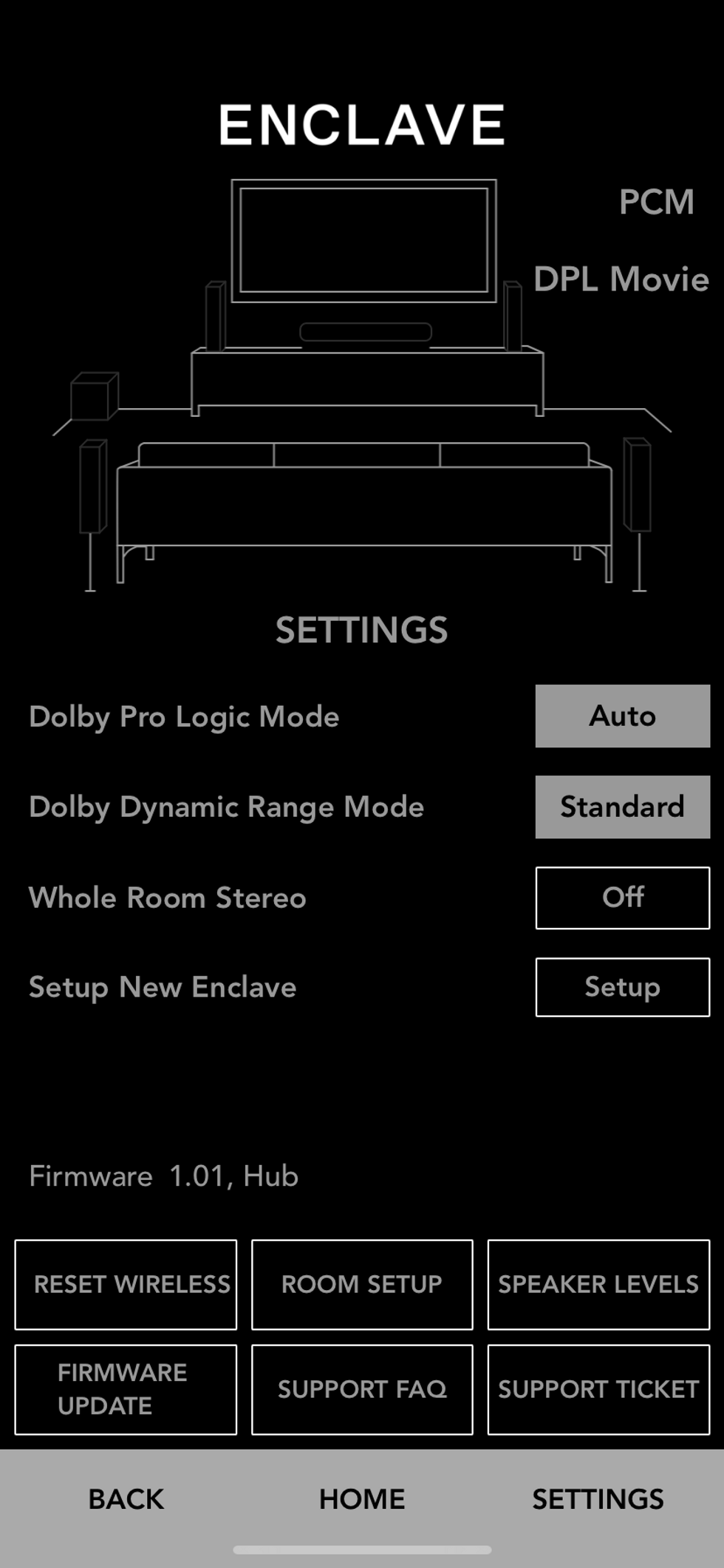 Settings home page in app
GearBrain
On the settings page, you can set the sound modes as well as reset wireless connection, room setup, access speaker levels, check out FAQs and contact Enclave Support.
Enclave Remote App Speaker Levels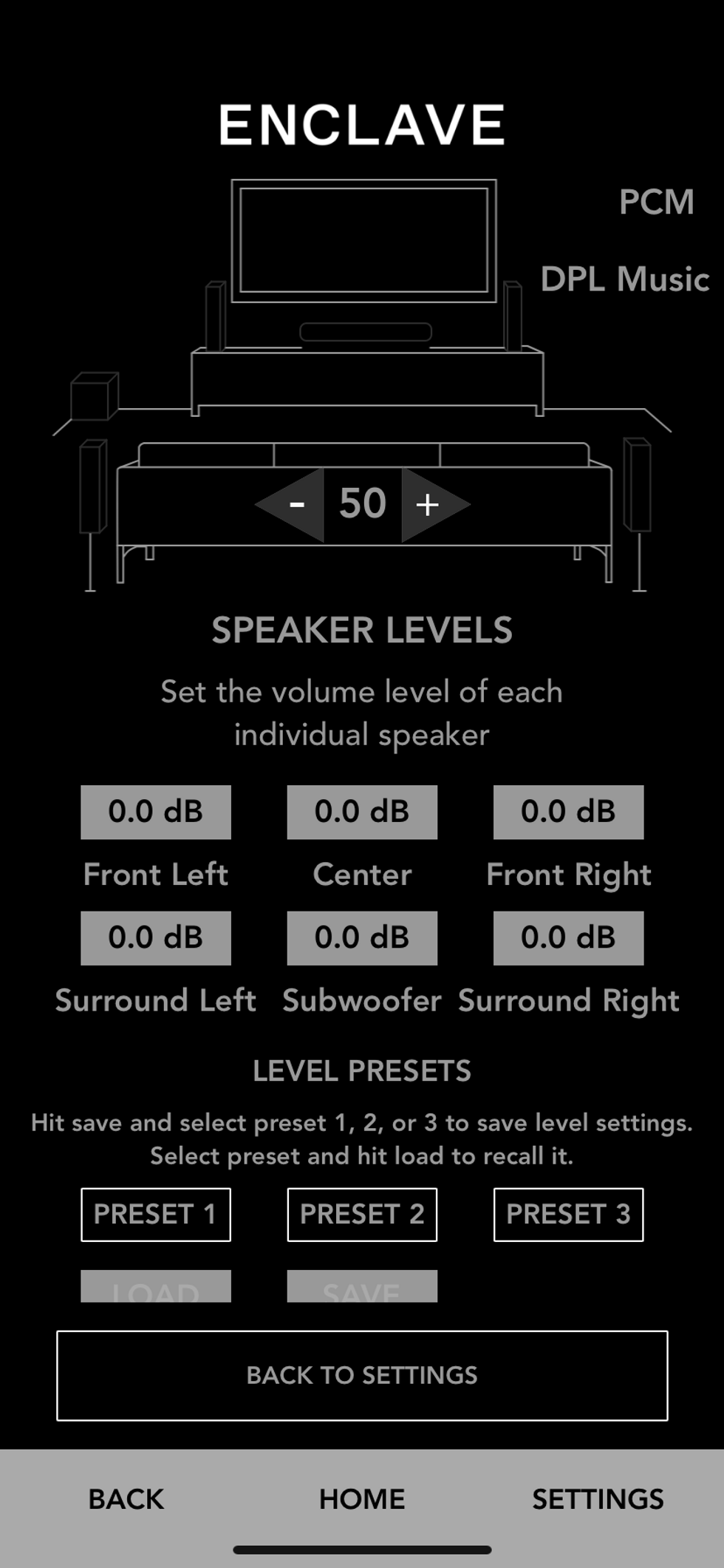 GearBrain
On the speaker levels setting page, you can set each speaker's volume and create presets for your listening pleasure.
One tip: When listening to music through the Enclave system, especially after watching something on your TV, we had some trouble switching modes. We tried to switch from the Optical connection to a Bluetooth option in the app so we could listen to music — but it didn't work. We contacted customer service which told us we had to first close the Enclave app. Second, we had to go to our smartphone's Bluetooth settings and connect with Enclave. Finally, we could then open the Enclave app, and had to make sure the Bluetooth connection is activated. It worked but we felt it was a little strange that we couldn't easily switch in the app from TV to Bluetooth.
Another issue we had with our system during setup was pairing one of our front speakers, which didn't connect at first. In the app, you can see all the speakers that are paired with the CineHub, highlighted. If a speaker is not connected, first go to the physical speaker and turn the power off and then on again. If this does not work, hit the reset button on the back of the speaker. That worked for us in pairing the speaker.
The last issue we experienced was with the setup of the Enclave app. Make sure you download the correct app — not the Enclave app (productivity), but the Enclave CineHomeII/Pro Remote.
Cost
Enclave CineHome II with CineHub System has a retail price of $1,099.98, but is on sale for $999.98, which is $100 off, on the company's website. We also found the system on Amazon and other consumer electronics retailers like B&H. Is this price high or low? It's comparable to other surround sound systems like Bose Acoustimass, but remember these systems require a wired connection.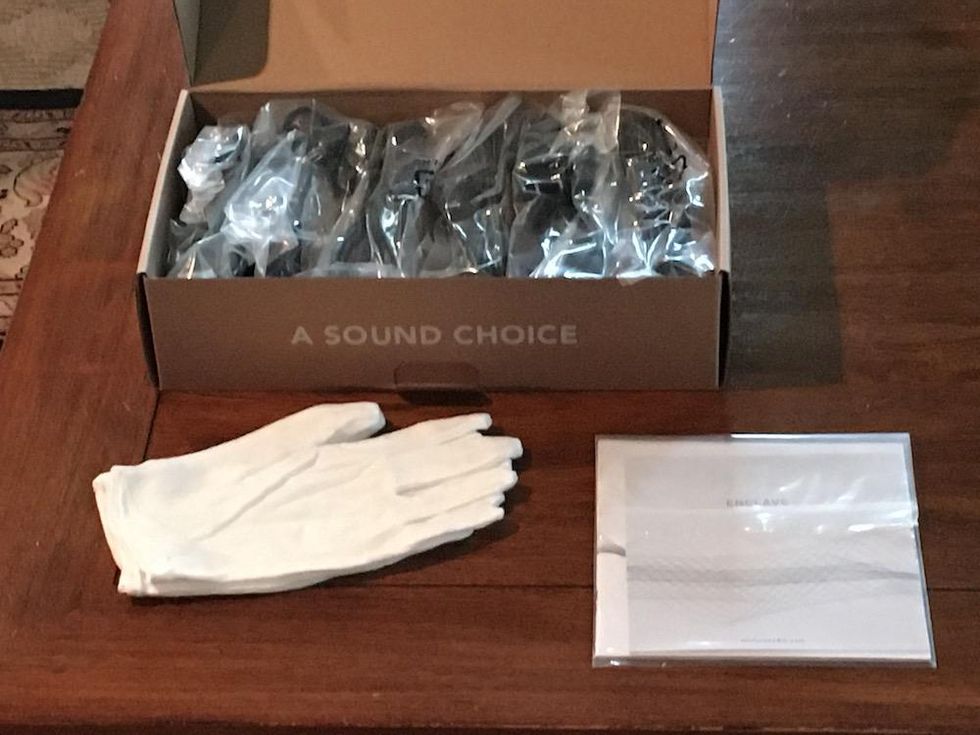 Enclave supplies white gloves to help you install your CineHome II system.GearBrain
Summary
Enclave CineHome II is a wireless surround sound system, that's easy to setup and creates a more powerful sound for your entertainment room. We compared the Enclave to our Bose 5.1 surround sound system found this system stood up to it. We did have to play around with the Enclave app to get the levels for each speaker to match the Bose sound. But we liked how once you found the sound, you could save them as a Preset in the app.. (Note: You can save up to three Presets and only the subwoofer trim is available in Whole Room Stereo Mode.)
One thing you need to be aware of with Enclave system is that each speaker needs to be physically close to a power outlet. For some people, this could be an issue. However, you can hang the speakers on the wall, as the front and rear speakers have a hole in the back. Just make sure you have a heavy duty screw to handle the weight of the speaker.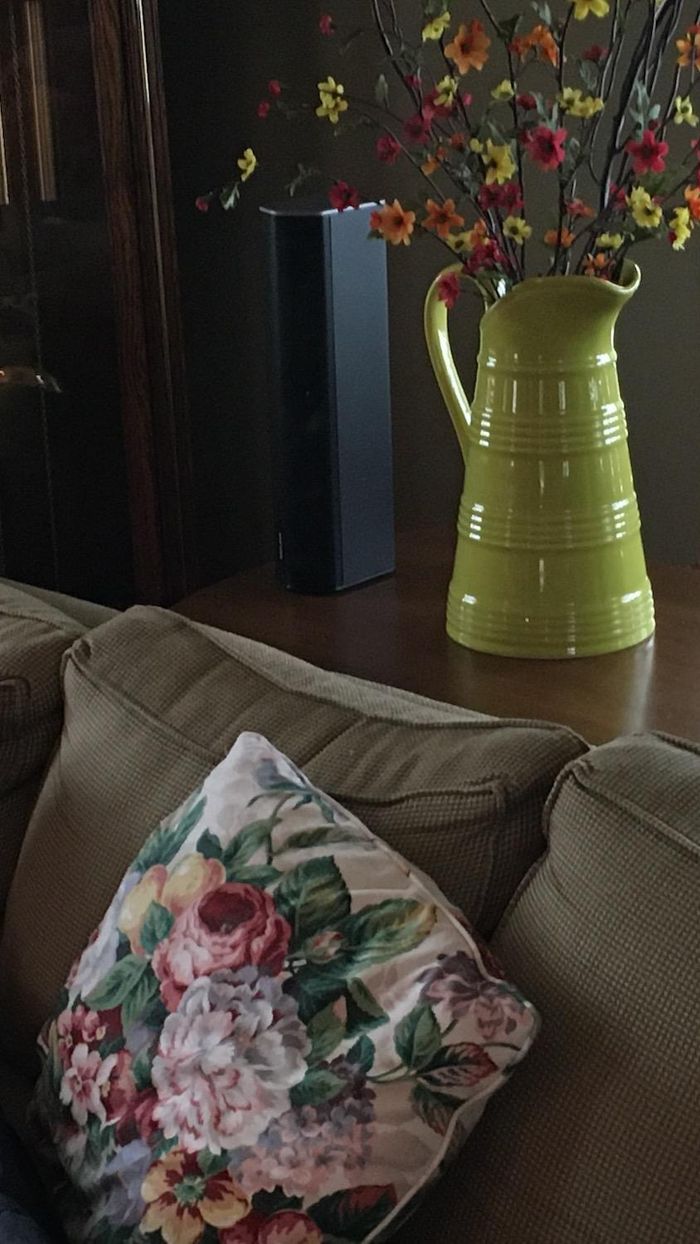 Enclave CineHome II Speaker on a table.GearBrain
Who should buy this Enclave system? We think it is definitely designed for audiophiles looking for a good, easy-to-setup surround sound system, even if you're a renter or a home owner. Just make sure you have a smart TV with eARC port, and also outlets physically close to where you plan to position these speakers. Yes, you can use the Optical port to set up this system but the sound will be better for your programming and music will be much better with the eARC port connection.

Pros:
Cons:
Lacks voice control
Does not offer smart home integrations
You need smart TV with eARC or Optical ports
Enclave CineHome II 5.1 Wireless Home Theater Surround Sound System for TV - 24 Bit Dolby Audio, DTS, WiSA Certified - CineHub Edition Bundle - Plug and Play Home Theater Audio
From Your Site Articles
Related Articles Around the Web
Like GearBrain on Facebook