Like GearBrain on Facebook
Most technology companies tend to give their smart assistants a female voice by default. Apple did this for years with Siri, and even today Amazon's Alexa cannot be changed from its female default, despite offering a range of languages and English accents.
The Google Assistant skips the gender debate entirely and instead offers options with colors instead of names — although it's fairly easy to work out that six of the 10 are female and the four are male.
Read More:
Then there is Apple and Siri, the first voice assistant to arrive on our smartphones in 2011 on the iPhone 4S. It wasn't until 2013 that Apple added the option to pick a male or female voice, and in some countries — the UK, for example — Siri is male by default.
Now, in 2019, there are five different accents to pick from when the phone is used in English-speaking countries, with each being available as a male or female.
How to change the accent and gender of Siri on your iPhone or iPad
Open the Settings application
Tap on Siri and Search
Tap on Siri Voice
Tap on the accent, then the gender you would like to use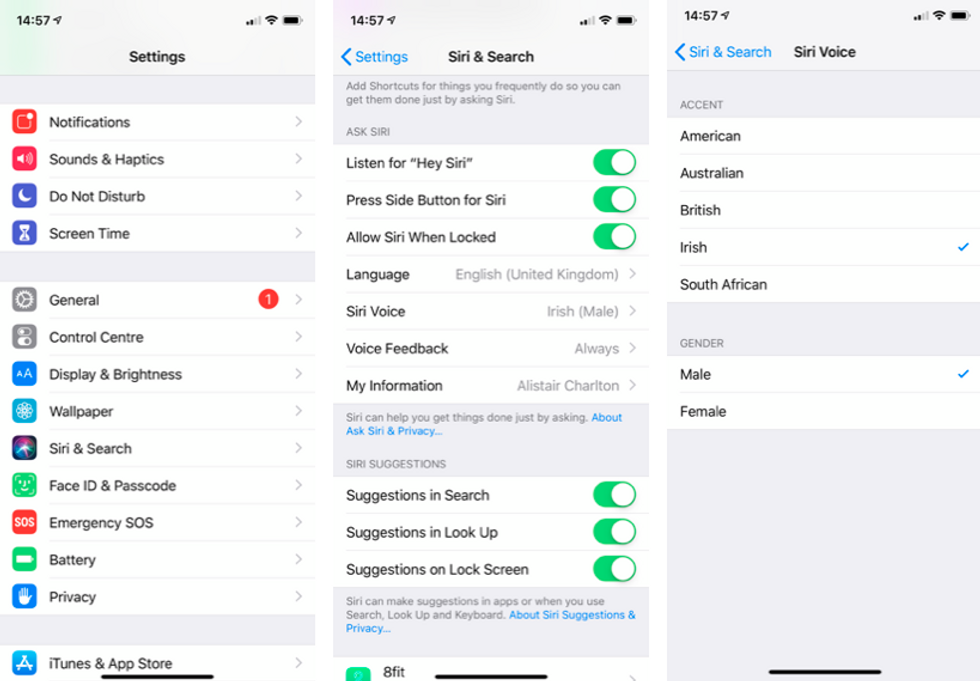 How to change Siri's voice on iPhoneGearBrain
When tapping on each voice, they say "I'm Siri, your virtual assistant." If you haven't used the voice before, it will spend a couple of minutes downloading, with a percentage appearing on the page and remaining there until it reaches 100.

The accents all seem accurate, but are quite soft and with only slight differences to make each stand out from one another. The five include: American, British, Irish, South African and Australian.
We found the Irish accents to be the strongest — an option not given on any other voice assistant platform to date — and also the most friendly. In fact, discovering the Irish accents was a surprise to me, and I've switched mine from British male to Irish male, due to it sounding more friendly and less robotic than the others.
How to change Siri's voice on the Mac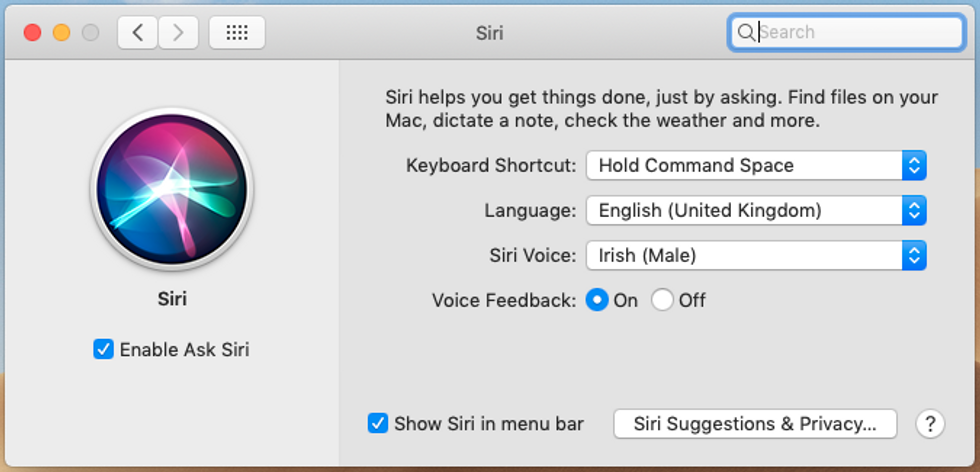 Siri controls on MacGearBrain
The same accent and gender options also exist on the Mac, and if you change it on one device (your iPhone, for example) then Siri's voice will automatically be changed on your Mac and other devices, like the iPad, HomePod, or AirPods headphones, too.

To change Siri on your Mac, open the Settings application then click on Siri and pick from the language and voice dropdown boxes.
Remember, Siri's abilities remain exactly the same no matter which accent and gender you use, and picking one is purely down to personal preference.
Check out The GearBrain, our smart home compatibility checker to see the other compatible products that work with Google Home and Home Mini
How to Use Amazon Alexa Enabled Devices www.youtube.com
From Your Site Articles
Related Articles Around the Web
Like GearBrain on Facebook