Like GearBrain on Facebook
Finding lost technology is a hot topic at the moment, not least with the launch of the Apple AirTag and rivals like the Chipolo One Spot.
Now the Google Assistant is joining in the action, with an upgrade to help it locate your lost iPhone. Added to the voice assistant in April 2021, the new skill builds upon its pre-existing ability to help you find a lost Android handset.
Read More:
Once set up, all you need to do is say "Hey Google, find my phone" to a Google or Nest smart speaker and your iPhone will receive a notification from the Google Home app and play a unique ringtone, even if it is switched to silent or Do Not Disturb is enabled.
To get started, you will need to have the Google Home app installed on your iPhone. You'll also need to create a Google account if you don't already have one. You then need to opt in to notifications from that app on your iPhone, otherwise it won't be allowed to make your handset ring when you ask the assistant to find it, and set up Voice Match too.
To do this, follow these instructions:
Open the Google Home app on your iPhone and tap Settings
Now tap on Notifications in the Features section
Tap on 'Turn on notifications' then tap Allow in the message box
Tap on 'General notifications' and make sure the 'Critical alerts' toggle is switched on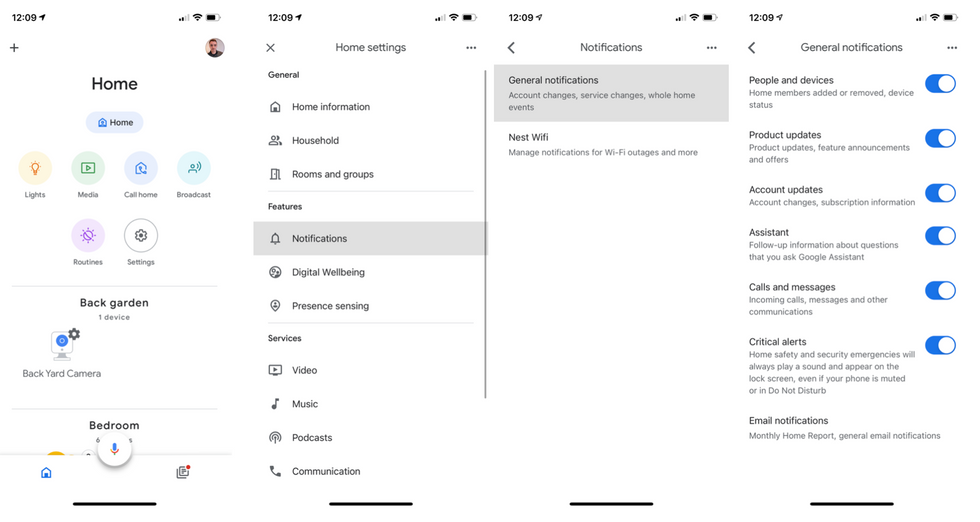 Enabling notifications in the Google Home app for iPhoneGearBrain
You might now also have to open the iPhone's Settings app and go to Notifications then Google Home and ensure notifications are toggled on.

Next, you need to enable Google's Voice Match system, if you haven't done so previously. To do this, go back into the Google Home app and tap on your profile picture in the top-right corner. Next, tap on Assistant Settings, then scroll down to Voice Match and tap the 'Add a device' button. This is how you pick which of your Google and Nest smart speakers and displays will recognize your voice.
Once you've done this, you can say: "hey Google, find my phone" to any of the Google devices you added to Voice Match, and your iPhone will ring. In our case, the Google Assistant said: "Got it, your iPhone 12 Pro should be ringing now." At that same moment, our iPhone started to ring with a notification from Google.
This system is limited to your own Wi-Fi network, so can't b used to help find an iPhone lost away from home. But for when you can't remember where you put your iPhone, or when it slides down the back of the couch, it's good to know that Google Assistant can help.
Check out The GearBrain, our smart home compatibility find engine to see the other compatible products that work with Google Assistant enabled devices.
GearBrain compares the Nest Mini to the Google Home Mini www.youtube.com
Like GearBrain on Facebook