Like GearBrain on Facebook
We all have that friend who can recite every catch phrase from "30 Rock," and binge-watches a Netflix series before you even heard the new season dropped. For them, we have the best gift ideas sure to impress your aspiring couch potato pal with tech devices that also work for media hounds and TV watchers alike. We're sure these ideas will be better received than a gift card to Pizza Hut.
Samsung Q8C UltraHD TV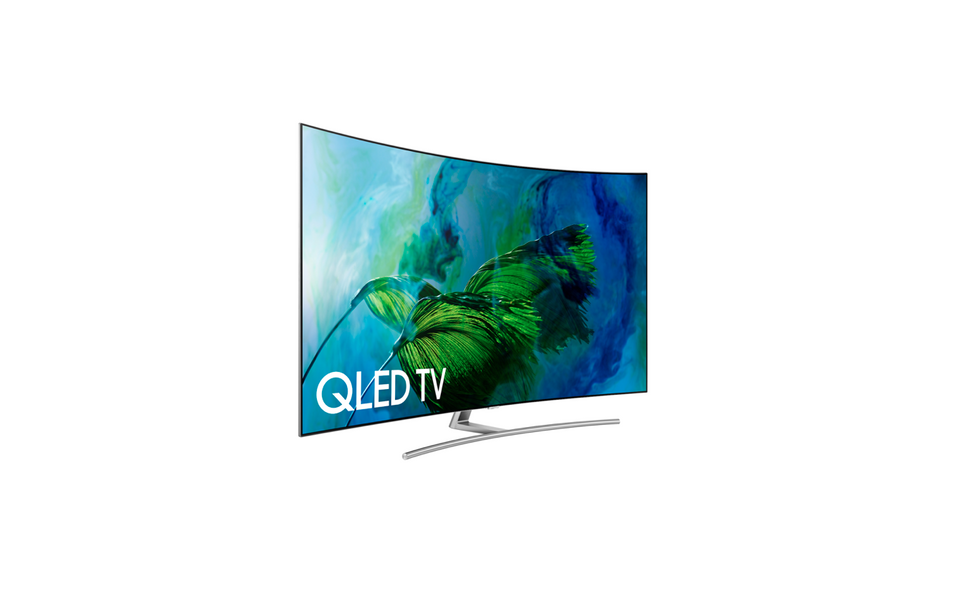 Samsung
This is the grail for all true couch potatoes, a TV so large and so beautiful you'll likely never want to watch anything on any other device again. The Samsung Q8C UltraHD TV is just one step below the company's flagship model, but that doesn't make it all the less special.

The TV packs HDR10+, Ultra HD, streaming apps and also Ambient Mode, which is a way for the set to blend into the test of your room. (You can take a photo of your wall, even bricks, and then have the set project that when it's in standby mode.)
The 55" model of the Samsung Q8C UltraHD TV is going to set you back $3499.99 — hardly peanuts. But perhaps the joy of knowing your home, or a family member's, is set for hours of excellent TV viewing, is worth it.
Skullcandy Venue wireless headphones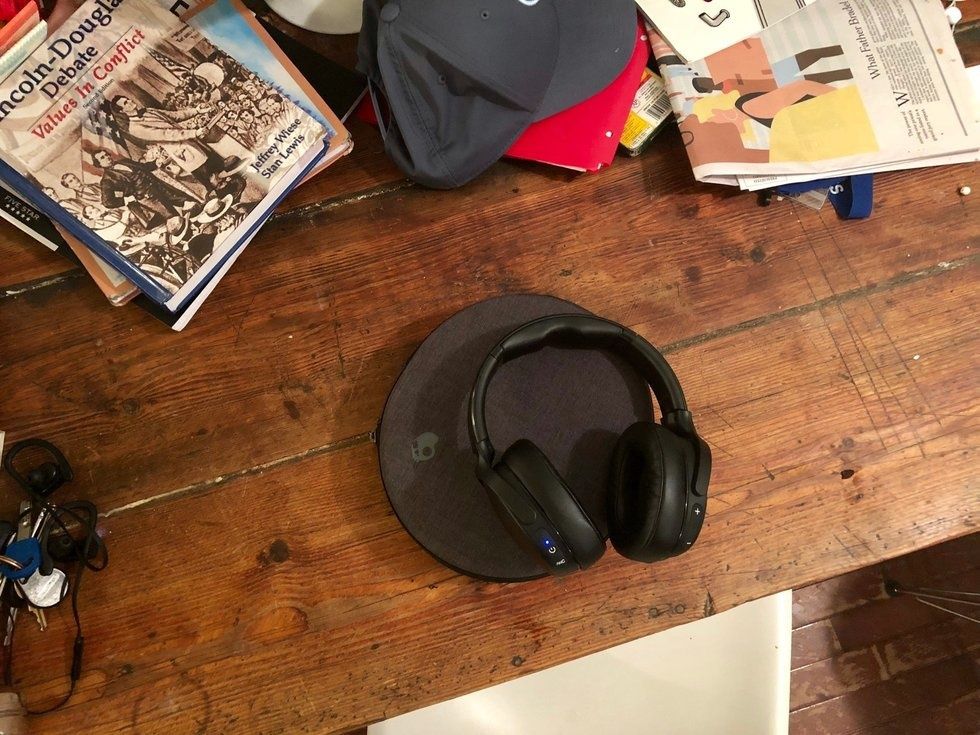 GearBrain
One of Skullcandy's latest headphones is the Venue, a $180 set that's a reasonable buy in a world of $400 headphones. Here you're getting active noise cancelling, a connection to smartphones via Bluetooth — and their wireless. So if your couch potato wants to move around a bit, he won't have pesky cables to trip him up.

Skullcandy's Venue is also embedded with Tile, the tracker that lets you locate things from a Bluetooth connection. Leave these in the kitchen accidentally and you can ping for them instead of walking around the house in a daze.
Venue only comes in both white and black, and has 30 hours of battery life before you need to jack them into a power source again.
Awair Air Monitor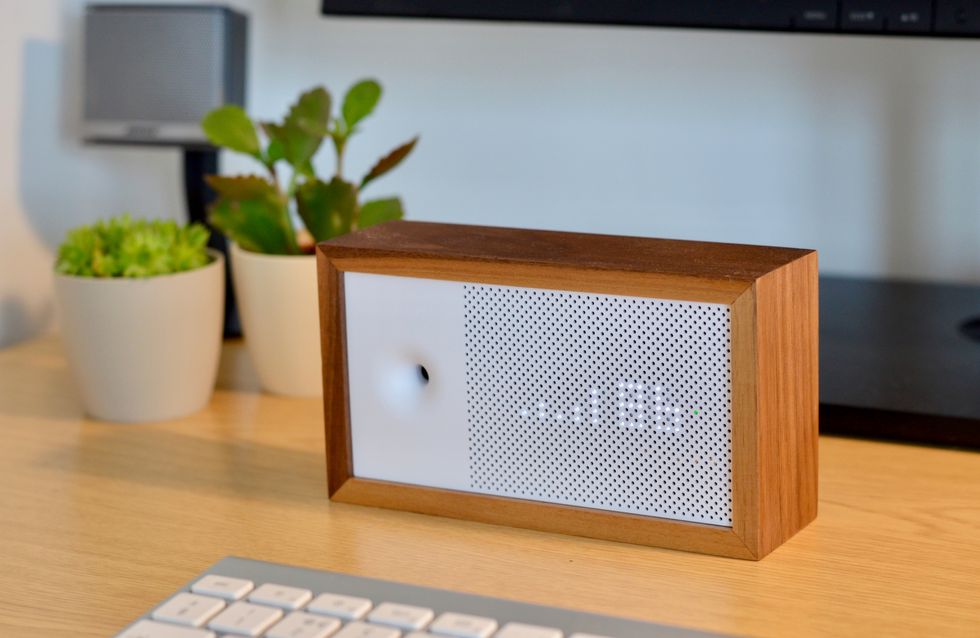 GearBrain
If you're spending a lot of time inside, the air you breathe in there needs to be pristine, or at least as close as you can get. That's where Awair steps in, an air monitor that tracks carbon dioxide, dust and other particles — plus also reads the temperature and humidity inside.

You can use Amazon Alexa, Google Assistant, and IFFTT to also run Awair. What's nice about the device is it has an old-fashioned wooden radio look to it, along with a front LED screen that gives you a reading about your air on a scale of 1 to 100.
You can buy Awair on its web site for $189 or for $199 on Amazon.
TiVo Bolt Vox

TiVo
The TiVo Bolt Vox is an Amazon Alexa-Integrated device that blends streaming media with a DVR in a small box that sits neatly on your TV stand. Plus, depending on which size you buy, you can be tuning in — and recording — up to four different shows, while watching a fifth one from the DVR.

Listen, we get that most people are binge watchers at this point. But some shows are frankly just live — and maybe they'll stream the next day on a network's app, and maybe you're going to be waiting a year. (We're talking to you, "Doctor Who" fans.)
TiVo Bolt Box starts at $199.99 for the smaller storage option of 500GB, plus expect to pay a monthly TiVo fee of $14.99. 500GB is available at Best Buy for $169.99.
Lenovo Smart Display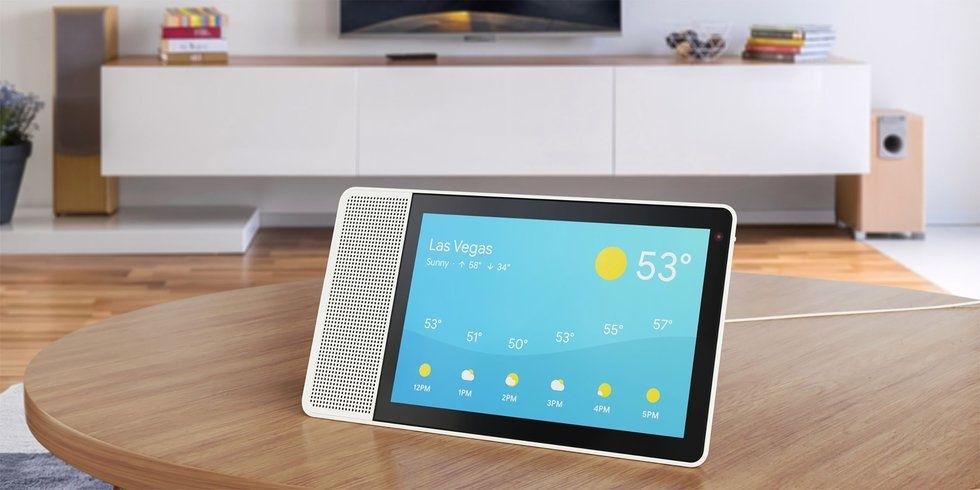 Lenovo
Smart speakers are now venturing into the video display space — and the Lenovo Smart Display is one of the newer ones today. Working with Google Assistant, the display is akin to a tablet: you can watch TV, YouTube video, play music, grab photos and of course pull up recipes. (Doesn't everyone do this?)

What makes the Lenovo Smart Display stand out is the support for the two-way video calling on a Google Assistant device. The calls are run through Google Duo, and you can hear and speak with anyone, even if you or someone you adore is planted on the sofa in Season 6 of "American Horror Story." (And yes, they can mute the microphone and cover the camera is they want some privacy.)
The Lenovo Smart Display comes in two sizes: an 8" screen for $179.99 and a 10" screen for $249.99. At Best Buy, 10" screen is selling for $229.99 and 8" is selling for $179.99.
Sonos One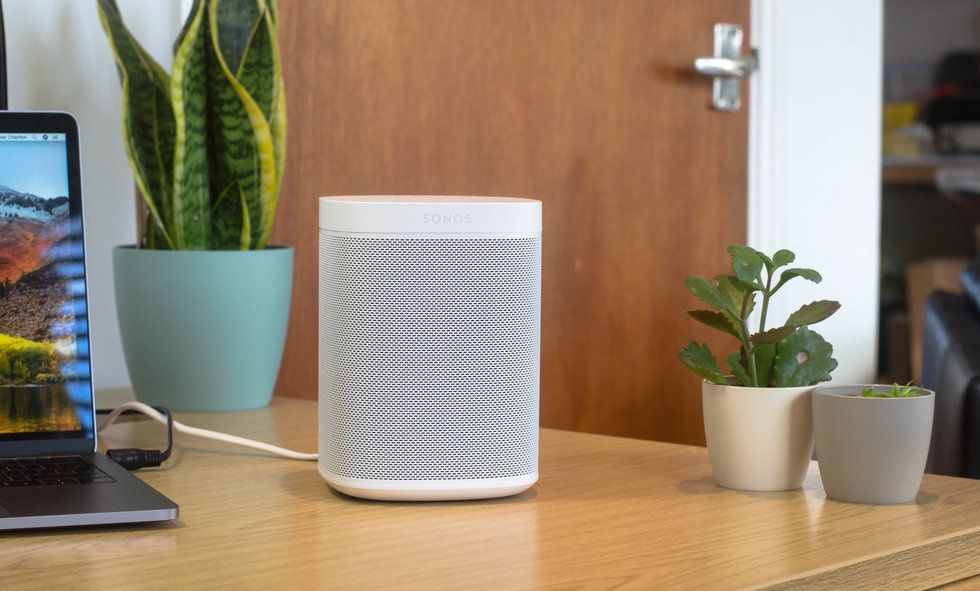 GearBrain
The Sonos One is the Amazon Alexa speaker you really want to consider. Far better sound quality than the entire Echo range, it also has Alexa baked inside. So it works essentially as an Echo, but can't call other Echo devices and can't take advantage of the drop-in feature.

You need a Sonos account to use it, but you can then play any music from the app to the One. Expect to pay $199 for the Sonos One — which comes in black and white — although there are often deals including the current buy two for $379
Buy at Best Buy or Amazon for $199 for one and $379 for two..
Nvidia Shield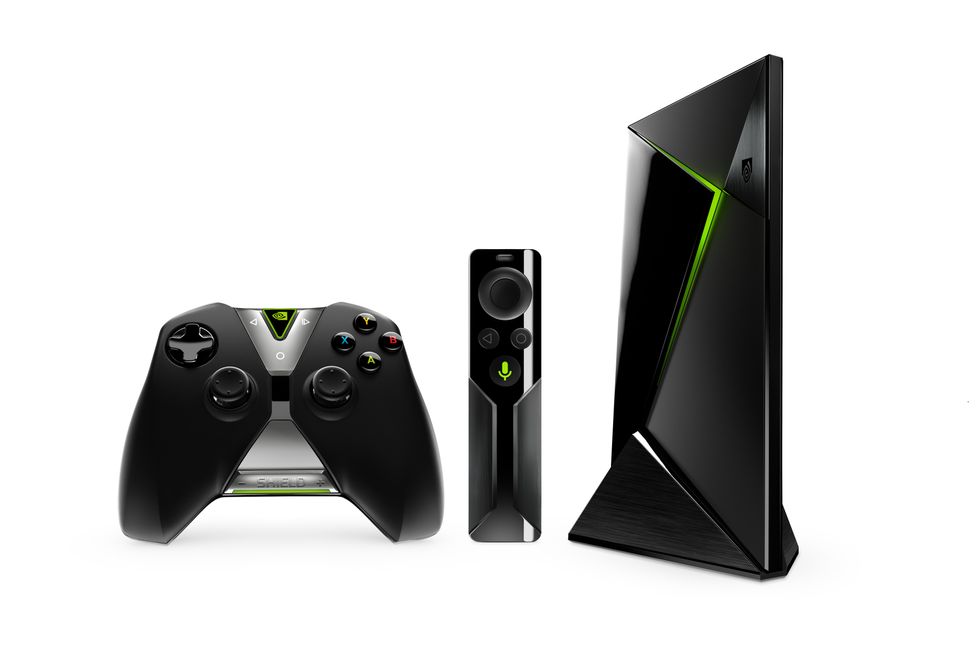 Nvidia
For gamers who also want streaming media features, the Nvidia Shield is a stylish and truly inexpensive option. You get 4K HDR, Dolby Atmos, and hundreds of apps from Netflix to FandangoNow built in.

Gamers will be pleased to know you can absolutely play Fortnite and PUBG, and also access Android games as well.
The Nvidia Shield with a controller and remote is going to set you back $179 for the standard version, $199 for the gaming edition and $219 for the smart home option which has Google Assistant inside, along with a SmartThings hub.
iRobot Roomba 614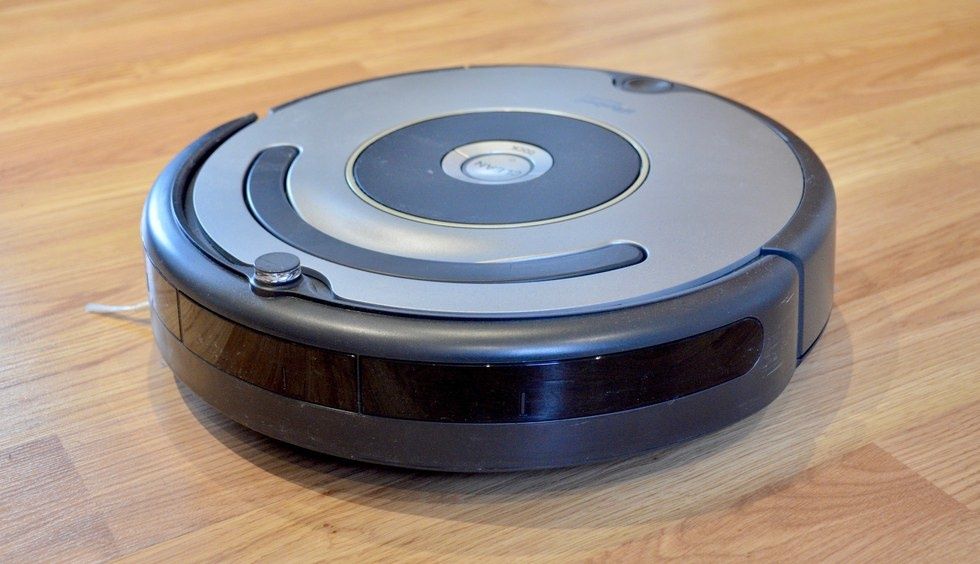 GearBrain
Robot vacuum cleaners are far from high-end luxury items today. This little gem from iRobot, the Roomba 614, is a cleaner that plugs away while you — or a pal — are lounging about on the sofa.

The robot uses rotating brushes to sweep up dirt and then vacuum them up into its tank. You can expect about an hour of use from this model, before it needs to be charged up again.
For $250, the Roomba 614 will know to return to its charging station when it needs powering up, and moves around fairly gently so it doesn't scratch up walls or expensive furniture. The company doesn't sell this model on its site, pushing you to the 675 model for about $300. But you can still find the 614 at Target for about $250.
iKettle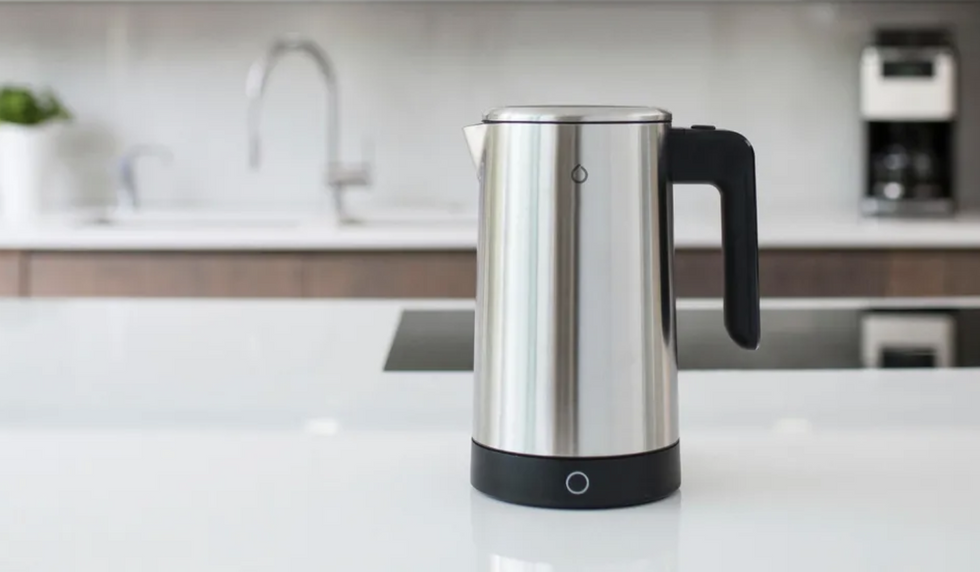 iKettle
Listen if you're a true couch potato, or have one in your life, then any excuse not to get up from the sofa is welcome. iKettle is an electric water kettle that lets you start the boiling process through a smartphone app, both iOS and Android.

The iKettle will also send you an alert when the water inside has hit the temperature you desire — and a sensor tells you how much water is still left from the last time you brewed a cup of tea.
Want to make sure you have water boiling at lunch time? Set an alert. And you can put the kettle into standby mode so it holds that temperature for a solid 40 minutes. For the version with a U.S. standard plug, you can find it for $149.99 at Best Buy.
From Your Site Articles
Related Articles Around the Web
Like GearBrain on Facebook