Like GearBrain on Facebook
The Neato Botvac D7 Connected robot vacuum is a bit of an outlier — it doesn't have a mop, and it doesn't have the round shape most associated with smart home vacuums. What it does have is a powerful motor that, even on its lowest setting, can handle almost anything in its path, pet hair, dirt and random rubble, making it a strong addition to robot vacuum space.
We tested this robot vacuum — which we first heard about at IFA 2017 — for more than a week in a home setting, finding it more than capable to handle regular activity.
What is Neato?

The Neato Botvac D7 Connected is made by Neato, a robot vacuum maker with more than half a dozen cleaners available. Each looks similar, shaped with a round body and a flat side, designed to give two right angles to the robot so it can hit corners more easily.
The Neato Botvac D7 Connected is an expensive vacuum, the priciest of all Neato's robots , priced at $829.99. It's mostly black, with a silver cover. This lid is what you'll lift off to pull out the bin. Underneath the robot is a large single brush which I found also helped with its ability to clean. There is also a filter inside which is designed to pick up smaller debris, and the company also claims can capture dust mites.
What can't the robot can't do? It doesn't mop — and this isn't a negative comment. That's actually a positive, meaning it just needs to do one thing and one thing well.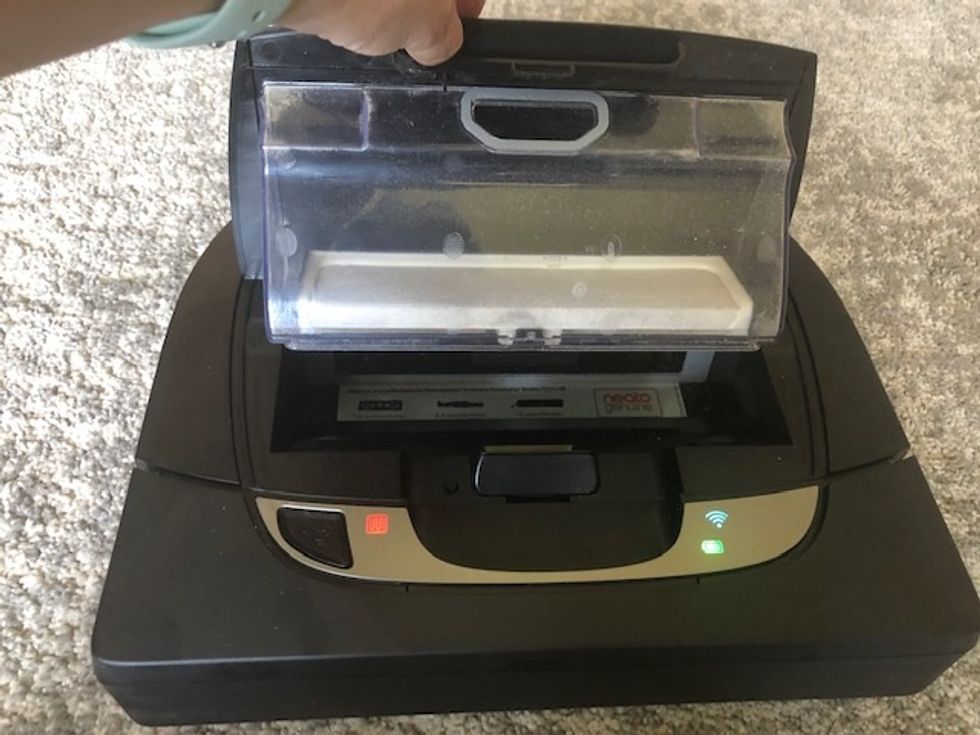 The Neato Botvac D7 Connected has an interior bin and filter to capture very minute particles GearBrain
How Neato works

You can control the Neato two ways - either by pushing a small button on the top or through the Neato app. The app is a fairly simple program, which is actually kind of nice after working through some of the more complicated apps out there.
There are basically three modes you can choose for cleaning: Spot which focuses the vacuum on a 13-foot x 13-spot, House which sends the vacuum around the entire space and Manual, which let's you start and stop the vacuum from a button on the top.
You can then choose between Eco and Turbo which is as it sounds sending the vacuum super charged through your home. And yes — this mode is going to be louder.
The app also shows you where the Neato cleaned, mapping the entire space. You're able to see the number of square feet that was covered on the last clean, how many minutes the robot was out and about, the time it stopped cleaning, and where the robot ends up. These sessions are stored in the app so you can see the history of how often the robot cleaned.
You can also share this map with others through the app over a text and email.
Neato can also be scheduled to clean for specific days and time you'd like it to start and also specify if you want it to be in Eco or Turbo mode. And once the robot has mapped the entire space you can also set up virtual barriers in the app so the Neato know where to go — and keenly where not to go.
GearBrain tests the Neato Botvac D7 robot vacuum youtu.be
Performance

This oddly shaped robot vacuum is actually quite a workhorse. Over the week it tore through the apartment picking up dirt, dust and dog hair — our main three checks we use on every robot vacuum. The robot handled wood floors as well as rugs and was low enough to get under cabinets and most shelving.
The D7 was also a bit of a lunk in that while it could get out of corners and tight spots, the robot did so inelegantly. This is not the ballet dancer of robot vacuums. But it could easily move up and down door jams and slight lips between rooms, and moved easily around a pair of sneakers in the middle of the room, for example.
When it came to sound though the vacuum was seriously loud. Few robot vacuums are silent but the Neato really chewed noisily across the apartment — and this was all on Eco mode. That was great to see that this quieter option was actually that powerful. But it was clearly not that quiet.
On other fronts however the robot is fairly quiet, keeping to itself. For example it rarely sends out alerts unless you'd like. You can set an alarm to remind you to empty the bin, at set periods like every 90 minutes. You can also set an alarm when it's time to change the filter and the brush.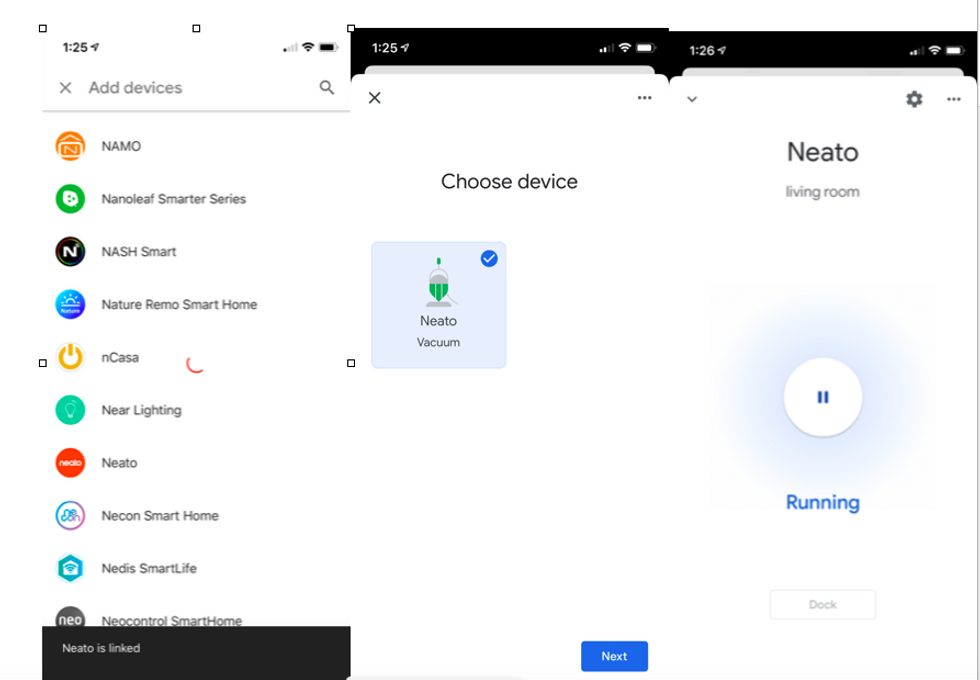 You can connect Neato to Siri, Alexa and with Google Assistant, as above, with some success GearBrain
Alexa, Google Assistant and Siri

Neato says it can work not just with the main two smart home systems — Alexa and Google Assistant — but also with Siri, Apple's smart assistant. You can set Siri Shortcuts in the app which are meant to let you start cleaning, clean a specific zone or even send the Neato back to its base.
We had some issues with Siri Shortcuts . While simple to set these up within the My Shortcuts app, they didn't work when we asked Siri to launch them out loud. Siri constantly told us it was having trouble doing this.
We were able to get one of the Shortcuts, to start to robot, working — but only if we went into the My Shortcuts app and clicked on the request. A second request, to return to the base, didn't even work by clicking on it.
Linking to Amazon Alexa was a bit simpler. We needed to download an Alexa Skill to get this connected, and then link that to our Neato app. All of this can be handled in the Amazon Alexa app, which walks you through the steps.
We did have some issues getting the Neato Botvac D7 to follow all of our commands asked to Alexa. We could get the robot to start cleaning, and to stop. But it wouldn't dock. And we found that once it had been cleaning for awhile, it wouldn't respond to the Alexa commands.
Google Assistant fared the best in our tests. Again, we linked Neato to Google Assistant through the Google Home app. We had to log in again to Neato, but we didn't need to download an extra command. Google Assistant easily stopped and started the Neato robot. But like Alexa, Google Assistant couldn't get Neato to dock. We did find, though, that Neato responded to Google Assistant even after running for awhile. This was the best of the smart home assistant integrations , then, its ability to work with Google.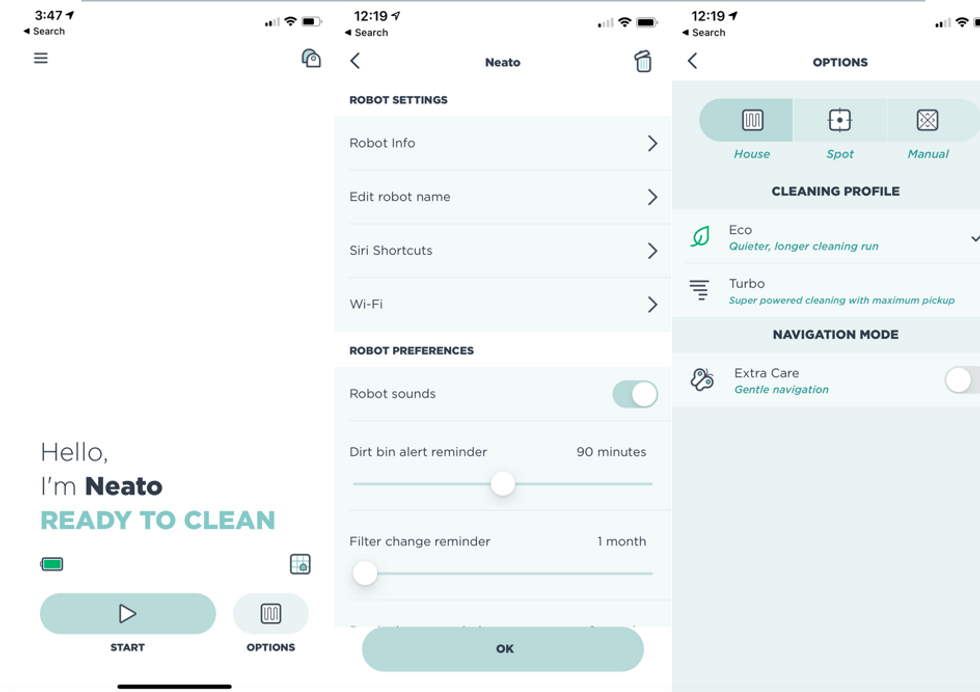 We really found the Neato app simple to use and well-designed GearBrain
Price

Neato D7 is priced at $829.99. The company recently had the robot on sale, but has sold out on its site. We found the Neato D7 also on Amazon, with availability for later in May 2020.
Worth buying?

The Neato Botvac D7 Connected is one of the better robot vacuums we've tested. It handles vacuuming like a champ, and we like that it doesn't add on mopping capabilities, which are often less effective and yet add on to the price of the robot.
This is certainly an expensive vacuum at $829.99, putting it up against some of the meow expensive robot vacuums including those from Ecovacs , Roborock and iRobot . It's also not very quiet, even on its quietest mode, and that's something to consider if you're someone who wants to have the robot running in the background during your day. That said, we've never found a robot vacuum that's really silent, something to consider.
We were disappointed by its inability to connect to Siri when we made cleaning requests out loud, an also it's inability to dock when asked to do so through Alexa or Google Assistant. Getting the robot to start and stop is nice — but to ensure you're getting the robot to stay charged when you want to, you definitely want to be able to send it to the dock if you're leaning on smart assistant to help you operate the device.
However, we do think if you're looking for a robot vacuum that can handle a heavily trafficked space, especially if you have pets, — and you have more of a Google Home space than Alexa or Apple's Siri — the Neato Botvac D7 is definitely worth considering.
Pros:
Vacuums extremely well
Can get into tight corners with its design
Has filter to clean extremely small particles, like dust mites, from the air
Cons:
Inconsistent when connecting to smart assistants
Loud
Price
The GearBrain, First Compatibility Find Engine for Smart Devices www.youtube.com
Like GearBrain on Facebook