When growing up, baby monitors looked and functioned like walkie-talkies, however the communication was one way. You could only hear what's going on in your infant's bedroom. There were monitors which looked like small speakers that you placed near your baby's crib. Some of the early version baby monitors were wired for power but soon moved to battery power. Today, baby monitors are more than just speakers. They have morphed into smart devices with two-way talk, a HD camera with night vision, motion detection and even the ability to monitor your baby's breathing. Recently, we were sent a new smart baby monitor system by Hubble Connected. They sent us their new Nursery Pal Deluxe which comes with a touchscreen display that doubles as a monitor and interactive viewer with games and videos for the kids. Check out what we learned from testing this smart baby monitor.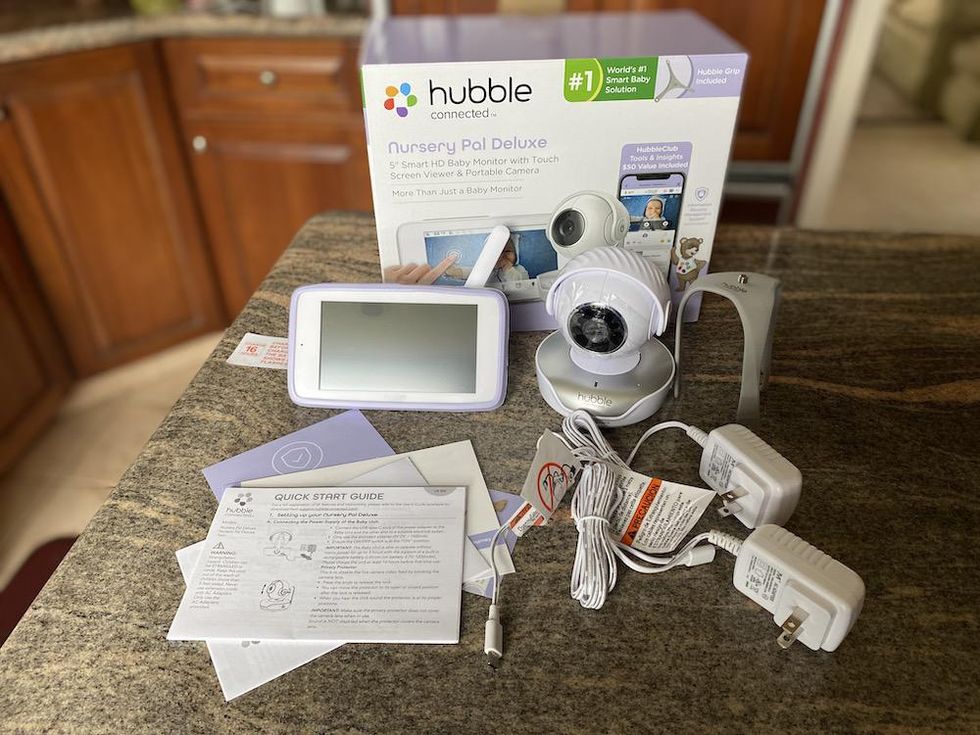 Hubble Connected Nursery Pal Deluxe Smart Baby Monitor unboxed.GearBrain
What is Hubble Connected Nursery Pal Deluxe?
Hubble Connected Nursery Pal Deluxe is a smart baby monitoring system. It comes with an HD camera and separate five-inch HD color touchscreen display which acts as an interactive viewer for your children when not being used to monitor what is going on in your baby's bedroom. The interactive touchscreen allows you to see videos, access picture books and games designed for infants.
Hubble Connected Nursery Pal Deluxe system has 1000-foot range and works on a 2.4 GHz Wi-Fi connection. Using the free HubbleClub app, which is available for both iOS and Android devices, you can live stream videos from the camera in HD 720P video resolution. In conjunction with the touchscreen display, the camera can be remotely controlled to pan, tilt and zoom in on your newborn. The camera also comes with a protective bumper which you can easily slide down to block the camera lens for privacy.
The Hubble Connected camera has a speaker and a microphone for you to use for two-way communication. You can play soothing nature sounds through the camera or a short recorded personal message for your baby. The camera also has infrared night vision and a room temperature sensor which you can monitor through the touchscreen display or HubbleClub app.


What makes this smart baby monitoring system unique is how the 5-inch display is more than a portable monitor. It can be used to help your child's development as they grow up. The Nursery Pal interactive display comes with educational games, videos and curated content for babies and toddlers built in. And since we know babies like to play with remotes and bang things, you don't have to worry about it getting broken. The interactive display comes with a rubber bumper which can protect it from any bangs or dings your infant dish out.

In addition to the HD camera and touchscreen, the Hubble Connected Nursery Pal Deluxe system comes with a free Hubble grip. The Hubble grip can be used to easily mount the Hubble camera to any type of surface. It's a flexible mount which you can adjust the shape to fit the place you plan to securely position the camera. It can mount on a wall, a dresser top or even an end table. It's an innovative way for you to find the perfect viewing angle of your infant.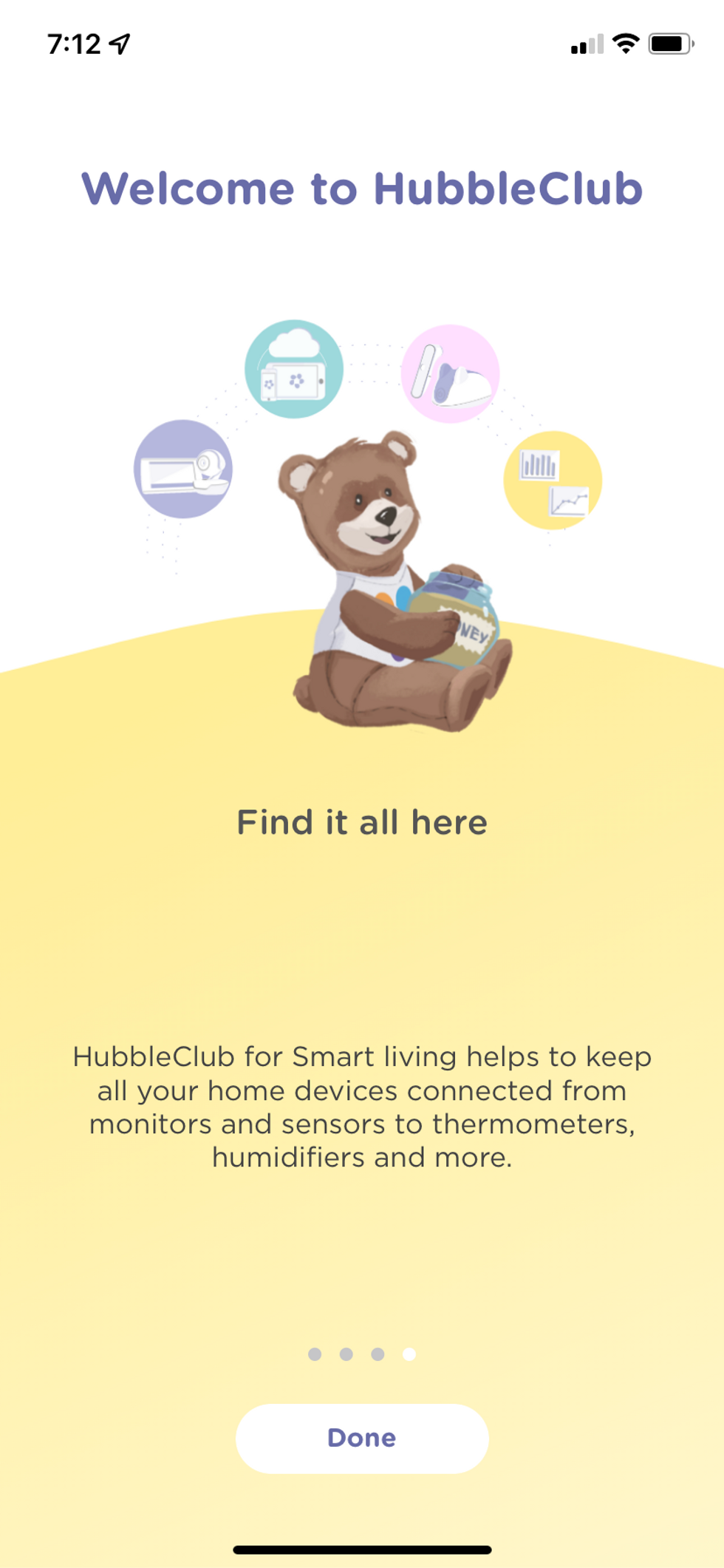 HubbleClub app controls your Nursery Pal Deluxe baby monitoring systemGearBrain
How to set up your Hubble Connected Nursery Pal Deluxe system
Set up for the Hubble Connected Nursery Pal Deluxe system is rather easy and quick. We recommend you first download the HubbleClub app from either the App Store or Google Play. Then follow the directions to set up your camera as well as the HD touchscreen display. Keep in mind, you will have to charge the HD touchscreen display prior to use. Once charged and connected to your home Wi-Fi network, you can use it anywhere around your house if it's within 1,000 feet of the router.
Remember, the key to any good smart baby monitoring system is the Wi-Fi connection. Smart baby monitors stream live video through a wireless connection. You need a strong Wi-Fi signal. If for some reason you have a weak signal, it is recommended that you consider adding a Wi-Fi extender. This will help you get the proper connectivity to utilize all the features of the Hubble Connected Nursery Pal Deluxe system.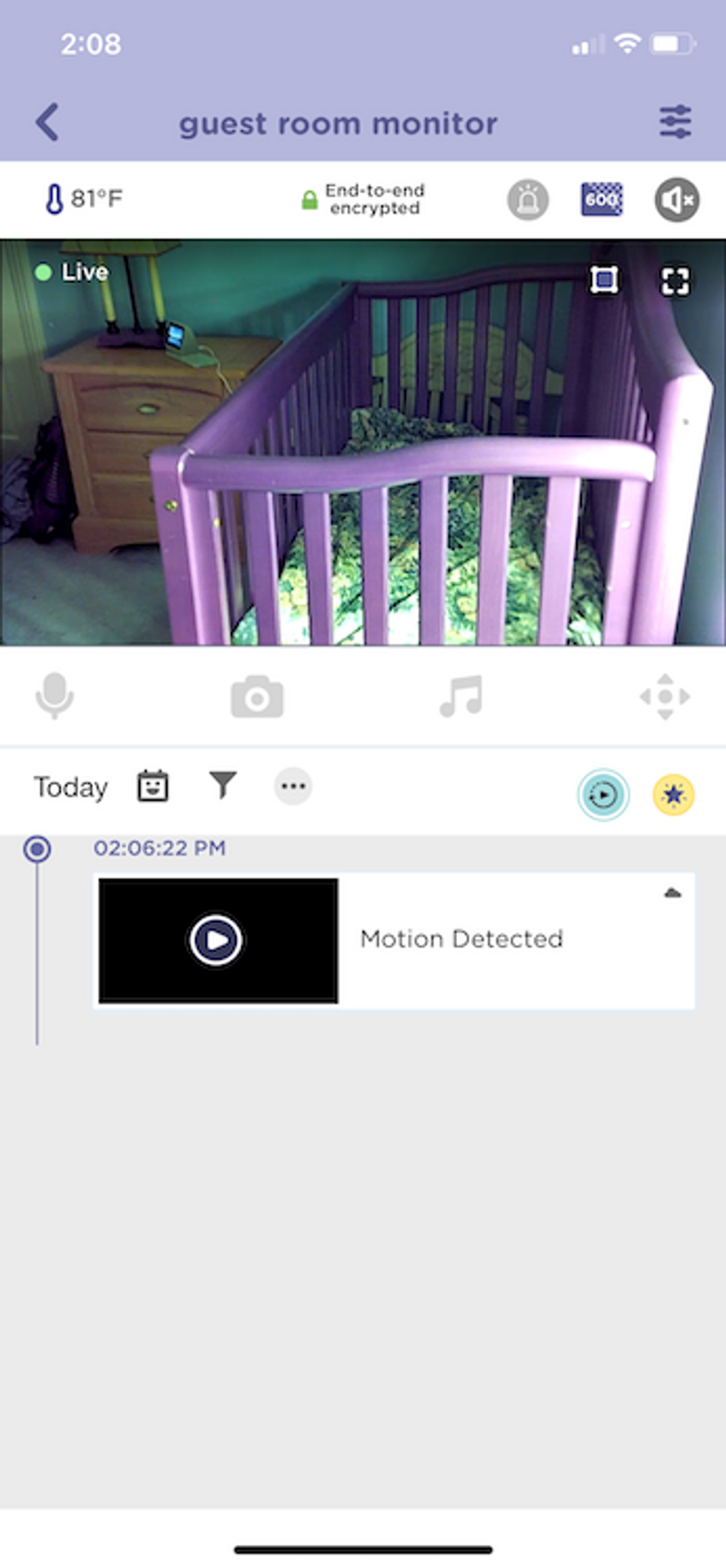 HubbleClub homescreen in app provides all the controls for your camera.GearBrain
How much does Hubble Connected Nursery Pal Deluxe cost?
This smart baby monitoring system costs $199.99 and is available on the company website, Best Buy, Target, Lowe's, Walmart and Amazon. The company also offers baby monitoring services with the purchase of Nursery Pal Deluxe system. These plans offer features which will help you monitor your infant. Features include custom motion zones, cloud storage for your videos and sleep monitoring. Hubble Connected offers two plans: HubbleClub and HubbleClub Premium.
The HubbleClub monitoring service costs $2.99 per month but the company gives you the first 18 months free, a $50 savings. This service includes:

Connect up to 2 devices
Smart scheduling alerts
Smart alerts based on your location
Two-way communication
24/7 live video and audio monitoring
Snapshot during live feed
1 day of motion activated video recordings
10 videos from live feed can be stored per month
Set 1 fixed baby zone
Can record one personal message (up to one minute) per month
4 lullabies and 8 audiobooks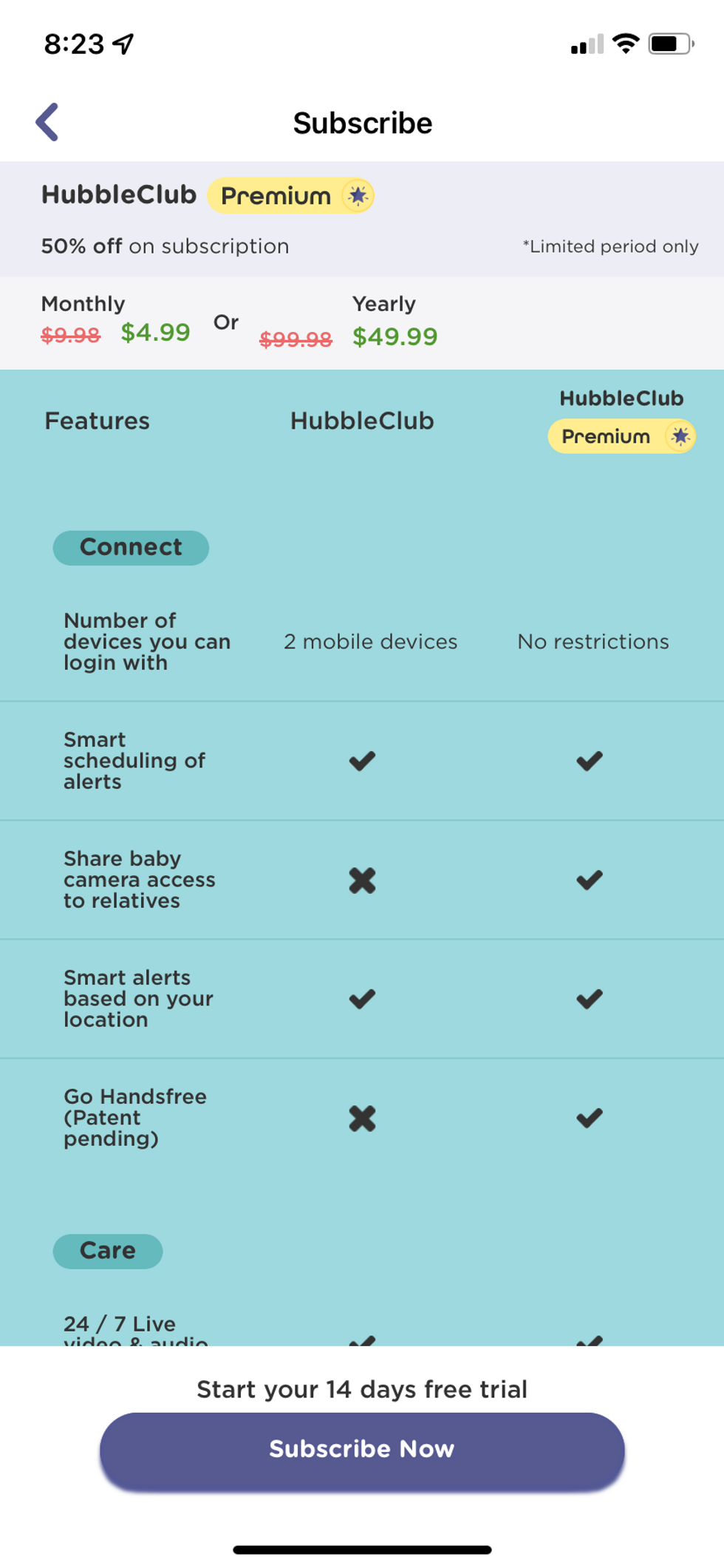 HubbleClub Premium service provides additional features for your Nursery Pal Deluxe baby monitoring system.GearBrain
The HubbleClub Premium service normally costs $9.98 per month and $99.99 per year but the company is offering a 50% discount: costs $4.99 per month or $49.99 per year. And with purchase, you get 14-day free trial. The Premium service comes with all the feature in the HubbleClub plan plus the following upgrades and additional features:
Connect up to 2 devices
No restrictions on the number of devices that can login to your account
Share baby camera access with family members
Go handsfree (beta program)
7 days of motion activated video recordings
Unlimited videos from live feed can be stored per month
Unlimited fixed baby zone
Up to 4 cameras you can view on a split screen on the display or in app
Access to an online sleep expert with 15 minutes complimentary call included.
46 lullabies and 32 audiobooks
Up to 150 seconds of a recorded personal message or song of your choice
Smart actions for lullabies and audiobooks. (Note: smart actions are predetermined time limits for lullabies to automatically shut off.)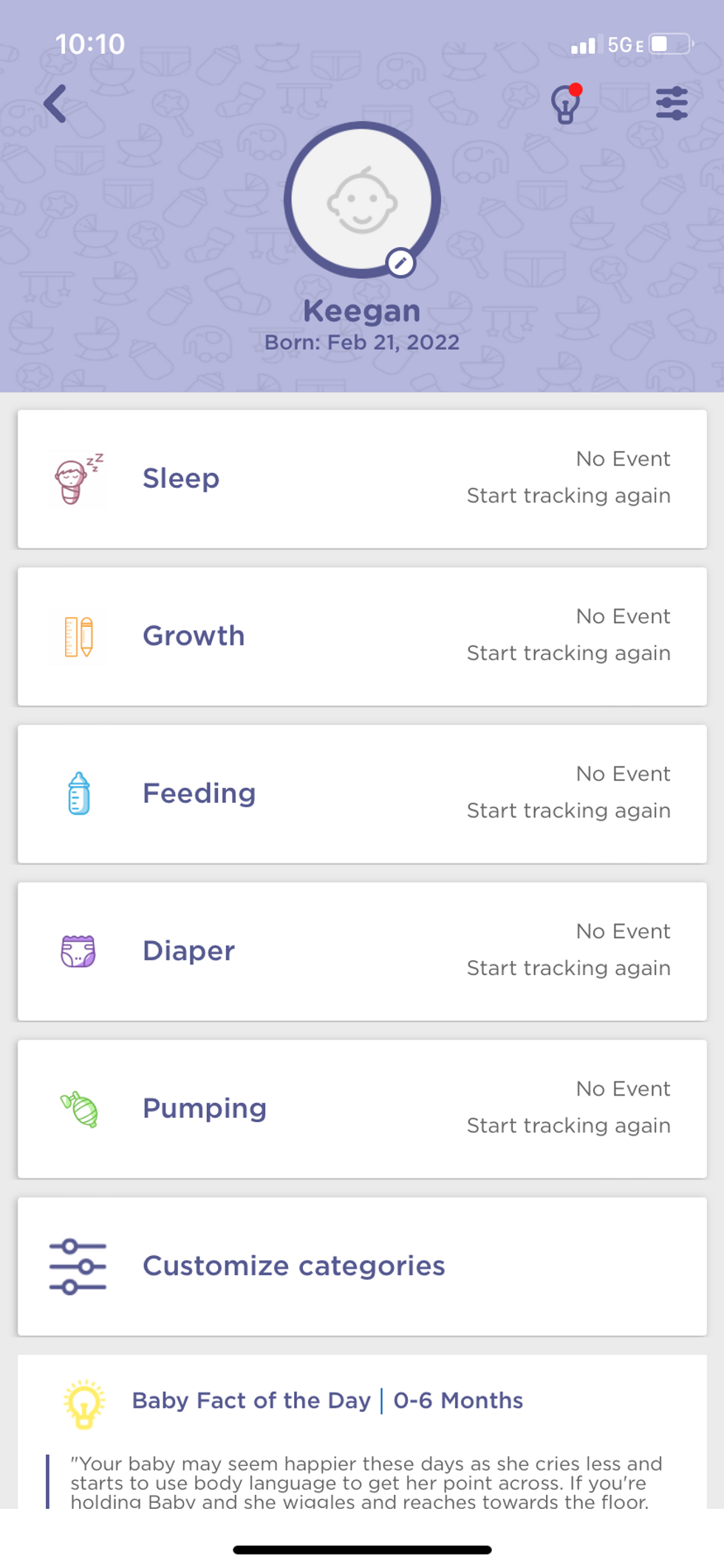 Track your baby's well-being in the HubbleClub AppGearBrain
Performance – Testing results

How well did the Hubble Connected Nursery Pal system performed during our testing? It did quite well, and we have tested many types of smart baby monitoring services over the past year. We found the setup to be quick and easy. The interactive display worked as advertised. The touch controls were slightly delayed but worked. Our baby tester really liked the games on the display. Plus, the rubber protector on the smart display was able to withstand a bunch of drops and bangs from our baby testers.
Another feature we enjoyed was the Wi-Fi connection. Though it works only on a 2.4GHz Wi-Fi connection, it was a nice addition. Many new smart baby monitors with an interactive display do not work on a Wi-Fi connection. They do connect on a wireless connection in your home, but you can only access the camera using the display. With Nursery Pal, we were able to access the HD camera from our smartphones when away from the house. However, keep in mind, you can only connect 2 devices to Nursery Pal system unless you get the HubbleClub Premium service which costs an additional $4.99 per month.
Video feed in HubbleClub app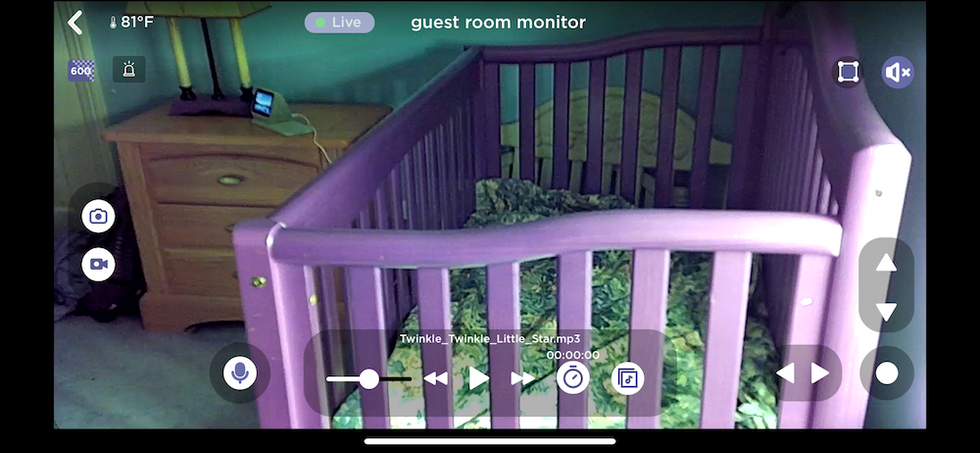 Video feed from hubbleclub app
GearBrain
All the controls for your Hubble Connected camera are on the video screen in the HubbleClub app. You can easily control the camera and play music from the app. it also shows you the room temperature.
Video feed in the interactive display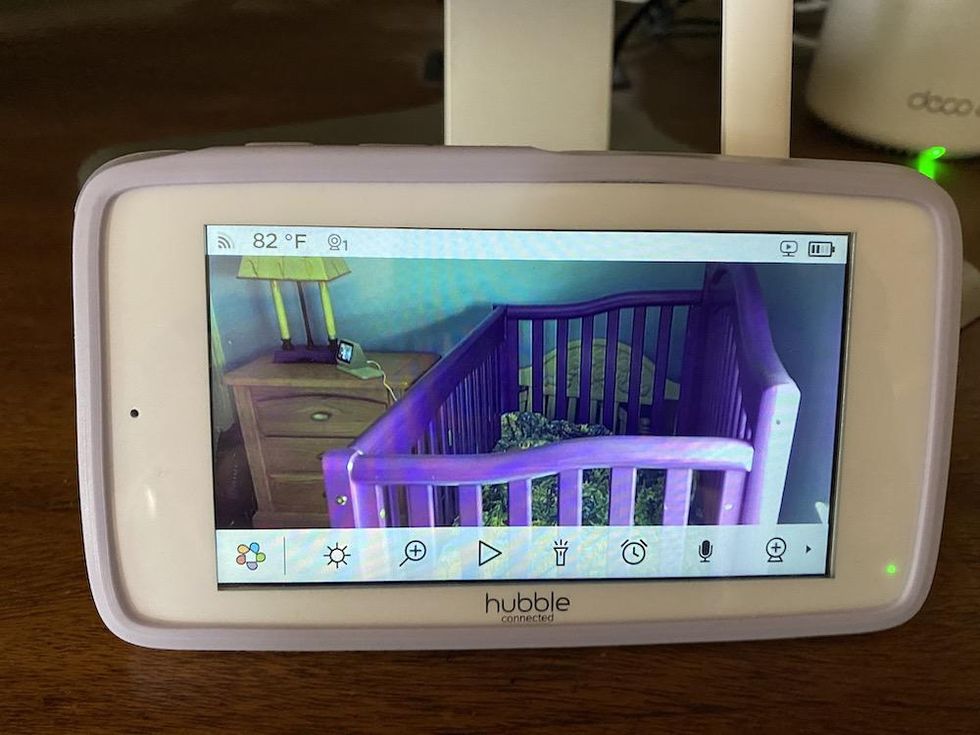 Live video on Interactive display
GearBrain
Hubble interactive display allows you to control the camera, play music or sounds from the camera and talk to you little one.
Play games on Hubble Interactive Display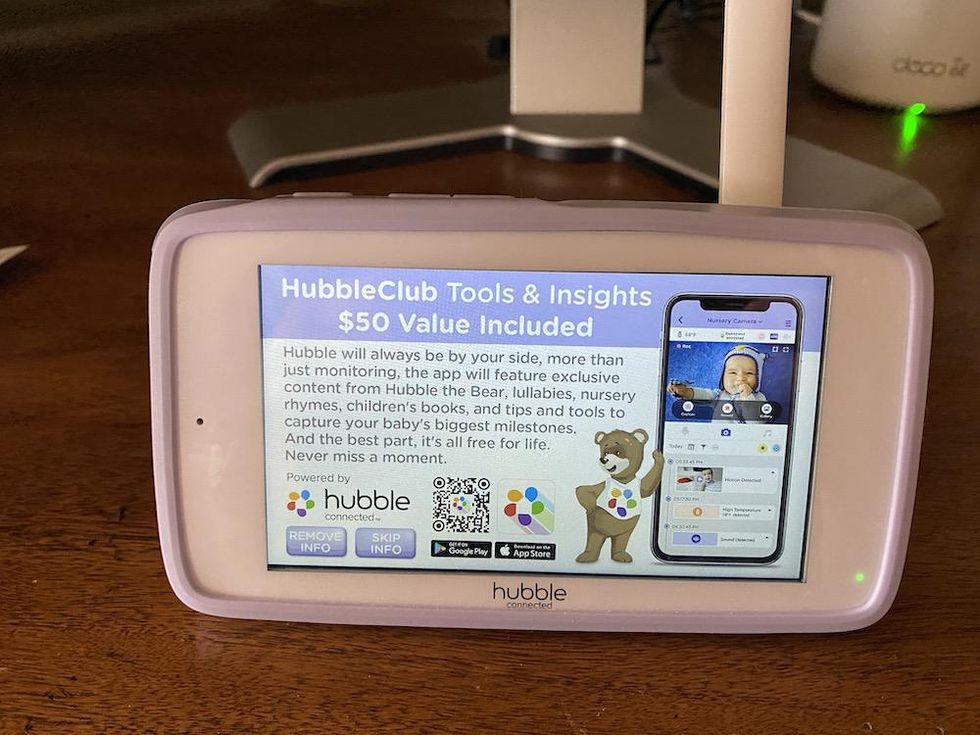 Hubble Interactive Display
GearBrain
Hubble Interactive display also has games and videos for your little one to play with when it's not monitoring your infant.
Another nice feature of Nursery Pal Deluxe system is the pan and tilt camera. Using the app or interactive display, we were able to move the camera up and down, side by side and zoom in and out. These easy-to-use controls allowed us to move the camera into the perfect viewing angle.
The quality of the video was good. It is only HD 720p video resolution, but you can adjust the quality of the video a little in the app which improves the picture quality on your smartphone or the interactive display. You can also adjust the volume levels and brightness on the camera. Night vision can also be set to auto or on/off in the app.
When testing the HubbleClub app, we found a lot of useful features. You can monitor the baby's room temperature, play lullabies, take a snapshot or start recording a video, set the camera to start recording on motion and set up a motion zone. However, many of the good features require the Premium plan. For instance, if you want to give the grandparents or a babysitter access to your Nursery Pal Deluxe system (app) you need to have the Premium plan. Also, if you want access to more lullabies and audiobooks or want to take advantage of Hubble Connected's sleep monitoring reports, you need to upgrade.
Smart Home Integrations
According to the company, Hubble Connected works with Google Assistant and Amazon Alexa enabled devices. You only need the HubbleClub plan for this feature to work. When we tested these integrations, we experienced a few issues. Amazon Alexa devices did respond to a few voice commands after we enabled the Hubble skill. When we tried to connect to Google Home app, we could not find any listing of Hubble. We did follow the instructions from Hubble Connected but were not successful. We have reached out to the company about these integrations and waiting for their response. Until we get word back and update our review, you might experience issues with setting up these integrations.

Summary

Hubble Connected Nursery Pal Deluxe is a smart baby monitoring system with tons of features for you to keep an eye on your little one as they sleep or play in their crib. The 5-inch interactive display is perfect for parents who don't want to give their babysitter access to the baby monitor's app. And the interactive display can function as a learning tool for your child as they grow.
The cost of Hubble Connected Nursery Pal Deluxe is on the high side when you compare it to other smart baby monitors that come with an interactive display, like Papalook. But these smart baby monitors don't work on a Wi-Fi connection. Most of the premium smart baby monitors like Nanit, Cubo AI and Miku come with features that can track your infant's breathing, movements and blood oxygen levels as they sleep start around $299. And they don't charge for video storage or custom motion zones. However, even at $199.99 plus an additional $49.99 per year for HubbleClub Premium plan, Nursery Pal is still a good deal. Plus, you get an interactive display which can be used as an educational tool and a device your babysitter can use.
If you are in the market for a smart baby monitor, you should consider Hubble Connected Nursery Pal Deluxe. It's a good smart baby monitoring system which can help keep a close eye on your little one. And if you want, you can easily add Hubble Connected wellness products, like a smart air monitor and smart baby scale which can help track your infant's growth and well-being all in one app. Something very few smart baby monitors can do today.
Pro
5-inch interactive display and pan & tilt camera
Price
Wi-Fi connected
Educational Games and Videos in the interactive display
Cons

Need to pay subscription fee for customized motion zones
Subscription fee required for adding more than 2 devices to app
Monitors sleep only with premium plan
Works only on a 2.4GHz Wi-Fi connection.
If need help finding other smart baby tech, don't forget to use The GearBrain, our compatibility find engine for smart devices. It's free and easy to use. Plus, you can also get help troubleshooting any problems with your devices.
Best Connected Smart Baby Tech and Gear for Smart Homes www.youtube.com