Many smart baby monitors today come with a security camera that works in tandem with an app on your smartphone to monitor your infant. You can add users to share your special moments with your newborn. But what if you don't want to share the app with friends or family? Or you are worried about someone trying to hack into your camera? We have a solution for you to consider. Let us introduce Papalook Smart Baby Monitor with 1080p LCD, a smart baby monitor system that does not require a mobile app. We tested Papalook in a real home and here is what we found.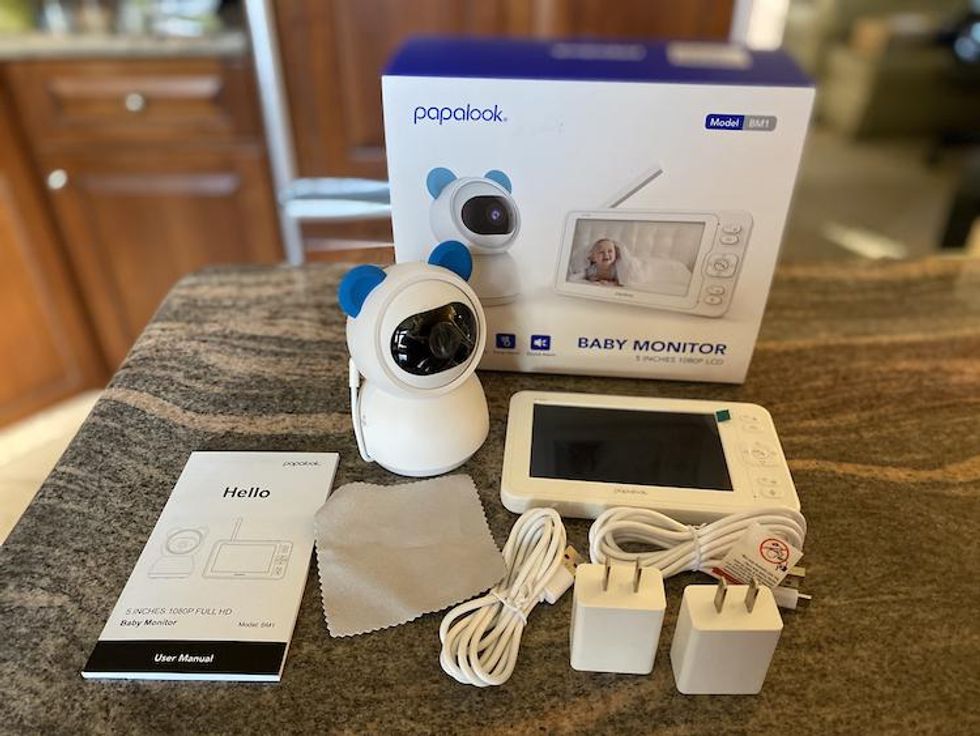 Inside the box of Papalook Smart Baby Monitor with 1080p LCD monitor.GearBrain
What is Papalook Smart Baby Monitor?
Papalook is a smart baby monitoring system. It comes with a FHD security camera shaped like a cat and a separate 5-inch baby monitor with a 1080p screen. The camera connects to the monitor via a 2.4 GHz FHSS wireless connection. What is 2.4 GHz FHSS? FHSS stands for frequency hopping spread spectrum and is part of the 2.4 GHz band. This type of connection has been used in baby monitors before and is safe and secure according to security experts. If you have a home Wi-Fi router with 2.4 GHz, your Papalook will connect easily to it once powered up.
Papalook's camera has several unique features. Beside its Full HD video resolution, there is night vision, 160-degree field of view (FOV), 2-way communication and a sound alarm. Your camera is controlled using buttons on the monitor. You can pan a 355-degree view, see the room temperature, signal strength for your wireless connection, camera speaker status and current time. And if needed, you can setup a schedule for when to feed your infant as well as setup noise detection and/or play lullabies for your infant when they start to fuss. You can even move around your house with your monitor since the system has a 900-foot wireless connection range.
What do you do if you want to save those precious moments when your little one rolls over or does something special? The Papalook comes with a microSD card slot for a Class 4 TF card (up to 256GB) which you can use to record events. However, since this smart baby monitor doesn't come with an app, you will not get an alert when it happens. Something for you to consider.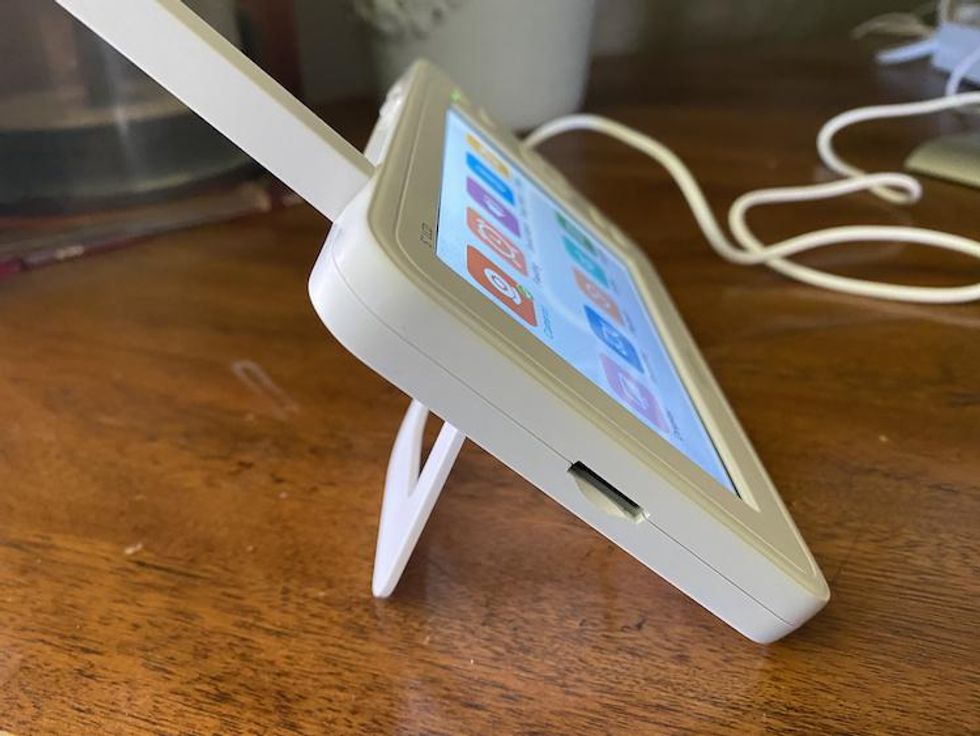 Card slot on the side of Papalook monitor.GearBrain
Installation
Papalook is a plug and play system. Just plug in the camera and power up the monitor, and you are good to go. All controls for your camera are on the display screen. Just use the buttons on the righthand side of the monitor to change the screen, turn the volume up or down, rotate the camera angle or turn off the video feed.
Tips for installation
Once you unbox the Papalook system, make sure to power up the monitor prior to usage. The monitor might have a slight charge. However, it's best to charge it using the supplied power cord and adapter. The monitor needs five hours to fully charge. A full charge monitor can work up to 10 hours with both audio and video activated. You can turn off the video feed and still get the audio on your monitor. If you use this setup, your monitor's battery life will increase to 15 hours on a single charge.
Also, when powering up the monitor, make sure you hold down the power button until the screen lights up. We found the on/off button is not that sensitive and it takes a few seconds for the screen to power on.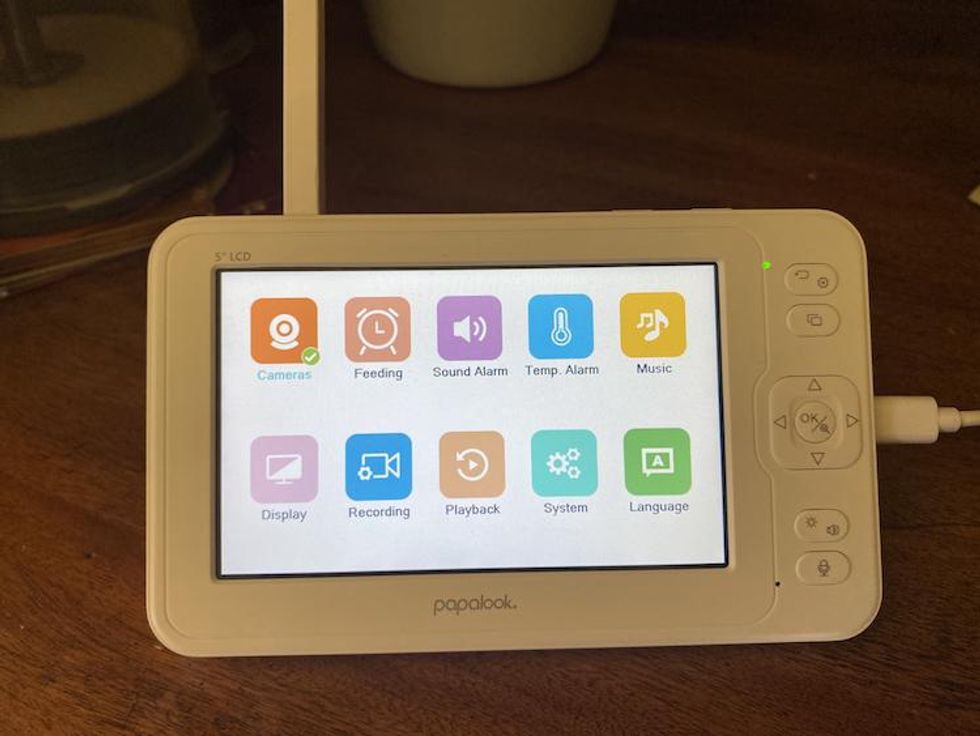 The home screen on Papalook LCD Monitor. Monitor is your control center and it's portable.GearBrain
Smart Home Integrations
Since Papalock is an independent closed system, it can't connect to external devices or ecosystems like Amazon Alexa or Google Assistant voice platforms. You will not be able to integrate this smart baby monitor system with any smart displays or systems. However, for some this can be a benefit. You get a very secure wireless connection between the camera and monitor.
Who should buy Papalook Smart Baby Camera and Monitor?
This smart baby monitoring system is a worthy solution for parents of infants who don't want to use their smartphone to monitor their kids or want a secure wireless connection for their baby monitor. It's also good for when you have a babysitter and don't want to add them to your shared users in the baby monitor app. Papalook is also a good solution for grandparents to have in their house for when the little ones come over for a sleepover or a nap. Setup and usage are even easy for individuals who are technically challenge.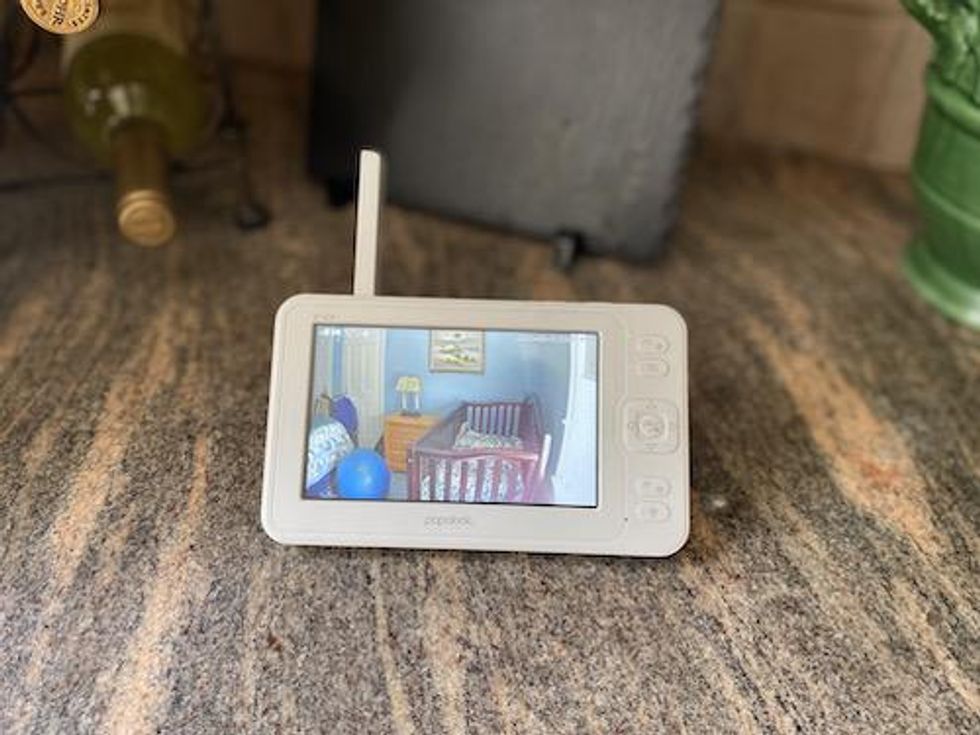 Papalook monitor is portable and has a wireless connection range of 900 feet.GearBraiin
Cost
Smart baby monitors range in price from $150 to $399. You can also use a smart indoor security camera, like Wyze Cam (under $40) or Google Nest Cam ($130). However, these smart devices come with app control and other unique features like monitoring your baby's breathing or sleep patterns. Papalook system costs $139.99 (available on Amazon). This price is on the high side when compared to baby monitor systems with a camera and separate monitor. Yet, when you compare Papalook to smart baby monitors, they are on the low side.
Performance
The Papalook system was acceptable if you are looking for a smart baby monitor with no app. Setting up the connection was quick and easy. We were a little confused when we started to connect the monitor to Wi-Fi. The monitor showed a screen with a Wi-Fi symbol crossed out. We kept looking for instructions to connect to our home Wi-Fi network. It turns out you don't have to do anything. The monitor will locate your home Wi-Fi signal and the screen will start to broadcast once it's connected.
Battery life was not an issue, but it really depends on how you use it. When we use the monitor on audio only, the charge lasted a long time but when we used the video and audio setting together, the battery drained rather quickly. If you plan to use this setting, make sure you have the monitor plugged in most of the time. Something to think about.
One of the interesting missing features for this smart baby monitor is smartphone control. The monitor is the controller for your system. This is something we had to get use to since we test mostly smart baby monitors that come with an app. We do like how the monitor's rechargeable battery allows you to move around your house. And if you want to add another camera, go ahead. The monitor can handle up to 4 security cameras.
Add up to 4 Cameras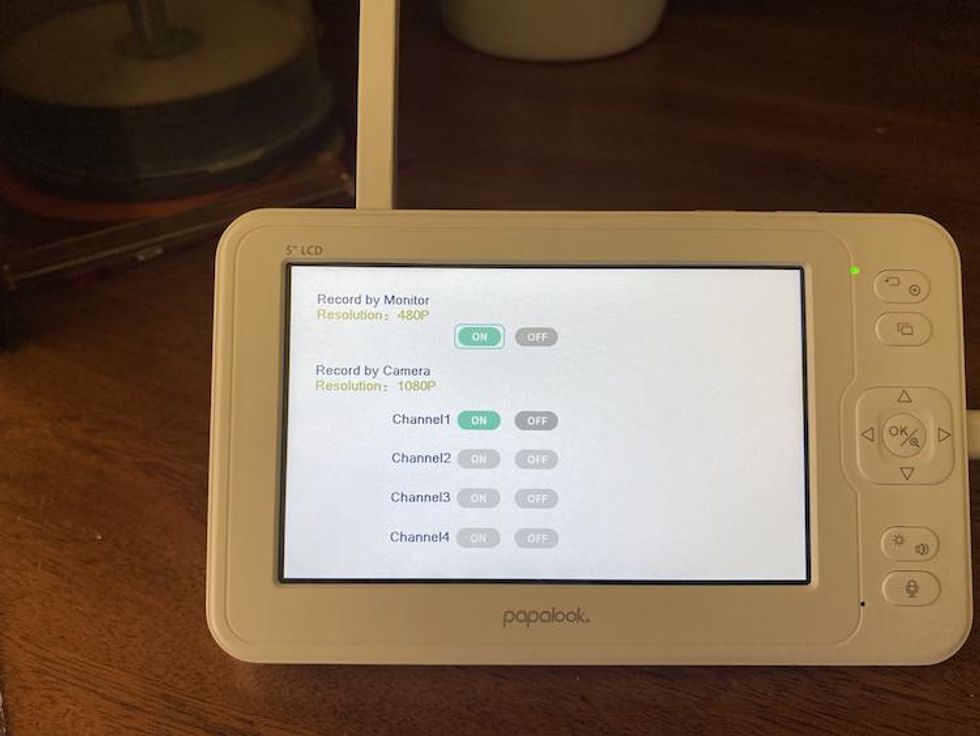 Add up to 4 cameras to one monitor
GearBrain
Select Language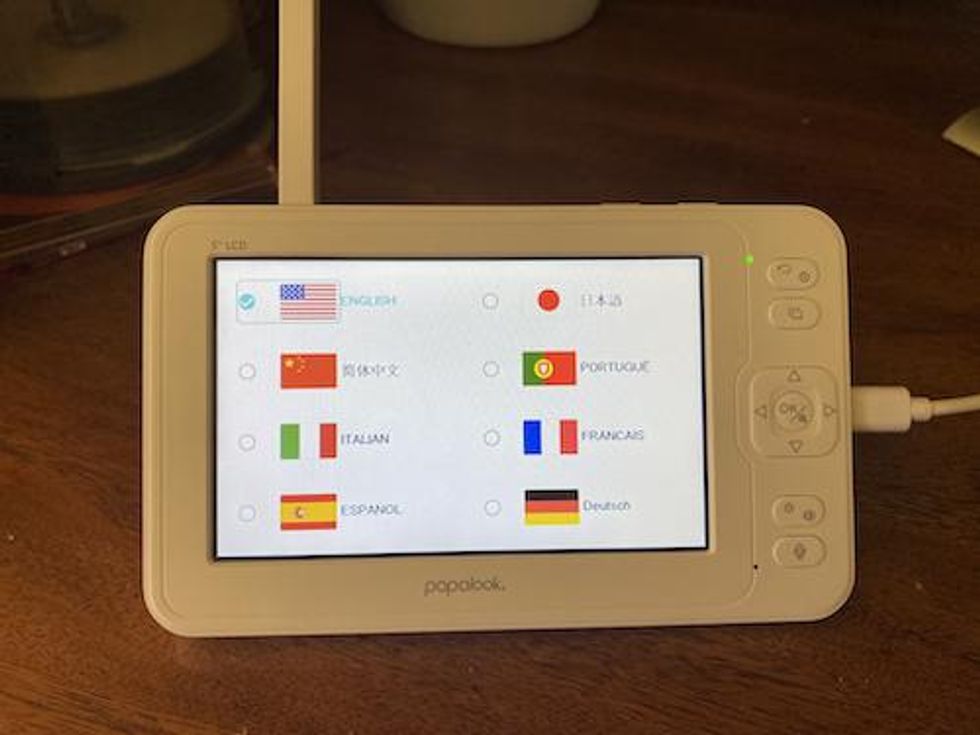 Select the language you want to use.
GearBrain
Choose Lullabies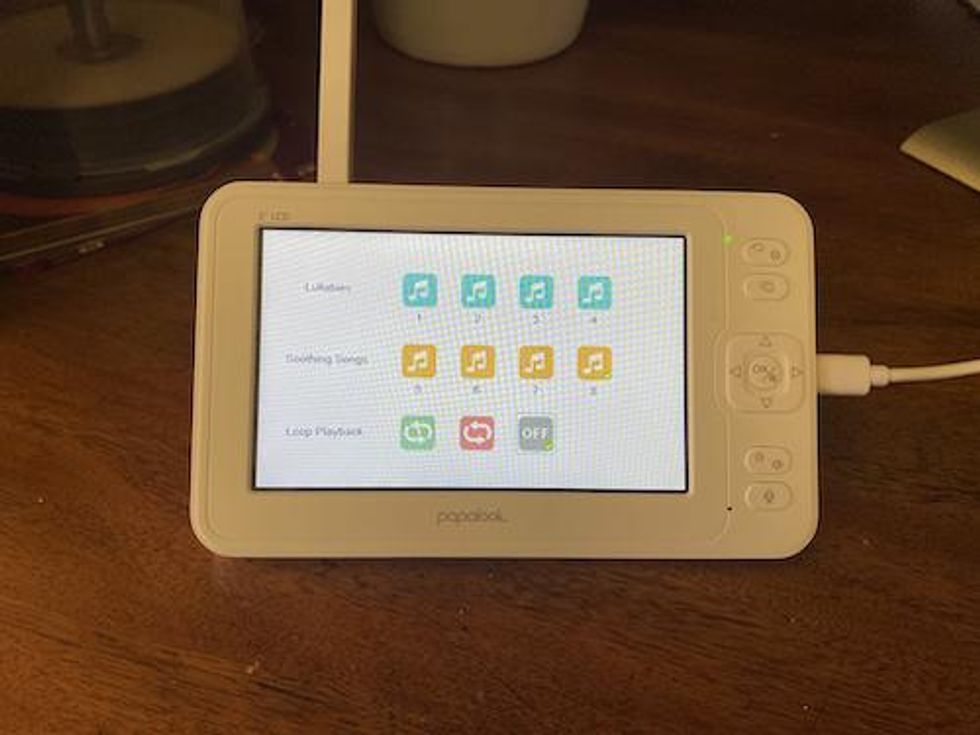 Choose lullabies on Papalook monitor
GearBrain
Summary
The Papalook Smart Baby Monitor with 1080p LCD monitor is the perfect solution for the parents who don't want to use a smart app to keep an eye on their infant. It's easy to setup and use. The night vision is in Black and White but clear. And the 355-degree pan view allows you to see almost every area in your infant's room. We also like how you can select different languages and store videos locally. If you want to play lullabies to soothe your baby, Papalook has a decent selection for you to choose the right sounds as well as the volume levels in the monitor.
Overall, Papalook provides many of the features you would find in other smart baby monitors like Miku, Nanit and Owlet. The biggest difference is these smart baby monitors require usage of a mobile app. If you want to use a mobile app to monitor your baby and get alerts when something happens, Papalook is not for you. But if you are technically challenged and don't mind using a portable monitor with rechargeable batteries, then Papalook is a smart baby monitor for you to consider. Yes, there is no app, but you don't have to worry about someone hacking into your monitor.
Pros
Easy setup
Adjustable camera and good FOV
Night vision
Cons
No remote access outside the home
Battery life is short.
No Alexa or Google Assistant smart display integrations