The point with a staycation is to stay put and relax at home. Some may see the opportunity to spend a weekend as a tourist in their hometown. For others, a staycation means throwing on some comfy clothes, and making sure they're not bothered for a stretch. When the goal is to make your smart home feel as relaxing as a day at the beach, these will certainly get you started for that 18-hour break we know we all need.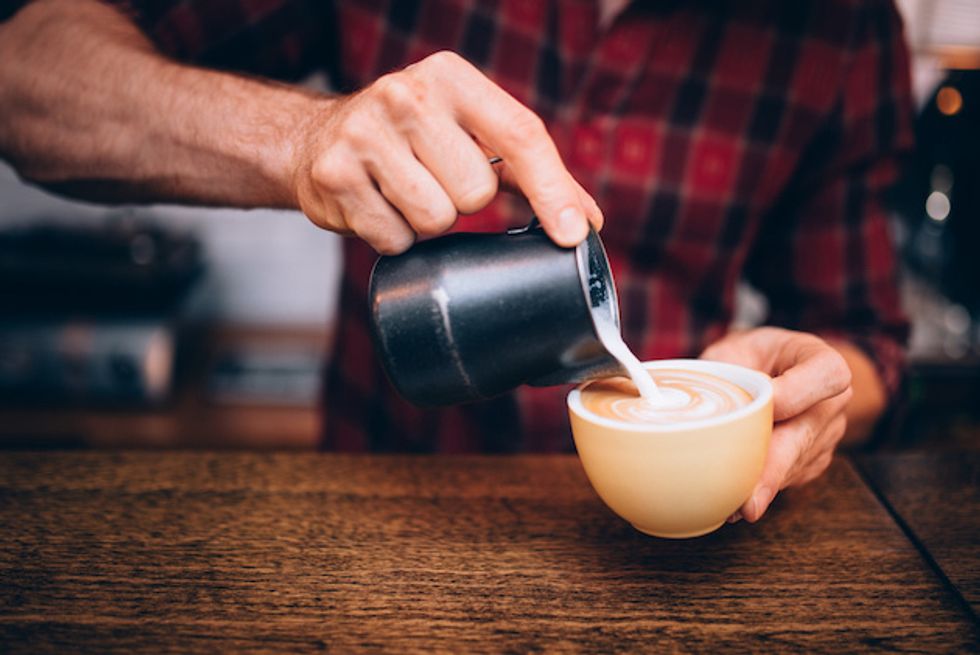 Forget running out for a cappuccino on a staycation, but a cup of joe is still essentialiStock
Wake up
It's morning, and on our staycation we're going to want coffee, or something that's better than the stew we slug down during work days. Certainly, since we're not leaving the house, we want something that we don't have to go outside to pick up.
You could buy a smart coffee maker that runs through your voice, or you could buy an inexpensive smart plug like the TP-Link Smart Plug, then plug your coffee maker into that. If you have an Amazon Echo device, even the smaller, the smallest speaker from the line, the Echo Dot, or a Google Assistant speaker, like the Google Home Mini, you can now ask Alexa or Google Assistant to turn on the plug —and give the John Legend voice a whirl since it's pretty relaxing — and then your coffee maker. All while still in bed.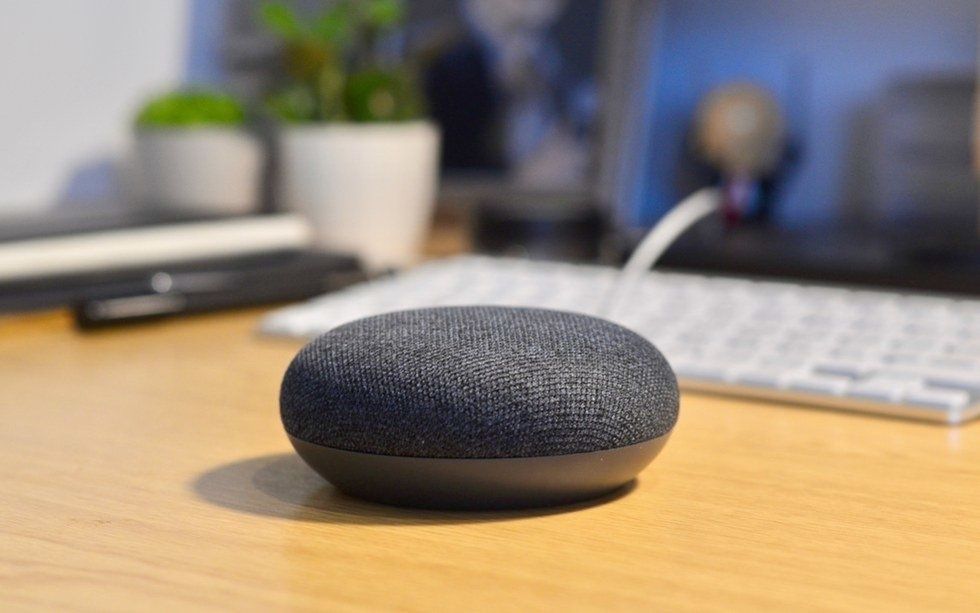 A Google Home Mini may look small, but it's powerful enough to access music from multiple sources including YouTube GearBrain
Next, since you have an Echo Dot or a Google Home Mini (we're very agnostic here on which smart assistant you pick) — let's get some music going. With Google Home, you can link to a variety of music services including Spotify, Pandora, Deezer and Google Play Music plus YouTube Music. With the Amazon Echo, you can ask your speaker to start playing music from Amazon Music, Apple Music, Pandora, Spotify, Deezer, Gimme, iHeartRadio, Pandora, Vevo, Tidal, TuneIn and SiriusXM.
Finally, think about creating some relaxing scent in the house. Opening the windows, letting in fresh air is a great idea. Or consider using a connected air freshener so you can actually change the way your space is scented throughout the day — maybe even tune the fragrance to what shows you may decide to watch later in the afternoon. We tested Moodo, and you can run the entire device from your smartphone, or through Alexa, Siri or Google Assistant with scents as varied as clementine, vanilla, and even four built around a beach theme.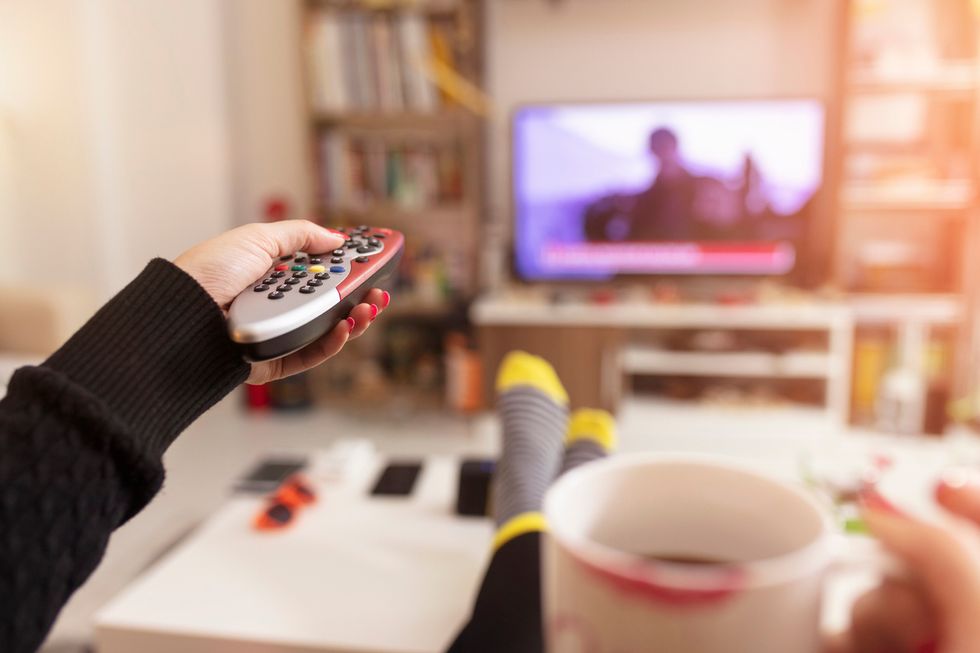 Coffee in hand, kick back and start a movie marathon on a smart TViStock
Midday Movie
Staycations often mean putting on a movie marathon. There's nothing better than having a great TV to watch your favorite film series, or multiple seasons of a popular TV show (All eight seasons of "Game of Thrones" perhaps?) You can opt for a new smart TV, or perhaps just update your controller, like the Logitech K600, which can run your TV — but can also use to get online. Truthfully, it's a staycation so checking email, Slack or any work tools is a strict no-no. But maybe you want to do some light shopping on your staycation, or skip ahead to see what happens in Season 4 of "The Americans." We're just saying that a robust controller can make it easier to lounge about on your day (or days) off.
You're going to need some snacks during this downtime. If you're lucky enough to live in a city and area where Starship Technologies operates, you can play an order at one of the restaurants they work with and have a robot bring you a matcha or BBQ chicken pizza arrive at your door within an hour or so. In some regions have same day deliveries through online shopping sites including Amazon and Fresh Direct — and have some healthy treats to munch on throughout the day.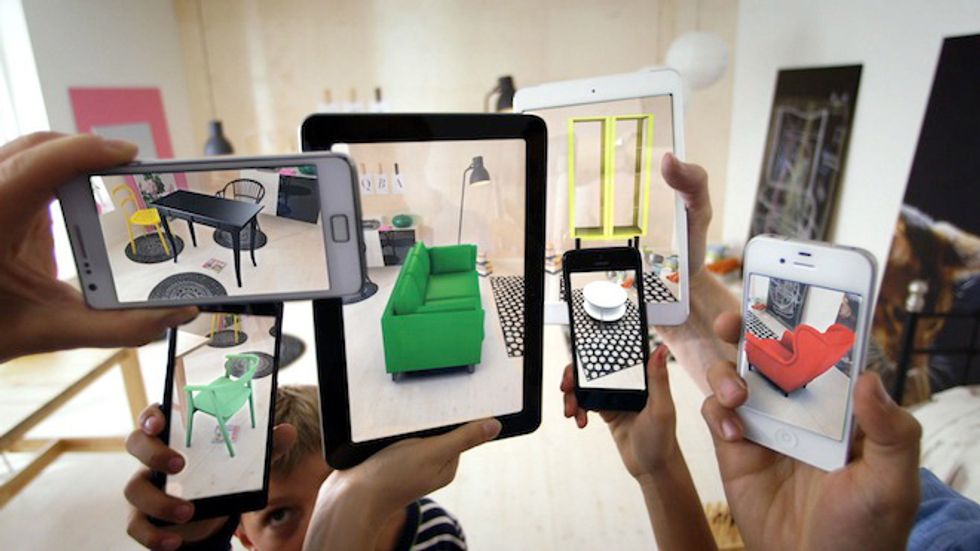 Ikea Place lets you try out furniture from the Swedish brand in your home — viewed through your smartphoneIkea
Afternoon Refresh
After several hours at home, a little room refresh may come to mind. No, we're not getting in the car and heading to Ikea on our staycation. But we could download the Ikea Place AR app and test some new couches, kitchen cabinets and lights in our space. The app lets you see how Ikea's furniture looks in a real space working with the camera on your smartphone — and the company is about to let you make purchases from the app as well. Until then, you can at least store your ideas in a Favorites section, and head to the web site and place an order there.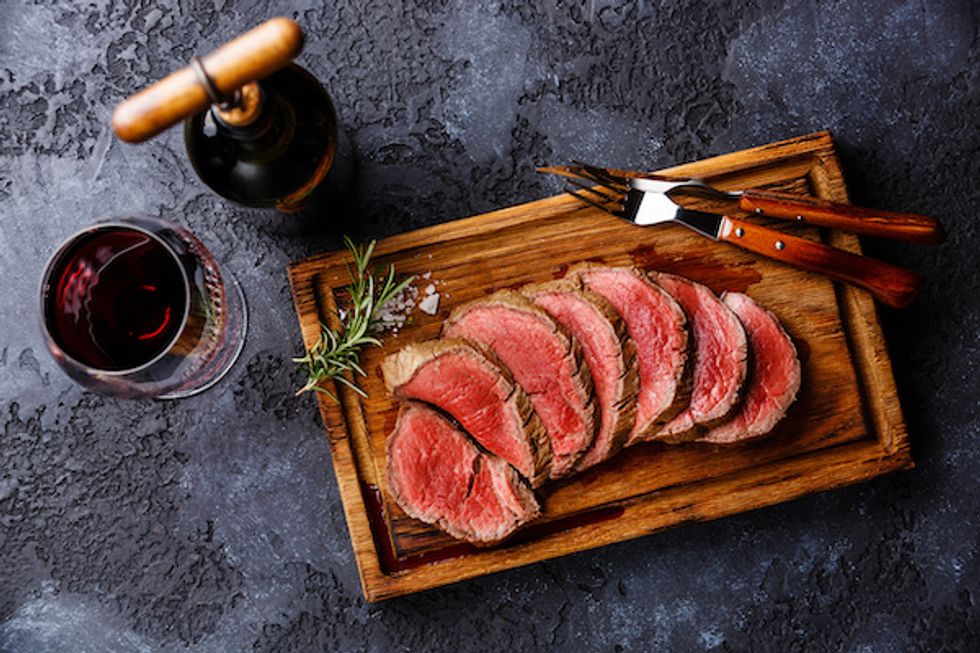 Using a smart thermometer can help keep that steak as rare as you like itiStock
Dinner
All this relaxing is going to leave you hungry. A steak and great glass of wine? Thank you, sounds great. Tuck Meater into that sirloin, and toss it in the oven with the cut of meat — you won't have to keep an eye on anything, instead your smartphone through the Meater app will ping you when your steak is perfectly cooked to your liking. In the meantime, you might want to have a bottle of wine ready to pour, or make a cocktail instead and tap into some smart bartending tools to make yourself a drink.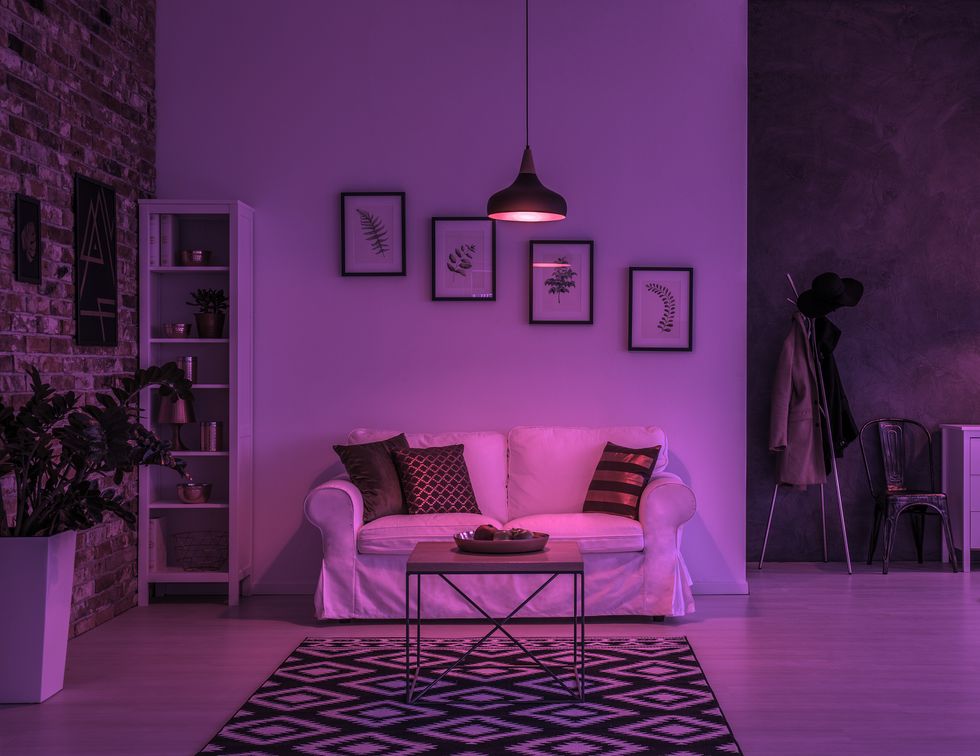 You can cast a soft glow around you at home with smart lights, as you wind your staycation downSengled
Sleepy time

When you're ready to wind down from your staycation, think of bathing your home in a lovely glow — and smart lights are the easiest way to create a luminous cast around your space. There are a number on the market today, including those from Philips Hue, which have millions of color options all just by selecting in the app. If you've splurged for a second generation Echo Plus, the Sengled line of smart lights can now connect directly to that Amazon speaker. You can preselect certain colors — let's say lavender — assign them to specific custom phrases, and then just say, "Alexa, give me the staycation I deserve."