Like GearBrain on Facebook
Porsche has finally revealed the production version of its first electric car, the Taycan. A four-door, five-seat sedan, the Taycan has launched in flagship Turbo and Turbo S configurations - and yes, you're right, electric cars don't have turbochargers. That's just the name Porsche has gone for.
Although priced somewhat higher than the Tesla Model S, the Taycan (which for now starts at $153,000) is a similar size and promises similar performance - so we thought it would be a good idea to compare their spec sheets back-to-back.
Read More
Porsche Taycan vs Tesla Model S: Acceleration and top speed
First up, we should start with Tesla's party trick, the 0-60mph sprint time. The regular Model S, now called the Long Range, sets a time of 3.7 seconds, while the Performance version with Ludicrous Mode enabled takes 2.4 seconds.
By comparison, the $185,000 Porsche Taycan Turbo S reaches 60mph in 2.6 seconds. The cheaper and less powerful Taycan Turbo completes the sprint in 3.0 seconds, the same as the Tesla Model 3 Performance .
The Taycan Turbo S also accelerates from zero to 200km/h (124mph) in 9.8 seconds. Tesla doesn't give this statistic with the Model S, but based on third-party acceleration tests, this is about the same as a Model S P100D.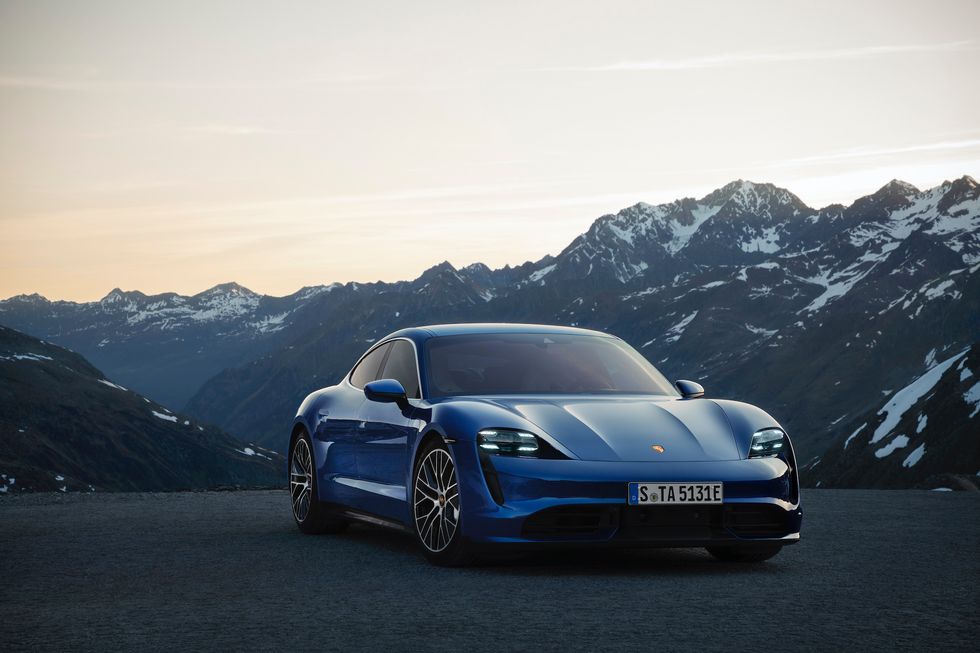 The Taycan is the first all-electric car from Porsche Porsche
When accelerating like this, the Taycan makes use of the first gear in its unique two-speed gearbox. This is something the single-gear Tesla does not have, and is only used by the Porsche during very hard acceleration from a standing start. For the rest of the time (and during normal driving) the Taycan uses the higher of its two gears. During my brief passenger ride in a Taycan, I did not notice any gear change at all; it's totally seamless.

Porsche claims the Taycan and its 800-volt architecture can sprint like this over and over again, whereas other electric cars, which use a 400-volt system, tend to overheat quickly and need to cool down before offering maximum performance again.
As for top speed, the Model S Long Range is limited to 155mph, both versions of the Taycan Turbo can reach 161mph, and the Model S Performance has a top speed of 163mph. Porsche claims its car is more capable than most EVs at maintaining high speeds for long periods of time - no surprise, given some German highways don't have speed limits.
Porsche Taycan vs Tesla Model S: Range

Porsche claims the Taycan Turbo S has a range of between 387 and 453 km (240 to 281 miles) using the WLTP test cycle, and the Taycan Turbo manages between 389 and 420km, due to it having slightly smaller wheels. Porsche says the car can achieve slightly more range when driven in Efficiency mode instead of Normal, as this reduces the car to two-wheel-drive when the rear motor isn't required. The WLTP tests were conducted in Normal mode.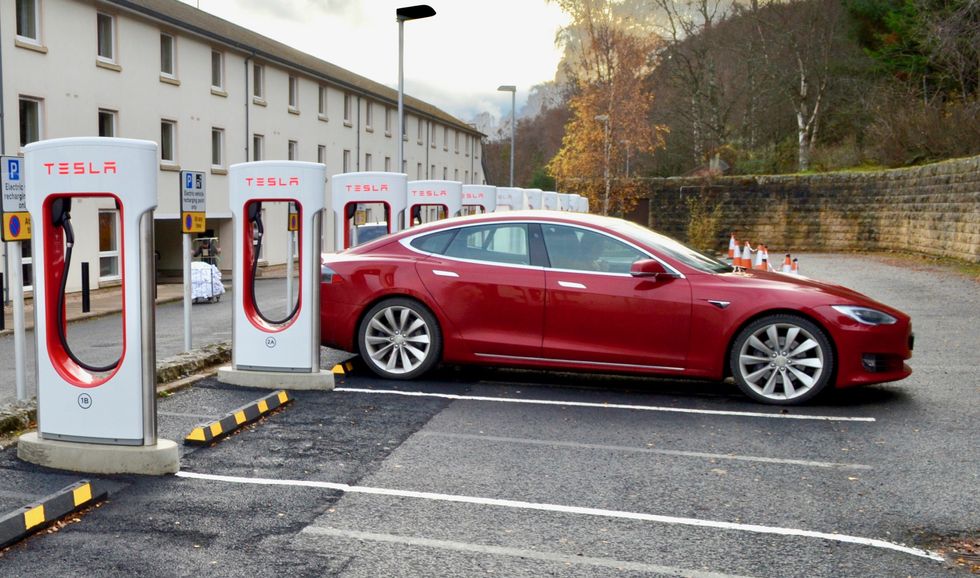 The Supercharger network is a key selling point for Tesla GearBrain
Using the same WLTP standard, the Model S Long Range has a range of 375 miles, and the Model S Performance is rated at 365 miles. If maximum range is what you need, it's a clear win for Tesla - but we we'll explain below, the Porsche can charge more quickly.

The extra range is partly due to the Tesla having a larger 100kWh battery compared to the 93.4kWh pack used by Porsche.
It is also worth remembering that lesser versions of Taycan, potentially called the Carrera and Carrera 4S to match the rest of Porsche's model range, will offer less performance at a lower price than the circa $185,000 flagship Turbo S.
Porsche Taycan vs Tesla Model S: Charging network
Tesla's trump card over all other electric car makers is its Supercharger network. This remains the case here, but Porsche has made an effort to close the gap.
Instead of building its own exclusive network, Porsche has created the Porsche Charging Service, or PCS. This gives Taycan drivers a single user account and contactless card, which they can use at a wide range of chargers, no matter who they are owned or run by. Just tap the card on the charger, and it will work.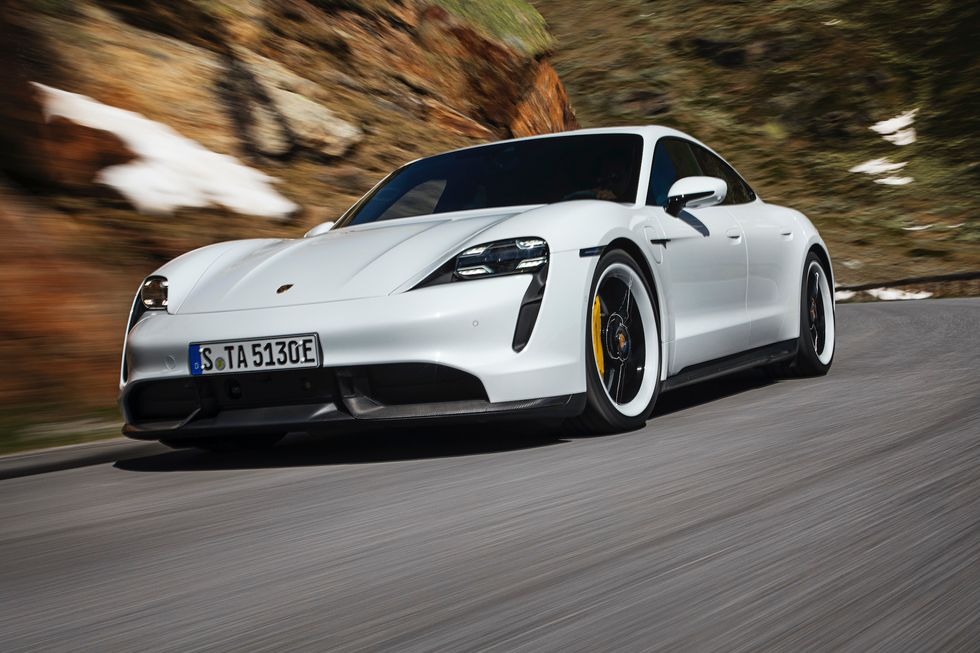 The Taycan has a range of up to 281 miles Porsche
Porsche says the card will work with 200,000 chargers worldwide by 2020, across the US, Europe, China and Asia. This includes the super-fast Ionity network in Europe and the Electrify America network in the US - these offer charging speeds of 250kW now, with 350kW or more planned for the future.

Teslas are limited to a charge rate of around 250kW (120kW for older vehicles), while Porsche says it is confident that the Taycan and its unique 800-volt system will eventually increase today's 270kW charge rate to 400kW or even 500kW in the future.
At launch, Porsche says the Taycan can refill its battery from five percent to 80 percent in as little as 22.5 minutes. The company also states the charge rate as 62 miles of range for every four to five minutes the car is plugged in. Access to the Porsche Charging Service will be free for the first three years of Taycan ownership.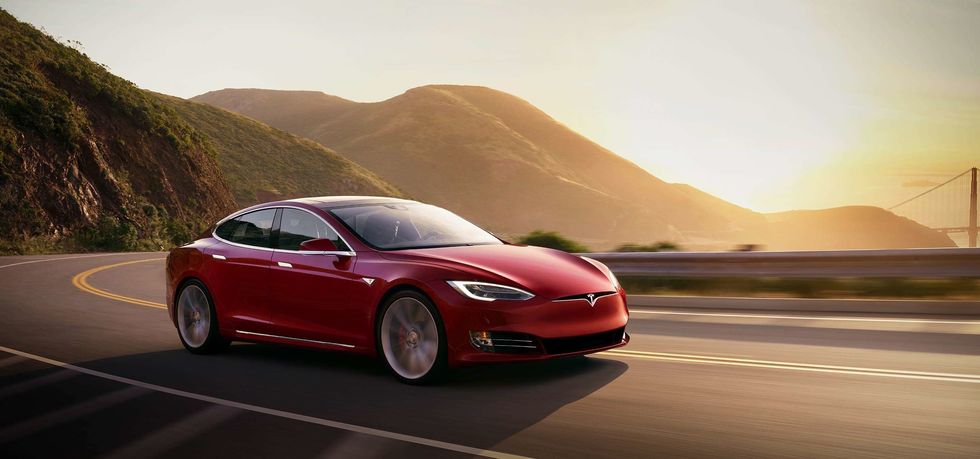 The Model S is quicker and cheaper than the Taycan Tesla
Porsche Taycan vs Tesla Model S: Price

For now, Porsche is only offering the top two tiers of Taycan, called the Turbo and Turbo S. These start at $153,310 and $185,000 respectively, before incentives.
This is considerably more than the Tesla Model S, which starts at $79,980 and runs up to almost $115,000 with all options selected on the Performance version. It will therefore be interesting to see if Porsche's strong brand and decades of experience in sports and luxury car production will be enough to distance it from the Tesla - which, at least in terms of raw numbers, looks like a bit of a bargain.
The Taycan can be ordered now, with deliveries due to begin in early 2020.
Like GearBrain on Facebook