Roborock is known for some of the better made robot vacuums on the market today, pretty powerful, often able to mop and vacuum, and priced fairly square in the middle of its competitors. We were sent the new S7 model by the company to test, a hybrid mop and vacuum, which we put to work in a home with a heavily shedding dog and two people, and found some unique features — including one that parents will likely find appealing. Here's how the robot fared during our three week test.
How to set up
If you've set up a Roborock before — and this is an upgrade — you're going to find this a pretty simple process. Take the vacuum from the box, snap in the rotating brushes, and place it on its charger. The S7 comes with a charger with a nice, low profile, which we appreciated.
GearBrain reviews the Roborock S7 robot vacuum GearBrain
If this is your first time with a Roborock, you'll want to download its app as most of the fun features are there. You can, as with most robot vacuums, operate the S7 without the app just by pressing the physical power button on the top. But if you want to take advantage of any of the fun tools like creating a virtual boundary, setting a schedule or linking a robot vacuum to a voice assistant, you'll want to use the app.
As it's a smart vacuum you're also gonna need to connect the S7 to your Wi-Fi at home, so have your smartphone, Wi-Fi name and password ready. All of this really shouldn't take you more than 10 to 20 minutes tops.
Using the S7

After about three weeks, we found the S7 to be a very efficient machine. It was able to sense, fairly well, objects around it, which means the robot didn't bump and bash into my furniture. There have been times over the last few years of testing these devices, that we would see robot vacuums bump with energy into table legs or my piano, and even knock some things down. But these machines now have better sensors — and honestly, my 8-year-old dog appreciated that too.
That's not to say that I would leave the S7 on its own in any apartment or home to clean unless I had done some robot vacuum diligence in advance. The S7 was quite capable — and we saw it happen at least twice — of grabbing phone chargers out of the wall and tangling them in its roller system. This is not unique to the S7, and we've seen this in other robot vacuums as well.
But I did like a new addition for spot cleaning, which can be accessed from one of the physical buttons on the top of the vacuum. If you press it for three seconds, it does a short, intensive, round of cleaning in that specific area. You can run this in the app, but it's great to also have it right on the device so you can quickly activate this feature too. The entire spot clean takes about two minutes, cleans about a three-foot-square area, and the S7 actually tells you when it's done.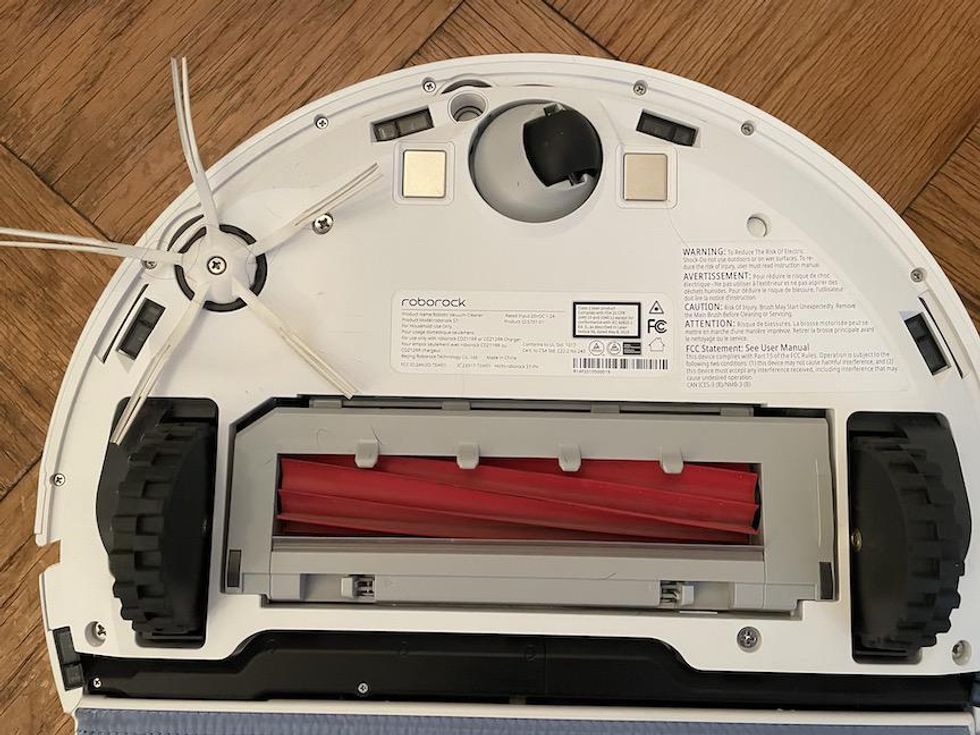 With a roller made of rubber, small things are less likely to get tangledGearBrain
One particularly nice feature of the S7, and it's not unique to this Roborock, but is a great addition, is that the robot vacuum automatically detects when it's on a carpet or a rug, and increases the power or section to the machine to pull up more deeply on that surface. You do need to activate this feature in the app, and it's also available in the Roborock S4 Max. But it's a nice detail for anyone who has a variety of surfaces in their space from rugs to carpeting to hard wood floors.

One unique feature though is a new child setting, which lets you lock — in the app — all the physical buttons on the robot. That's an excellent option for anyone with small children as it prevents them from accidentally starting the robot when no one is close by. A plus.
App
The Roborock app is where you really going to want to play, with a ton of features inside. There's a 'Do Not Disturb' mode that lets you create quiet times so the robot doesn't start moving around during a set meeting everyday, or when you're sleeping. You can create a set cleaning schedule, and even customize what you want to call the device.
One thing I was missing with the S7, that is available with the S4 Max, is a feature that pushes out a sound from the robot so that you can find it if it's disappeared while cleaning under a bed or tangled in cords. It's not a crucial feature, but one I wish had stayed with the S7.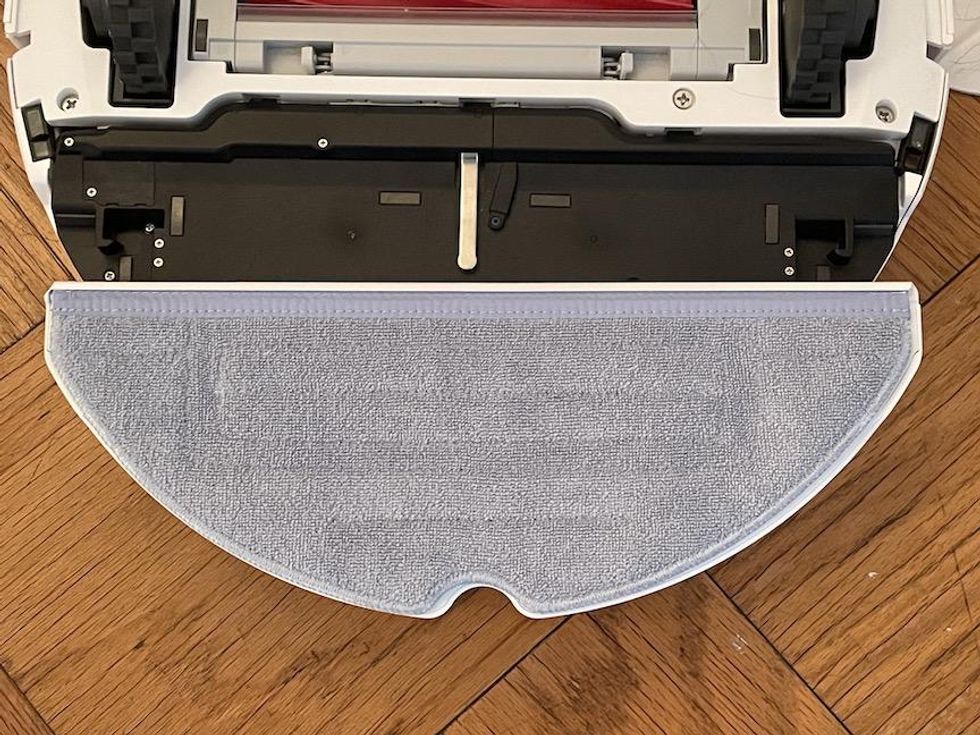 The Roborock S7 robot vacuum works as a mop as well, with a detachable padGearBrain
Voice assistants

Linking the S7 to Google Assistant and Google Home is extremely simple. That happens in the Google Home app. You can search for Roborock in the section where you're setting up a new device, and then just click on the name. Linking the two lets you start and pause the S7, but do make sure that you use the name of the robot, such as "S7," or "Robot," that is listed in the app.
Linking Alexa proved more difficult. Going into the Alexa app to add a new device took me to the Alexa Skill section, but adding this does not link Amazon's voice assistant to the Roborock S7. Instead, you're asked to set up a Xiaomi account — which we did — and still, Alexa could not locate the Roborock S7. Ultimately, if you're an Alexa household don't expect to be able to use this robot with the Amazon Alexa app.
Mopping
You can use the S7 to mop, and it comes with an attachment that slides onto the back, and add the mopping pad. You also need to fill up the water tank which is part of the robot as well. The S7 basically does a simultaneous vacuum and mop, and so it's going to vacuum and trail the mop behind.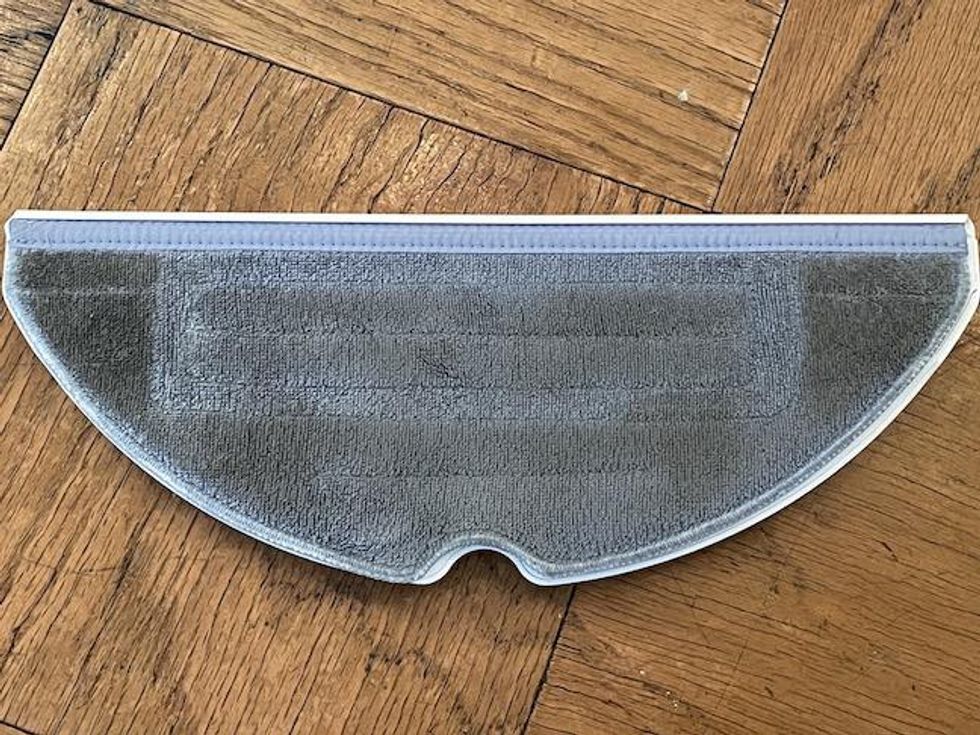 The mopping feature worked well on our wood floors, picking up light dirt and dust.GearBrain
To get started you want to get the mopping pad wet, and once attached the robot knows and goes into mopping mode. The app shows this as well, with both vacuuming and mopping visible in the control area of the app. You can adjust the level of intensity on the mopping (and on vacuuming too) from scrubbing heavily to more lightly.

Ultimately, as with any robot vacuum we've tested, this isn't going to do a very heavy mop, but instead something to pick up light dirt dust on the floor. We know the S7 states that it uses vibrations to better mop the floor. We think it did a fine job picking up dirt, but again it isn't something we would use in a high trafficked area that needs a deep, deep clean.
We also did see the S7 roll across a rug with the mopping attachment on, which is something you'll want to monitor, or handle by setting up virtual barriers in the app. Roborock says the S7 can tell when it gets to carpet and rugs, and lift the mopping plate up. We did not see that happen.
Price
You can pick up the Roborock S7 for $650 at Amazon and Walmart. You can go to the company's web site, but it will direct you to one of the other merchants to place your purchase.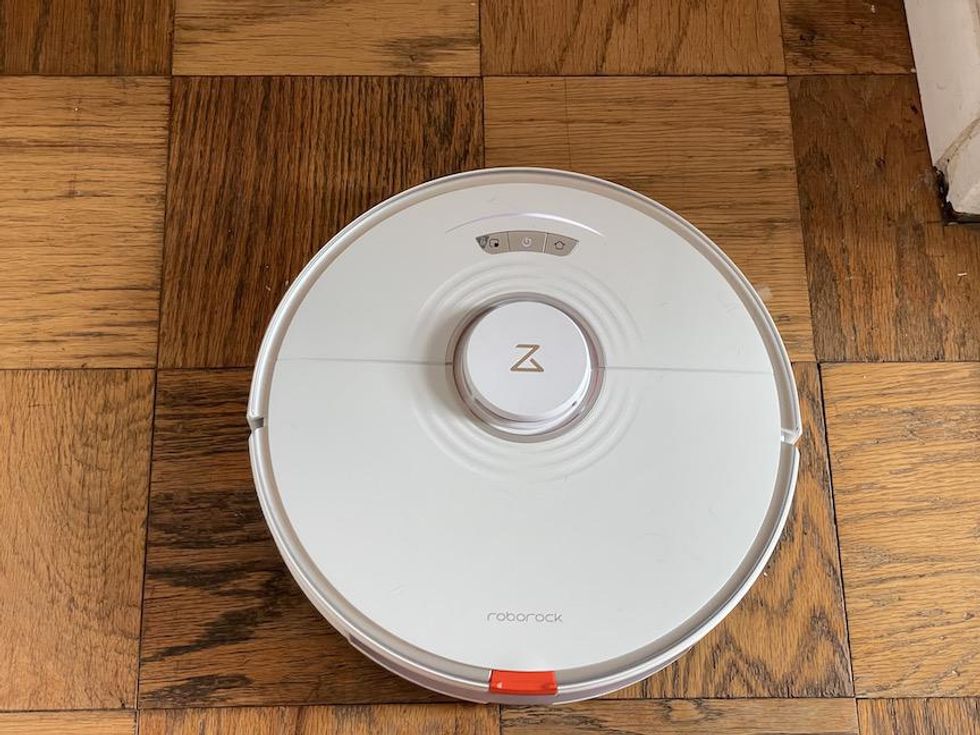 The Roborock S7 Max is a solid starter robot vacuum with a ton of great featuresGearBrain
Worth buying?

The Roborock S7 is a really nice robot vacuum, powerful both as a mop and vacuum, and packed with some virtual features as well as new physical ones such as a child safety lock. It has a clean design, with a roller that jettisons bristles on other vacuums, meaning it helps to avoid small things, like hair, from being tangled.
We did however find it had issues connected to Amazon Alexa, and also missed the button allowing it to sound off so we could locate it. However we do think that for this price, the S7 is a solid robot vacuum, easily worth the upgrade if you're buying a new device — or great for a first time user.
Pros:
Fast and powerful
Can mop well
Has some unique features including a child safety lock
Cons:
Didn't stay off carpets while mopping
Lacks button for it to ping, to help locate the robot
Could not connect to Amazon Alexa