Like GearBrain on Facebook
Buying a TV today can take you into a morass of lingo you never knew you needed. UHD, QLED, Dolby Vision to HDR. Who knew you'd have to adopt a new language just to get "Fauda" playing in your living room. But after many years, it became clear that I was missing out on some new perks with my old, yet beloved, Samsung TV. Hence the decision to buy the $428 50-inch TCL Series 5 Roku Smart TV, a big splurge but at a wallet friendly price that still brought video technology updates to my life.
The biggest change? Going from an Apple TV interface to Roku, which is the primary system running on this TCL set. Here are my thoughts on how the TV is working, what I'd love to see changed, what have been some growing pains and crucially some details to help you decide if this is a TV for you.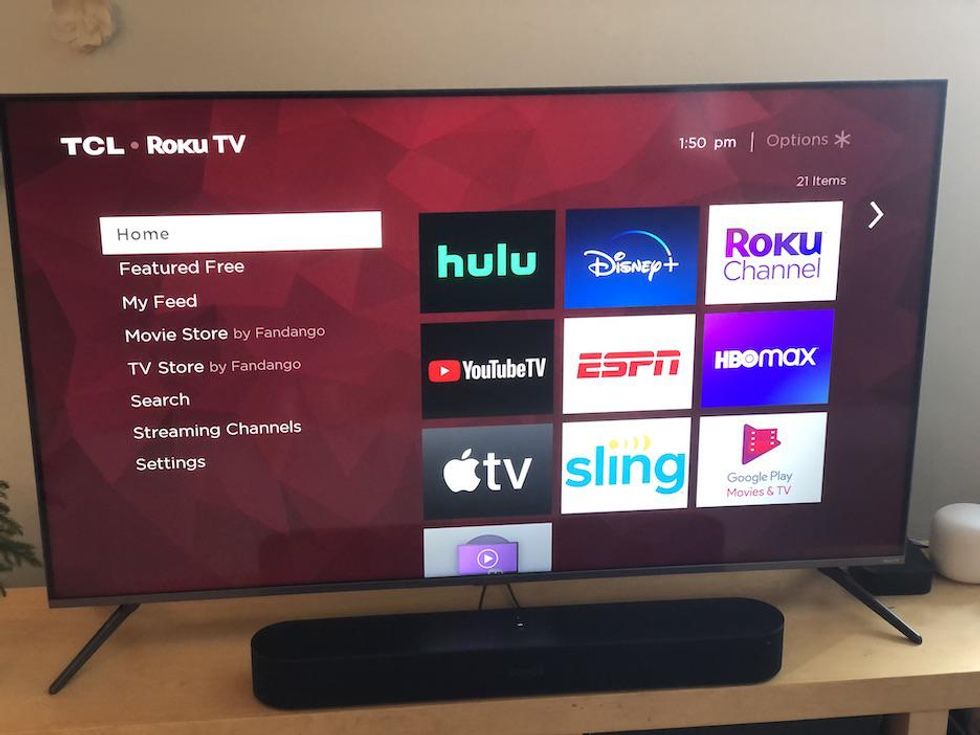 Apps can be downloaded to the TV, and there is free content as well through the Roku channelGearBrain
What you get

TCL is a brand that absorbed the Philips, Pioneer and Onkyo brands in 2018, and it's well-known for some fairly budget-friendly options not only when it comes to televisions, but smartphones as well.
The Series 5 is not the newest for the company, that would be the Series 6 and the Series 8. But in weighing which set was right for me, pricing at the high point of the decision. And while going up to a Series 6 did bring Dolby Atmos into sound factoring as well as mini LED technology, I felt comfortable leaving those behind and saving about $250.
The set also comes with two feet you can attach at the bottom which lets you stand the set on a console or bookcase or wherever you choose. There are also mounting options on the back which make it easy the hang on the wall.
This is a fairly thin set, about 3-inches thick, and it measures 43.9 inches by 25.2 inches without the stand. Look, you can always go bigger, but for a New York City apartment this felt fine.
The TV also includes Roku built right inside. This is different than having Roku Premiere as an added on set-top box — you have those options baked right into the TV.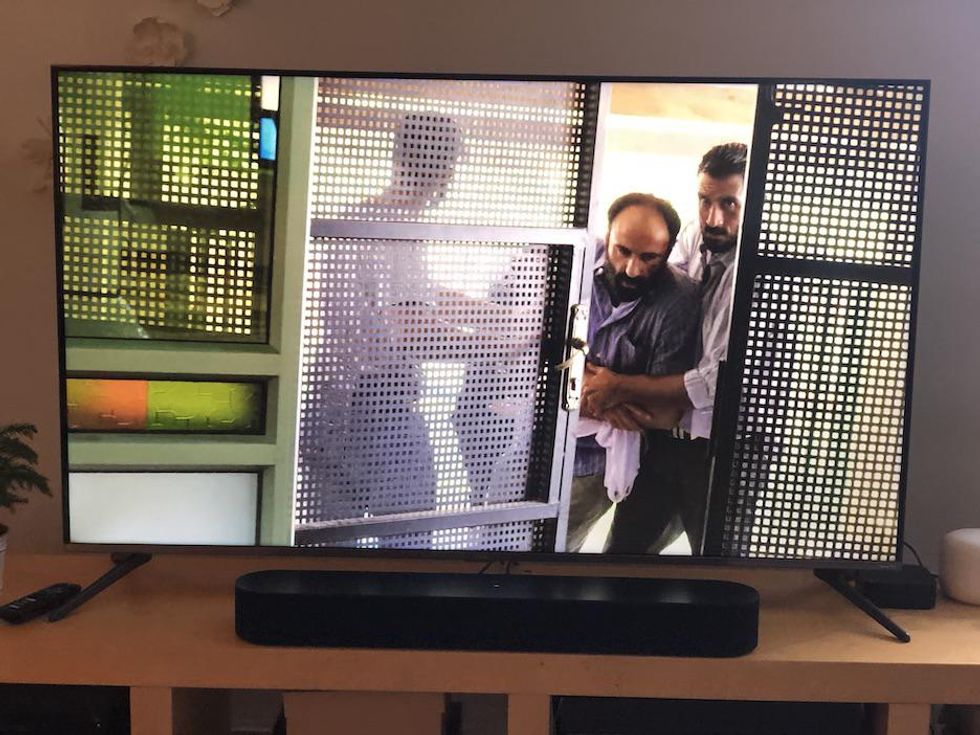 The TCL 5 Series installed quickly, connecting to Wifi, a Sonos sound bar and our external Apple TV without any issuesGearBrain
Setup

Talk about a plug and play situation, the TCL Series 5 Roku Smart TV was up and running in truly about an hour. That included getting it connected to the Nest WiFi system, (The set works on 2.4 and 5GHZ), and also to my Sonos Beam sound bar as well as the Apple TV.
The Series 5 TCL walked us through every step, and was also physically easy to install.
Picture

Why do you buy a TV? For its picture quality. And immediately going to a QLED screen was a shock. Most crucially for me, who is something of a film buff, I found the quality jarring actually. And it took a lot of experimenting to actually find how to reset the screen for movie settings.
I was disappointed those details were not easy to find in an instruction manual with the set. And had to surf around online to find them. Also, every channel and show did not lend itself to bringing this change to my screen. But here's how to at least play with it:
From the remote, with your connect playing, push the star button about one-third of the way down.
From the menu on the left which will open, scroll down to "Picture Mode"
Select this, and toggle through for options including "Movie," "Normal," "Sports," and more.
Other than that, the picture certainly popped, details crisp and images beyond clear. You're getting 1.07 billion colors here, and HDR10 plus Dolby Vision. Again, sometimes too much for me, but you can also play with options for the light in a room, tools to darken a screen and so forth.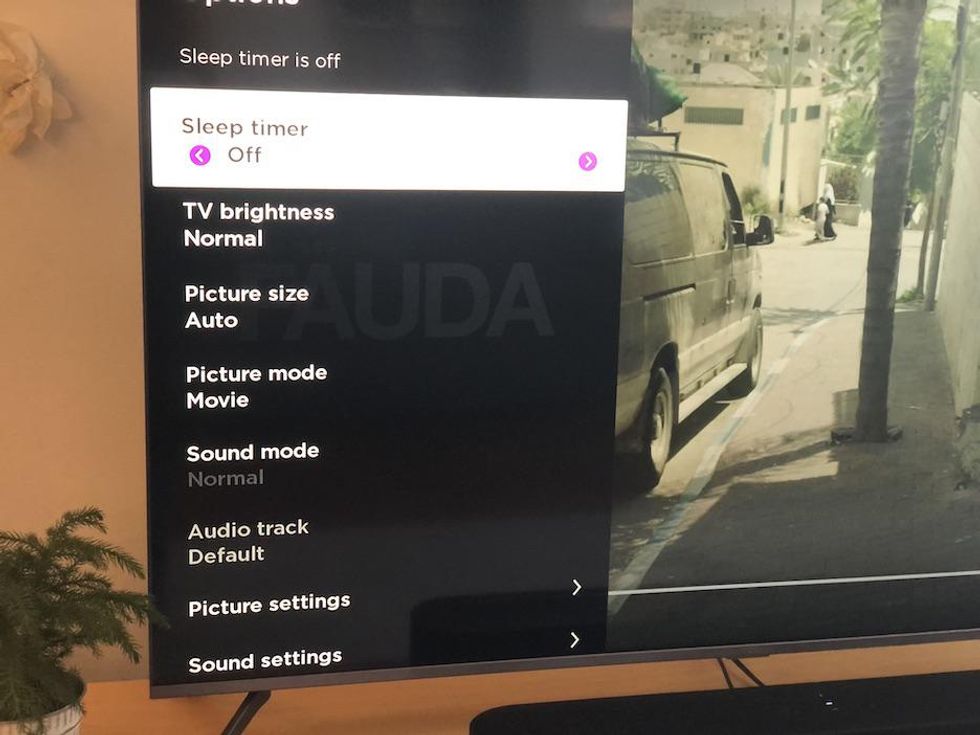 You can change picture size and mode, along with sound and brightness and moreGearBrain
Roku

Now, I knowing bought a Roku TV, so I walked into the interface shift fully informed. Still, if you're an Apple TV user there is going to be a learning curve.
The set came with a small remote with fewer buttons than I would have liked. Apple TV is an option on the Roku, but if you're a wired in, dedicated Apple household you're going to need to physically add the actual Apple TV to one of the four HDMI ports on the TV set.
Fitness+ for example did not come up through the Apple TV app, but is something I had to switch to the actual Apple TV to use. And when you switch back to the Apple TV you will vividly see the difference in picture quality.
The Roku interface also opens up more content. You can certainly add all your regular apps from Disney+ to YouTube TV, Hulu to Netflix and even Amazon Prime. But you also have access to free Roku content from news shows to movies. These also pop up on screen when you pause a show, a screensaver which Roku uses to promotes its own content. I miss the vistas from Apple TV, but it's fine.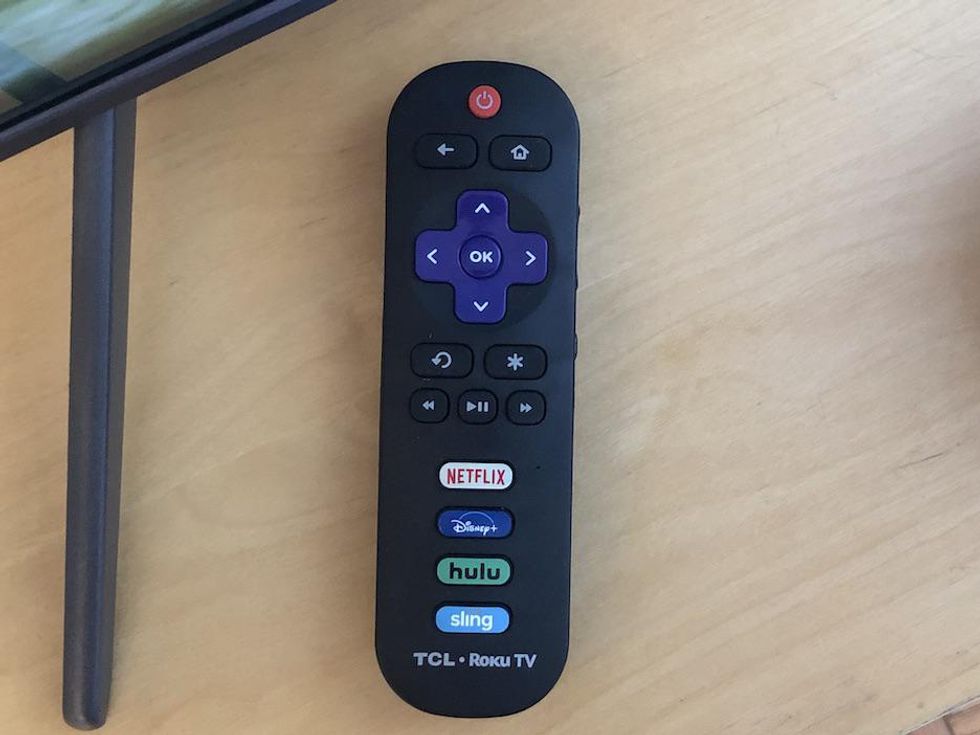 Changing the picture mode starts with the star button on the remoteGearBrain
Voice control

Here's something that actually started off confusing for me. Through the remote that came with the set, I couldn't access voice control. Again, I was coming from an Apple TV set up with the Apple Remote that lets you just talk to Siri to enter passcodes, search for movies and more.
The TCL Series 5 needs a go between to let you use voice control. I did the same with my old TV — using the Apple TV. But with the TCL set up the way it comes out of the box, you need a different path to use Siri, Amazon Alexa and Google Assistant as your voice control.
One can be going through the Roku app on a smartphone, another through the actual smart speakers like a Nest Mini or an Amazon Echo, as long as these speakers are in the same room as the TCL TV.
Price

You can pick up a 50-inch TCL Series 5 Roku Smart TV for $450 at major retailers including Amazon, B&H, Best Buy and Walmart. You can often find deals on the set as well — I picked up mine for under $400.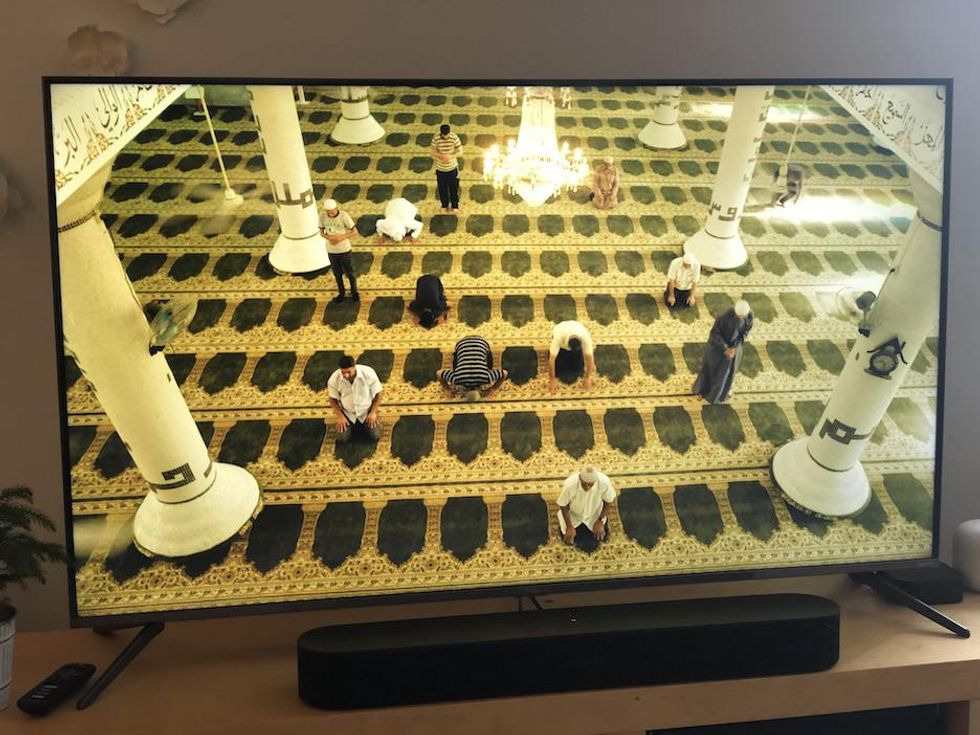 Image is crisp, clear, sharp from the QLED tech to the Dolby VisionGearBrain
Right for you?

Is the Series 5 TCL Roku Smart TV the right move forward for you? Maybe. It's certainly a budget friendly option for a new TV that delivers QLED technology, Dolby Vision, 4K and smart control. Let's be honest though — we are already light years ahead with TV technology like Mini LED, which you can pick up in a Series 6 TCL, or even those with HDR 10 or 8K screens. You can certainly buy a Mini LED set for under $1,000 right now, for example.
But maybe you don't even want to drop north of $500. Maybe you don't feel you need 8K which some of the top line Samsung and LG models sport. Maybe a basic upgrade is good enough. The TCL Series 5 Roku Smart TV hits all the right notes in that regard, with a 50-inch options that snaps easily into place with existing devices and tech.
Be aware if you're not a Roku user you're going to be. But you can still integrate your Apple TV preferences into the set as well. I would love more simple onscreen handholding on some tools, like shifting to movie quality picture options, but for the price and the features the TCL Series 5 is a solid TV option.
Pros:
Price
Easy install
Roku interface
Cons:
Apple users will need to keep the Apple TV for some features
Some features hard to find and locate
Voice control needs a go-between.
TCL 65S535 65 inch 5-Series 4K UHD Dolby Vision HDR Roku Smart TV Bundle with 1 Year Extended Protection Plan
Introduction of The GearBrain, The First Compatibility Find Engine for Smart Devices www.youtube.com
Like GearBrain on Facebook